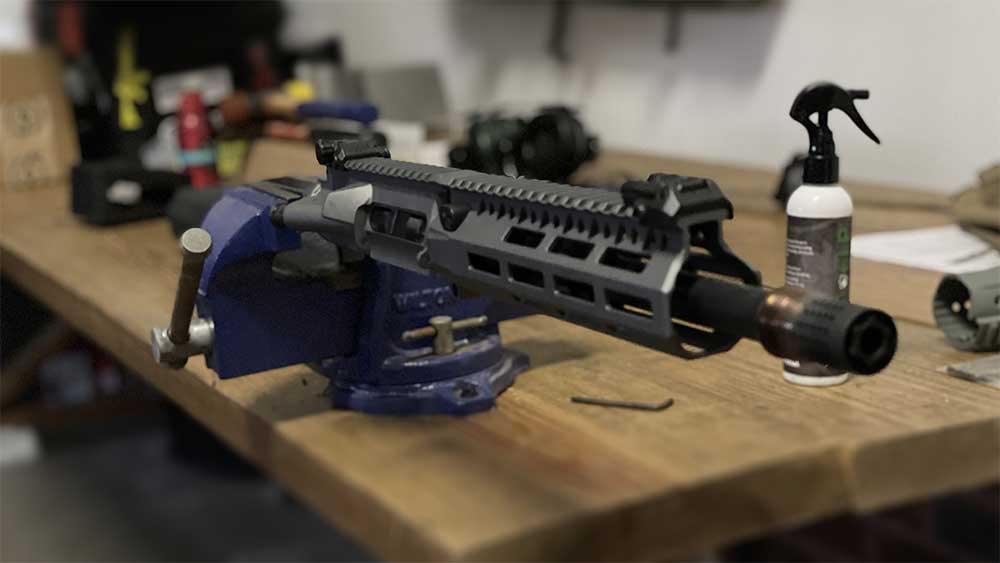 So you want to build an AR15? The parts are only half the battle when it comes to building your AR. After picking out your parts, you probably are wondering what tools you need to build an AR-15. Below is a list of the tools needed to build ar15 and trust me, you don't want to live without these tools.
Several years ago, I assembled my very first AR. It was a great day but a long one because I didn't have all the tools I needed to make the build as quick and easy as possible.
So let's dive in and take a look at the minimum tools needed to build AR-15.
Tools Needed to Build AR15 Overview
First, let us just point out how awesome and unique the AR-15 platform is. There are so many options for parts it makes it one of the most fun guns to build and shoot.
This AR-15 tool list is a great resource if you are building your AR from the ground up or simply changing out existing parts for new ones.
You'll want these tools in your gun toolbox for the foreseeable future.
Work Bench/Clear Surface
I've built many ARs at my kitchen table, but it's not the ideal surface.
My poor kitchen table has taken the scuff, scratch, and nick from assembling AR15's and it worked just fine.
However, as time went on and I knew I would be building and working on more ARs, I upgraded to a workbench in my barn.
The workbench provided a clean and clear surface for me to place tools and parts during assembly. It really worked great to have a bench built just for rifle building.
I built my own bench and attached my vice to it. It is necessary to have a sturdy bench to attach the vice. My first workbench was the one below.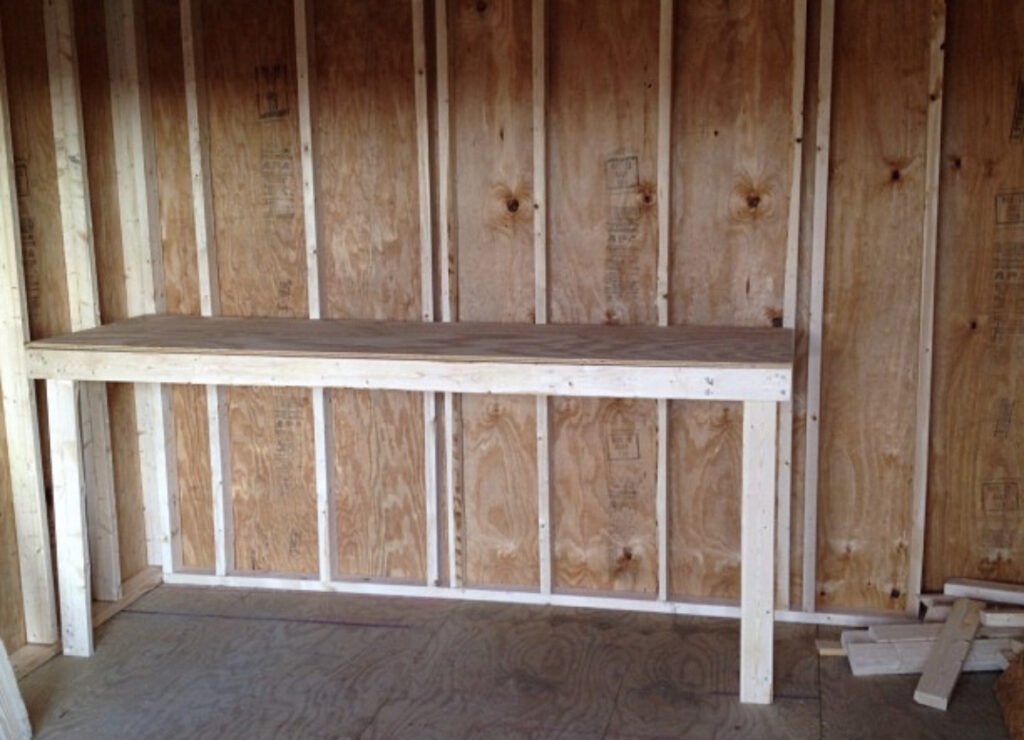 I have since upgraded and made it even more sturdy and thankfully now have a garage.
You can overbuild your bench as much as you want, even using metal if that's your cup of tea. Mine is just a heavy wood bench that's several hundred pounds, and it does the trick.
With that being said let's move on to the vise.
Bench Vise for AR-15
A vise isn't an optional item when it comes to building an AR15. At least not if you want to build your rifle into a reliable weapon.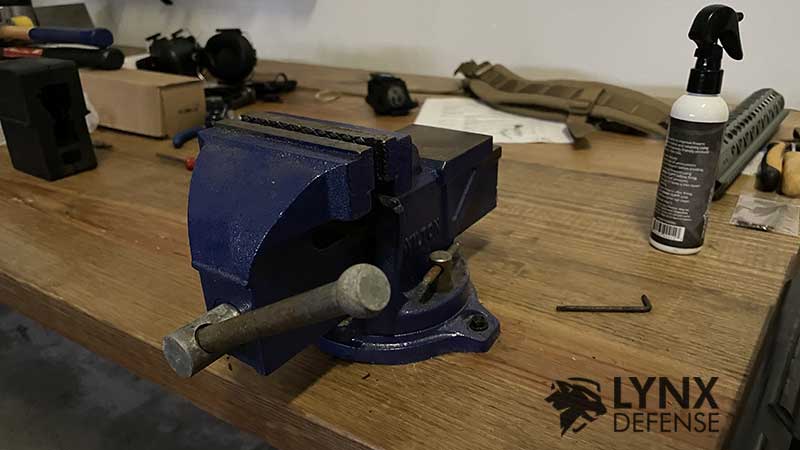 A vise allows you to use an AR block kit, a Gisselle rod, or an upper clamp block. I personally prefer the rod, more on that in the next section.
You want to have a secure vise that is large enough to hold your rod or block kit. A general rule is to have a vise that has a jaw size of at least 4″.
I have this WorkPro Bench Vise. Works perfectly for me!
AR-15 Vice Block/Rod/Upper Clamp
This is one of the most important tools for building an AR. If you are building the upper, you'll want to make sure you have either the reaction rod or the upper vice block.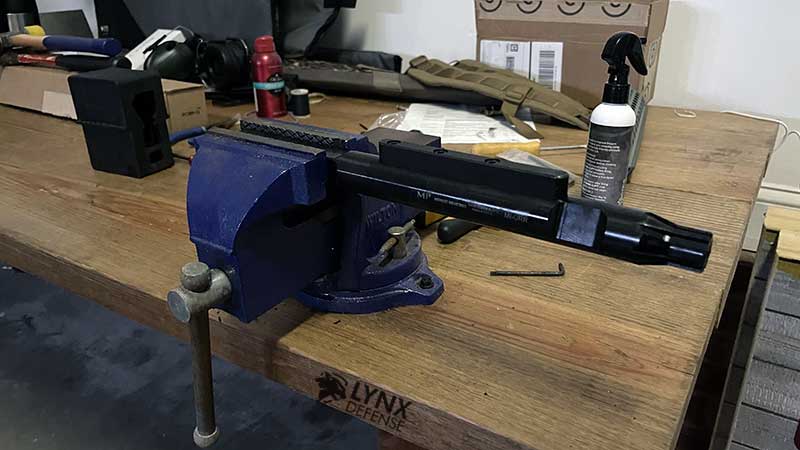 My personal favorite is the Midwest Industries AR-15 upper receiver rod or the Geissele Reaction Rod, which lets you slide the upper onto the rod and then torque the barrel nut and handguard with ease.
The Geissele reaction rod is probably the #1 tool used by gunsmiths and gun manufacturers. So this makes it a must-have tool in your AR build tool kit. Midwest Industries also makes a combo kit that includes their receiver rod and armorers wrench.
The other option for holding your upper in the vice is the upper vice block, which I'm not a huge fan of because it can leave marks on your upper if the clamp is over-tightened.
If you want to hold your lower, you can use a lower receiver vice block for seating the mag well in and working on your lower receiver while it's in the vice.
AR-15 Torque Wrench
Torque wrenches are a magic tool for building your AR-15. A torque wrench allows you to properly attach your barrel nut to the upper receiver.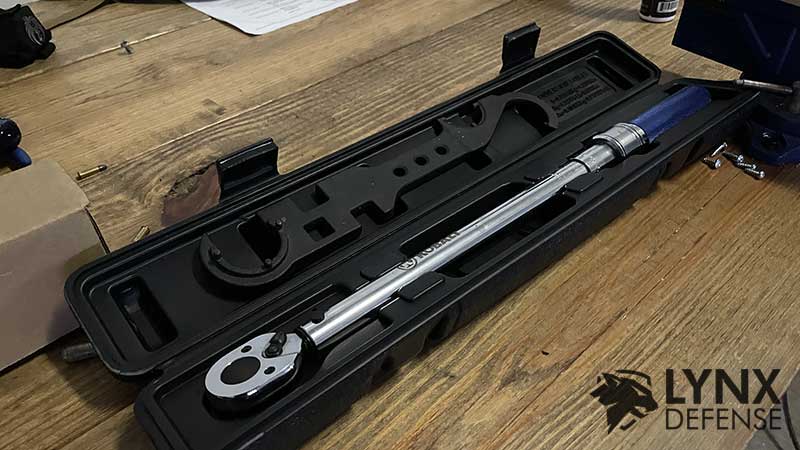 Since the barrel and castle nut components are essential for a safe and reliable AR don't skip out on purchasing a torque wrench for your AR-15 builders toolbox.
High-end: Brownells 1/4 Drove Ratchet Torque (Brownells) CDI 1/2″ Torque (Amazon)
AR-15 Armorers Wrench
I'm torn on an if you need an armorers wrench and maybe that's because I've not bought a quality one.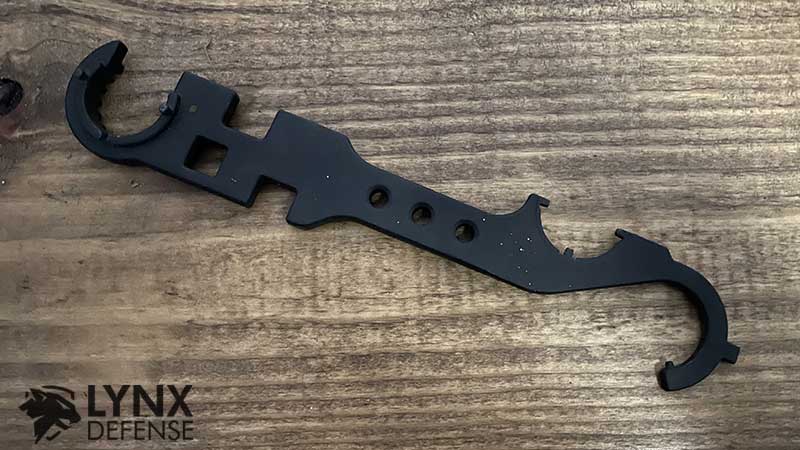 If you are using a handguard with a proprietary barrel nut, this might not be a must-have.
Most muzzle devices can be tightened with just a simple adjustable wrench or a torque wrench if you know your correct poundage.
The only reason I say you need one is for the castle nut, which is the nut that goes on your buffer tube.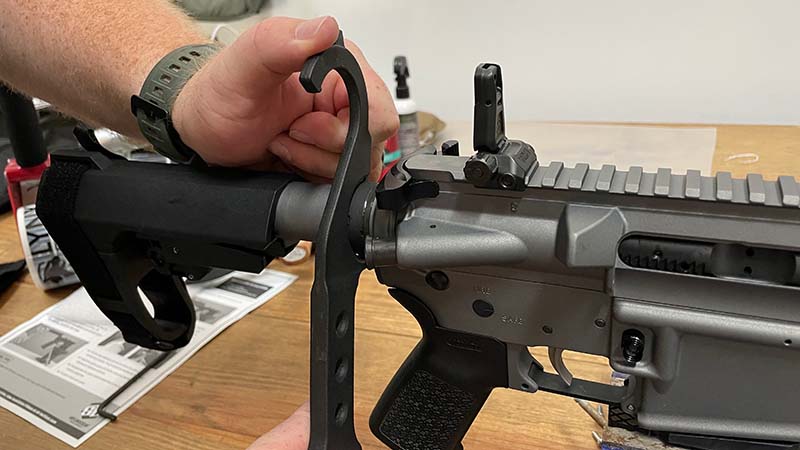 So grab one if you'd like. I'd recommend researching to make sure this is the best tool for your needs.
If you are gonna buy one, here is my recommendation: Brownells AR-15 Armorers Wrench
There is also this combo set of Armorers Wrench and receiver rod by Midwest's Industries.
Punch Set
A punch set is not something I'd go cheap on. Buy a high-quality punch set, and your AR-15 building life will be a much better one.
Cheap dollar-store punch sets don't stand up to wear and tear. Even just one AR build will put them through hell and back.
Even if you only plan to build one rifle, still get a good punch set. You never know when you'll need a set of good punches.
This set of punches on Brownells is a really good option but not the cheapest option.
Roll Pin Holders
Roll pin holders, also known as starter punches, allow you to put your roll pins into the punch and "getter started!"
These make things so much easier than holding a roll pin with your fingers and trying to hammer them home. Pliers are a pain when trying to start roll pins, too many fine motor skills going at one time.
You can buy them as a set, which is what I recommend, or individually: Brownells – Roll Pin Holders
Hammer/Mallet
To send these roll pins home, you need to have a hammer and/or mallet. Arguably this is the most essential tool to build an AR.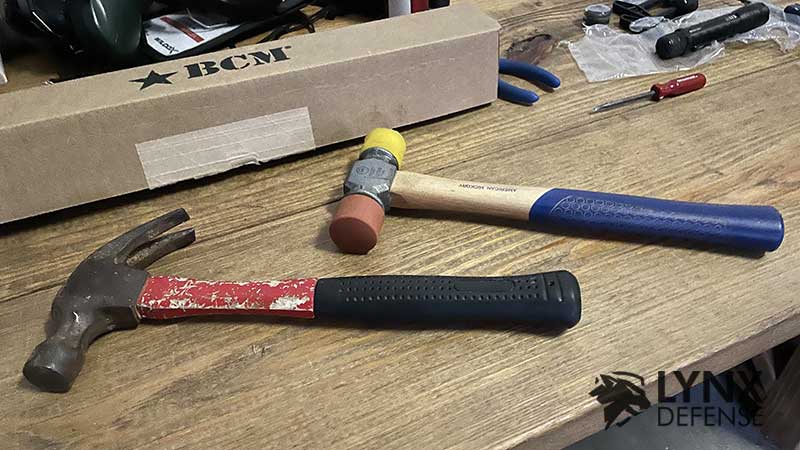 Without a good hammer and mallet, those roll pins are gonna avoid going home worse than Happy Gilmore's golf ball when he first started golfing!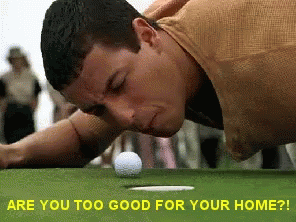 I have a standard steel hammer with a fiberglass handle for when the roll pins need to be shown who's boss.
I also have a multi-use mallet that has a soft side and a hard plastic side. This mallet has been invaluable when it comes to building ARs.
The hard plastic side of the mallet keeps you from damaging the finish of your gun unnecessarily.
Hex/Allen Wrench Set
Having a solid set of hex/Allen keys is critical.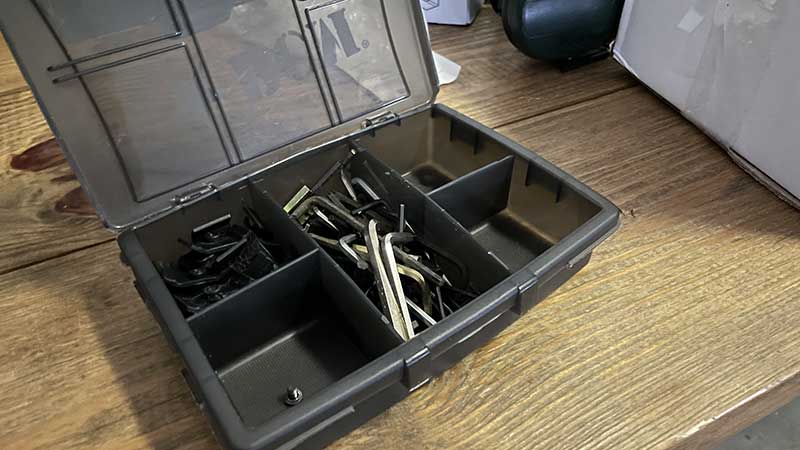 I have been operating with the above mess for quite some time. I highly recommend picking up an organized set of hex keys to save you time and headache.
I finally got around to getting an organized set of Allen wrench and Trox head tools. Since I have a workbench, I decided to get one that has them set up where they would be readily available when I needed them would be better than having them stored away somewhere.
So picked up the Wheeler 30-Piece P-Handle Driver Set and they have been working like a champ!
The best part is you can find the Wheeler P-handle driver set at a ton of online retailers like Amazon, Sportsmans Warehouse, Optics Planet, and Wheeler Tools directly.
The T-Handle design and easy storage of this set really make them a winner for me.
You will need several regular hex keys and possibly even a Trox key set. So while the Wheeler set might be slightly more expensive than other sets you get both types of heads you'll need with the Wheeler toolset to build your AR-15.
The star keys are becoming a much more popular tool for ARs due to more contact points on the tool making it less likely to strip out a screw.
The best in the field or at the range solution is the Fix It Sticks set, they are pricey but they are quick convenient and have nearly everything you need in one set.
Screwdriver Set
While you shouldn't need many screwdrivers to build an AR completely, I would make sure you have a flathead that is long enough to fit in the pistol grip to tighten it down.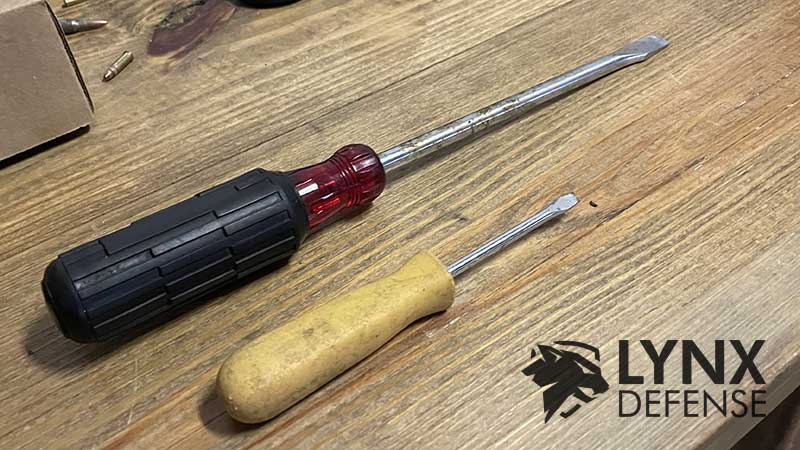 Here's mine. Now obviously mine is overkill but I've had this flathead FOREVER. So, it works.
Keep in mind older A2 style pistol grips used a hex key bolt to secure the grip to the receiver so you'll need a long enough hex key to attach those style grips to the receiver.
You don't need to worry if you have a Magpul MOE or other modern pistol grip because those have a dual flathead and Phillips head bolt.
If you are all about Made in the USA, then this set from Grace USA with wooden handles should be your go-to!
Summary of Tools to Build an AR-15
All of the tools to build an AR-15 listed here are recommendations, and not all are requirements. Some of them you'll absolutely need if you want to assemble your own rifle.
If you are building an AR-15 pistol, consider looking at our AR-15 Pistol Carry Case guide.
If you would rather just buy a 1-pop kit of tools to build your AR then the Wheeler AR Armorer's Ultra Kit is a good option. However, I would still highly recommend some of the other tools below like a solidly mounted vise and the reaction rod.
Here's our complete list of recommended tools with links to purchase:
We also offer excellent rifle cases, both tactical and discreet, for your new AR-15 build.
If you have any feedback or tool recommendations we missed, be sure to leave a comment below!