The Byte
$209.99
The Byte is a carbine gun case that was crafted with Pistol Caliber Carbines (PPC), Personal Defense Weapons (PDW), and Submachine guns (SMG) in mind.
The case features a discreet design and is made so you can take your weapon anywhere necessary without attracting unwanted attention. This bag is built from Cordura and HDPE
The Byte case is handcrafted in the USA.
Only 2 left in stock
Description
The Byte Submachine Gun Case Features
The Byte is a discreet carry carbine gun case that was built for weapons under 20″. This case is perfect for small guns with folding and collapsing braces. The Byte is built with durable nylon fabric and HDPE foam for maximum protection. This bag is made with storage for magazines and gear in mind.
The goal of the Byte was to create a bag that had the smallest footprint possible and deliver the ability to carry a carbine covertly. We are big believers in buying gun cases that a specific to your needs.
Exterior Measurements: Width: 21″ Height: 14" Depth: 4"
Interior Measurements: Width: 20.5″ Height: 13" Depth: 4"
500D Cordura Fabric
Large Zipper Front Pocket
2 x Interior weapon retention straps
1 x Large Zipper pocket
Low Profile Exterior Design
Padded No-Slip Shoulder Strap
Full Loop Velcro Backer
Wide Carry Handle
Made in the USA
Case Interior
The Byte's interior is built specifically for submachine guns. The Byte can also hold Pistol Braced AR-15s that feature a law tactical folding brace or similar folding style brace.
Weapon Retention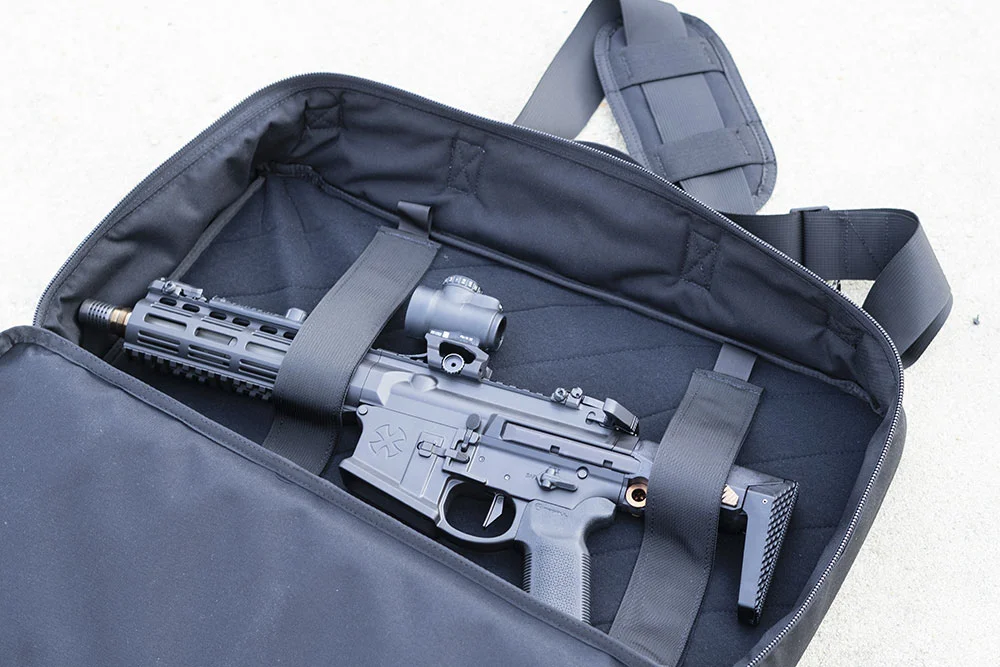 The interior features a full loop backing that allows you to place the two included weapon retention straps strategically. So you can customize the weapon retention to fit your specific needs.
Storage and Pockets
The inside flap of The Byte case features a full-width zipper pocket. The pocket spans the full 20″ width of the case, allowing you to store magazines, extra ammo, or gun cleaning kits.
This storage pocket is perfect for any soft goods, gun-cleaning kits, or other accessories you may need at the range or to carry with you on a daily basis.
Attachments
The Byte's back wall is a full panel of loop velcro. This wall allows you to attach one of our ever-growing list of attachment options to make the case even better for your needs.
Attachments include silencer holders, handgun attachment kits, and magazine wraps. Our growing list of attachments will make this bag the perfect carry option for your PCC. PDW, or Submachine gun.
Discreet Exterior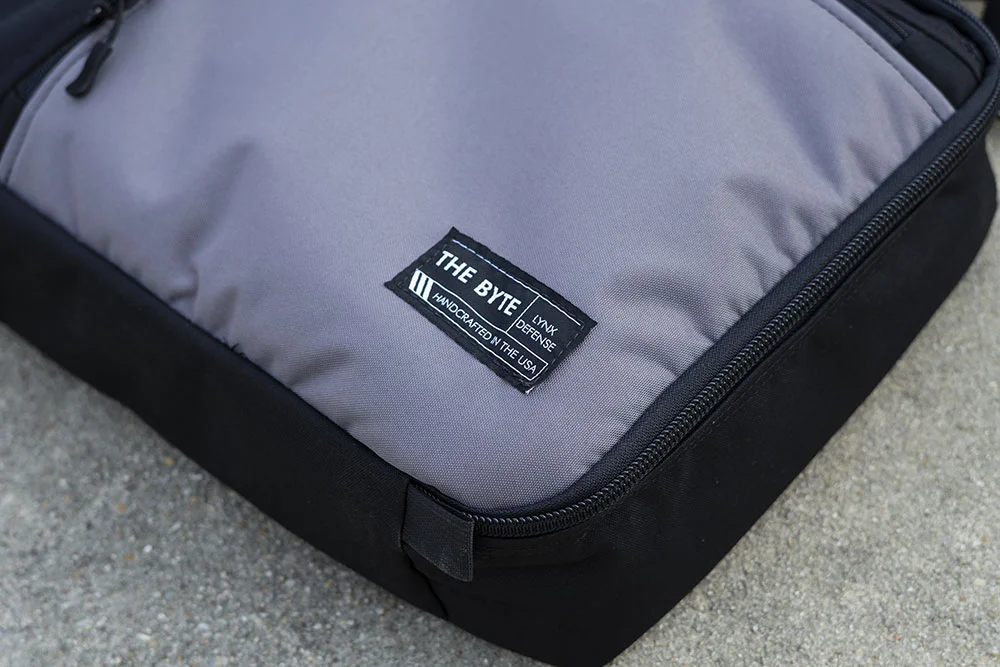 The Byte sub-gun bag's discreet exterior mimics its larger counterparts, The Bronx and The Bureau, in the urban legend series of bags. The clean corners and bi-color design really help the bag blend into modern society without the explicit look of a tactical gun case.
The Best 9mm Carbine Cases
If you want to have the best 9mm carbine case on the market grab, The Byte.
With its durability Cordura exterior and the HDPE foam interior, you won't find a more durable PCC case on the market.
---
Sub Guns That Fit in The Byte
Please note any listed firearm is only listed in its FACTORY configuration and this is not a comprehensive list.
Please measure your weapon configuration prior to purchase.
H&K
Sig Sauer
Sig Sauer Rattler Folded
Sug MPX K
CZ
CZ Scorpion Micro
CZ Scorpion Pistol
CZ Scorpion Folded
Palmetto State Armory
B&T
APC9 Pistol
APC9 SMG Folded
APC9 PRO / APC40 PRO Folded
TP9-N
GHM9 Compact Gen 2
GHM45
Q
Kel-Tec
Kel Tec Sub 2000 Collapsed
Miscellaneous
AR Pistols w/ <10.5″ Barrel with Law Folder
SBR's with <10.5″ Barrel with Law Folder
Additional information
| | |
| --- | --- |
| Weight | 4.8 lbs |
| Dimensions | 21 × 14 × 4 in |
| Fabric | 500D Cordura |
| Product Origin | USA |