4 Things Your SBR Case Needs to Offer
You've done the research and work it takes to acquire a short barrel rifle, so you want to make sure you protect it with the best Short Barrel Rifle case available on the market. Don't purchase a case for your SBR without first considering these four features.
Tailored Fit For Your SBR
When it comes to securing and carrying your short barrel rifle or AR pistols, make sure it's not sliding around in a case or an old duffel bag that wasn't made to accommodate it.
Cases that are 30 inches in length and at least 12 inches tall make a great fit for SBRs or any rifle with a collapsible or folding stock. A shorter gun case ensures a proper fit, secure storage, and takes up less cargo space while you're carrying.
If you have a rifle with a collapsible stock with a 10.5″ barrel or less, you might consider an even smaller case such as The Byte, specifically crafted for submachine guns.
Plus, a smaller case makes it easier to store your gun case when it's not in use.
SBR Case Padding
Protecting your short barrel rifle is extremely important, so the foam, or padding, that your case has is a make or break part of your rifle case.
Ensuring that your SBR is secure from movement and secure from accidental damage in transit is key.
SBR Case Retention
Making sure your SBR is strapped and secure in the bag is essential. We include three modular straps that allow you to configure your rifle retention in any way you see fit.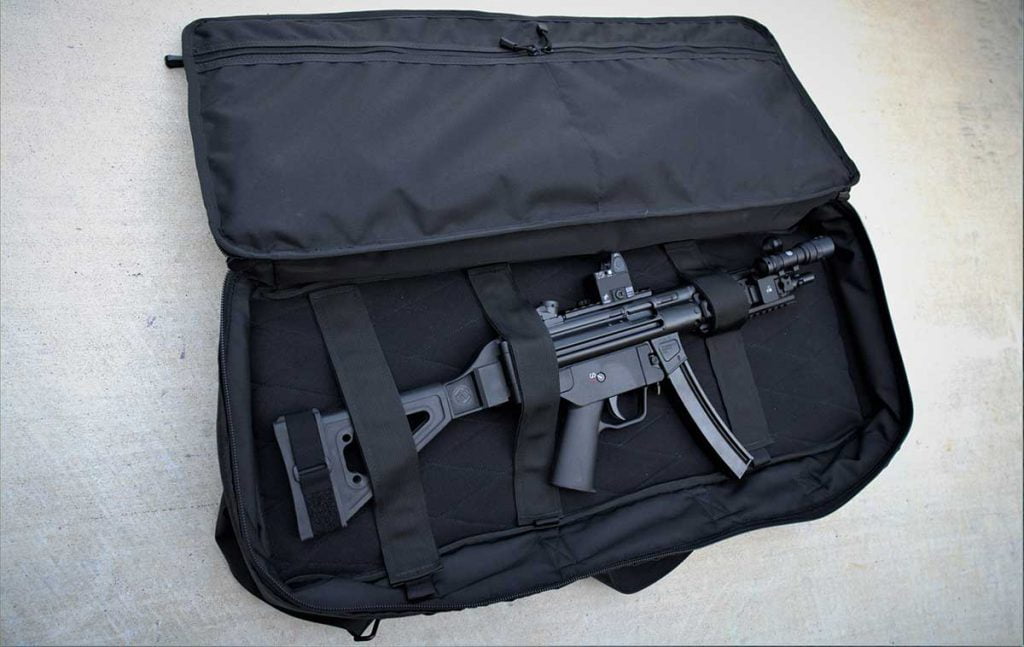 We designed our bag because all SBR configurations needed to fit in The Bureau.
Tactical Case vs Discreet Case
Consider where you will carry your firearm and what kind of attention it might bring. For those carrying to the range or routine training, you probably prefer a more tactical gun case that offers protection from rugged terrain and plenty of storage and customization features for morale patches.
For those carrying to prepare and protect, a discreet SBR case that offers the specific storage needed for the safe transport of your weapon with a casual exterior that blends in would best suit your carrying needs.
Practical Storage Solutions
Transporting your firearm is pointless if you can't carry everything you need to go with it. Ammo, magazines, hearing protection, to name a few. You want to choose the SBR bag that can accommodate everything you need while storing it securely. Whether you need ammo pouches, adjustable strap configurations, a hook, and a loop system to tack things into your bag, don't overlook how important it is to have the equipment you need when using your SBR available at a moment's notice.
The top 3 things we make sure we have in our case are:
These three things are the most important items to carry in any firearms case.
Case Durability
There's a reason shooters outgrow their old gym bags when carrying high-powered guns. Those bags weren't made to last, and they definitely weren't made to haul firearms and ammo.
When researching SBR cases, we recommend looking for bags and cases made of quality materials, like 500D Cordura or 600D Magnatuff fabric. Make sure the bag is double stitched for the most reliable carrying.
We also believe in purchasing products that come with lifetime manufacturer warranties to protect your investment best.
Don't have an SBR?
You could always make one! You can turn your AR Pistol into a full-fledge SBR head over to our Ultimate Short Barrel Rifle Guide to see how it's done.
If you don't have plans to make an SBR, we still have a guide on gun bags for you to checkout!
Shop Tactical Range Bags | Shop Discreet Range Bags | Shop Accessories