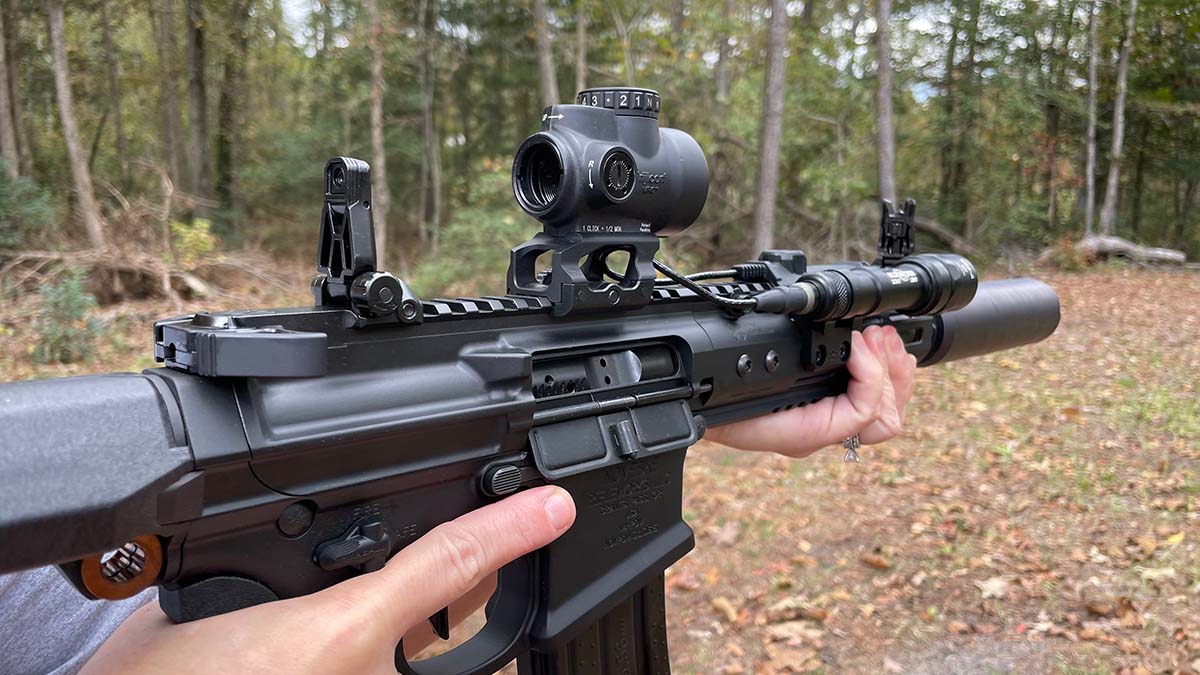 With all the available sight options, you might be asking yourself, should I invest in AR-15 backup iron sights? That question is easy to answer and also entirely up to the end-user and the plan for their AR.
Most people like to have red dot sights on their AR-15 but having a sold set of iron sights for your AR-15 is always a solid idea. If you get a folding set of sights, that is even better because they will stay out of your way unless you need them.
Time to dive into some great AR-15 flip up sight sets for your rifle!
Backup Flip Up Sights
Backup sights are an important part of any gun setup and show be carefully considered when choosing which sight to buy.
If you are running a red dot sight it's always good to have a non-battery powered backup in case the worst happens to your optic.
On my main AR-15, I will run back up iron sights in case my Trijicon MRO goes down, but for most of my range rifles, I might opt not to have a backup sight as the cost to fully kit a range gun vs buying more ammo to shoot is always a struggle.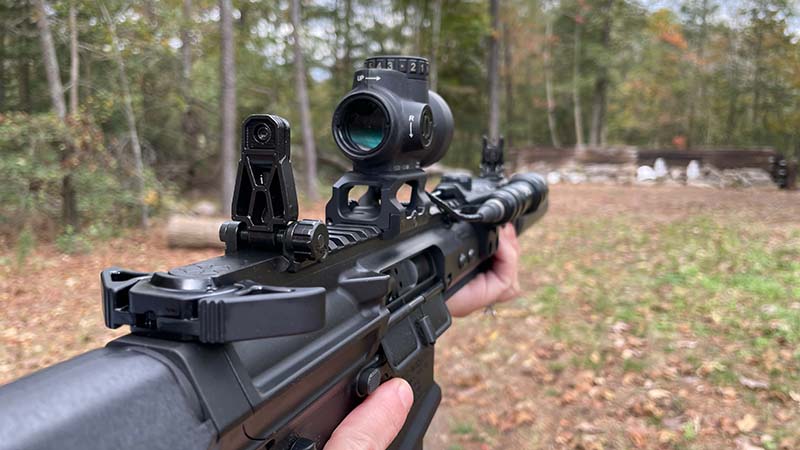 But the decision is yours and we have worked hard testing and using iron sights to compile this list of great options of AR-15 backup sights.
Automatic Flip up
Automatic flip-up sights are all the rage, and understandably so. They make it extremely easy to keep your gun low profile and deploy your backup iron sights in the event you need them.
If you're using a co-witnessed optic but don't what your front or rear sight post in the way, automatic flip-up sights are the way to go.
Let's take a look at solid options for automatic flip up sights.
Best Automatic Flip Up Sights
When we say automatic flip up sights we mean button press or spring-loaded sights. This category covers any flip up sight with a deployment assist mechanism such as a button or lever.
Now it's time to dive into some of the best AR-15 flip up sights!
One of the most popular automatic backup iron sights is the MBUS series by Magpul.
These sights are so popular they are the factory sights for many AR-15 manufacturers making a flat top AR.
Magpul Industries MBUS Flip-Ups
The Magpul MBUS AR-15 flip up sight sights are the gold standard for AR pattern rifles.
So much so that most gun manufacturers who include "iron sights" on their flat top rifles include the Magpul MBUS sights.
They are affordable, durable, and available nearly anywhere you can buy sights or optics.
This is one of the go-to options for most people, so obviously, the Magpul MBUSs make our list.
If you are looking for the best price/value combo, then look no further than the Magpul MBUS series.
If you are looking for more high-end, keep on reading!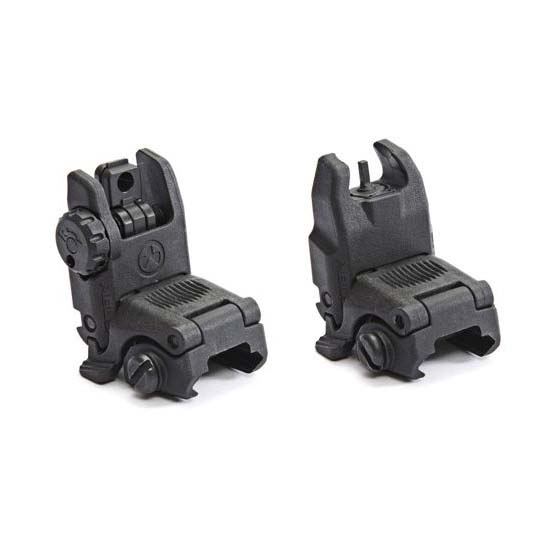 Polymer design but a proven concept with letter reliability issues. Made in the USA by Magpul.
Troy Folding Battle Sight
Another great button-press-style popup sight is the Troy Battle sights. These are all-metal sights made by Troy, an extremely well-known brand in the industry.
Troy makes several different models, including low profile and different post options.
The Troy Battlesight is perfect for range use, home defense, or competition use.
One of the nicest features of the Troy battle sight is that no tools are required to adjust the sights.
Being a Made in the USA company ourselves it goes without saying that it's important to us that these metal flip up sights are Made in the USA.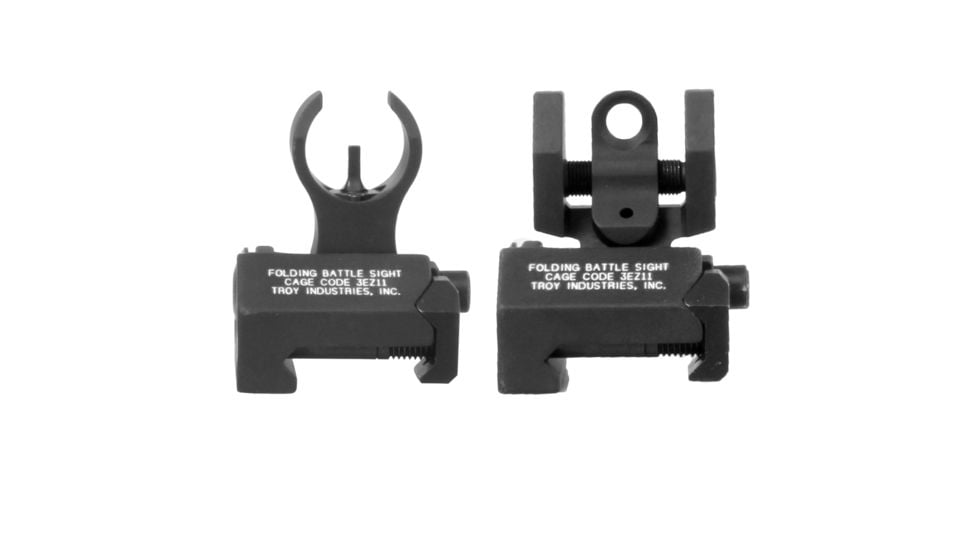 The LWRC is a great metal popup iron These metal button-press popup iron sights are a great option and come in a variety of configuration options.
LWRC Skirmish Sights
The LWRC Skirmish sights are another popular low-profile sight that has push-button pop-up functionality. When folded, the sight is only half an inch. The edges of the sight are rounded to prevent any cuts or snagging of the shooter.
When up the sights lock into place so they can't be accidentally hit back into the down position.
Lastly, the LWRC flip-up sights are made mostly of anodized 7075 aluminum and 4140 steel.
You can mount this sight to any 1913 Picatinny rail which makes it largely universal.
If the LWRC Skirmish sights are what you've been looking for check the price and in-stock options below.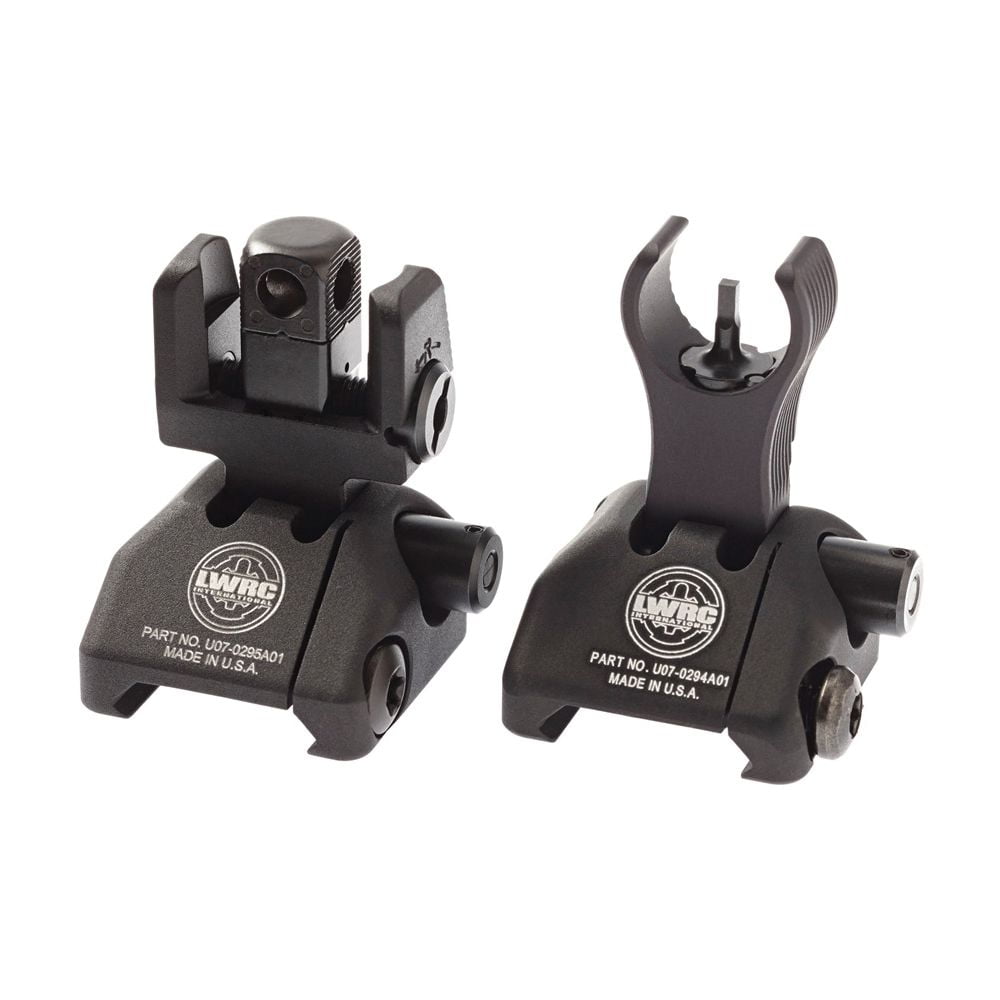 The LWRC is a great metal popup iron sight option and is from a solid company with a good reputation for quality.
Mechanical Flip Up
Mechanical flip up sights is a great less expensive option if you want something low tech and bomb-proof on your AR-15.
Mechanical sights require you to physically pull up on the sight before you can use them.
Most of these sights are metal but several companies offer polymer sights.
When it comes to mechanical flip up sights I wouldn't buy cheap polymer there are plenty of good metal options that will likely meet your price point if you are on a budget.
If weight is your primary concern, I might go with polymer to save some ounces, but it won't be much or even noticeable.
Now let's talk about some solid options for your mechanical AR-15 flip up sights.
Best Mechanical Flip Up Sights
Here is a list of a few of the best mechanical flip-up sights we have used or come across in our time.
Magpul Industries MBUS Pro
My absolute favorite mechanical flip-up sight is the all metal construction Magpul MBUS Pro.
I love these sights because they are readily available, durable, and all metal.
They are sleek and slim-fitting when folded down and to me, it doesn't get much better.
While their price isn't easy to stomach, I still think they are worth every penny.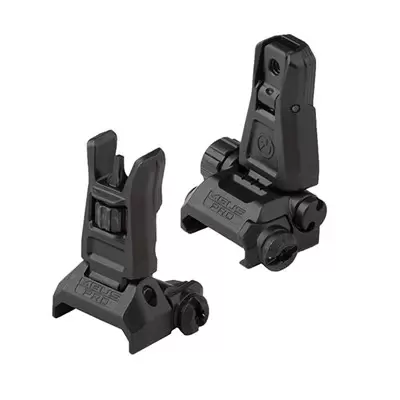 An all-metal slim set of pro-grade sights by Magpul.
Wilson Combat Aluminum Flip Up Pro
A solid option for metal mechanical flip up sights would be the Wilson Combat aluminum flip up pros.
These are a highly-rated sight but aren't the cheapest on the blog. If you want a solid metal backed by a top-tier company like Wilson Combat this might be your go-to option.
The sights come in at just 3.88 ounces and have the awesome Wilson Combat logo on the front of both the rear and front sight.
The only company in black but if you're looking for color options for sights we will cover some in a few.
These attach directly to the picatinny rail of any gun.
FAB Defense Flip-up Sights
FAB Defense is most known for its polymer-made products. They make sights, grips, handguards, and more.
The Fab Defense flip up sights have no springs or buttons so you have to grab them when your thumb and deploy them.
They are available in black, olive drab green, or desert tan which gives you plenty of color options if you need to match your gun.
These are a solid options and can be bought at a number of reputable stores across the web.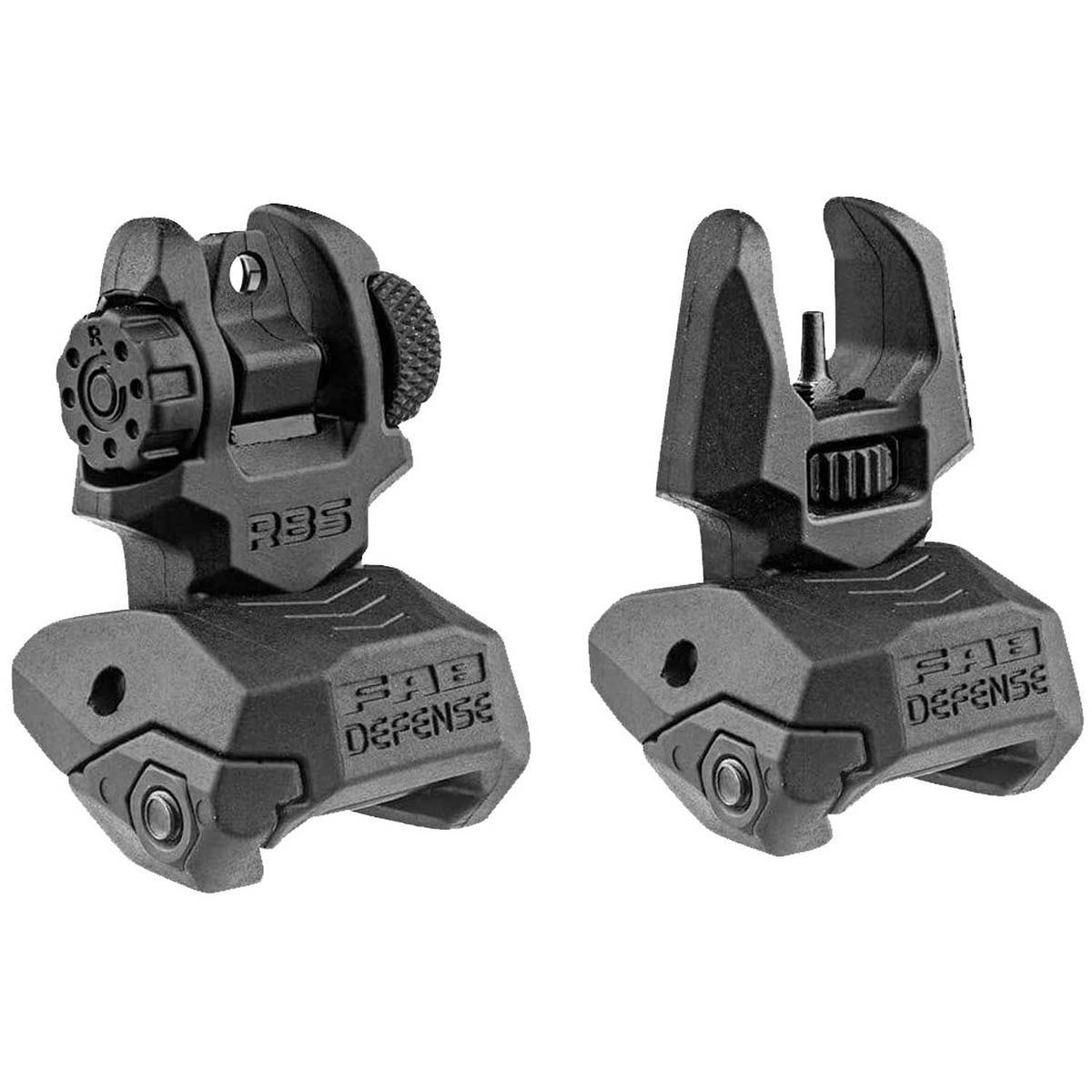 Polymer flip up sights with a ton of positive reviews and an up-and-coming company.
Midwest Industries Combat Rifle Sights
The Midwest Industries AR-15 flip up combat rifle sights are a bit unique compared to the other backup sights on this list.
The MI flip-up sight uses 6061 aluminum which is a little different than the 7075 aluminum that more companies use for AR-15 parts and accessories.
The rear sight post is unique compared to most rear flip up sights. The front post design is relatively normal.
These sights will work on any 1913 Picatinny rail AR-15 or similar rifle.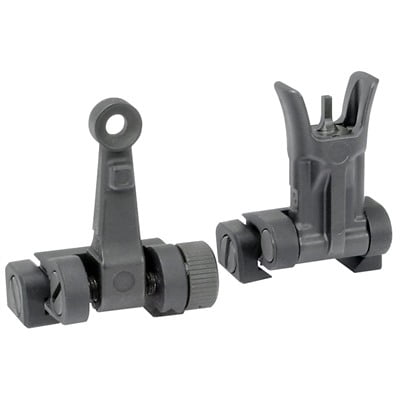 These 6061 Aluminum flip-up sights are a solid option from Midwest Industries.
45 Degree Sights
The 45 degree sights are an excellent choice for AR-15 rifles, especially when paired with optics or red dot sights.
Positioned at a 45-degree angle, these sights allow for quick and effective transition to iron sights in case of optic failure or when engaging close-range targets with a magnified optic. They are compatible with any 1913 Picatinny rail AR-15 or similar rifle.
You can then easily roll the gun to go to iron sights quickly and effectively if something happens to the optic or if you're using an LPVO and your target is too close to use magnification.
Metal vs Polymer Flip Up Sights
When deciding on your AR-15 flip up sights you might wonder what's the best material to buy.
Naturally, some people will think: metal, duh.
That can be the case but doesn't necessarily mean they are the best for your application or the highest quality.
Metal is great and is durable, so if you drop your gun and land on the flip up sights you won't want to worry about them breaking.
Polymer sights are durable but typically don't have as strong drop resistance or drop tolerances as metal.
When it comes to holding zero and accuracy polymer has come a long way and both metal and polymer quality sights are known to hold their zero, so you don't have to worry about accuracy based on what material you prefer.
Counterfeit Flip Up Sights
Keep an eye out for counterfeit sights. Many are floating around Amazon, typically the Magpul MBUS series of sights.
But all flip-up sights have had their run-ins with counterfeit sights. If you aren't sure, don't buy it. Buying from places like Brownells, Palmetto State Armory, Optics Planet, Cabelas, or your local gun store will likely save you from buying a knock-off.
Side note: any Amazon links posted here have been vetted and are the real deal.
Why does it matter if your flip up sight is the real deal?
Well, for one, you don't get the same quality, and that's probably the biggest difference. You will get cheaper plastic and cheaper springs, all will lead you to a shorter life of the sight and a negative user experience.
Second, it doesn't come with a warranty and isn't supported by the manufacturer so if you do have an issue, you're out of luck with a counterfeit flip up sight.
Do I need flip up sights on my AR-15?
It depends. Having a backup to a battery-powered optic is an extremely good idea.
If your AR-15 is your SHTF gun or a duty gun you'll likely want this option in case something happens.
Batteries aren't the only issue with red dot sights. Glass can break or other catastrophic failures can occur. So, having backup iron sights or flip up sights is never a bad idea.
But, they aren't required. I have several rifles where I know I'll never grab them in an emergency situation so if the battery or optic is dead I'll have time to replace it because it's just a range gun.
Another scenario is if it's your home defense gun and your engagement will be less than 10-20 feet, then pinpoint accuracy is unlikely. So having a flashlight in that situation is more important than flip-up sights.
Flip Up Sight Overview
So, to wrap up this guide, here is our recommended list of automatic and mechanical flip-up sights.
Button Deploy Flip up
Manual Flip Up
There are other incredible sights; comment below and let us know what you're using! If you want to shop for other incredible sights, check Brownells sight section and Primary Arms and Palmetto State Armory.
Be sure to get the best AR-15 possible and kit your AR-15 with the best AR-15 Flashlight and drum magazine.