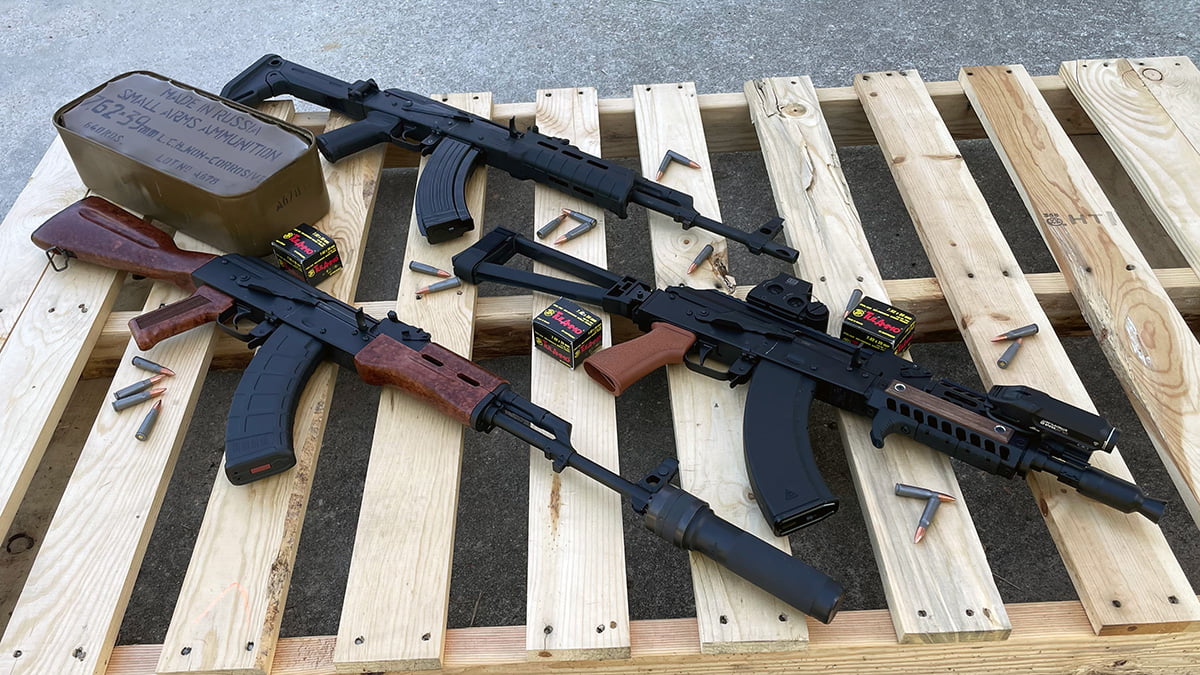 With the Russian occupation plowing through the month of April, we continue to see the AK-47 platform front and center on the news.
This prolific rifle has been brought to the forefront of our minds through our computer and phone screens and to a lesser extent for the younger crowd, TVs.
It seems like just when you start to forget how popular the AK platform is, there's always a global conflict to slap it back on the front page.
We aim to make a list of the Best AK series rifles that are available for you and I to purchase. As stated above and in previous articles, the most genuine samples of the AK are all but impossible to obtain from overseas at the moment, and things don't look like they are going to change any time soon.
Although somewhat of a disappointment, at the same time there is also a vast selection of other high-quality AK rifles and pistols to choose from that are still being imported to the USA and even some that are being made right here inside our very own borders.
Best AK-47 on a Budget
The budget AK market sure looks a lot different than it did just a few years ago. Most of the same players are there, but the term budget has been stretched quite a bit. AK's that once could be had for $400-$500 are now being bought for $800-$1,000.
This shift represents a general overall shift in the gun industry, but I feel it is seen more in the AK segment. As we continue to see prices rise the term budget may very well become a thing of the past.
I think this is a direct threat to gun ownership in America, as most first-time buyers don't have the knowledge or the cash to go out and spend $1,500 on any given platform.
I'm not that old, but I distinctly remember buying AK's, SKS's and even AR's at half of what the lowest end brings now. I goofed up and bought guns that weren't of high quality or craftsmanship, but I also wasn't out a thousand dollars because of my purchase.
I credit my somewhat whimsical past purchases for a lot of my experience and knowledge that I now possess. I guess that is one of my driving factors in writing these reviews; helping the otherwise new or unknowing buyer in making their first purchases to be smarter and make more sound buys and save them their hard-earned money if possible.
PSA GF3
Were no stranger to Palmetto State Armory at Lynx Defense.
I personally own a few of their offerings and have used them to source magazines, lights, and other accessories over the years.
So Palmetto in the last few years in particular has really exploded into the AK market. They have started to make several different levels of AK's and one of them is the GF3.
The GF3 represents the entry-level into the AK market from Palmetto State Armory.
Although budget in nature, the design of the Palmetto State Armory GF3 is anything but budget.
The Palmetto State Armory GF3 has hammer-forged front and rear trunnion along with bolt and bolt carrier group.
These parts make the Palmetto State Armory GF3 AK47 a good budget buy.
Palmetto State Armory keeps with the traditional stamped sheet metal design for the receiver of the GF3. PSA also added in the dimples that assist with keeping the mag centered on the magwell.
The rivets on the Palmetto State Armory GF3 Ak are solid and are not misshaped.
This can be a problem in lower-cost or budget AK
Also in the Palmetto State Armory GF3's corner is that they are an American-made AK.
While some may look down on American manufactured AKs I feel that this is a missed opportunity for some quality craftsmanship given the right manufacturer.
While Palmetto State may have had a humble beginning, they seem to really have their legs under them now and they are branching out more every month.
The GF3 barrel is nitride treated and then pressed into an in-house manufactured front trunnion that is hammer forged.
The hammer-forged process yields a much stronger piece of steel than casting.
As such a key piece as the trunion of the AK is, this is obviously the best choice of manufacture.
The bolt is also hammer-forged along with the bolt carrier. These parts also interface with the hammer-forged trunnion and make lockup much stronger and ensure the safe operation of the firearm.
Palmetto State Armory uses the traditional style stamped sheet metal receiver.
The dust cover is also of a traditional style.
Palmetto State also places the side rail interface on their GF3 rifle, so if you have a need to mount a scope or a red dot you can do so quite easily.
Be sure to check out our article on the best AK scopes and mounting options.
PSA AK-47 GF3
• Capacity: 30+
• Action: Semi-Automatic
• Caliber: 7.62 x 39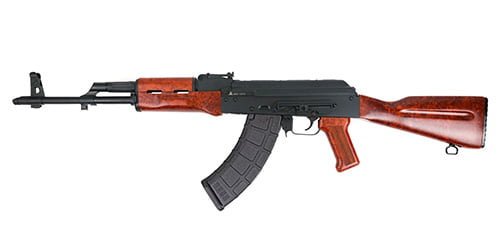 Century VSKA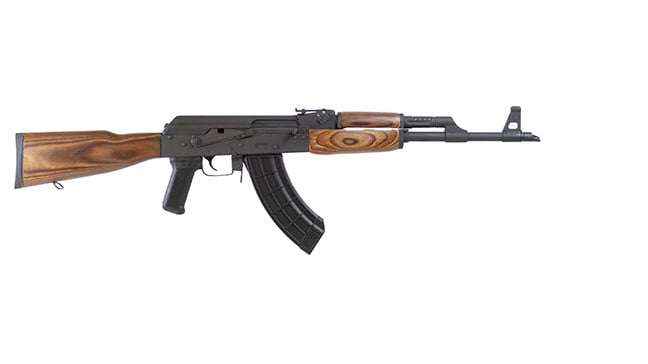 Century. If you uttered this name not too long ago, it would bring cold stares and an equally cold shoulder in the gun community.
This was due to the practice of importation of demilled AK kits that were then put back together and turned into firearms for sale in the United States.
The importation of the demilled kits wasn't really the problem, but the assembly of them. The poor quality control used to plague Century. Canted front sights and bent gas tubes were some of the most common issues.
This seems to be a thing of the past, though.
Century has also begun to build its own AK47s in the United States. This appears to be the case with the VSKA.
Century states that the VSKA is the ultimate example of American technology meeting Combloc ingenuity.
Century claims that the critical components have been re-engineered with machined S-7 tool steel and that this same steel is also used for jackhammers and cutting teeth for large machinery.
The VSKA boats machined S7 tool steel front trunnion, feed rams, and bolt, carrier group. They also state that these components are specifically heat-treated for maximum durability.
The Century VSKA uses a 4140 steel bolt and a chrome-moly 4150 barrel. These alloys are known in the manufacturing world to be durable and good for this type of application.
The trigger on the Century VSKA is a RAK1 enhanced trigger group that has an "impressive trigger pull" I don't know about any of you, but I've never really felt an "impressive" trigger pull on an AK. All things being subjective, I guess you could consider an AK trigger pull impressive when directly comparing it to other stock trigger options on the AK platform.
The Century VSKA has a manganese phosphate finish which gives it the classic look. The manganese phosphate coating is durable and is a far better choice than some other companies make when it comes to the finish on their production AK's.
Even so, it's an AK so if it gets a few scratches or dings, it just adds to the gun's character.
Century also supplies each VSKA with a set of classically designed wood furniture.
Their website claims that American Maple is used for the furniture. This isn't really an issue since this AK doesn't have to worry about 922R compliance.
Century Arms VSKA
• Capacity: 30+
• Action: Semi-Automatic
• Caliber: 7.62 x 39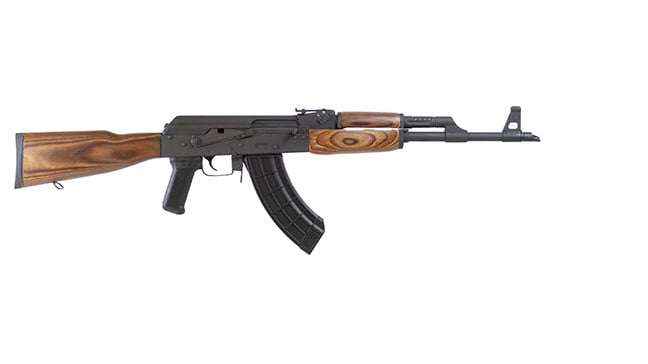 WASR 10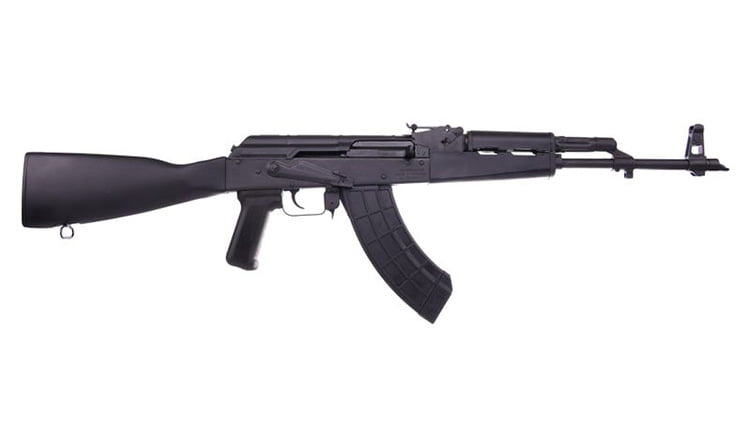 The WASR 10 has been around for quite some time. As such, It is a unique entry when comparing AK47's side by side.
The WASR 10 is imported by Century Arms. This is the same company that manufactures the VSKA mentioned above. The WASR 10 however is not manufactured in the United States. It is a product of Romania.
When you visit Century Arms website and look on the WASR 10 page they boldly state that the WASR 10 is a true AKM pattern rifle, and as such "is the ultimate AK import" and is one of the most popular and sought after AK imports in the US of all time.
Being the WASR 10 is an import, you will have to deal with 922R. What is 922R you ask? Well basically stated it is the restriction that is placed on imported firearms to bring them into domestic compliance by the addition of USA-made parts.
With a firearm as simple as the AK, there are only a few things that you can change to make it 922R compliant. Luckily there is enough to be able to successfully do so, and items such as magazines, triggers, and furniture all count toward compliance parts.
This does mean however that you will wind up with an AK that might not be a true reflection of its roots as some of the more visible parts have been swapped for US-made components.
Speaking of visuals, those who are familiar with the AK platform might notice a thing or two different when comparing the WASR 10 to other stamped AKs.
The receiver is missing a somewhat notable feature; the mage well dimple. For someone who is super particular on appearances, this might cause you to look elsewhere when shopping for an AK rifle. For others, this lack of a feature is interesting and might be a draw.
The fact remains that the WASR 10 has no magwell dimples. The WASR 10 does however have supports welded inside of the magwell that effectively perform the same task that the dimples do, which is to support and stabilize the magazine when it is inserted into the magwell.
I have personally owned a WASR 10 since 2009, and it has gone through hell and back when it comes to abuse and rounds fired.
I can not venture to say how many thousands of rounds of corrosive 7.62×39 I have sent down the pipe on my WASR 10.
I will admit that sometimes I have neglected to properly care for it after shooting the corrosive combloc ammo and putting it away only to pull the WASR out weeks, and sometimes months later to find the telltale signs of neglect present in the bore and around the gas block.
Having said that, all it takes to get the old WASR back into shape is a little solvent and a brush and then a light coat of oil.
Would I treat a super high-end custom AK like this? No, probably not. This is the reason the WASR is included in our budget segment.
My personal copy of the WASR 10 also has gone through many different sets of furniture. It originally came with a very rough and splintery foregrip that I would venture to guess never saw a piece of sandpaper. The stock that came on the WASR was an old AR-15 style Tapco branded piece of junk.
Both the foregrip and the stock were quickly taken off and various different options were put in their place.
Currently, the WASR 10 sports Magpul's Zhukov stock and Magpul's AK MOE handguard.
I do want to eventually equip the WASR 10 with some quality wood to bring it back to a traditional look, but it's pretty low on the to-do list at the moment.
WASR 10
• Capacity: 30+
• Action: Semi-Automatic
• Caliber: 7.62 x 39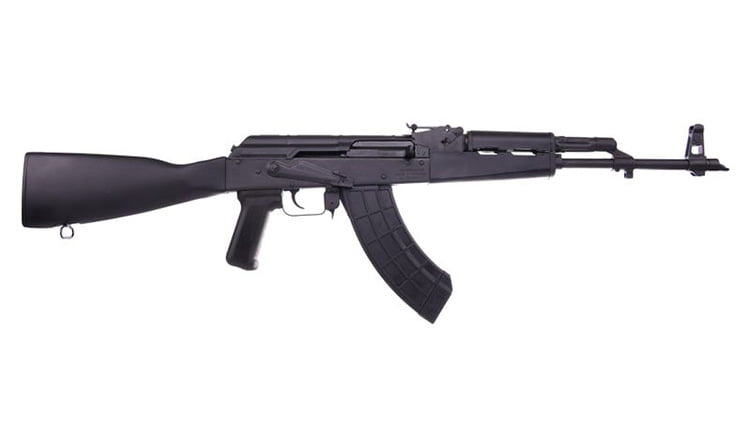 Import AK's
Import AK's used to be all there was to be had and were long considered the best AK-47 on the market. You could have your choice from any combloc nation including Russia and even some surrounding states.
Nowadays with the way things have progressed (or digressed) overseas, the pool of new imported AK47's has steadily started to dry up.
With current sanctions against Russia and her satellite states, the "real deal AK's" of old are all but non-existent.
This however does not mean that there are no imported AK's to be had. Several former Soviet states have been and continue to operate independently from Russia's control… Here's looking at you, Ukraine!
These countries have been making AK rifles for a long time, many on equipment set up by the Russians. So therefore their quality will be just as high as Russian copies.
If you have your heart set on picking up an imported AK then you will need to make yourself familiar with the 922R compliant laws. As briefly covered before, this legislation sets up controls and restrictions on all imported firearms.
To be compliant, all imported AKs have to have a certain amount of domestic-made parts. If you go to swapping parts around on your imported AK, you may magically make your once compliant AK noncompliant. Who might care, you ask? Probably your pet dog.
Arsenal SLR 107R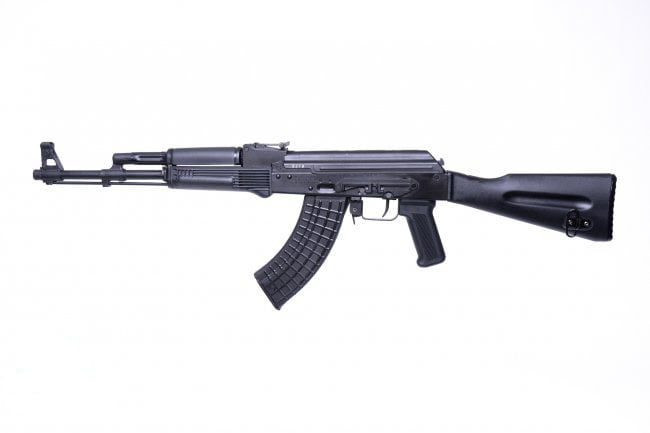 The guys at Arsenal bring a lot to the table. The Arsenal SLR 107R series is a top-notch Bulgarian-made stamped receiver AK-47. All of the semi-automatic SLR 107's are assembled in Las Vegas Nevada.
The way that happens is that the receiver portion of the AK is manufactured and stamped overseas in Arsenal's factory in Bulgaria. Then the stamped receivers are shipped out and imported into the United States by Arsenal Incorporated which has a factory in Las Vegas. The imported receivers are then completed and mated with original chrome-lined Bulgarian barrels and US-made triggers.
The triggers are made so that they do not slap the trigger finger on reset. This was a problem with older-style US-made triggers. Essentially the reset of the trigger after firing was too fast and violent, so much so that the trigger face would slap the trigger finger causing mild discomfort.
Shoot one or two magazines at a slow cadence and this isn't really a big problem, but if you are shooting for an extended period of time or shooting at a quicker cadence then it can become more worrisome.
The stock sets on these Arsenal SLR 107's are US-made polymer and come with a heat shield built into the handguard to help deflect some heat away from your support hand.
Anyone who has shot an AK for more than a few rounds can attest to the heat that is generated from the barrel and the gas system. In just a magazine or two things can become very uncomfortable to handle. With the stock set and the integrated heat shield, it helps to keep that heat at bay for longer.
If you continue to shoot for extended periods of time or mag dump you still might need to put on a glove to assist your support hand.
The buttstock on the Arsenal SLR 107 is a side folding affair either constructed of polymer or metal depending on which model you choose to go with.
The SLR 107 comes with a standard style 800-meter rear leaf sight.
Arsenal SLR 107R
• Capacity: 30+
• Action: Semi-Automatic
• Caliber: 7.62 x 39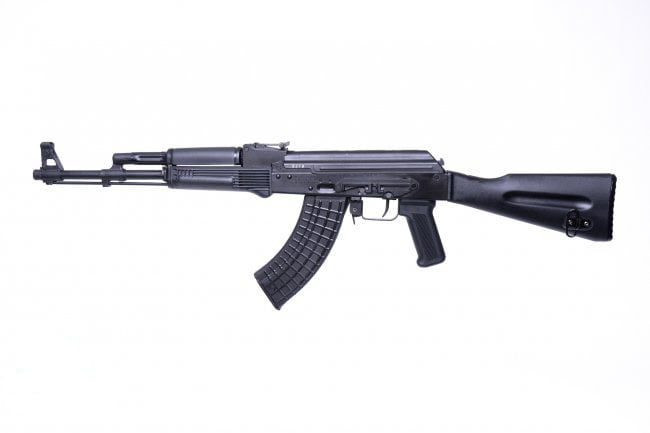 Zastava ZPAP M70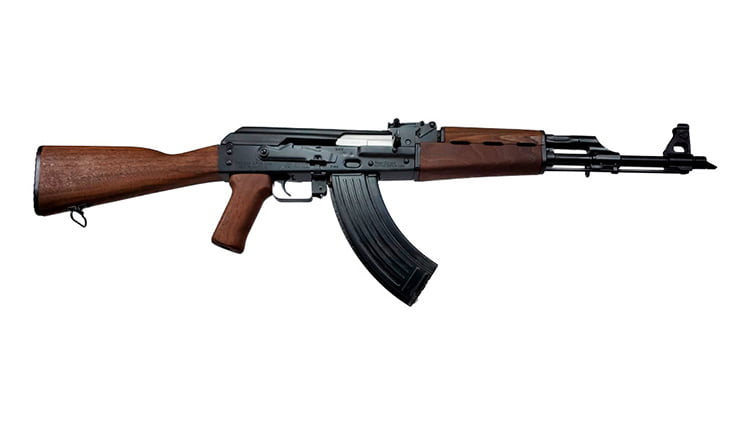 The Zastava Arms ZPAP M70 is imported from Serbia into the United States.
Based on an earlier design that included a gas cut-off for a rifle grenade, the updated design was made in 1970, thus the M70 moniker.
A unique feature of the Zastava ZPAP M70 is the use of an RPK-style bulged trunnion. The then Yugoslavian government had their hand in the overall design of the M70, and also settled on using a 1.5mm thick stamped steel receiver.
This means that the Zastava ZPAP M70 is much beefier and thus stronger than other stamped AK's that use the standard style trunnion and the 1mm stamped steel receivers.
These features, always found on the military version of the Zastava rifles, were recently introduced to the civilian semi-auto ZPAP.
While adding these unique features, Zastava also left a few more out. They did not include the rifle grenade components into the import version of the rifle.
Like many other AK's the Zastava ZPAP M70 has a chrome-lined barrel. This feature is not found on the military version, so there does appear to be some give and take when it comes to desired features on these rifles.
Like many other imports, Zastava sends their rifle not fully completed to their sister company Zastava USA located in Illinois. Once there, the ZPAP M70 is outfitted with the correct amount of US-made parts to be able to meet the requirements of 922R.
Zastava ZPAP M70
• Capacity: 30+
• Action: Semi-Automatic
• Caliber: 7.62 x 39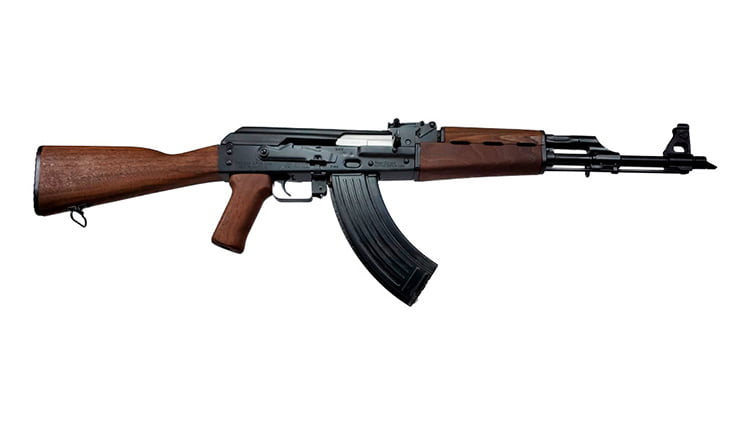 Fabryka Broni Radom Beryl M1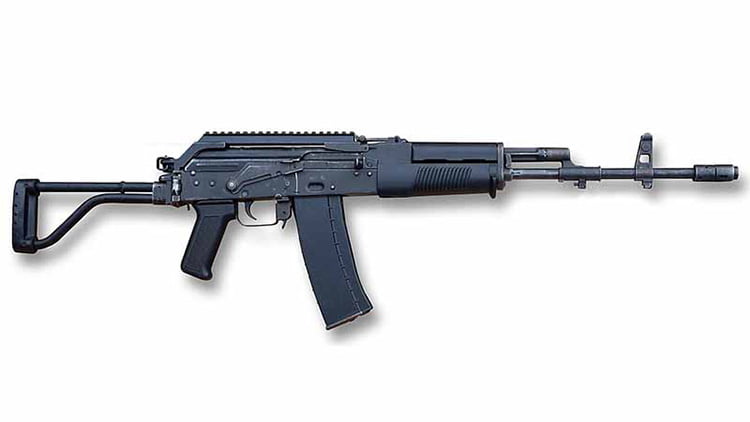 Another imported AK is the Fabryka Broni/Radom Beryl M1. That is an incredibly long name for such a simple weapon.
Fabryka Broni, also known as FB Radom is a Polish manufacturer that makes weapons for the Polish military. FB Radom also makes pistols and rifles for export to countries like the United States of America.
As stated in other sections in this review, FB Radom's barrels are highly sought after and used in many other manufacturers' builds.
The Beryl M1 manufactured by FB Radom has many updated features not found on other AK pattern rifles.
For one, Beryl uses their own proprietary rail mount for optics. They have manufactured this rail mount to be placed on the rear trunnion for a more solid point of aiming.
At the opposite end of the Beryl rifle, you will find a unique muzzle device. The engineers at Beryl decided that they weren't happy with any of the options available for the AK pattern rifle and then they decided to make one of their own.
This is what drives a free market, and I think it's really cool to see innovation on such an otherwise old platform. Never accept "good enough", always look for ways to improve upon yourself or your products.
This is a very good way to carve out your own niche in the market space, and I think the people at FB Radom have done just that. By also having several other manufacturers using their barrels, they have also made themselves indispensable when linked to the other companies' firearms as well.
FB Radom also employs an oversized magazine lever to ease the somewhat cumbersome mag change process.
FB Radom prides itself on the fit and finish of its firearms, and the Beryl is no different. The finish on the Beryl is much higher than most other companies, and the fitment of parts is stellar.
As an imported rifle, the Beryl has to comply with 922R, and FB Radom lists the compliance parts as muzzle break, US-made magazine, the pistol grip, and then the buttstock. The fire control group also has US parts to help bring the Beryl into compliance.
Domestic AK's
Domestic AK production sounds very foreign. In recent years, however, there has been a huge jump in domestic AK production. So are the best AK-47s now Made in the USA?
Basically, there are two types of domestic AK's, the first being totally domestic operations set up to build AK's such as Palmetto State Armory and then you have outfits like Kalashnikov USA, a Russian operation in origin that opened up factories in the US to make production here stateside.
Either way, the domesticated AK is here to stay. With the majority of gun owners being very patriotic this is a solid market to break into and has seen exponential growth in the last few years.
The domestic AK group represents an ever-growing number of companies and we like to see it that way. The more companies making the AK in the United States of America, the lower the prices will become, and hopefully, the quality will rise as they will have to compete with each other for the most reliable spot.
To be honest, it's hard to mess up an AK but for those of us who have a few years on the youngest crowd of gun owners, we can recall a time when it was a really bad thing.
Palmetto State has continued to expand its AK line and now offers several different levels of AK's along with their other brands. Kalashnikov USA also continues to release new AK designs in both the pistol and rifle configuration just like PSA.
You also have smaller shops set up such as Brandon Herrara's that take imported AK kits from out of the country and assemble them here in the US.
Another operation that does the same type of thing is Meridian Defense.
These types of operations usually turn out small batches of custom or semi-custom rifles built on higher-quality kits. These builds represent a small portion of domestic AK sales but are often highly sought after.
PSA GF5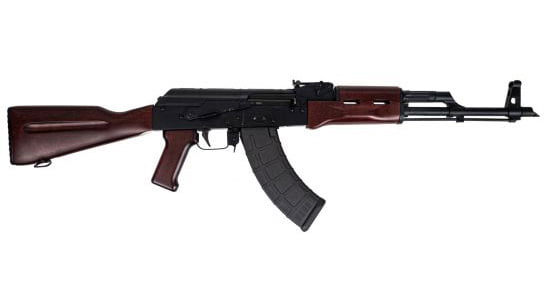 Another top entry from the folks over at Palmetto State Armory is the PSA GF5.
The PSA GF5 takes the bones of the GF3 and steps it up a notch. You will find all of the standard options offered on the GF3 on the GF5, such as a side rail mount.
You will also find that the front and rear trunnions are of the same build quality as the hammer-forged ones that are standard across the line on all PSA AK rifles and pistols.
This dedication to high-quality domestic production is one of the reasons that PSA is such a rising star in the firearms industry.
I know of no other company that has taken such an aggressive stance and brought so many new products to the table in as little a time as the folks at Palmetto State Armory.
They even have started manufacturing ammunition, and are slated to start making combloc calibers next year. This is tremendous news to folks that find AK's fun as the ban on Russian imports has curbed some enthusiasm recently.
The GF5's main claim to fame is its barrels. The barrels that Palmetto State has sourced for all of their GF5 models are made by FN. Yes, Fabrique Nationale FN. The same process and materials that go into the M249 and M240 are put into the barrels of the Palmetto State Armory GF5's. That's pretty impressive.
You can also get the GF5 in just about any combination of furniture that you can dream of. Being a company that has the capability to produce a steady amount of multiple iterations of AK's and also soon to produce the ammo to go along with it is a feat that is hard to beat.
PSA GF5
• Capacity: 30+
• Action: Semi-Automatic
• Caliber: 7.62 x 39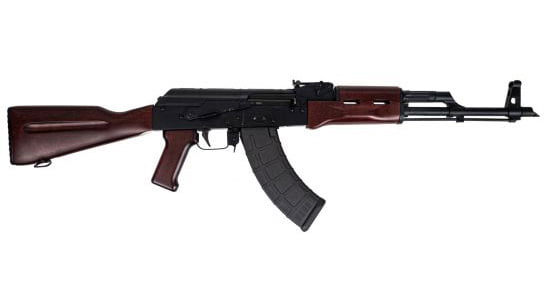 Kalashnikov USA KR-103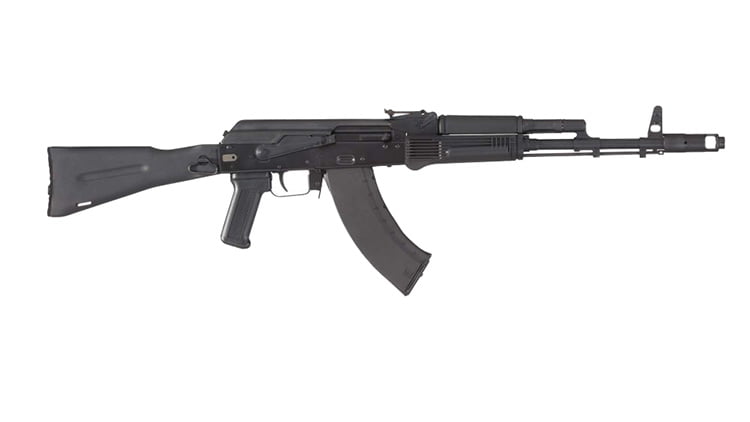 The KR-103 from Kalashnikov USA is a few steps up the evolutionary tree from the AKM platforms we've taken a look at so far.
The KR-103 is a copy of the AK103 the 21'st century updated version of the AKM platform. The AK103 was one of the last designs overseen by Mikiel Klashnekov himself.
Even with the modifications that were made, the bones of the AK remain the same.
The KR-103 can take standard AKM-style furniture.
KUSA chambers the KR-103 in 7.62x39mm, the proper caliber for this model.
One place that has an obvious change is the muzzle device that comes attached to the barrel of the KR103. Instead of having the slant break or no device at all, the KR103 clones the extremely efficient and effective muzzle break from the AK103.
This muzzle device helps to tame the kick from the 7.62x39mm cartridge and helps to keep the rifle from moving around as the gun fires.
Kalashnikov USA also followed the lines of the AK103 on the gas block. While a traditional AK uses a 45-degree gas block, the KR-103 changes that up to a 90-degree block. This helps with the venting of gasses and makes the system more smooth. It also helps with parts wear over time.
The KR103 has other high-end options that we come to expect to see on quality AK builds, such as forged trunnions.
Kalashnikov USA also uses forged bolt carrier groups in their rifles.
The KR-103 has a chrome-lined button-rifled barrel that is good for accuracy and wear resistance.
Kalashnikov also includes the side mount rail on their KR103 so if you choose to mount your optic using a side mount, it is there and available.
KUSA KR-103
• Capacity: 30+
• Action: Semi-Automatic
• Caliber: 7.62 x 39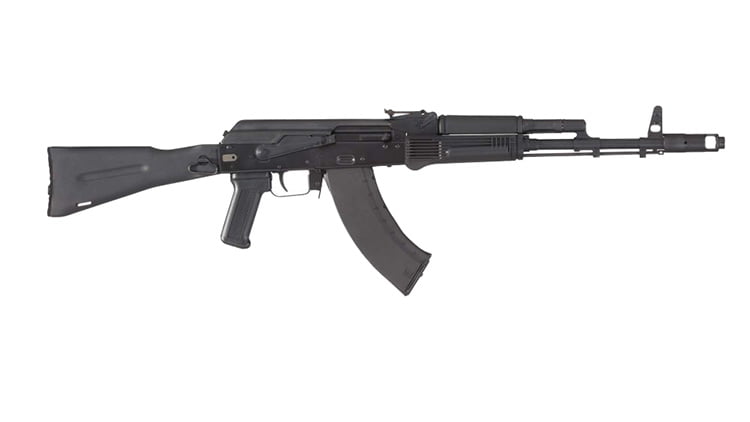 Milled AK's
Milled AK's are special. The original design for the AK was milled and is thought of as the best AK-47 in terms of quality.
The change to stamping was made to help make the production quicker and easier. It also allowed for more forgiving tolerances in the overall design.
By moving to stamping the Ak's it made the production of AK's much cheaper.
One benefit to a milled AK is its overall strength. If you possess a basic understanding of materials, you will know that a milled receiver is obviously thicker and stronger than a bent piece of sheet metal that uses rivets to hold itself together. Over time, the milled design will hold up better and show less wear.
Both designs have their merits, but for overall ruggedness or just plain old-school cool factor, a milled AK is the way to go.
One drawback however is overall weight. The added material in the receiver weighs a lot, it is steel after all. Being made of steel is what makes it a stronger design choice.
Most of the milled AK's are kits or imports that have been brought in, and therefore demand a higher price tag than those of their stamped counterparts along with being more complicated to machine and manufacture.
AAMR-47
The AAMR-47 is a US assembled AK47 that has been built off of newly imported Polish AKM parts from WBP Rogow.
WBP Rogow is an independently owned and operated manufacturing facility in Rogow, Poland. Their main focus is manufacturing AK and AK variant rifles. They also import parts into the US for manufacture.
The barrels are made from FB Radom, and they are cold hammer forged and are machined on Steyr machining equipment which means they are of high quality. They are careful to keep the tolerances to military standards and pride themselves on top-notch quality products.
The AAMR-47 also features fully machined bolts and BCG's from WBP.
The US milled receivers are custom milled from 4140 billet steel and then heat-treated for the correct hardness.
All the standard features you expect to find on any given AK you will find here, from the threaded barrel and bayonet lug to the traditional style wood stock.
This rifle prides itself on being a high-quality unit that is a perfect bed for future customization if you feel like switching thighs up and making them interesting on a milled receiver.
Arsenal SAM 7R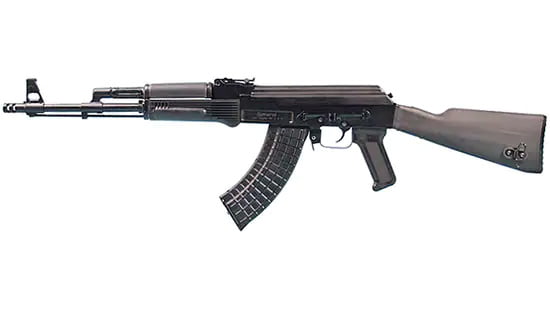 The Arsenal SAM 7R is considered by some to be the premiere milled import of the AK47 world.
While we will reserve our opinion on this matter, we will point out some of the highlights that the Arsenal SAM 7R brings to the table.
Arsenal is another one of the original Russian AK manufacturers that may or may not have seen the writing on the wall and relocated a production plant to another country outside of Russia.
The current Arsenal imports come from the country of Bulgaria. This circumvents the ban on Russian manufactured firearms and ammo. Because they are manufactured in Bulgaria, we expect to continue to find Arsenal AK's for some time to come in the USA.
The SAM 7 series is hot-dye hammer forged receivers, bolts, and BCG's. A 5-ton hammer is used to forge the receivers, making any voids in the metal non-existent.
As with the AAMR-47, Arsenal uses Styer's technology to cold-hammer forge their barrels in-house.
Arsenal crome plates their chamber and bore of their barrels to help protect against corrosion and extend barrel life.
This is one of those "as close as it gets" to the real Russian-made milled AK that will be available in the US for the foreseeable future.
Arsenal SAM 7R
• Capacity: 30+
• Action: Semi-Automatic
• Caliber: 7.62 x 39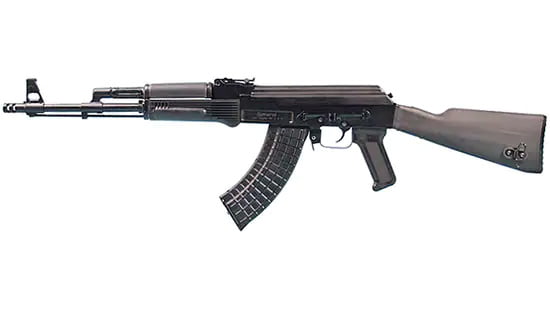 Pistol AK's
In recent years we have seen a surge in rifle caliber pistols. While the future of these pistols is seemingly under review by our overlords at the ATF, they continue to grow in popularity.
The advent of the pistol brace has ushered in this newish category.
While the Draco AK pistol has been around for a long time, other entries have begun to spring up left and right.
Pistol AK's cover a huge range as anything with less than a 16" barrel falls into this category, if not registered by the owner as an SBR or short barrel rifle.
Having that knowledge many manufacturers produce AK's in the 14.5" to 12.5" range as this seems to be the sweet spot for the ballistics of the 7.62x39mm cartridge.
Also very popular is the 10.5" and shorter barrel lengths.
The AK47 chambered in 7.62×39 does not suffer from the same drawbacks as rifles chambered in 5.45×39 or 5.56×45.
Testing has shown a drop off right around 200fps from a rifle-length barrel to that of a 10.5" pistol. These numbers mean that you can get a smaller package and not lose out on performance.
This is mostly due to the larger bullet being more efficient in transferring energy into the target and not relying solely on speed. The powders used to load the 7.62×39 also have a lot to do with its performance.
The AK is an inherently good design to have as a pistol also because it does not rely on a buffer tube like that of an AR. You can have a folding brace on an AK pistol and still be able to fully operate it in its most compact form.
However you look at it, the pistol AK is a top contender when it comes to making your selection.
PSA AKP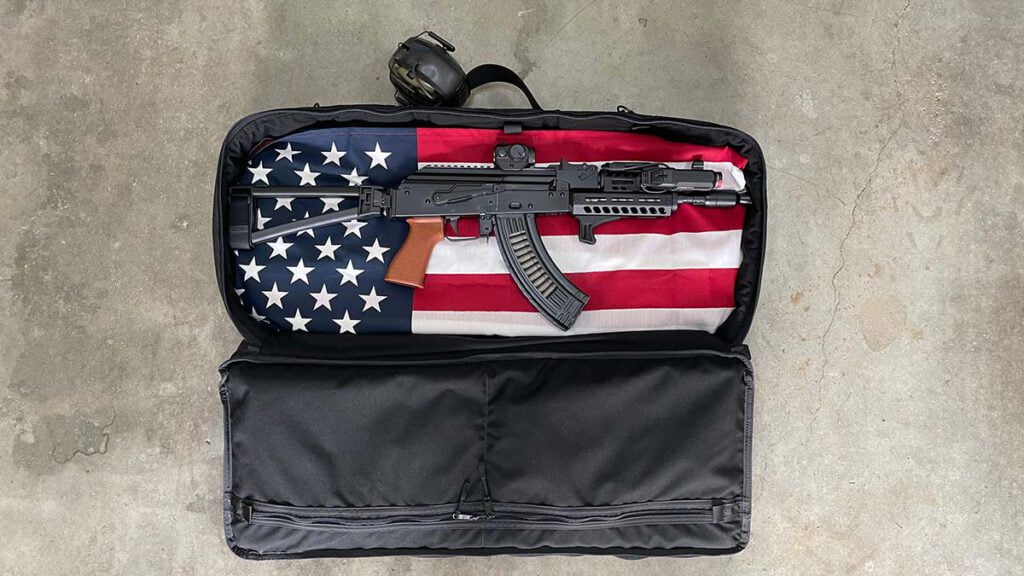 I have previously reviewed the Palmetto State Armory AKP. It currently sits in the bedside safe sporting an Eotech and a Streamlight RM2. I also have plans in motion to drop a Dead Air Wolverine on this particular AK to round out its use.
The AKP follows along the lines of the PSA GF3, as reviewed by Michael. It sports the same hammer-forged front and rear trunnion, bolt, and bolt carrier group. It has accepted all of my AK mags without modification.
For those that have been around AK's long enough, you know that is a feat in itself.
One place where the AKP differs from the PSA GF3 is blindingly obvious; the barrel length. The PSA AKP sports a 10.5" barrel. Attached to the end of the barrel you will find one of two muzzle devices, a traditional krink style device or a copy of the more modern four-piece brake.
Under the muzzle device, you will also find the thread pitch is different. Like most other shorty AK's, the PSA AKP sports metric 24×1.5 right-hand threads as opposed to the 14×1 left-handed threads on the GF3 and other main AK's.
The PSA gas block is also combined with the front sight post as the abbreviated barrel does not give much room to work with.
I for one like the compact space given on most AK pistols, as long as the space given is used wisely.
To a more astute observer, you will notice the lack of a side rail interface on the AKP. Instead, Palmetto State has opted to provide from the factory a hinged dust cover that has an integrated rail built-in.
I have not noticed any shift of zero so far in using the dust cover as a mounting solution for my Eotech. It has a firm and consistent lock-up when disassembling the AK for cleaning or field strip.
I have added some Loctite to the screw where the dust cover interfaces with the rear sight base as a precaution.
As a pistol, the Palmetto State Armory AKP can not have a stock attached to its receiver as it comes from the factory. It does however come with a 1913 pic rail section on the rear of the trunion so that you can affix any number of pistol braces that are compatible.
If you so choose to SBR the PSA AKP you can then attach any stock that will also interface with the 1913 rail.
My personal AKP will be SBR'd at some point in the future, and along with the attachment of the Dead Air Wolverine, the AKP will have reached its final form.
Zastava ZPAP92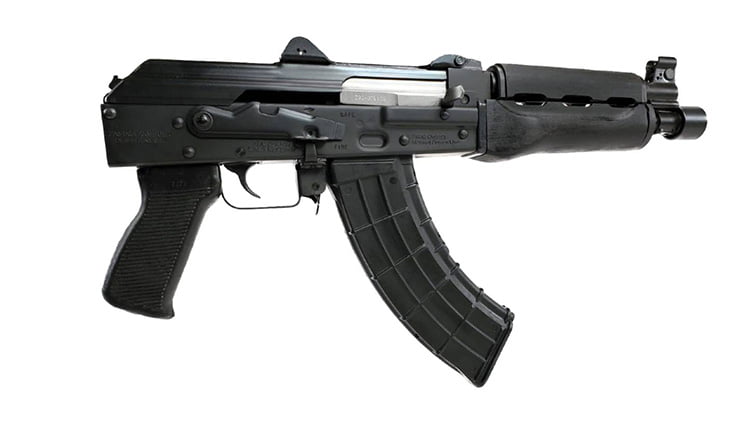 The Zastava ZPAP92 is from Zastava USA.
The frame of the ZPAP92 is made from 1.5mm stamped steel. This is a step up in beefiness when compared to some other stamped AK's. The standard (if there is a standard) thickness of the stamped receivers are 1mm. This added thickness aids with rigidity and overall strength.
Also found on beefier AK builds is a bulged front trunion. This beefed-up area reinforces the chamber area and helps to keep the detonation of the cartridge where it needs to be.
The Zastava ZPAP92 has a hinged dust cover and on top of that is a Krinkov-type rear sight.
On the selector lever, you will find a bolt hold-open notch. You can essentially hold the bolt to the rear and show clear by flipping up the safety and catching the charging handle in this notch. Is this necessary, no. Is it a cool feature, hell yes.
The ZPAP92 has a 10" cold hammer-forged chrome-lined barrel. This falls into the sweet zone for the 7.62×39.
Zastava ZPAP92
• Capacity: 30+
• Action: Semi-Automatic
• Caliber: 7.62 x 39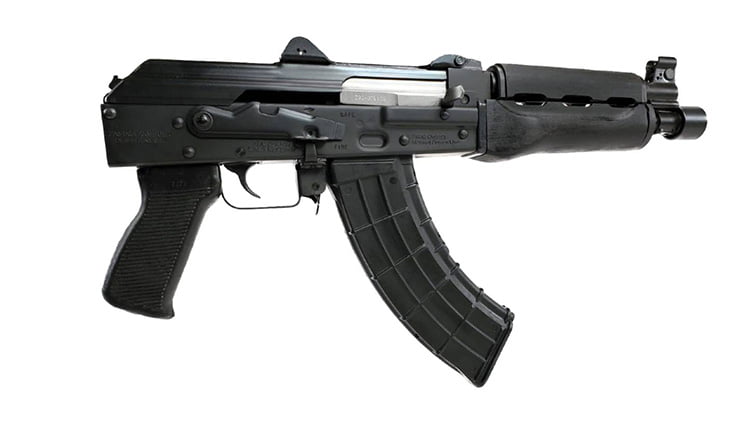 Draco, Standard, Mini & Micro
Iconic. Romanian.
The Draco and its smaller brothers the Mini Draco and Micro Draco have been around for a long time.
Imported by Century Arms, these pistols were one of the first pistol AK's on the market.
Well before the advent of the pistol brace, the Draco pistols did not have the nifty 1913 pic rail that the Palmetto State Armory AKP sports.
This does not mean that the Draco's are left out in the cold though. There are a few different options that you can solve this dilemma.
Number one, they make brace adapters that attach to the pistol by loosening the AK pistol grip and sliding the forked section between the top of the grip and the bottom of the receiver. You then would tighten the pistol grip up thus suring up the contact between the three parts causing a solid lock up.
Conversely, you can modify the rear trunnion and add a 1913 rail section then using it as you would the AKP.
Standard Draco
The standard Draco sports a 12.25" barrel. This length is almost ideal for the AK platform. The 7.62×39 will be the most efficient out of this barrel between the three options available on this particular platform.

The Draco has a threaded muzzle so you can attach muzzle devices or suppressors if your heart desires.
The standard Draco also uses a standard AK rear sight base and also standard-sized handguards.
Mini Draco
The Mini Draco uses a smaller 7.75" barrel. When dropping to this shorter barrel length, you will start to see diminishing results on target from the 7.62x39mm cartridge.
The shorter barrel means that the handguard has to be modified as the gas system is also shorter than that found on the standard model.
The Mini Draco keeps the standard AK-style rear sight. I feel like this is being more than hopeful, and that the sights will not be so useful.
The Mini Draco also comes with a threaded barrel like that of the standard Draco.
Micro Draco
The smallest of the three Draco's is the MIcro Draco.
Small doesn't begin to do this thing justice. Measuring in at 6.25" the barrel on the Micro Draco is hardly long enough to contain the 7.62x39mm cartridge four times over. This means that the .311 caliber bullet will not come close to achieving a full burn in this diminutive barrel. It also means that the handguard has also shrunk that much more as well.
The rear sight is a notch that has been welded onto the dust cover. Let's be honest, with this short of a barrel, no one is expecting much in the accuracy department.
What this also means is all that unspent powder is now going to spew out the muzzle of your Micro Draco and ignite into a giant fireball and make one hell of a loud concussive blast.
Lucky for you, the Micro Draco also comes with a threaded barrel, so you can attach whatever muzzle device to try and help tame that macro explosion out of your micro Draco.
Final Thoughts
The world of AK 47 rifle selection is a huge, open place. Ranging almost over 75 years means there have been a lot of different companies and manufacturers that have taken that base design and put their own twist on it.
As the most prolific battle rifle of all time, and carried by over 106 countries as the main issued rifle there is no doubt that it will continue to hold that spot for some time to come, maybe until the end of time.
If you are looking to pick yourself up a copy of one of these fine pieces of rugged hardware I think you will be well served no matter what choice you make.