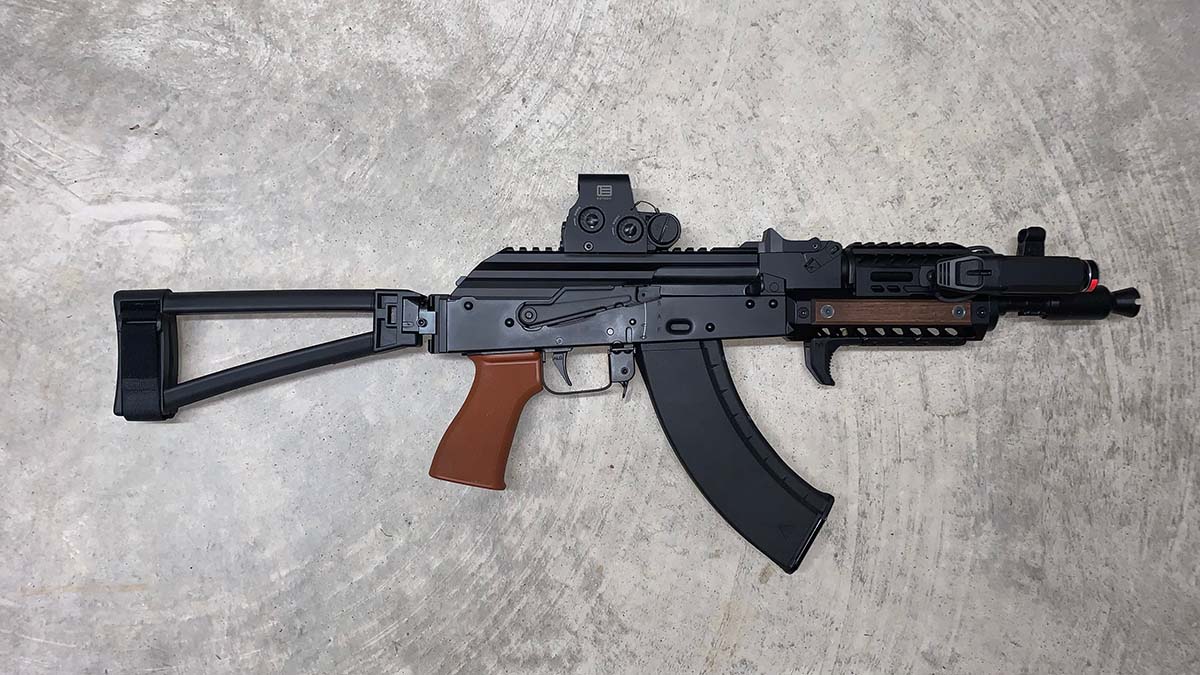 While many people research the best optics for the AR, the growing market for the AK has led some to start to look for ways to outfit their 47s, 74s, and 100 series Ak's with a little bit of glass. So I want to help you find the best AK optics for your needs.
While there are a plethora of options and choices to be made, it is a little more complicated than just slapping a scope on a flat-top AR.
The AK was designed at the end of WWII, and as such is a slightly more dated design than that of the AR.
Contrary to what Call of Duty Vanguard would have you believe, scopes at the time were mostly used for sharpshooting, and of course hunting.
The first electronic "red dot" wouldn't be marketed until 1975, a full year after the introduction of the 5.45×39 and the AK-74.
Even with the introduction of the new cartridge, the overall design of the AK stayed relatively the same.
It could be argued that it was part of the communist dogma to leave everything the way it is; as the AK had proven itself to be utilitarian, utterly reliable, and downright unstoppable under most circumstances.
These things all added to the fact that there was not a good spot to put an aiming device on the original design, to begin with.
The thin, stamped sheet metal top cover wasn't strong enough to hold zero, and by its design was impossible to fix to the point that anything attached to it would be remotely effective or accurate.
Accuracy Issues Debunked
Let's take a few moments to address an often repeated, but mostly inaccurate (see what I did there?) cliche; the AK is an inaccurate weapon.
This fallacy has been repeated time and time again in NATO and/or western nations for so long that it has become accepted by many without being given a second thought.
These statements may have been started as propaganda during the Cold War to essentially throw shade at the Soviet Union and other combloc countries.
Furthering these unfounded rumors after the fall of the Soviet Union, several companies would begin to import AK's into the United States.
While some of these companies took care when assembling de-milled or parts kit AK's, many others simply did not.
Tilted sights and gas blocks were rampant among the cheaper imported AK's.
This issue, while problematic for making accurate shots, is not indicative of the rifle itself, and the blame would lie with the unskilled laborers who were slapping the things together as fast as they could.
Another perceived accuracy issue is the use of a leaf-style rear sight instead of a more modern & western-style peep sight.
The rear leaf sight is also located above the chamber while most western guns locate the sight at the rear of the action, giving you a longer sight radius and making it easier to aim.
This does help you make more accurate shots but does not contribute to the mechanical accuracy of the firearm.
Just like most skills in life, you need practice to be proficient.
When transitioning from the more common peep/ghost ring style sight to the more dated leaf, it became apparent that the skill and art of marksmanship had become a little rusty as we got used to using other designs.
Quite possibly though the biggest reason for the stigma was that the rifle came from bowls of Soviet Russia; and therefore could not be any good or accurate.
So what are the best optics for AK 47? Great question and we will dive into everything from traditional, red dot, LVPO, and even Mother Russia optics. We will even talk about the original AK-47 Scopes and the best budget AK optics.
Traditional Looks
The AK is the most popular rifle in the entire world, followed by the AR. You can find a copy on almost every battlefield since its inception. From the war-torn deserts of Africa and the Mid-East to the jungles of Vietnam and Korea, the streets of South/Central America and the US to the frigid Tundra of Siberia and most recently the war in Ukraine. The AK and its silhouette are known worldwide.
While the overall shape of the AK has changed very little over time, slight modifications have been made along the way.
Originally, the AK had no muzzle device. Then a slant break was added to help drive the muzzle down to mitigate muzzle rise.
Over time furniture changed, stocks were modified and made foldable (side or under) safeties were changed slightly.
Several countries and/or Soviet States made the AK, and while the design remained the same each location made slight variances in design. These loose tolerances are one of the reasons the AK is such a reliable platform.
One of the most visual aspects to change over time is the muzzle devices. That combined with magazines make the two biggest and most visible changes throughout the AK's storied past.
As the decades crept by, technology and advancement in optics grew exponentially. The need to attach optics to the AK grew, and as the old proverb goes "necessity is the mother of invention."
Railed Dust Covers
One of the solutions to mounting optics to an AK is a railed dust cover.
Early on there were some rudimentary designs that either bolted a 1913 rail to a standard AK dust cover or even welded them on. These solutions were obviously not ideal and led to optics not being able to hold or even obtain a zero from shifting under recoil constantly.
As time went on, several companies stepped up to remedy this problem. We will take a look in this section at a few of those companies and their products.
These lists are in no particular order and are in no way comprehensive.
Zenitco B-33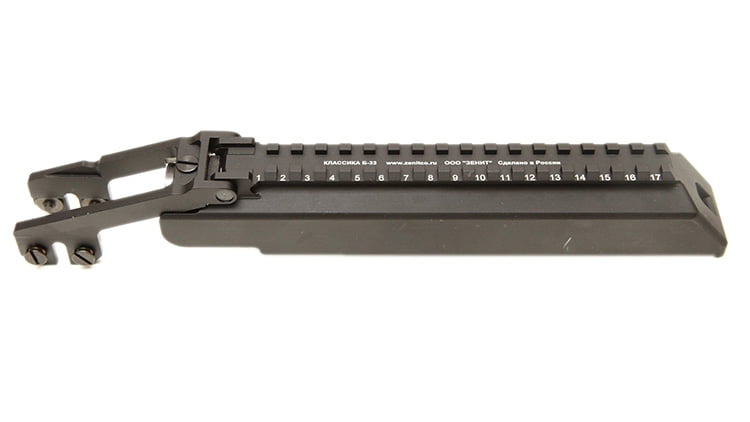 The Zenitco B-33 is part of a total rail system designed in Russia. It is extremely high quality, and "the real deal." It connects to the handguard which is press-fit into the receiver and thus eliminates virtually all movement commonly associated with AK dust covers and furniture.
This solution from Zenitco is heavy and adds significant weight to an already heavy weapon.
The additional weight can be viewed as a trade-off for the high-quality product that Zenitco produces.
Sureshot SAG AK Chassis MK3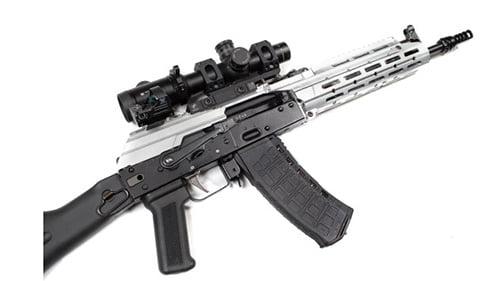 The MK3 Chassis system from SAG is another high-quality option for dust cover placement of an optic for the AK pattern rifle.
Like the option from Zenitco, it is a full system solution to mounting all things to the AK.
It also has the added benefit of free-floating the barrel of the AK, thus making it more accurate.
The cassis system doesn't block the front sight and even allows you to keep your rear leaf installed as it goes over top of the rear sight block. For those not wanting or willing to permanently modify their rifles, this option is a good choice.
Fab-Defense FAB PDC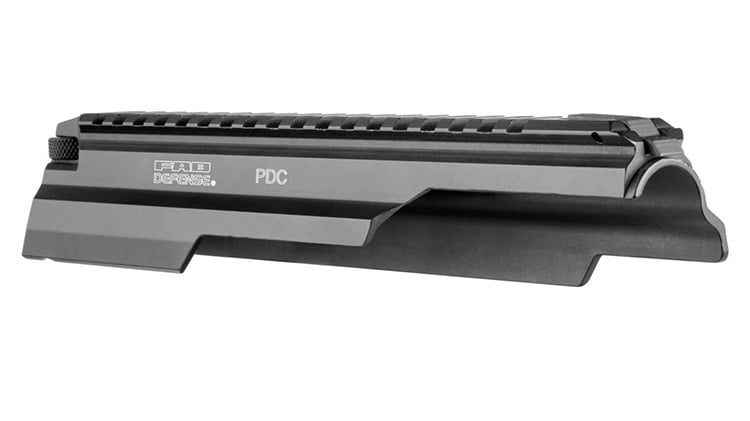 The PDC from Fab-Defense is a simpler, and much cheaper option than the previous two. That's not to say however that it is any less of a viable option.
The PDC directly replaces the OEM dust cover that comes with your AK. It has a patented, manually adjustable retention mechanism to be able to ensure reliable lock up and repeatable zero.
The PDC by design will add less weight to your AK than the options from Sureshot and Zenitco as well.
This option also allows the use of your stock iron sights and does not require any gunsmithing according to their website. It should be a drop-in and-go solution for mounting optics to your AK.
Texas Weapon Systems Gen III Dog Leg Rail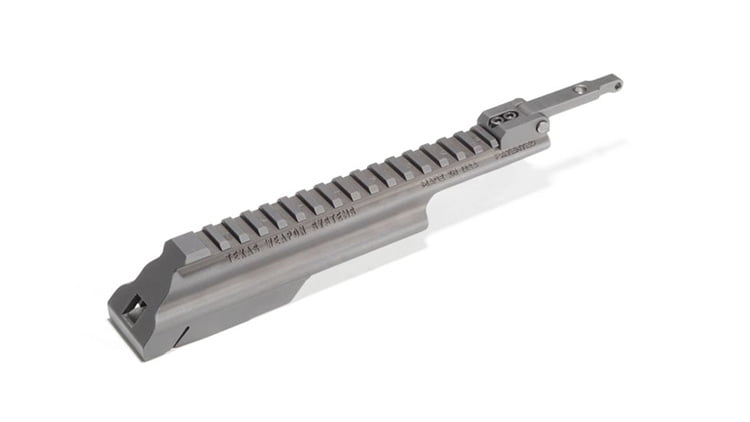 The entry from Texas weapon system takes yet another approach at replacing the dust cover with a railed option.
Price check at Primary Arms and Brownells.
Texas Weapon Systems GenIII Dog Leg Rail is designed to interface with your rear sight base. This means that you will have to remove the rear sight leaf.
Don't fret, you can add a rear peep sight to the rail if you don't want to completely give up your irons.
While this sounds complicated, it actually is quite simple, and also allows for a more secure lock-up and repeatable zero as the rail is semi-permanently attached to the rifle.
This option is also in the cheaper category and doesn't add an appreciable amount of weight to your rifle.
AK Side Mount
The original solution to mounting optics to AK's was the side rail. In your search for the best AK optic if you have the side mount check out some of these options.
Over time there have been a few iterations of these, but they all work in the same fashion. The side rail is basically a chunk of steel that is riveted to the side of the AK and allows for quick connect and disconnect of optics via an angled adapter.
It seems complicated, but when you consider the options, it is the simplest solution that does not require you to change any furniture or alter your iron sights.
It's QD, did we mention it's QD?
Zenitco B-13 Rail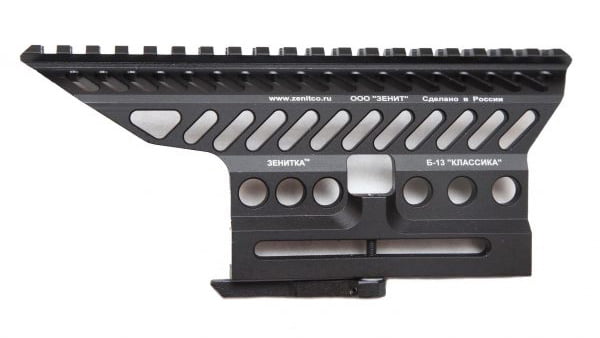 Here we visit the folks at Zenitco again. This time we look at their simple solution for the side rail, the B-13.
This side rail is strong, well built and simple. It achieves the objective of giving your rail space above the dust cover thus allowing you to mount an optic to your AK.
It is QD, so you can take it on and off quickly and it should retain its zero when you do.
Overall a solid option to be had from a quality Russian manufacturer.
RS Regulate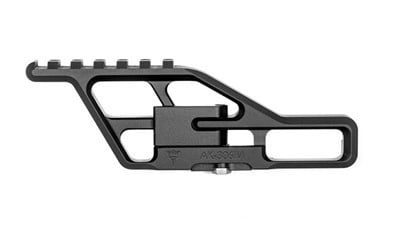 RS Regulate offers several options for side mounts for optics.
RS Regulate makes its side rail out of a titanium-based alloy, and they boast that their mounts do not protrude out from the side of the AK more than the mounting block itself.
They also state that they offer the strongest, lightest and thinnest side mounts in the world.
Their minimalist design is very attractive and in a game where ounces equal pounds and pounds equal pain, keeping your additional hardware to a minimum is always a good thing, especially when it's strong.
Midwest Industries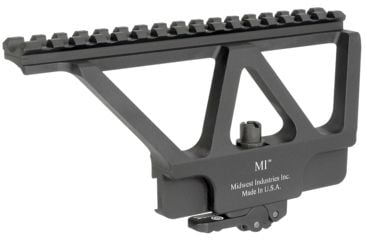 Midwest Industries is another company that offers a few different selections when it comes to side rail optic mounts.
The folks at Midwest industries have developed three main options, one short rail, one long(er) rail and then one that has a mounting plate for MRO and T1-T2 style optics.
The railed versions offer more versatility, but the MRO and T1-T2 options offer weight and size reduction.
If you choose to go with the solutions offered at Midwest Industries, it's hard to go wrong.
UTG ACCU SYNC QR AK Side Mount, Universal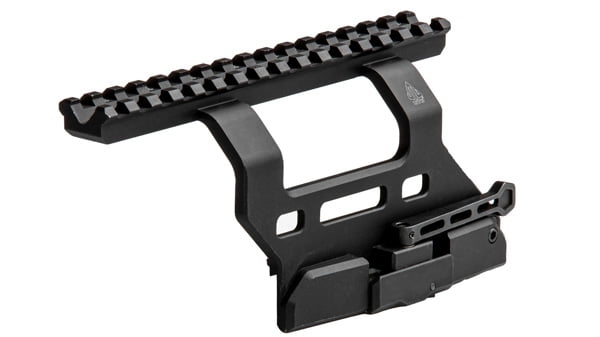 The ACCU SYNC Universal rail offered by UTG through Leapers is one of the more budget-minded options that we took a look at.
That's not to say it lacks in its function, though. It still gets the job done and well I might add.
UTG has come a long way in the past several years, and I think one would be remiss to simply dismiss this option if you are trying to stay within a budget while kitting out your AK.
AK Railed Gas Tube
The railed gas tube is yet another popular option for mounting optics to the AK pattern rifles.
This option though does have its drawbacks. First, the gas tube gets hot. Really hot, and quite quickly. This is a problem for many optics as it can quite literally cook them. Another drawback is you have to mount the optic all the way out on the gas tube.
For the AK, this means that you will only be able to effectively use red dots or holographic-style sighting systems. For some, these drawbacks don't matter, and using a quality option for your optic can help to mitigate the heat issue.  
Midwest Industries Gas Tube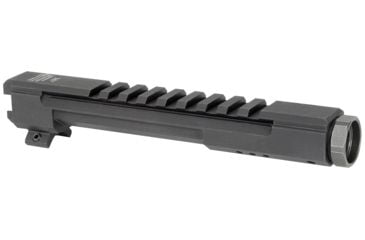 Visiting our friends at Midwest Industries again, we take a look at their railed gas tubes.
This is another good option that is domestically produced and minimalist in design.
The gas tube mounts from Midwest Industries are rugged, but as with many aftermarket parts for the AK may need fitment.
Anyone who is familiar with the AK (does more than take their stock rifle to the range to shoot) will know that some fitting is a normal thing for the AK.
SLR Rifle Works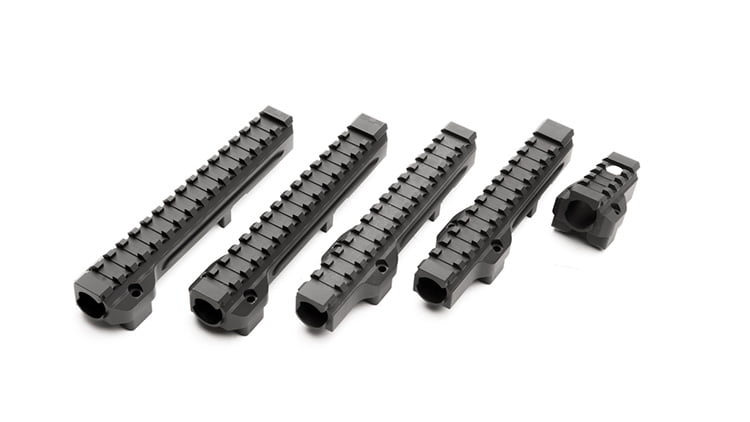 SLR offers a few options of a combo set of railed gas tubes and lower handguard.
This allows for a more solid lockup than just the railed gas tube alone. The products from SLR are high quality and look really good on all AK's. They are also very minimalist, yet offer a high level of refinement to your rifle.
SLR also makes products for a vast range of other weapon systems.
UltiMAK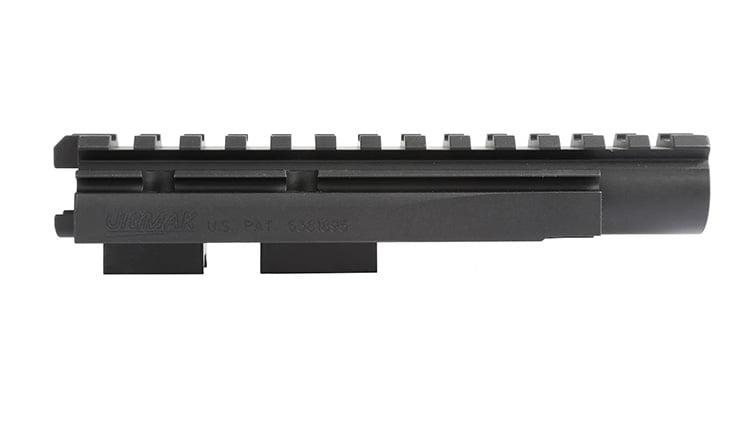 The products at UltiMAK are quite simple. There are several selections and a few parts to choose from.
They do bolt onto the barrel of the AK, which is a drawback in my book. This means that heat transfer will happen quicker, and also the barrel harmonics will be affected by the mounting of the rail and optic.
If accuracy isn't your top priority, then these products might be for you.
Arms of America WBP GenII
If you like tinkering with parts, the WBP GenII might be just the thing you are looking for.
The WBP GenII is milled and given a steel insert for rock-solid lock up.
On their website, they provide a link to a video that shows how the unit may (will) have to be fitted as they advertise it is made oversized to fit most AK's (sorry Yugo owners, not you).
This product is larger and looks more solid than other options in this category.
Rear Sight Leaf Replacement
Quite possibly the way to add optics to an AK in the most minimalist way is to replace the rear sight leaf with a replacement rail or adapter that allows for the mounting of an optic.
While this temporarily modifies the sighting dynamic of the rifle, it is not a permanent change and can be switched back with a little bit of elbow grease.
The main draw to this type of mount is it adds virtually no weight to the rifle.
Some of the mounts even incorporate an iron sight in their design so you don't have to give up that capacity if you don't wish to.
TDI Arms RSR
The TDI Arms RSR is a simple lightweight option to replace your rear sight leaf with a rail.
The rail is MIL-STD 1913 and any optic that can be mounted on such is good to go.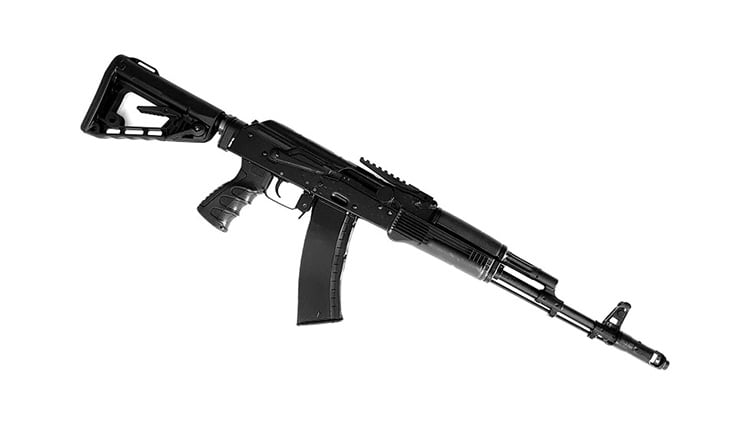 When a red dot is not in use the groove running up the middle of the rail doubles as a rear sight as it should align with the front sight.
This is a very economical solution to mounting an optic to an AK.
Claw Gear AK Rear Sight Mount
Claw Gear's AK Rear sight mount is a little beefier than other options in this category. It sits higher up overall than some others as well.
Being that it sits higher, it does allow for a sight channel underneath the rail so that you can use a red dot and also peek under the rail for a rudimentary iron sight picture.
This isn't an ideal setup but will make due in an emergency when your red dot may be down or blocked.
Strike Industries Rear Sight Rail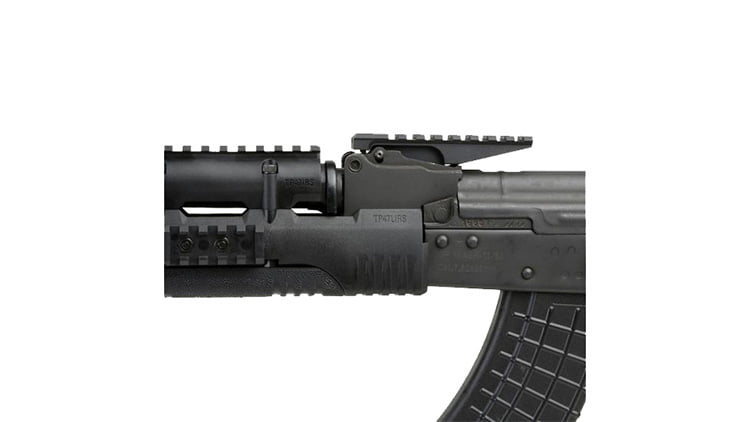 Strike Industries is a name that is famous, or infamous depending on who you ask in the gun world.
Whatever your opinion is on this company and their often red anodized parts, their entry for an AK sight rail is decent quality.
The part is black (thank goodness) and incorporates two dots on the flat face that looks back toward the shooter. This imitates a common sight picture that pistol shooters have known for a long time.
The Strike Industries rail uses set screws to hold the slack out of its system. The rail section sits higher than other options, and the rear dots are not useable when a red dot is installed.
Attero Arms & Accessories
Attero Arms is quite possibly my favorite option in this category.
They offer several different mounting options, as the optics mount directly to the foot of the optic instead of a 1913 rail. This allows for a much lower mount and the ability to co-witness the irons on an AK.
The Attero Arms does replace the sight leaf, but in doing so they include a true to form AK style notch on the front portion of their mounts so you don't lose your traditional sight picture.
Make sure you order the correct pattern for the optic you plan on mounting, as they are dependent on the optic itself.
Best AK-47 Red Dot Sights
All of the options in this category can be readily mounted to any of the mounting solutions we covered above. Their relatively small size means that you could easily mount them to the smallest and lightest options available and achieve your overall goal without adding a lot of bulk or weight to your AK.
AimPoint T2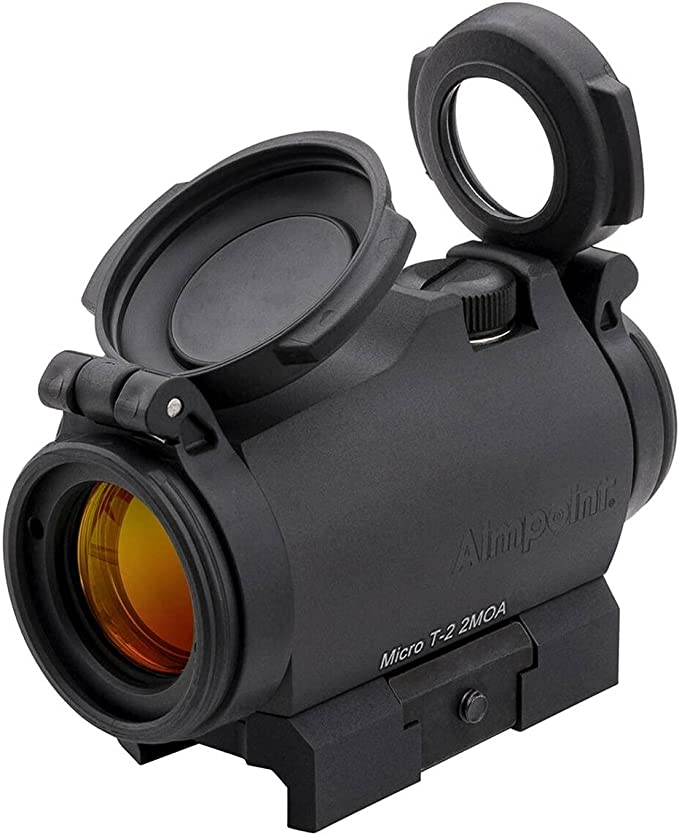 The Aimpoint T2 is an extremely popular red dot that is used across the world, and even by our military.
The H2 can also be found on civilian and Law Enforcement rifles as well.
The Aimpoint H2 is considered a micro red dot, although you can mount pistol microdots on 1913 rails as well so the nomenclature is a bit of a misnomer.
The Aimpoint is so popular that many companies have made clones to varying degrees of success. As they say imitation is the highest form of flattery. Some of these are also included on this list, which goes to show how good this little unit really is.
One of the highlights of the T2 is its unbelievable battery life. Aimpoint claims 50,000 hours (over 5 years) of constant-on at level 8 brightness. Enough said.
Eotech Holographic Weapon Sights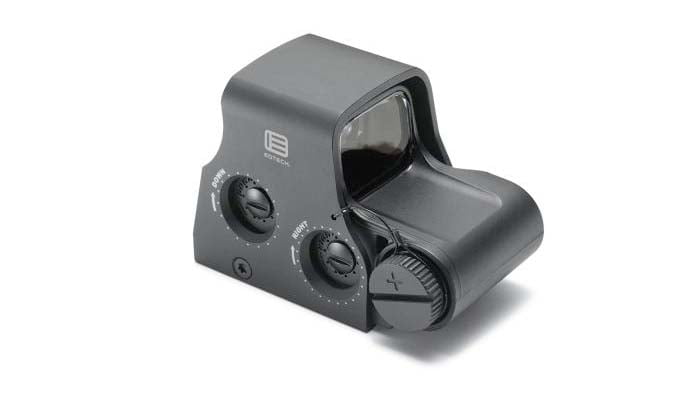 Eotech is synonymous with the military. As being one of the original included sights for the SOPMOD program, the unique silhouette of this holographic has been seen across the modern battlefield for many years.
As stated above, the Eotech is a holographic sight. This means that the sight that you see through the wide-open window is actually a hologram, unlike other more simple red dot sights such as the Aimpoint T2.
The aluminum housing that surrounds the Eotech weapon sights protects the more fragile viewing window and its internal workings.
Being more complicated has its drawbacks though, chief of these is overall size and battery life. The added weight from the housing and the more demanding electronics are the downside of this awesome holographic sight.
Holosun 503G w/ACSS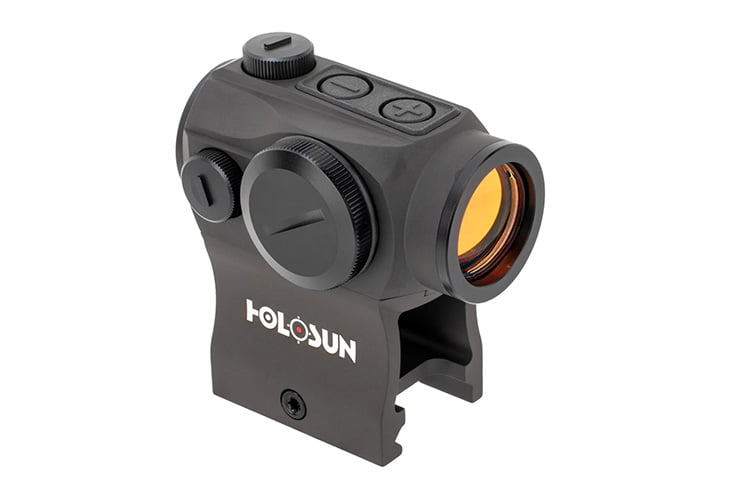 The Holosun 503G is a collaboration between Holosun and Primary arms. These two companies have come together to provide the end-user with a T2-style sight with a more advanced targeting design.
Whereas the exterior looks almost like a carbon copy of the T2, when you look through the glass you will notice the implementation of Primary Arms ACSS design.
The classic chevron is present along with stadia lines for bullet drop. You will also notice the presence of a large horseshoe circling the chevron, helping you to make quick and accurate snapshots. The horseshoe can be turned off if you do not have a need for such accouterments.
As with the options from Eotech, the more complicated reticle design means that battery life suffers a little.
Holosun has added shake to wake to this red dot which means that battery life will last much longer than expected even with the more complicated reticle.
SIG Romeo5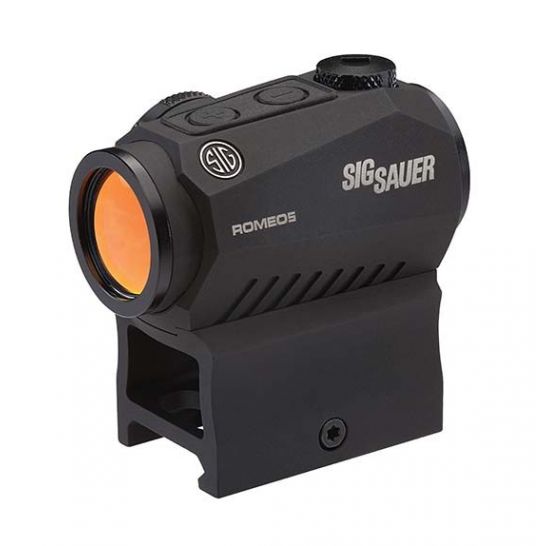 SIG's Romeo line of red dots has been the go-to for many budget minded builders looking to outfit their rifle with some 1x glass for a while now.
The SIG Romeo5 also takes its form from the storied Aimpoint T1 and T2. Yet again this shows how impactful Aimpoint is on the red dot market.
Like the Holosun, SIG has implemented the shake to wake technology into their red dot. This greatly extends the life of the battery as when the gun is stored, or not moving the red dot will shut off.
LPVO
Let's take a moment to talk about eye relief. Eye relief is the distance from the outer surface of the eyepiece lens to the position where the exit pupil is formed. A typical LPVO's eye relief is anywhere from 3.5" to 4.2"
This means that to mount a LPVO, you will need to use a railed dust cover or side mount option if you want it to be usable.
One benefit of mounting a LPVO is its versatility. At 1x the LPVO operates much like a red dot, and at magnification, it works as a traditional scope, giving you the benefits of whatever magnification the unit has.
SIG TANGO6T 1-6×24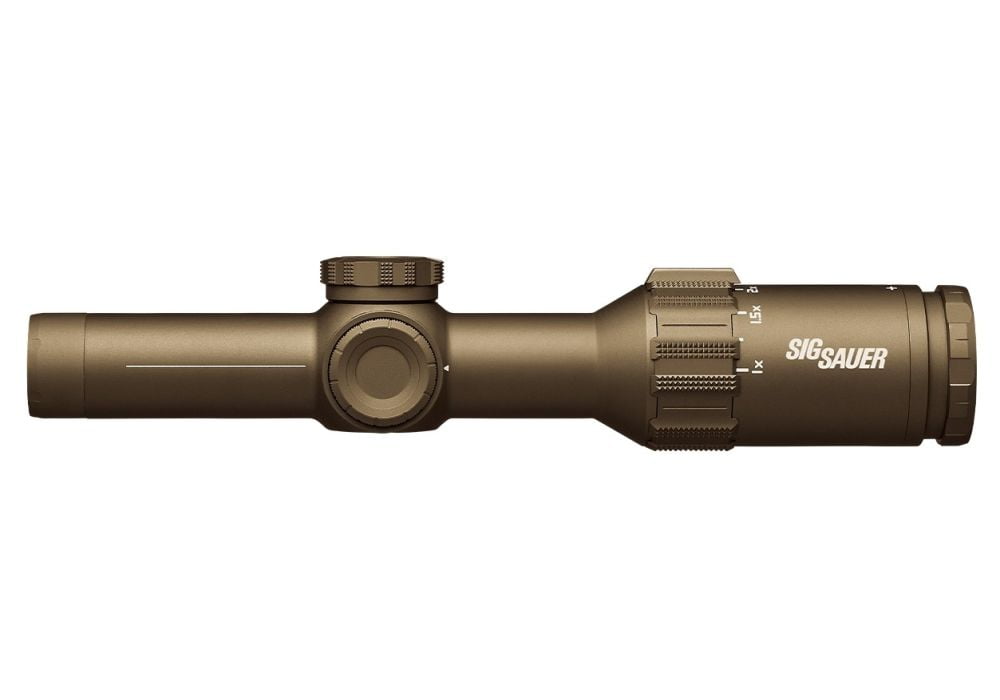 The SIG TANGO6T 1-6×24 can boast being selected as both the US Army's Squad Designated Marksman Rifle (DMR) System and for U.S. Special Forces. That is quite an accomplishment.
The SIG TANGO6T is a robust and high-quality LPVO. The glass quality is pretty dang good, as it should be since it beat out some really nice competitors.
One drawback that you will consistently see when using a LPVO is added weight. You have to take into account how you will use the optic for the majority of the time. If you think you will use the LPVO mostly on 1x and only occasionally crank the bell over for a shot or two with magnification, maybe you'd best be served by opting for a red dor or holographic sight with a QD magnifier.
Vortex Strike Eagle 1-6×24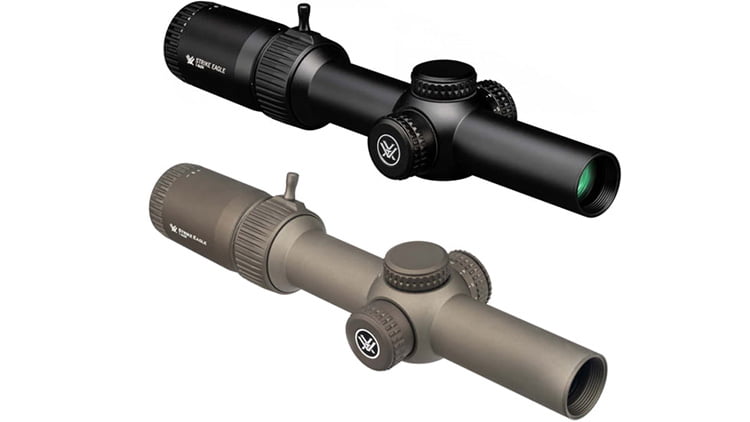 We previously reviewed the Vortex Strike Eagle 1-6×24 (GenII). While glass quality suffers a little when compared to more expensive options listed on this page, it's really hard to pass up if you are looking to put some quality magnification on your AK.
Primary Arms SLx 1-6×24 ACSS Raptor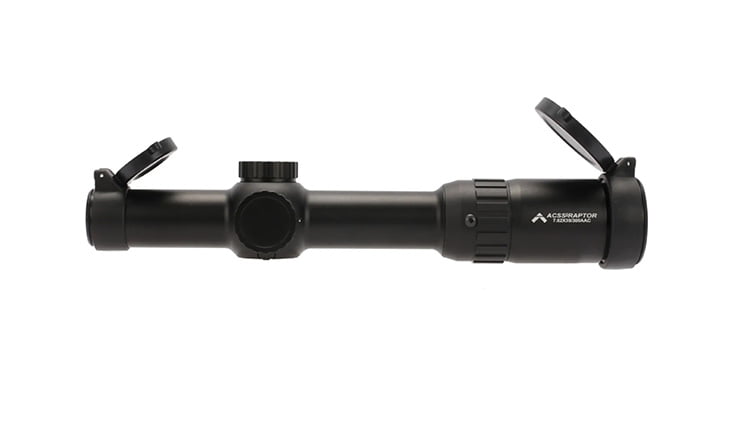 In the same price category as the Vortex Strike Eagle 1-6×24 mentioned above, the Primary Arms Slx 1-6×24 W/ ACSS Raptor reticle aims for the same buyer.
One thing that Primary Arms excels in is useful and unique reticle designs.
The ACSS Raptor reticle is specifically designed to show bullet drop compensation for the 7.62×39 and .300 Blk rounds.
This is a really nifty feature for a budget-minded LPVO.
Trijicon VCOG 1-6×24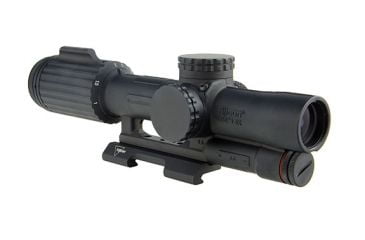 Stepping up to the Trijicon VCOG 1-6×24 we leave the price point of the Primary Arms and Vortex in the dust. The successor to the ACOG tops out at $3,000.00 MSRP.
You won't have to worry if you got the best LPVO that money can buy if you opt to throw the VCOG on your GUCCI AK.
With that sky-high price tag comes a dizzying array of options to choose from with caliber, bullet weight, and reticle design.
One neat thing about the VCOG is that it runs off of a single AA battery instead of one of the button-style cells. This means that you will have a much easier time finding a replacement after 1400 hours of use.
Best AK-47 Scope
Some people like old school. Sometimes those people shoot AK's. Sometimes those people want to put a traditional styled scope on their AK. This list is for them.
Like the LPVO, the traditional scope suffers from the constraints of eye relief so you will be limited in your mounting options. In addition to this, you will more than likely have to mount the scope higher, as the bell diameter for traditional style scopes are larger than that of LPVO's. This also means that you will have a much higher cheek, or even chin weld to be able to line your eye up properly behind the scope.
As AK's have a drop comb stock, most people who place traditional style scopes use cheek risers which help to alleviate this problem.
Leupold VX-H3D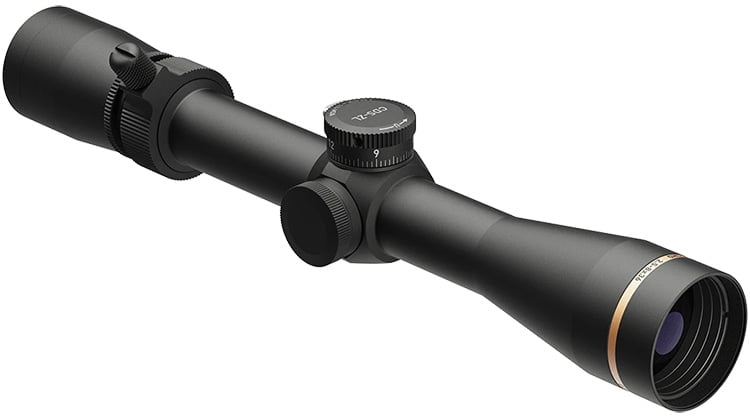 Leupold is legendary. Leupold's scopes can be found on many hunting rifles across the globe. Leupold has helped put down numerous prey and put food on many plates.
The Leupold VX-H3D is a staple in the hunting community. Its decent price point for glass clarity and build quality make it a constant winner in this category.
If you have a spare Leupold looking for a home just sitting in a safe or on a shelf, it could serve you well on top of an AK.
Vortex Crossfire II 2-7×32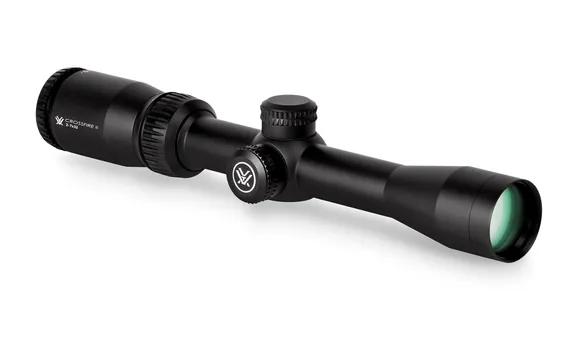 Vortex brings a lot to the table whenever their name is mentioned. They make a wide range of scopes for almost every need.
The Crossfire II 2-7×32 is a winning package to place on an AK. The relatively lower power range suits the style of shooting you can expect to do with this style rifle.
The Vortex Crossfire II is a very popular model and comes backed by Vortex's VIP warranty.
Primary Arms GLx 2.5-10×44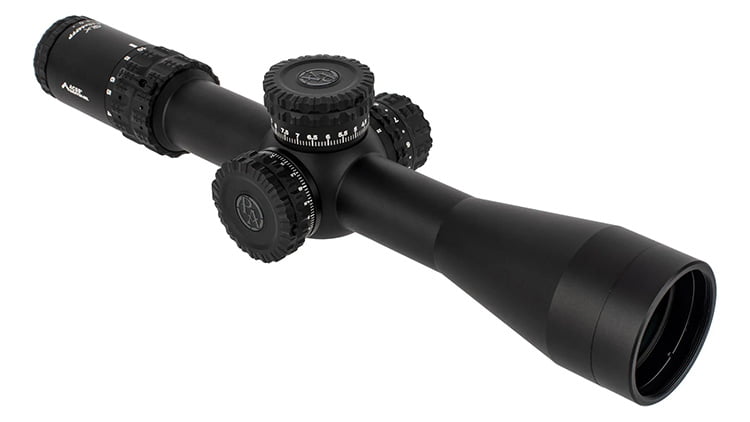 In keeping the lower end of the magnification range in check, the Primary Arms GLx 2.5-10×44 is more scope than the others in this category.
Primary Arms comes through again with ACSS reticle. You know you've created something special when companies like Trijicon are using your reticle design in their own scopes.
This GLx is a little more pricey than the SLx offerings from Primary Arms, but the GLx is their mid-tier line which brings premium technology and materials into a more manageable price range.
For the quality of materials and magnification range offered, the GLx 2.5-10×44 is a solid high-quality choice.
Burris Veracity 2-10×42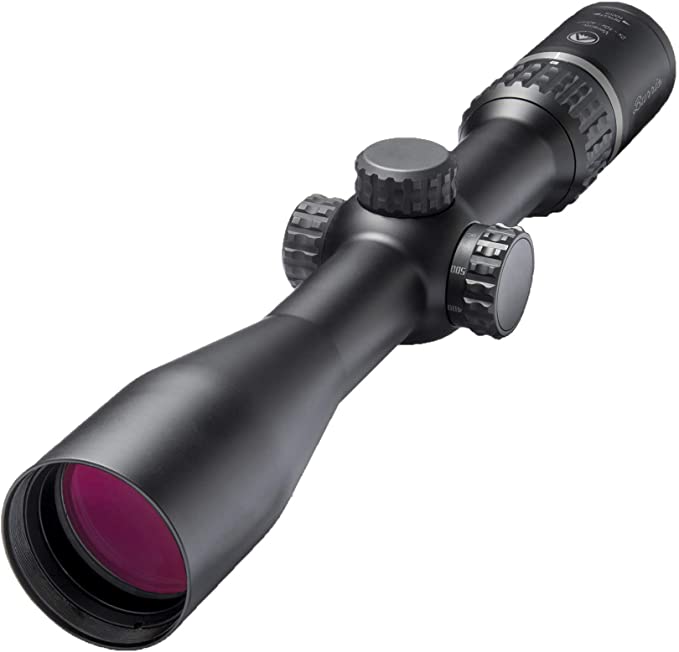 Released in 2019, the Burris Veracity 2-10×42 uses the first focal plane that some shooters prefer.
All Burris scopes are waterproof, and shockproof and also are backed by Burris' " Forever Warranty."
While the scope is geared more toward hunting, I feel that it could also be serviceable on an AK. Let's be honest, if you are dropping a traditional style magnified scope on an AK, you probably aren't too worried about the intended use from the manufacturer.
Prism Optics
Often overlooked when considering options for optics are prism scopes. If they're not passed over, then some may not know that they are prism optics to begin with.
Prism optics are usually fixed power and have some of the same drawbacks as LPVO's and traditional scopes. This means that they will have to be mounted either on a dust cover solution or on a side rail solution. To be able to acquire a sight picture on a prism optic, your head and eye must be lined up and in the optimal place.
For some who suffer from eye problems such as astigmatism, a prism optic may be the only option to get a clear picture of the reticle.
ELCAN SpecterDR 1x/4x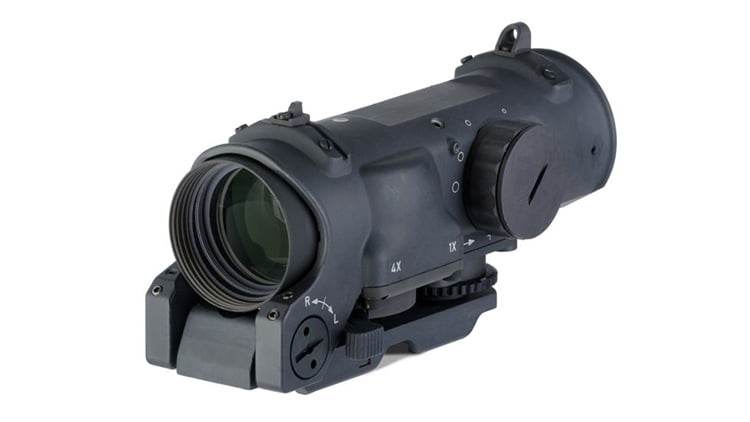 The SpecterDR from ELCAN is a unique entry into the optic world.
First off, it has two powers, 1x and 4x. This is achieved not by turning a bell-like on a LPVO, but by flipping a lever and rotating a prism inside the tube of the optic.
Also achieved in an unconventional manner is the adjustment. The interface is located on the exterior and is not protected by caps. It also adjusts the entire optic instead of the internals of the tube.
The ELCAN has been utilized on military firearms for a long time and even has been placed on crew-served weapons in the sandbox overseas.
Trijicon ACOG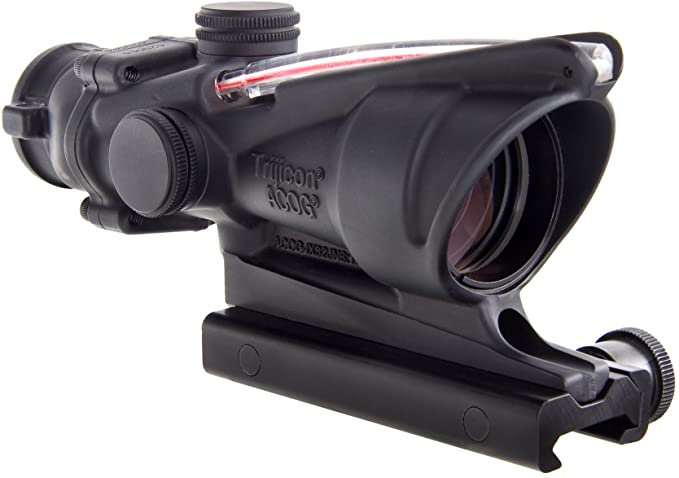 Also found on the rifles of our men and women of the United States Marine Corps is the Trijicon ACOG. The ACOG was released in 1987 and was issued to our military almost immediately.
The ACOG is a fixed 4×32 scope. The ACOG has a notoriously narrow eye box, but it hasn't stopped it from raking up a really impressive record across the pond.
The ACOG also sports a pretty unique outline, looking more like a cone than a scope.
These scopes are notoriously rugged and can take a real beating.
Burris AR-332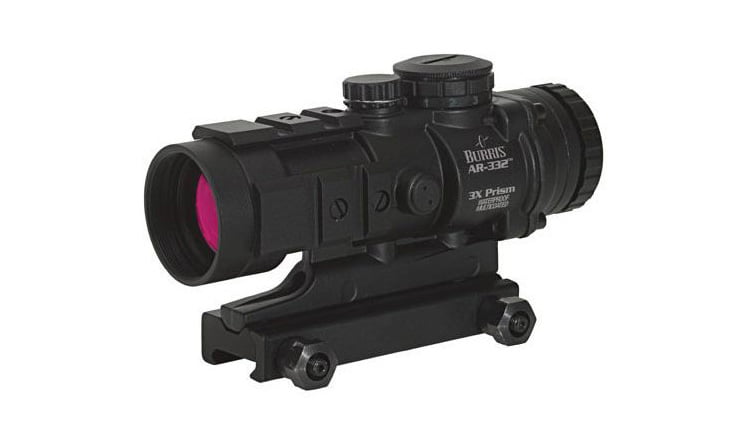 The Burris AR-332 is advertised as being made for the military, law enforcement, and competitive shooters who want additional range and quick target acquisition.
Bringing 3x to the table along with the Ballistic CQ reticle, there are also 1913 rail sections to piggyback a micro pistol red dot if you wish.
The Burris follows a more traditional form factor as it has a 32mm objective lens.
While not as popular as other prismatic sights, the Burris AR-332 is still a solid choice for those who don't like to go with the mainstream, boring choice.
Primary Arms SLx 3x Micro Prism w/ ACSS Raptor 7.62×39/300 Blk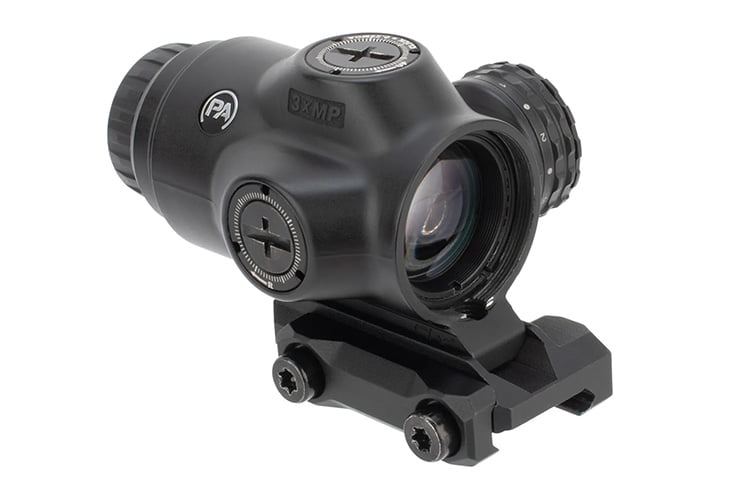 Available for pre-order as of the writing of this article is the new Primary Arms SLx 3x Micro Prism W/ ACSS for 7.62×39.
While we haven't had a chance to get our hands on one of these little guys yet, we have had the opportunity to review the 1x Micro Prism and it was impressive.
Primary Arms has a winning combination of materials and quality. When put all together with Primary's state-of-the-art reticle designs and overall affordable price it's hard to not get excited about their products.
Russian Federation Optics
Just like the AK itself, a lot of the optics offered from the Russian Federation can be a bit long in the tooth. Recent years have seen advancement in this area though.
A lot of these options utilize the side mount and are integral to the qd device itself. This helps with overall size and weight along with the ability to keep zero.
Kalinka Optics PK-01VS Red Dot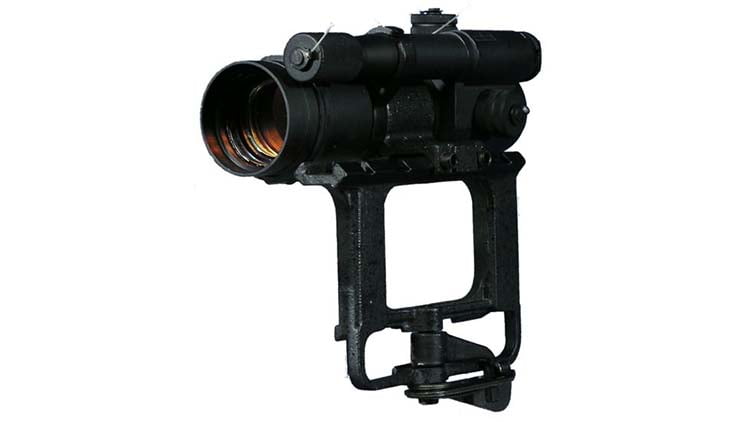 What can be seen as the Russian Federation's answer to the Aimpoint, the Kalinka Optics PK-01 Red dot comes with its own integrated mount. This would interface with the side rail found on many AK's.
The PK-01VS is a 1x optic, so it does not have magnification.
Fear not if your AK does not have a side rail, you can order one of those too and with a rivet or two, you can have it installed on your AK.
By utilizing the side rail, the PK-01VS can sit extremely low, low enough that it actually co-witnesses with the stock AK iron sights.
Zenit PK-AS Dual Tactical Combat Sight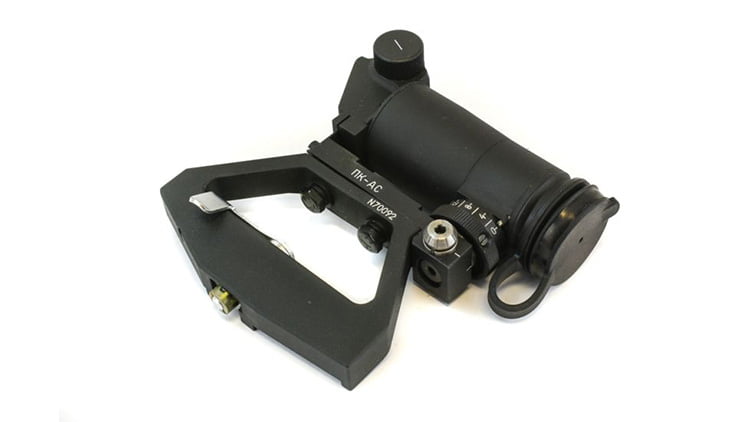 One of the more dated 1x designs is the PK-AS from Zenit. This optic also comes on its own mounting hardware, but unlike the PK-01VS it sits higher and is a little bulkier.
The reticle is similar to an Eotech, having an outer ring and a dot in the center.
Also unlike the PK-01VS, the PK-AS does not sit directly over the centerline of the AK. It finds its home slightly off-center to the left. For shooters that are not used to this principle, it is somewhat common in Russian optics.
By having the optic shifted off to the left, this allows an unobstructed view down the iron sights.
Zenitco VZOR-1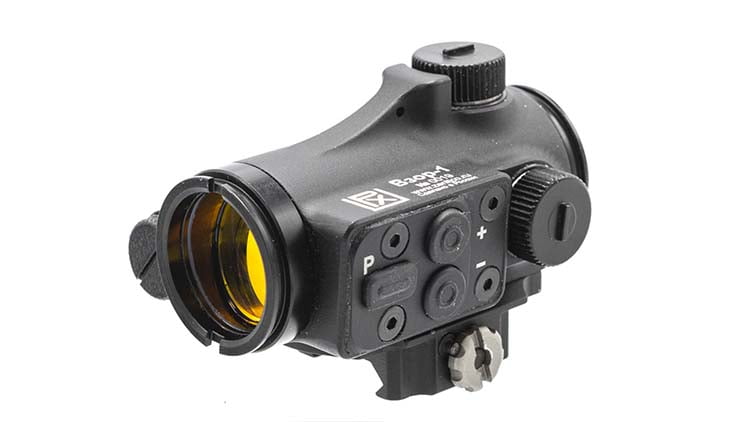 Perhaps the most modern Russian red dot is the Zenitco VZOR-1. This red dot has been released to the market this year (2022) so it may be a little hard to source at the moment… for several reasons.
The form of the VZOR-1 seems very western. It looks like it could have been produced by Aimpoint or one of the many other companies that take cues from their design.
The VZOR-1 runs off of a AAA battery. In Russia, they call it "little finger battery", lol.
Like the PK-AS the reticle has two options that include an outer circle and then one that has just the dot, like an Aimpoint.
The VZOR-1 has several different mounting options included in its box, which aligns with the advancement seen with the AK-100 series and the AK-12 currently being fielded by the Russian Federation.
Wolf Performance Optics 4X24 Rifle Scope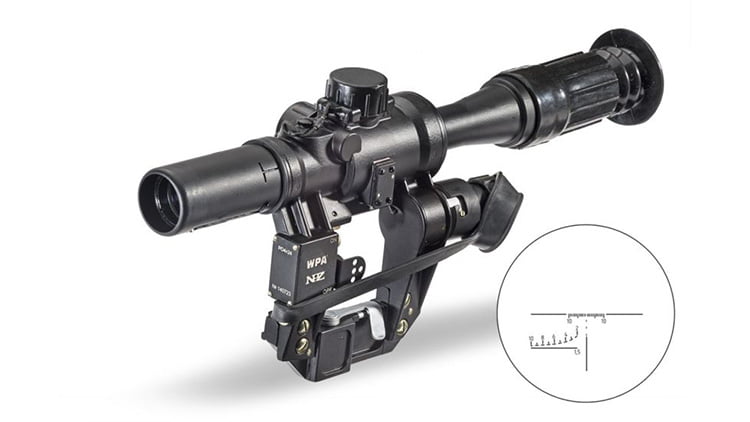 The Wolf Performance Optics PO 4×24 is a classical magnified Russian scope. Taking one look at this scope and you will see that it looks right at home mounted to any AK that has a side mount rail.
This scope is also offset to the left side of the AK. Again this allows for full use of the AK's iron sights.
While this design is dated, it gets the job done and gives you just enough magnification at 4x to make mid-range shots a little easier.
Kobra 1S-03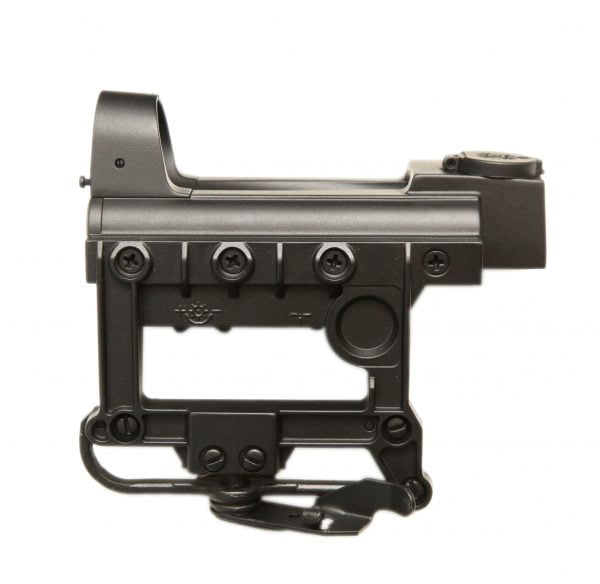 Iconic. The Kobra 1S-03 can be found in many western video games, movies, and the small screen. Chances are even if you aren't into Soviet firearms, chances are you've seen one of these at some point in the past.
The Kobra is a classic Russian design and is an open emitter design red dot. This means that the emitter is separate from the glass and projects the dot onto the glass.
This can be an issue if you get mud or other debris onto the optic.
This optic has several types of reticle designs that can be selected on the fly.
The Kobra 1S-03 also uses the side mount rail and will block the set of irons on the AK.
Best AK Optics Conclusion
After taking this dive into the AK's wide range of optics and mounting solutions, we hope that you have learned something new and possibly found an optic and mounting solution that works for you. In the market for some AK-47 Magazines? Take a look at our Best AK-47 Magazine roundup or if you are in the market for a new AK take a gander at our Best AK-47 writeup.