After several months of running my PSA AK-47 GF3, it's time to give her a full rundown for you, our reader.
First I want to point out that Brad is the resident AK nerd of the review group here at Lynx Defense. If you are looking for an AK-nerd style review check out his review of the PSA AK Pistol GF3 but if you are looking for the 5.45 AK reviews, peack at the AK-74 and AK-105 reviews.
PSA AK-47 GF3 Product Details
| | |
| --- | --- |
| Caliber: | 7.62×39 |
| Barrel Length: | 16″ |
| Barrel Twist Rate: | 1:9.5 |
| Barrel Material: | 4150 Steel |
| Barrel Finish: | Gas Nitride |
| Muzzle Device: | Standard Slanted |
| Muzzle Thread: | M14 x 1LH |
| Receiver: | Stamped Steel |
| Front Trunnion: | Hammer Forged |
| Bolt: | Hammer Forged |
| Carrier: | Hammer Forged |
| Handguard Type: | "Bakelite" upper and lower handguard painted in a faux bakelite finish |
| Grip: | "Bakelite" wood grip painted in a faux bakelite finish |
| Stock: | "Bakelite" wood stock painted in a faux bakelite finish |
| Sights: | Std. 800-yard rear sight leaf |
| Magazine: | 30 Round Magpul Magazine (1); Where Allowed by Law |
| Includes: | Side Scope Mount |
Made in the USA
One of the draws (for me) to the PSA AK-47 GF3 is the fact it's made in the USA. Being an American made fanatic and brand it's always a win for me if I can get a product that is Made in the USA.
The AK-47's coming out of the US have been high quality recently and after a few hiccups for several US AK makers, they seem to be on a solid road now to producing quality AK's.
The PSA AK's even made it onto our Best AK-47 round-up not once but twice!
AK-47 GF3 Development
Palmetto State Armory has been expanding its AK lineup for a few years now. First introduced in 2015 with their Gen 1 AK-47 the PSA AK lineup has come a long way and has really stepped up its game in recent years.
The GF3 is really where PSA started to make a name for their AK-47s because they began using hammer-forged components like the bolt, carrier, and front trunnion.
AK-47 GF3 Features
With all the historical information out of the way, it is time to dive into the gun itself.
The AK-47 GF3 has a number of solid features and the stock gun comes in a number of different configurations. PSA definitely will offer a configuration that will get you close to what you want.
If you want classic wood texture they have you covered if you are a polymer-only kind of shooter they still have you covered.
Stocks? With the number of stock options, you'd think PSA was on Wall Street. Side folders, Under folders, classic stocks, you name it PSA has it!
In my case, I went with the imitation Bakelite model and I've got to say I like it a lot.
Muzzle Device
The muzzle device that comes on most of the GF3 models is your standard slanted break.
The thread pitch on the PSA AK-47 GF3 is M14 x 1LH and lovingly put on a Wolverine PBS-1 on my GF3 and love it.
The standard slanted break gives you a classic look but no great flash or muzzle rise reduction benefit.
FSB/Gas Block
No, not the Russian spy organization this is a front sight block. The front sight block on the GF3 is not connected to the gas block at all.
The FSB sits near the end of the barrel close to the muzzle and the gas block sits a few inches behind the FSB.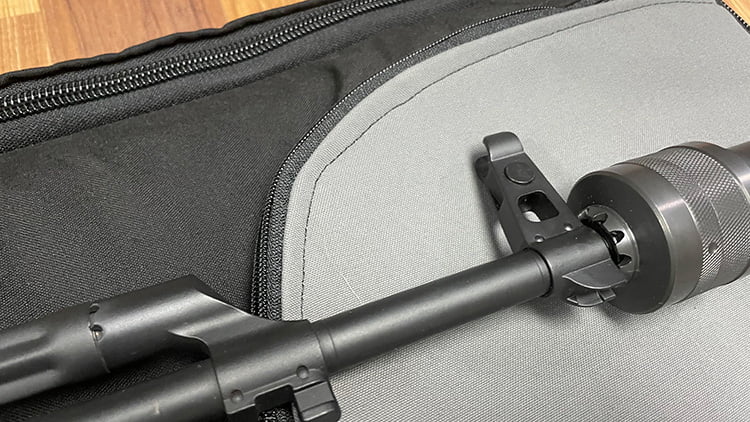 The front sight on the GF3 has performed great they are iron sights so don't expect much out of the past being iron sights.
I'm working on getting an optic mount and an optic for this gun but the mount hasn't arrived just yet. I'll update you when it arrives.
In the meantime be sure to read our best AK-47 optics article, it's comprehensive and even covers mounting solutions.
Front Trunnion
If you are new to AK-47's and don't necessarily know what it takes to put them together so you might not know what a front trunnion is, I know I didn't at one time.
When it comes to the AK, trunnions are fixed pieces of metal that other parts of the gun attach to or lock into or against.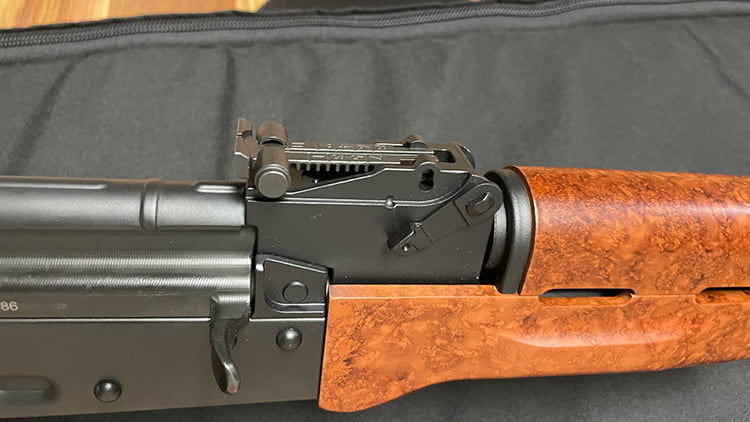 In the AK platform, the front trunnion is the metal block that is riveted into the receiver and has barrel pressed into it.
The front trunnion on the PSA AK is hammer forged and so far has served this gun extremely well.
The front trunnion is likely a piece of this gun you'll never mess with but I wanted to address it because the hammer-forged trunnion is extremely durable.
Receiver
The receiver on this gun is a bit different many important AK's have stamped receivers which is basically saying sheet metal stamped to form a lower receiver for the AK.
Many of the higher-end AK-47's have hammer forged or billet receivers. The PSA AK GF3 stays true to the imported AK and has a stamped steel receiver.
So far this receiver has been great and the overall quality has been fantastic. I really have nothing bad to say when it comes to the PSA receiver.
Barrel
This model GF3 features a 16″ gas nitride 4150 steel treated barrel. The coating on the barrel has held up well. I haven't babied this gun in the slightest and knew it was going to see some high round counts in the coming months and years.
The steel barrel is a good choice for cost savings as well as durability and longevity.
Safety
One thing I really like about PSA GF3 guns is they all come with my favorite style of AK safety.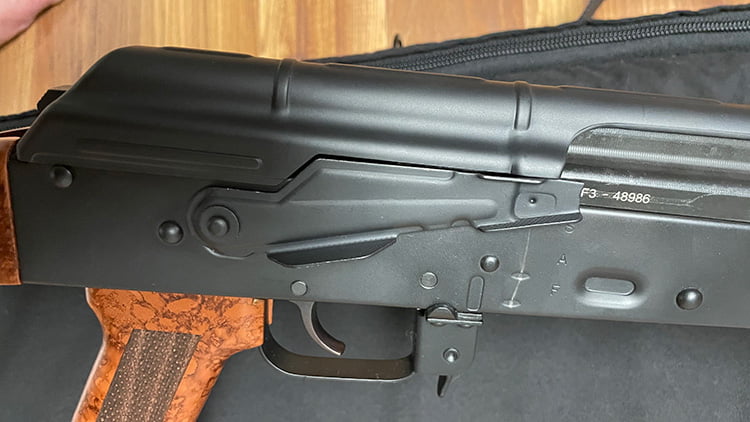 The safety features the standard catch levers on the top of the selector as well as one on the bottom. This makes it much easier to use your index finger to push or pull the gun into safety or fire.
The safety features the full-auto notch but obviously does not work.
Trigger
The PSA AK trigger is what you'd expect from a stock AK trigger. It's not bad but it's not like a fine tuned 21st century aftermarket AR-15 trigger.
Personally, this trigger is great and the only one I'd even consider swapping it with is the ALG AK trigger, which is phenomenal.
Pistol Grip
The pistol grip on my GF3 isn't anything crazy or special. Other than the fact it's imitation Bakelite.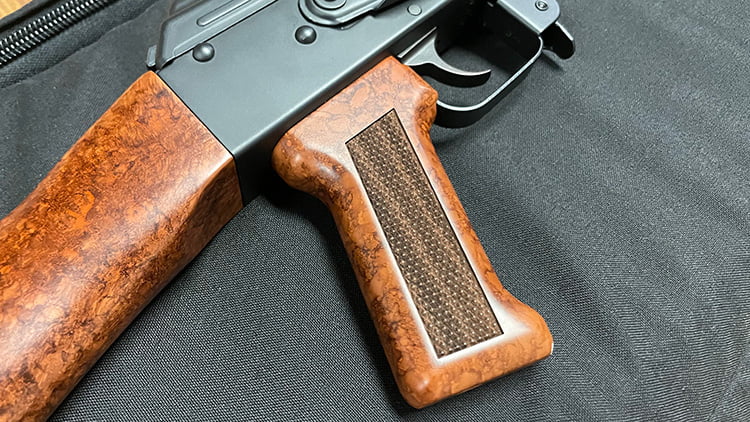 Real bakelite is rare and extremely expensive and is what the AK used before polymer took over the firearms market.
The angle on this stock grip is great and overall feels true to form for an AK-47.
Magazine Release
The magazine release sits just in front of the trigger frame and can be easily pressed to drop the magazine free and change it.
The magazine release isn't oversize or undersized. To me, the magazine release is just fine stock.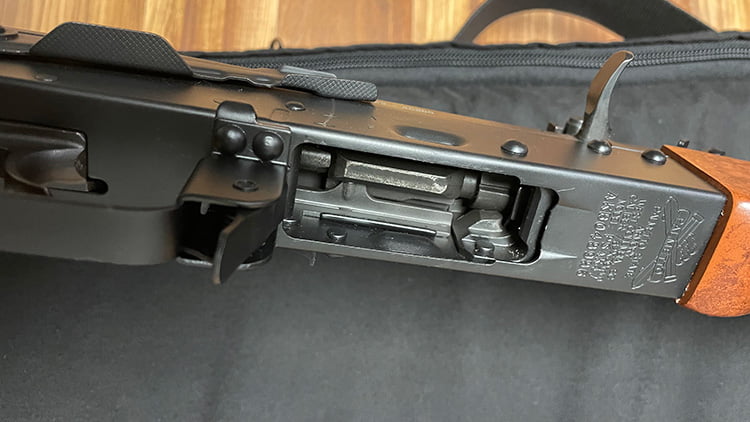 The size of the release is largely personal preference and it can be replaced if you want something different.
But functionally the magazine release works as intended without any hangups or issues.
Magazine
Magazines are a must and sadly you only get one with this gun but fortunately, you can find AK magazines everywhere on the internet.
The PSA AK-47 GF3 comes stock with a 30 round Magpul AK magazine.
This magazine seems solid but I'll definitely be buying a few metal AK magazines to add to my collection as soon as I can ID which metal mags work best in the PSA GF3 series.
If you want to see the best AK-47 magazines take a look at our full write-up.
Bolt/Charging Handle
Hammer forging the bolt and charging handle in the GF3 AK's really adds to this gun's dependability as well as its durability.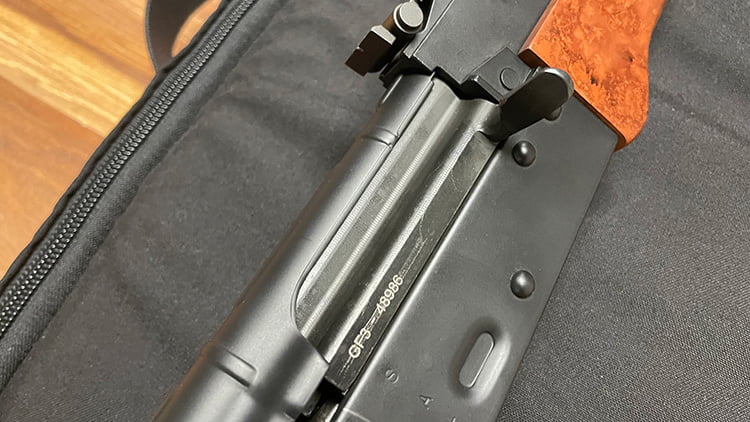 These bolts look fantastic in the gun and cycle great on the range. I'm not sure exactly what more anyone would want out of their AK bolt because the GF3 bolts are rock solid.
They are marked behind the charging handle at the rear of the bolt with "GF3". The lettering is gray/white so it appears to be lasered engraved onto the bolt.
Stock
This classic stock is quite nice. While I can't say I've ever held a true bakelite AK-47 the polymer look-a-like version is nice.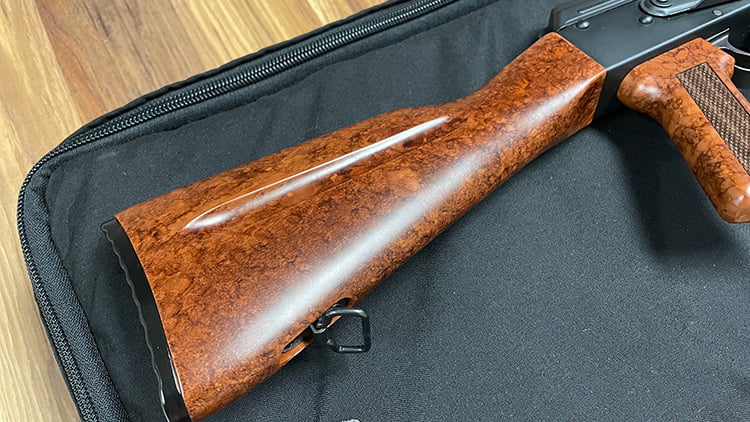 The stock has a plastic butt plate on the end to cap it off. It does have a small indention in the buttstock on both sides.
Overall the stock is classic so it's not bad it's not great. If you go with a different model there might be more to talk about when it comes to the stock.
Handguard
Like all AK's this handguard is changeable. It separates in the middle and comes apart into two pieces.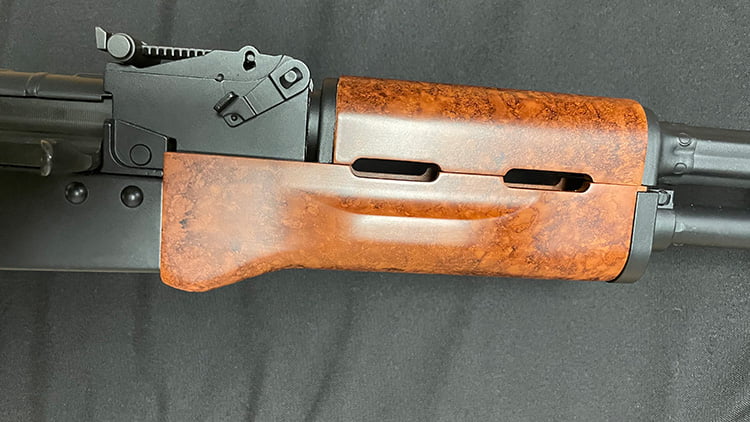 Mine clearly matches the stock with the imitation bakelite but there are other options for polymer, blonde wood furniture, and more.
This handguard feels quality and while I haven't removed it yet, it's the same very simple process as all other AKs.
Optics for the PSA AK-47 GF3
The PSA AK-47 GF3 features a side-mounted scope mount which falls right in line with the classic way to mount an optic to an AK-47.
Brad wrote a very detailed AK optics article that covers different mounting options as well as different optics that you could put on your AK.
I think it's important to decide what you want your setup to do. Brad has the PSA AKP GF3 and that gun is more set up for a red dot sight.
Whereas something like my PSA AK-47 GF3 with 16″ barrel would make sense to go either red dot or LVPO or similar optic.
Shooting the AK-47
Shooting AK-47's is one of the most fun guns to shoot… but why? Because you see yourself like you saw the AK being shot in every action movie growing up.
Its low recoil and iconic look really go a long way in making it a fun and exciting gun to shoot.
Shooting the AK GF3 was smooth for an AK and I really enjoyed squeezing off round after round. But where it really shined was suppressed.
Shooting the AK-47 GF3 Suppressed
I must confess this is the first AK-47 that I have ever shot suppressed. I have shot a lot of different guns suppressed including an HK UMP 45 down to a Ruger Mark IV.
What I don't see enough reviews talk about is how awesome an AK-47 is suppressed.
Even with supersonic rounds, this gun shines like no other. It must have something to do with the 7.62 x39 round.
While I don't have a subsonic rounds to test at the moment (I'll update this article with my results as soon as I do) I was able to shoot it with supersonic 7.62×39.
The sound reduction is fantastic and overall and while it's not nearly what the 300 Blackout round in subsonic is I'm interested to compare subsonic 7.62 vs subsonic 300 blackout.
The fast the AK is a piston based system gives you the added benfit of not getting a ton of gas back in your face. It also helps in reducing carbon in your chamber and thus increasing your ability to shoot reliably for longer periods of time.
Uses for the PSA AK-47 GF3
What is the Palmetto State Armory AK-47 GF3 good for? Well, it's definitely a gun that you can rely on so it can serve multiple purposes, lets talk about the two most common.
Range Gun
Is this a fun-range gun? Absolutely, and before the latest Europen conflict you could get steel cased 7.62 x 39 ammo dirt cheap and have a long-range day without destroying your bank account.
But this gun is absolutely a gun I would throw in and take to the range on nearly every trip. It's fun, relatively light, tough, and will go bag 99% of the time.
With its low maintenance needs and cheap ammo, it's really a no-brainer for a solid-range gun option.
Tactical
Should this be your go-to gun when it comes to tactical situations, home defense, or possibly even a truck gun?
Possibly. I have no issues with the AK being a primary gun for home defense, tactical situations or a truck gun.
However, would I want my specific configuration to be any of those? Probably not. But I would absolutely go for the AKP or something a bit shorter than this 16″ barrel model simply for easier mobility and maneuverability.
So yes to the AK in a pistol or SBR configuration but no to a full-length AK-47 for tactical applications.
PSA AK-47 Price & Conclusion
So what's the price of the Palmetto State Armory AK 47? Well, it depends.
Depending on what model Palmetto State AK you decide to buy will depend on the price. Furniture and stock functions contribute to the difference in price.
No matter what GF3 option you go with they are a solid choice and are extremely reliable thus far for me.
So grab yourself a new PSA AK-47 and I promise you'll likely not regret your decision!
Want something a bit different take a peak at the PSA AK-74.