A lot can be said about Battle Arms Development from their crazy-looking guns to their lab coats and wild Shot Show display's they are a unique company, that's for sure.
But that's not the reason I picked up the BAD556-LW upper and lower set to build out my latest AR-15. I liked the fact it offered lightweight and a unique design.
About Battle Arms Development
Battle Arms Development is a company based out of Las Vegas, Nevada. They are interesting in that they were one of the original companies to really take a customized take on the AR-15.
They create custom rails, custom uppers, custom lowers, and they really have, to me, one of the best skeletonized, sets for an upper and lower.
They have an incredibly light setup and an extremely fun and unique look. Battle Arms Development is often abbreviated B.A.D.
So, we may refer to it as BAD for short or Battle Arms Development in its entirety.
Battle Arms Development Features
Battle Arms Development makes a handful of guns. Namely, the Workhorse is probably their most popular 5.56 AR.
The one that I'm going to mostly talk about today is their higher-end BAD 5.56-LW.
I have the set, which is the upper and the lower, as well as most of the Battle Arms accessories and lower parts. So with that being said, let's jump into the parts.
Safety
First, I'll talk about the safety selector switch and the one that I currently use on my gun is the BAD-ASS-PRO.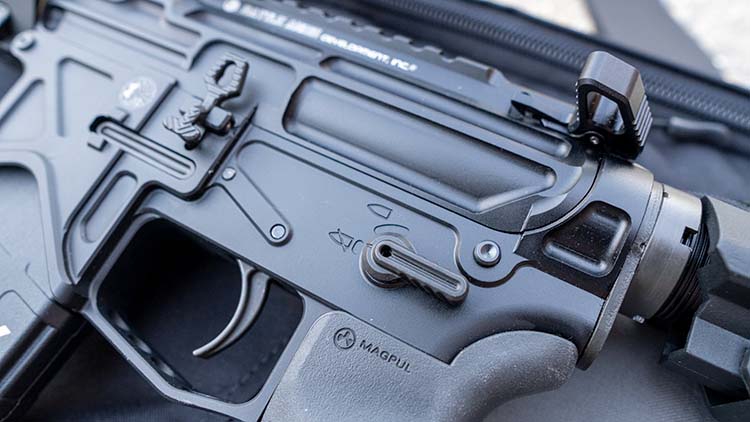 They make a light version for this, but this is just the regular BAD-ASS-PRO selector. If you want the lite, I don't think you're going to save enough weight on a safety selector switch to matter, but if you want to keep it consistent and on the model, by all means, buy the lite version.
The safety selector switch function, it's really nice. It does mirror what the Radian safety selectors have and on the left side, I have the long throw, and on the right, I have the short throw.
Obviously, that's reversible, I'm right-handed, so the shorter throw on the trigger finger side is better for me. I do like the ambidextrous nature of the safety and it flows really well. It's very smooth safety, easy to move to fire, and easy to put on safe.
Pistol Grip
Now you can buy the upper and lower of the BAD 5.56-LW separate, and then you can build it out, which is what I did.
For mine, I put the Magpul MOE+ grip on this. I wanted something a little different. It does have a tacky rubberized feel to it and truth be told, I built this gun for my wife.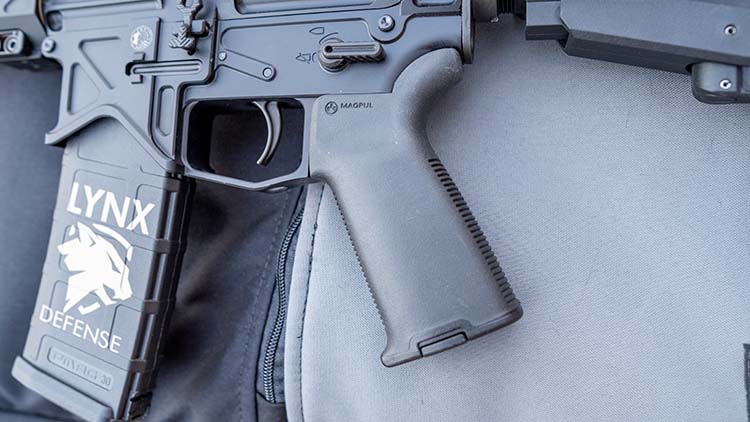 So I wanted her to have something, a little different and something she would like as far as the grip goes.
But the nice thing about the pistol grip is you can buy your own, put whatever you want on it, and you're good to go.
B.A.D. does make a custom grip that has their branding and design. If you like that one better it's roughly the same price as the Magpul so pick that one up!
Magazine Release
The magazine release on this gun is a little different. First and foremost, I have the Battle Arms Development, BAD-EMC-IC cast, enhanced mag catch.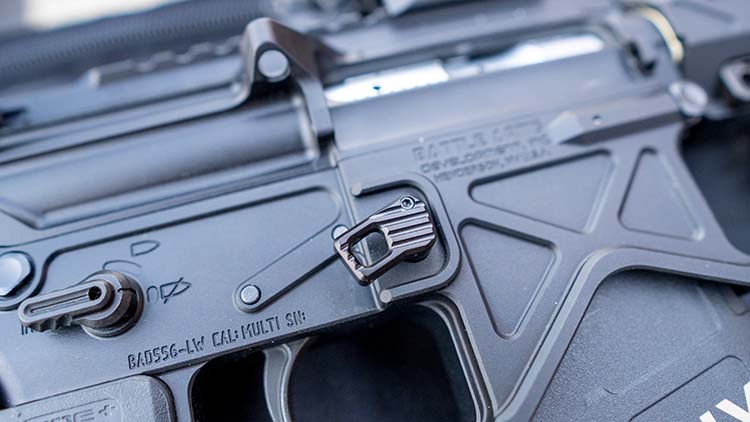 It's different than your standard mag catch and oddly it's actually cheaper than a standard mag catch, but, it has unique milling on it to fit the design of the BAD556-LW upper and lower.
In addition to that, I also have the EMMR, which is the Medium Enhanced Modular Magazine Release for this gun.
I like this a lot. It adds a nice touch. It actually extends the mag release out.
Which makes it easier to hit and depress and release your magazine over the standard = magazine release. Personally I'd recommend with the B.A.D. EMMR Enhanced Magazine Release.
Now let's talk about the receiver set.
Receiver Set
So what really sets this gun apart is the upper and lower receiver set.
The upper has an extremely milled, very lightweight design. The entire upper looks like it's been engraved to the point of no return, but there's clearly no any reliability issues or any questions on structural integrity.
The aesthetics of this gun are extremely good. This is an all-black model and I've seen them Cerakoted in all different colors, but the upper and lower definitely make this gun unique.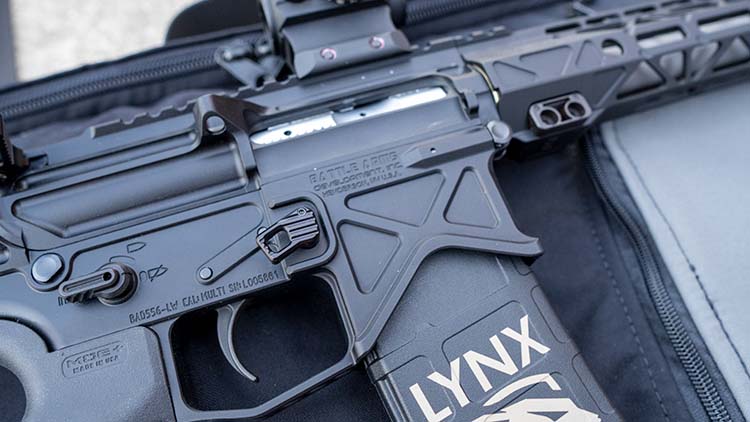 This is by far not a cheap receiver set. Just the upper and lower I believe Battle Arms Development charges somewhere in the neighborhood of $500 to $600 for this receiver set.
It is not for the faint of heart that is for sure, but it will definitely set you apart from nearly anyone else in the market due to its look and you also get the bonus of it being an extremely lightweight gun.
Now the weight is largely going to depend on a number of things, including what kind of barrel you put in your gun.
So we're going to get to that in a little bit, but for now, the receiver set is quite unique, nice, and overall, a very lightweight fun gun.
Highly recommended the BA-556LW in the looks department. So speaking of receiver set, let's jump to the magazine well.
Magazine Well
The BAD556-LW lightweight billet receiver sets magazine well is something that really stands out on this gun.
The magazine well has a triangle shape look to it that is unique to the BAD556 lower.
The magazine well is somewhat flared, but it's about half the length of a normal magazine well, due to the design of the lower.
If you have the gun facing upwards, it almost looks like a triangle or an up arrow, and it kind of mirrors the Chevron look.
So it's a very interesting design overall.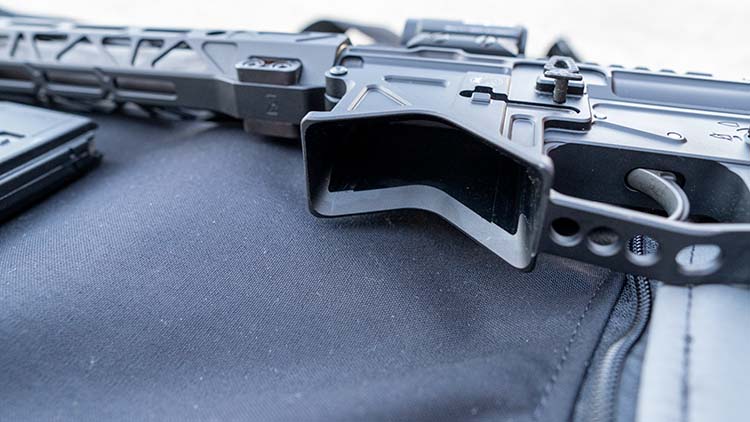 Using the magazine well is seamless it funnels magazines into the gun very well. I've never had any problems with it. It does show a lot more of the magazine than you're used to.
So the magazines tend to look a little longer, even if they are just your standard capacity, 30 round mags.
Personally, with the look of this gun, I like to run metal magazines. I just think they're aesthetically more pleasing. A magazine like the Duramags or something of that nature would look better than your standard Magpul P-Mags.
So let's move on to the bolt release bolt hold open.
Bolt Release/Hold Open
So pretty much like everything on this gun, including the take-down pins, Battle Arms Development puts their own little touch and flare.
Of course, this lower will take any standard bolt catch. However, I wanted to keep it all Battle Arms Development.
So I have the Battle Arms Development AR-15/M16 enhanced bolt catch. Mine is in the investment cast, and it works phenomenally.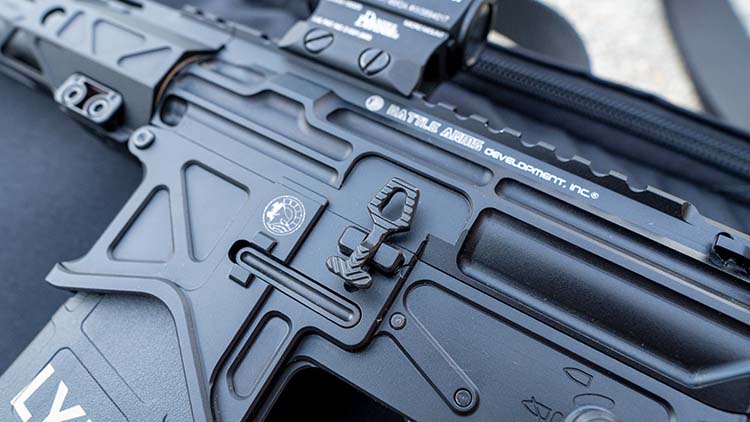 Now the one thing I will say that's wildly different about theirs is it sticks out further than your normal bolt catch.
The bottom actually pivots out when in the resting position quite a bit, and it allows you to easily depress and push in.
When it's depressed and the bolt is locked to the rear, it sticks out even further. So it's actually much easier to hit than your standard hold open.
That does open up your chances of accidentally hitting it, which is not a big deal, but either way, this is a fantastic bolt catch.
I really like the design and the overall feel and function of the bolt catch. It's phenomenal. It is definitely worth the $15 or so that Battle Arms charges for it, especially if you already bought their upper and lower.
Charging Handle
I'm running a Radian Raptor on my BAD556 build and like most AR-15's its bring your own charging handle.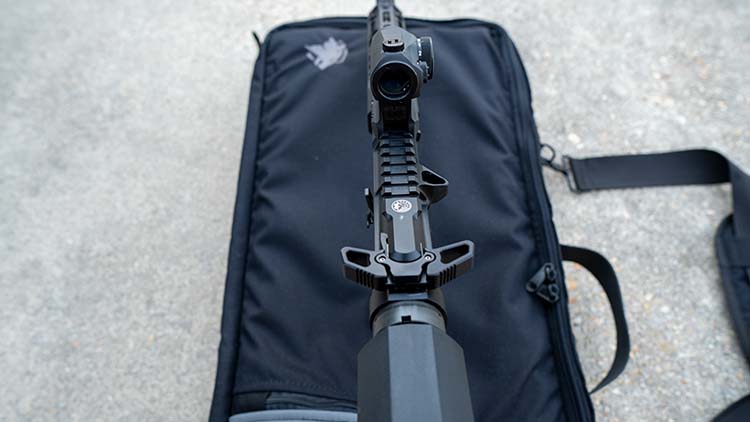 That's the one of the few things on this build that isn't made by Battle Arms Development.
However, B.A.D. does make a charging handle. It's called the Rack charging handle and it's their own custom design.
It's an interesting and nice looking charging handle, but for me, I wanted a little bit of consistency with my other AR-15's, so I went with the Radian Raptor.
Brace/Stock
So for the Brace on this gun, I chose the SBA4, of course, this is a build. So you can bring your brace of choice. If you want to build this into a PDW style gun consider the SB Tactical HBPDW Brace.
So I chose the SBA4 because I knew I was doing this in a 10.5″ configuration and so that's the route I went. And so far, I love it.
Let's talk about the rail.
Battle Arms Development Rigidrail
The rail on this is the Battle Arms Development rail and the one thing that's not Battle Arms Development on this gun at all is the barrel.
So I'll go ahead and say, I am running a 10.5″ Noveske Barrel. I went this route because I'm a huge fan of Noveske barrels, I have several Noveske guns including the Noveske N4.
A Noveske barrel is the route I wanted to take on this Battle Arms Development gun.
This AR-15 was a high-end purchase. So the barrel running in the $300 range wasn't that big of a stretch especially since the upper and lower were roughly $600.
But I did stick with the Battle Arms Development Rigidrail. It comes in an M-LOK and this one is 9.5″ since I wanted the rail to run almost up to the threads on the barrel.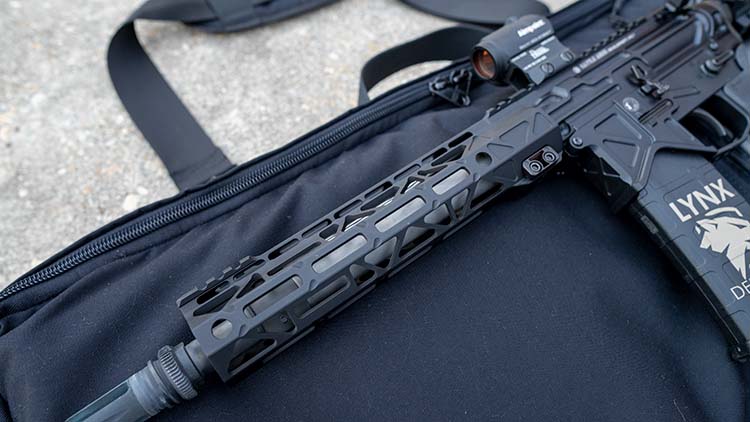 So if you see the pictures in this article and you really like that configuration, it's a 10.5 barrel with a 9.5″ handguard.
Now, this handguard is no slouch, it also is very light and packs of ton of nice features one of which being fantastic looking.
Battle Arms Development clearly put a lot of time and thought into the milling of this, there is a ton of milling on it.
Now there are several M-LOK attachment points, including slots at the 3, 6, 9, and partial slots at the 12.
The top of this is actually cut out as you would see on an Aero Precision Atlas handguard.
Now with that being said, this was around prior to Aero Precision creating the Atlas. So they might have taken a hint from Battle Arms. I'm not saying anybody copied anybody, but what I'm saying is this was first, Atlas was second.
Overall, the attachment system was very easy. It's a block-style attachment system.
Muzzle Device
When I built this, the only suppressor I had at the time was the AAC SDN 7.62.
I pretty much no longer use that except for on a bolt gun, but this does have the AAC suppressor Mount, 51 teeth AAC Mount, but I will be changing it out to probably like a dead air keymo as I do have a Rex Silentiem can that would go really great on this gun.
So with that being said, the muzzle device is obviously changeable to whatever you want. And obviously whatever suppressor or host you may be using.
Trigger
With any AR-15 it's bring your own trigger. This is just a stock mil-spec trigger.
Why did I go that route? Well, I had it laying around. I plan to eventually upgrade to a Geissele SD-C trigger.
I'm a really big fan of the flat triggers, especially in ARs. I also am eyeing the Q literally best trigger ever made. Ironically named, of course, but I do want to try it, but I don't know that this is the gun it'll go in.
Sling Mounts
Sling mounts are oddly one of the interesting parts of the Rigidrail because it has has two different QD mounting holes on each side of the rail.
I have not tried them, but they do have several locking mechanisms that I can see inside the hole.
The SBA4 has a stock QD mount. So if you want to run a sling on this gun, you actually have three different options for points of contact. I think that's a really nice touch.
I think that for the price of the rail, you're really getting a good bang for your buck with the amount of M-LOK slots and customization that's available here.
Ammo for BAD556
The BAD556 takes what you'd expect, 5.56 NATO rounds. If you are in the market for some ammo take a look at these options.
The BAD556-LW Final Thoughts
So in closing the Battle Arms Development, BAD 5.56-LW receiver sets are fantastic.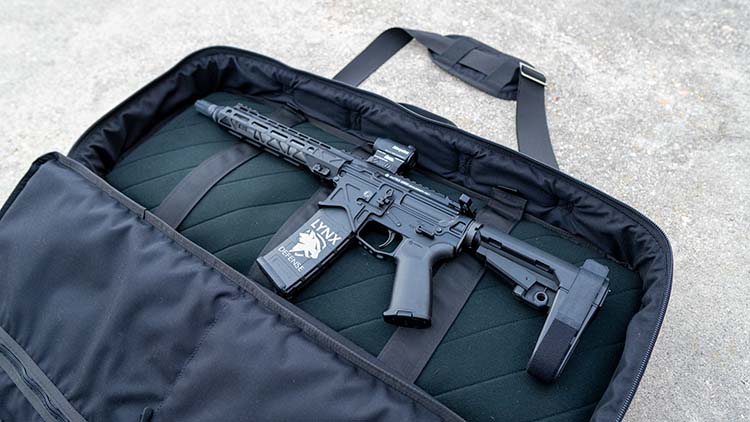 In fact, this whole gun is fantastic. If you want to buy a Battle Arms Development like this and build it yourself, you absolutely can.
Now, the nice thing is, is Battle Arms Development does make these complete, the complete version of this is called the Silent Professional.
Now that's a short barrel rifle, but you can also buy the Authority Elite Rifle. So you can buy in many configurations.
They don't come exactly like this gun. You do get the upper lower. They do use a little bit different rail. I personally prefer the rigid rail over what comes on the authority elite and also I've never used their grip and the grip's a big deal.
So overall it's a great gun. The one gripe I do have is the etchings on this lower seem to be low quality, the upper seems to be good.
It seems like the logo for the Battle Arms Development logo is too complex for what they're trying to do.
The upper, they tried to shrink it. I think they'd been better off just etching Battle Arms Development into the upper.
But overall it's a fantastic gun, I highly recommend it.
I've shot the mess out of this and I really love it. It's very light, it's easy to handle. I currently run an Aimpoint Micro H-1 on it, which has the 4 MOA dot, plan to upgrade that as well. Overall, it's a fantastic gun, build you one!