The Noveske N4 PDW looks an awful lot like the Noveske Ghetto Blaster, released in 2017. They both favor the Honey Badger by Q due to the licensing and using the Honey Badger stock and brace system.
But the overall look and feel of the gun are much different than almost anything on the market, which makes this gun stand out.
The N4 PDW is a unique gun in its own right, and I'm gonna take you through it in-depth.
Noveske PDW
• Caliber: 5.56, .300
• Action: Gas
• Barrel Length: 7.9″
• Twist Rate: 1:7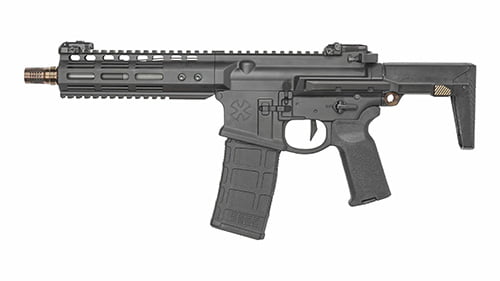 History of Noveske
Johnny "John" Noveske founded Noveske Rifleworks in 2001. Noveske was founded in Grants Pass, Oregon, where they still operate today.
Noveske gained popularity largely due to their high-quality barrels that John himself lathed and turned in the early years.
John Noveske was involved in a car accident on January 4, 2013, and passed away as a result. Lorina, his wife, still owns the business but has since appointed Mike Aland as President.
John's death sparked some conspiracy theories because he posted about school shooters and their use of psychiatric drugs before death.
Johnny was well known and liked in the firearms industry. He maintained close friendships and earned respect from his peers, including Kevin Brittingham of Q. Johnny's attitude and philosophies clearly continue to live on in the company today.
Noveske is known for its wild ads, crazy designs, and wild sayings. But this spunk is what drives the company and most certainly what delivered their latest creation.
The Noveske Gen4 N4 PDW.
Noveske most recent firearm creation started as the Noveske "Ghetto Blaster," but Noveske later changed the name to N4 PDW. The N4 has long been the Noveske AR-15 rifle moniker, a clear differentiator from the "M4" moniker of the M4 Carbine.
We are gonna take this sweet N4 PDW for a spin and do a full review.
Ergonomics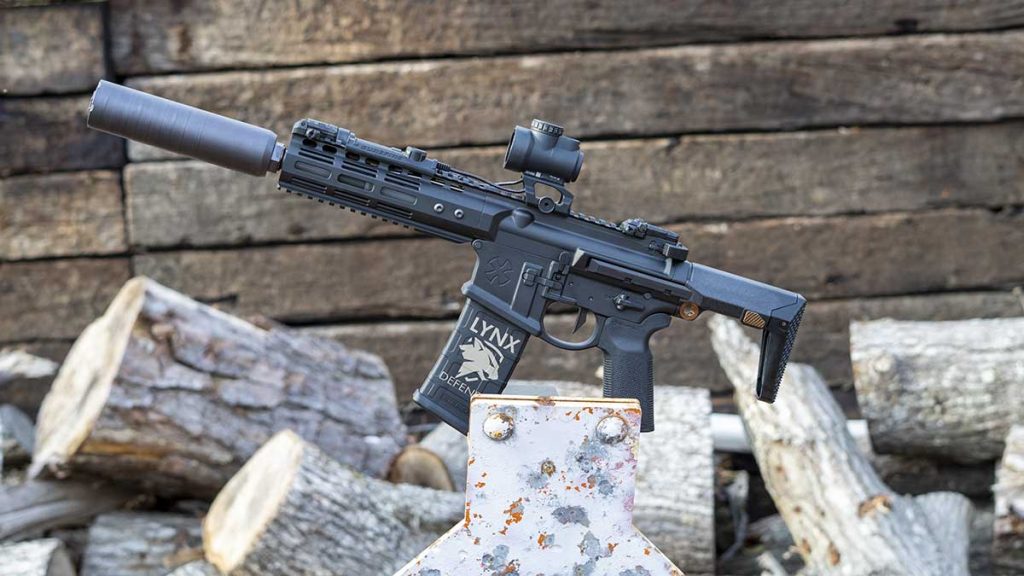 The ergonomics of the Noveske N4 PDW are a lot different than most AR-15 style rifles. When you pick this gun up, you know you're holding something awesome.
For a gun of its size, it weighs in at a decent weight—definitely a surprise from what you would be expecting.
It's not overly heavy, but it's definitely not considered light as something like a Honey Badger.
Comparing to a standard AR-15 in its size class, it's definitely comparable but doesn't win any gold medals for weight.
With the gun fully equipped with an optic flashlight and without a silencer, it comes in a little over 7 pounds.
When you hold it in your hand, it tends to be a little front-heavy, especially if you're running a flashlight. If the stock on the back is collapsed, the gun is a rather small, light, and compact package.
The stock, much like the Honey Badger SD and the Honey Badger SBR, on this gun, is made out of polymer, but it feels very sturdy.
Safety
The safety on the Noveske N4 PDW is a Magpul SSG safety.
This safety was originally developed by a joint venture between Noveske and Magpul.
It is about a 60-degree throw, and it is ambidextrous.
When you're holding the gun, the only thing I don't like about it is when your finger's in the resting position on the right side of the gun. It tends to either overlap it or hit it depending on how you have your finger position.
It's a good safety, and it's smooth, crisp, and aesthetically pleasing.
The one gripe I will have about safety is that Magpul is a polymer safety and not a metal safety.
Pistol Grip
The pistol grip on the Noveske N4 PDW is a Magpul MOE-K2 pistol grip. It goes very well with this gun.
It has a high rear riser on the back of it; feels really good and natural in your hand.
It does have a thumb cutout, but it seems to be very comfortable when holding it, especially if you're holding it one-handed in the pistol configuration.
Noveske PDW
• Caliber: 5.56, .300
• Action: Gas
• Barrel Length: 7.9″
• Twist Rate: 1:7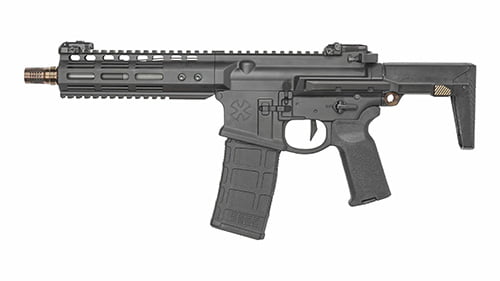 Magazine Release
The mag release is one of the unique features of the Noveske N4 PDW series.
It has an ambidextrous magazine release, and you only see that built-in on a handful of guns. This doesn't include the Magpul bad lever.
On the right side, you have a standard magazine release.
You have what I would call a pivoting magazine release just below the bolt catch on the left-hand side.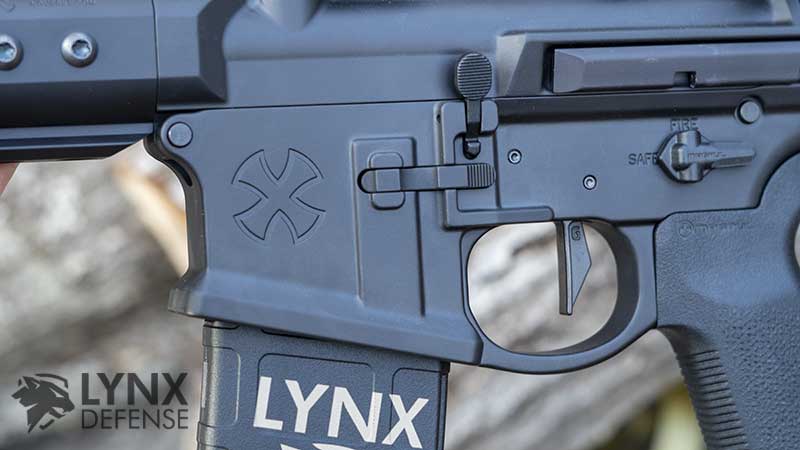 From years of using a standard magazine release, I pretty much only use the standard magazine release, but it is nice to have ambidextrous if, for whatever reason, you switch hands.
You can still release your magazine with your left hand, or if you need to drop it from the left side, you have that option.
It's very aesthetically pleasing, which is one of the main selling points of the Noveske.
The looks and design of the upper and lower that most people really like, and let's make no bones about it looks matter.
As you can see, the lower control groups are extremely pleasing to the eye.
Magazine well
I'm not sure who had the first magazine well flare or who began to flare their magazine wells first, but I'll always remember my first gun that had an extremely flared magazine well was a Noveske.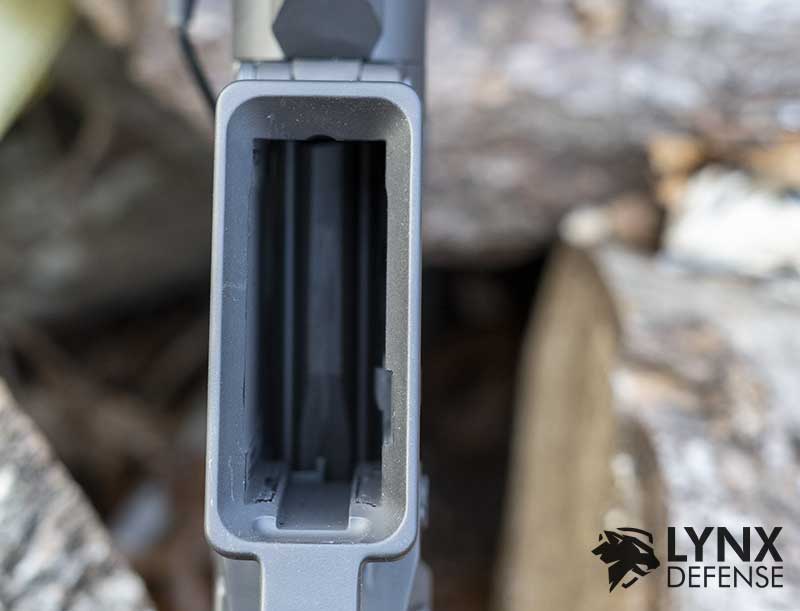 So the Noveske N4 PDW magazine well is extremely flared. It's got a wide mouth, so if you get your magazine close, the magazine well should funnel your magazine into the gun relatively smoothly.
The billet lower and the extremely wide flare of the mouth and the angle that the magazine well is cut seem to make this gun perfect for easy, quick, fast magazine changes.
Noveske PDW
• Caliber: 5.56, .300
• Action: Gas
• Barrel Length: 7.9″
• Twist Rate: 1:7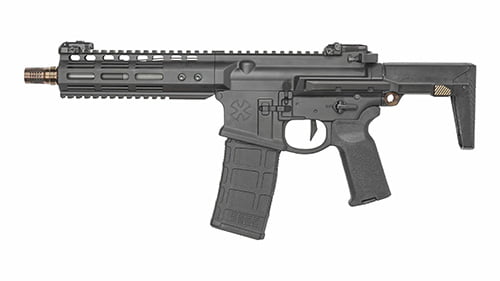 Bolt release/Hold open
Another one of the really unique features in the control sets on the Noveske N4 PDW is the bolt release hold open.
Once again, this feature is ambidextrous, which is a relatively rare feature on guns. I don't know all of the guns with this functionality, but the Honey Badger SD and Honey Badger pistol series of ARs definitely follow this functionality group.
The nice part about the bolt release and bolt hold open is that it is just above the magazine well. It's an easy transition from magazine release to bolt release with your index finger on the right side of the gun for right-handed shooters.
It is just the standard paddle-style bolt release on the left side of the gun, which works great. Functionally, no problems with that.
The biggest thing to mention or note about this on this firearm is the fact that it's ambidextrous, and you can use it on the right side with your index finger.
One last thing to mention the right side bolt release button, or what I would call the ambidextrous side, is actually not a bolt hold open. It is only a bolt release.
So if you were trying to hold back your bolt using the right-side button, it would not work. So the button will only release the bolt, not catch it.
Charging Handle
The charging handle on the Noveske N4 PDW is the Geissele Super Badass Charging Handle.
It is branded and marked for Noveske.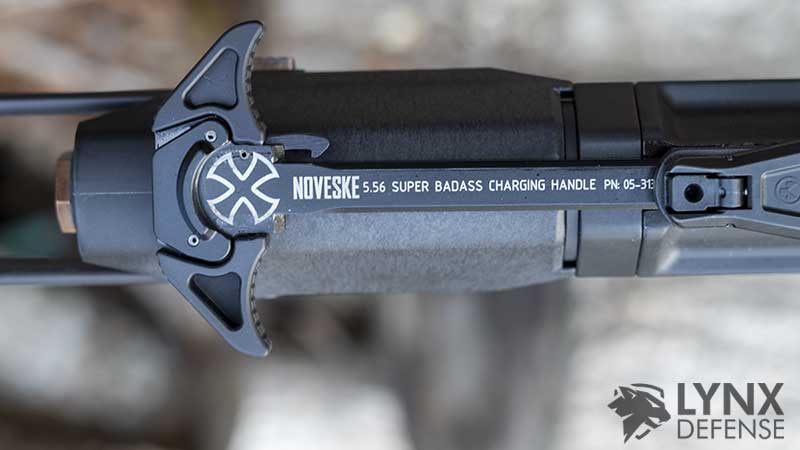 I personally love these types of charging handles.
Between the Geissele Super Badass and the Radian Raptor-style charging handle, they are my absolute favorites.
Either way, I don't have a problem with this charging handle being on this gun. The Honey Badgers use the Radian Raptors. This uses the Super Badass from Geissele, and it functionally works fantastic.
I run these on many of my guns, and I have no problem with this on the Noveske N4 PDW. It does not take away from the gun at all. If anything, it definitely adds to the higher-end feeling of this firearm.
Configuration
The nice thing about the Noveske N4 PDW is that you don't have to spend a lot of time accessorizing it after the fact.
This gun comes in a configuration that, when you buy it, you should be pleased with it.
Given this gun's stock configuration, you shouldn't have to make any adjustments or modifications other than adding your optics and your lights of your choice — for example, the brace.
Noveske PDW
• Caliber: 5.56, .300
• Action: Gas
• Barrel Length: 7.9″
• Twist Rate: 1:7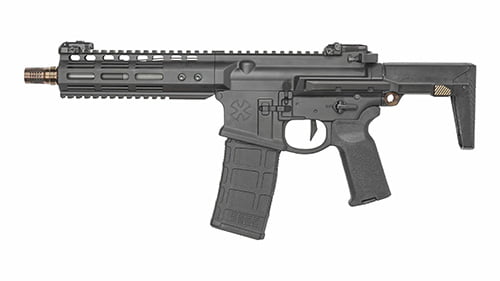 Stock and brace option
The stock is a Honey Badger-esque stock. It definitely has the same functionality.
The biggest difference, and the only difference that I've been able to tell thus far, has Noveske put in a second position notch on the stock arm.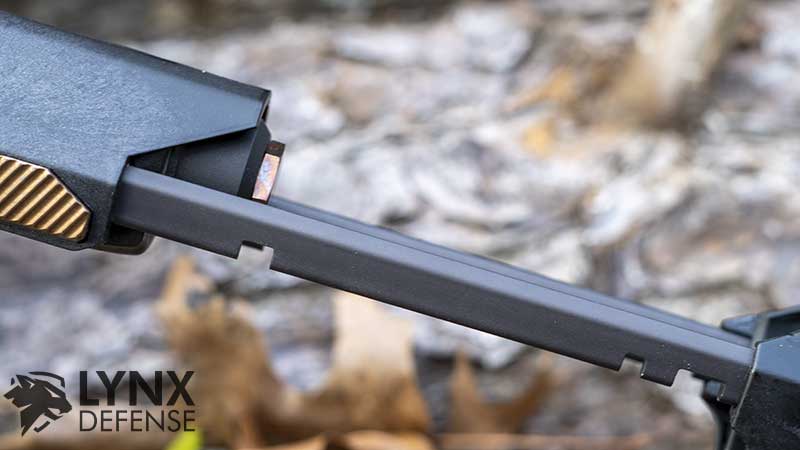 This allows you to have a three-position stock versus a two-position stock like the Honey Badger. The best part about this gun is definitely how compact the stock is when it's closed into the gun.
Obviously, the stock arms ride down the side of the gun like the Honey Badger's design but having that extra position, I found, is definitely a game-changer for me.
I like to run it in the mid-length position and not the fully extended position. Now, this is an SBR configuration, so it's not a pistol. It has a complete stock on it with no plastic arm brace.
There is a pistol configuration of the N4 PDW, so you'll need to find the pistol configuration if you don't want to wait for one of these.
One of the rare things in today's AR world, especially with the advent of the flat top AR, is guns that come with iron sights.
However, the Noveske N4 series has Magpul Pro flip-up sights. These things go with this gun, like milk and cookies go together.
They sit flush, and they're flat. They're sleek, and they are aesthetically extremely pleasing.
Optics mounting
Optics mounting on this gun is a breeze.
It features a 1913 Picatinny rail on the top, and that is obviously where you're going to mount your optic.
This is pretty standard in the AR world, so you can pick and choose your mount, make it anything you wish.
The world is your oyster when it comes to optics. I personally use the Scalarworks mount to mount my Trijicon MRO.
Accessories Mounting
Mounting accessories on the Noveske N4 PDW series can be tricky because of the short length of the barrel. I'm running a seven-inch barrel- ish.
Noveske NSR handguards have picatinny on the top and picatinny on the bottom of the rail. Then you have M-LOK on the left and right sides. You also have M-LOK in the Picatinny on the bottom rail.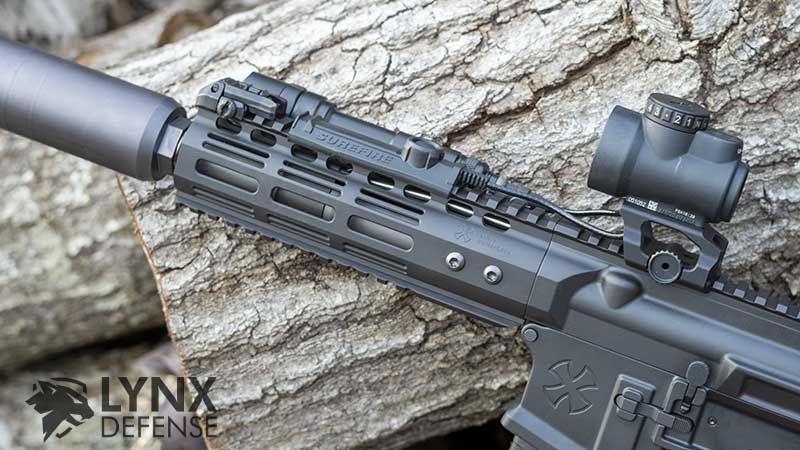 I don't know how useful that is, but it is cut in there in the M-LOK shape. But I don't believe you're going to be using that for any M-LOK accessories due to the 1913 rail in the way.
Flashlights
I personally have a Surefire M600 light mounted via the Arisaka offset Scout Mount M-Lok. In my opinion, it is one of the best AR-15 flashlights available.
I also have a tape switch pressure pad mounted to the top rail.
So far, this configuration seems to be good. It's a tight, nice little package.
The only thing I've noticed is when you are running the suppressor. It does seem to have some wash when it comes to light and the suppressor.
The Noveske N4 is the perfect flashlight host for nearly any flashlight you want to mount. Have a look at our Surefire vs Streamlight comparison if you are in the market for a new flashlight setup!
Noveske PDW
• Caliber: 5.56, .300
• Action: Gas
• Barrel Length: 7.9″
• Twist Rate: 1:7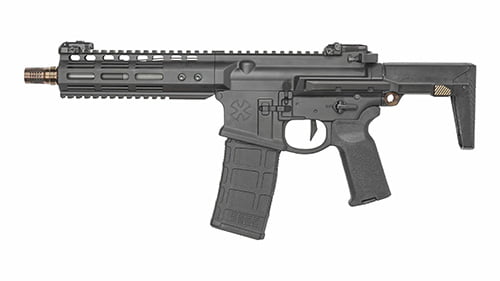 Sling
Sling mounting is a little different animal.
Given that this is such a small gun, you don't have much area to work with for slings mounting.
There exists no front sling mount area on the gun from the factory. You'll have to either use the bottom screw hole that it appears Noveske has put in this to mount some sling swivel mount or use one of your M-LOK rail mounts to install a QD mount or some sling attachment.
The rear of the stock has a QD mount system that you can plug in your QD mount slings to the rear of the gun, but the front of the gun, you're going to have to get a little creative and find a way to mount your sling.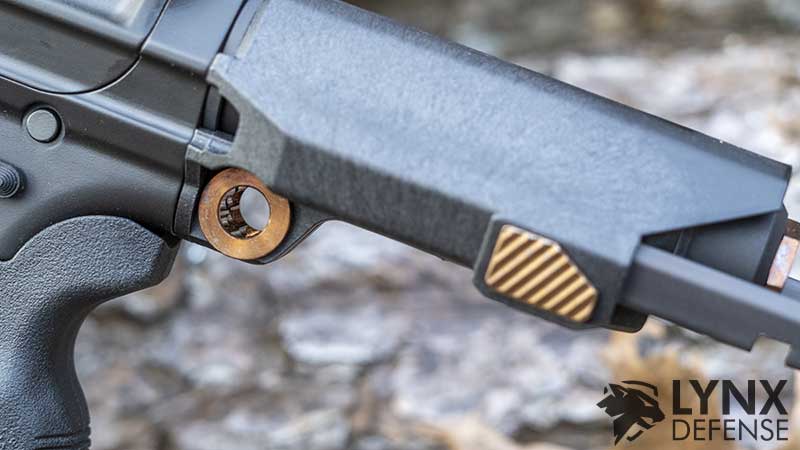 Trigger pull
The trigger on the Noveske N4 PDW is the Super Dynamic 3 Gun (SD-3G) flat trigger.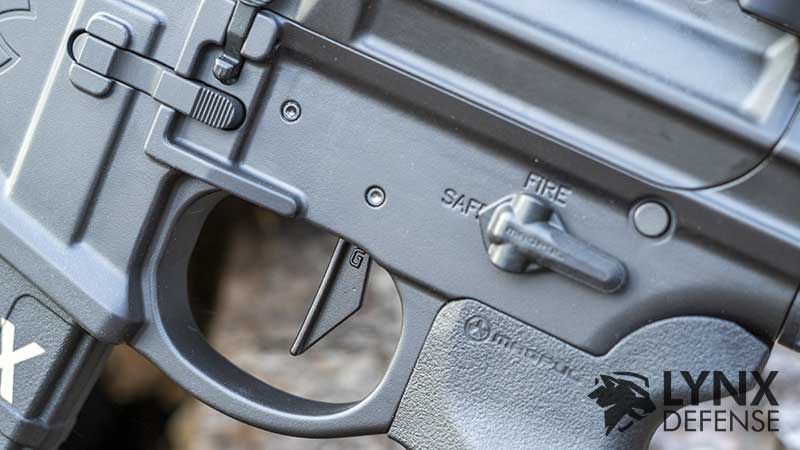 There's minimal take-up, maybe a quarter of an inch. The wall is lightly defined. The only thing I can say is that you may not know it when you hit the wall because it's going to break quickly.
There's not a lot of pressure before your break, so keep that in mind.
The reset. Reset's seemingly all the way out, and then there is a little bit of take-up back to the wall, which only makes sense given the fact that the brake is so clean and light that you're probably going to be more accurate with this gun because the brake is going quite literally to surprise.
Noveske PDW
• Caliber: 5.56, .300
• Action: Gas
• Barrel Length: 7.9″
• Twist Rate: 1:7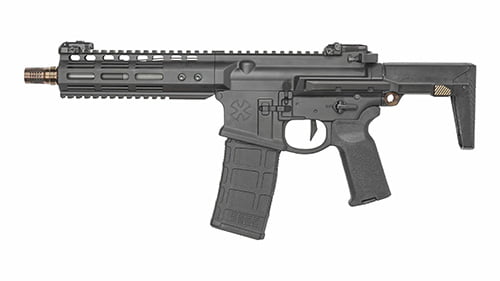 How the support hand grips the Gun
Support hand grips the gun is interesting since there's a 1913 Picatinny rail on the bottom of the Noveske N4 PDW.
This will be somewhat inconvenient if you have smaller hands, but it's definitely not a deal-breaker. I have smaller hands, but I don't have a problem with the Picatinny rail on the rail's top-and-bottom.
Shooting
Shooting the Noveske is an absolute blast. You can't have more fun with anything else in this size range.
The recoil is incredibly manageable since the Noveske N4 PDW's weight helps mitigate the already small recoil of .223/5.56 rounds.
Compared to the .300 Blackout Honey Badger the controllability and recoil definitely make the Noveske the winner.
Noveske PDW/Ghetto Blaster Ammo
The Noveske PDW and Ghetto Blaster shoot 5.56 NATO or .300 Blackout round. If you want to grab some great range or defense ammo take a look at some of the options below.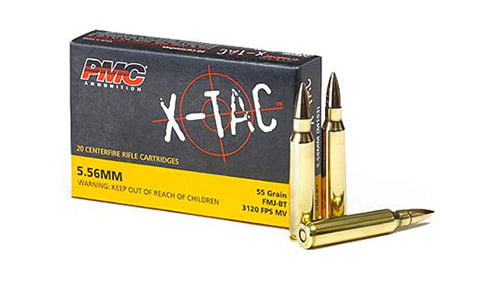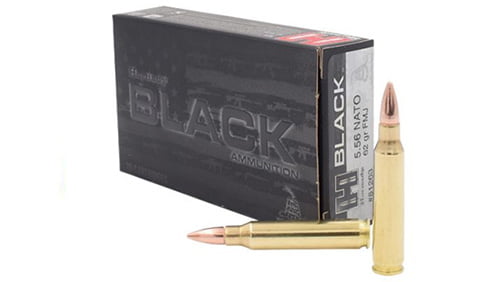 The Noveske PDW in Conclusion
The Noveske N4 PDW, formally the Noveske Ghetto Blaster, is a slam dunk. I will admit to being a pretty big Noveske fan, but in my experience, they are one of the top-tier AR-15 style rifle manufacturers in existence.
The clear thought and time they took to design an extremely aesthetically pleasing gun and a very functional gun are evident.
If you have the cash, you won't go wrong with this well-built and feature-rich AR-15.
If you have lots of hobbies, other than just firearms and limited cash, you may opt for something different like the Ballistic Advantage AR-15 or the Daniel Defense DDM4.
Noveske PDW
• Caliber: 5.56, .300
• Action: Gas
• Barrel Length: 7.9″
• Twist Rate: 1:7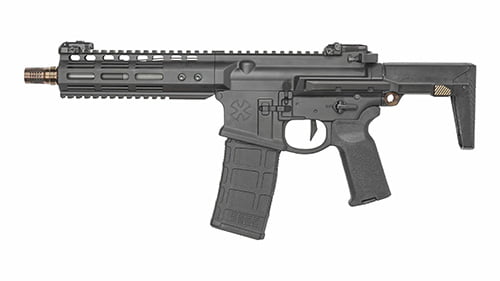 Does Noveske Cerakote?
Yes, Noveske's Gen4 rifles are cerakoted but they do not provide cerakoting services.
Who makes Noveske barrels?
Noveske makes all of their barrels in-house at their Grants Pass, OR facility.
What's so special about Noveske?
Noveske is a top-tier rifle manufacturer that carries a premium price tag because they deliver an accurate rifle with a top-of-the-line fit and finish known for standing up to the elements and holding up well under hard use.
What is the difference between the Noveske Ghetto Blaster and the N4 PDW?
The Noveske Ghetto Blaster is chambered in 300 blackout and is the original name of this style gun. The N4 PDW is the same design but chambered in 5.56.
To my knowledge, the Ghetto Blaster is a limited production item, and only a number of these are made and a limited range of serial numbers.
There is largely no difference between the two rifles other than the name and caliber.