Browning has long been known for their high-quality shotguns and rifles so when I saw the Browning 1911 Black Label I knew I had to give it a try.
While I'm more familiar with my Para 1911 or even the Sig Tacops 1911 this little 22LR pistol caught my eye and for good reason.
Browning 1911 Black Label Features
The Browning Black Label is one of the nicer-looking Browning 1911s in the lineup, in my opinion. But it's still a fantastic gun with some decent features.
Grip/Ergonomics Texturing
The Browning 1911-22 Black Label is very much a scaled-down version of a 1911.
We're going to talk about the size in a little bit, but right now I'm going to talk about the grip, grip texture, and ergonomics.
Grips
The grips have, what appears to be, a standard 1911 panel in terms of design.
However, these can't be a standard 1911 panel because of the size of the gun. This is a scaled-down 1911, so these are definitely different-size grips.
You would have to get specialty grips for this if you wanted aftermarket grips.
I don't have a problem with the Black Label's grips. It has a decent grip texture, and, quite frankly, on a .22 pistol, what do you extremely abrasive grips for?
I really think the look and design of these grips are fantastic and wouldn't want to change them anyway.
Aesthetically, they look great. Browning did a fantastic job designing these grips. Overall, the look of the grips is good and the texture is fantastic.
Safety
As I've seen a million times before I'm not a big safety on a pistol guy.
But on a 1911, I'll concede, it's going to have one.
This safety actually functions quite well, to put it on safe and to take it off safe are both are very fluid functions.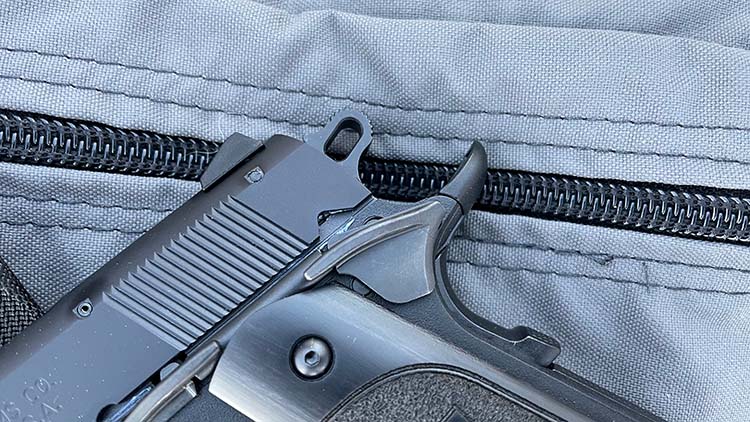 It has a very good tactile feel while moving between the two positions.
The one thing I'll say outside of the actual physical manual safety itself is a magazine safety. So if there's no magazine in the gun, the trigger will not pull.
I'm not a big fan of those. But I do understand from the point of view that this gun is more or less a perfect pistol to start your kids out on.
I'll get more into that in a little bit when I get to size, but those are the safety controls overall and, of course, you have your rear grip safety.
That is pretty much standard in 1911, and that does exist on this 1911 22.
Magazine Release
The magazine release on the Browning 1911 22 is very easy to depress.
There's nothing extra special about the magazine release it's your standard 1911 magazine release.
Due to the overall size of the gun, the magazine release is very small, but I didn't have any issues with the function of the release.
When you press the button, it shoots out.
Overall, I like the magazine release on this gun. It's small, but so is the gun.
Slide Stop
The slide stop from this gun is right smack dab in the middle and the size of this gun makes the slide stop very easy to get to.
It's right smack dab above the trigger, and you can easily use the slide stop to lock the slide to the rear.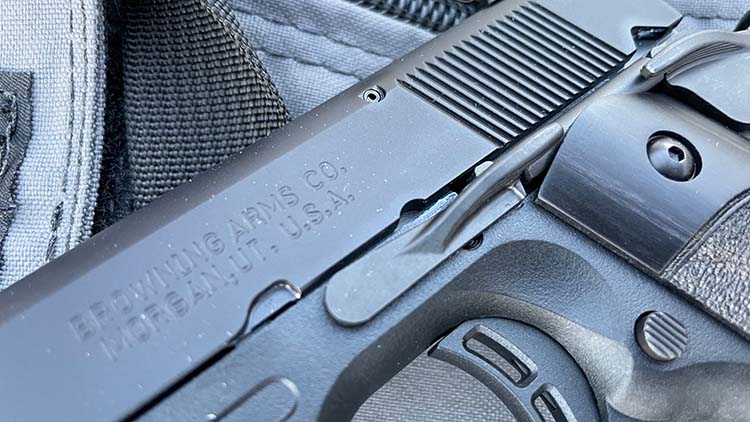 Even with the magazine in, you can easily pull it down to chamber a round if you want to chamber it that way.
Overall, the slide stop/release is solid. It works well. Don't have any complaints, nothing to write home about.
It does have last round slide hold open when shooting and it works great!
It is very functional. So, I am happy with the controls thus far.
Trigger
The trigger is a 1911 trigger, in that it's definitely on a "sliding mechanism" as what I would call it.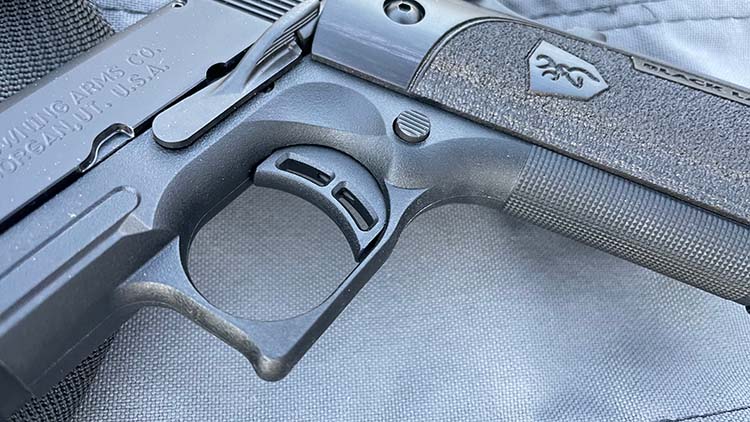 It's the front-to-back pull and does have a nice trigger pull considering its size.
It's a .22, so I wouldn't dry fire it.
But overall, the trigger pull is nice. The only downside is there are no adjustments, and it is a polymer trigger.
At this gun's price point, that is a little disappointing, but still okay.
Sights
The sights are not changeable, but that's not something I would probably do on this particular .22 pistol anyway.
They are all black with no dots. I don't dislike the sights but they aren't great either.
They're definitely no option for these to be night sights on the Browning 1911 Black Label.
So far it seems to be a solid gun, but I'm not crazy about the sights.
Now, a full disclosure upfront on this, the Browning 1911-22 series is more of a fun gun.
I'll tell you in my final thoughts, really what I think this gun was meant to be. This is not a daily carry pistol.
This is not something you want to defend your life with, but it can be an extremely fun gun.
So while the sights overall work and are functional, they don't stand out for me.
They're, of course, like everything else in the gun, somewhat smaller making them a bit hard to see.
Size
Now, I've seen claims that this gun is about 85% of what a normal 1911 would be in size.
I'm not really sure where they get that number from, but I've also seen a lot of complaints in reviews that this gun is more or less a 75% scale of a regular 1911.
But the reason I am not upset about the size of this gun is the fact that this gun, more or less to me, is something to start your kids out on when getting them started shooting.
If you have children the .22LR round has very little recoil and it fits really well in somebody's hand who obviously is younger and has a smaller hands.
This is going to feel like a full-size gun to them, and this is a really great option to start them on. Especially if they're too young to really hold a rifle.
Picatinny Rail
The frame itself actually has a Picatinny-mount rail, so you could potentially put a flashlight or probably more likely a laser.
I just don't see a flashlight being necessary for a 1911 22. That is most likely a range toy.
Now, if you're going to the range a lot at night, and you want to shoot this at night, by all means, put a flashlight on it. Not going to judge you there.
But best I can tell, this is a standard 1913 rail and will accept anything that will go on a picatinny pistol rail.
Range Bag
So this wouldn't be a really extensive review. If I didn't tell you, go check out our pistol range bag.
Of course, this would be the perfect fit for any of our pistol bag back options.
So be sure to go check them out, pick out the one that fits you the best.
In my opinion, the Browning Black Label really calls for the Multicam Black pistol range bag.
Accessories
One of the few complaints I have about the Browning 1911 22 Black Label is the fact that there are very few aftermarket accessories.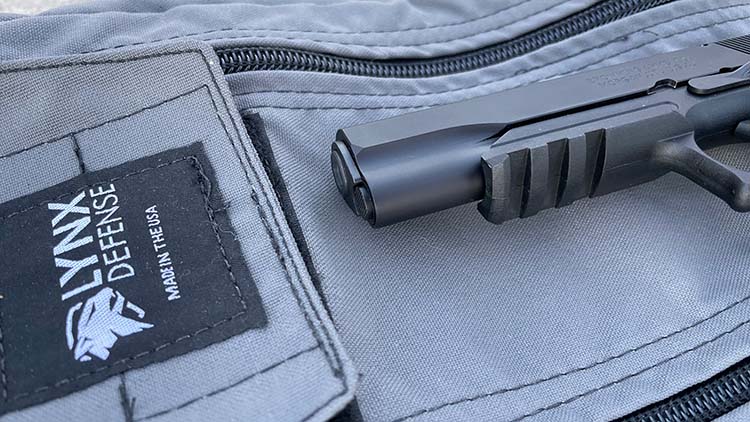 Grips are pretty easy to locate but some of the normal accessories you would hope to find for a 1911 aren't widely available.
There isn't much in the way of triggers, hammers, or other 1911 accessories.
Magazine
This gun only comes with one magazine, which really surprised me, because the price point of this gun is in the $600-$700 range, and to only come with one .22 magazine is really a pretty big letdown to me.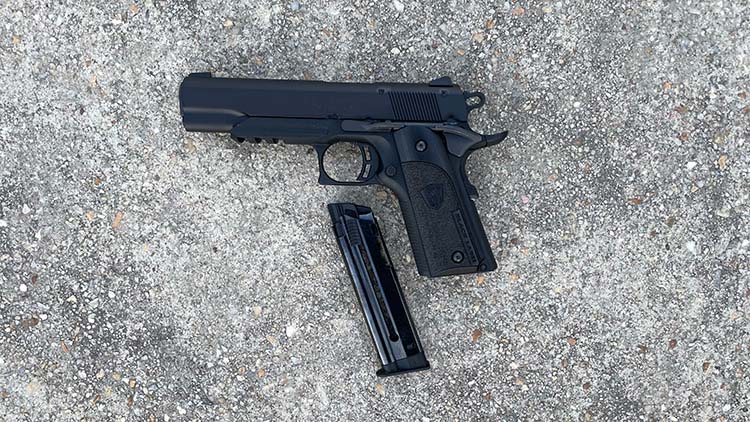 That's a high price to pay and only have one magazine. I know it's a 1911, and I know it's Browning, who is often known to be more expensive.
But most guns come with almost three mags or even just two mags. The weird part is the box even has a spot for two magazines, and this does not come with one.
Aesthetics
The overall looks of this gun are awesome. Even my oldest saw it and said "that's a really nice looking pistol".
So if an 8-year-old loves it then anyone will love this gun!
The Black Label has an attachment rail as well as an all-black look with the exception of the barrel.
Shooting
Shooting this gun is a blast! My only real complaint is I wish the magazine had a higher capacity. But that's how I feel about nearly every .22LR.
Right out of the box I had a handful of failure to feed/eject issues. Out of the first 40 rounds, I probably had 3 failures to eject and one failure to feed. That might seem like a lot and it was.
But after the first 40 rounds, I had no issues whatsoever. It was almost like a crazy fast break-in period for this gun.
I wasn't crazy about the slights and took me a little while to get used to shooting the gun accurately.
But I was definitely able to get it on target and ended up having a blast with this pistol.
Final Thoughts
My final thought on the Browning 1911 22 Black Label is that this is a really fun gun to shoot.
This is not, to me, a self-defense gun, but it is really fun.
It does have that iconic 1911 feel in a really, really tiny package. I do think that they could have done a few things better.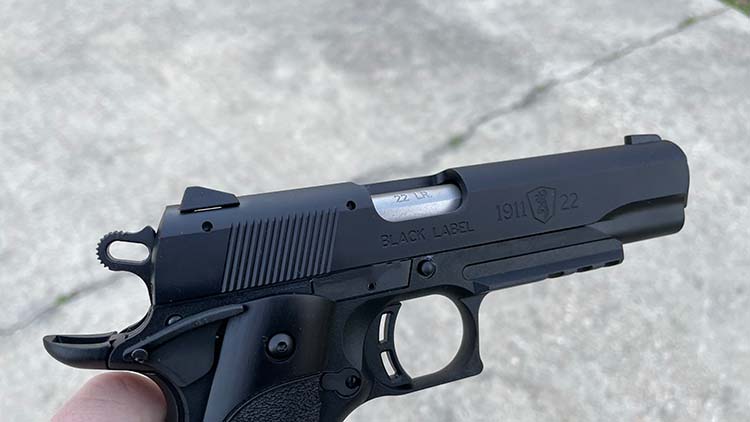 The polymer frame does not bother me. It gives it a 2011 feel with the polymer frame, but it is still a 1911 all one-piece single frame, but it's got a full metal slide, metal barrel and gives off a quality feel, but it is extremely small.
I think that most people if they understand what they're getting before they buy it, will love this gun.
If they are expecting a full-size 1911, just chambered in .22, that's going to save them money and completely replace their 1911 experience at the range, this is going to fall short.
Personally, I like this gun, because I think it's going to help me get my kids into shooting with a light recoil round, and a gun that fits their smaller hands. The Browning 1911 22LR really gives them solid intro guns and will allow me to teach them gun safety and how much fun guns can be.
FAQs
While reviews answer a ton of questions there are always some that go unanswered in the full review.
Here are a couple of the most common questions people have before they purchase their Browning 1911.
Is the Browning 1911 Good?
I've had a lot of fun with this gun so far. After a short breakin period the Browning 1911 has been a really good gun for me so far.
Did Browning ever make a 1911?
Yes, Browning still makes a 1911. You can get them chambered in .22LR or .380 ACP.
John Moses Browning was the original designer of the 1911.
What caliber is a Browning 1911?
Browning 1911 come in .22LR and .380 ACP. At the time of this writing they don't make 1911's in any other calibers.
Is Browning 1911-22 any good?
The Browning 1911 22 that I have is a fantastic gun so far. I think this is one of the best pistols overall to teach kids basic firearms safety.
The Browning 1911 22 is a great platform because it offers low recoil, minimum noise, and is small enough not to be intimidating.