Many of you might start thinking that I'm a 1911 fan with the number of 1911-style pistols that I've been doing reviews on lately. However, that's not the case. In fact, it's quite the opposite. I'm a huge fan of the polymer pistols, aka a Glock fanboy. But this Sig Sauer 1911 Tacops really took me for a joyride!
I have no problems admitting my bias, but I have had my chance to hold on to some 1911-style pistols here recently. So I've been reviewing them, and the SIG 1911 Tacops chambered in 9mm is no different.
This pistol is a HOSS; it's a heavy 1911 much different than its little brother, the Sig Sauer P938. It's single-stack, but you may be surprised at this review. So hang in there because we're going to take a deep dive on it.
History of Sig Sauer and the 1911s
Sig Sauer is not well known for their 1911-style pistols. They only began producing them in 2004 when they made the SIG Sauer GSR or Granite Series Rail pistols. These were obviously in the same pattern as the Colt M1911-style pistol.
Sig Sauer is most known for its P series of pistols, including the P365, P938, etc.
However, Sig Sauer did make several 1911-style pistols, including the Emperor Scorpion full-size, the Tacops, which is what we're reviewing here, and the stainless Spartan Nickel and Max pistols, to name a few.
So let's talk about the Sig Sauer 1911 Tacops.
Sig 1911 Tacops Features
Some of the SIG 1911 Tacops features are unique to this particular pistol, especially since this is an older model 1911 series pistol. Most 1911s don't come with a Picatinny rail. However, on this gun, it does. We'll talk more about that later.
Grip and Ergonomics
The first thing you'll notice when you pick up the 1911 Tacops is the weight, and that's not specifically part of the grip or the ergonomics of the gun, but it's important to note that this is a heavy gun.
The gun weighs in at 41.6 ounces which is nearly three pounds. But strangely enough, as soon as you put it in your hand, you almost forget how much it weighs.
Once you grip the gun, establishing a firm master grip, you're going to notice, first and foremost, the texture on the grip frame, not the grips themself, but actually where your fingers wrap around the front of the grip.
That checkerboard-like pattern is extremely, extremely tact, so it's going to grab your hand, and you're not going to move it. It's not painful, but it's definitely there, you'll notice it, and you really feel like you have a good grip on this gun.
Now, we'll talk about the grips themselves.
Of course, they're held on by two screws on both sides. They have a semi-diagonal cut and the "SIG" insignia on the center of the grip panel.
The grips feel pretty nice. I don't have any complaints about them. While they don't really wow me or stick out, there's really nothing wrong with them either.
So in all reality, they aren't a con on the Sig 1911 Tacops.
Magazine Well
The magazine well on this gun has a removable base.
However, I don't think you'll need to change it because it has a nice flared magwell.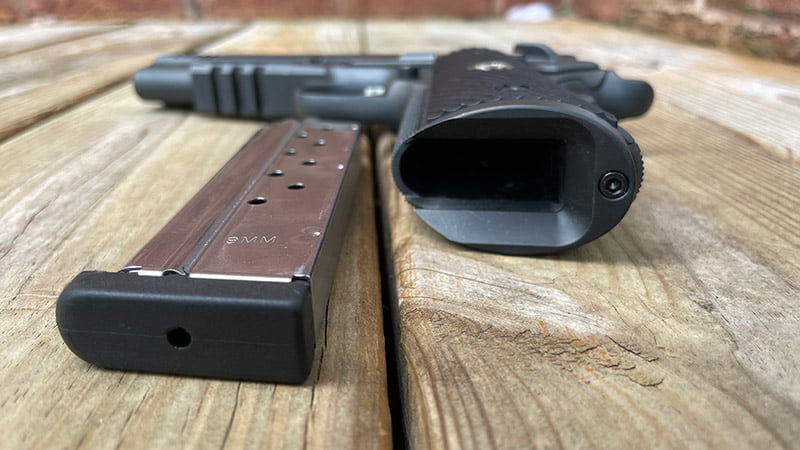 The flare doesn't actually stick out as it does on the Para Ordnance 2011.
When you go to load the mag, which has a decent-sized base plate, it funnels it in like you would if you had an aftermarket magazine well on something like a Glock or another gun like that.
Sights
The sights on this gun are pretty underwhelming.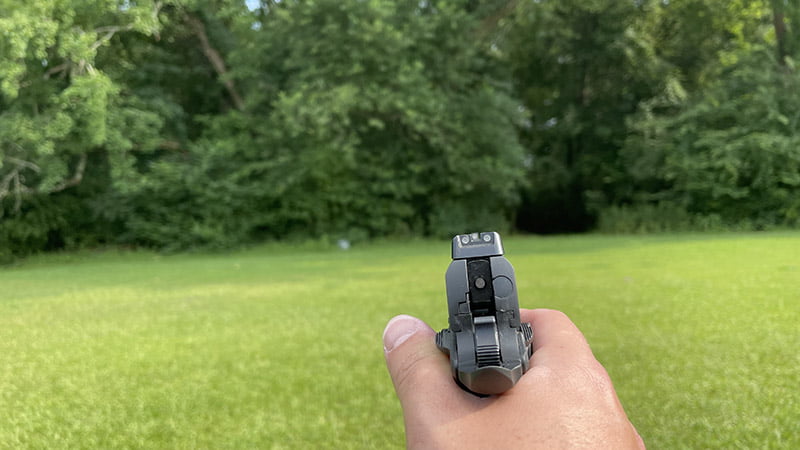 They are removable, and you can change them out. A nice feature of the Sig Tacops is it comes standard with night sights.
I did not have a problem aiming the sights at all. They're just extremely underwhelming.
When I first saw the sight picture, I was like, "Wow, these are terrible sights."
However, we're going to cover the sights a little more in the shooting section because there is somewhat of a surprise waiting there, but note that they are the standard three-dot configuration.
Controls
The control set on this gun is pretty standard for what you'd expect of a 1911. However, let's go over them a little more in-depth because each control set for every firearm is a little different.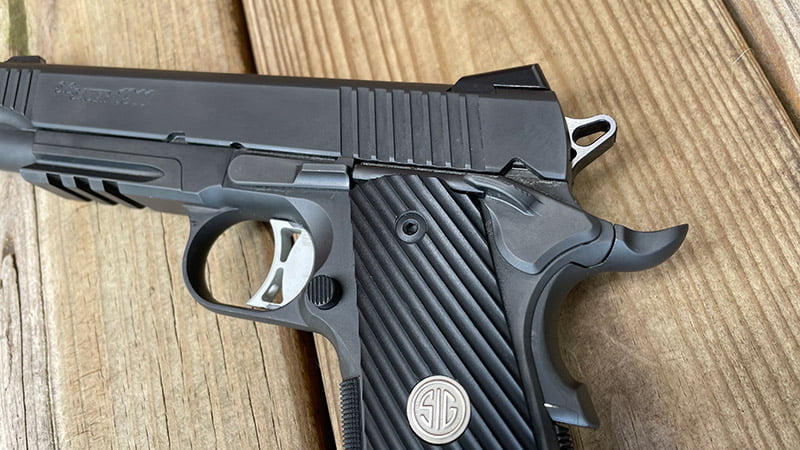 Safety
Safety on the gun, as normal, doesn't engage unless the firearm is caught in the fire position.
It's got minimal thumb activation and deactivation. It is ambidextrous, so it is on the left and right of the gun.
It's effortless to grab and pull down, and it's straightforward to engage up. You don't really feel it too much.
However, unlike the Springfield Armory EMP4, this doesn't contour your thumb very well, at least for me.
Does that bother me? No, it didn't bother me shooting. It doesn't bother me just holding it. It's just something to note.
Magazine Release
The magazine release on this gun is about what you'd expect, just a singular dot, minimal abrasion on it for gripping, and it's not ambidextrous.
When you hit the magazine release, the magazine slides right out, and there are no issues there other than to say it's really just a standard mag release.
Slide Stop
Slide stop on this gun sits pretty forward on the gun, especially if you have some smaller hands.
Now, what you can do is if you have an established grip on the gun, you can actually hit it with your left-hand thumb.
That will release it forward, and it works well.
I'm right-handed so using it with your dominant hand, I actually have to move around the gun to get to it. This is a full-size 1911 style pistol not a big deal at all.
Using it with the magazine in the gun is easy. If you have a magazine in and you need to send the slide home, you can use the magazine release lever, unlike some 1911s where the magazine's so stiff that you're going to have to rack the slide to get it to go forward.
Trigger
The trigger on the Sig Sauer 1911 Tacops actually surprised me a good bit.
I don't much care for 1911 style triggers.
However, this one has very little take-up, has a little bit more squish, oddly enough, and then when you hit the wall, the break is very stiff and firm, creating a nice end to your trigger pull.
The reset is, not all the way out, but just to the wall. I haven't been noticing that lately in 1911-style pistols. The Para and the Springfield Armory EMP4 the trigger pretty much makes you go all the way out and then come back to the wall.
The Sig Sauer 1911 Tacops trigger does not. It just comes to the wall, takes you back, and you're good to go.
Much like every other 1911 that I've been reviewing lately, this is a single-action trigger. Thus, your hammer will have to be cocked, and there is no double action to where you can pull the trigger on the long pull and have the gunfire.
Sig 1911 Tacops Range Bag
This would not be a Lynx Defense gun review without mentioning our pistol range bag and the Concord.
This gun does sit fairly well in the regular pistol range bag. With this being a full-size 1911, it is going to sit better and deeper in a Concord.
If you don't need that much bag, you're going to be perfectly fine.
This sits down in our insert pocket relatively well, and it'll hold the magazines just fine as they're single stack nine-round count, 9mm magazines.
Accessories
You have to have accessories, well okay you don't have to, but they sure do make the guns your own. Here are a few for the Tac Ops.
Grips and Magazine Releases
The grips on the SIG Sauer 1911 Tacops can be easily switched out with any 1911 pattern grip that those are pretty much whatever grip you can find that you like in this pattern is going to work on this gun.
The TACOPS magazine release button can clearly be taken off with a screw, and you could swap out the release button for a textured button of your choice.
Aesthetics
The aesthetics of this gun are quite nice. Its all-black exterior and the hammer and the trigger are silver.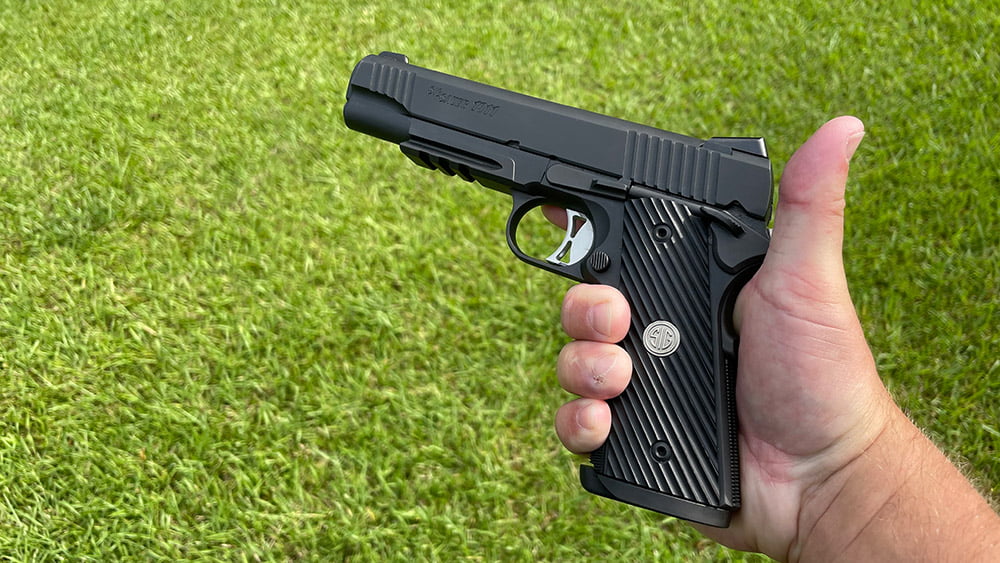 A nice touch is the SIG emblem in the middle of the grip is also silver and the matching silver stainless steel barrel.
This is a very nice-looking 1911. The rail that's integrated into the bottom of the frame really ties this gun together and kind of sets it apart.
I really enjoy shooting this gun, so we're going to move on to the shooting part because that's really what wowed me.
Shooting
So I had very few expectations of the SIG Sauer 1911. I shoot horribly with my Para 1911. I love shooting it because it's a lot of fun. It's a 9mm pistol, so it doesn't cost an arm and a leg, but I just can't hit the broad side of a barn with it.
I also took out the Springfield Armory EMP 9mm, and that's a concealed carry four-inch barreled gun, and I couldn't hit the broad side of a barn with it. Well, I wouldn't say that, but I did okay.
But it was a crazy experience when I loaded up the SIG Sauer 1911 Tacops. I put nine rounds in the magazine, stood at the 25-yard line, and went nine for nine on steel targets.
I couldn't believe it.
I'm a mediocre shooter, probably at best, I would say. I'm nothing special. I probably shoot more than the average person considering I have a range in my backyard, see our building a home shooting range article, and my business revolves around firearms.
So I get a little more shooting in, a little more exposure to different kinds of guns, and time to tinker. But I was extremely shocked to go nine for nine with this gun.
When I first got my sight picture into this standard three-dot Trijicon-looking sight, I was just unimpressed.
I was thinking, "No way this is going to be good." when I started firing not in extreme cadence, just back-to-back controlled shooting, but I was changing targets, two gong targets, two body targets, and I was nailing every single one of them.
I couldn't believe it.
The recoil was negligible.
The weight of the gun really shined then.
I was really shocked at the fact that I could keep it on target and even transition between targets and not miss a single one of those nine rounds.
That being said, I could not duplicate that in my Glock 19 that I carry every single day. If you were to load up nine rounds, I might go seven or eight out of the nine on target, but this thing just tack drove, and again I couldn't believe it.
Maybe that's why they call it the Tacops because it is a tack driver. I'm very pleased with this gun.
Sig 1911 Tacops Overview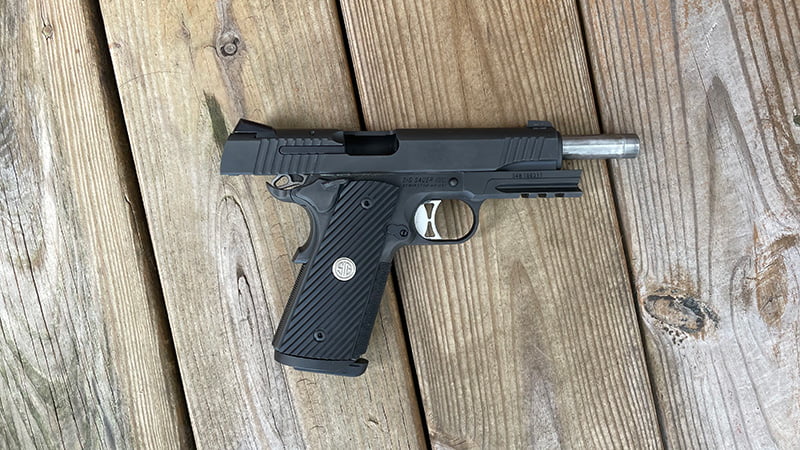 If you can find one of these and you're a fan of 1911, heck, even if you aren't because I'm not a big 1911 guy, this may be what you need to add to your collection or, heck, even your everyday carry if you can stomach the weight and the size.
It is a little bit big for concealed carry, but it is a hell of a lot of fun, and I would highly recommend it.
If it's in your budget range, as far as 1911s go, the SIG Sauer 1911 Tacops is probably the best bang for your buck, quite literally.
If you want to take a look at some interesting reads take a look at our 1911 vs Browning Hi-Power comparison article. If you are looking for something smaller take a look at the Kimber Micro 9 or the Sig P938.
The Tacops is my second favorite Sig Sauer pistol only to be beaten by the Sig P320 X5 Legion.
Sig 1911 Tacops Review | Perfect 9mm 1911 by Sig Sauer?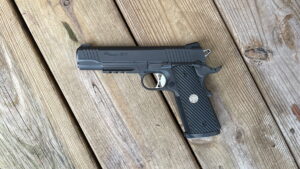 The Sig 1911 Tacops 9mm M1911 style pistol review is one that really shocked me. But you'll have to read to learn more!
Product SKU: 1911TR-9-TACOPS
Product Brand: Sig Sauer
Product Currency: USD
Product Price: 963
Product In-Stock: InStock