Who doesn't love the MP5? Such a classic gun that has been in countless movies, TV Shoes, and real conflicts worldwide.
The Century Arms AP5 was the only option in the United States for a civilian to easily own an MP5 for the longest time.
Now the H&K SP5 is available, but they are often 3x the price of the Century Arms AP5. So how does the AP5 stack up?
About the Century Arms AP5
The AP5 used to be imported by Zenith and was called the ZF-5 but the contract lapsed with MKE, the true manufacturer of the MP5 clone, and Century Arms picked up the contract to import the AP5 into the United States.
The tooling that MKE uses to make the imported CA AP5 is genuine H&K tooling and has long been the gold standard for clones of the MP5.
This 1970's technology has been one that has been holding on for over 50 years and doesn't appear to be going anywhere anytime soon.
All Century Arms AP5's are manufactured in Turkey and imported into the US.
Popular Culture
The MP5 has been featured in countless movies and games it has basically become the dictionary picture of the term "sub gun".
Movies like Die Hard and S.W.A.T. heavily feature this gun making it popular throughout Hollywood.
Video games have also paid homage to the MP5 appearing as early as 1998 in Rainbow Six and still being included in almost every Call of Duty release.
Airsoft players have also demanded near-exact copies of these guns and they do a good job making them.
Features
The features of the Century Arm AP5 are what really makes it unique.
With it being an MP5 Clone, the features are a little dated since this gun was developed and started to be produced in the 1970s.
It still is worth mentioning because this is such a unique gun, still to this day one of the most renowned firearms in the world.
Grip/Ergonomics
First, let's talk about the overall grip and ergonomics. This is probably one of the original guns to have what's called a trigger pack.
The lower portion of the gun is actually held on by two pins and attaches to the stamped receiver. Because of that, you can easily take this off, clean it, switch it out, do maintenance, replace parts, and things of that nature.
Now the grip itself is very fluid, I'm not 100% sure how true to MP5 form this grip is but it has a thumb indent on the left-hand side, clearly set up for a right-handed shooter.
Now, gripping the gun is extremely, extremely friendly in the hand, and the ergonomics and feel of it are very good overall.
Now, keep in mind, that this is a Century Arms AP5-P, the P stands for pistol. There is a "full-size" option, which is still a sub-gun, so it's not huge but it's not as compact as this M or P model.
The only thing smaller than the P is the M, and the M probably stands for micro. The pistol model does have a muzzle break, which makes it a lot easier to deal with, and also allows you to add a suppressor extremely easily.
Texturing
The texturing on the grip model is pretty much nonexistent because it's all smooth.
This gun doesn't feature any modern textures or any kind of stippling.
Honestly, it almost feels like blasphemy even talking about texture on an MP5 Clone but, nonetheless, it's a grip so people are used to it having texturization in 2022.
But since it's an MP5 clone it doesn't have that, still feels great, and we'll get to the shooting part later but it handles great without any kind of grip texture.
Sights
Now, the biggest gripe I have about MP5s, in general, AP5's not excluded because it uses nearly the same sights. The sights are hot garbage.
If you like them, I'm sorry but they're garbage.
The stock sights don't really matter to me because the first thing I did was buy an optic mount and throw on a small pistol dot.
From that point on, I love it. But this section is about the stock sights, the front post is a circle with a singular post in the middle.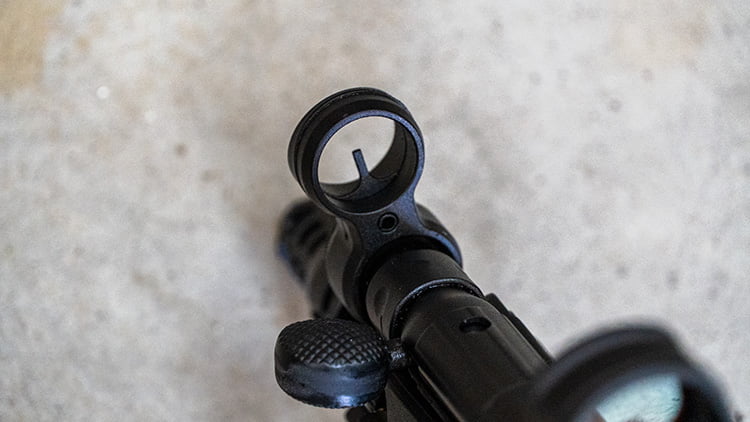 The rear sight is the standard HK MP5 style rear sight. You have your notches. You can make your adjustments for elevation and also windage.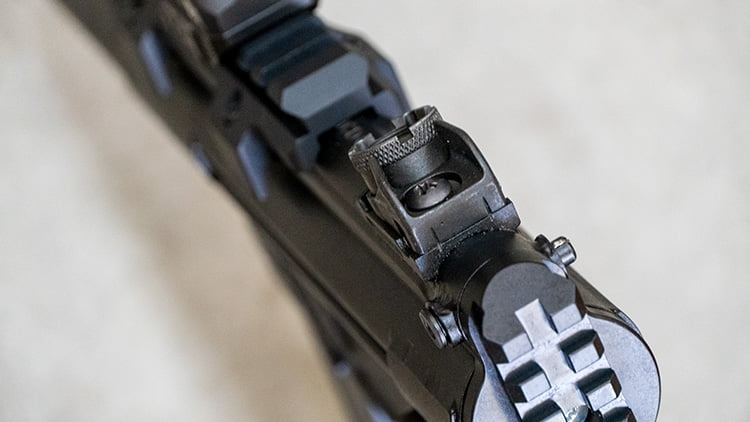 I hate these sights with a hot, fiery passion. You really have to get down on the gun to see them and they just have a terrible sight picture overall.
Later I'll talk about accessories to make these sights irrelevant, do yourself a favor, don't use these sights, get yourself something on top of this thing, it'll make the gun a world difference.
Controls
Like any gun, the controls can make or break it. While this gun's controls are really good, there's just one thing that really gripes me and we're going to talk about it first, the safety.
Safety
The safety on the AP5 is okay. It's very stiff and I've seen this mentioned in several AP5 Facebook groups and Reddit threads which leads me to believe that it's pretty much a "feature" of all AP5s.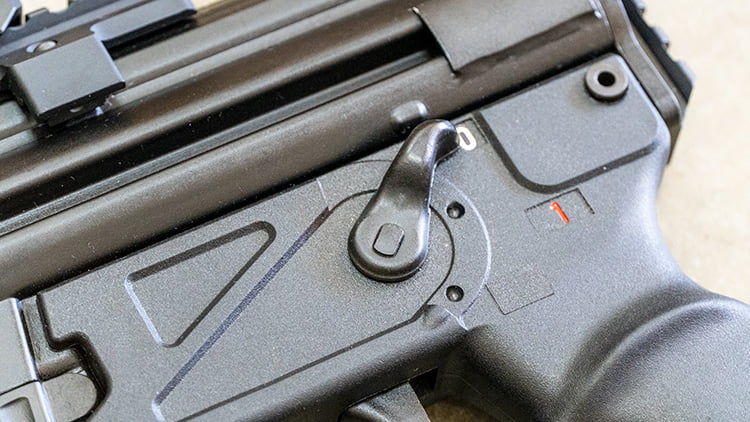 They're apparently just stiff from the factory. It's a good useable safety but I'm not in love with it.
The selector switch goes really high when on safe, making it hard to get to with your thumb.
It's not ambidextrous, which is a bummer but not a deal breaker for any right-handed shooter.
For me, I don't have large hands, and getting to the safety I really have to get around the gun to use the safety.
I have a feeling it'll break in but I'm contemplating replacing that just because I dislike the safety so much. It's just way up there and really stiff and, honestly, I just don't have the time to sit here and flick it 10,000 times to get it to break in.
It's not the actual safety lever itself, the safety lever is fine, it's large, and has a decent shelf.
The AP5 is easy to get on safe, but extremely hard to get to the fire position.
I do wish this was a little bit more classic HK as far as the selector switch but that's a simple easy fix.
Let's talk about the magazine release.
Magazine Release
To release the magazine you have two magazine release options.
If you aren't familiar with inserting a magazine into an AP5, an SP5, or an MP5 Clone, when you insert the magazine you have to kind of rock it back a little bit.
The reason you have to do that is that it has to hit the magazine catch.
Releasing the magazine is done one of two ways there's a button on the right-hand side very similar to ARs that you can depress and slide the magazine out.
The button is a little hard to get to, and a kind of weird spot. It's relatively easy to push but rather annoying to get to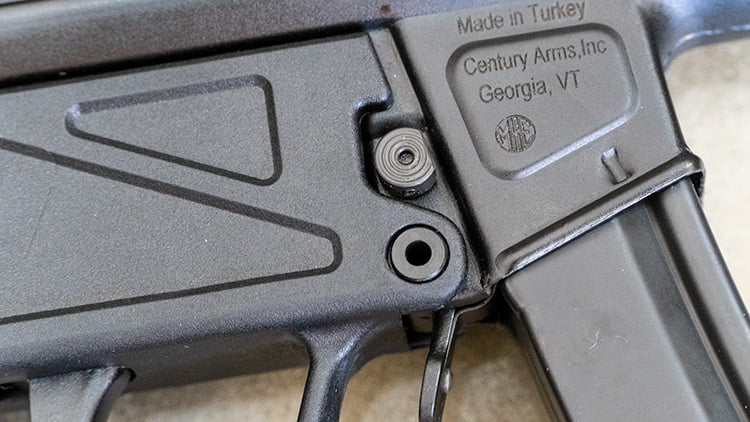 This method of mag removal is not particularly fun. I wouldn't recommend using that.
It's not very responsive or anything like that but I don't think you need to focus on that because if you're not using the paddle on this gun, I don't know.
Everybody that I know of is going to use the paddle to release the magazine. The paddle sits behind the magazine in front of the trigger well.
It is very easy to reach up, hit the paddle with your thumb, and pull your magazine down so push, pull, rip, and your magazine is out.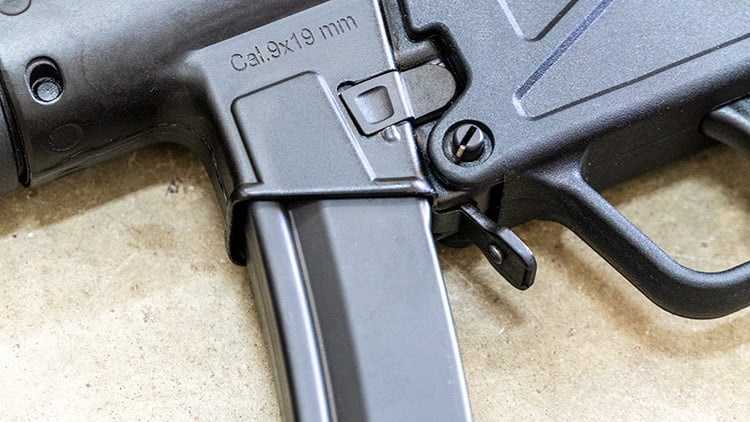 I don't even know what to say to somebody who's not using the paddle on an MP5 Clone.
Anyway, use the paddle, don't worry about the other button. It's there if you need it but that magazine release works great.
Love the paddle. Works flawlessly and gives you that true MP5 feel.
Charging Handle
The charging handle is probably the most iconic part of the AP5.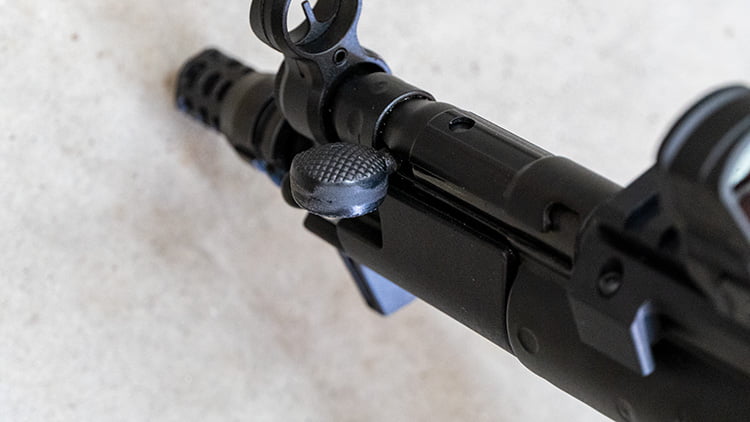 If you don't like a charging handle that you can just slap the ever-living crap out of to send it into battery, there's something wrong with you.
It's nobody else, you're the problem, I kid I kid.
The function of the charging handle is flawless it pulls back and you rock it up, to lock the chamber open, and it works perfectly.
Keep in mind, that there is no last-round bolt hold open on an AP5. Just like there's not one on an MP5 because these guns are based on 30-year-old technology.
That kind of concept didn't really come around until later and, let's face it, HK never went back to the drawing board on that one so no last-round bolt hold open, but you get the slap.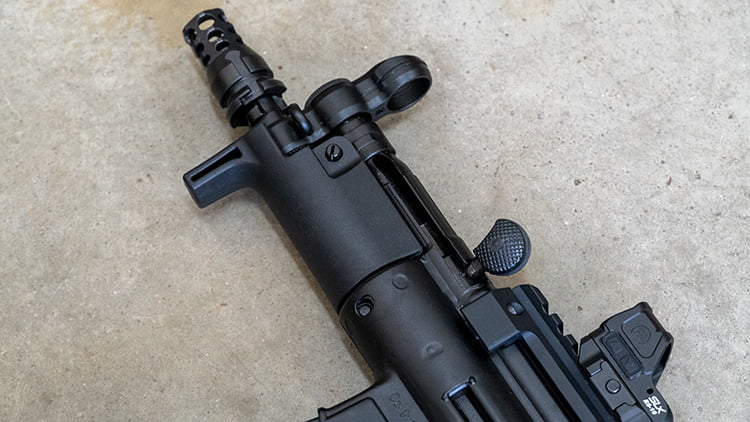 Slaps existed since the seventies, you can keep slapping. Don't do it to your girlfriend, you won't get to keep this gun.
It works great. The roller delay is fantastic. It's very smooth. There is some resistance on the charging handle, especially on the pistol model, but honestly, as long as you can pick up a two-pound weight, you won't have a problem with this charging handle
Trigger
Okay, so I got to say the trigger looks like an MP5 trigger. It's a big, honking piece of plastic, and that's all it is.
It's not special but AP5s and MP5s are not known to have nice, special triggers, that is not what these guns are known for.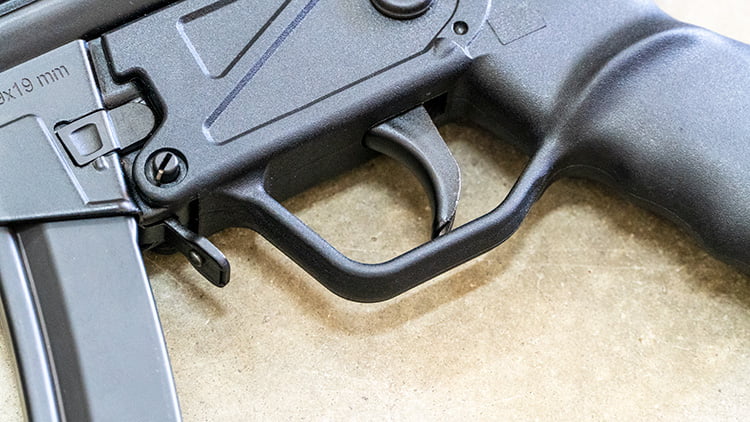 There is a probably quarter inch or so of take up, hit a wall, pretty mushy. Resets back to the same place.
The trigger brake is not very defined. It works but it's just not extremely defined. Not going to get caught up on trigger on an MP5 cone other than to say it works for what it is.
I'm sure there are some modifications you can make to it. I won't be making those, it works well enough. Shooting it is very fluid and resets well.
Range Bag
Carrying the AP5 can be done with relative ease due to its small profile and lightweight.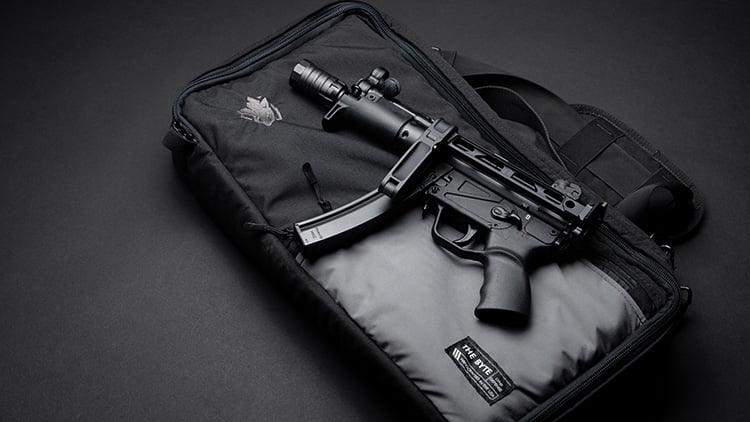 My favorite bag for the AP5 Pistol, also known as the AP5K or AP5-P, is The Byte. The Byte is perfect for any small sub-gun like the Century Arms AP5.
With the modular back wall of the Byte, you can customize it to fit your AP5's configuration to best secure it while in transit.
AP5 Accessories
If you are like me accessorizing your AP5 will become a passion very quickly. I love buying new trinkets and functional attachments for my AP5. Here are a few suggestions.
Century Arms AP5 Stock
There are some awesome and classic stocks that will make your AP5 the best possible gun it can be.
The most notable is the B&T MP5K/SP5K Telescopic Stock. This gives the truest to classic design but will require you to Form 1, aka SBR, your AP5.
AP5 Brace
One of the best companies making accessories for the AP5 series of gues is JMac Customs.
Their product line can be a little tough to figure out but it's worth the time to get an awesome and functional gun.
Let me try to help you a little.
AB-8 Arm Brace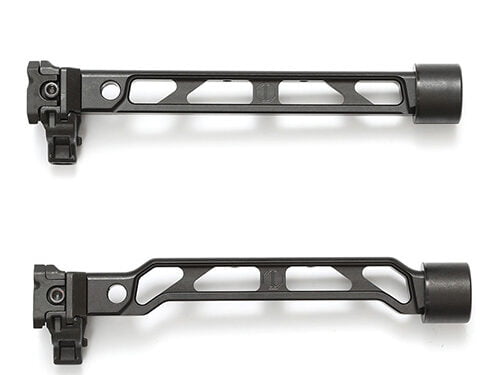 The AB-8 arm brace is a great little device that lets you add a tailhook mod-1 to your pistol.
Sling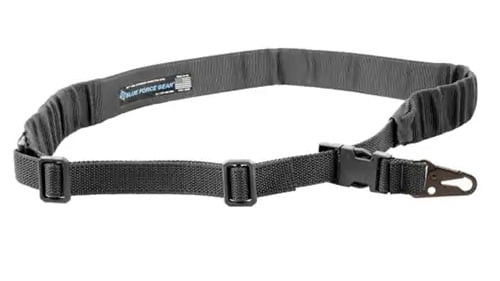 If you plan to keep the AP5-P in the pistol configuration you have to get a classic single-point sling!
There is no better single-point sling for your AP5-P than the Blue Force Gear UDC Padded Bungee single-point sling.
Don't forget that sling slap hook, that's a must!
Magazines/Bases
I want all the magazines! I have yet to purchase more magazines for my AP5 yet, but I will be testing some and reporting back to stay on the safe side I would grab the stock Century Arms AP5 magazines for now.
Aesthetics
This gun, honestly, probably couldn't look much better than it does.
Keep in mind that this is the P, or pistol, model that you see in all these photos and there is an M model and also a classic, just straight-up AP5.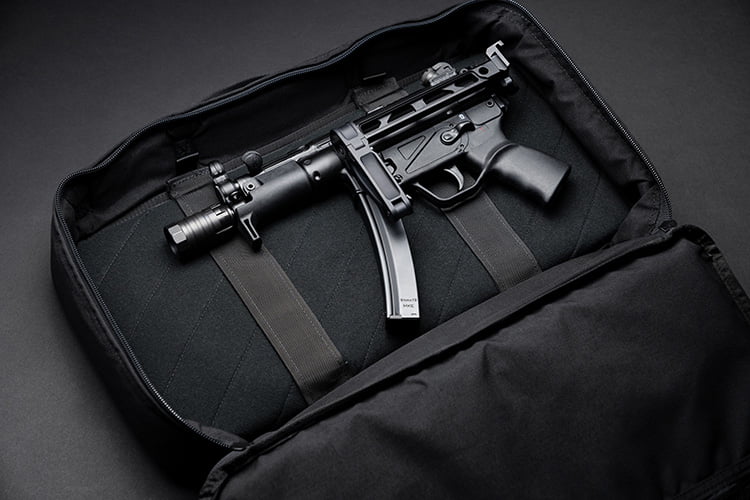 The AP5 got a longer hand guard, and a little extended butt cap, just overall it's just a little bit more elongated and I believe the AP5 model already comes with the optics mount ready to roll.
The one I'm rocking is the Midwest Industries as I said earlier in this article and, of course, you get a true HK Clone look.
I really like this gun. It comes in at a fantastic price for everything you get. There are a few issues with the tolerances but, overall, it's a good gun.
Aesthetically, you have your classic MP5 look and overall it's fantastic. Ever since I've pulled this out of the box, I've loved every second of it and I keep finding things to add to it, and things I want to do.
I went with the JMac muzzle device on it and got a JMac brace for when I want to SBR it.
Overall, it's going to be a fun gun for shooting long term.
Century Arms AP5 Ammo
When you first get the gun Century Arms recommends a 500-round break-in with 124-grain bullets.
I've shot this from day one with 115-grain bullets and I have not had but one malfunction and it was just a failure to eject.
The shell didn't come all the way out when it ejected and the bolt came in on the shell. All I had to do, was rack the slide back, turn the gun to the right, dump the shell out and I got back to shooting.
Haven't had a single other malfunction since so it was a very minor one.
Shooting
Let's get this fact out of the way: shooting the gun is fantastic.
I will say that if you get the P model, highly recommend you either Form 1 it or get a brace.
It's fun in the pistol configuration but you don't get the true MP5, or the MP5K feeling without a brace or a stock, it's just that simple.
You need that classic full feeling to truly understand why this gun is so awesome.
While you're at it, go ahead and get a folder because being able to collapse this thing down into a small package and still run it is fantastic.
Shooting the AP5 is smooth, the roller delay is like butter. I can't believe I waited so long to get one of these guns. I've owned who knows how many guns in my life and this is the first true roller delay that I've gotten and it is absolutely fantastic.
I love shooting this gun. I fell in love with it the first magazine I put through it and I haven't stopped shooting it since.
I've seen other people complain about issues shooting. I just personally have not run into those so I have to recommend this gun, which brings me to my final thoughts.
Final Thoughts
My final thoughts on the Century Arms AP5 are quite simple.
This gun, for the money, is the closest and best you're going to get to an HK MP5 or their latest civilian model, the SP5.
Now, the SP5 I'm sure is a fantastic gun but I just can't imagine that it's 3x the price better than the AP5.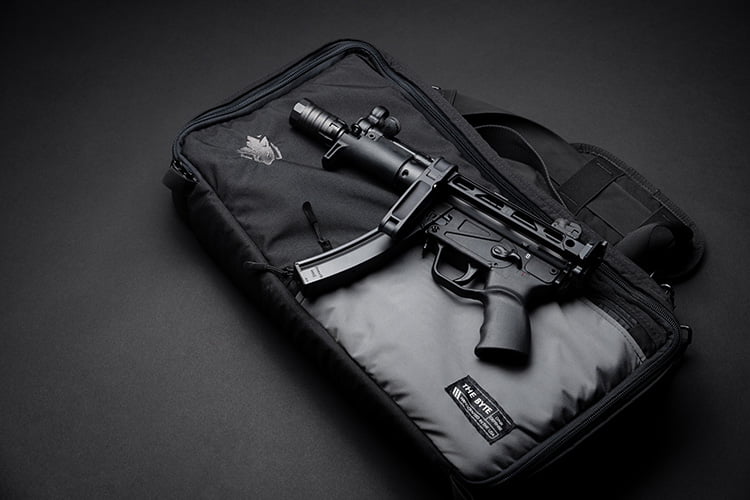 Maybe I'm wrong, I'd love to get my hands on one, but I will not pay $3,000 for what this has already seemed to fill.
I know that there's been some QC issues or QC concerns with Century Arms now being the importer of these guns instead of Zenith.
I have not seen that. It's still the same manufacturer and this is a stamped gun.
The only issue I saw with this gun is a little bit of a fight with the tolerances.
When installing my 1913 rear adapter, I did have to fight the pins to get those back in. The optic mounting solution, the Midwest Industry's optic mount, was a little hard to get on.
I did work it on, that wasn't a big deal but, overall, you kind of have to expect that with stamped receivers.
Shooting it is a dream. I can't complain a bit about shooting it. Once you get this thing set up and configured after you work your tolerances, you might get one that everything fits perfectly and that's awesome. That's just my experience.
I hope yours doesn't have any tolerance issues but that's just what I'm here to do to report my findings. I do have one more addition that I want to do.
I want the hand guard with the front stop for the handle. Obviously, I have to wait for my Form 1 to get that because some of our gun laws in this country are stupid, but overall, this gun is absolutely fantastic.
You should definitely pick one up if, in fact, this is what you're looking for. If you want an MP5 and you don't want to pay SP5 prices, this is what you need.
The AP5 also gives guns like the B&T APC9K a run for their money.
I know Zenith is working on a made-in-the-USA version of this. I'd love to get my hands on that and put them side by side.
Go get this gun. This gun is probably not going to get any cheaper than it is right now. It could get more expensive but it's probably not going to get any cheaper so go grab your Century Arms AP5, start shooting it, have a blast, and show all your friends. They're going to love it too, just like you are.
FAQs
When I first got my AP5 I had a ton of questions because the gun is extremely unique and I wanted to learn everything I could about it. It has quickly become one of my favorite guns.
Is Century Arms AP5 a good gun?
Yes, while it's not perfect and the fact it's a stamped gun makes the tolerances different from gun to gun it's a crazy fun gun to own and shoot.
Where is the Century Arms AP5 made?
The Century Arms AP5 is made by MKE and they are located in Ankara, Turkey.
Is the Century Arms AP5 legal in California?
Like most things that are fun and American, the AP5 is not legal in California.