Finally, the time has come to review the B&T APC9K Pro pistol. This gun is in a league of its own straight out of the box.
It is definitely an interesting gun and one that has really busted through the market here in the United States.
The APC series was first introduced in 2019, and I remember seeing it at SHOT Show that year and thinking man this company is going places. B&T has since released several new models in the APC line.
This particular gun is the APC9K Pro G. It's very short, very compact, and is definitely quality and it's made by B&T in Switzerland.
They are imported into the United States through B&T USA. Which is located in Tampa, Florida.
Let's go ahead and dive in and talk about first impressions pulling this gun out of the box.
First Impressions of the B&T APC9K
First and foremost, you're going to notice that it's very compact, and small, but heavy.
This gun is very stout but feels like a very solid gun upon first picking it up. If you're looking for a lightweight gun, this is not it, there is very little polymer on this gun.
This is a polymer framed gun and the frame is a pivot style frame, but overall when you grab this gun you realize that it's a stout gun.
Definitely feels like a solid and well-built quality gun. You don't feel like you're holding something that's majority plastic or mostly polymer.
The whole gun is very aesthetically pleasing looking and the gun seems very well put together.
My first impression of it is good, clean, nice, and very high-quality are my first impressions of the B&T APC9K right out of the box.
Next, let's talk about what comes in the box.
What Comes in the Box
I think that's really important for a gun that is over a $2,000 price point, especially a pistol caliber carbine.
This model is not a carbine, even though throwing a stock or brace on it you could technically make it a pistol-caliber carbine, but this is a pistol.
Let's talk about the box.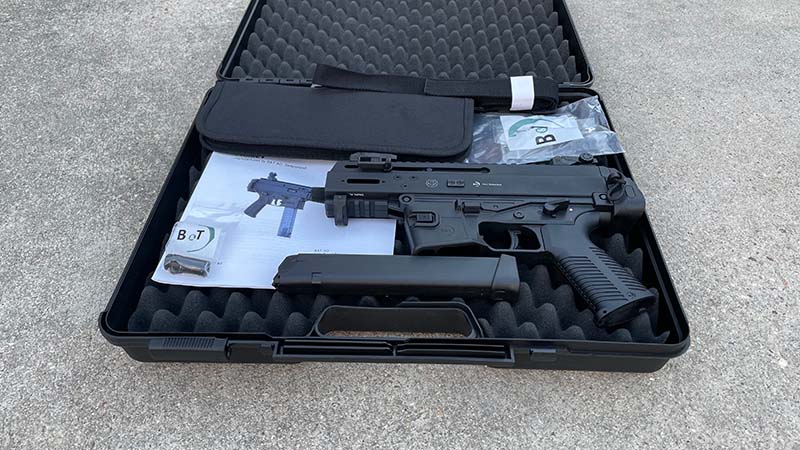 First and foremost, there is the manual. The manual is a good size booklet 8×11 size. But content-wise it's very thin, there's not much to it, basic operations, some malfunctions how to clear them, things like that.
When it comes to the manual there's not much to know out side of breakdown and cleaning.
There are several small plastic bags labeled with the B&T logo thrown in the box.
Now, this is where it really gets interesting. You have a couple of hex keys in the first bag which probably pair with the hex screws on the exterior of the gun.
There are actually two M-Lok Picatinny rail slot attachments for the side of the gun included in the box.
The two M-LOK slots are on the side of the APC9K and are for the included M-LOK Picatinny mounts that would mount to the three and nine o'clock positions on the small handguard.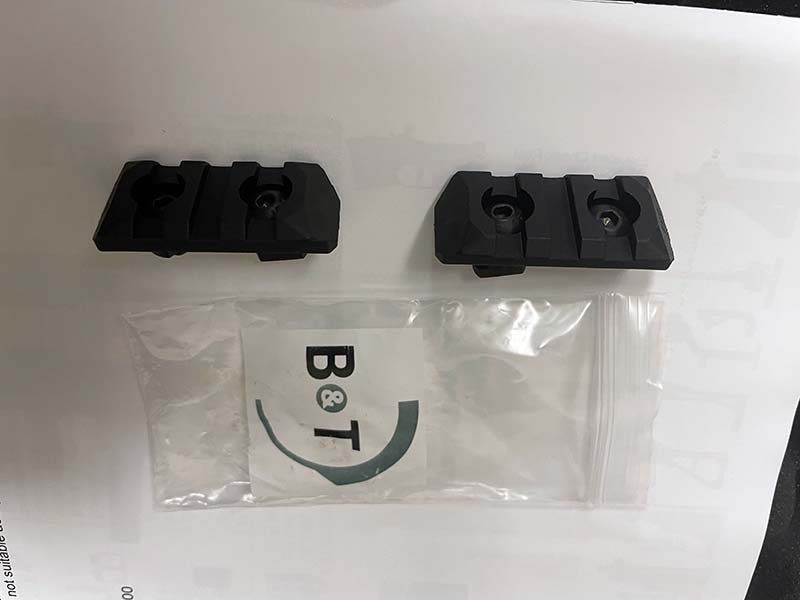 The fact these rails are included is a really nice feature. You don't have to go buy specific picatinny rails for mounting.
The next bag you pick up contains a 3-Lug adapter.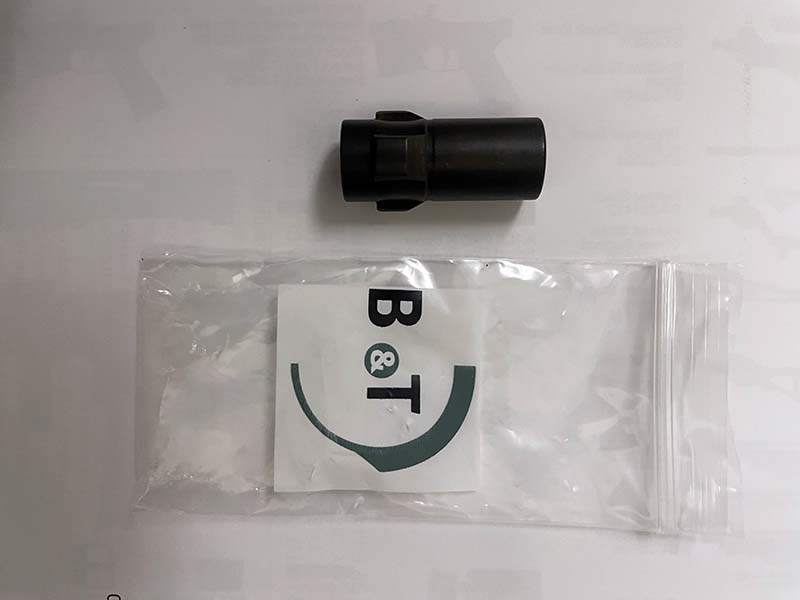 The APC9K comes with a threaded barrel and the threaded barrel has a cover on it right out of the box.
The great part of the included 3-Lug adapter, you're ready to throw your 9 mm suppressor on the APC9K right away, that's awesome.
That's a hundred-dollar part by itself. You're already really starting to see why this gun has a high price point.
There is an included sling as well. I didn't really break it out, but I'm not going to mess with it. I would never use it, but it does come with a sling, so that's a nice touch.
Lastly, there's a small cleaning kit included. In the cleaning kit there's a cleaning rod for your barrel, bore brushes, and also regular bristle brushes all packed in a small little zipper case.
Nice and compact overall, you get a decent amount of stuff with this gun. A lot of really expensive guns don't even come with this many accessories.
APC9K Features
Time to talk about some features of the gun. I'm going to bounce around, but we'll try to move from the back to front, bottom to top, and just talk about everything that the APC9K has to offer.
First and foremost, let's talk about the safety on the APC9K.
Safety
The safety on the B&T is an interesting design. It's not one that you'd find on a lot of guns. It's very stiff. It does appear to be polymer. It is ambidextrous like most things on this gun.
That's one thing I'll go ahead and say about this gun is it really focuses on ambidextrousness, so in every one of these sections, you're probably going to get tired of me talking about how ambidextrous it is.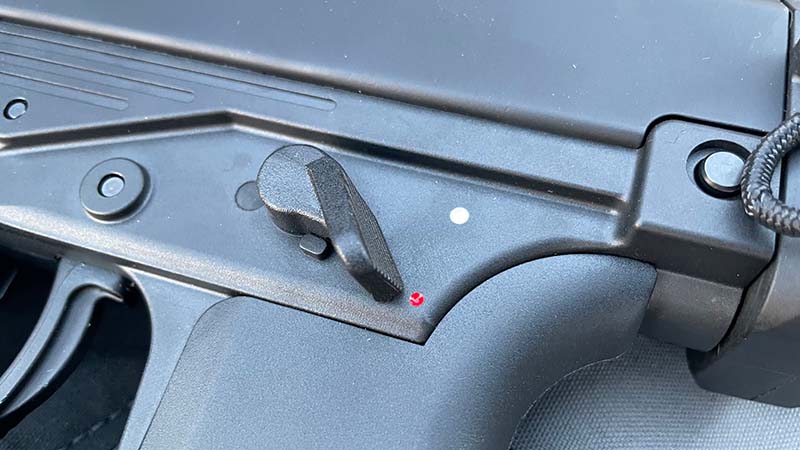 Anyway, back to the safety, of course, up is safe, down is fire. One very interesting thing about the safety on this gun is the little lip on the safety.
It has a downward angle, which allows you to reach up, grab it, but it also allows you to get your thumb underneath and push it up.
I've not spent much time behind this gun yet, so I don't know if that safety is going to break in, but it is easy to pull down, it's harder to push up, but after a few hundred repetitions, it might wear in a little bit and overall it seems to be a really good safety.
As far as function goes, it's great. The only complaint I have, if I have one at all, would be it's just a little stiff, but overall design and ease of use are top-notch. I like it a lot.
Let's move on to the trigger.
Trigger
The trigger is interesting in that it too, is a polymer material, this is a pretty expensive gun, somewhere in the neighborhood of $2,500 retail.
That's probably about what you'd expect to pay right now and the gun has a polymer trigger?
There's no way around it. It's a polymer trigger and a polymer frame.
The upper half of this gun is almost completely metal, but the lower half is a lot of polymer.
However, the trigger pull is really good. There's not a lot of take-up, it is smooth. It does feel good, it surprised me because it doesn't feel like a cheap trigger, but it's polymer.
The break is very clean. It's a very crisp pull to the wall.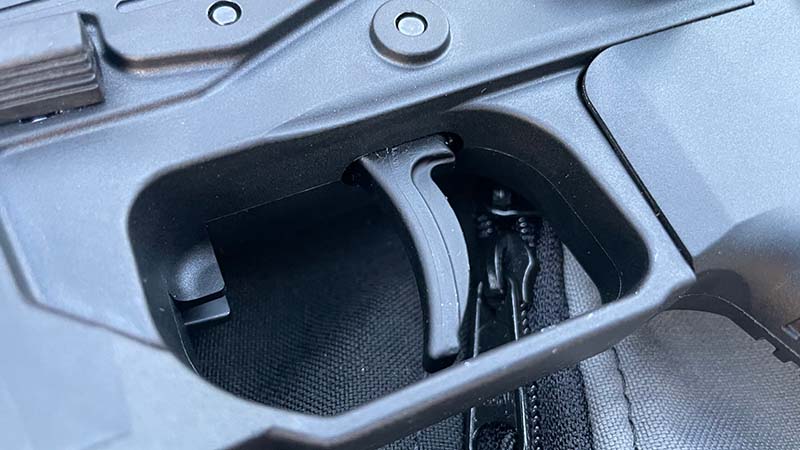 There's a definitely defined wall. There's no squishiness. I really like the trigger so far.
Now, the reset is about halfway back out and then there's really no take-up, it's pretty much back to the wall and you shoot again.
Well, that's a really good trigger, aside from being polymer but even Glock triggers are polymer.
There are a lot of good triggers out there that are polymer, so they don't have to be metal to be good and I think B&T just proved that.
I know I harped on the polymer trigger, it's just interesting to note that fact at this price point is all.
Overall, in spite of the trigger being polymer, I really like the trigger. Trigger pull is great and to me, that's the most important part.
Pistol Grip
Moving down to the pistol grip, this appears to be a changeable grip.
The pistol grip has the B&T logo engraved in it and the grip has horizontal lines cut into it.
The grip feels good, there's really no stippling, and there's nothing abrasive to really grab your hand.
This makes me think that this gun is not going to have a lot of recoil. Seems like it's probably going to be a very manageable gun given the fact that there's almost zero grip texture on this.
Overall, it feels good in your hand, like I said, there's a lot of bite to this gun, there's nothing there to really grip your hand, but it feels good and the grip angle is right.
Unlike the CZ Scorpion, the APC9K doesn't have a funky angle, it has your normal feeling angle of roughly 45 degrees.
Bolt release/Bolt hold open
This is where I don't know if it's just because it's a new gun or what but I'm not a huge fan of the bolt release/bolt hold open.
The bolt release/bolt hold open is right smack-dab in the middle of the frame.
It's an ambidextrous lever that's on both sides of the gun and like most guns you have to pull the charging handle back and push up on this lever to lock the bolt back.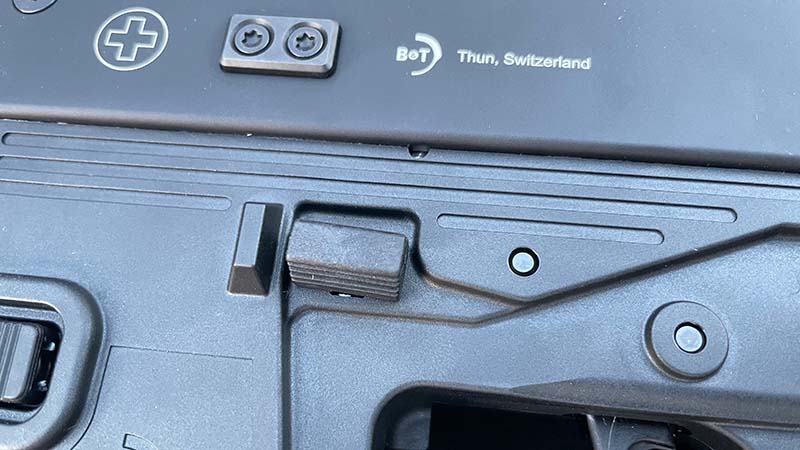 Keep in mind you have to pull the bolt all the way back to get the lever up. In this pistol configuration, that is not an easy task.
You have to really pull back on this bolt to get it back to lock it into place.
Now, if you have an empty mag and you shove it in the magazine well, pull back the charging handle, that's a lot easier than the bolt hold open and bolt release.
Now, as far as pulling it down to send the bolt home, it's a little stiff, but it's doable.
You can actually grab it with both fingers and by doing that I was able to release it with just my thumb, but you do have to give it a little oomph.
Much like the safety, I think this might be a part that could break in fairly well.
But overall, the B&T APC9K bolt release gets a slight gig because it's a little stiff.
Magazine Release
Now we're getting into the nuts and bolts of the function of this gun really. The safety, trigger, and everything along the way is important, but again magazine changes are a big deal.
Even if magazine changes are widely done in a real-world setting, on the range you want to make sure you can swap mags fast and easy.
Once again the magazine release is ambidextrous, you have a single button on the left-hand side of the gun and then you have a full working mechanism for release on the right side of the gun.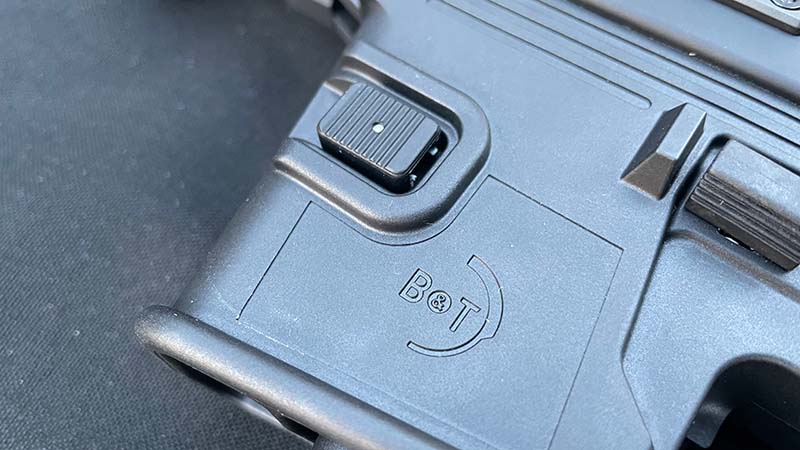 The B&T APC9K takes Glock mags so it's going to use a pivot-style magazine release system on the right side of the gun, much like you would see in the Aero Precision EPC-9 or the AR9.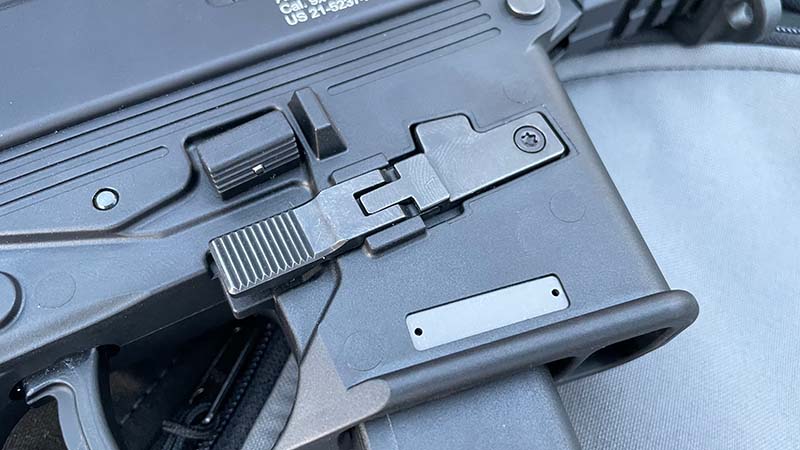 You can press the button on the left to release the magazine and it's very simple and easy to press.
I can't tell if the button itself is a polymer or a metal but it does feel solid.
The release on the right side is metal, if you use your right index finger, you can hit this release with ease.
It releases right away, drops the mag clean and free and does a fantastic job. I have to say, well done on the magazine release.
Magazine Well
This magazine well is very interesting. It has two holes, not sure what the front one does, but it is an open void.
The back is where the magazine seats. It is flared ever so slightly and but it's not aggressive, if you can get your mag in a Glock magazine well, this will we be a breeze.
Overall magazine well looks good I just can't explain the open area in front of the magazine well.
Charging Handle
The charging handle is interesting because it's a side charging handle like an MP5 but it's ambidextrous.
You don't see this very often, but you have a handle on both sides of this gun. If you have to switch hands or you're left-handed, this is an interesting gun for you.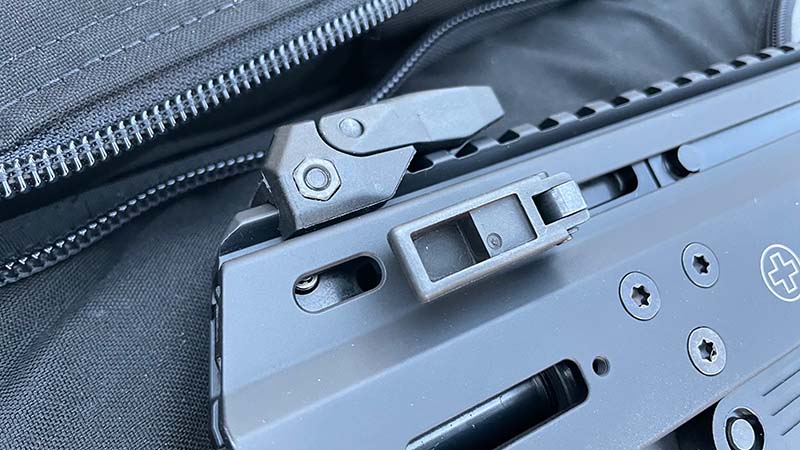 It has two pull tabs that are charging handles. They're pretty easy to get to.
I wouldn't say that in a stressful situation, it'd be the easiest thing to reach up and grab but with practice, most people won't have any issues with the charging handle.
It's going to be nothing like some of the AR-15 style charging handles that are big and wide and easy to grab and rack.
If you reach up toward the front of the gun and just slide your hand down the side of the gun, it's going to come along with your hand. So it's relatively easy for you to grab it, and pull it.
The bolt is pretty stout, you do have to put a little force into it.
Now, if you turn this into a carbine or you add a pistol brace onto it, it may get a little easier only because you're going to have some resistance to push back on, but in the pistol configuration, you're going to have to push into it a little bit.
Well, all in all, the charging handle is pretty good and it's an interesting design.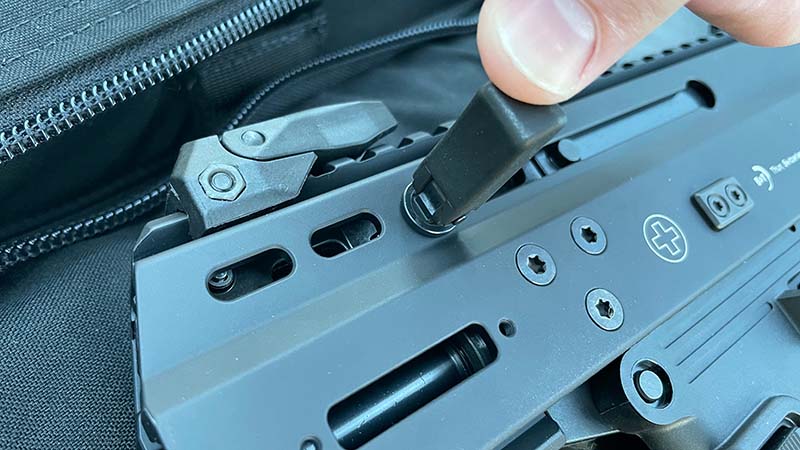 It does ride just below the top Picatinny rail along the top side of the gun. The ability to use this under stress or with gloves may be the only thing I could say negatively about the charging handle.
One thing to note is the two MLok slots are just below it, so if you were going to mount something to those MLok slots, like a flashlight or other attachment, you want to make sure it doesn't get in the way of these MLok slots or the charging handle itself.
Sights
This gun actually comes with flip-up sights, again that's another feature that you don't see a lot of times on flat-top guns.
Now, again at this price point, you expect something, even the Stribog comes with sights, at a much lower price point than this gun. The Stribog's sights come with built in flip up sights into the rail.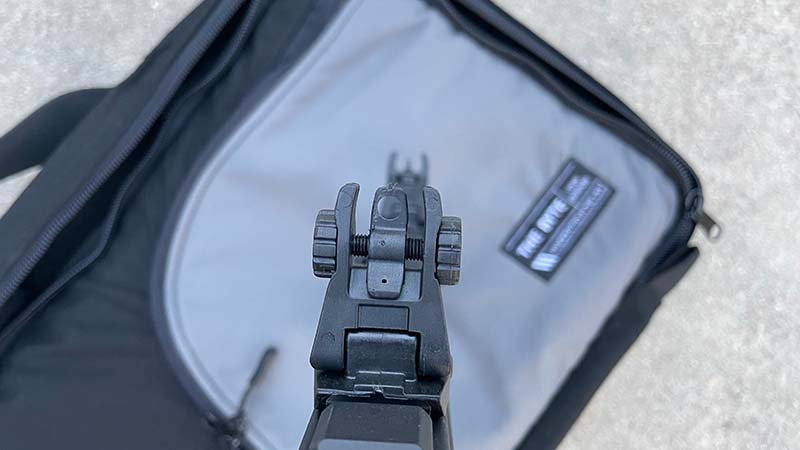 These are almost like Magpul MBUS that don't have the flip up option. These are obviously made by B&T so don't get that confused.
This does not come with Magpull pro flip up sights, but they do look like the MBUS Pro flip up sights in that they have a very similar look and feel to them, but they are manual and not push-button flip-up.
You will have to pull them up by hand, but if you're like me, I'm going to add a red hot sight to it so they are simply there as a backup.
They are polymer. They don't add a lot of weight to the gun. I would probably leave them on there.
They look sufficient as a backup, so overall not bad. They do have adjustments, knobs for left and right adjustment.
There is a flip, small aperture and large aperture on the rear flip-up sight.
So, well done on the sights B&T.
Brace Options
You can attach a pistol brace to the B&T APC9K relatively easily.
The backside here will pop off and you can attach a pistol brace. Now they are somewhat hard to find and some of them are extremely expensive, so keep that in mind when you're looking to purchase an APC9.
APC9K Appearance
The appearance of the APC9K is really awesome. It's something you would see in a movie.
It's very interesting, it's very compact, it is very friendly. I don't know who would not find this gun aesthetically pleasing, if you don't, you're probably in the minority and that's fine.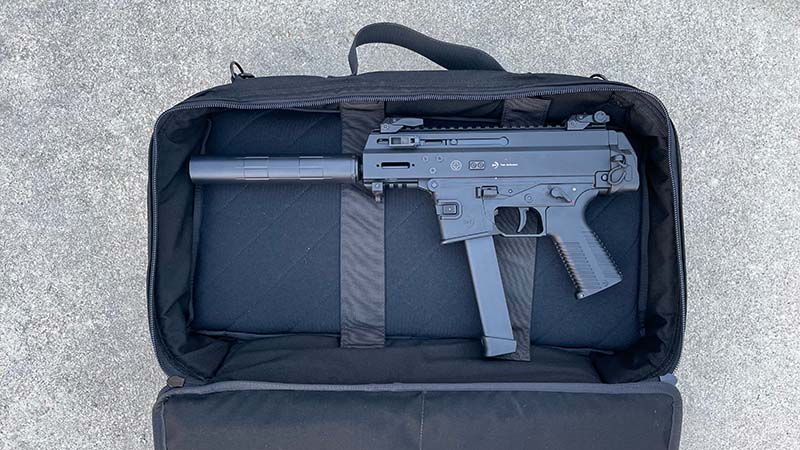 It's all opinion-based anyway, but overall this gun looks phenomenal. They did a really fantastic job designing this thing and hats off to B&T.
APC9K Price
Now the price is what might steer you away from the B&T APC9, coming in at around $2,499, this bad boy's not cheap, but everything I mentioned above in the feature set that it packs is pretty solid.
You add in a hundred dollars worth of sights, a hundred dollar 3-Lug adapter, Glock 33 rounder magazines, ambidextrous everything, the MLok adapters, all of that, and you're looking at several hundred dollars by itself on accessories that come with this gun that you don't have to buy separately.
I think there's a lot to be said about what's included with this gun because people often wonder, why does this gun cost so much?
I think it's important to really look at the bigger picture here. When you buy something like an AR-15 or build an AR that's cheap, you're going to end up putting a thousand dollars in it with your accessories after the fact on top of the gun cost.
Well, when you buy the B&T APC9K at this price point, you're not turning around and spending another thousand dollars on accessories.
The accessories are already on the gun and ready to use. That's why a lot of times the price sometimes justifies itself. Let's wrap this thing up.
B&T APC9 Final Thoughts
My final thoughts on this gun are a little different than most because this price point doesn't work for a lot of people.
There are a lot of people that would have to save a considerable amount of time for this gun, so they want to know, is it really worth it and if they never put their hands on it, it's really hard to say if it is worth it to them and if they've never shot it, it's even harder.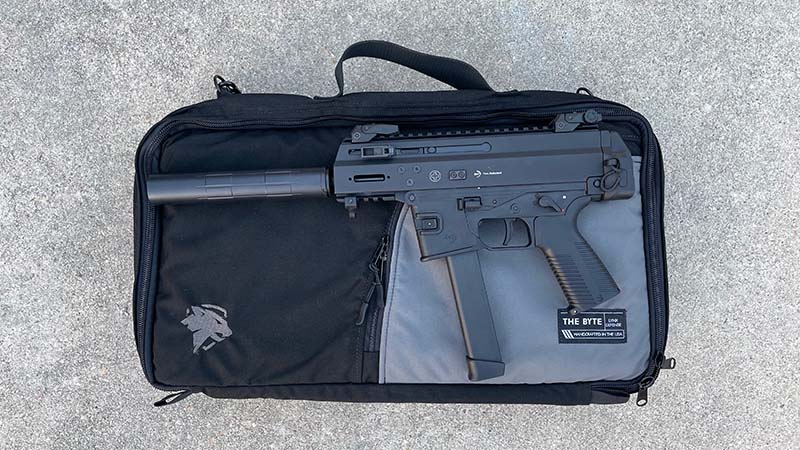 It's hard for me to tell anyone what to do with their money or how to spend it, but what I can do is I can tell you this, the B&T APC9 is a very high-quality gun and that's not just because of the price.
The construction of this gun, the design features of this gun, and the accessories that come with this gun all quite simply justify its MSRP.
Now that being said, any dollar you can save along the way on this gun is a smart play, but this gun is not overpriced.
This gun is feature-rich and the only thing that's missing is a brace if that's what you want, which I personally will, but overall this gun is fantastic.
It absolutely justifies its price point and is going to be an absolute game-changer, if it can penetrate the market even more.
Is the B&T APC9 worth it?
The B&T APC9K is a very capable gun. While it is a very small package it is fun and extremely capable of putting rounds on target.
What is the B&T APC9K?
The B&T APC9K is a smaller more compact version of the B&T APC9.