The GSG 522, also known as the ATI GSG-522, is a .22 caliber rifle that looks shockingly similar to the Heckler and Koch MP5SD. These were the rage prior to H&K importing their version which is now widely available.
I think everybody that knows of these reviews and knows Lynx Defense knows that I'm a big fan of 22s, whether that be 22 pistols, 22 rifles, or 22 sub guns. It really doesn't matter to me.
I like 22LR because it has very little recoil, they're easy to shoot and they're not expensive to shoot. One of the things that 22 manufacturers have really brought to the firearms market is mirror images of larger caliber guns, smaller versions of the real deal.
GSG 522 Overview
Recently, we took a look at the HK416 22, and it came close to being a 416 in 5.56mm/.223 with a few drawbacks.
Now we're going to switch gears and look at something else that comes from the HK world. That's the MP5SD.
A company called GSG, which stands for German Sport Guns, has made this gun called the GSG-522. It's imported into the US through American Tactical or ATI.
So we're going to take a look at the GSG 522, which is made to very much resemble an MP5SD that would normally be chambered in 9 mm. But this is chambered in 22, which would be much more affordable and it's a slightly smaller package.
There are some notable differences and we're going to get into those shortly, but we will say and give a little shout-out to our previous article about the gun that was developed to replace or beat the MP5SD and that's the Honey Badger SD. Without further ado, let's jump into the GSG 522.
GSG 522 Features
Let's talk about some features of the GSG 522. First and foremost, this is pretty close to an exact replica of an MP5SD.
It's not exact but it has the same look and feels and if you were to catch a glance of it, you're going to think, "Hey, that's an MP5SD."
If you look further, you're going to be like, "Nah, this is a little different than an MP5SD."
But overall feel and aesthetics and looks, are spot on in that regard.
So let's talk about the grip and ergonomics a little more.
Grip
The grip on this GSG 522 is unique in that it is built into a solid frame, and has a polymer grip on a pivot hinge that slides up and down.
Now, as far as holding the gun, it feels pretty much what you'd expect. The angle is right on the grip.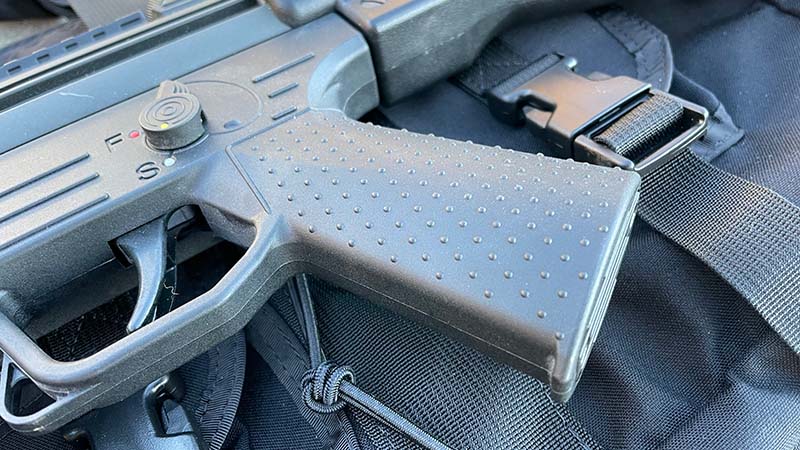 The safety selector is in a spot that you'd be familiar with and overall holding the gun, it's a little front heavy because the barrel has to be 16 inches, but if you have two hands on the gun hand on the grip, the trigger, all of that seems to fit well.
The texture on the grip is just little dots. I haven't seen this before but it doesn't feel bad and realistically on a 22, especially a 22 rifle, it really doesn't have to have a very tactile feel or a lot of grip.
It really just needs to feel good in your hands at the end of the day. I'd say this one feels pretty good.
It's nothing to write home about but overall, feels solid. It's not going to wow you, but it's not going to turn you off from the gun either.
Stock
The stock of this particular model is the solid stock.
You have a clip built into the stock on the left-hand side of the stock that allows for sling attachments.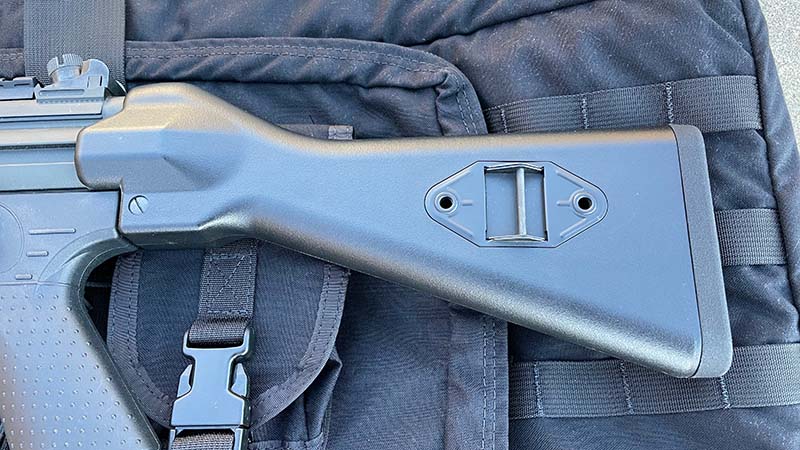 On the right side, you have a solid piece with no attachment options.
On the back you have a padded butt, it's not really rubber, it's almost a foam, and that is definitely not up to par with most stocks.
I feel like this foam is subject to dry rot. Could be wrong. It could just be a straight-up polymer but it's softer than the stock itself imitating a rubberized texture.
It doesn't feel great. It doesn't feel high quality. But again, the price point on these guns, you're not going to get every bell and whistle.
GSG 522 Controls
The controls in this gun are almost a mirror image of the MP5SD and where it's not mirrored, it's very close and they do their best to model it after it H&K's design. Let's go to the charging handle first.
Charging Handle
The charging handle on this gun is where you'd expect it to be on an MP5.
It's the paddle-style lever. It's a metal design and it has that great slappable functionality.
What you'd expect from an MP5SD. The charging handle is easy to grab and it sticks out far enough to where it's not in the way but it does clear this rounded hand guard.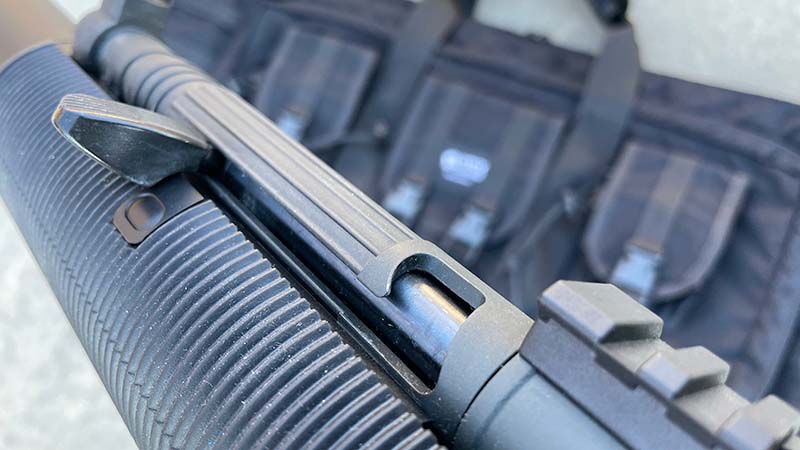 The rounded hand guard is a rubberized texture and can drag your finger when trying to charge the weapon but overall no issues with it.
If you want to complain about it, you can, but you'll be essentially complaining about an MP5SD charging handle and mechanism. The bolt is extremely light so you can get that fun MP5SD charging handle slap.
Safety
Let's bounce back to the grip of this gun and talk about the safety.
The safety is unique on this gun because it definitely when it's in the safe position, is not easy to grab and put into the fire selector.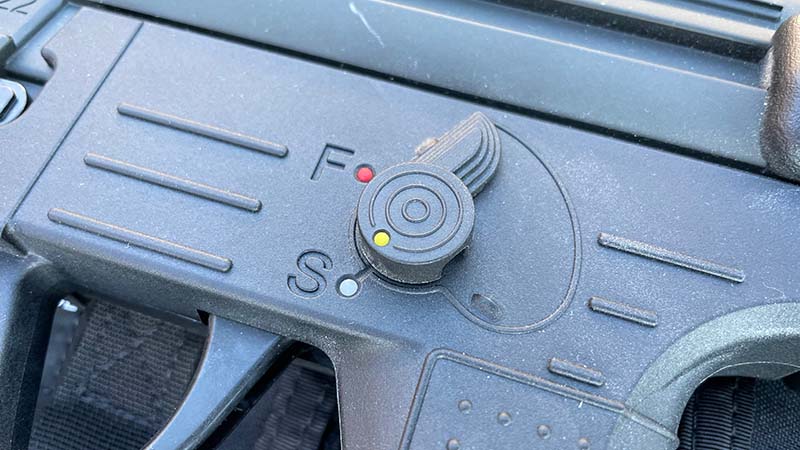 It is very high up and you definitely have to get it down.
I don't like the design of this. It is a smooth safety so once you do get your finger on it, it's very easy to pull it down, and put it into fire.
When it's on fire, it's definitely easy to push up into safe, but again, the safe position is extremely high and you really have to push to ensure that it's on safe.
I just feel like there's a lot of travel in this safety and that the travel could have been reduced overall to make that a more pleasurable experience.
Magazine Release
The magazine release on this gun has two available options. This holds just like an MP5.
It almost holds just like an AR and it even has the AK-style paddle.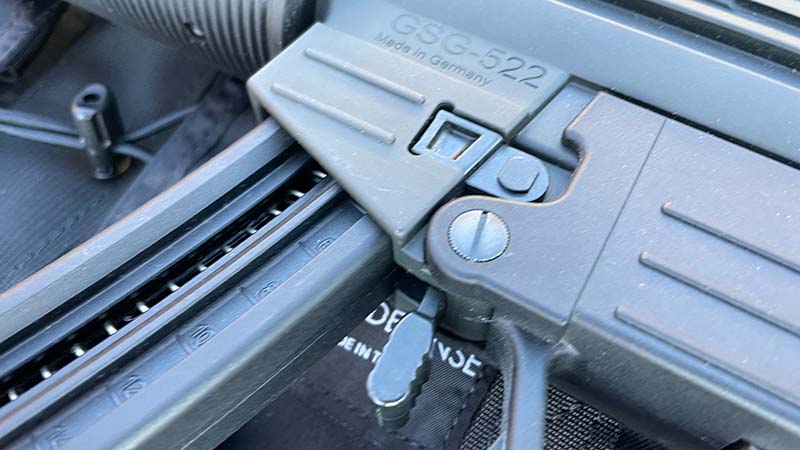 So it kind of pulls from the best from all worlds for the magazine release. The magazine is relatively flared for a 22, and I don't really have any problems with it.
Sliding the polymer magazine into the metal magazine well is about as good as you can ask for.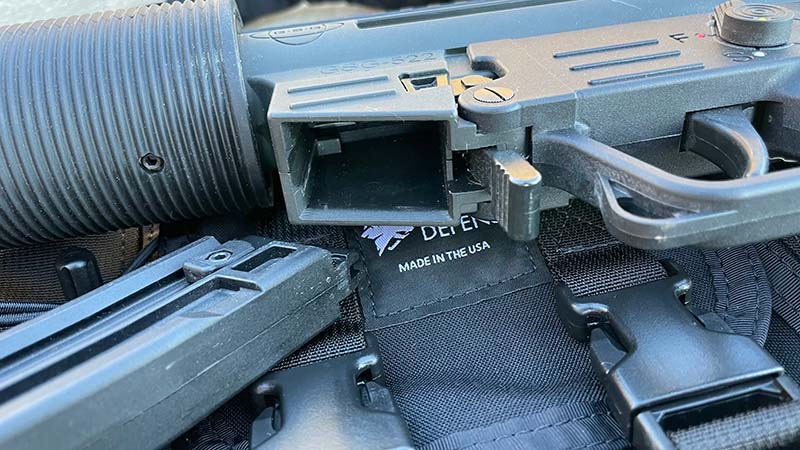 There are two ways to release the magazine.
There's the standard side of the gun button in between the actual frame of the gun and the trigger pack.
The more reasonable one would be the AK style slap lever underneath the bottom of the trigger guard where you can grab the magazine, push the button towards the magazine with your finger, and rip it out.
The magazine release works very well it appears to be metal, and both the button and the lever are metal pieces.
So I don't think you'll have any issues with those breaking at any point and they both function flawlessly.
As I said, this control function is nearly an exact copy of the MP5SD. I do like that a lot. Moving on to the sights.
Iron Sights
The iron sights on this gun are to be desired but then again, I hate the MP5SD sights so that would make sense.
You have your rear turret site which just has slots and some views in it. It's just overall a terrible sight.
Absolutely hate them.
Your front post does have a good center post with a white dot.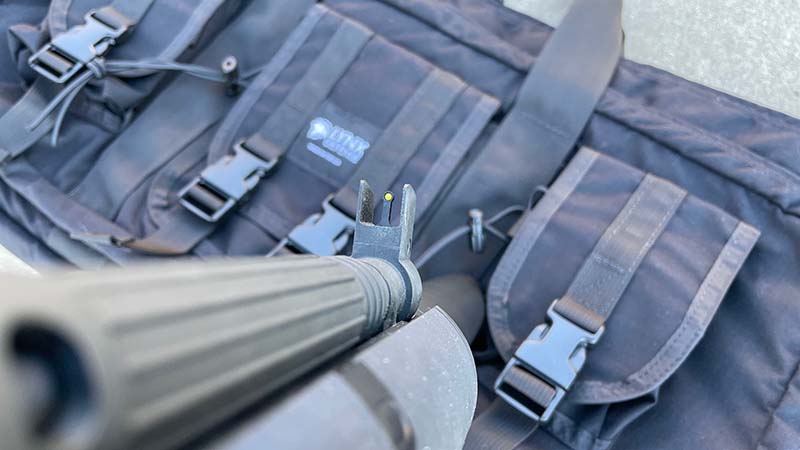 But with the rear sight, you really have to learn how to match it up. It's not as clear-cut as your standard sites these days.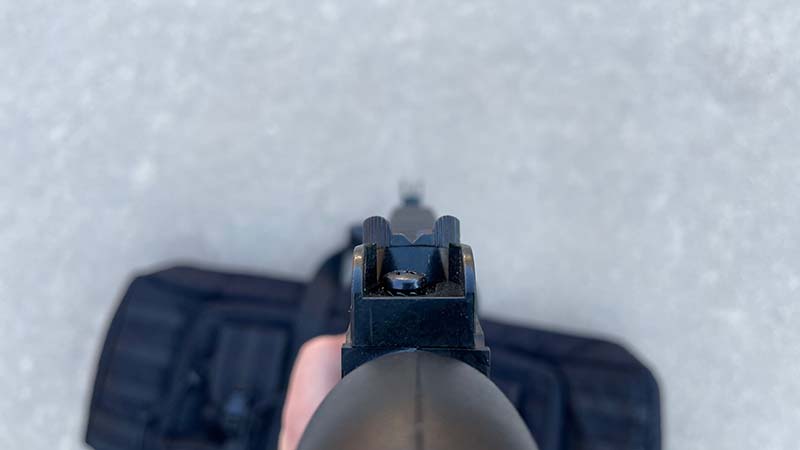 You can't just flip it up and roll and put your front post in the hole of the rear sight. You really have to learn how to use this type of site if you're not already familiar with it.
So overall, I detest the sights on this gun, but if you're looking for realism and closeness to an MP5SD, it's there.
Shooting GSG 522
Shooting the ATI GSG 522 is really where this gun shines. It's an absolute blast to run magazine after magazine of 22LR through this gun.
It's one of those things that just doesn't get old. The recoil is nonexistent and the overall form and function of the gun are very similar to the MP5.
I really like this gun and the price point makes it a no-brainer to have on hand when it's time for a fun family range day.
GSG 522 Conclusion
If you want a fun gun that isn't crazy expensive, is fun to shoot, is cheap to shoot, and is fun for anyone of any age to shoot then it's hard to pass on this gun.
Now, there has been some development in the MP5SD .22LR world. HK is making one through Walther now and can pretty easily be found for sale, oftentimes easier than the GSG 522 can.
So if you can find either the ATI GSG 522 or the Walther version I think you'd be hard-pressed to find a more fun .22 rifle.
If you want closer to the real deal be sure to take a look at the Century Arms AP5.