The HK416 is an iconic gun in its own right. It's featured in more movies than you can count and has been used in real-world battlefields around the world. This HK416 cambered in 22LR may just tickle your fancy for less than you ever thought possible.
I'm taking you on an in-depth journey through the HK416 22LR Review.
HK416 22LR
· Caliber: 22LR
· Action: Semi-Auto
· Capacity: 20 Round
· Aluminum Reciever

About the HK416 22LR
The HK416 22LR is actually not manufactured by Heckler and Hoch. This rifle is actually farmed out to a company called Umarex.
Umarex is a German company also but they focus on making BB guns, airsoft guns, and pellet rifles.
Umarex makes replicas of most of H&K's lineup of guns for the airsoft community. So it makes sense that they created and adapted their airsoft platform for the HK416 22.
Features
One of the nice things about the HK416 is that it shoots 22LR and you might wonder what makes that a feature?
Well, frankly, with the price of .223/5.56 ammo still high it's nice to have a high-quality rifle that mimics that of our normal AR-15 chambered in 5.56.
If you don't know the difference between .223 and 22LR we did a complete write-up on it.
The HK416 22LR is a mixed aluminum and polymer construction. It weighs in at 5.7 pounds. Which feels very close to the 7.85 pounds HK416 A5 that it's built to replicate.
Lower Receiver
The lower receiver is mostly aluminum and has a decent feel to it.
It's worth mentioning that while the lower is aluminum it doesn't have the same polished feel you get from a standard lower.
This is likely due to the coating on the material they used rather than the aluminum itself.
The lettering on the receiver is filled in with white and red fill.
Upper Receiver and Handguard
The upper receiver is mostly polymer which might strike you as odd because that's where all the explosions happen.
However, when you open it up you can see there is an aluminum insert inside the polymer upper and the bolt rides along the aluminum insert rail system.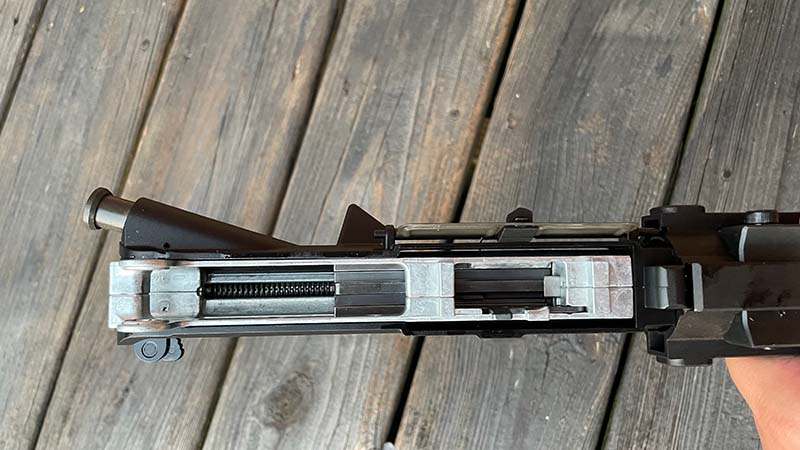 The polymer upper doesn't bother me and seems to not reduce the quality feel of the gun.
The handguard on this gun is probably where most of the weight of the gun comes from.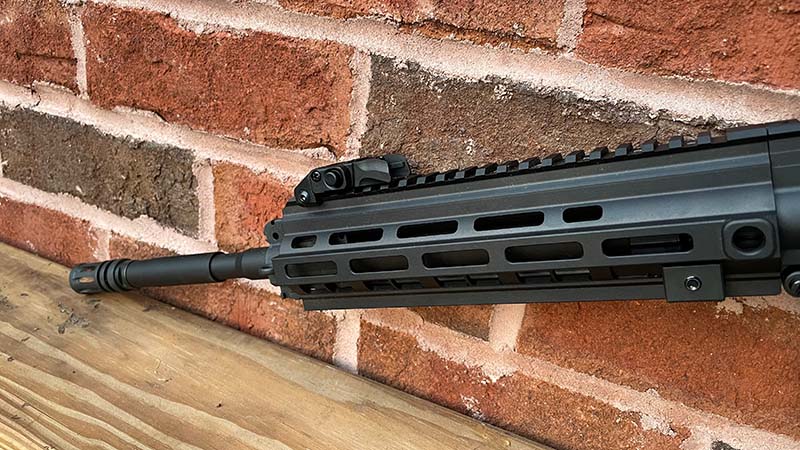 In true to clone form it is nearly the exact handguard that is on the HK416A5. It's solid and feels exactly the same.
Grip/Ergonomics
Grips can be the make or break for any rifle and for the obvious reasons of that's what you grab and interact with the most.
HK416 22LR's grip is the exactly copy of the A5 look and feel is nearly identical.
The grip on the gun has a rounded back strap which has a really nice ergonomic feel.
In my opinion, ergonomic grips are something HK does extremely well.
One thing I don't like about this grip at all is the "front hump". The front hump is something that most standard A2 AR pistol grips have and the main reason I deposit those standard grips in the trash can.
It's meant to split your middle and ring finger while holding the grip but for the life of me I can't figure out why that's necessary because it's not about comfort.
Texturing
The grips texture has a different feel than a standard A2 style grip. It's not a checkerboard design but rather a sponge-like texture.
It's not overly abrasive but it does a decent enough job, especially given the low recoil this gun will have shooting .22 rounds.
HK416 22 Controls
The controls are one of the most important part of any firearm. Not only are they what you use to make the gun function but they enhance or hurt the ergonomics of the gun.
One of the biggest complaints about guns that are modified to shoot smaller calibers like .22LR is they lose features and controls that are on the larger version of the gun.
Unfortunately, the HK416 22 does lose some of the controls its big brother has. But let's dive into them individually.
Safety
On any AR15 pattern rifle, a safety is a must-have. So it's no surprise that the HK416 D has one.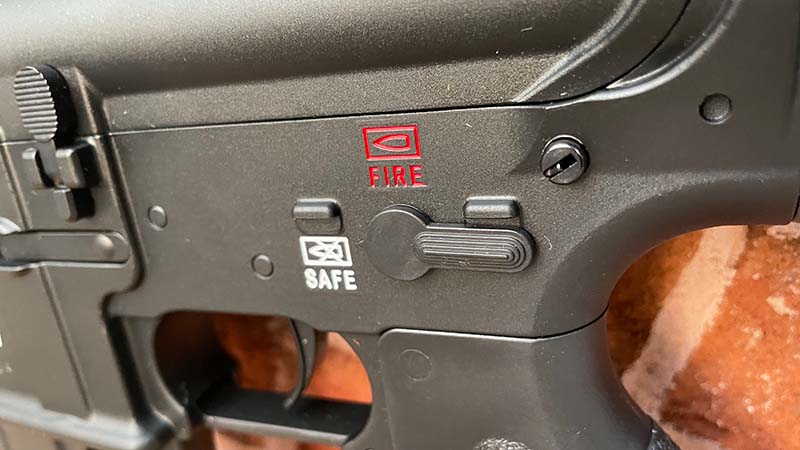 However, that doesn't mean it's the equivalent of the safety on the HK416 A5.
This safety selector is clearly polymer. It has substantial drag when moving it with your thumb but not a ton of resistance.
When you hit the safety or fire position you do get an audible click.
But there is a noticeable difference between this safety and a mil-spec metal safety.
The safety is not ambidextrous which is a con and also a difference from the HK416A5, as it does feature an ambidextrous safety selector.
As of this writing, I'm not sure if the safety is interchangeable with any mil-spec safety. But after opening up the frame I highly doubt it is.
Magazine and Magazine Release
It's hard to screw up a magazine release button, or so you would think anyway.
In this section, I'll touch on the magazine release and the magazine.
Magazine Release
The magazine release button is flat out your standard magazine release. It's nearly the same size, shape, and located in the same place.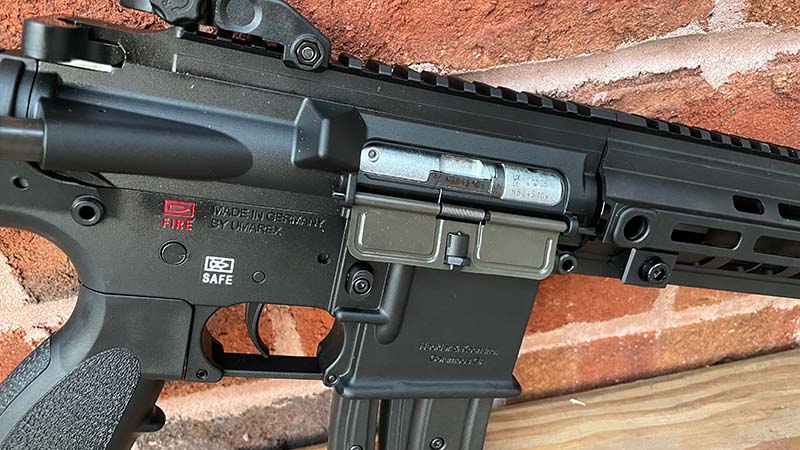 Like much of the upper it is polymer instead of the normal aluminum.
Upon pressing the magazine release it has good resistance and as long as the spring holds up over time I'm extremely satisfied with the overall function of the magazine release.
Once you press the magazine release the loaded or unloaded magazine immediately disengages the lower receiver and drops free.
If the gun is the slightest bit horizontal it will drop the magazine with no fuss and in a hurry! I know metal AR15 magazines that don't even drop as well as this 22LR magazine does.
Magazine
The magazine is 100% polymer. It feels solid in your hand but has a lot more moving parts than your average HK416A5 magazine.
The magazine has a pulldown slider in the windowed area of the magazine and that allows you to pull down the follower and makes it much easier to load the .22 rounds into the magazine.
The right side of the magazine has 8 Torx screws that hold the magazine together. This side of the magazine isn't very aesthetically pleasing but it's a very minimal issue if you can even call it an issue at all.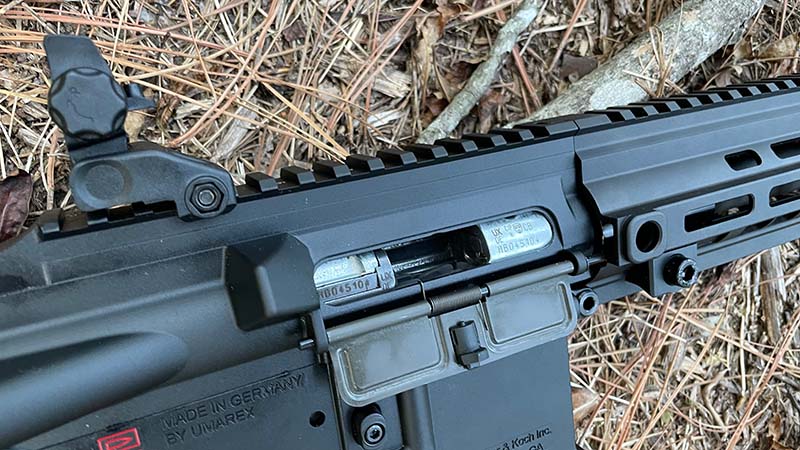 The magazine does feature last round hold open. If you insert the magazine empty and rack the slide it will also hold the bolt to the rear.
Bolt Catch/Release
So this is a rather disappointing section of the HK416 22 review.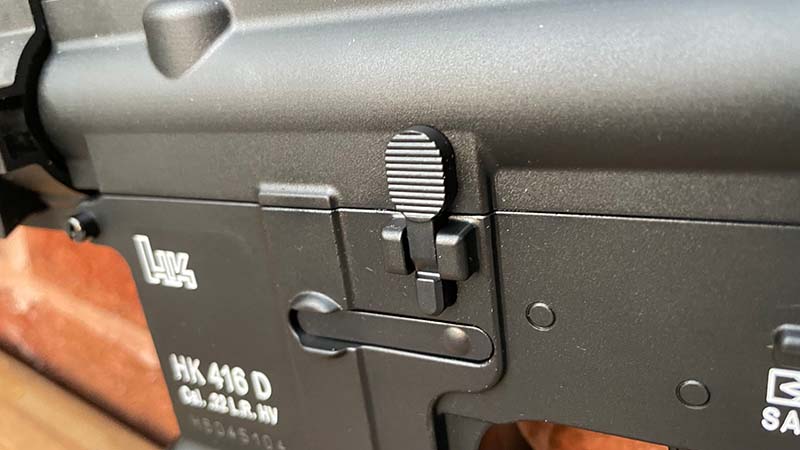 The bolt catch on this gun is simply cosmetic. That's extremely disappointing because there is no way to lock the bolt back or release the bolt without the magazine.
This basic functionality is available on nearly every gun and any caliber. So to me, the fact this gun doesn't have a functional bolt catch or release is a huge swing and a miss on HK and Umarex's part.
This alone is going to cost this review a full point during the evaluation.
I for one use the bolt hold open as an additional safety mechanism when transporting my rifles or leaving the range.
If the bolt is open and locked to the rear I know the chamber is clear.
Trigger
The trigger is relatively smooth however it does have a heavy pull.
While I haven't mag dumped it yet, I will soon and update the article.
HK416 22LR
· Caliber: 22LR
· Action: Semi-Auto
· Capacity: 20 Round
· Aluminum Reciever

Range Bag for HK416 22
As always we have to give a shameless plug for our range bags. This gun pairs exceptionally well with our Bronx Discreet Rifle Case.
You can also throw it in our tactical rifle case if that's more your speed.
I look forward to the day our tactical rifle case is photographed with an HK415 22 on one side and the HK416A5 on the other!
HK416 22 Accessories
The accessories for this gun are someone slim since the internals are proprietary. So some of the components can't be swapped out for your favorite AR15 accessories.
Trigger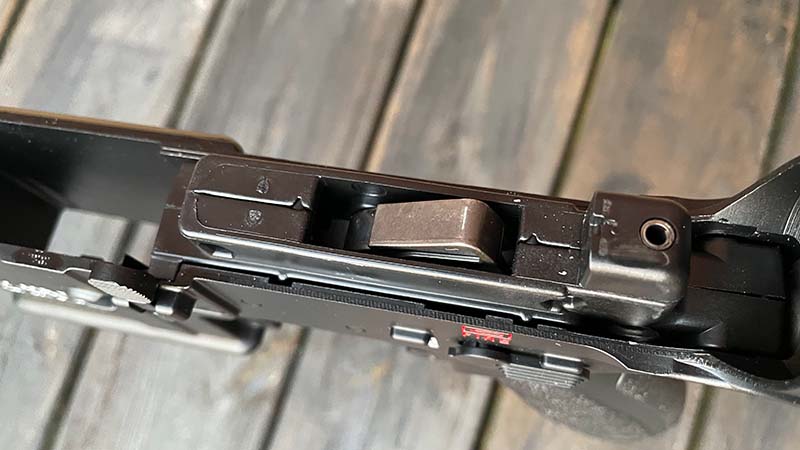 The trigger is another one of those features that sadly isn't interchangeable with other AR15 triggers on the market. So there's not going to be any switching this trigger out for your favorite Gisselle trigger.
The trigger isn't a huge deal to me but if you're a trigger person and this is a big deal for you I might go a different direction with it.
Sights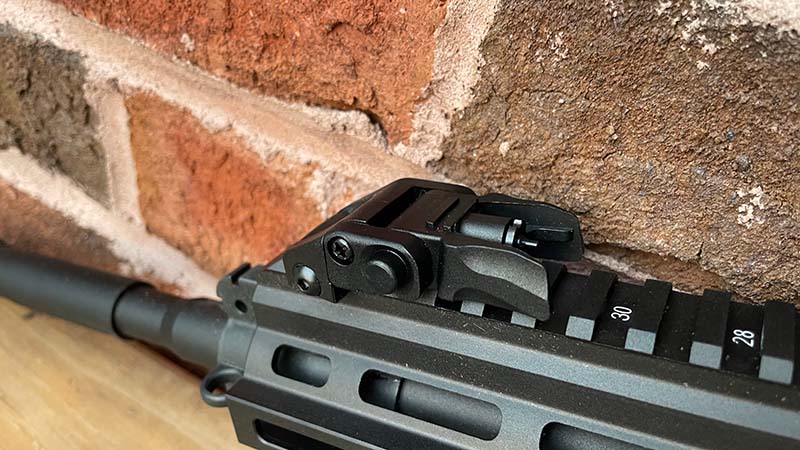 Included with the HK416 22LR are a set of polymer flip-up sights.
The sights are something that obviously was an afterthought.
These sights feel… cheap at best. But that's somewhat to be expected at the price point of this gun.
They are definitely lower quality than something like the Magpul MBUS sights.
I will ding the gun for this but I won't harp on it because I will likely throw a red dot sight on this gun and call it a day.
Since these iron sights aren't an exact copy of the HK416 A5 I wouldn't get much heartburn from changing them to something like the MBUS Pro's, Troy Battle Sights, or the Troy Micro Flip Ups.
If you want something more true to the original look grab the Midwest Industries combat rifle sight set.
Will they be accurate?
Nah. I don't think this really quality for accurate, reliable sights.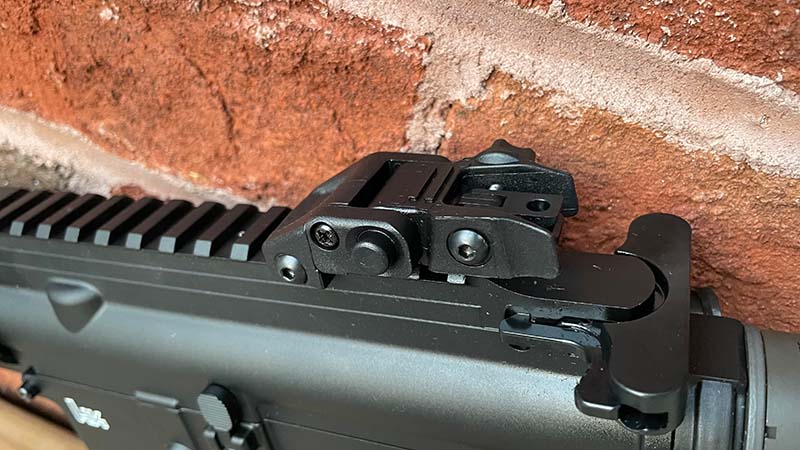 But they are probably as accurate as polymer irons can be.
I plan to throw on one of the best red dot sights and just ignore the polymer irons. Like I said earlier I may grab the Troy Micro Flip Ups for this gun.
Suppressor
So I went to put on one of my Silencer Co Warlock 22 silencers.
What happened when I took off the muzzle break was a disappointment.
Probably should have expected it but it wasn't a standard 1/2 x 28 thread that normally comes with 22 rifles.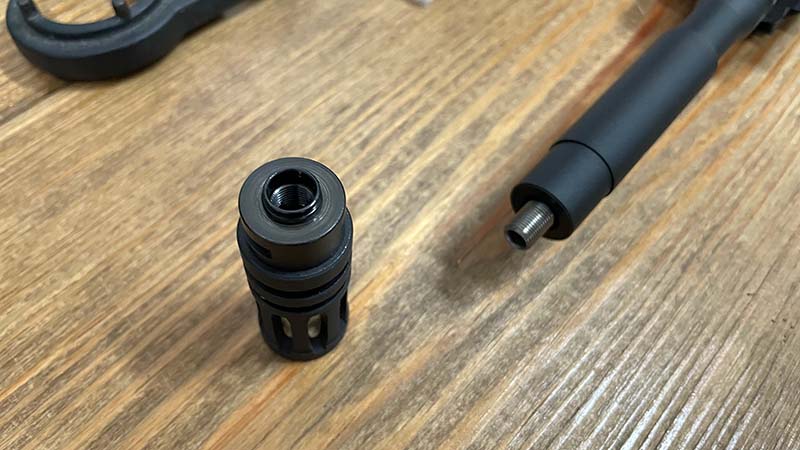 What I found with a few quick searches there is a 1/2-28 Barrel Thread Adapter for HK 416 .22LR made by Tacticool22.
I went ahead and ordered it and now I wait. I'll report back once it arrived and I can mount my suppressor.
Aesthetics
Overall, the aesthetics of this gun were excellently done. From afar it can be hard to tell if this is a true HK416A5 or the 22 version.
I really like how closely this gun comes to the HK416 and I love a good quality plinking rifle.
Shooting
Shooting the HK416 22LR is a dream. This gun is incredibility flat shooting and relatively quiet. This gun would be awesome with a lightweight trigger but even without a new trigger, it's crazy fun.
With nearly no recoil whatsoever you can transition between targets and really just have a blast.
This gun is perfect for the whole family and I'd highly recommend it for first-time shooters.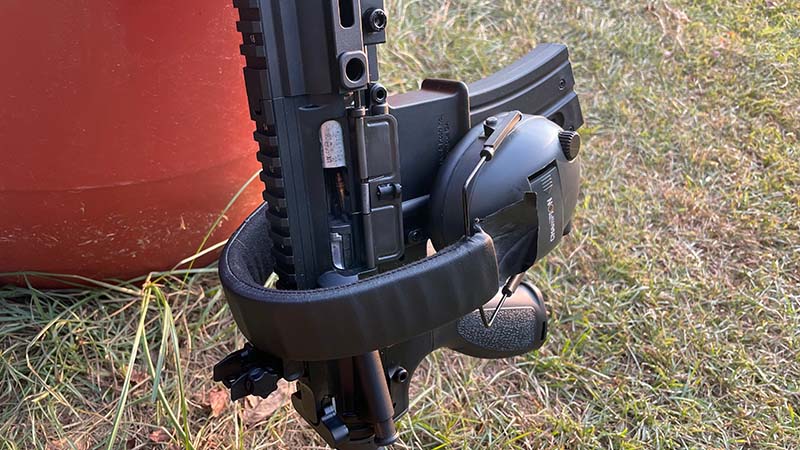 Shooting Suppressed
Man, you wanna talk about a load of fun! Throw on a suppressor and this gun really shines.
My wife and I had a free hour to burn so we ran out to the backyard range and put around 200 rounds down range.
This gun is not gassy at all, if you've ever shot 5.56 or 300 Blackout you know those tend to be very gassy rounds when shooting suppressed.
That's not the case with this HK416 22LR, it's quiet and so smooth it's just nothing but absolute fun.
I will take this time to comment on the silencer adapter. The 1/2-28 Barrel Thread Adapter for HK 416 .22LR made by Tacticool22 works great but I want to point out it may be long for some 22LR suppressors.
The Silencer Co Warlock did not thread all the way on the adapter for me. But the Ruger SR-Silent did thread on fine and performed great.
Final Thoughts
Typically my final thoughts wrap up everything I stated before and I'll hit on a few major points as my final thoughts on the HK416 22LR.
I really like the fact this gun is iconic in its overall look. But a few of the major drawbacks for me come down to functional controls and accessories.
That's a pretty big deal.
HK416 22LR
· Caliber: 22LR
· Action: Semi-Auto
· Capacity: 20 Round
· Aluminum Receiver

But not a deal-breaker. I accept this gun isn't an AR15 or an HK416A5. That's obvious.
But it would be nice to have a few more interchangeable parts with regular AR15 parts.
My biggest beef with this gun is the bolt catch/release. But even had I known that prior to purchase it likely wouldn't stop me from buying this gun again.
So if you want a fun iconic range gun that feels almost exactly like your AR, grab the HK416 22LR.
[Hands-On] HK416 22LR Review | Best HK416 clone you need
The HK416 22LR is an extremely similar replica to the real HK416 chamber is 5.56 NATO. This is the closest you'll get to the real thing.
Product Brand: HK
Product Currency: US Dollar
Product Price: 399.99
Product In-Stock: InStock