Pistol lights can often be a hotly contested subject as to which is the best and while I don't think there is a simple answer to that I think it's important to try all makes and models of pistol lights. I recently picked up the INFORCE Wild 2 pistol-mounted flashlight to review.
I've owned a number of pistol lights including the Streamlight TLR-1 and the Surefire X-300 Ultra. Both are great but I wanted to get outside the box and give the INFORCE Wild 2 a try.
INFORCE Wild 2 Features
The Wild 2 is extremely enticing considering its price point and output capabilities all while having an extremely basic and streamlined look.
Build Quality and Materials
For some reason, I was under the impression that the Wild 2 was plastic. Maybe it was the price and my lack of research beforehand but the Wild 2 is absolutely aluminum, 6061-T6 with hard anodizing to be exact.
I really like the construction of the Wild 2 it's single-piece construction has a very clean and smooth look. The lines and edges are extremely aesthetically pleasing.
Activation
The Inforce has two extremely simple activation switches located on both sides of the rear of the flashlight, the activation switches have a step-down design with texturing cut into both switches.
The activation is on a pivot pin and must be depressed down along the privet to activate the flashlight.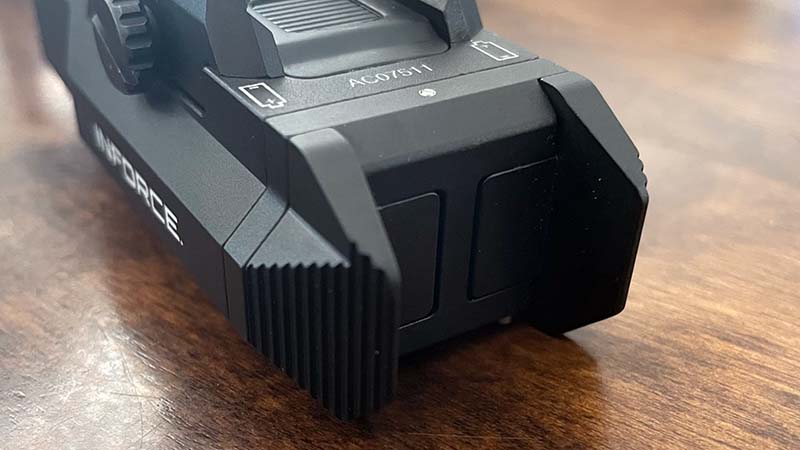 This is different than something like the Surefire X-300U which features a bump instant-on with a forward press.
The Wild 2 does have three modes:
Constant
Momentary
Strobe
Which are three standard modes for any pistol-mounted flashlight. The constant on is activated with a simple press and release.
The momentary activation is press and hold and upon release, the light will turn off.
The third mode, strobe, which personally I never use is allegedly used by double-tapped the activation switch. I say allegedly because I haven't been able to activate the strobe function of the WIld 2. But I'll never use it anyway so no skin off my back.
Brightness
Brightness for any flashlight is a touchy and extremely subjective subject. Lord forbid you insult someone's flashlight and they lose their minds (the internet is a strange place).
But the specifications of the Wild 2 are at high output of 1,000 lumens and the peak beam intensity is 25,000 candela.
Now many agree about what's more important lumens or candela but I think what's important is you have as high of lumen and candela as possible to fit your needs but more importantly your throw and light spill are what you prefer for your needs.
Crazy concept to get something that fits your needs, huh?
Whatever you do, don't let this review or any other tell you that you must buy the product. It may not fit your needs, after all, you are doing research now to see if the Inforce Wild 2 will meet your needs.
So to help you decide if the Wild 2 is right for you we are going to show you some pictures of different lighting situations and a video of the Inforce in action.
First, we will do a short-length hallway to show the illumination where the light does a lot of bouncing.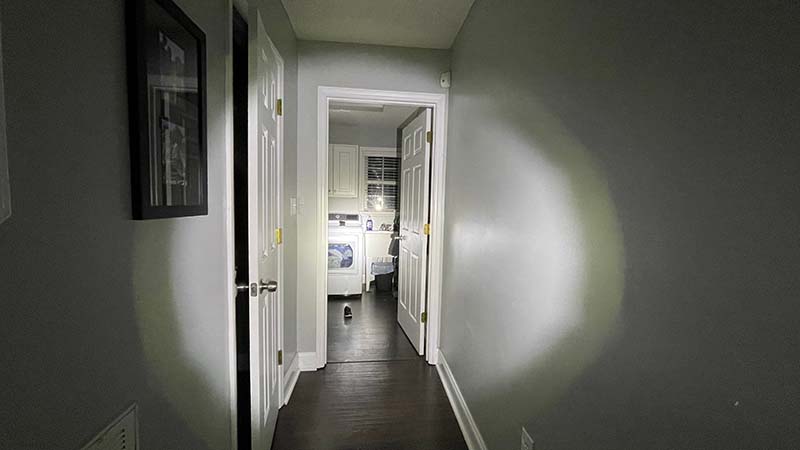 Third, we will show you outside at a 10-15 yard target. Below you can see the Inforce Wild 2 on the PSA Dagger @ 10 yards.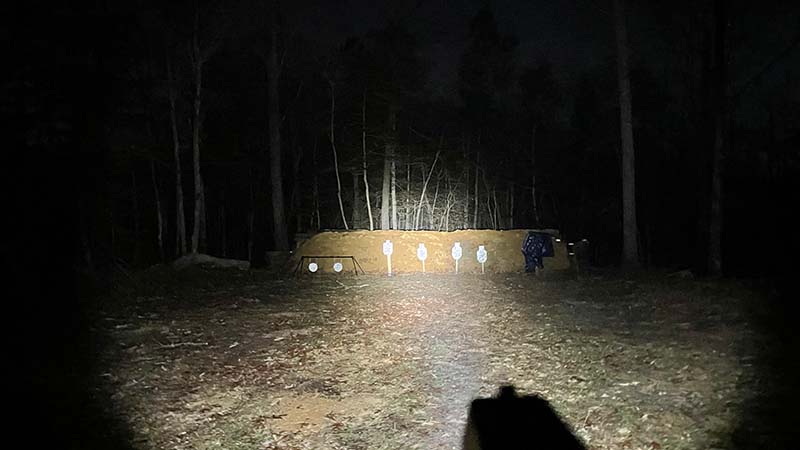 Lastly, this is the Inforce Wild 2 on PSA Dagger @ 50 Yards.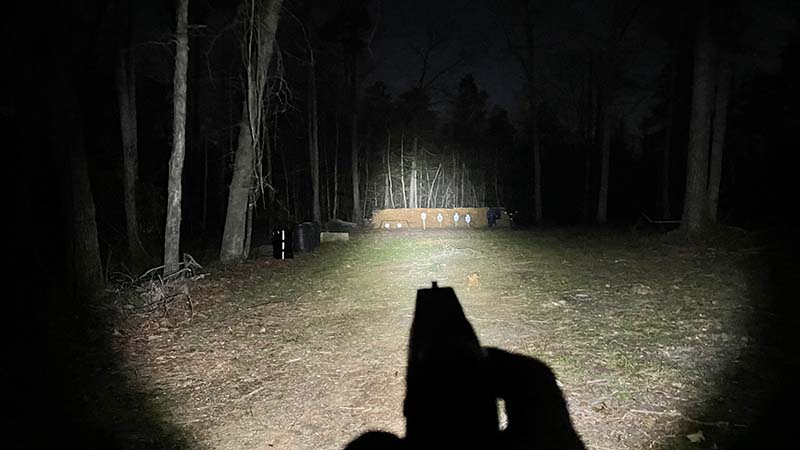 It does get hot with extended usage but the brightness seems to hold relatively well.
Mounting
The INFORCE Wild 2 features two mounting options 1913 and Glock Universal and the great part about it is you can switch between the two simply by reversing the crossbar mounting plate.
This pistol flashlight mounts quite simply by sliding it on the rail of your pistol. Depending on which pistol you have will depend on which crossbar you'd use.
If you are mounting it on an AR-15 rifle you'd want to flip it for the 1913 bar. This would be an interesting option for an AR-15 flashlight. The Wild 2 comes with the Glock Universal bar installed.
INFORCE Wild 2 Holsters
Finding holsters that fit the INFORCE Wild 2 can be a bit difficult but they are out there.
If you plan to really use the INFORCE Wild 2 on your carry gun then you will want to make sure you get a holster for it.
I was able to find QVO Tactical which had the most gun models that had INFORCE Wild 2 compatibility.
INFORCE Wild 2 Final Thoughts
I didn't really have any idea what I was getting when I bought the Wild 2. I knew INFORCE wasn't as loved as Modlight, Surefire, or Cloud Defensive but I figure for the price it was worth experimenting.
I read a handful of reviews with issues with their light but after a few weeks of near-daily use, I haven't had any issues.
Boy was I right. I'm actually pretty impressed with the light. Is it the best on the market? Probably not but it's definitely a solid light for the money.
I hate to call the Wild 2 a budget light because it's actually quite nice but considering its price point that fact makes it even more attractive.