The Palmetto State Armory Dagger, also known as the PSA Dagger, was created to compete in the compact pistol market against the Glock 19. This is clearly a Glock 19 Gen 3 clone.
What makes the PSA Dagger so different is the fact that it comes in at a $299 price point. This price point makes it extremely attractive, considering Glock's can be $500 plus dollars.
The Dagger really shines in terms of MSRP, but does it hold up to Glock's reputation of quality and performance?
Well, that's why I'm going to do a complete review of the PSA Dagger. I think it's important to preface this by saying, I purchased this PSA dagger and while we do work with PSA sometimes, I purchased this outright, at the MSRP.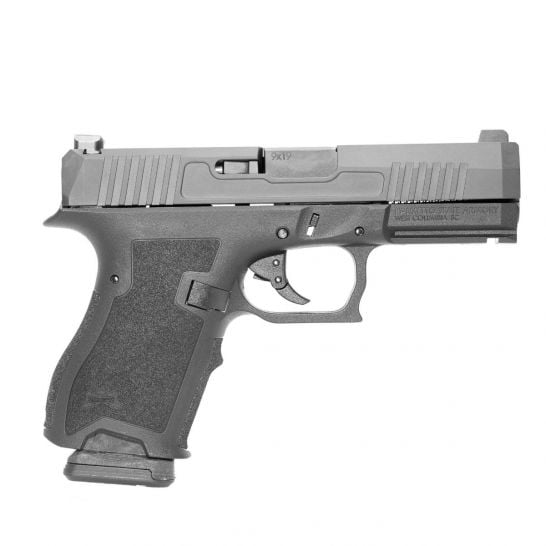 • Action: Striker Fired
• Caliber: 9mm
• Frame: Polymer
• Weight: 22.4oz
• Barrel Length: 3.9″
PSA Dagger First Impression
First of all, the PSA Dagger comes in a cardboard box with the foam cut out for the gun.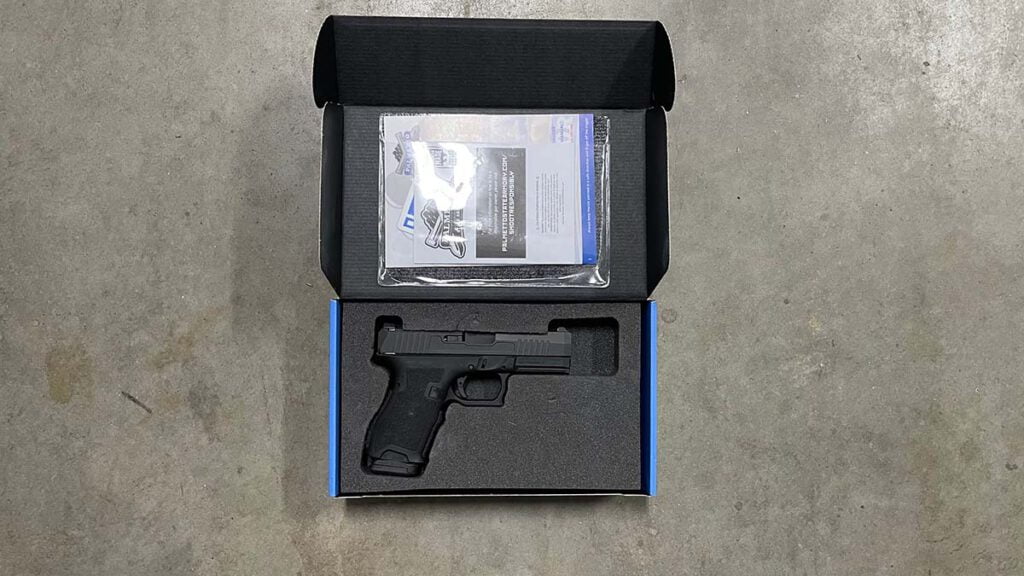 Upon opening it, you could take the gun out, take the chamber flag out, and the lid holds all of your manuals and other information. You can pull the bottom out and that's where you'll find your magazine, and other materials from Palmetto, including your Gun Lock.
PSA did a good job with the box, the opening, the presentation, is all very good. That's very well done. It doesn't come in a plastic case, but if you're like me, you don't much care about the plastic cases because you're not going to use them anyway.
I typically have to stack them somewhere in case I ever decide to sell a gun, which I don't do anymore.
My first impression when I held the PSA Dagger was, is this a Glock, or is this a Sig?
It's very interesting because it definitely has the Glock frame, but I think what threw me was the texture of the grip.
So, when I held it, I was like, Oh man, this feels like a SIG. But the more and more I held it, the more and more I was like, Okay, this gives you a Glock feel with a SIG texture.
It's a very interesting feel to the gun, and I really like it. So, I was actually really impressed with a $300 gun in the overall initial feel.
Now, the overall aesthetics and look are pretty much like Glock. There is a little bit of difference in the slide cut.
I think you get a little bit different finish than you would on a Glock or others. It does come with a Magpul magazine. So, no proprietary mags, and you can run standard Glock mags in it as well.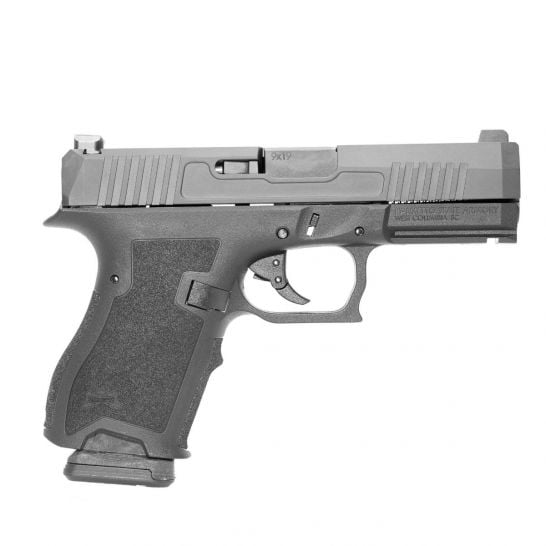 • Action: Striker Fired
• Caliber: 9mm
• Frame: Polymer
• Weight: 22.4oz
• Barrel Length: 3.9″
PSA Dagger Features
The features of the PSA Dagger include pretty much everything on the Glock 19 Gen 3.
You have the standard takedown method, you have your magazine release, which is done almost just like a Gen 3 with PSA's slight touch to it.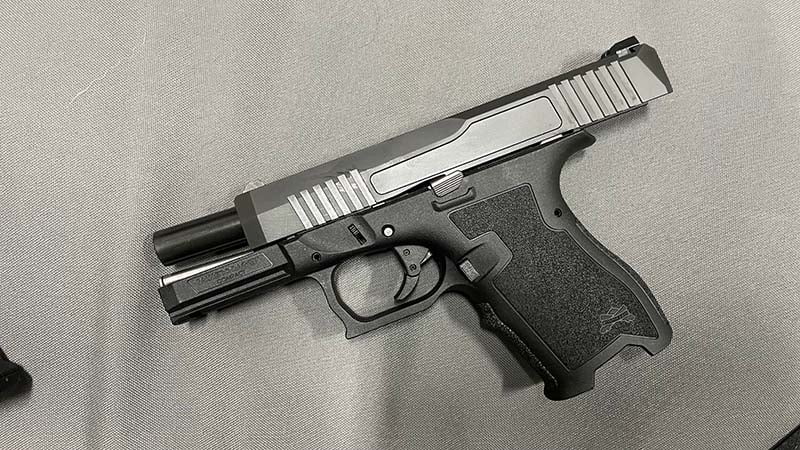 There is a hump in the middle of the grip like the Gen 3's are known for. The slide does have a unique design, but it doesn't have any of Palmetto State Armory's markings on it. It is just a clear, clean-cut, slide. I do like that.
Now, Palmetto State Armory does have all their information on the grip. The serial number for the gun is located in the same spot it would be on a Glock, and the sights are just standard, three white dot sights with no night sights.
In addition to no Palmetto State Armory markings on the slide, it does have front and rear cut serrations.
Overall, the gun feels good, the slide reminds me somewhat of the blocky design of the SIG P320, but at the same time, still looks like a Glock.
It just doesn't have the rounded corners on the slide, it definitely has the edges more of a SIG.
Grip and Ergonomics
Like I mentioned in my initial impression of the gun, the grip really struck me.
It definitely has the same texture, that the SIG P320's have. It has the ergonomics, however, of a Glock Gen 3.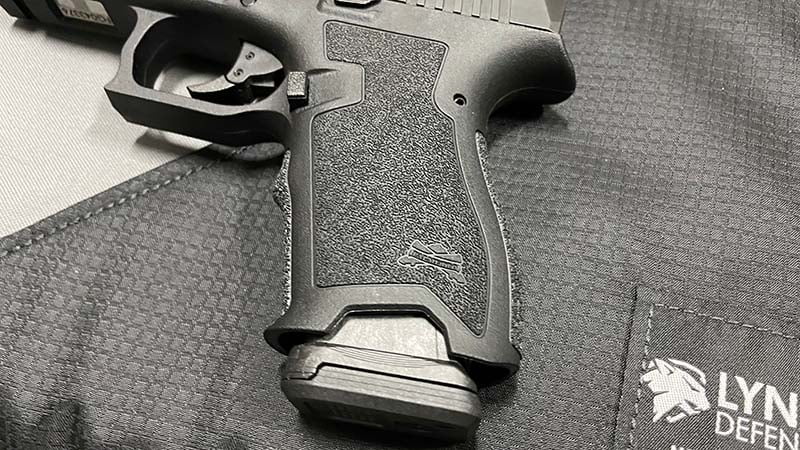 I really like what Palmetto did with the grip texture. It does have the little Palmetto State Armory logo in the bottom right-hand corner of the grip, on the left side and on the right side, it would be in the bottom left-hand corner.
It's definitely visually appealing and it's also very nice and porous and allows you to get a good grip on the gun.
Establishing your master grip is very easy, and overall, I think they did a great job on the grip.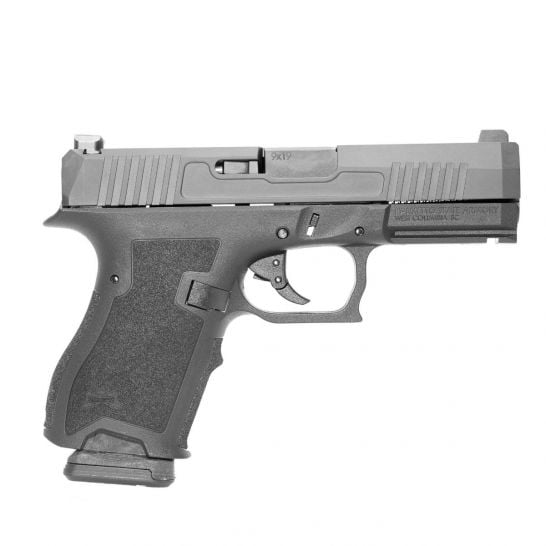 • Action: Striker Fired
• Caliber: 9mm
• Frame: Polymer
• Weight: 22.4oz
• Barrel Length: 3.9″
Sights
The sights on the PSA dagger are a little disappointing, but at $300, I'm not sure what exactly I was expecting.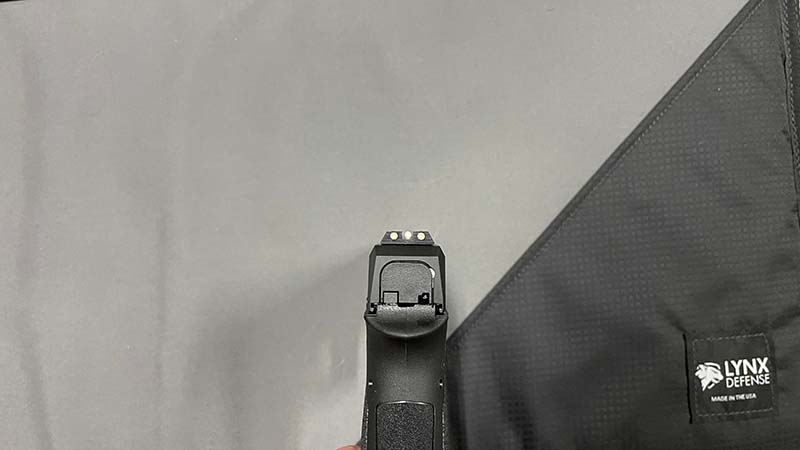 I guess I've just become so used to sights on guns coming with night sights. So when I realized the PSA Dagger didn't have night sights, I was a little surprised.
But again, I thought to myself, "This is a $300 gun. What did you expect?"
The good news is you can change these out to any Glock sights, they haven't changed their design in years. So, these are definitely changeable.
The one thing I would say I would have done, had it been in stock, is buy the red dot cut slide.
It's only $80 more, and I definitely would've gone that route if that was an option at the time I ordered this gun.
The stock sights aren't, particularly my favorite type of sights. I prefer no rear dots on the rear sight and just a singular dot on the front sight.
I've had no problems with these though. I took it out and shot it, and we'll get to the actual shooting of it. But as far as sights go, they're accurate, they were on, had no problems hitting targets.
So the sights, once again, good, cool, would've loved to see them as night sights. But again, I think the price point would likely have to have increased.
Magazine
The magazine of this gun is nothing to write home about, it's just a Magpul Glock 19 magazine. There's nothing wrong with it.
There's only one of them, but again, you're buying a $300 gun. This is in the realm of Taurus and a lot of other guns, but you're almost getting a Glock quality product for $300.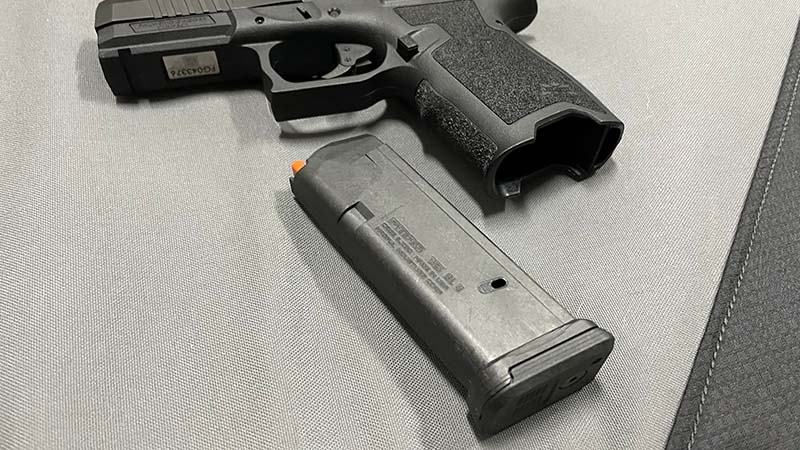 Now, if you have a Glock 19, and have carried a Glock 19 since they released the Gen 3 version, you have a ton of Glock mags that are already compatible.
I personally have an undisclosed amount of Glock mags, nice try ATF, which will work in the PSA Dagger.
So, I'm okay magazine-wise. I don't have any issues with the Magpul magazines and so far, this has functioned perfectly fine.
Optics Ready Model
Like I mentioned, under the sight section, this is one thing that I think everybody should know about.
I think you should definitely consider getting the optics-ready version. The pistol world is likely going all red dot. I don't blame them, it's fantastic.
If you haven't done it, try it, you might not like it at first, I didn't. But give it a shot because it's actually a really, really, nice way to shoot a pistol.
Once you get used to it, your accuracy is going to increase tenfold and I don't think you're ever going to turn back from not owning an optic mountable pistol.
With that being said, get the PSA cut slide from the factory, for 80 more dollars. You're not going to be able to save any money getting it milled somewhere else.
Even some of the cheapest slide millers I know, charge a minimum of a hundred dollars to cut a slide. So, don't try to save some money here. PSA's already done that for you. Go ahead and get the RMR cut slide.
Controls
So, let's talk about the meat and potatoes of any gun, and that's the controls. The controls of this pistol are, once again, that of a Glock Gen 3.
You have your magazine release, you have your takedown in the middle of the slide, to where you can field strip the gun and take it apart.
You also have your slide release and also magazine release, and that's pretty much the basics of the gun. You also have your trigger. So let's dive in, starting with the magazine release.
Magazine release
The magazine release in this gun does stand up relatively high. It's fairly easy to depress and does have the same texture as the Glock Generation 3's.
The grip frame does have a spot cut for it, to where your thumb can fall in. Nothing special, it works.
It drops the mag clear, about what you'd expect from this gun, given the fact that the frame is based on the Glock.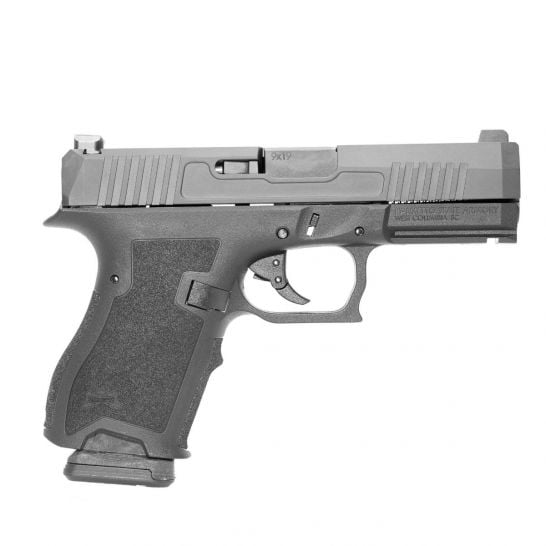 • Action: Striker Fired
• Caliber: 9mm
• Frame: Polymer
• Weight: 22.4oz
• Barrel Length: 3.9″
Slide Stop
So the slide stop/slide release is pretty much the same thing as a Glock Gen 3.
They're not, however, like the Glock Gen 5. So, this is only on the left-hand side of the gun.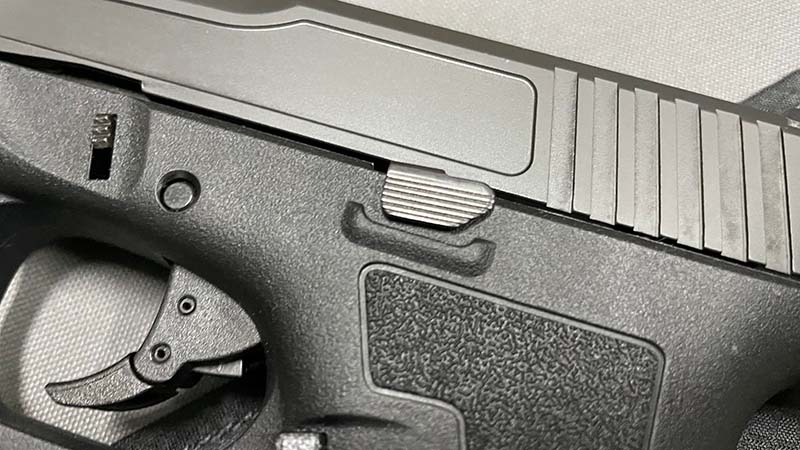 I prefer the ambidextrous style slide stop slide release as it makes it easier to pull the slide release down.
This does not have that, it is the standard flat slide switch.
There's nothing to really catch your finger. It's about as stock as you can get, but it does work.
There are no issues with it, you can lock the mag back easily. You can drop it free, easy.
It does function extremely well, but just know that it's a stock part on a $300 gun. It's not going to wow you.
Trigger
The PSA Dagger trigger is probably the only part of this gun that disappointed me to an extreme level.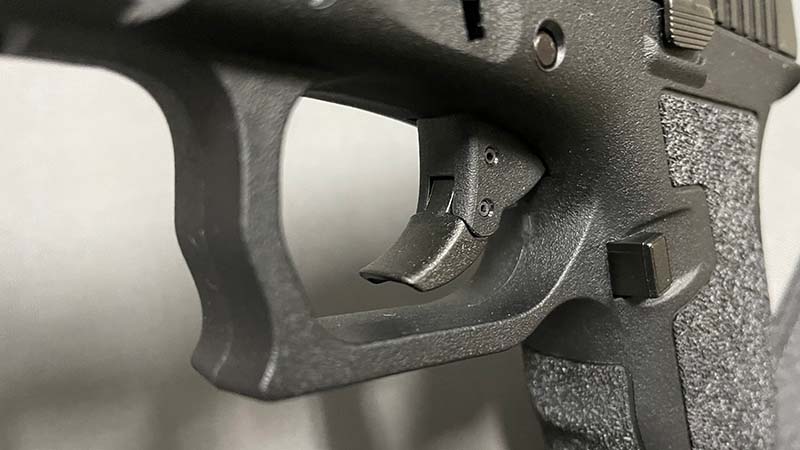 Everything else is pretty much on par with what I expect out of a $300 gun. Granted, the trigger is terrible.
Probably the worst trigger I've ever felt. They use a Smith and Wesson M&P trigger design, where it bends in the middle, versus something like the Glock trigger that has the safe action in the middle.
I don't know the rationale behind this, but what I can tell you is it feels like sandpaper when pulling the trigger. It's pretty bad.
I don't want to harp on this too much, as the gun overall, is an extremely nice gun. It's even fun to shoot, but the trigger is so lackluster that it's crazy. This was beyond an afterthought, in my opinion.
I'm not here to hate on PSA. I own a number of their products and most of them are fantastic, especially for the price point. But even for a $300 gun, this just feels like sandpaper.
The take-up travel is good, and the break is clean. It's not very crisp, but it is clean and not spongy.
The reset is short and it's just back to the wall.
So my beef is really with the smoothness of the take-up which is almost like sand was dumped into the fire control group of this gun, and that saddens me.
But at the same time, it's a $300 gun and still shoots great and what I found while shooting the gun is while the trigger is gritty it doesn't have an impact on accuracy, and shooting the gun overall is actually really fun.
PSA Dagger Ammo
If you are in the market for some ammo for your PSA dagger the options are endless.
Accessories
The nice part about the accessories for the PSA dagger, the fact that pretty much any Glock Gen 3 accessories will work.
PSA Dagger Holsters
Now, the only exception to that is holsters. They'll fit in some Glock 19 holsters, but not well.
It's very tight and it's extremely hard to get out. I think that has a lot to do with the slide, but I believe the retention point on the frame is the same.
The slide is thicker and has a slightly different profile so it doesn't slide into the holster as easily as a stock Glock 19.
So if you want a Kydex holster for your PSA Dagger you might want to grab one that's available on their website. But keep in mind it's slim pickings right now, but hopefully, the selection will grow.
PSA Dagger Flashlight
I grabbed an Inforce Wild 2 flashlight for the PSA Dagger and while it's a polymer flashlight I don't even have a holster that will fit my Dagger yet so it's more or less a light that wouldn't see a lot of action outside of the range.
Personally, the light is fantastic but it still has it limitations namely it's a polymer flashlight.
But output wise it's fantastic!
The dagger is nice because the rail will allow nearly any pistol flashlight to be mounted to the gun.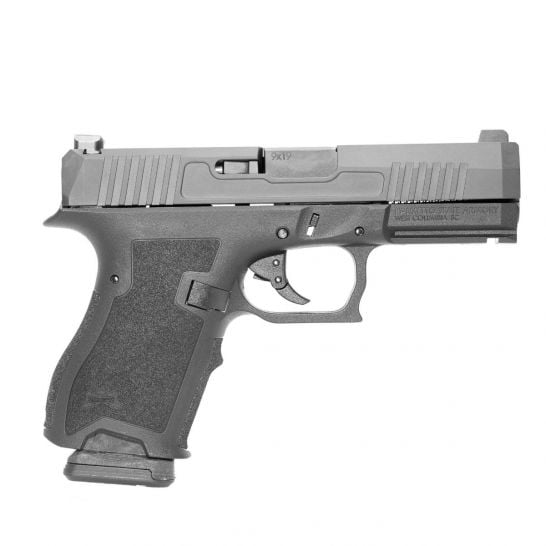 • Action: Striker Fired
• Caliber: 9mm
• Frame: Polymer
• Weight: 22.4oz
• Barrel Length: 3.9″
Aesthetics
The overall look and feel of this gun are fantastic. Starting with the bottom of the grip frame features a nice little cut-out that allows you to grab and rip your magazine if it was ever stuck for any reason.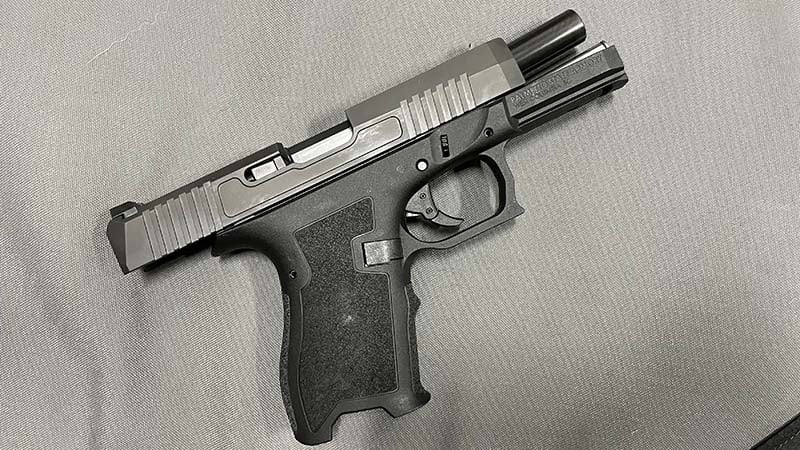 The DLC slide with carry cuts looks fantastic and gives a unique picture from behind the gun with the blocky design of the slide. This side is great and I like what PSA did with it.
PSA Dagger vs Glock 19 Gen 3
The PSA Dagger is a revamp of the Glock 19 Gen 3 and the most notable differences are the aesthetics.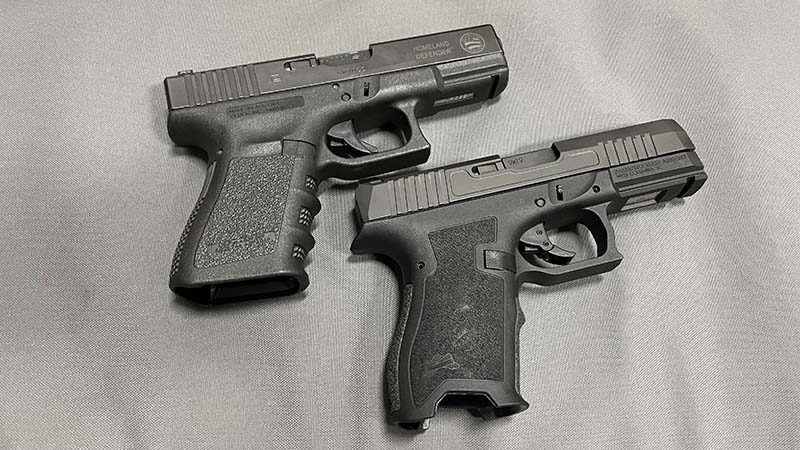 The internals do feature some slight differences namely the slide rails.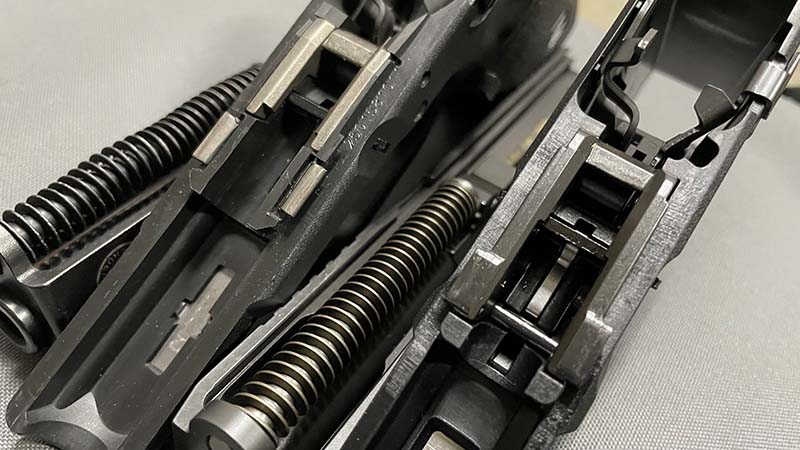 The PSA Dagger also has a different grip and grip texture as you can see below.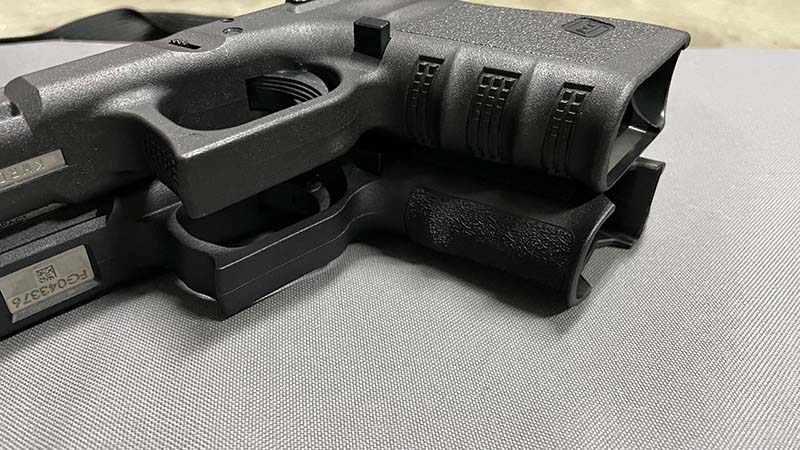 The slides are nearly identical with the spring guide rod being the biggest difference.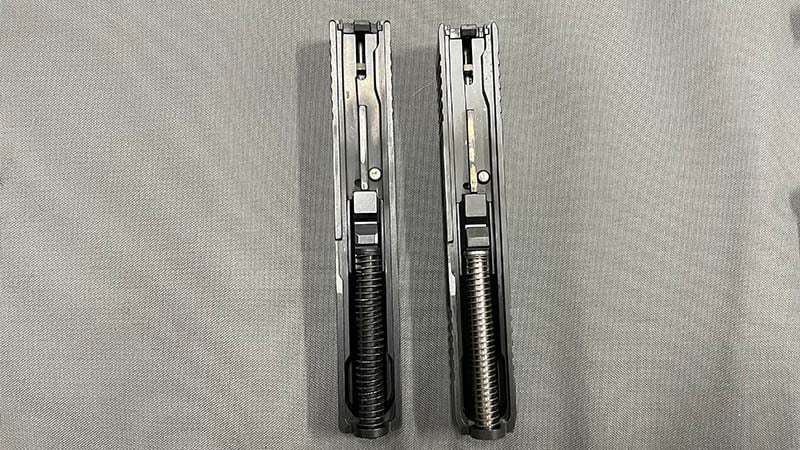 Lastly here's a side-by-side picture of the complete internals.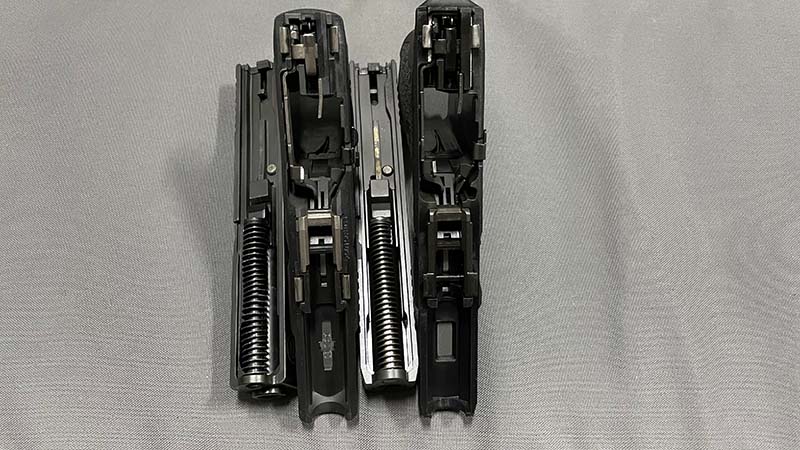 As you can tell there are some clear differences and clear similarities between these two pistols and I think each has its place in the market.
PSA Dagger Durability
North Carolina finally produced some snow for the first time in several years so I figured I might as well make use of such a fine day!
So I put the dagger through a quick and short test for function. By no means do I think these were comprehensive or even a true torture test but it's more than most people would likely ever put their gun through.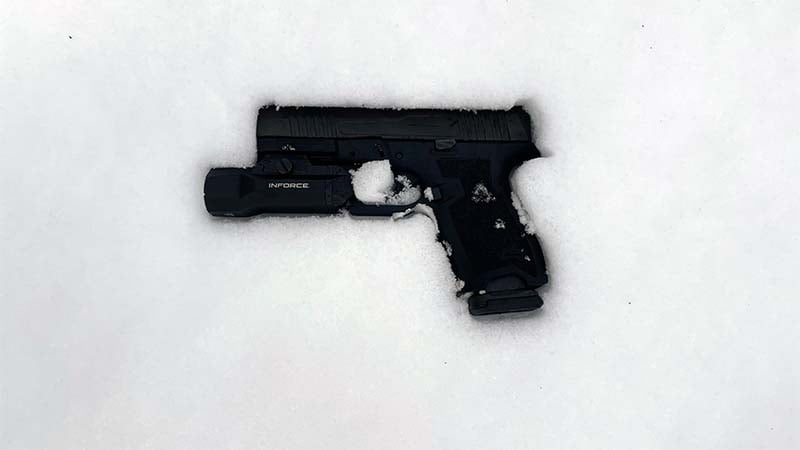 I put the Dagger through several various things and it never skipped a beat. The misses were all me being it cold and almost never shooting with gloves on, I accept all of the misses as my fault.
I also dropped it from roughly waist height and shot it one-handed so I could video the results. I racked the slide on my boot and other than my misses it functioned fine.
Overall, I'm happy how the Dagger did in the mild snow test I performed on it.
Shooting the PSA Dagger
Now, shooting the PSA Dagger is actually a little different. It does feel like a SIG texture in your hand, but this thing absolutely shoots like a Glock 19, all day long.
Shooting this side by side with a Glock 19, you're really not going to notice much difference and for better or for worse, that's a plus in my opinion.
Will you like to shoot the PSA Dagger? It depends on if you like a Glock 19. It does well on the range, it shoots good, and it puts rounds on target.
I had no flaws, no malfunctions, and nothing bad to say about shooting this gun. I didn't have any pins walk out on me.
I didn't have any problems with this gun so far, whatsoever. In fact, it'd be hard for me not to recommend this gun.
Other than to warn people, you're not going to have a nice trigger.
While triggers are changeable, by the time you throw a new trigger in this gun, you're getting dangerously close to Glock prices.
If you don't like the Glock trigger either, and you're going to replace that trigger anyway, this gun is a value.
Overall shooting this gun is very smooth, very crisp, and clean and I really enjoyed it. The slide and the sight picture are fantastic.
Final Thoughts
My final thoughts on the PSA Dagger are this, I don't think that this is a Glock replacement.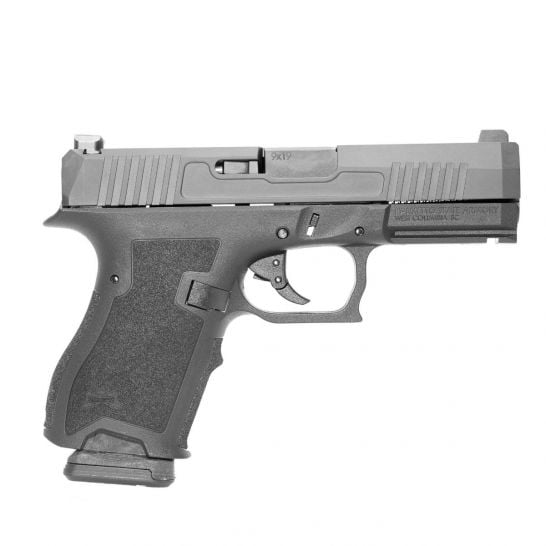 • Action: Striker Fired
• Caliber: 9mm
• Frame: Polymer
• Weight: 22.4oz
• Barrel Length: 3.9″
The Dagger is more of a reason not to buy a Polymer 80 Build. Now, if you're worried about a serial number, that's one thing.
But as far as cost savings, or building a cheap Glock, there's no reason to build a Polymer 80 build, when the PSA Dagger is available at this price point.
Now, if you're looking for night sights from the factory, or the nice clean trigger, or something of that nature, you might default to a Glock.
The Palmetto State Armory Dagger definitely gives a solid run for the money, and for $300, it is a bargain. I think it fits exactly in the niche it's trying to fill and will be a great carry gun for a lot of people.
Is the PSA dagger a Glock?
No, while it can be considered a Glock clone of sorts the PSA Dagger is in fact its own gun and not all Glock parts are interchangeable with the Dagger.
How much is the dagger pistol?
The current MSRP of the PSA Dagger pistol is $299. This is a very reasonable price considering everything you get with this pistol.