Recently, I've had the pleasure of reviewing quite a few of the Primary Arms Prism Scopes. I really like the Primary Arms Prism optics for a number of reasons, but we'll dive into that later. Right now, I'm really excited to finally get to review the Primary Arms 3x Prism Scope.
The nice thing about this optic is that it's 3x, so it is magnified and you have the prism reticle. I didn't think I had an astigmatism, but I might because I do see artifacts of red dots when I'm using them.
So ever since I've started using the prism scopes, I've noticed crisp, clear reticles and when they're illuminated there are no artifacts.
So I really think I might have astigmatism and didn't really even know I had an astigmatism. So needless to say, I've really been enjoying the prism scope.
I got my hands on the Primary Arms SLx 3x32mm Gen III Prism Scope – ACSS-5.56-CQB-M2 Reticle, and I'm really excited to throw it on a 16″ AR-15 and have at it.
So let's talk about the first impression after taking it out of the box.
First Impression
Often first impressions can have a last impression on how you think about a product forever. So here's mine.
Opening the Box
When you first open the box, you get that standard individually compartmentalized foam that you are used to with Primary Arms optics.
Included in the box are the following:
3x Prism Optic
2 Hex Keys
Trox Tool for Mounting Hardware
2 Extra Screws
Manual
The optic, the manual, everything that comes in the box, all right there as soon as you open the box.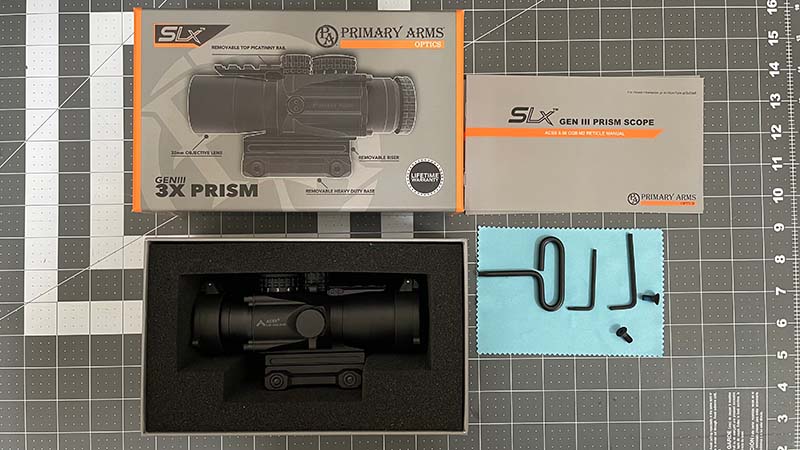 This is a really fantastic-looking scope right out of the gate. It does come with a standard Picatinny mount attached, but it doesn't have any kind of height adjustments like the Primary Arms SLx 1X MicroPrism.
It does come with a mount included and attached to the optic. Also, the optic has two screws, two Allen keys, and of course your trox wrench for tightening the nuts on the Mount.
It also comes with two plastic flip-up caps, mount, and battery installed, ready to go.
So after looking through the box and taking everything out, it's time to get to the scope itself.
The Prism Scope
Upon taking the scope out of the box, it has a really solid feel. The nice part about this scope is its all-aluminum construction.
This Primary Arms 3x Prism Scope has a solid weight to it. It clocks in right at 18 ounces or so, give or take a few points, and feels really good in the hand.
When you pick it up and hold it to your eye, you get a clear reticle.
The brightness knob is very clean and has an easy twist. One thing that's unique about these scopes is it has a small 1913 Picatinny rail on top of the optic and we're going to get to that later.
Overall, really good prism scope. The turret caps feel nice. They're very clean and they both have rubber attachments to keep you from losing them when you unscrew them.
So let's dive in a little further and get into the meat and potatoes.
Primary Arms 3x Prism Scope Features
So the 3X prism does have quite a few features and we're going to jump into them right off the bat, let's talk materials.
Materials
Like I said, in the initial observation of this optic, it is an all aluminum construction.
There are very few plastic parts on this. I can't quite tell if the turret caps are aluminum or plastic, but they feel aluminum. So I'm pretty sure these are going to be aluminum caps.
Now the mount, the base, everything is aluminum. The glass looks good. It's clear. There are no chips or nicks, everything looks great right out of the box.
The only thing I can find on here so far that is plastic is the flip-up caps, which are the caps that protect your lens.
I don't really have any qualms with that because you can't really make them metal.
I don't care much for flip-up caps. If I was traveling a lot with it, maybe, but the caps just kind of tend to get in the way and they're just one more thing to break.
Also, their lens caps are notoriously very flimsy, not really crazy about lens caps.
Weight
The weight clocks in at 18.4 ounces. To me, the weight seems very reasonable for a 3x scope.
I don't think you can expect to get the weight of a micro red dot out of this.
It's somewhere in between an LPVO optic and a red dot, which is about right where you'd expect it and want it to be.
You're probably going to throw a 3x on a 16″ gun, maybe a 13.5 pen weld AR-15 build. It really depends.
So if you're really trying to skim weight here, this might come in a little heavy for you, but I can't imagine you're considering a 3x prism scope and weight is a huge deal for you.
Now, an LPVO might come in a little lighter, but once you tack on the mount, it's going to be much higher.
This prism scope actually clocks in at 18.4 oz with the included AR height riser. So with the mount, it's 18.4 oz. So it does fall almost directly in between these other types of optics reticles.
Reticle
Now, this is where I think the Primary Arms SLx 3x Prism really shines. The reticle on this is very interesting.
You get your horseshoe-like reticle you would on the Primary Arms MD25, but unlike the MD25, this actually has ranging options inside the horseshoe.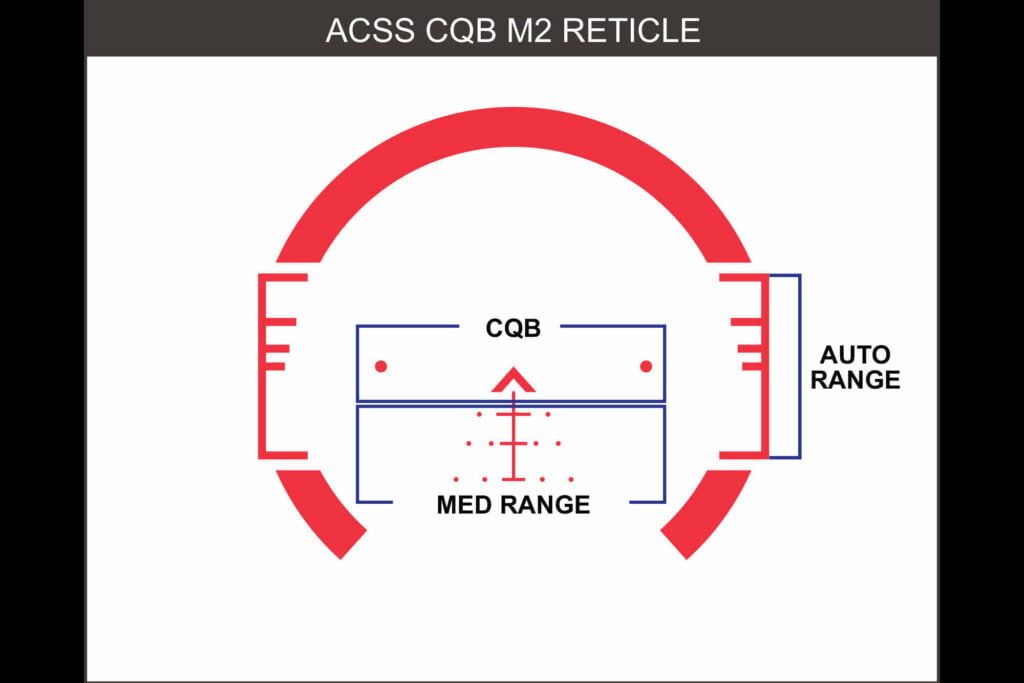 So not only do you have your Chevron and ranging under it, you have ranging inside of the horseshoe, which is really great, especially for a gun that you might be stretching out and shooting a little further.
Primary Arms clearly explains these ranging options in the horseshoe for auto-ranging.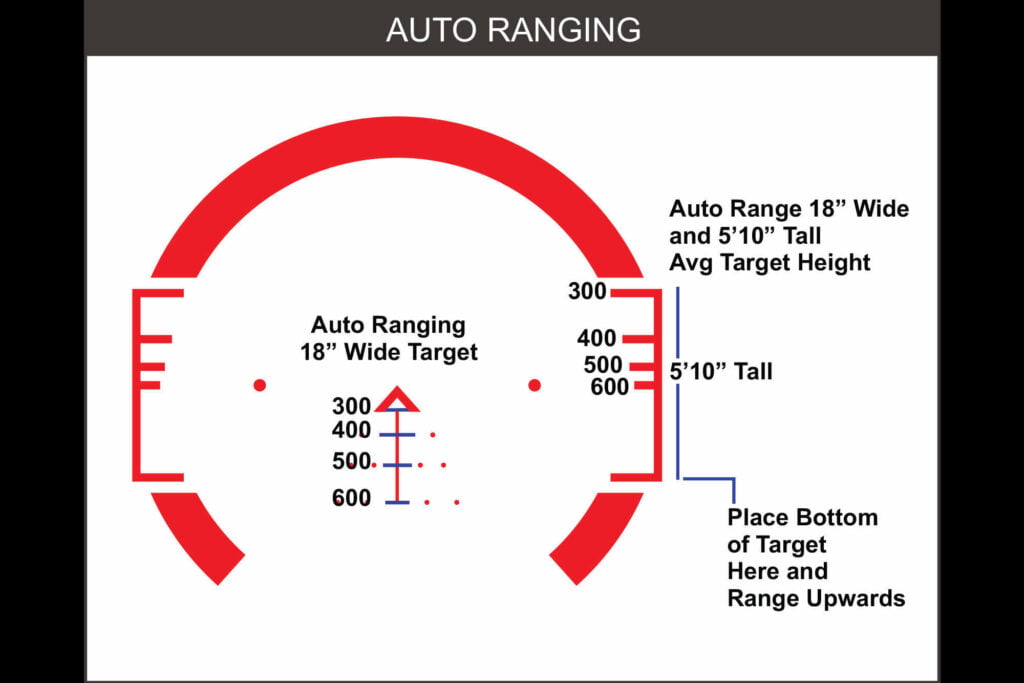 You can place the bottom of your target there and range upwards. And it goes all the way to 5′ 10″ feet tall.
So obviously for target identification. So that's the nice feature to have on the reticle.
You also have your Chevron and your natural bullet drops from there. So I've included the auto-ranging in the article below and that way you can check it out and decide if this article is for you.
Dot Adjustment
So naturally, the reticle was really nice. So how does it adjust?
It adjusts pretty much like every single other optic on the planet. You have an elevation and you have horizontal adjustments.
The caps unscrew with relative ease. They have a little rubber piece attached to them that holds it to the optic itself. So you don't have to keep up with your caps. You can just kind of let them hang while you're sighting it in.
Of course, you have your elevation. Both the total elevation and windage adjustments are 60 MOA each and the nice thing is each click value is 1/4 MOA.
So it's really a normal scope in that sense. So you get four clicks equals one MOA.
Right out of the box I was low and right and it would have easily been on steel out of the box.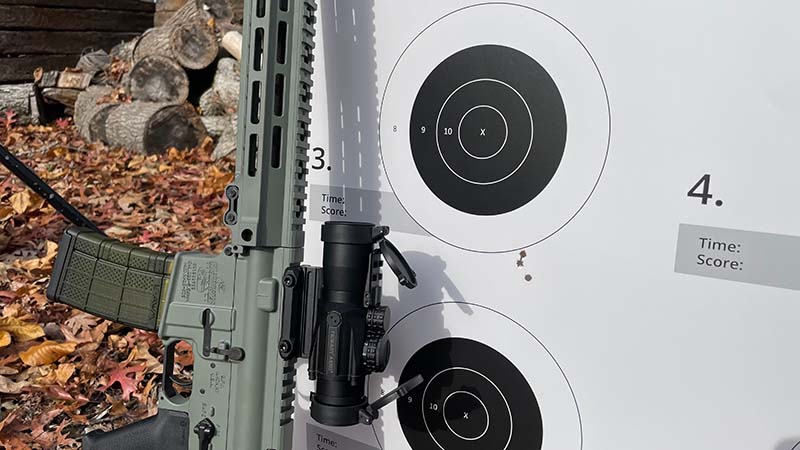 As you can see I was only about 4.5″ low and 1.5″ off-center. This is pretty good because it didn't take much adjustment from here to really dial it in!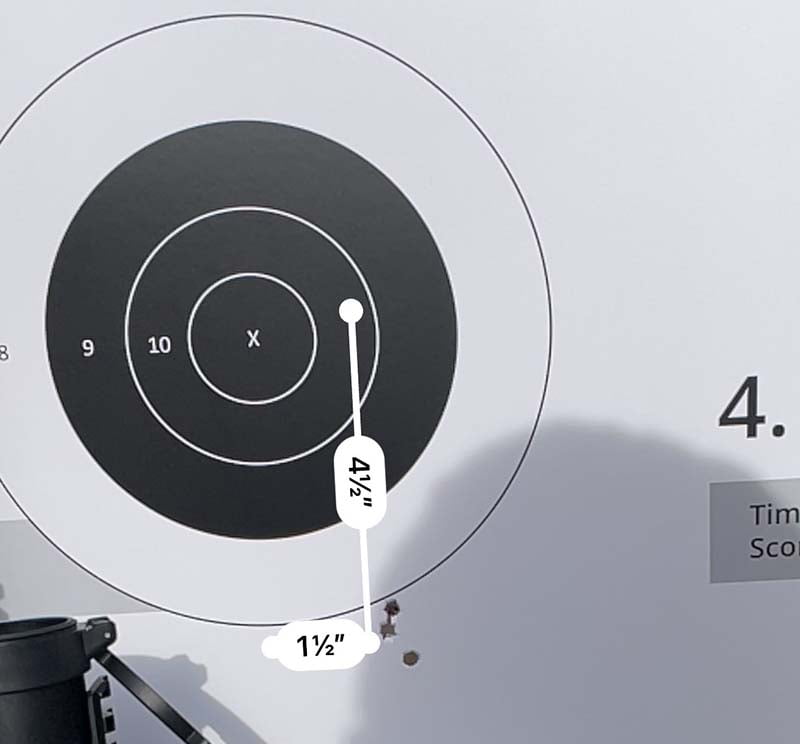 These were my last two rounds in my magazine while sighting it in and they were dead on and this was using a 4-wheeler as a bench rest. Not ideal but the results speak for themselves.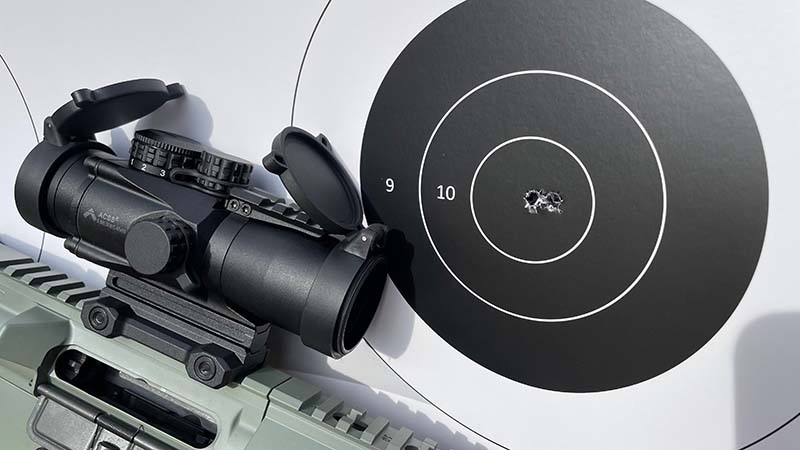 Overall, adjustment is easy as can be and the Primary Arms SLx 3x Prism is an optic that makes it stupid easy to be dead on at 100 yards.
Power source
The power source is going to naturally be a CR2032 3-volt battery. The battery goes in the top of your brightness adjustment knob and it's very easy to switch out.
You just need a knife, a key, a coin, twist it off, and switch your battery out. Now it does come with the battery.
I don't know exactly how long the battery life on this is, but given the fact that it's a prism scope, so your reticles are etched, it really doesn't matter if your battery dies on you, you still have your reticle.
So battery life to me on the prism scopes isn't as big of a deal. Just switch it out when you switch out all your red dots and you'll be good to go.
Durability
As I've stated in previous reviews, I do not have a set standard for durability. I don't have any specific "scientific test".
So I won't be attesting to the durability of this optic. What I will say is the all-aluminum housing, the turret caps, all of that, the glass is inset into the tube quite a bit.
So even if you were to drop this, you might get a nick, you might get a scuff, but overall, it would appear that this is going to hold up well.
It's quite nice. It doesn't have any glaring flaws that would make me question its durability.
The front and rear protective caps are plastic. Those could break, but overall doesn't affect the optic.
Primary Arms 3x Prism Scope Picture
The sight picture is actually a little different on this than it was on the Primary Arms SLx 1X MicroPrism Cyclops and the Primary Arms MD-25.
Initially, I had it mounted just over the top of the ejection port of my AR-15. I didn't really like the eye relief at that placement.
So I moved it back on the rail and brought it back a notch or two on the top rail it worked so much better. I was able to get just a little closer to the optic and it was much more comfortable than being all up in the charging handle of the gun.
So as soon as I moved that back I really liked how clear the sight picture is now. and the reticle is very clear and eye relief is near perfect.
To me, the reticle on this one looks larger than it does on the 1x MicroPrism, which is a big deal to me.
I really like a solid thought-out reticle. So I highly, highly recommend this particular ACSS reticle to anyone.
I don't know how much I'll personally use the ranging and the auto-ranging, but it's there if I need it.
I'm a big Chevron reticle fan. So the ACSS reticle on this is fantastic. This optic is really optimized for the 5.56, .308, and the 5.45×39 round.
That doesn't mean you can't use it on 300 blackout or anything of that nature, but outside of those, you may not need the ranging as much. So I think that's the rounds they really built this for that.
So overall, the sight picture is very clean and very crisp.
Mounts and Mounting Options
Now I'll talk about mounts and mount options. There's one included mount on this and don't foresee a reason you will need to change it.
It appears you could get another riser. You'll have to consult Primary Arms on that one because I'm not 100% sure, but it does include an AR height riser.
Personally, I don't need anything other than what they've included. This thing is the perfect height for me and it's really the perfect height on any AR unless you're just trying to do something a bit different.
I do want to address something interesting about the SLX 3x Prism Scope. It has a top mount that has Picatinny slots on it.
What that does is allow you to put a red dot sight on top of the optic. You would probably want to use something like an RMR or a HoloSun, or some type of pistol red dot optic.
You're not going to want to put an MD-25 on top of your PSA SLX 3X Prism.
That's just crazy talk, but I can see why they included this feature. This is great because if you want to put a pistol red dot on top of this optic, you have your long-range option in your 3x, and then you have your close CQB tactical option all in one.
I think that's really, really solid the way they did that. There are two screws, which makes me think you can take it off if you really don't want it, or you don't like the look of it, but I'll be leaving it on even if I don't add the pistol optic to it.
Primary Arms 3x Prism Scope Conclusion
So in conclusion, this Primary Arms 3x Prism scope really shines in features, function, and usability.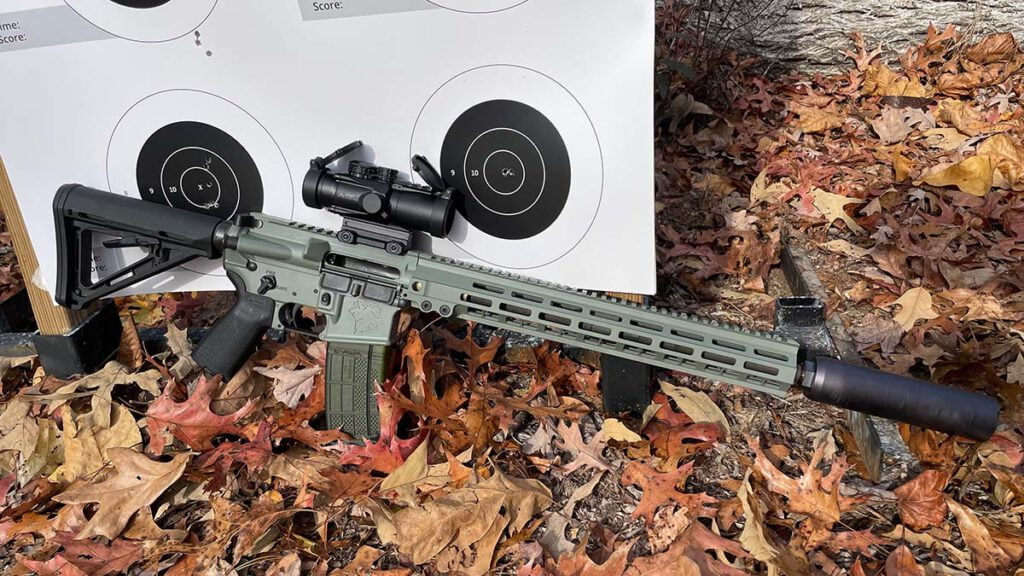 I really like it for a number of reasons.
Namely, the reticle is fantastic. The Chevron, the auto-ranging, all of those things really make it top-notch. Not to mention the reticle brightness on the optic is good indoors and outdoors on the 11th power, it's bright enough.
I don't typically run it illuminated unless it's somewhat low light outside. So it doesn't really bother me what the brightness is on this.
But overall, the optic is solid. The base is solid. The mount is solid. I can't say probably enough good things about this, especially going on my 16″ 5.56 rifle.
I think it's really impressive what they've done at Primary Arms with these optics and I hope they continue to innovate and change and get all kinds of different prism optics and scopes out there.
I really enjoy these and will continue to buy them and review them. So if you're in the market for a prism optic in the 3x variety, you want something that gives you a little bit of magnification to get a little bit more range, but you don't want to go full LVPO, or you don't want to go full magnified optic, this is probably the best option.
It's halfway between a full-on scope halfway between a red dot and then you meet in the middle for the people with astigmatism and you have the prism reticle.
Finally, my vote is to buy this optic if it meets your needs based on everything I've told you here.
If you have any questions, there's a comment section below. If you have any feedback, feel free to leave it in the comment section below and if you have any experience with this optic, you can also put it in the comment section below.