The Primary Arms PLx 1-8×24 is one of the top-tier LPVO sights made by Primary Arms.
Primary Arms PLx 1-8×24 is a high-quality rifle scope designed for various shooting scenarios, including tactical, hunting, and competition shooting. It features a versatile 1-8x magnification range that allows for quick target acquisition at close ranges and precision shots at long ranges.
The scope has a 24mm objective lens, which provides a wide field of view and helps to maintain a bright, clear image even in low-light conditions. The PLx Compact 1-8×24 also features high-quality glass that provides excellent clarity and color fidelity, as well as an illuminated reticle that allows for easy targeting in low-light conditions.
The scope is constructed with durable aluminum housing that is shockproof and waterproof, making it well-suited for rugged environments. It also features zero-resettable turrets that allow for easy adjustment of windage and elevation settings.
Overall, the Primary Arms PLx compact is a high-quality rifle scope that offers excellent performance in a wide range of shooting scenarios. It is a popular choice among shooters who demand a versatile, reliable optic for use in various conditions.
Primary Arms PLx 1-8×24 Specifications
| | |
| --- | --- |
| Battery Type | CR2032 3V Lithium Coin |
| Eye Relief | Low: 3.2 in / High: 3.7 in |
| Focal Plane | First Focal Plane |
| Length | 9.28 in. |
| Magnification | 1X – 8X |
| Reticle | ACSS Raptor M8 Yard |
| Tube Diameter | 30mm |
| Weight | 16.95 oz. |
First Impression
When you first open the box for the PLx Compact you get the classic Primary Arms setup. There is nothing right off the bat that makes you realize the price point of this optic.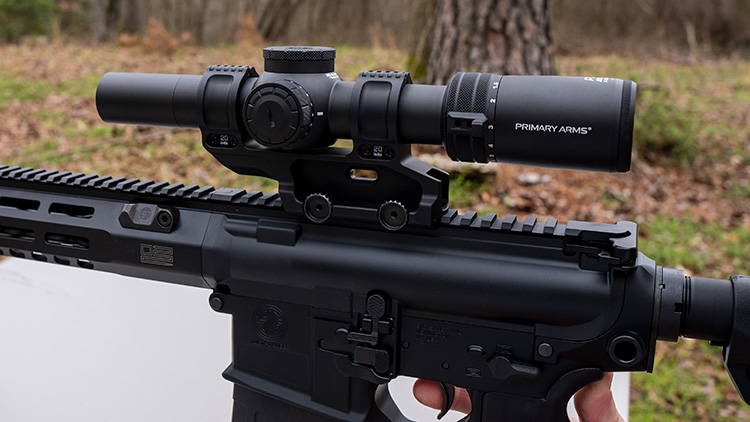 But hear me out; this LPVO is special and likely worth the price. The major takeaway you should consider is the fact that Primary Arms optics are such high caliber that it's hard to tell the SLx series from the PLx series from the first impression.
What's Included
Primary Arms PLx 1-8×24
Compact Attachment (Makes Optic Full Length)
Microfiber Cloth
Manual
Reticle Documents
Materials
The PLxC is made with high-quality aluminum and while Primary Arms doesn't specifically state the grade of aluminum it's clearly a 7075 or 6067 aluminum and is light but durable and coated for durability.
Weight
Weight is always a sensitive topic because carrying a firearm for a long period of time can take a toll on your arms.
So every ounce added is critical with optics weight is important because there is metal and glass combined which can way a lot depending on the quality of metal and glass you purchase.
The Primary Arms PLx compact comes in at an extremely reasonable weight of just 16.95 oz.
Mounting
The Primary Arms PLx compact 1-8×24 does not come with an included mount. There are a ton of options when it comes to a LPVO mount. Be sure to consider all your options before buying your mount.
It might be tempting to go for a cheap mount especially after dropping around $1,500 on an optic but a quality mount will make a world of difference with your optic experience.
Magnification
When considering what magnification you need for any scope you want to think about your use case, also known as application, first and foremost.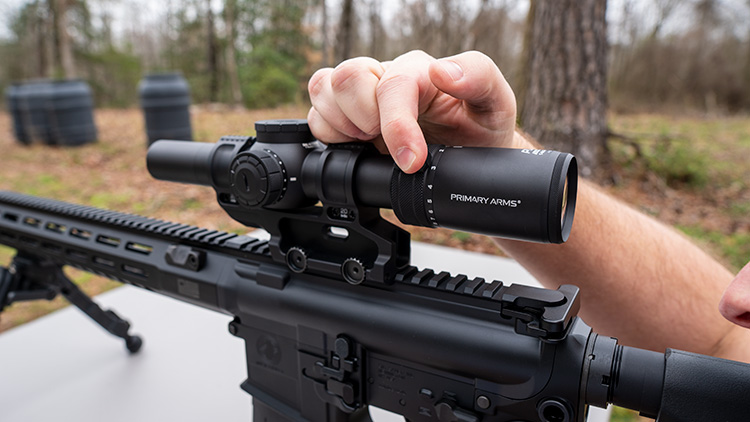 If you are going to be shooting at several hundred yards your magnification range should likely be higher but 200 yards and under will require much less magnification.
For my application on the PLx 1-8 compact I put it on my Sig Tread AR-10 and plan to shoot it between 100-250 yards. So the 8x is perfect for me. The 8x might be at the maximum "acceptable" range for some people at 250 yards but I can easily still be on target at max magnification.
ACSS Raptor M8 Yard Reticle Design
My favorite thing about the Primary Arms PLx compact is the reticle. The first focal plane Raptor M8 is fantastic when zoomed.
It works well when on lower power magnification but I think it really shows its ability with zoomed in on your target.
You can make very precise shots with horizontal and vertical hash marks.
When the optic is on it's lowest power the reticle is small but useable, especially at close range.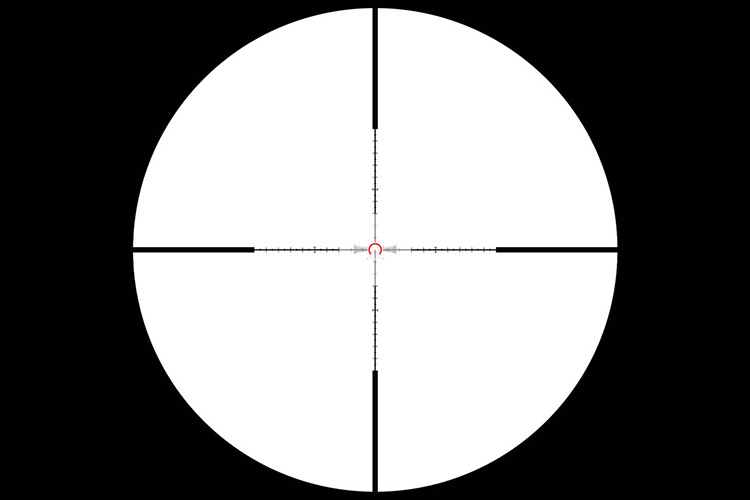 Once you zoom in the first focal plane reticle does a great job at making the reticle clear and extremely useable as seen below.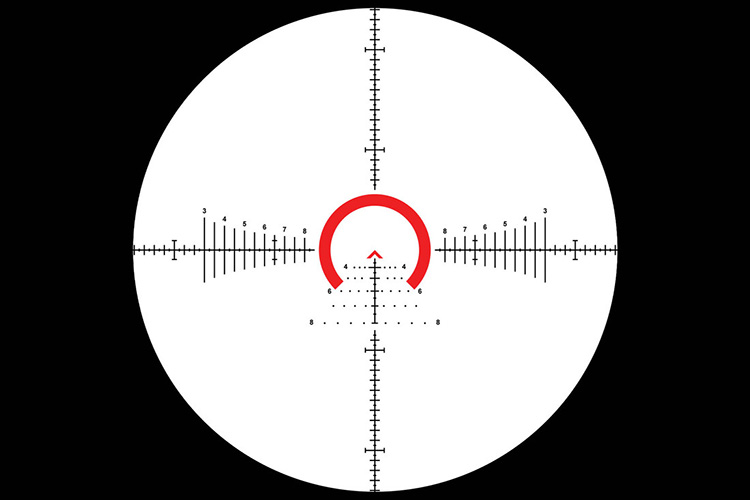 Scope Adjustment
Adjusting the scope is easy with the user-configurable turrets. One thing I noticed about the PLx series is the turret caps are much nicer than they are on the SLx 1-6×24 LPVOs.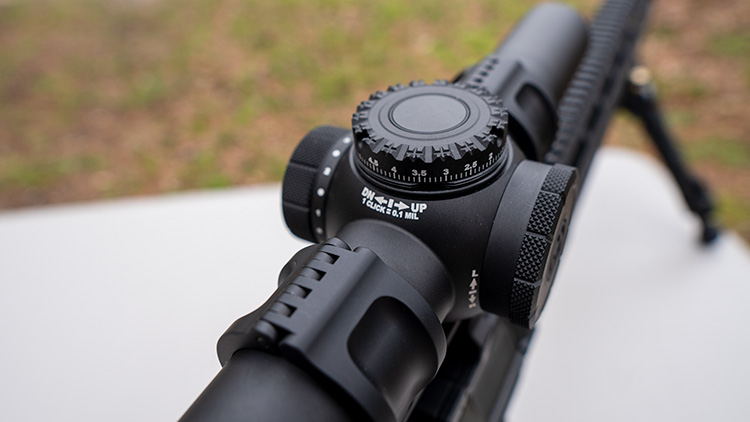 Adjusts are easy to make by hand and each click value is 0.1 Mil.
You will have to remove the all metal cover caps to make adjustments but they are easy to make with just your hands and no tools.
Brightness
The SLx Compact has an illuminated reticle where the horseshoe and the chevron both illuminate.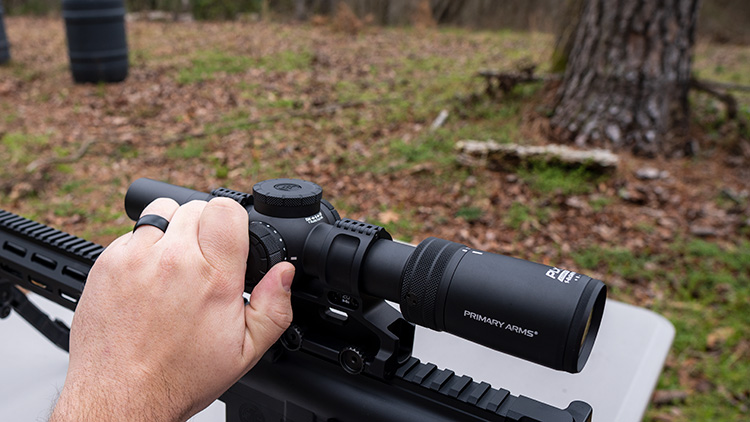 The brightness of the illumination is fantastic and it almost functions as a high-quality red dot sight at 1x power.
The brightness levels range from 0-10 for use in low light and daylight uses.
Power Supply
The illuminated reticle is powered by a single CR2032 3V Lithium Coin battery and should have a decent operating time even if left on.
This LPVO features Primary Arms' "Auto-Live" feature that will turn the illuminated reticle off when not in use and when you move the optic the reticle will come back on.
Final Thoughts
I can't talk enough about how clear this glass is, it really is something you would need to see for yourself. The glass is made in Japan, which is where most of the high-end glass is being made these days.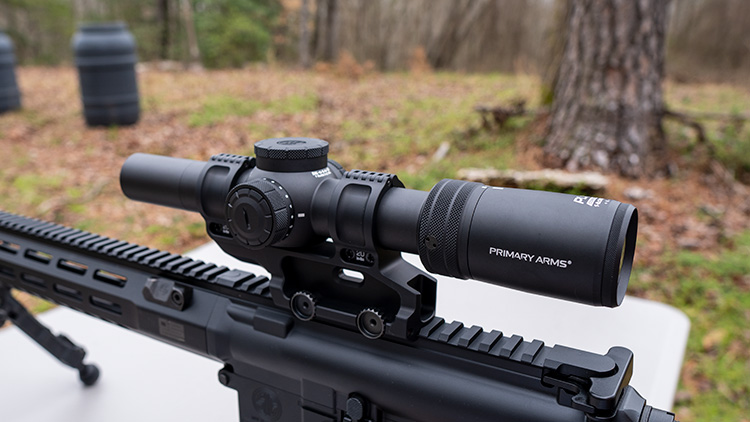 I pair this with my Sig Tread AR-10 because it gives me great range and if I need it fast CQB aiming. This optic is near perfect for any AR-10 platform and what I'd recommend it on.
However, it's really great for any caliber or even a step up from your 1-6x LPVO on a 5.56 AR platform.
I can't wait to see what other offerings Primary Arms develops for the PLx series.