The PSA Jakl is a long-awaited gun by many and while it seemed to have taken forever to make it to market it's here and time to give it a full run Lynx Defense review!
History of the Jakl
The Jakl was originally teased at Shot Show in 2020 and after some development delays, it was finally released in 2022.
The Jakl was teased long before some of the other latest products from Palmetto State Armory, such as the PSA Dagger.
Right now Palmetto releases these daily around 4 pm and you can find them in stock quite regularly.
The Jakl is now offered in a number of different configurations including as a full 16″ rifle and separately as a lower and upper. This gun is one that's definitely worth SBR'ing.
It also comes in two different calibers 5.56 Nato or 300 Blackout.
PSA Jakl Overview
The PSA Jakl is an extremely interesting gun in its own right. It has an interesting look and also functions using a piston-driven system.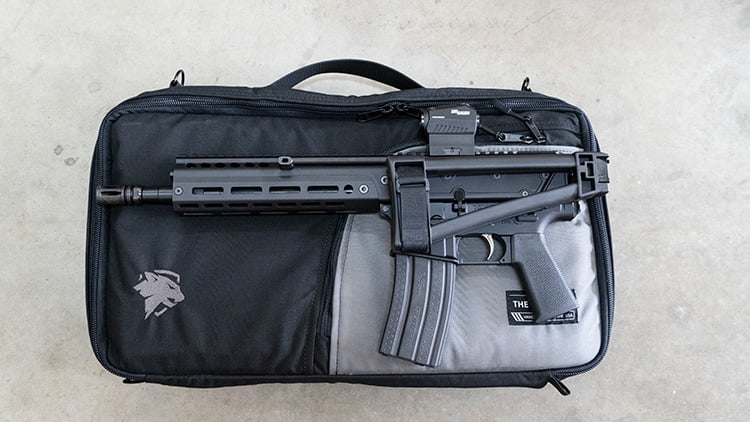 The premise of the Jakl was to essentially be the ultimate truck gun. We'll touch more on that in a little bit, but I think Palmetto did a pretty decent job in making a solid trunk gun.
Two notable features of the Jakl are a 10.5″ barrel and a folding stock.
Palmetto has now started to sell just 5.56 the uppers for the Jakl. But they do say .300 Blackout Jakl's are coming in the future.
Buying the upper allows you to slap the Jakl upper on nearly any standard AR-15 lower.
For the factory Jakl, Palmetto made one of their standard lowers and they put the Jakl logo on the right-hand side of the magwell and the other portions of the lower are essentially the same.
I'll talk about this gun in the standard configuration from Palmetto, starting with the safety.
Safety
The safety is a run-of-the-mill, mil-spec safety. It doesn't get much more plain Jane, than the safety standard mill spec.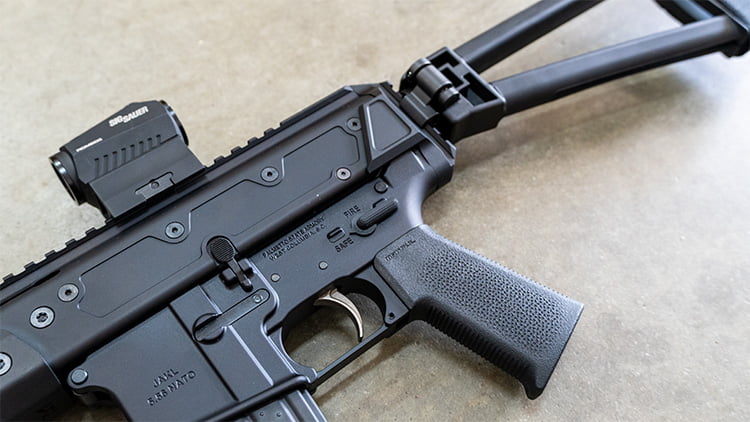 Also, since this is a standard AR-15 lower platform, it will take a Radian Talon safety or any kind of safety you like, such as the Battle Arms Development safety, it'll use it.
It's very easy to take down and you would do so in the same way if you were looking to change your AR-15 components.
Pistol Grip
One thing I do have a little beef with Palmetto on is they put a standard A2 pistol grip on Jakl, and I'm sure those are the cheapest, most inexpensive grips known to man.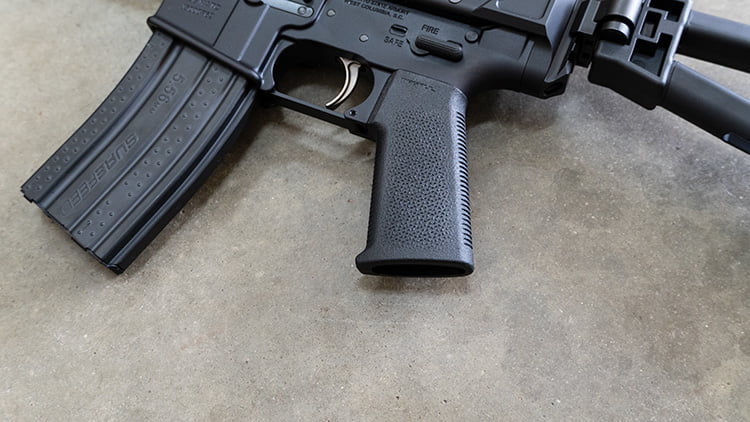 However, I hate them. I hate the little bump on the front of the grip and I had to change it immediately.
I immediately threw a Magpul SL grip on this thing, and it's perfect from there.
The JAKL will take most of the standard Magpul grips because this is a standard AR-15 lower.
Magazine Release
So once again, we're going through all these features and a lot of them, unfortunately, are the same for any other AR-15-style firearm.
But the magazine release is in the standard mil-spec spot.
You could put a bad lever on here, or any of the standard aftermarket AR-15 magazine releases that you so desire.
This one comes with a standard mil-spec and seems to do perfectly fine.
Magazine Well
The magazine well is what you would expect from a forged AR-15 lower, nothing great, nothing bad.
The Jakl comes with the standard Magpul, 30-round mag, and it funnels and feeds just fine. There's unfortunately not much to say about the magazine well here.
Bolt Release/Bolt Hold Open
Now, the bolt release/bolt hold open is a little different, because of the way that the upper was designed.
The upper is a bit wider than the lower, which is different than a standard AR.
Typically the lines of the upper and lower are pretty much in line so to speak with the upper and the lower.
In this case, the bolt hold open/ bolt release is in the same spot as a standard AR-15, but the paddle that you use to release the bolt is actually recessed into the upper.
It's just a little different and takes some getting used to. The Jakl doesn't have a standard charging handle, which I'll talk about next.
Charging Handle
The charging handle on the Jakl is ambidextrous. While, I haven't done it, because I am right-handed and I likely won't do it unless there's a demand to see this done, that's a pretty awesome feature for the wrong-handed people of the world.
I do believe there are some YouTube videos that cover how that's done.
The position of the Jakl charging handle is about halfway up the hand guard in the forward position.
You can pull the charging handle back relatively easily but there is some resistance on this bolt.
I don't want you guys to think that this is a very light pull-charging handle but it's probably equivalent to most AR-15's.
Keep in mind, that the PSA Jakl is a long-stroke piston gun. So there is resistance, but it's not like you can't overcome it.
The cool thing about the charging handle is you can actually pull the charging handle back and hit the bolt hold open with one hand in one swoop.
So you can actually pull to lock your bolt back with one hand and make it happen. You don't have to move the gun around and do all kinds of crazy acrobatics to make it happen.
Overall, I really like the charging handle. There's nothing really special about the knob other than to say it works.
One thing that took me a little while to find the answer before I purchased the Jakl was that it has a non-reciprocating charging handle, which means when you shoot this gun, the charging handle does not move.
So you can put your finger on it or however you hold your firearm and you get your finger around the rail, you don't have to worry about the charging handle coming back and pinching your finger.
Trigger
We're going to touch briefly on the trigger. Briefly, this is a standard stock trigger from Palmetto, which is a standard AR-15 trigger.
You can switch these out with literally any trigger I'm that I'm aware of. There's nothing all that special about the stock triggers.
It functions in the same way as a standard AR-15, even though the bolt's different, the trigger assembly and the entire lower is the exact same.
Barrel
The barrel on the Jakl is currently a 10.5″ long and chambered in 5.56, with a 300 Blackout model on the way.
The barrel features a 1:7 twist, which is the going twist rate for 5.56 barrels in 10.5″.
The muzzle brake has a thread pattern of 1/2×28 so any muzzle brake or muzzle device you want to add.
Gas Block
Let's go ahead and move on from there and let's talk a little bit about the gas block.
The gas block sticks just ever so slightly out of the front of the rail. It's a very clean and easy adjustment.
The gas block is exceptionally important if you plan to suppress this gun.
You are going to want to probably lower the gas to make this gun a little softer shooting once you add a suppressor, which I will do.
Issues
Some of the issues early on that Palmetto had with the Jakl were with this gas block.
There were some issues with the gas block and it came out in a certain position, you could twist it to a fifth position, which is the takedown position, and when shooting it with a suppressor the knob would shoot forward.
Here's a video of the gas block and them providing an update to fix this.
I ordered mine quite some time after this update. So mine has the updated knob and pretty much anybody reading this that's pondering, or purchasing the Jakl, will be fixed as well.
So they really don't have to worry about it, but it's just worth noting they had a couple of issues with the knob early on, but it's been rectified.
Stock/Brace Attachment
The nice thing about the Jakl design is that any brace or stock that attaches using a 1913 Picatinny rail adaptor will work on the Jakl platform.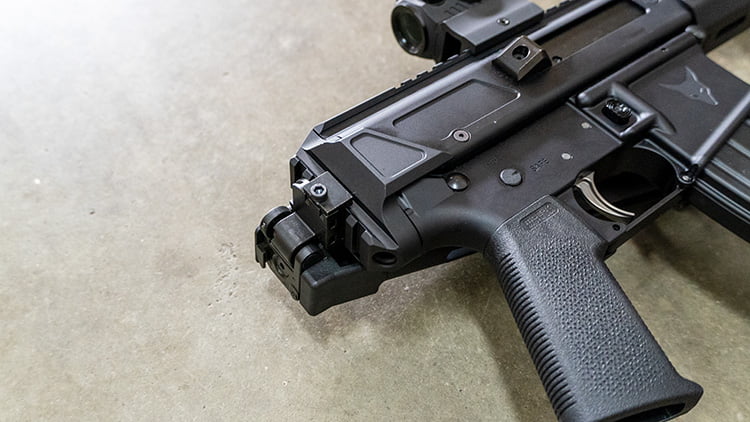 Companies, such as JMAC Customs make a handful of stocks and braces that would work well on the Jakl.
Folding Brace
PSA includes an SB Tactical folding brace which works great and does a solid job. If you have ever gotten one of PSA's AK-P you'll be familiar with this style of SB Tactical Brace.
So far I have no plans to change this SB Tactical brace to anything different. I could SBR the Jakl and put a full stock on it, but time will tell on that.
Weight
One of the few areas that the Jakl is a bit disappointing is the weight. The weight is a bit on the heavy side.
To me, the weight is somewhat unsurprising given the overall construction of the upper and the pistol design.
Pistol guns are typically a bit heavier because there is more to the piston system than a direct impingement system.
Configuration
The configuration of the Jakl was really designed to be a truck gun and as it turns out, actually IS a really solidly built truck gun.
It feels really solid in the hand, it is a little heavy, which is one of the few cons I have with this gun.
But overall setting it up has unlimited possibilities with the six, nine, and three o'clock MLOK positions and also the two available QD mounts that are in the handguard and one in the rear stock attachment.
Sights
You can put whatever optic you'd like on this gun.
Personally, I went for the Sig Romeo 5. It's just a very simple red dot setup for me.
I won't be putting any backup irons on this gun. Although if this is your main truck gun, I highly recommend putting some backup iron sights on them.
My personal favorite backup sights are the Magpul MBUS Pros.
In fact, if you want to look at all of the available options for backup sites, we did an article on the best flip-up sights.
Optics Mounting
Optics mounting is very easy because of the top rail system. It's a standard 1913 rail.
So if you wanted to go LPVO you could, but this gun is, to me, ideal for a red dot
I would go with a red dot option simply because this is a 10.5″ barrel 5.56 rifle. Palmetto State Armory has stated they are planning to release some .300 Blackout models in the near future.
Accessory Mounting
The accessory mounting for this gun are as good or better than any MLok-based AR-15 rifle.
The three standard (3,6,9 o'clock) positions are available on this 9-10″ handguard.
Mounting your Surefire, Modlight, or other weapon-mounted light or laser combination won't be an issue on the Jakl.
Shooting the Jakl
Time to talk about the bread and butter: shooting the Jakl.
So far I've only shot it unsuppressed. I will be adding a suppressor shortly, and I will be updating this article with that experience as well.
With that being said, I believe that this gun wholeheartedly was designed and should be shot with a suppressor.
So here's my little critique of shooting the Jakl.
It is wildly soft shooting for a 10.5″ gun. This piston from the factory is solid without a suppressor.
It shoots pretty dead on the money and doesn't have a lot of muzzle rise and overall it's a pretty fun gun to shoot.
However, there is a lot of muzzle flash, because this is a 10.5″ 5.56 rifle, so you're going to get a huge ball of fire and it's incredibly loud.
That may not matter to some people and in some wild worlds, people like loud guns and that's fine.
But personally, this gun to me was designed to be suppressed and I will be doing that I'll update this review and that's when I'll come back, show you some videos and do some comparisons.
But for now, I'll just tell you in writing that this gun is incredibly loud, but is incredibly fun, but there are some downsides.
To me, the massive fireball is somewhat of a downside just because it impedes your view and distracts you from your target a little bit, but as far as shooting it, the gun's great.
It's smooth, I have had no ejection problems, no rapid-fire problems. The non-reciprocating charging handle on the gun works great, reloading, a fresh magazine is easy.
That's really fun, takes a little bit of getting used to, because I'm not used to an AR platform having the charging handle in the front unless you've been shooting like the Brownells BRN-180 or the CZ Scorpion.
Overall, I really like the Jakl, and in fact, I recommend it, especially if you plan to suppress it, I wholeheartedly believe this gun was made to host a suppressor.
Shooting Suppressed
I recently decided to finally get around to fitting my Jakl with a muzzle device that will allow me to attach my Dead Air Sandman.
I'm going to go shooting with it this weekend and I'll report back my findings!
Carrying the Jakl
If you have a Jakl, you need a range bag, this wouldn't be a Lynx Defense article if we didn't recommend our range bags.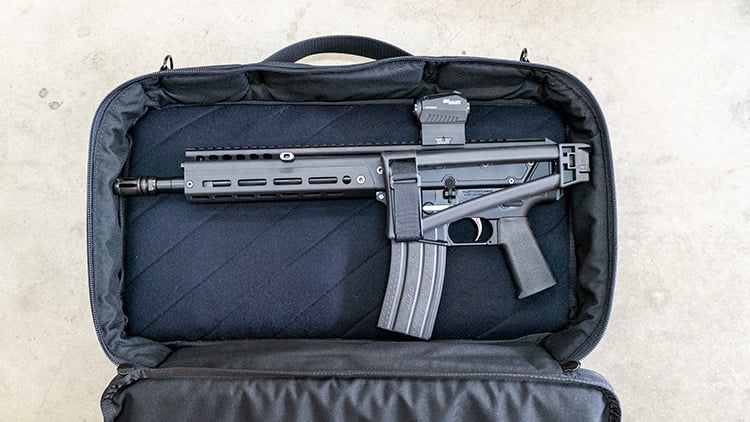 Any bag of ours would work great for this rifle. Personally, I would go for The Byte simply because the Bite is purpose-built for a 10.5″ gun with a folder.
It is literally its bread and butter and claims to fame. It's right there in that size range and it is extremely modular.
In fact, if you want to check out the Bite, here's a video with the Jakl.
PSA Jakl Ammo
The Jakl is currently only available in 5.56 but the .300 blackout model is in the works. For now, you can get some awesome 5.56 ammo here:
If you are running the .300 Blackout Jakl here are some good options for you.
PSA Jakl Final Thoughts
My final thoughts on the Jakl are this, this gun is fantastic and while the price point was a little disappointing for Palmetto, I can understand why it is that price.
You can tell a lot went into the development design of this upper. The metal, construction, and features that come with it justify the price point.
I know a lot of people were hoping that this gun would come in at about $700 to $800 but it ended up coming in right at $1,100.
I think Palmetto will have sales, blems, etc. but even at $1,100, I don't think you can beat this price.
The one thing I will say is if you go for the Jakl and its configuration from Palmetto, so you're using their lower with their upper, instead of just waiting for them to drop the uppers, you're going to want to upgrade their lower.
I want to, and I will. I'm not a crazy big fan of the mill spec forged AR lowers these days.
I didn't like the A2 grip. I had to change that immediately. I just think this gun could be so much more if Palmetto would come out with a custom billet style lower that they make specifically for the Jakl, I think it would be really cool.
Could be a nice upsell and I would definitely go for it if they did a billet lower of some kind with a little bit more styling and design than just a standard mill spec lower.
However, it does work well, I can't say that enough. I do recommend this gun. I think it'd be a good truck gun.
I have no questions that this gun is going to work well. Some people say they wouldn't bet on a Palmetto gun, but this one I'm good with.
I would definitely throw this into my vehicle as a primary truck rifle and I'd have no problem with that. I'll leave you with this: I will suppress it and I will report back.
If you want one of the best side charging AR-15's on the market today be sure to pickup the Jakl.
PSA Jakl Questions
Since the JAKL is such a new firearm many people have questions about the various ins and outs of the gun. Here are a few of the most common questions thus far.
If you have any questions please leave a comment below so we can help you!
How much will the PSA Jakl cost?
As of this, writing the PSA Jakl price is set at $1,099.99.
What is the PSA Jakl?
The PSA Jakl is a piston-driven purpose-built truck rifle. The gun features a collapsible arm brace and has no buffer system.
Is PSA Milspec?
No, but the forged lower of the rifle is. However, no one should be caught up on the term "Milspec" to determine a product's worthiness in 2022.
Civilian market firearms are developed far beyond military specifications and are often much better quality products overall.
Does PSA have a lifetime warranty?
Yes, their lifetime warranty also extends beyond the original purchaser. So you can buy a PSA product from an individual and still retain the lifetime warranty.