The Remington V3 Tac-13 has been highly sought after since it was first introduced. With the downfall of Freedom Group and the sale of Remington Arms, it has been almost impossible to find new Tac-13s. Well, I was lucky enough to get my hands on one of the latest production runs of the Remington V3 Tac-13 for this review.
About the Remington V3 Tac-13
The Remington Tac-13 is a shotgun designed and manufactured by Remington Arms. It is a compact and highly maneuverable firearm that is based on the company's popular Versa Max shotgun platform.
The Tac-13 is classified as a "firearm" rather than a shotgun under US law because it has a 13-inch barrel and is not designed to be fired from the shoulder. It is instead intended to be fired from the hip or with a pistol grip, which makes it well-suited for close-quarters combat and personal defense situations.
The Tac-13 features a lightweight receiver, a cylinder bore barrel with a front bead sight, and a magazine capacity of 5+1 rounds. It also has a Raptor pistol grip and a Shockwave Technologies Raptor grip-enhancing feature that helps to reduce felt recoil.
Overall, the Remington Tac-13 is a versatile and powerful firearm that is well-suited for self-defense or law enforcement use in close quarters or in situations where a full-sized shotgun may be too unwieldy or impractical. However, it's important to note that laws governing the use and ownership of firearms vary by jurisdiction, so it's essential to check local laws and regulations before purchasing or using a Tac-13 or any other firearm.
Features
Features make all the difference in the world when it comes to buying a firearm. The Remington V3 Tac-13 is no different. Time to dive into the feature set of this gun.
Grip and Ergonomics
The V3 Tac 13 features a birdshead grip that enhances the overall grip and feel of the gun. The grip design is partly due to keeping this firearm classification a "firearm" and not a short barrel shotgun.
The birdshead grip is very similar to the Remington Tac-14 and functions almost the same.
One unique feature of the grip is it has a QD swivel mount hold molded directly into the grip frame. The only downside is there isn't one on the upper end of the firearm so you'll need to find some other attachment method.
The foregrip has a build in handstrap that can be adjusted easily using a tri-glide and an attached elastic webbing holder.
If you don't like the strap you can remove it but there will still be slots in the foregrip where the strap was. Personally, I plan to leave it as I don't see this gun as something I'll shoot on the regular (more on that later).
Action
Unlike the pump action version, the Remington Tac-14, the Remington V3 Tac-13 is semi-auto.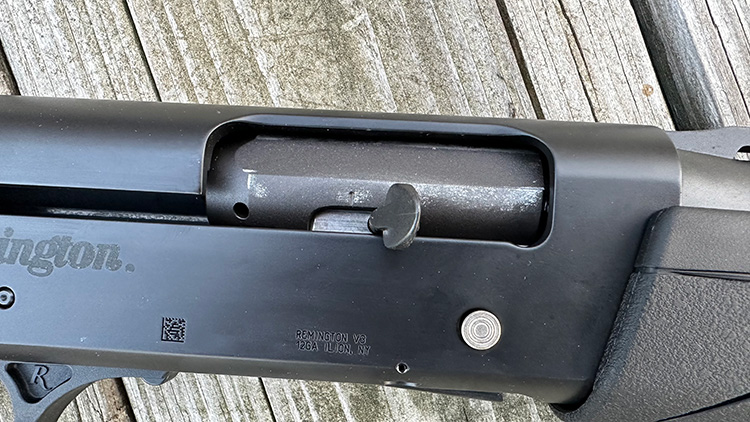 The action on this gun is extremely easy to rack and very little grit or resistance. Remington did a solid job making this action smooth and pain free to use.
The charging handle sticks out decent enough you can easily grab it with a glove on.
If you don't love the charging handle there are other options to swap it out, some of which RemArms makes themselves.
Trigger
Some might ask why we both mentioned the trigger in a review of a 12 Ga "firearm".
Well we felt to be comprehensive we will touch on it, but there's not much sense in being a trigger snob on a shotty, err, umm, "firearm".
A slight take up to the wall strong heavy break will take your firing pin home to the primer.
For what this gun is, trigger works great and I'm satisfied.
Safety
The safety is where you'd expect it, tucked nicely behind the trigger molded into the trigger well.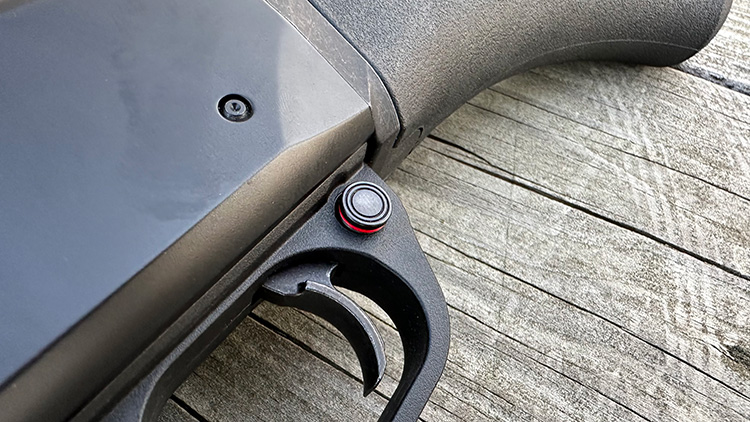 It's got a fairly large surface area making pressing it with gloves a bit easier. The classic red ring side indicates a clear fire/safe setting.
Sling/Carry
As I mentioned in the ergonomics section this gun does come with a QD mount adapter built into the grip.
There is no QD attachment at the front of the gun but I do want to point out the firearm does come with a picitanny mount built in. If you just got your brand new out of the box and don't see yours, don't panic.
Keep looking in the box. For whatever reason Remington doesn't install it at the factory you'll have to use the provided bolt and hex key to pick the side you want it on, which is likely why they don't send it installed from the factory.
Accessories for the Tac-13
Surprising for a gun that hasn't hit the production floor of RemArms in some time a number of accessories are still available for it.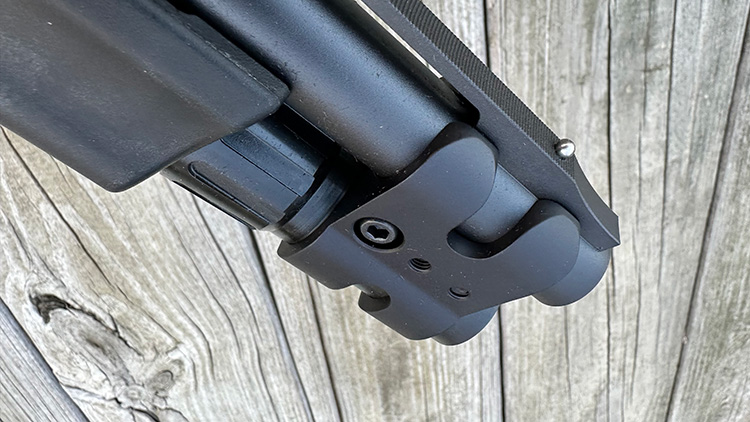 Grips
Before all of the crazy brace non-sense started you could get a really cool pistol brace from SB Tactical for your Tac-13.
Now they are hard to come by but if the ATF gets put in check on the pistol brace ruling you may be in luck and find one to extend your Tac-13 purchase.
QD Front Sling Attachment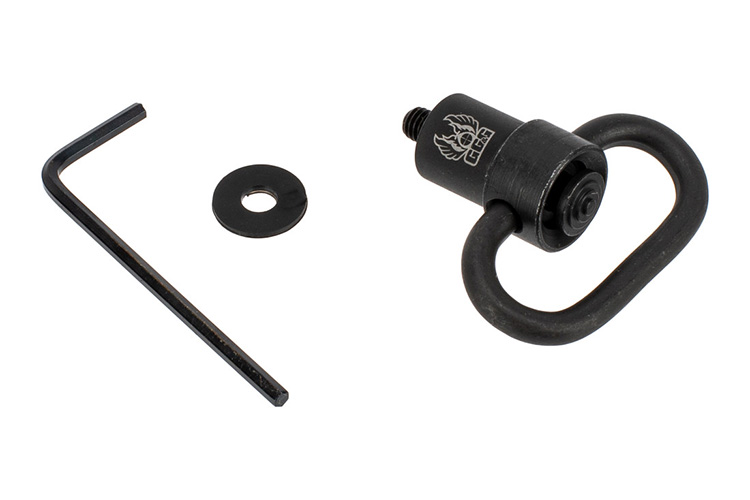 The QD Front slight attachment solves the issue of not having a QD front sling mount and relatively easily.
It screws into the preexisting hole for the picitanny rail and provides you an extremely easy sling mount attachment.
Light Mounts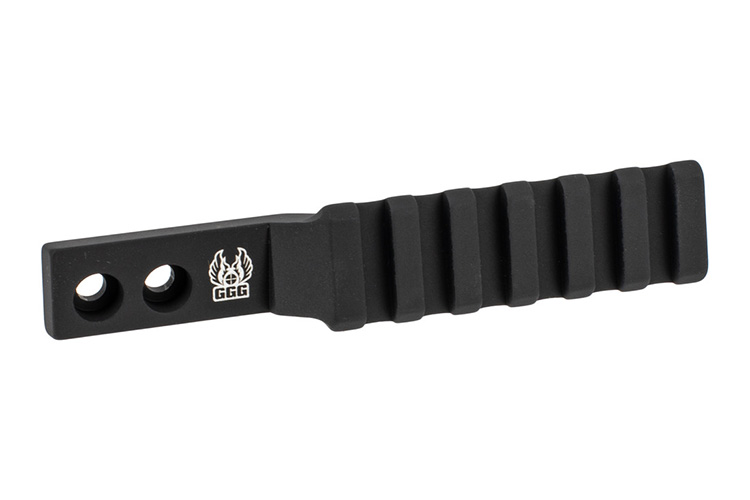 The GG&G flashlight cantilever mount is perfect for rigging your Remington Tac-13 with a flashlight.
With it's cantilever forward picitanny rail it gets the light up and out of your way making for a great use experience on the Tac-13.
Ammo Holders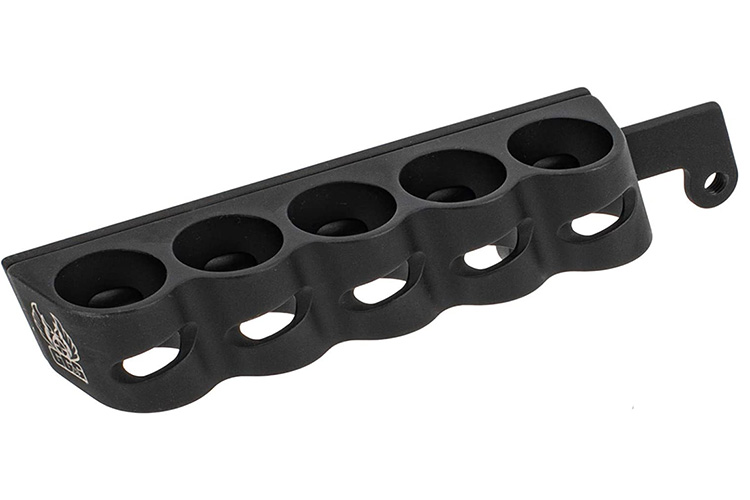 Ammo holders are key to quick reloads unless you plan to carry old school bandoliers you may want to invest in some ammo holders for the side of your gun.
Some may even call these side saddles.
Shooting the Tac-13
This is the section where I talk about how it's the best thing since sliced bread and that there has never, ever been a better gun to shoot ever in the whole world.
Remington Tac-13 Ammo Issues
Well, I'm a straight shooter. This gun may be ammo sensitive. This is a test size of one so if you have a different experience hit the comment section below and add your 2¢.
In my experience, I shot two different brands of 00 buckshot. The first was Winchester Defender that clocks in at 1145 FPS. The Winchester Defender shot great when it came to accuracy, low recoil, and no massive fireball. However, it did not want to cycle the gun. That's a pretty big negative for a semi-auto firearm. I want to add that this ammo cycles perfectly through my Benelli M4.
Next, I shot the Hornady Critical Defense 00 buckshot and it clocks in at 1600 FPS. This round cycled the gun perfectly but had much more recoil a massive fireball but the accuracy was still spot on with a significant amount more force.
I went on to try low recoil buckshot and it performed great. The fact that it sat right at 1,200 FPS is probably the root of its success.
I also had to be through and try slugs which performed great and are reasonably accurate out of this really short firearm.
Final Thoughts Remington Tac-13 Review
The Remington V3 Tac-13 is still a hard gun to get your hands on but it is a fun gun to shoot and definitely a looker.
While the price tag for the Tac-13's are a bit high for my liking for a product such as this, aka one that I won't shoot often but love to have as a house and/or truck gun.
This is a quality product that will last you for years to come as long as you maintain it by cleaning the firearm after use.
If you can find one sub-$1,000 don't wait for a second to scope it up, you won't regret it one bit.
FAQ's
Is the Remington TAC-13 still made?
Yes, it has been on pause while RemArms was purchased during the sale of all the Freedom group assets.
How many rounds does a Remington TAC-13 hold?
The Remington V3 Tac-13 has a 5 shell capacity.
What is the TAC-13 based on?
The Tac-13 uses a lot of the Versa Max technology but in a small compact package.