Needless to say, I'm a huge fan of Ruger firearms so when the chance to review another popped up I jumped! Now up for review is the Ruger Security 9. This gun has been around for a number of years now and has a somewhat rocky past. Let us dive in!
History of the Security 9
If you aren't familiar the Ruger Security 9 was released in late 2017 and the intention of the pistol was to replace the Ruger SR series of pistols and the LCP II. The Ruger SR series was later discontinued in 2019 but the LCP series lives on.
The Ruger Security 9 has been reported to have a few issues namely with feeding and ejecting.
This is likely why the LCP series has remained active and has seen a recent model addition, the LCP MAX, in June of 2021.
But it's not all doom and gloom for Security 9 so let us talk about its features.
Ruger Security 9 Features
The Security 9 has a decent set of features for a sub-$400 pistol. First I'll talk about the grip and ergonomics of the Ruger Security 9.
Grip and Ergonomics
The grip and ergonomics of the Ruger Security-9 are probably my favorite part of the gun, overall.
I like the overall grip texture and think they did a good job designing the grip frame.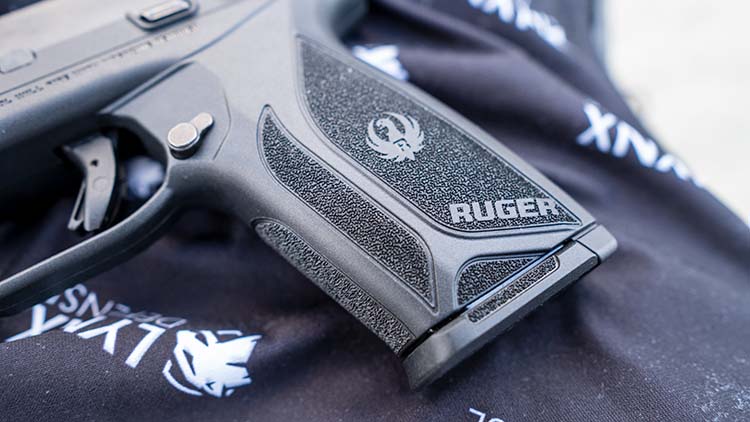 The texture of the grip is not overly abrasive so if you like aggressively textured grips, you may want something a little more than this.
I think it sits in the hand really well and you're able to establish an easy master grip on the gun.
I was surprised at how good the gun felt in the hand.
The one thing I will say about this grip a lot of handgun manufacturers now are using polymer frames, so each of those is a little different.
Ruger uses glass-filled nylon in this frame, which is a type of polymer so it falls under that category.
However, Glock uses a proprietary formula that doesn't include glass filler. You can definitely tell a difference between this frame and a Glock and not just because of the design or because of the feel, but the actual quality of it. You can feel it in your hand.
It's a little hard to explain until you put your hand on it.
Now that's not to say the Ruger Security-9 feels like trash. It doesn't feel bad, but you can tell the difference.
It's kind of like putting a steel-framed gun in your hand and putting a polymer gun in your hand.
It's not to say one is better than the other if you prefer steel over polymer or vice versa, it's just simply they are different.
Overall, when it comes to the grip and its ergonomics, I actually like it a lot.
The safety, I'm not crazy about but we'll get to that. But the frame itself, the trigger guard and the rail, all seemed like they were well designed and extremely thought out.
So props Ruger on that.
Sights
Now let's talk about the sights on the Security 9 a little bit.
I don't know of any aftermarket sites for this. That doesn't mean there aren't any I'm sure there are.
Hiviz would be the first place I'd look or at AmeriGlo. They do have a screw in the top of the rear sight.
The front sight looks like it does push left and right so it very well could be changed.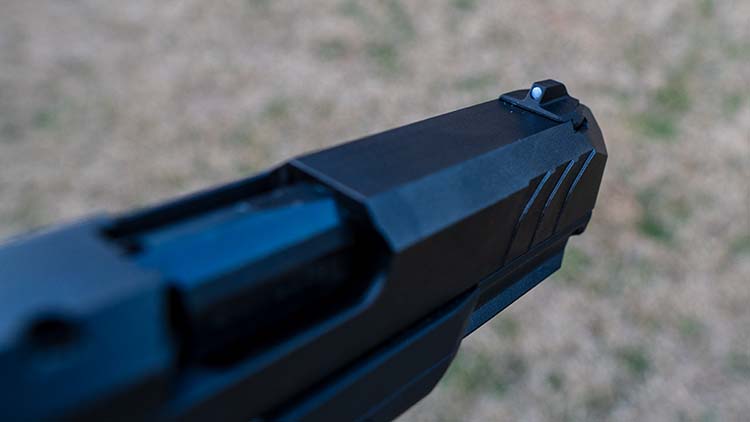 The front sight is just a regular circle dot. These do not come stocked with night sights. At least this standard full-size Ruger Security-9 does not.
The rear sight has a U-shaped design with the white outline of a U. While I don't hate the sights, I'm not a big fan of having any markings on the rear sight at all.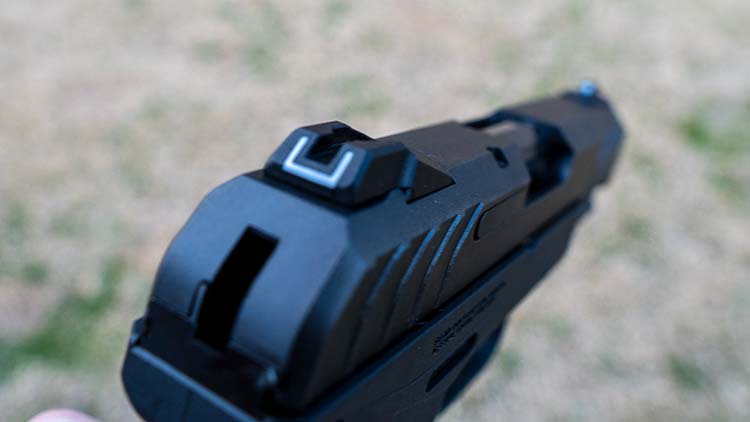 That is a personal preference in mind. I've made that very clear in a number of pistol reviews. That goes for Glock, that goes for literally any of my favorite guns.
Sometimes I just don't like the way manufacturers do stock sights and that is a personal preference, but a lot of people might like these sights from the factory.
Personally, I do not. So they are what they are, they are definitely polymer and they seem durable enough, but they are plastic sights.
Ruger Security 9 Controls
Moving on to the good stuff let's discuss the controls of the gun. There are essentially four major controls on the gun.
First, let's talk about the safety.
Safety
The safety is a non-ambidextrous safety. It sits on the back left of the gun and it is extremely manual.
It's very small. I don't like pistol safety, so I'm not going to say much good about this safety at all.
Even if you like pistol safeties, you're probably still not going to like this one.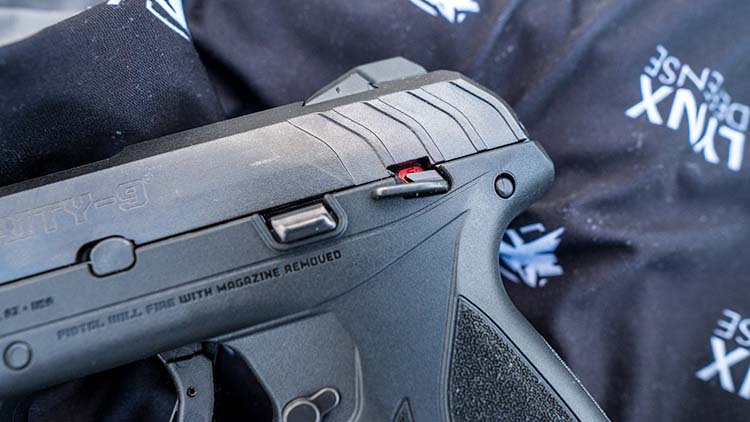 You can't easily move it up with your thumb into the safe position when you're holding it in the shooting position.
You definitely have to break your grip to put it on safe. It's very obvious when it's on fire, there's even a notch put out in the slide where the safety goes up into to stop the slide from moving back.
Pulling it down is actually much easier.
So if you carry the Ruger Security 9 in a holster on safe, pushing it down, presenting the gun in the shooting position goes okay.
There is a little red dot in there even though it's hard to see, but it's there.
Overall, I can't give them props on the safety, the design features, or anything in that regard.
Just being completely honest about it and taking that for what you will as I flat out admit I don't like pistol safeties.
Magazine Release
The magazine release on the Ruger Security 9 is in the right spot.
It's right where the trigger guard meets the frame. It works fantastic, really.
Even an empty magazine will shoot straight out of the gun when you depress the magazine release.
The one con I will say is it's a bit small but I don't have any problems or issues with the function.
It works well, no problems. It's metal and it works so what more do you really want out of a magazine release other than potentially, maybe a little bigger size.
Overall, decent magazine release.
Slide Stop
This is one thing that is okay at best.
I feel like Ruger just kind of hodgepodged through and they're just not well done.
It's strange to me that Ruger let this through, but nonetheless, the slide stop release is extremely difficult to use to pull to release the slide.
It works relatively easy to engage the slide lock.
But it's near impossible to pull down if there is an empty magazine in the gun and the slide is in the lock position.
It's non-ambidextrous and it's small.
Its position is good since it's easy to get to with my right thumb. It is a small thin piece of metal.
But I just feel like that could have had a little more polish.
Trigger
I know, I know, I've been very hard on this pistol so far, but the trigger is actually where I have the least issue on the controls of this gun.
It's almost like I didn't want to like it, but I can't really help it. It is on a pivot system.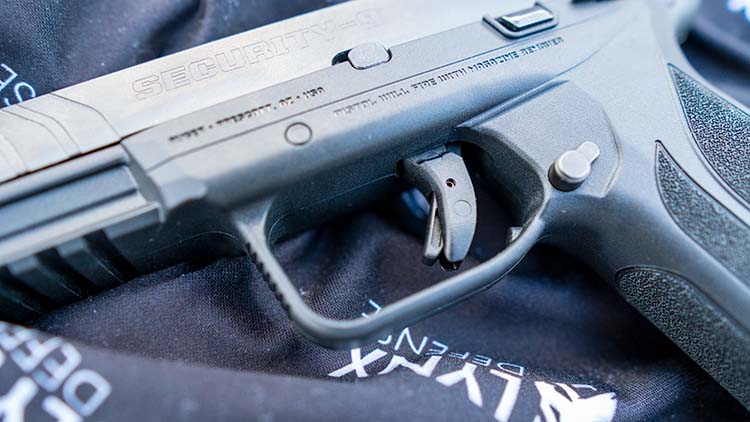 It has a safe action trigger very similar to a Glock. You depress the middle, your take up is clean.
Your break's a little squishy, but your reset is back to the wall and overall, it's just a pretty decent trigger.
I really just can't be too upset with the function of it. There's a very little takeup. The only thing I will say is the wall's not very defined. It's a little hit or miss. You don't hit a clean wall with this, but I don't hate it. I don't hate the trigger at all. Could it be improved?
Yeah, sure. Probably. But so can the Glocks and the rest of them. So overall, the trigger's pretty decent.
Ruger Security 9 Range Bag
As always we have to mention the Lynx Defense Pistol Range bag for the Ruger S9.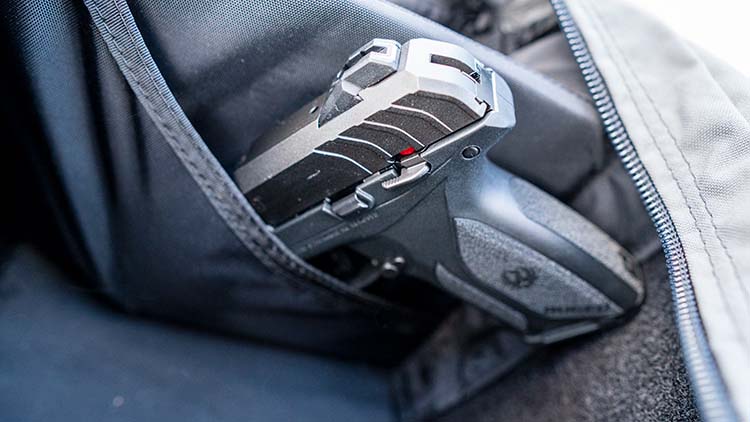 The pistol range bag and the concord both will be perfect range bags for your needs. The Ruger Security 9 is a full-size gun but it's not a huge gun for a full-size pistol.
Ruger Security 9 Aesthetics
The overall looks are actually pretty decent. I am not crazy about the looks.
It has a very blocky, very Sig kind of feel, but it definitely isn't ugly.
It's not an ugly gun in the slightest, they did some very nice design work on the frame.
The Ruger logo's in the middle of the frame, Security-9 is actually on the side. The only thing I'm not crazy about is the name of the gun, I actually like the SR-series names better.
The front of the gun has some very nice milling.
Overall, it's a good-looking gun. No complaints about the aesthetics at all.
Shooting the Ruger Security 9
So shooting this gun is kind of iffy and the reason I say that is there have been some issues with the Ruger Security-9.
We'll go into a little detail about those, but let me just tell you about the shooting experience.
I'm going to put the issues aside to actually discuss the shooting of the gun, and then I'll discuss the issues in the next section.
Shooting of the gun is actually relatively smooth. When it's functioning great, it's a very nice flat shooting gun. There's not a ton of muzzle eyes and it feels pretty good in the hand.
So overall, I don't mind shooting this gun with the exception of the issues mentioned below. I did get a couple of failed feeds on some just standard run-of-the-mill Blazer Brass 115gr 9mm round nose.
I feel like that's about as generic ammo as you can get. Any average gun should feed that just fine, but this one for whatever reason wanted to have a problem.
I wasn't limp wristing, it happened to multiple people with multiple magazines. So the one thing I will say is, it is a fun gun to shoot as long as it's functioning and of course, I'll address carrying this thing in my conclusion below.
Issues with the Ruger Security 9
One of the major Ruger Security 9 problems I've had personally is the failure to feed/ejection issue.
This is a pretty well-known and documented issue and I'm not sure why Ruger hasn't addressed it. The gun was released in 2017 and my particular Security 9 was purchased in 2020.
Ruger Security 9 Ammo
I used several different types of 9mm ammo in the Ruger Security and while I did have a few feeding issues I don't think it was related to the ammo I was using.
Take a look at some of the best deals on range and defense ammo available currently.
Ruger Security 9 Review Conclusion
Okay, so I know this review hasn't been sunshine and roses and if you own a Security 9 please don't feel attacked.
You may have zero issues with yours and that's great to hear! As a big fan of Ruger, I'm just really disappointed in my Ruger Security 9, even though I know for a fact it's not just me.
My conclusion is twofold as I'll address this as a concealed carry gun as well as a range gun.
I absolutely cannot recommend the Ruger Security 9 as a concealed-carry gun.
There's just no way with my first-hand experiences with the gun that I would bet my life on it so I can't, in good conscience, tell you to do the same.
However, for a very inexpensive and ergonomic range toy? I have no issue recommending the Ruger Security 9.
Keep in mind you still might have reliability issues but I don't think ruling this gun out completely is totally fair.
A very similar gun to the Security 9 but in a fun, spunky caliber is the Ruger 5.7 which we did a full review on.