The Ruger SP101 is probably my favorite Ruger Revolver, is it the most practical? Well, that all depends on what you plan to do with the SP101.
Is it an everyday carry a concealed gun? Maybe, maybe not, that's for you to decide but let us dig into this Ruger SP101 Review.
About the Ruger SP101
The SP101 was introduced in 1989 as the smaller frame counterpart to the GP100 and comes in a number of different caliber configurations.
The five-shot, .38 Special .357 Magnum, and 9mm are some of the options. Another is the six-shot, .327 Federal Magnum in the .32 H&R Magnum. There's also an eight-shot, .22 Long Rifle version of the SP101.
Size/Weight
The size and weight of the SP101 are actually really good for a revolver. The interesting part of this gun is the fact that the calibers that it's chambered in, namely the .357 Magnum and the .38 Special make it perfect for defense, personal defense, as well as, medium-size game, predator defense.
That being said, the three-inch model is right around 27 ounces. There's also a 4 1/5″ model that comes in at 30 ounces.
The weight of the gun actually helps reduce the recoil but not too much considering you can load this with a .357 Magnum round.
Now, if you load it with the .38 special, depending on if it's +P or not, will determine your recoil on this revolver using that round.
I really enjoy the three-inch model because you can shoot it and there's not too terribly much recoil and it's not overly heavy.
You can conceal the Ruger SP101, it's not too heavy but it's definitely going to have more weight to it than your typical Glock 19's or your SIG P320's or your P365's.
It's just going to be a heavier gun than anything in the polymer world frame.
Frame
The Ruger SP101 frame is a cast steel frame. The frame of this gun feels really solid.
The stainless steel of it is very elegant and provides a very nice, good feel, solid feel, to the gun.
Caliber Options & Barrel Length
So, as we mentioned earlier, the following calibers are available:
.38 Special
.357 Magnum
9mm Parabellum
.327 Federal Magnum
.32 H&R Magnum
.22 Long Rifle
Each caliber option has a different capacity in the cylinder, the first three are five-shot, the next two are six-shot and then, of course, the .22 is an eight-shot.
As well as the capacity differences, there are also barrel length differences. You have 2 1/4″.
You also have 3 1/16″ and 4 1/5″.
The .357 Magnum model is the same as the .38 Special model because it accepts multiple calibers.
Capacity
The capacity of the .357 Magnum Ruger SP101 is a five-shot cylinder. The other variations include the .327 Federal Magnum, as well as the .22 Long Rifle.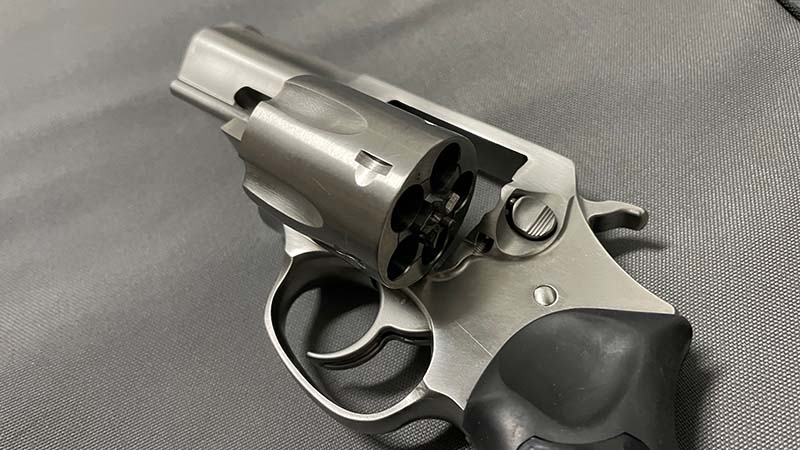 The .327 Federal Magnum is a six-shot revolver, whereas the .22 Long Rifle is an eight-shot revolver.
Cylinder Latch
The cylinder latch on the SP101 is surprisingly really intuitive.
The button press is very simple, it's very clean and the cylinder pops right out when you press it.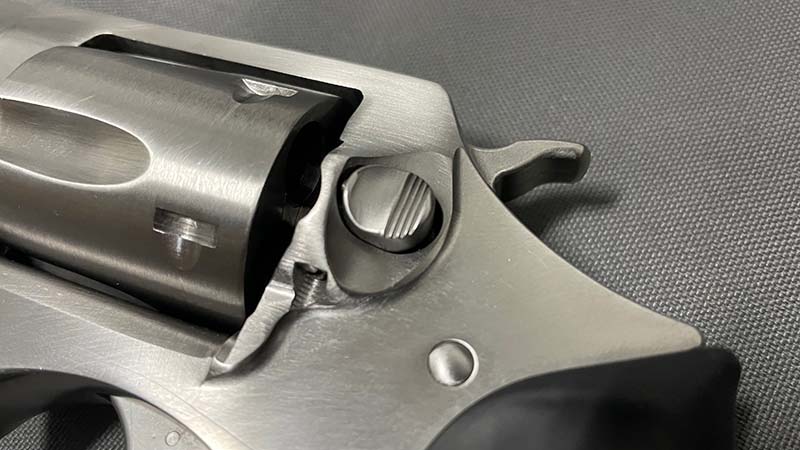 Just a quick depress and punch the cylinder and it slides right out. The one thing I do like about the cylinder is the fact that you can just as easily throw it back in, like you're in a Western and it really lets you live the revolver lifestyle by throwing that cylinder back into the gun with just a flick of your wrist.
Sights
The sights on the gun are like most revolvers, nothing crazy.
You have your front post, which is just a standard black pinned front post. The rear post is actually a part of the frame of the gun and you can get a pretty easy, clear sight picture, especially when you have your hammer cocked.
Overall for a revolver, I like the sights. They obviously don't really compare to any of the Glock, Trijicon or any of the crazy sights on your polymer guns but for revolvers, these actually come through pretty well.
Trigger
The trigger on this is a double-action trigger, you have a long pool and then you have a short pull.
If your hammer's cocked (single action), you have a very, very smooth, very clean, very crisp break and it's almost seamless.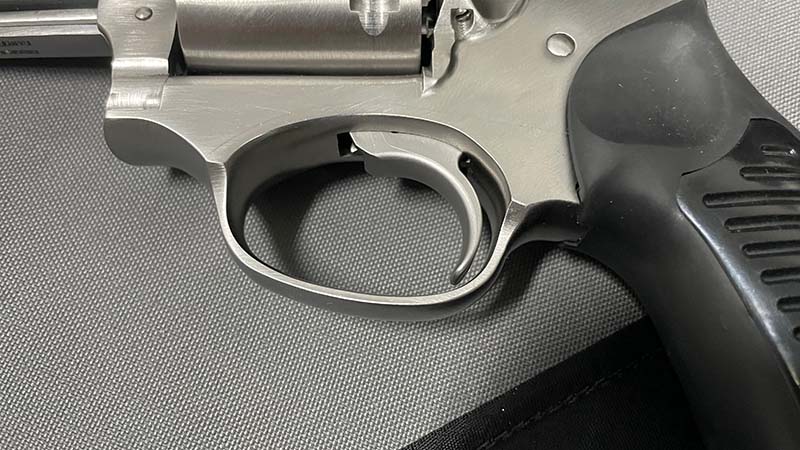 Now, if you're using it in the double-action capacity where your hammer's already down, it is a long, clean, strong pull and the break is the exact same spot it would be in single action, you just have a much longer pull.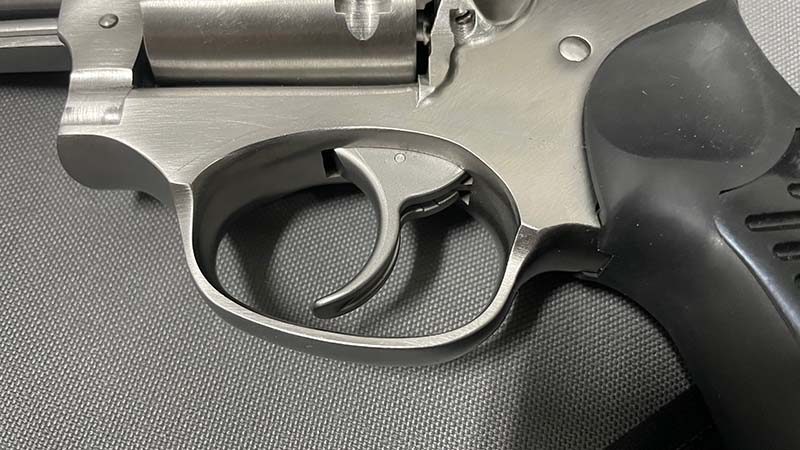 Overall, the trigger's really good. I like the trigger, especially in the single action but it also works flawlessly in the double action.
Hammer
The hammer on the gun is nice. It does have a good textured area for your thumb to pull back, to get it to the single-action stage.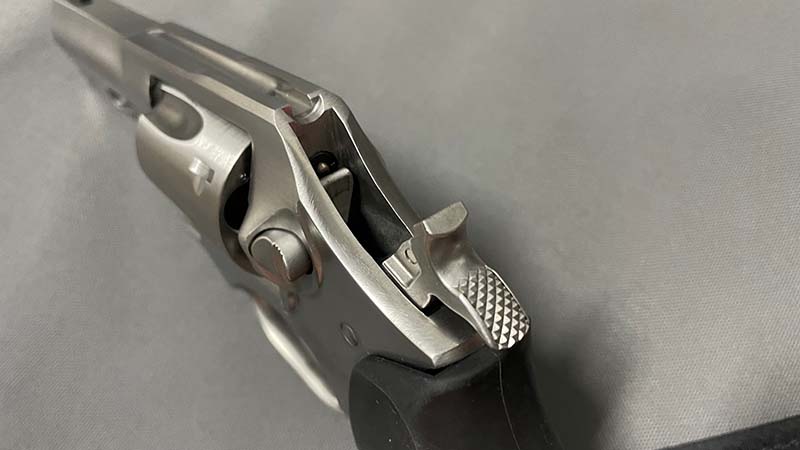 It drops cleanly, it works flawlessly and it's very smooth. There's no spur, there's no barring on the pullback.
Overall, the Ruger SP101 hammer is great.
Grip
Like with most revolvers, you can switch the grips out. There are plenty of aftermarket grips out there. for the Ruger SP101.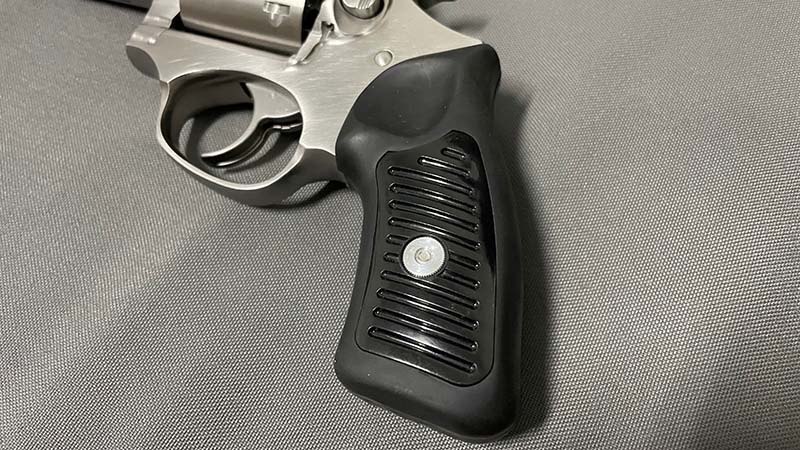 The standard grips the SP101 comes with are more than adequate to me. It's almost a completely rubberized grip except for a small area that's similar to a plastic panel.
Overall, I think the grip works fine. I personally won't be changing these out.
One thing to note about these grips is the left side does have an indention for your thumb. The right is just completely solid and seems to be perfect for my particular use.
Now, some people might not like these grips and if that's the case there are other options out there for you.
Aesthetics
The overall aesthetics of the gun are really good. The Ruger SP10 is a completely stainless steel gun.
It looks great, it shows great and overall, it's a fantastic-looking revolver. The black accented grips really add a nice touch to the mostly silver gun.
Overall, you have an almost completely silver stainless steel aesthetic. This gun, to me, is the epitome of a modern revolver. Of course, this is not your cowboy gun but it's not trying to be.
I think that's very important that you distinguish these two and that's where the Ruger SP101 really shines.
Shooting
Shooting the SP101 is an absolute blast. The first time I ever shot one, I was not big on revolvers by any stretch.
Didn't even own one but a friend of mine let me shoot his SP101 and I knew from that point on, I had to have one.
I have the three-inch model and, in fact, he bought it for me as a present for my son's birth. And I will eventually hand this on to him as a family heirloom. This gun is a solid gun that I know is going to last forever. Shooting this thing is just beyond fun.
Do I want to shoot all day? Personally, no. I just don't think that's practical because I'm not going to carry this.
Is this a gun I would take to the range? Every single time. Yes, absolutely.
I think that having this gun is so important to me because it really gets to the roots of firearms and firearms ownership and where we come from, as far as technology in the firearms world.
I personally love the SP101. Ruger did a fantastic job on this and I highly recommend anyone buy one.
Price
Talking about the price, it tends to fluctuate right now.
They're anywhere from $500 to $1,000. It really depends on where you find them.
You can find them used all day long on places like guns.com.
They really are a solid gun. I don't know how many Ruger is putting out right now but I do know that they are extremely popular.
So when they do release the new ones, they're relatively hard to find but you might be able to pick one up at your dealer.
Ruger SP101 Final Thoughts
My final thoughts on this gun are like I said earlier, it's a fantastic gun.
If you are new to revolvers, this is where I would say start. This gun is so nice that you can pick it up, shoot it and have fun with it.
You can carry it, it's a great carry gun. It's not overly heavy but it will also do everything you need it to do.
I would recommend this gun to nearly anyone and I am a Glock polymer-based gun guy.
But this gun has such a good, solid base and place in the market, if you don't have one, I don't know why.
So if you're on the fence and you're not sure if you want one of these, grab one. You won't regret it, you won't sell it, and you'll hold onto it for the rest of your life. If you aren't convinced you can take a look at our list of best revolvers.
Take a look at all of our Ruger firearms reviews including the latest Ruger 5.7 review.