One red dot sight that has been on the market for some time now is the Vortex SPARC AR. The SPARC has gone through a number of different versions and changes but is a solid option to date!
Vortex is well known for its optics but mostly for its magnified optics. They are well known in both the hunting world and the tactical space for their LPVO's, like the Strike Eagle or Crossfire II.
Time to dive into the Vortex SPARC AR review!
First Impression
When you first lay eyes on the Vortex SPARC AR it's a very clean and streamlined red dot sight.
Most of the SPARC ARs you'll see will be wrapped in their plastic protective housing.
The overall look of them is extremely pleasing and balanced. You can tell Vortex really wanted to make a clean and fuss-free design with the SPARC AR.
Materials
The type of metal the SPARC AR is made out of isn't directly listed on the Vortex product page but it's clearly an anodized aluminum likely the 6065 aluminum if I were a betting man.
That aluminum is wrapped in a small cover that includes lens caps that I'll talk about in more detail later.
Weight
When you first pick up the Vortex SPARC AR the first thing you'll notice is the weight.
Not in a bad way but naturally you're going to do that like move where you bounce it up and down in the palm of your hand and make that "Hmmm" noise and say "Not bad". Don't lie, we all do it.
The weight comes in at 7.5 oz which is extremely reasonable especially when you compare it to a direct competitor like the Sig Romeo 5 which comes in at a little over 5 oz.
Reticle
The reticle on the Vortex SPARC AR is a 2 MOA red dot. The reticle is crisp and clear and doesn't cover too much of your target.
Red dot reticles are pretty boring because they are literally just a dot. But I think it's important to cover because you should know how crisp your dot is on your red dot sight.
If it has any haloing effect or what I call pixelation you likely won't like your dot long-term.
Fortunately for the price of the SPARC AR, it's a really solid purchase and the dot is extremely crisp.
Dot Adjustment
The SPARC AR has been around for a good while now but like most red dot sights this dot adjustment is a turret-style adjustment with both windage and elevation.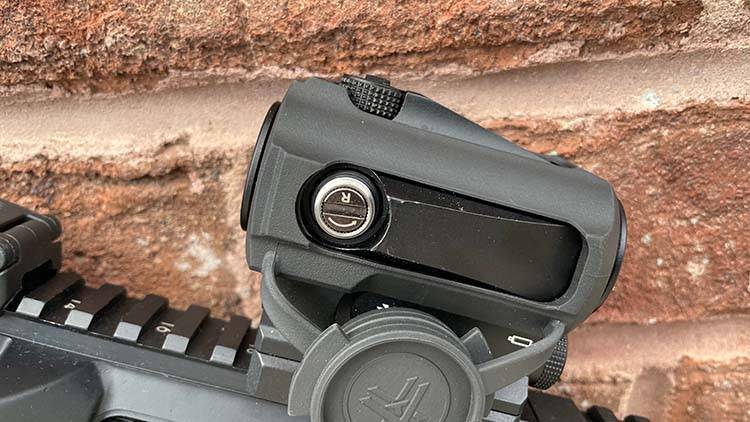 The turret caps not only protect your adjustment turret from you making any erroneous dot adjustments but also allow you to turn them over once you unscrew them and use them as turret adjustments.
Power Source
The power source is one that is somewhat unique because it uses an extremely common battery type.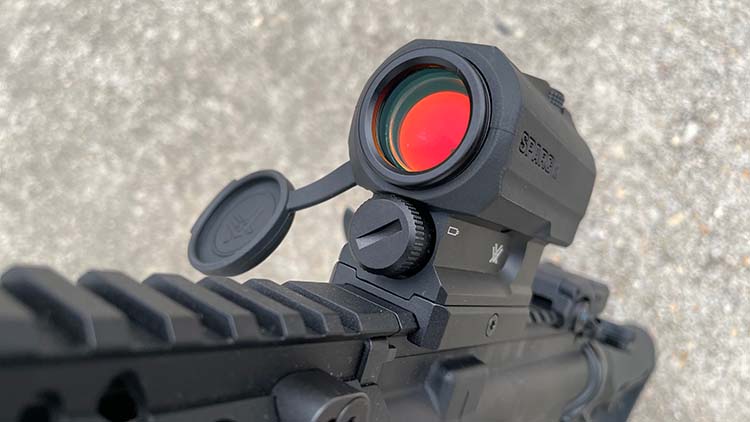 The SPARC AR uses are single AAA battery which is placed into the mount directly under the optic.
The front features a small cap that almost exactly mirrors the adjustment turret caps.
When it comes to battery life it does claim a 50,000-hour battery on a single AAA battery and does have auto-shutoff after 12 hours.
Durability
While we don't have an explicit durability test I will say that the all-aluminum construction of this optic is clearly on par with the other red dot sights in its class.
Not only does the aluminum seem solid ever SPARC comes with a soft plastic cover with built-in lens caps. While I really like the cover I'm not crazy about the lens caps.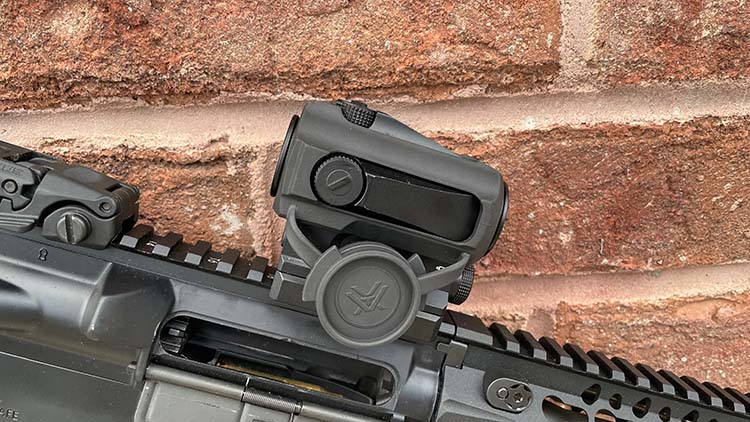 The lens caps are built into the cover and the only way to remove them is to remove the cover itself or to cut the lens caps off completely.
The lens caps are made so that when you bend them back they attach to each other when not in use, therefore, keeping them out of your way.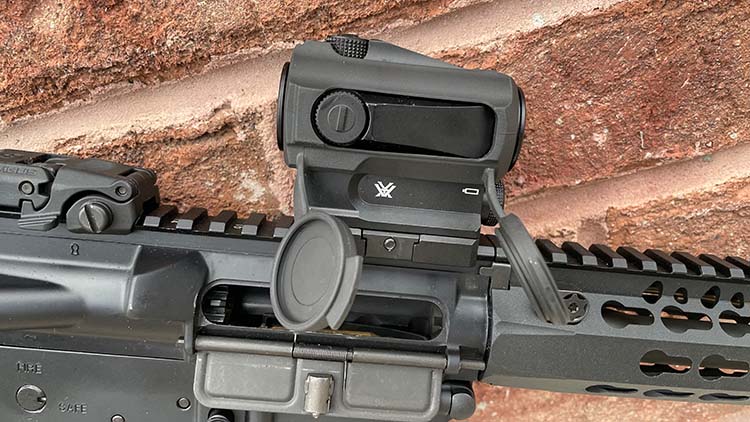 Sight Picture
The sight picture is good on the SPARC AR but it's not great. It depends on how you like your red dot sights.
The walls of the optic are not overly thin but they aren't big and bulky either. The walls clearly give the optic some added strength and durability.
Even though I'm not in love with the sight picture it still works just fine and is more than sufficient.
Operation of the Vortex SPARC AR
The Vortex SPARC AR red dot sight operation is extremely clean, intuitive, and simple.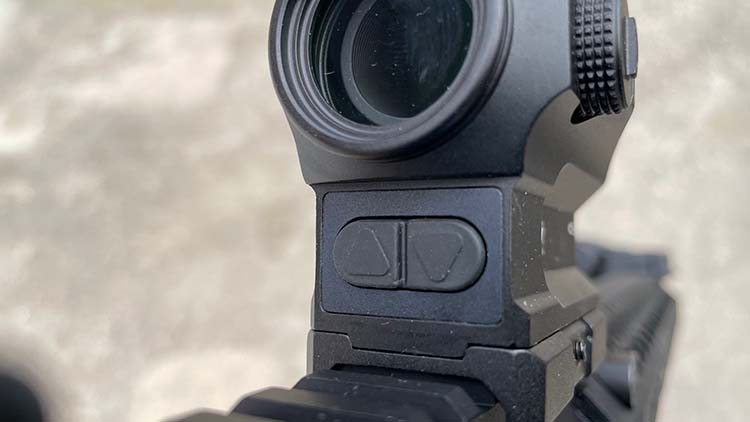 To turn the red dot on all you have to do is press the up button on comes the sight.
There are two up and down arrow soft membrane buttons that allow you to turn the SPARC on and off as well as adjust the brightness level of the SPARC.
Vortex SPARC AR Review Conclusion
So in conclusion the SPARC AR has been around since 2019 and it has gone through some changes.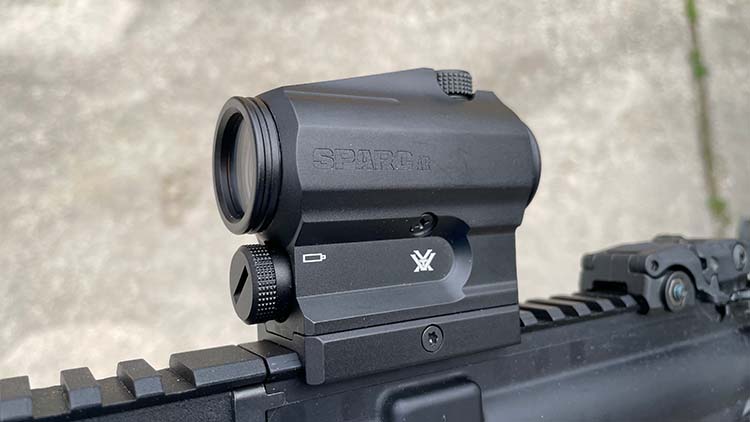 But what remains is a pretty solid red dot sight for the money.
Now does it meet the qualifications to be the best red dot sight? That's hard to say but I think it has been outpaced by some equally as good cheaper options.
One of the main features of this optic is missing shake-awake or similar type functionality.
Does the Vortex Sparc AR have Shake Awake?
No, the Vortex Sparc AR does not have shake awake. The SPARC AR does feature an auto-shutoff after 12 hours.
Where is Vortex Sparc AR made?
The Vortex SPARC AR is made in China.
Is the Vortex Sparc AR waterproof?
Yes, the SPARC AR features O-ring seals that prevent moisture, dust, and debris from penetrating the red dot sight.