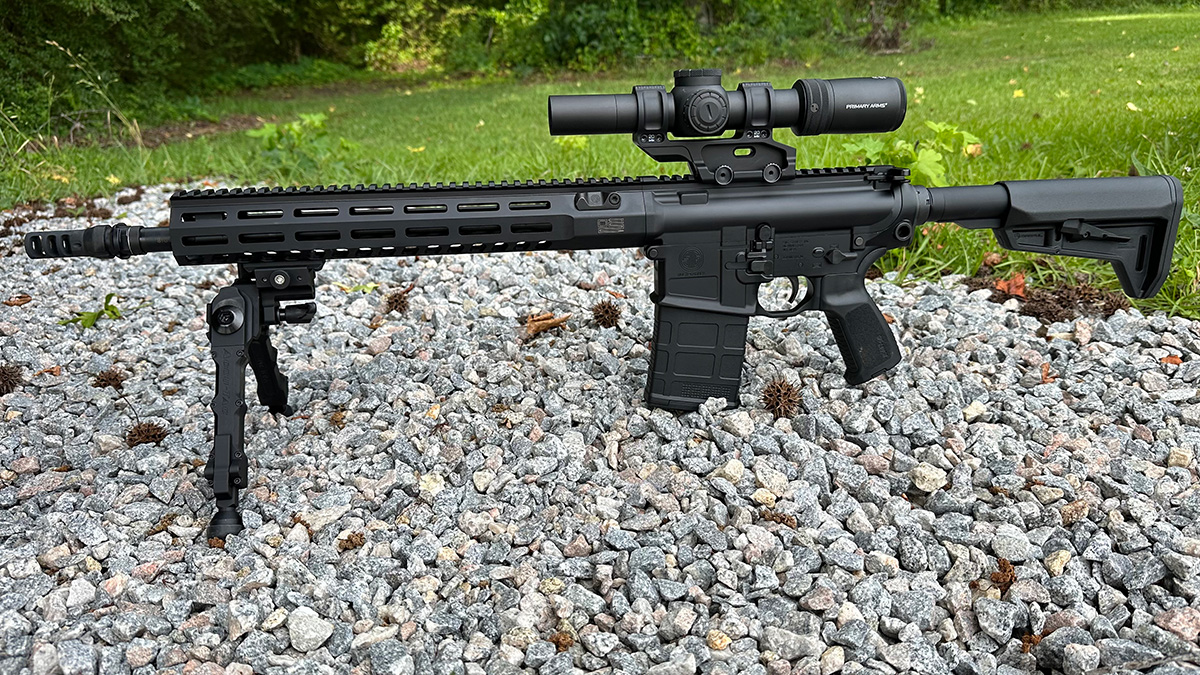 If you are in the market for an AR-10, also known as a 308 AR, you'll want to be sure you pick up the best bag for your buck.
Since .308 ammo isn't cheap, you want to make sure your rifle is a tack driver and functions reliability and is accurate.
Time to dive into AR-10 rifles and what are the best in 2023.
AR-10 History
The AR-10 is a rifle designed by Eugene Stoner and released in 1956 by ArmaLite.
It is noted for being at least a pound lighter than other service rifles of its era. The AR-10 features a detachable box magazine and a semi-automatic design.
Despite its initial rejection by the United States military, the AR-10 design was re-tooled to accept the 5.56x45mm NATO round and released as the AR-15 in 1957.
This new model was quickly adopted by the US Army in the form of the M16 rifle and M4 carbine due to its lighter weight, lower recoil, and higher accuracy.
The AR-10 has since seen several iterations, including the SR-25 developed by Knights Armament Company and the M110 Semi-Automatic Sniper System (SASS) adopted by the U.S. Army in 2007.
Best AR-10 Rifles of 2023
Daniel Defense DD5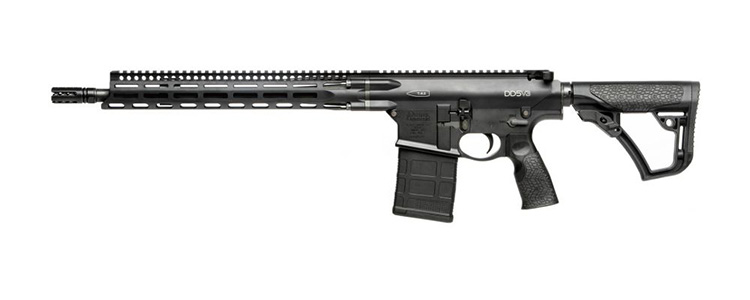 The Daniel Defense DD5 AR-10 rifle is one of the best AR-10 rifles of 2023 for many reasons.
It is highly accurate, with an adjustable gas block and a perfected DLC-coated bolt carrier group designed to reduce recoil and keep you on target.
The cold-hammer-forged steel chrome-lined mil-spec barrel ensures the gun is built to last.
The lower receiver is crafted from 7075-T6 aluminum and features a flared magazine well that will accept all SR-25 magazines.
The four-bolt system fastens barrel and handguard attachments, as well as a Daniel Defense Mil-Spec for added accuracy.
The rifle also features an oversized cam pin, enhanced extractor geometry, and dual ejectors for reliable cycling.
Finally, the gun is backed by Daniel Defense's reputation for quality, making it a reliable and safe choice for any shooter.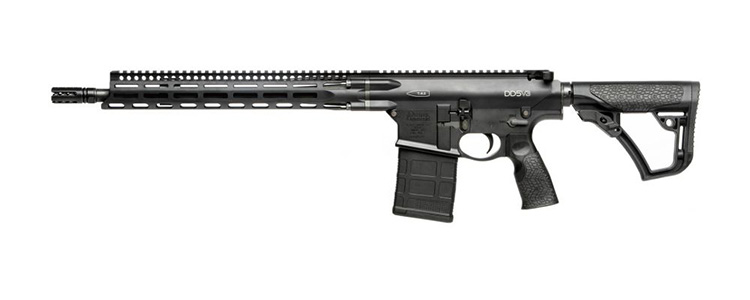 • Caliber: .308 WIN
• Barrel Length: Various
• Capacity: 10-20 Rounds
PSA Sabre AR-10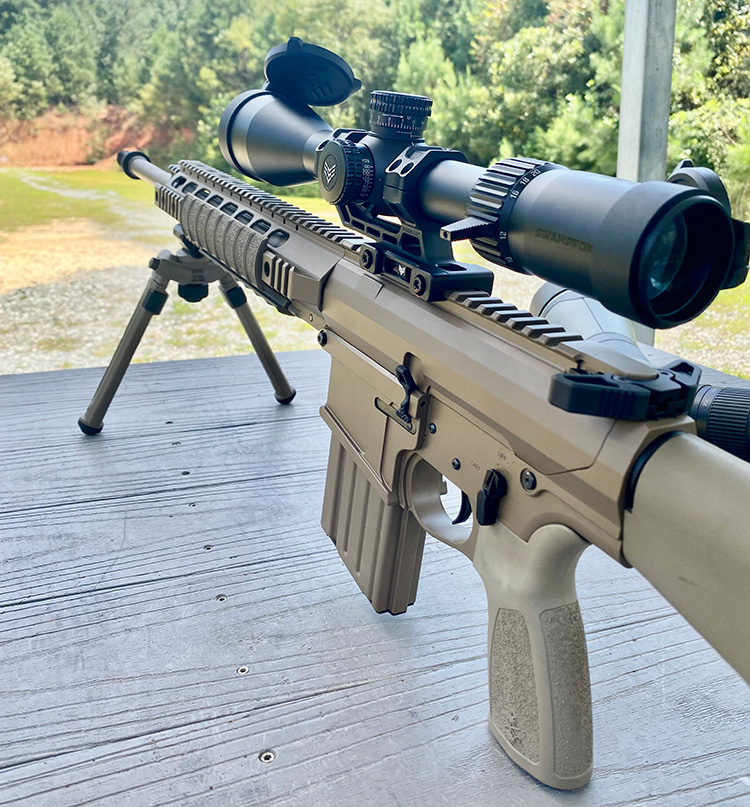 Summary:
The PSA Sabre AR-10 Rifle Billet 20″ .308 Rifleis a quality firearm that comes equipped with a 12.5″ Quad Rail, A1 Stock, Magpul Bi-Pod, 3 Magazines, and a Sabre Bag.
This rifle is designed for .308 caliber ammunition and offers excellent performance and reliability.
The rifle is designed to mimic the KAC SR-25, which can exceed $5,000 and is extremely hard to find.
Palmetto State Armory AR-10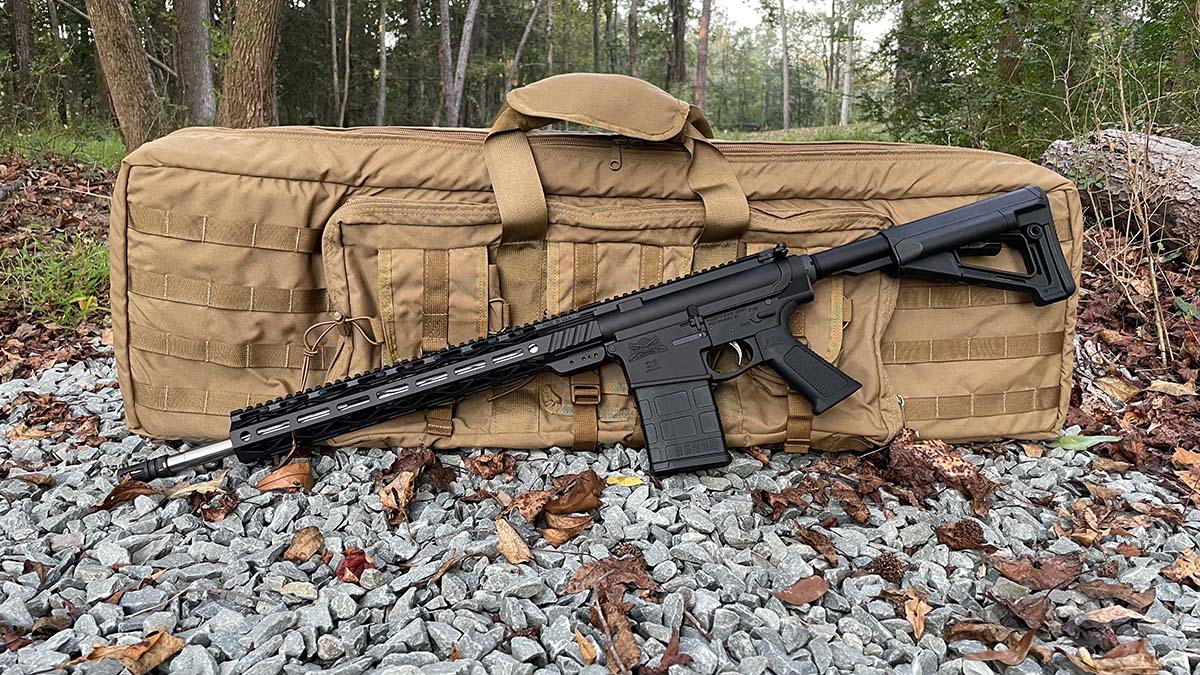 The Palmetto State Armory AR-10 is an excellent choice for anyone looking to enter the AR-10 market.
It is the perfect combination of quality and affordability, with features usually reserved for much more expensive rifles.
The PA10 models have forged receivers, stainless steel heavy barrels, and adjustable gas blocks, providing superior performance and accuracy.
Its range of specialized models gives shooters a choice, with 18-or 20-inch barrel lengths and classic M16/M4 or M-Lok compatible handguards.
The trigger is nickel boron and two-staged, and the rifle can be bought with several different Magpul stock options.
With its great value and quality components, the Palmetto State Armory AR-10 is an excellent choice of AR-10.
Wilson Combat Ranger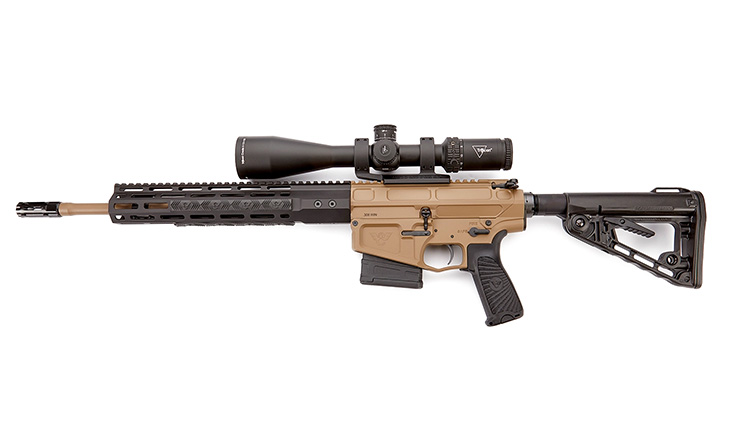 The Wilson Combat Ranger AR-10 is a great choice for 2023 because of its lightweight construction, Match Grade Barrel, Wilson Combat TTU trigger, and the Bill Wilson name.
The lightweight billet aluminum receiver set and match-grade barrel make the rifle lighter and more mobile, perfect for tactical and defensive scenarios.
The tactical trigger unit is precise, with a breaking point that is easy to control and adjust.
The Armor Tuff surface treatment adds a layer of protection and durability to the rifle, ensuring it can withstand any wear and tear from extensive use.
These features make the Ranger AR-10 ideal for tactical and defensive purposes.
Springfield Armory Saint Victor

The Springfield Armory Saint Victor AR-10 is an attractive choice for those looking for a mid-level priced rifle.
It has a solid construction, a true-to-form AR platform, and reliable components.
It is also nicely priced, and buyers can add additional accessories and higher-quality components as desired.
The BCM Gun Fighter stock and pistol grip on the rifle makes it comfortable to use and control.
All of these elements make the Springfield Armory Saint Victor AR-10 a desirable option for those looking for a reliable and accurate mid-level priced rifle.

• Caliber: .308 WIN
• Barrel Length: 16″
• Capacity: 10-20 Rounds
Smith & Wesson M&P 10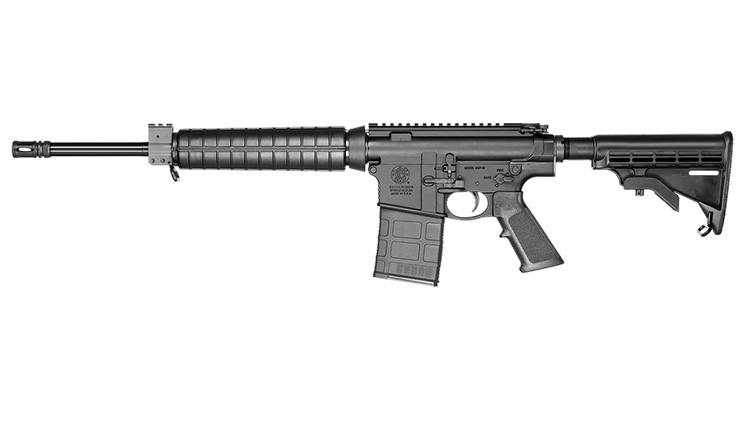 The Smith & Wesson M&P 10 is a great AR-10 rifle for various uses due to its quality materials and design.
The rifle has a 16-18-inch barrel made from 4140 steel with a low-profile contour and 5R rifling for improved accuracy.
Fully ambidextrous controls on the rifle allow for easy use and function. The gun does have an "older" more classic M16 look due to the handguard, but it is a very functional rifle.
Overall, the Smith & Wesson M&P 10 is a decent AR-10 rifle that provides great performance at an affordable price from a company with a long history.
Sig TREAD 716I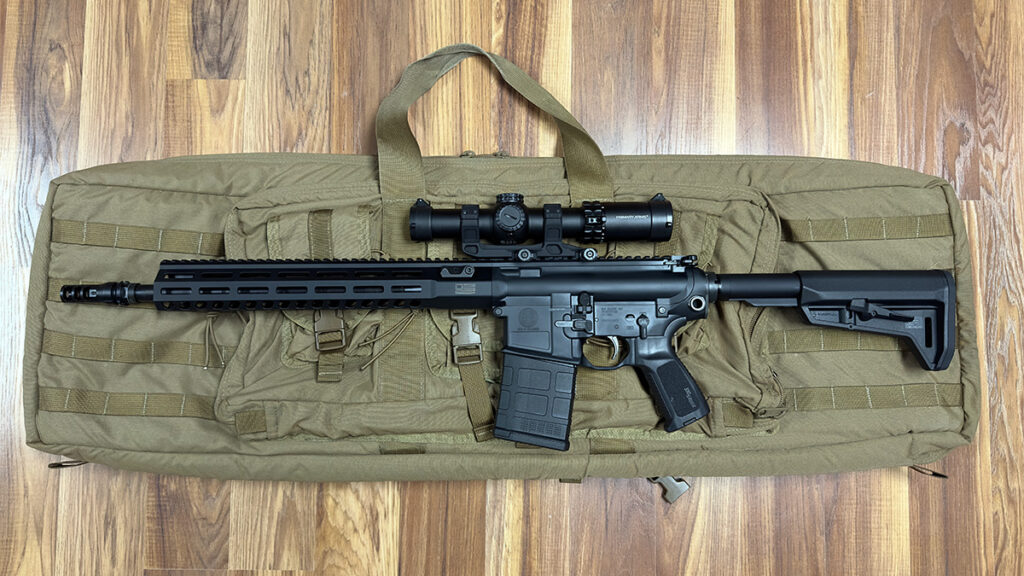 The Sig Tread 716i AR-10 rifle is an excellent choice because it offers the perfect combination of quality, affordability, and practicality.
Its carbon-steel 16-inch barrel offers excellent control and accuracy even with a heavy suppressor.
Its 8.5-pound weight makes it incredibly nimble, and its direct-impingement mechanism ensures reliable performance even in the most demanding conditions.
The Sig Tread also features almost complete Ambi-controls and a Magpul stock as well as M-LOK handguard, making it an all-around great package.
Even with its lower price point, Sig has included its signature attention to detail, with magnetic practical tested key components and a solid system for attaching the free-floated handguard.
This rifle has the power and quality to be a reliable and accurate shooter for years to come.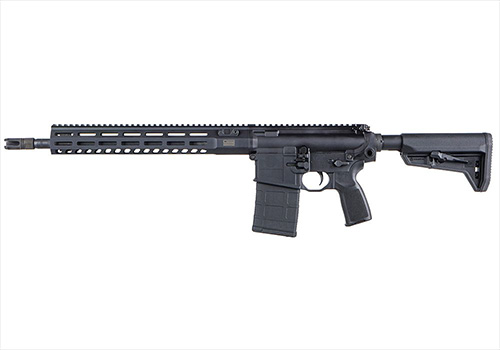 • Caliber: .308
• Action: Semi-Auto
• Weight: 8.5 lbs
Ruger SFAR

I'm a pretty big fan of Ruger firearms and the fact that the SFAR is an excellent AR-10 rifle makes it pretty easy to add to the Best AR-10 of 2023 list.
Ruger typically has a budget-friendly price and this AR-10 has one as well.
Its small-frame design is almost identical in size to traditional 5.56-caliber AR-15s, allowing it to be more easily maneuvered and handled.
The 4140 Chrome-moly steel barrel is great for accuracy and a 15-inch free-floating aluminum handguard with a black nitride finish for improved handling and mounting.
It has Magpul M-LOK accessory attachment slots and a full-length Picatinny top rail for mounting optics and other accessories.
The SFAR also has a Ruger Elite 452 2-stage trigger for a smooth and crisp 4.5 lb pull.
The rifle is based on a mid-length gas system with a 4-position adjustable gas block for better reliability and function of different ammo and shooting suppressed.
Reviews have reported that the rifle can shoot anywhere between .5 and 1.5 MOA, making it a great performer at an affordable price.
Overall, the Ruger SFAR is an ideal AR-10 rifle for 2023 that is lightweight, reliable, and budget-friendly.
What to consider when buying an AR-10 rifle?
Range and accuracy
The AR-10 is one of the best long-range rifles on the market, with a dramatically more effective range than the AR-15.
A skilled shooter can hit targets up to 1,000+ yards away, making it ideal for long-range target shooting and hunting.
The AR-10 is also a great choice for hunting, capable of taking any North American game ethically from several hundred yards good scopes and optics can extend this range even further.
As for accuracy, the AR-10 is a legitimate 1,000-yard rifle that can accommodate a wide variety of medium-bore cartridges like the .308 Win./7.62×51 NATO or 6.5 Creedmoor.
With quality precision and low recoil, it's no wonder the AR-10 is a favorite of many shooters.
Weight and Balance
When selecting an AR-10, it is important to consider the rifle's weight and weight balance.
Lighter rifles are often easier to carry, leading to less fatigue, while heavier rifles can provide more stability and accuracy and help mitigate recoil.
Barrel length also plays a role in determining the weight of the overall gun, with shorter barrels typically weighing less than longer barrels.
Some rifles may weigh less than 9 lbs, which can benefit those who plan on carrying and using the gun extensively.
When making a selection, it is important to consider real-world experience from those who have used the rifle.
This can help you better understand the performance and features of the AR-10.
For example, the Daniel Defense DD5, Armalite AR-10, and LWRC REPR all have reliable performance records, with the LWRC REPR being one of the most expensive options available.
Ultimately, selecting the right AR-10 for you depends on your needs and preferences.
Caliber
The AR-10 is a great choice, but while many think of AR-10 as only chambered in .308 WIN there are other options.
It is commonly chambered in .308 Win/7.62 NATO, 6.5 Creedmoor, and .260 Remington, which are all larger calibers than the 5.56mm cartridges used in the AR-15.
These larger calibers allow the AR-10 to reach farther distances and provide more power than the AR-15 at range.
Ultimately, the AR-10 offers more versatility and power than the AR-15, making it an ideal choice for long-distance shooting or hunting larger game.
Barrel
Barrel length varies depending on the model but usually ranges from 16 to 20 inches.
The barrels are also free-floating, meaning they are unconnected to the fore-end and handguard and thus do not influence the point of impact. This helps to ensure greater accuracy.
Trigger and Stock
An AR-10 trigger and stock are two of the most important features to consider when purchasing an AR-10 rifle.
The trigger should match grade in order to achieve a lighter, crisper pull and increased accuracy.
An upgraded trigger is ideal, as it will allow for more consistent shots.
A stock should be adjustable and provide a comfortable length of pull to accommodate various shooting positions.
Gas System
The AR-10 is a gas-operated rifle with a bolt carrier with a rotary bolt locking mechanism.
Both the AR-10 and AR-15, use a direct impingement system, which utilizes combustion gases from a port in the barrel to a piston and cylinder arrangement adjacent to the port.
Muzzle Device
When considering which muzzle device and muzzle break to use with an AR-10 rifle, it is important to compare and contrast the various options.
For smoother recoil, the Daniel Defense DDS Ambush muzzle device is a great choice, with a 16" barrel length.
If you plan to suppress the rifle you'll want to get the muzzle device that works with your particular suppressor.
Receiver and Forward Assist
When deciding to purchase an AR-10 rifle, two important considerations to make are the receiver and forward assist.
The receiver size of an AR-10 rifle is wider and longer than an AR-15, allowing for the use of long-action rounds such as .308 Winchester.
Additionally, many AR-10 components like the magazine, bolt carrier group, and barrel are larger than those found on an AR-15.
One feature that has recently been a take-it-or-leave-it option is the forward assist on an AR-10.
The forward assist on a rifle is a feature that helps chamber a round if it becomes stuck. It is a plunger-style device located on the side of the receiver that, when pushed, will help push the round into the chamber.
In summary, when purchasing an AR-10 rifle, take some time to consider the receiver size, compatible parts, and forward assist.
While some components are interchangeable between the AR-15 and AR-10 platforms, it is important to be aware of the differences to ensure compatibility and reliability.
Recoil System and Buffer
In comparing different types of recoil systems and buffers, it is important to look at the individual components and their quality.
The recoil system should be able to absorb and dissipate the energy of the firing process, while the buffer should be able to keep the gun from over-cycling.
The recoil spring should be able to withstand the tension of the firing process as well. Finally, the buffer should be able to absorb the shock of the action, allowing for smoother operation and better accuracy.
Handguard
When it comes to AR-10 handguards, there are a variety of options available.
Depending on your needs and preferences, you can find a handguard that free-floats the barrel, giving you plenty of room to install accessories such as bipods and other mounting hardware.
There are also handguards with user-adjustable lengths of pull, making it easier to shoot consistently from different positions, as well as ergonomic handguards with comfortable grips.
For the most customization options, you may want to opt for handguards with M-LOK or KeyMod slots to easily attach accessories, while drop-in handguards offer the most hassle-free installation.
Finally, you have the option of choosing a lightweight handguard or one with extra weight for additional stability.
Scope Mount
When choosing a scope for your AR-10 rifle, there are two main considerations for the mount and rail system: the type of mount and the type of rail.
The scope mount is the piece that attaches the scope to the rifle and the rail is the platform that houses the optics.
The most popular option is a picatinny rail system, as they are the most secure and provide the most versatility.
Picatinny rails have a series of slots and grooves that allow you to mount a variety of accessories and optics, such as scopes, red dots, and lasers.
They also allow you to securely lock the scope into place using a variety of rings and mounts.
FAQ
What is an AR-10 rifle?
An AR-10 is an Armalite Rifle 10, an early design by Eugene Stoner that was later refined into the AR-15.
It is a semi-automatic, long-action rifle typically chambered in .308 Win or 6.5 Creedmoor and is one of the most popular long-range rifles.
Its modular design and availability of aftermarket parts and accessories make it an excellent all-around rifle platform.
The AR-10 is larger and more powerful than the AR-15 and is often referred to as its "big brother."
It has since grown in popularity and is now one of the top choices for a .308 battle rifle.
The U.S. military uses variants of the AR-10 rifle as a sniping or designated marksman's rifle, and it is also popular among civilians for its accuracy, same controls as the AR-15, and longer range and greater power than the AR-15.
What is the best AR-10 rifle for precision long-range shooting?
The best AR 10 rifle for precision long-range shooting is an ongoing debate. While the AR-15 is an incredibly versatile rifle, it's not the best choice for long-range shooting.
Fortunately, the AR 10 is a great option for reaching out and touching targets at a distance.
The AR-10 offers more power and precision than the AR-15, making it ideal for long-range shooting.
The best scope for AR-10 is necessary for those shooting at greater distances. With the best scope for AR-10, shooters can easily hit targets up to 1000 yards and beyond.
Bolt-action rifles are still the king for longer-range shooting, but an AR-10 is more than capable of precision shooting.
For those looking for an AR-10 rifle for precision long-range shooting, the Wilson Combat Ranger and the Daniel Defense DD5 are excellent choices.
Both offer excellent manufacturing quality and the right features to get you where you are trying to go.
Overall, the AR-10 is a great choice for precision long-range shooting. With the right rifle, scope, and ammunition, shooters can hit targets 600+ yards and beyond.
What are the different calibers available for an AR-10 rifle?
The AR-10 is a powerful rifle capable of taking down game at long range.
It is chambered in a variety of calibers, including .308 Winchester, 7.62 NATO, 6.5 Creedmoor, .260 Remington, .243 Winchester, 6.5mm Creedmoor, 7mm-08 Remington, and .338 Federal.
Manufacturers such as Ballistic Advantage and Wilson Combat offer barrels for the AR-10 in these different calibers and newer options such as 6.5 Creedmoor.
Faxon Firearms also offers AR-10s in 8.6 Blackout, although these may be harder to find.
The .308 Win is the most common caliber for the AR-10 and offers excellent long-distance performance.
However, the 6.5 Creedmoor is becoming increasingly popular for its accuracy and versatility.
Ultimately, the right caliber for an AR-10 depends on the intended purpose.
If you're looking for a long-range rifle, then .308 or 6.5 Creedmoor are good options.
If you're looking for something more maneuverable and powerful for home defense, then .338 Federal might be the way to go.
What are the differences between an AR-10 rifle and an AR-15 rifle?
The AR-10 and AR-15 are two rifles from the same family tree, but they have some distinct differences.
The biggest difference between the two is in the caliber: the AR-15 fires 5.56 or .223 caliber rounds (typically), whereas the best AR-10 utilizes 7.62 or .308 caliber rounds (typically).
The former is designed to be lighter and more portable, allowing troops to carry more ammunition.
The latter offers more stopping power but at the cost of being a couple of pounds heavier and having a slightly longer barrel.
Size is a big difference as certain areas of the firearm have to be larger to accommodate a larger bullet and more heat and strong powder charges.
What are the benefits of upgrading an AR-10 rifle?
Upgrading to the best AR-10 rifle can provide many benefits, giving you more power and accuracy than an AR-15.
With a modular design, many aftermarket parts and accessories, and interchangeable parts with the AR-15, the AR-10 is an ideal all-around rifle platform for any shooter.
The main benefit of upgrading an AR-10 is the ability to customize it to your specific needs and preferences.
This includes changing the barrel for a longer length to maximize velocity, adding a lighter trigger group to improve the trigger pull, mounting accessories to the functional fore-end, and changing the stock for more adjustability and interoperability.
Overall, upgrading an AR-10 improves performance, accuracy, and personalization, making it an excellent choice for any shooter.