The Fabrique Nationale d'Herstal Five-Seven, also known as simply the FN 5.7, is one of the most iconic pistols of the late '90s and early 2000s. The official name of the pistol is spelled out FN Five-Seven, but most people know it by its shorthand name, simply "5.7".
The pistol was one of the original polymer-framed pistols, and while it does not have a large market share, it definitely has a place in the market.
About the FN Five-Seven
The FN Five-Seven is a semi-automatic pistol designed and manufactured by Fabrique Nationale d'Herstal (FN), a Belgian firearms company.
It was introduced in 1998 and is chambered in the 5.7x28mm cartridge, which FN developed specifically for this pistol.
The 5.7x28mm cartridge is a small caliber, high-velocity round designed to provide good penetration and expansion when used for self-defense or law enforcement applications.
One of the notable features of the FN 5.7 is its polymer frame, which makes it lightweight and easy to handle.
It also has an ambidextrous safety/de-cocker and a reversible magazine release, making it suitable for both left- and right-handed shooters.
The pistol has a 20-round capacity and uses a single-action trigger. It is known for its accuracy and low recoil, making it a popular choice for target shooting and competition.
The FN Five-Seven has been adopted by several military and law enforcement agencies worldwide, including the U.S. Secret Service and the French National Gendarmerie.
It has also gained a following among civilian shooters due to its compact size and low recoil.
It is available for purchase in many countries where handgun ownership is legal.
FN Five-SeveN
• Caliber: 5.7x28mm
• Action: Semi-Auto
• Weight: 21 oz
Check these online retailers for in-stock FN 5.7's:
Brownells | Primary Arms | PSA | Grab-A-Gun | Guns.com | Sportsmans
FN 5.7 Features
Here is a list of some of the main features of the FN Five-Seven:
Chambered in 5.7x28mm cartridge
Semi-automatic
Polymer frame
Ambidextrous safety/decocker
Reversible magazine release
20-round capacity
Single-action trigger
Compact size and low recoil
Available in a variety of finishes, including black, flat dark earth, and olive drab
Can be equipped with a variety of sights, including iron sights, red dot sights, and night sights
Can be equipped with a variety of grips and accessories, including laser sights and suppressors
With that feature list, there's a lot to unpack about this pistol. But let me dive in and go in-depth on this pistol.
Grip/Ergonomics
The frame of the FN Five-Seven is built very similarly to every other polymer-framed pistol. It's one solid piece and has about a 45° grip frame angle.
The overall grip texture is fantastic and provides an extremely abrasive surface and the front of the grip frame has a dot texture very similar to Glock's grip frame texture.
The one thing this gun does lack is changeable back straps. Not a big deal for me but people with larger hands typically benefit from larger back straps.
This gun feels great in your hand and while it is pretty blocky the overall feel of the gun is great in your hand.
Sights
Sights are a make-or-break part of any pistol, you have to have solid sights to have an accurate pistol.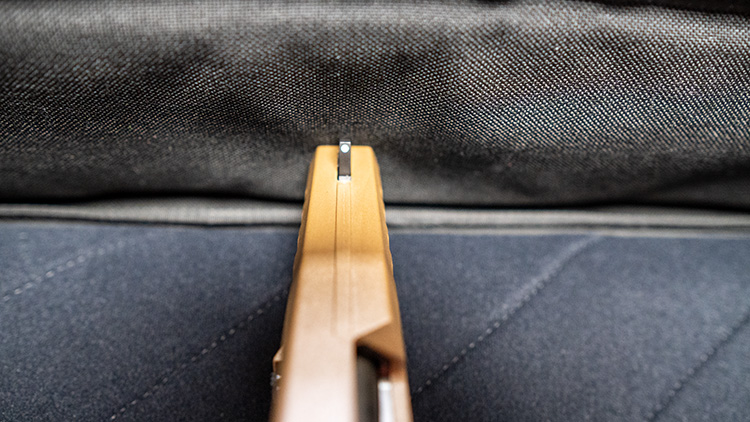 FN 5.7 sights are extremely simple night sights. It features a single dot front sight that glows green at night.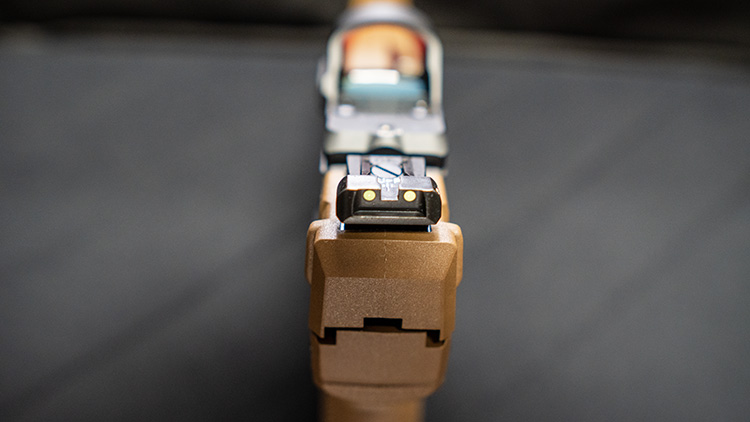 The rear sight of the gun has both windage and elevation adjustments and can be adjusted with a small screwdriver. The sights sit up pretty high but provide a good sight picture close and down range.
MRD
Time to talk about the specific FN Five-Seven model you see pictured in this article. The article is peppered with the FN Five-Seven MRD in FDE.
MRD stands for "Mini-Red Dot" and simply means "Optics Ready". I wanted to give this gun a full review of bone stock and also throw a dot and report back. I will go more in-depth on the MRD and optics in the shooting section of this review.
My recommendation is to buy the MRD model even if you don't plan to add a red dot sight to it right away. Having the option and not using it is always better than having to replace the entire gun to get the optic you want.
FN Five-SeveN
• Caliber: 5.7x28mm
• Action: Semi-Auto
• Weight: 21 oz
Check these online retailers for in-stock FN 5.7's:
Brownells | Primary Arms | PSA | Grab-A-Gun | Guns.com | Sportsmans
FN 5.7 Controls
FN went unique on the controls for this pistol and while unique is often a good thing sometimes it's the name of a one-legged stripper.
I kid, I kid, but seriously some of those controls are extremely solid and some are questionable.
Time for me to dive in and break down each control one by one.
Safety
The safety is in a very odd place for a pistol, directly in the middle of the frame. The fire indicator is marked with a simple red dot, safety is unmarked.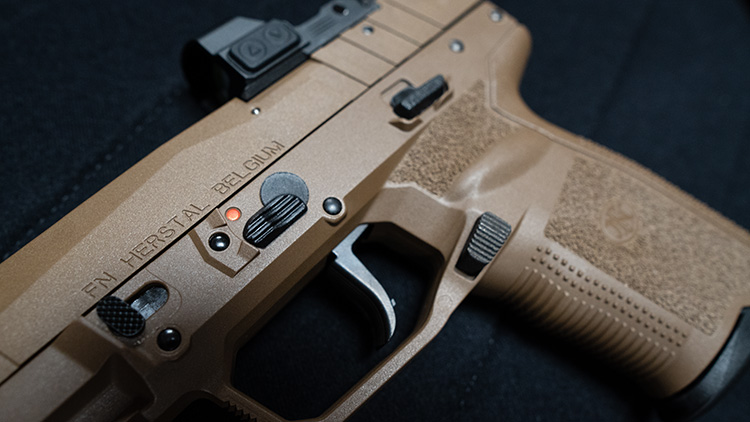 When I first saw this I thought there was no way I would like this safety and that there was no way this was going to be easy to use for the shooter.
After holding the gun for a bit and doing some shooting the safety is more well thought out than I originally thought and is ambidextrous.
Once you use it for a bit you realize you can easily use your index finger to use the safety or your thumb while holding the gun in the firing position.
Magazine Release
The magazine release is not large in overall size but it sticks out enough from the grip that makes it extremely easy to press.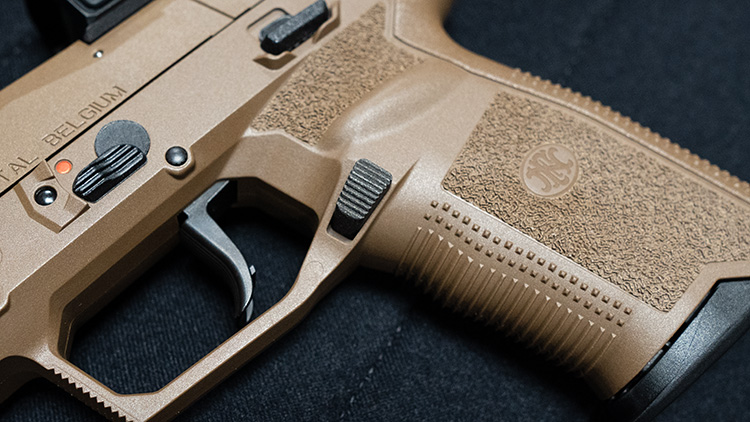 Once you press the magazine release, look out! That sucker throws the magazine out like no other.
This gun drops an empty magazine like a hot rock. I was really impressed and surprised the first time I ejected a magazine.
Slide Stop
The slide stop is another control that is not ambidextrous. But being right handed this doesn't give me a lot of heart burn.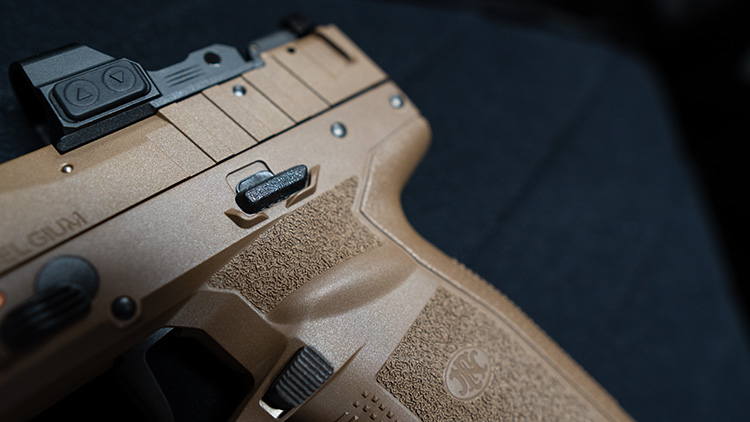 A majority of this gun is polymer and all of the controls but the magazine release are polymer. The slide stop is decent but I've used better slide stops.
It's nearly impossible to send the slide forward using the slide release on an empty magazine. It functions fine if no magazine is in the gun.
Trigger
The trigger is a bit tricky and it's nothing that anyone is going to love. There is a only a little take up on this trigger if you have a ton of take up your magazine is likely not in the gun.
For whatever reason, FN decided that the FN Five-Seven will not fire without the magazine in the gun.
The trigger has a clean, crisp break and as for polymer triggers it feels decent. But it's still nothing compared to other quality triggers like the Sig's X-Carry trigger.
FN Five-SeveN
• Caliber: 5.7x28mm
• Action: Semi-Auto
• Weight: 21 oz
Check these online retailers for in-stock FN 5.7's:
Brownells | Primary Arms | PSA | Grab-A-Gun | Guns.com | Sportsmans
Range Bag
Having the right range bag is extremely important and if you are in the market to carry the FN Five-SeveN in style you should pick up the Prime range bag.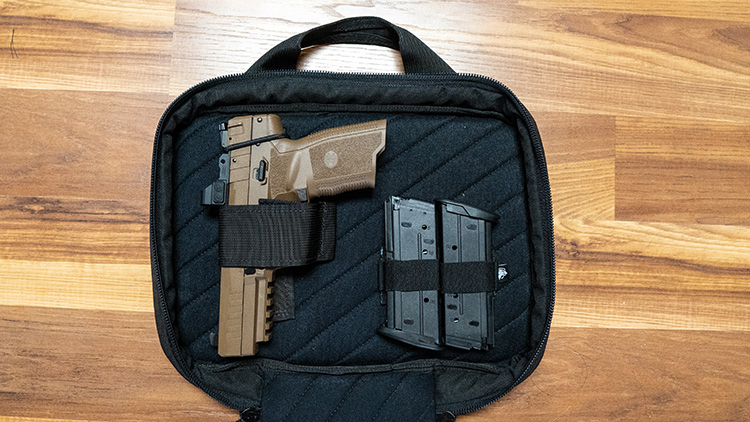 It's a simple but extremely effective way to carry your pistol to and from the range.
If you want to carry your Ruger 5.7, FN Five-Seven, and Rock 5.7 to the range you may want to grab a pistol range bag. That will provide far more room for storage.
Accessories
Accessories maketh gun or something like that. But you definitely don't want to run around without some solid accessories for your new blaster.
Not to mention if you want to carry your Five-Seven you'll need a holster! I have you covered with some options.
Threaded Barrel
If you plan to suppress the FN Five-Seven you'll need to pick up an aftermarket threaded barrel. B&T has stated making a threaded barrel for the 5.7
Dead Air and a few other companies make a 1/2×28 threaded adapter that you can add to the barrel and mount any 1/2×28 silencer.
Holsters
Holsters are essential even for guns that you only plan to range carry. I like to work guns from normal carry positions and not from a table top.
For an inside the waistband holster We the People make a decent priced holster for the 5.7 that has some really solid reviews.
If you want an outside the waistband holster take a look at the Alien Gear cloak side holster.
FN Five-Seven Ammo
I use two different types of ammo in the Five Seven: defensive and range. I go as cheap as I can for the range and shoot the FN branded blue tip ammo for defense.
At nearly a $1 /per round any amount you can save helps! Thankfully range ammo hovers between .60-.80¢ /per round.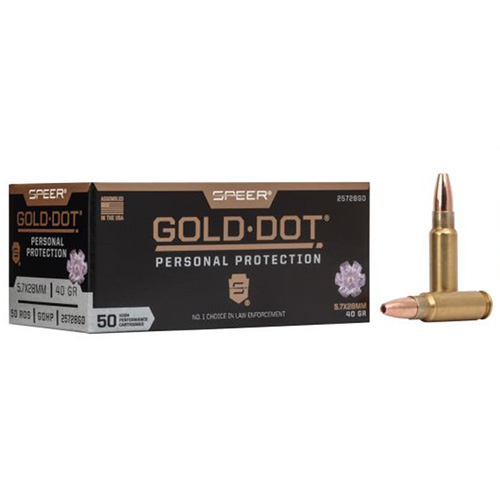 Aesthetics
The aesthetics of the gun will definitely draw you in to take a closer look. The longer-than-normal barrel on this gun is what really sticks out at first glance.
The original 5.7 pistols has extremely rounded edges and have always had a very distinct look.
Looks are subject to everyone's personal preferences but it's hard not to like this gun.
FN Five-SeveN
• Caliber: 5.7x28mm
• Action: Semi-Auto
• Weight: 21 oz
Check these online retailers for in-stock FN 5.7's:
Brownells | Primary Arms | PSA | Grab-A-Gun | Guns.com | Sportsmans
MRD vs Standard 5.7
The FN Five-Seven MRD was the most recent release and has a slightly updated look. The MRD has a more blocky shape on the slide and the frame has slightly more edges that aren't rounded off compared to the standard 5.7
The MRD also comes optics-ready, which means you can easily add your RMR foot printed optic to this slide which opens up a ton of great red dot options for the MRD 5.7.
Shooting
Shooting the FN 5.7 is extremely smooth and extremely fun. I really like the low recoil of the 5.7x28mm round and the MRD makes shooting the pistol with a red dot extremely easy.
Final Thoughts
If you have the palete for the 5.7x28mm round it's gonna be hard for you to go without the FN Five-Seven.
While the FN pistol packs a high price point at nearly $1,000 you do get a timeless and quality pistol.
I love the gun but if you aren't solid on the 5.7 round it's a pretty big gamble. While you're getting a quilty pistol you may not get your monies worth if you aren't somewhat invested in the round.
Personally, I have three 5.7x28mm guns the FN Five-Seven, the Ruger 5.7, and the FN PS90 and a fourth PSA The Rock 5.7 on the way.
So if you plan to invest in this great round be sure to grab on of the FN 5.7's, specially the MRD!
FN Five-SeveN
• Caliber: 5.7x28mm
• Action: Semi-Auto
• Weight: 21 oz
Check these online retailers for in-stock FN 5.7's:
Brownells | Primary Arms | PSA | Grab-A-Gun | Guns.com | Sportsmans
FAQ
Here are some of the most asked questions about the FN 5.7 pistol.
What is the FN 5.7 used for?
The Five-Seven can be used for protection, hunting, or target shooting. The round is extremely capable and flexible which is why so many agencies and shooters have adopted it worldwide.
How fast does a FN 5.7 Shoot?
Rounds per minute will largely depend on the shooter as the pistol is only available to the public in semi-auto. The 5.7×28 round travels at approximately 2,350 feet per second.
What caliber is 5.7 equal to?
The 5.7×28 is very similar to the 4.6×30. However, the round was created to replace and upgrade the 9mm round.
What pistol does John Wick use?
John Wick uses a number of pistols in various movies. Unfortunately, he does not use the FN Five Seven in any of the movies as of this writing.