One might say I'm a little obsessed with the .22LR three of the last five guns I've purchased have been 22LR. Being a big fan of Glock I was extremely excited when they announced the Glock 44 in December of 2019.
The Glock 44 is true to the Glock look and feel but with some very specific differences.
Features
A Glock is a Glock is a Glock. Is the old adage that Glock owners are familiar with. Well, that is also true of the Glock 44.
It's a Glock, mostly. It's as close to a Glock as a .22LR pistol could probably ever be.
So with that information out of the way, I'll be doing mostly comparisons to what Glock the features and overall feeling are closest to.
Grip/Ergonomics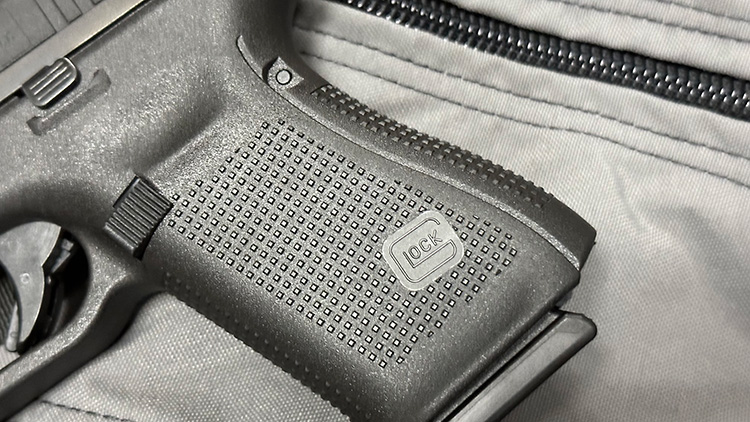 The grip and ergonomics are almost identical to the Glock 19 Gen 5. The pattern for the grip, the magazine release, and the slide lock are all the exact same, even the take-down mechanism is the same.
Honestly, this probably is just a Glock 19 frame with a Glock 44 slide on it. I virtually see no difference in holding them side by side.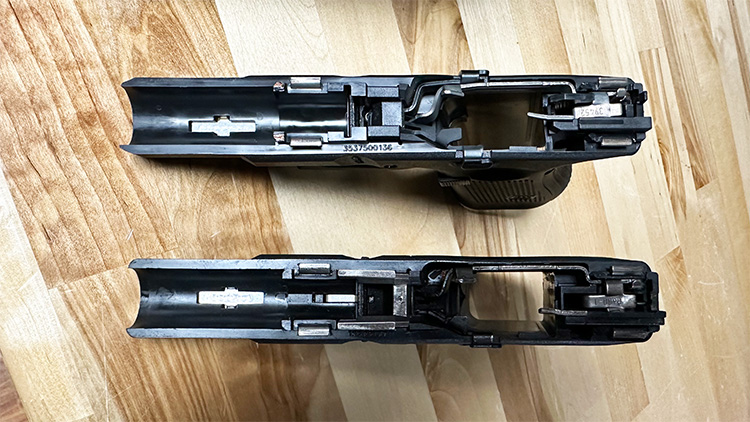 So kudos to Glock from that aspect. But that is Glock's MO. They very much make the same gun over and over again because they work.
Sights
The sight pattern is that of a Glock 19 and I'm still a little confused and a little conflicted.
There are a lot of different opinions about this online because they're the same cut, can you change these out with any Glock sights?
I think you can.
The only difference is the polymer slide. I'm not sure how that affects it. Glock had to go with the polymer slide simply to reduce weight for the 22 to cycle.
Now, let's talk about the stock sights. We can talk about the aftermarket sights later.
The stock sights are identical in look to any other Glock Gen 5. It has a rear white U and a single white front dot.
The biggest difference is, is this has a screw-based adjustment system for, windage and elevation.
So that is one of probably the biggest differences, for this pistol.
Controls
Controls in any gun are often the most important part. That's typically what I say about pistols in general.
The controls have to be done right or the gun's just not fun to shoot, or it's hard to shoot and it just doesn't make sense. So first and foremost, we'll talk about the safety.
Safety
Glocks are known not to have a "safety". They do. They have drop safety and they have a trigger safety.
It's called the safe action safety.
But there is no manual thumb safety on any Glock pistol stock from the factory. The safe action trigger was adapted for the 22 LR pistol, and it works just the same.
Magazine Release
The mag release is again identical to the Glock 19.
I do like how they did the Glock 19 mag releases. They're longer. They don't stick out further but they have a larger surface area.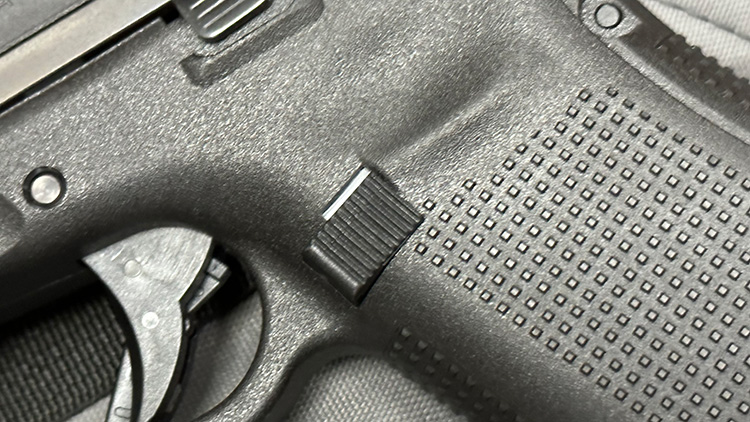 They're almost in line with the frame and they do work really well.
The one thing I wish they would've done is to get rid of the thumb dimple in the frame.
Because it does run almost directly into the magazine release, but that's a pretty standard design element in the entire Glock 5 lineup.
Slide Stop
The slide stop slide release is Glocks Gen 5 slide release.
It is ambidextrous, but the one thing to note is the slide stop is one of the reasons why the bottom of the polymer slide is on a metal rail.
One of the reasons. The other reason, of course, is it runs along metal rails inside of the pistol itself and the metal is going to allow the pistol to function better with less wear and tear overtime on the polymer.
So the slide stop functions really well. You can use a single finger or pull down on both sides.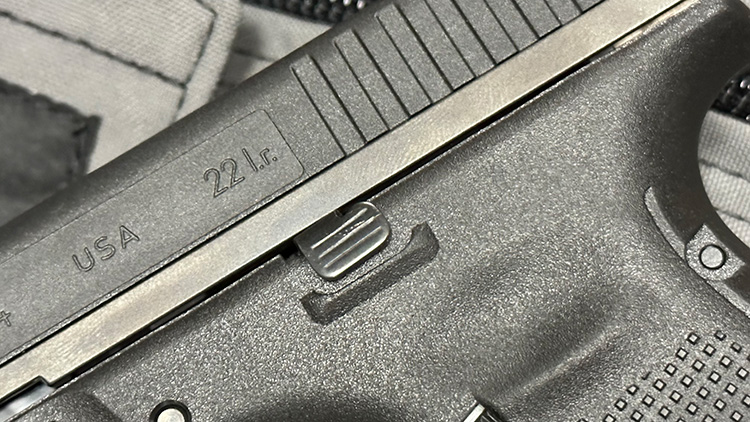 It drops the slide flawlessly. There's not a lot of weight to this slide. So you're not going to get a lot of force that stops you from pulling down on the slide.
But even the Glock 19 or any Glock, really, it's pretty easy to get the slide to go in a battery with the slide stop/slide release lever.
Trigger
This trigger is your standard Glock trigger. If you like them, you'll like this. If you don't, you'll hate this.
There is nothing special about this trigger. There is some debate on whether you're supposed to dry fire the Glock 44.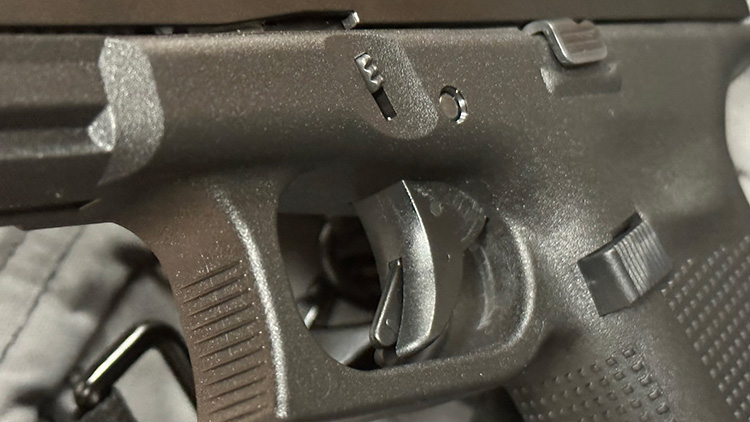 Internally, I can't discern a difference between the Glock 44 and the Glock 19, until you get to the barrel. You can tell a little difference between the spring and the plunger is a bit different.
Regarding the frame itself, I almost feel like you could swap a Glock 19 frame with this slide and it becomes a Glock 44. I'm not going to try it, but it might work.
I'm going to get them side by side eventually and look.
But nonetheless, I don't think dry firing will hurt the Glock 44 based on everything I'm seeing. Even the firing pin mechanism is the same as the Glock 19. So if it's not going to hurt those, it shouldn't hurt the 44.
That is not the norm for 22 pistols. Typically, they say don't dry fire them. I may not dry-fire this a lot, but again, I don't think it's going to hurt it.
Range Bag
If you need a solid range bag for your G44 pistol then look no further than the American-made pistol range bag or the Concord if you have lots of pistols to go with your new 22LR.
Accessories
Looking for Glock 44 accessories? Here are some of the most popular accessories on the market right now.
Threaded Barrel
Glock has made a threaded barrel for the G44 and while it's hard to find at the moment it should become more available as Glock continues to make the Glock 44's more available.
Holsters
The beauty of the G44 being a Glock 19 trainer pistol is that it already fits Glock 19 holsters.
So if you already own Glock 19 holsters you're good to go! If you are in the market for a solid IWB Glock 19/G44 holster check out the We the People Glock 19 holster or the Singleton from Harry's Holsters.
Aesthetics
Overall aesthetics of the Glock 44 are that of a Glock 19.
Man, if I've said that once, I've said it a thousand times. But the only real difference in aesthetics is you have a smaller barrel. The barrel does not move back and up on the Glock 44 as it does on the 19s.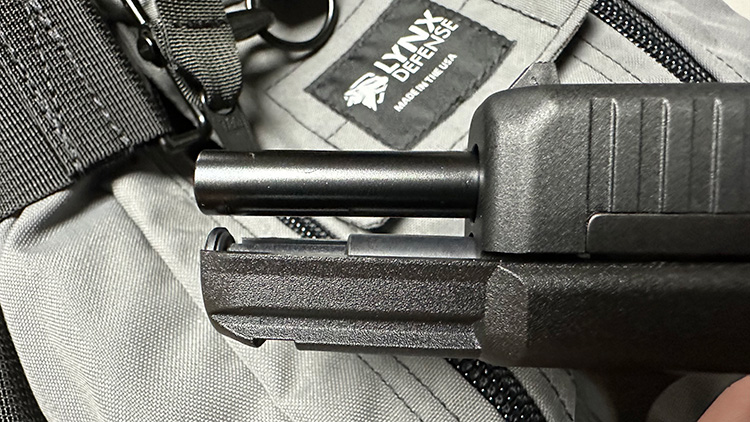 There's an elongated feed ramp that is designed to better accept the 22LR rounds into the chamber. That seems to work pretty flawlessly, so I'm not going to argue with that.
As far as the overall aesthetics, the real difference is seeing this bar on the slide.
There's a metal bar that just goes all the way down both sides. In fact, the serial number is engraved on the right-hand side of the bar, as well as the barrel and the frame. So this thing is serialized out of the wazoo.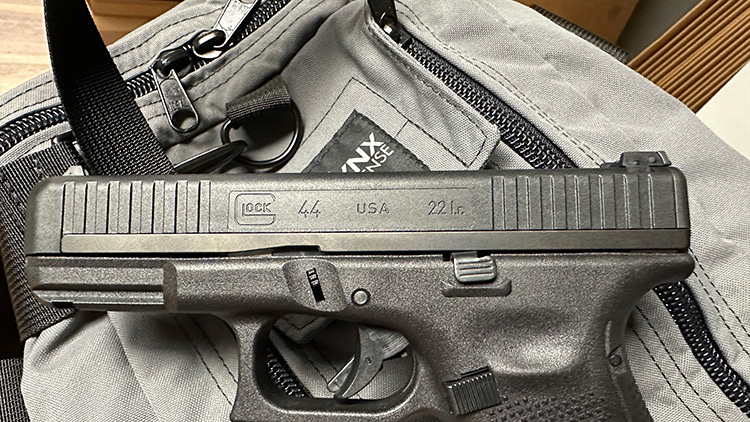 But the one thing I would've liked to have seen Glock do so the bar wouldn't probably bother me is continue the serrations into the bar.
Now, there might be some kind of issue with milling this bar like that because it could be a structural problem. Or the bar wouldn't be thick enough and it could snap. Bad things can happen.
So I'm sure there's a reason why the design has to be broken up like this. But it's worth mentioning over on the aesthetics that that bar is okay.
This is more of a trainer pistol and a fun pistol than it is a showpiece or a carry gun. But it would be nice to have that bar match the milling and the serrations on the front and rear of the gun.
The one other difference, this is not a MOS pistol, but there is a little cut/imprint out on top of the Glock slide.
It looks like it's almost like a … I don't even know what you want to call that, but it looks like a little pad. And it looks like it could be opened up and the slide could be worked on from there.
But I'm not sure what that is, but it's there. Part of the aesthetic doesn't bother me. Shouldn't bother anybody else either, but. So, good looking gun. Not perfect, but it's a Glock.
Shooting
Shooting the Glock 44, it's like shooting a Glock 19 with a little less recoil.
As far as noise (always wear hearing protection) I wouldn't say it's any quieter. You're still working with a really tiny barrel.
Maybe not quite as much powder as a 9, but you're still getting a pretty loud pop out of this. If you're into suppressors, you like suppress, I like suppressed 22s. It's just fun. They're quiet.
I ordered the threaded barrel for the Glock 44, and I'm excited for that to come in. They're pretty hard to find at the moment. So if you can find one, grab it, especially if you plan on getting a Glock 44 or have one, grab it as soon as you can see it.
Dry Firing
I addressed this in the trigger section a little bit because I had to pull the trigger and dry fire to take the gun down, which is another reason why I don't think that it's a problem.
I've seen online on a lot of forums, a Glock Forum was one that I saw where they said that you can dry fire this gun, no problem, and Glock says that.
However, I haven't been able to find where Glock says it's okay to dry-fire these. I can't imagine why it wouldn't be okay to dry fire after looking at the internals.
The only thing I could think of would be the firing pin striking the upper. But it looks like the same firing pin mechanism that's in the Glock 19.
So if you can dry-fire that a billion times, you're probably fine dry firing the 44, a couple of hundred times.
Final Thoughts
A Glock is a Glock is a Glock, and they stayed true to that with the Glock 44. The Glock 44 is a fun trainer pistol. Please do not try to swap the Glock 44 for your 19 or your 43X or your 48. This is not a replacement for your everyday carry pistol.
It is a fantastic gun and is very fun. But please don't put your life on a 22LR caliber round. They will work. They do work. But it is just not the best solution for that job.
This gun is awesome. I would buy this gun two times over. It's fun for the range. I recommend it to anybody looking for a fun range gun.
If you want to get your kid a gun to go to the range with you, that looks just like your gun, and functions just like your gun. They're going to feel like they're just part of the crew.
They're going to have a blast. Heck, you're going to have a blast if you shoot this and I can't recommend it enough.
I love what Glock, Taurus, Walther, and SIG are doing by making some of the best 22 long rifle pistols you can imagine.
I really like this trend of making 22 trainer pistols that are the exact same form as their larger 9mm brethren.
So I can't recommend the Glock 44 enough. I just want everybody to understand reads this, I would not advocate this being a self-defense weapon.
It'll work in a pinch, but please don't rely on it if you have other options that are better. All in all, go buy a Glock 44 from wherever you may be able to find one.
Is the Glock 44 worth buying?
Yes, the Glock 44 is an extremely fun and practical gun. Even with its early issues, it has proven itself to be a fun and effective training tool.
Is a Glock 44 a 22LR?
Yes, the Glock 44 is a 22 Long Rifle pistol.
What is the point of the Glock 44?
The Glock 44 can be seen as a great training pistol as well as a fun plinking gun. The 22LR round is the lowest cost round available and you can shoot thousands of rounds and not spend much money.
Is a Glock 44 a 9mm?
No, confusingly enough the Glock 44 is 22LR. Glocks naming conventions can often be confusing, like the Glock 45 being a 9MM pistol.