I have a long past of loving .22LR pistols there is just something about them that are endless hours of fun and bring back tons of childhood memories. That's probably why the Taurus TX22 immediately appealed to me and I knew I had to review this .22LR pistol.
Features
Like any gun, it shines or doesn't shine by its features.
So we're going to run this gun's features down, and see how it compares to other 22s pistols, like the Ruger SR22, and a few others.
Grip
The grip ergonomics and texturing on this gun largely remind me of a cross between the PSA Dagger, and the SIG P320.
The reason I say that is when I first grab it, it feels very similar to a P320 when it comes to the grip overall.
Now, not exactly, so don't get caught up on that and think that this is the equivalent of their new Sig P322, which is more so based on the Sig P365/365XL than the P320.
It's not. It's its own beast in and of itself, but that is the closest comparison that I can give.
The texture, overall, is probably better than some of the 9mm pistols out there I've seen.
So the grip texture is solid, considering this gun is largely going to have almost zero recoil. When you first establish the master grip on the gun, it feels fantastic.
There's not a large beavertail on the pistol, but you can easily establish the master grip, and get the weapon and either pull it out of the holster or present it to a target just fine.
This is probably in the neighborhood of the size of, say, a Glock 19 or a P320 Compact.
It's not incredibly small, but it's not a full-size gun either. Personally, really great size in my opinion.
One thing the grip is missing is any kind of changeable back strap.
I don't see that as a big deal because this is largely a range gun, which fills that role well.
Overall, the grips have a good feel and a nice design with the Taurus logo feature on each side and a tactile texture that doesn't disappoint.
Safety
One nice thing about this pistol is you can get the Taurus TX22 with or without the manual safety.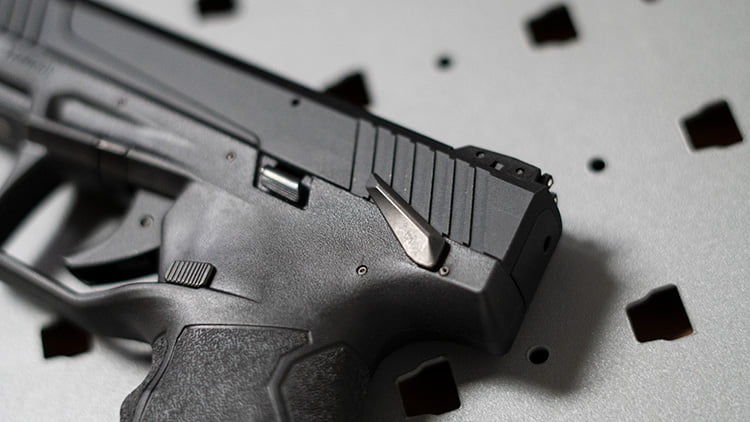 Mine has the manual safety and I'm glad it does, for this review's purposes.
Because, personally, I don't like safeties on handguns. However, this is a '22. I get it. More of a range gun. It's okay to have a safety
But for a personal defense weapon or an EDC pistol, I would not want a manual safety.
Let's talk about the Taurus TX22's safety. It sits at the very rear of the gun and is an ambidextrous manual safety.
Overall, I really like it for what it is. It's pretty slim and kind of has a triangle to the point.
It's a little wider in the back and clearly sits on a pivot system. Up is safe, down is fire, there are no markings on it to tell you what is safe or fire.
But Taurus stuck to the typically accepted, up, means safe.
As far as using the manual safety it's extremely easy to use.
Just flick it up, or pull, push down the thumb. The ridge is a decent size so you shouldn't have any issues with your finger missing it or not being able to get a good grip.
I really have no complaints about the Taurus TX22's manual safety.
Magazine Release
Moving down the pistol slightly, to the magazine release. The magazine release is not ambidextrous.
It would appear you could switch the sides of it, but I can't confirm that as of right now. I'll try to dig into that a little more, but right now that's just an appearance. Don't quote me on that.
This magazine release is a little bit different than what you'd expect on most guns.
It sits in about the same spot as most pistols, but it has a more rectangular shape.
Most of the time, you're going to get a circular button or something of that nature.
I like where it sits, of course, it's where the trigger guard meets the frame and sits directly behind the trigger.
Now how does it function? Glad you asked, it functions very, very well.
The .22LR magazine does drop free really easily, no issues with it at all.
The button press is a very shallow press, the button itself doesn't stick out very far. But I don't think that matters, because I don't think speed mag changes are a big deal with the TX 22.
Now, if that is a big deal for you, and you're using this for some kind of competition or defense purposes (please don't), that may be something to consider.
Slide Stop
The slide stop sits just in front of the manual safety and I will say, for a .22LR pistol, this thing works really well with the magazine in.
It depresses extremely easy and I have no issues getting the slide to go forward, even with an empty mag.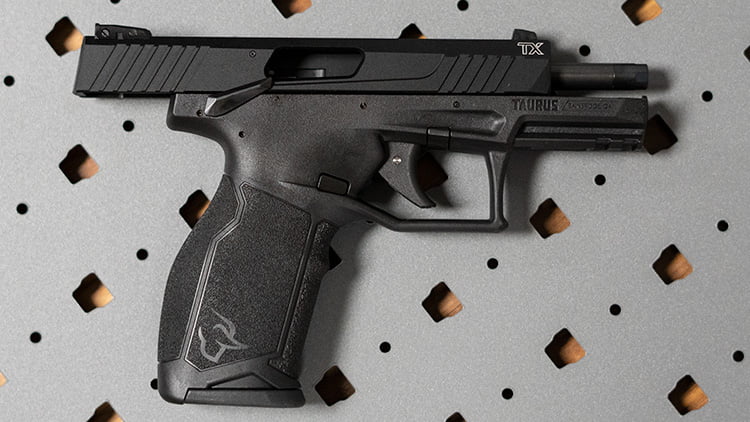 Without a mag in, pushing it up it goes right into place and lockes the slide, no issue.
So overall function of the main controls of the Taurus TX22 is good, I like the controls thus far. Now let's talk about the trigger.
Trigger
The trigger testing was a little different on this one because I couldn't really dry fire it.
Conventional wisdom typically says, don't dry fire 22s. There's a little dispute, about whether that's still true and if that applies or doesn't apply to this gun, I didn't know.
So, to do the trigger testing, I shot it, and I just based it off the trigger while I shot.
So I focused on the trigger itself and didn't really focus on aiming. I 100%, took the trigger snob in me and focused on the trigger.
So first and foremost, there is a lot of take up, not a big deal.
The trigger sits on a pivot pin. You can see it, it's right smack dab in the middle of the trigger. I don't have a lot of issues with that. The trigger does then start to push back into the frame. So there is a lot of take-up in this trigger.
It's not extremely smooth and a little gritty. Sadly, I would say that this is a little bit smoother than say, the Palmetto State Armory Dagger stock trigger.
But it is a totally different functioning trigger, too. There's way more take-up here than there would be in the dagger. So I'm not comparing those two, that was just a quick note.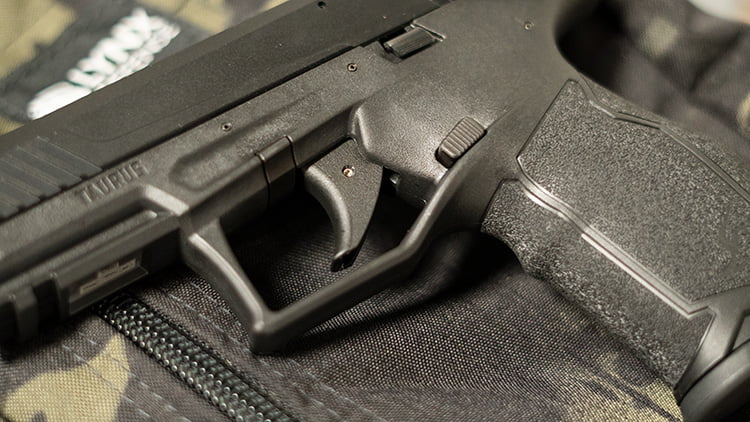 The break. It's kind of squishy, but it has a wall but not extremely defined, but a wall nonetheless.
Every gun has a wall. The break is smooth. So it will surprise you, which is a good thing.
But it's not like a two-stage style trigger, it's kind of squishy all the way through.
However, I will say, I don't hate the trigger. It's a 22-rimfire pistol. I don't know what to really expect out of a trigger in a 22.
Quite frankly, as long as this thing fires hundreds of rounds, and doesn't jam and flake out on me, I'm pretty happy. So far I've been pretty happy. Trigger's still good, still fun. But other than that, that's pretty much all I have to say about the trigger.
Sights
So, the sights are actually really interesting. Most guns would require suppressor height sights to host a suppressor.
But I put a suppressor on the Taurus TX22, and I'm going to cover that in a minute but the sights actually cleared the suppressor, and they are not suppressor height sights.
Now, .22LR silencers are typically a little thinner, but it completely cleared the silencer and didn't have to do anything funky or crazy to see the sights.
Now the sight is your standard three-dot configuration. All three dots are white and they are not night sights.
There are adjustments for windage and elevation and out of the box, you may have to make a little bit of adjustment.
This is probably the first time I've really ever had to do this out of the box. But it clearly is a little left and quite frankly, looking down on the sight, I can see where this is going a little to the left.
So I'm going to adjust those and before this review even goes up, I'll probably adjust them and report back.
Picatinny Rail
The picatinny rail on this gun should hold most flashlights. There are actually two slots on the pic rail.
While the included picatinny rail is a really nice feature, I likely won't use it to mount a flashlight or a laser to this gun.
If you want to throw a flashlight on the Taurus TX22, or you're trying to get a gun closer to your carry gun set up so you can shoot more affordably. This is probably a good option for you.
Size
So like I mentioned earlier, the size of this gun is really good.
It's a compact-size gun and would be really good to train with. It falls right there in the Walter PDP Compact, the Glock 19's, and the P320 Compact size guns. It's right there in that realm.
It's not going to be exact of course, but it's very, very similar. I want to say this is a little bit thinner on the slide, but the frame is, to me, almost identical.
Range Bag
This would not be a Lynx Defense Review if we didn't plug our pistol range bags. As you can see in some of the photos in this article, they pair perfectly.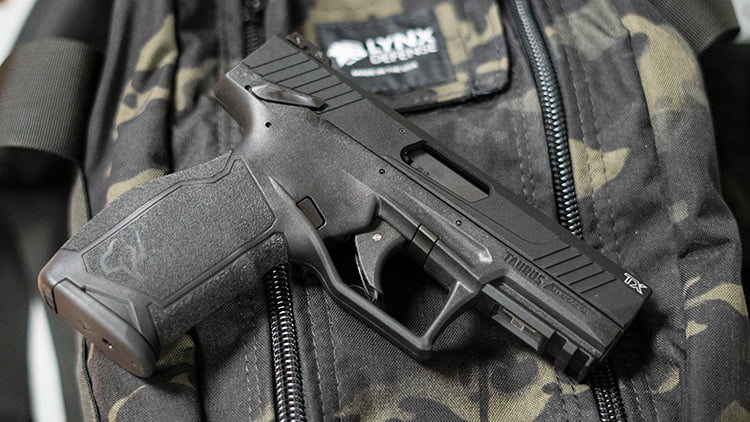 Of course, you get to pick your color, your cameo, whatever you see fit, to put all of your range guns in your bag.
You can also go with the Concord if you want to take more guns to the range. This is a fantastic option for you to take your Taurus TX22.
Taurus TX22 Accessories
So naturally, like any firearm enthusiast, you're going to want to accessorize your Taurus TX22.
If you're like me it doesn't matter what gun it is. You're not going to be happy with it right out of the box and even if you are happy with it, you're still probably going to want to add your flare and your favorite accessories.
So, that's what I've done. Now, I didn't do anything crazy. And I'm going to talk about two things here. We're going to talk about suppressors and magazines.
Suppressors
So I didn't address this earlier in the review, but a fantastic feature of this gun if the included suppressor adapter.
I want to bring it to everyone's attention because I didn't know when I bought this gun and was pleasantly surprised.
I did not realize that the TX22 has a suppressor adapter in the box. This thing is 1/2 x 5/8.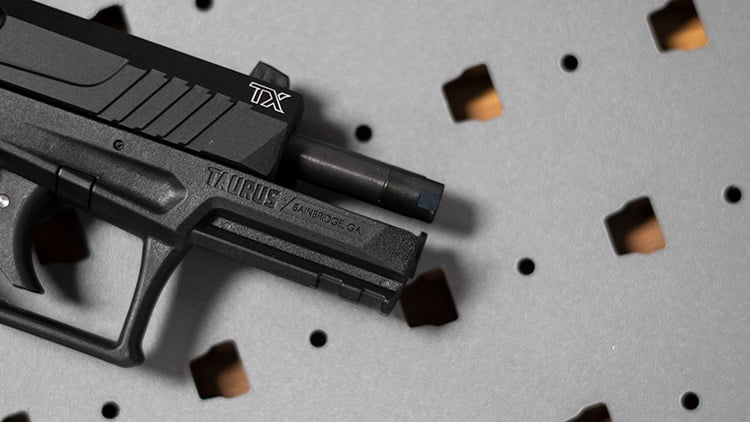 It is the standard .22LR size suppressor thread pitch. A little cap screws off the barrel, then you screw on the suppressor mount.
The cool thing about this end piece is that you can leave it on there. Even if you want to shoot it unsuppressed, you can leave the cap on there and take your suppressor off. I don't know why you'd want to do that, but you could.
If you are considering a suppressor, take a look over our recommendations for top 22LR Suppressors.
This silencer is of phenomenal value. If you've never heard of them, don't feel bad.
I just found out about them at the Palmetto State Armory event, a couple months ago. After talking to them I knew I had to give it a try the weight and sound suppression numbers were impressive.
This little Woodman 22 can is phenomenal. It is probably the lightest can on the market at just 2.7 ounces.
The sound suppression is fantastic. I don't know what they're doing over there at GSL, but they are killing it with this little Woodland 22 and the price is just $318 which is extremely reasonable for what you get.
Highly recommend you put suppressors on your 22s, just makes them so much more enjoyable to shoot.
One thing I will note, I didn't screw it on crazy tight, but I might throw a O-ring on there to stop it from backing off. Because it did kind of back off, and you can see that in the video where I shoot it suppressed and unsuppressed. But if I were to give it a more solid twist I doubt I'd have any issue.
Magazine
All right, so one thing I didn't mention was the actual magazines in the review.
Not because they are bad, actually kind of like their mags, even if I did have a slight hiccup.
But that was actually my fault, so no biggie. Their springs are incredible, almost to a fault.
TX22 Magazines
Capacity: 10 or 16 round
Material: Polymer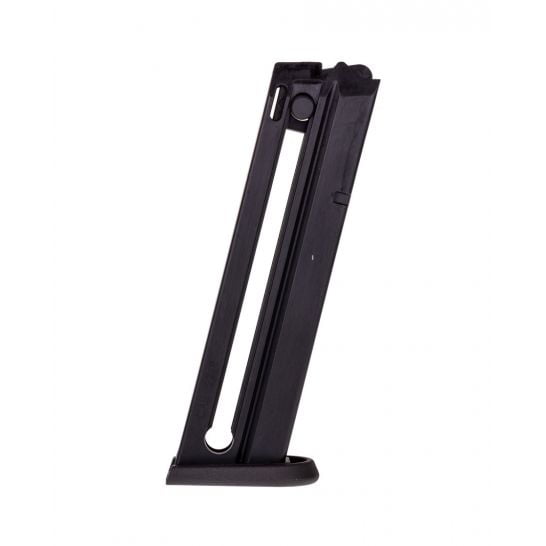 When you're loading these things, and you get to the end of loading the 16 round capacity magazine your fingers are screaming at you to let go.
Of course, you're going to keep going, and get this thing filled. Because that's just more 22 long rifle fun that you're going to have.
But nonetheless, I had no problems with these mags.
The one con about these magazines is that they are plastic. I would love to be able to buy a metal version of this, just for the sheer fact of, you know, it's metal. I can throw it, and feel okay.
But I had no problems with them. They seem to funnel fine into the magazine well.
Just that one thing, that spring is incredible. I'd pick up some more of these things.
The TX22 mags are probably a hot commodity, because this gun goes on sale for under $300 quite often and it actually looks phenomenal, which brings me to my next thing.
Aesthetics
So, let's talk about the looks of the Taurus TX22. That's probably what first drew me to the gun, was the overall aesthetics.
I was like, "Hey man, look at that nine from Taurus." Then I realized it was 22, and I was instantly hooked.
This pistol has some really nice lines. The slider serrations on the TX22 are the same that you would have on just any run of the mill nine millimeter.
I like the TX, that's laser etched at the very end of the slide. It's a very nice little touch, and gives you the model name.
The frame is actually really good-looking as well. Just the lines, the smooth areas, where they need to be smooth. There are little indentations, that are simply just for aesthetic purposes but don't take away from the functionality of the gun. Everything about this gun overall is aesthetically pleasing.
The way this gun functions allows for a really cool-looking slide. The barrel obviously doesn't have to sit back to eject, like the Glocks.
The barrel stays in one place. This is nice because you don't have to have a piston for your suppressor if you go the suppressor route.
But the ejection port on the side is directly out to the right. So the top of the gun is one continuous piece that you don't see often.
I really think this is a fantastic-looking gun. You can't go wrong.
Shooting
So, I've already hit on shooting this gun a little bit.
Let's talk about just shooting it overall real quick, and then we'll get to what you guys really want to see, which is the video and I don't blame you, because the video's awesome.
So, the gun right out of the box, I shot it unsuppressed. It shoots really good with slow-paced and rapid-fire shooting.
It ate the 550 round box of ammo, of just no-nothing target round 22 without any issues.
So if you plan to shoot some high end .22LR through this, you're probably going to be great.
The one thing I haven't tried yet, and I will try it and then I will update you, is shooting it with subsonic 22LR ammo.
Shooting the gun is extremely smooth, and overall shooting it with or without a suppressor doesn't change much other than the noise, because there's virtually no recoil and because of that, you can stay on target easier.
It's fun to shoot. You can go through a ton of ammo really fast, fast as your fingers will load it, unfortunately.
Now I will say shooting it without the suppressor, it's a bit loud, but it's not overbearing. You're going to need hearing protection. But if you throw a can on there, pretty much any silencer will do, it's going to be a blast to shoot. There's just no other way to say it.
This thing is crazy fun. I haven't got my hands on the Glock 44, and I haven't yet got my hands on the SIG P322 yet.
But as fun, as this is, I can only imagine that those would be equally as fun. I'm not going to say more fun. That seems silly because shooting is fun.
But, I don't know. Overall, you probably aren't going to go wrong with the Taurus TX22. If you can get your hands on one, grab one, and give it a test.
Final Thoughts
My final thought is if you're in the market, and even if you're just looking around, I'd consider picking this up.
I've even recommended the Taurus TX22 to friends, "If you guys are looking for a planking gun, go grab this thing. It's crazy fun."
I've had no reliability issues with it. I don't have thousands, and thousands of rounds through this gun yet.
Probably have 500-1,000 through it at this point. Haven't cleaned it yet. When I do clean it, I plan to follow this review up with a cleaning section.
I think cleaning sections are important, especially for 22s, because their ammo just burns so much dirtier than non-rimfire ammo.
So, I will be back to update this, but as of right now with several hundred rounds through it, the Taurus TX22 is just an absolute blast for the money.
You just really can't go wrong. It's not going to break the bank to shoot it, and it's really a lot of fun. So if you're in the market, grab one. You won't regret it.
Some Taurus we have reviewed are the Taurus GX4 and the Taurus G2C.
FAQs
Here are some of the most frequently asked questions about the TX 22. It's definitely one of the best 22 pistols around.
Is Taurus TX22 a good gun?
Yes, so far the Taurus TX22 has been a great little .22LR pistol and has been reliable and I really like the aesthetics and features of the gun at an extremely reasonable price point.
Does Taurus still make the TX22?
Yes, in fact Taurus makes a Competition model and the standard TX22 comes in four different color options.
How much is the TX22 competition?
As of this writing the TX22 competition hovers around the $470-$520 range.