So the other day I was in my local gun store and I stumbled across the Kimber Micro 9 and regrettably, I asked to hold it and I just couldn't put it down, so I ended up with a Kimber Micro 9.
So naturally, after shooting my Kimber Micro 9, I'm going to do a review on it. Unlike most guns I have, this was actually kind of a whim purchase. I had no intentions of buying the Micro 9 and I didn't really do much research on it.
I'm familiar with Kimber but before the Micro 9, I've never owned one and never had any intention to buy Micro 9.
Ironically I'm not even a big 1911 guy. I've got a couple, like the Sig P938, but I don't shoot them very often and buy them even less often, but I couldn't put the Micro 9 down.
As soon as I picked it up I really liked it, and so here we are. Let's dive in.
Ergonomics
First, I'm talking about the ergonomics. The ergonomics of the Kimber Micro 9 are really good which is probably why I now own one.
Once I picked up this Kimber and had it in my hand, I thought man it's almost perfect for me. I have smaller hands and I typically carry a Glock 19, but I am getting ready to start carrying a SIG P320 XCompact to give that a try.
But this Micro 9 is really nice in the hand. Not only does the stainless with the wood grip panels look great on this gun it feels extremely natural in your hand.
It really boils down to holding this gun in your hand, that's really where it shines, I believe.
When I put my index finger down the side of the gun like I would when not ready to shoot it felt natural, granted my finger rested on the slide, but it really doesn't matter, because as long as you're not pulling the trigger, slide's not gonna move.
Overall in general, the ergonomics were great. Slide functions great and there's just so many good things to say about the ergonomics.
So now, let's move on to the grips.
Grips
The grips on this gun are small, paneled grips. These look like wood, but I'm pretty sure they're plastic.
They do have the Kimber logo on them and they feel really good. You can change these out, of course, I'm not sure why you would, this thing looks great.
But if you wanted some black grips to kind of match the black accents on this gun, that might put it together a little better.
If you're not a real old school gun person, you may not like the wood appearance at all. But the stock grips on this are good, they do suffice and feel okay and look okay.
Moving on to the magazine.
Magazine
Magazine on the gun is a nine round magazine, so it's relatively small. It is a single stack mag, like most 1911s.
The one mag that I have, and I've tried to figure out if I was supposed to get two mags, but mine definitely only came with one in the box. I'm not sure if that's a mistake or what.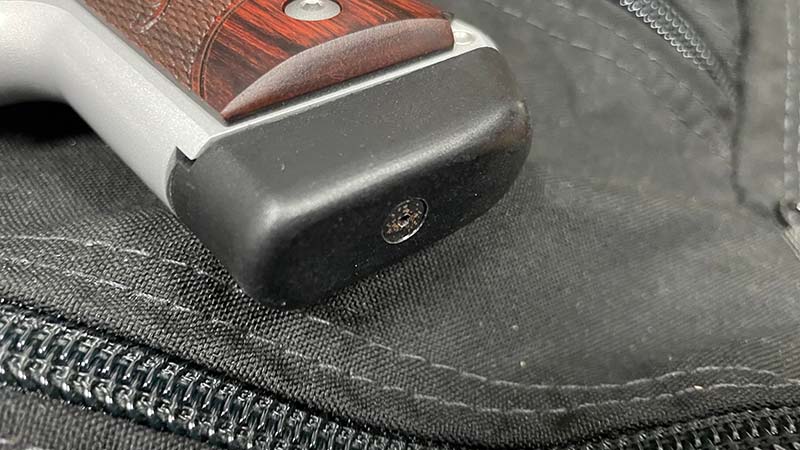 If you know, please feel free to leave a comment. But I only got one, but it is the magazine with the black plastic base on it.
I believe it's supposed to come with a second one with a flat base to get a more compact gun. Now, to me, the gun without the black magazine base pinky extension does not feel good.
The key part of the ergonomics of this gun is the magazine base which allows you to rest your pinky on it.
The other nice part is, the magainze is flush with the frame once you put it in the gun.
I think Kimber did a really good job on the design of this and the fact that it does sit flush. So when your hand is around the grip frame it feels great and natural.
Frame
The frame on the Kimber Micro 9 is actually a really nice 45 degree angle. This particular model is stainless steel.
There are other models, you can get the two tone or the tan and more. There's a ton of Kimber Micro 9 platforms, the KHX, the ESV, the Eclipse, the Nightfall.
All of these models all pretty much have the same frame, they just might have different coatings or colors. But all in all, the controls are the same.
The biggest thing they change are the grips and the slide.
Even the slide, it's just pretty much milling or coating that's different. So being that this is the stainless model, it is a very nice clean frame.
We'll get to the controls on the frame in a little bit. This particular Micro 9 was made in the Yonkers, New York factory.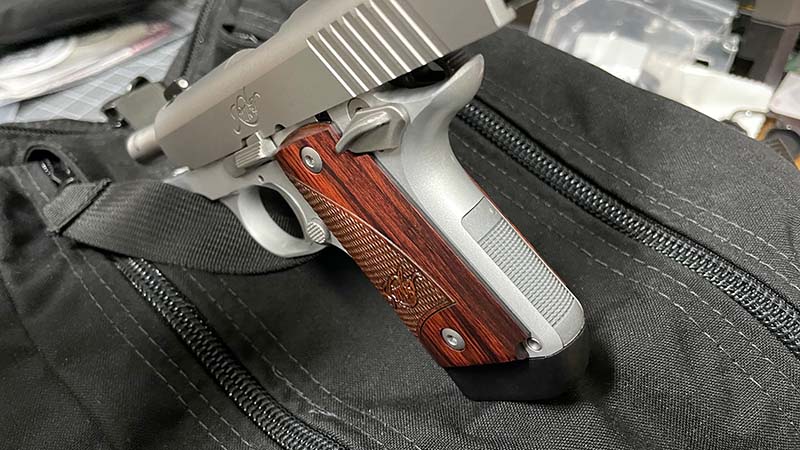 There is a little bit of grip texture on the backstrap, the beaver tail looks great, functions great, allows you to establish a good master grip.
All-in-all, I really like the frame on the Micro 9 top notch on the frame design.
Slide
Moving up to the slide, it's kind of where this gun to me, starts to really shine.
It feels great in your hand, but once you grab the slide, the spring tension is really, really strong on the Kimber Micro 9 and the serrations on the rear are great.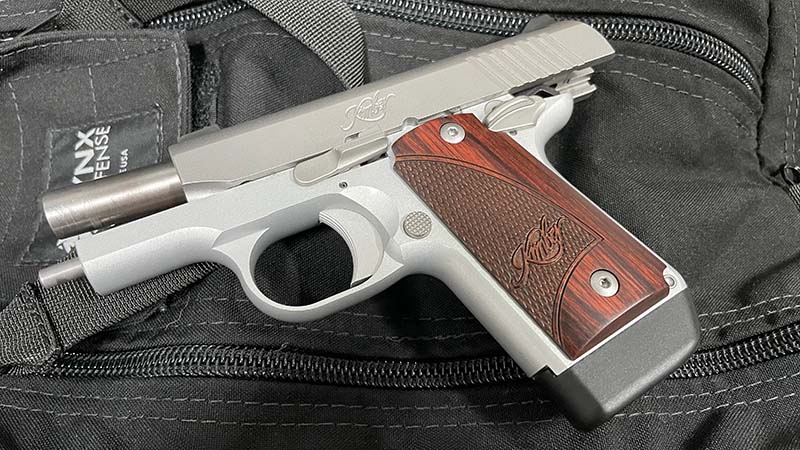 As I mentioned earlier there are tons of models that change the slide. The KHX model has a hexagonal pattern, your ESV has front cut serrations. But by and large, most of the Micro 9 models only have rear serrations and those serrations grip really well.
Even with the seemingly tight spring, it's very easy to grab the slide and rack it.
It's very clean design. With the Kimber logo on one side and Micro 9 on the other, both of these are classy and clean.
The markings are not over the top and the slide has a rounded finish on the top. It's not a boxy design and it compliments the frame very well, as this gun is much more rounded versus something like a Glock or SIG that's more boxy.
It's what you'd expect out of a 1911.
Sights
So sticking with the top of the gun, let's talk about the sights.
The included sights are the standard three dot sights, two rear white dots, one dot front sight. These sights are not adjustable.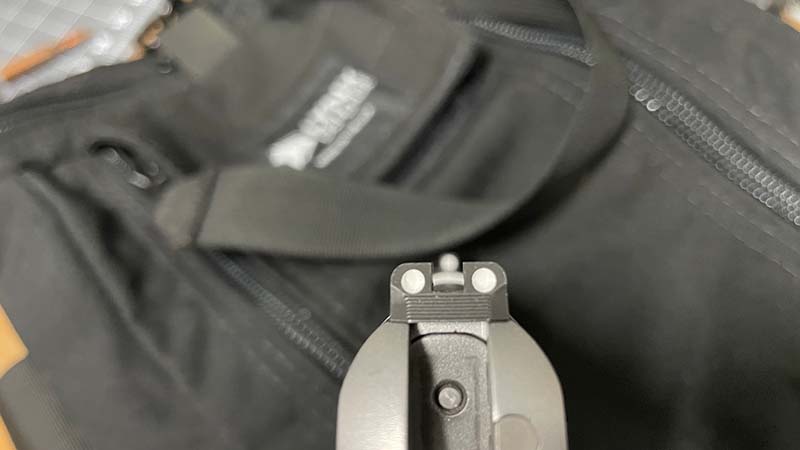 That being said, I'm not a huge fan of these sights. If you've read any of my pistol reviews, I don't like rear sight dots.
I feel like it takes away from the picture, it distracts me. The front sight's supposed to be your focus so for me that's the only dot I need.
Just give me a plain black U on the rear, and we'll roll with it.
You can change the Micro nine sights. TruGlo makes the TFX Pro Sights. But if that's what you want, get your wallet out because they're about $200.
In reality, you don't really need new sights, but I'm just personally not a fan of this sight setup. Now, do they work? Yes, they work fine.
But I think the biggest drawback on a gun of this price point, is the fact that this model, the stainless model, did not come with factory night sights.
You can buy Kimber night sights for the Micro, they're not quite as expensive as the Tru Glo TFXs but they are pretty pricey and after you just spent nearly $700 on a pistol, you would hope that it would come with night sights from the factory. But it doesn't. And if you don't like that, you just have to call Kimber.
Controls
So now, let's jump into the controls of a gun. Most of the controls are obviously on the frame but are a 1911-style pistol, so there is a hammer, so I'll talk about that as well.
Slide Release
But let's start with the slide release and work our way back. The slide release is actually one of the smoothest operating slide releases I've seen on a Micro 1911.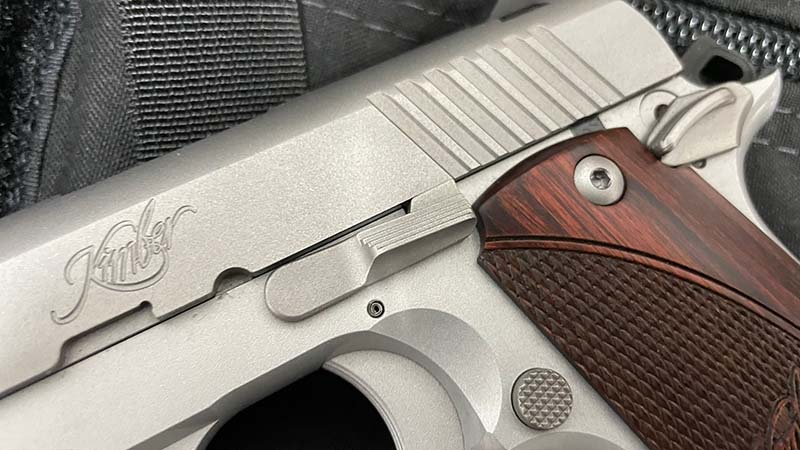 Even with the magazine in, it's very easy to pull it down and send the slide forward.
It's very easy to push it up if you're trying to lock the slide to the rear. It's got a really nice, solid, tiered shelf on it.
Your finger sits on it nicely and it's very easy to pull down with one finger. Now, it's not super easy to pull down with one finger with the magazine in the gun but that's not a big con to me.
I think it does what it needs to do. It's very easy to use. It's really hard to miss if you're trying to lock the slide to the rear and the nice thing is, is for me with smaller hands and the Micro 9, I don't have to swing around the gun to get to it.
I can keep my master grip established and still use the slide release, that's a nice feature to me.
Safety
Moving back to the safety on this gun.
I'm not a big fan of pistol safeties, I don't like thumb safeties.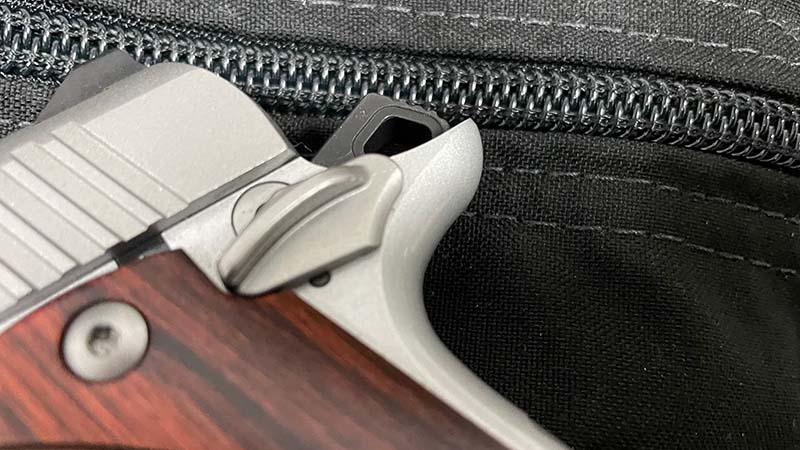 But I accept the fact that they're on most 1911s. So while I don't particularly care for them, I understand their point, I understand why people would like them and I'm going to give this one a fair run.
Pulling down on the safety, when it's in the safe position to put it into fire, is actually extremely fluid. I shot this several times. I brought it from the chest and pushed the safety down while presenting it on target.
There's an audible click. It's nice, it's smooth, and you can't accidentally knock it off safe but it's not so stiff that it's aggravating.
Now, pushing up, it doesn't quite contour to my thumb that well to push up. So it's a little more difficult to get it on safety, but it's still not bad. I don't want to harp on it too much because that would give the false impression that there's an issue with this safety. There's not. It's actually really nice, especially for a Micro 1911 pistol.
Both safe and fire have really nice, tactile, and audible clicks, so you know when you're there.
Overall, if you're used to 1911s, you're not going to have a problem with the safety. In fact, you'll probably think it's pretty nice. I personally like the safety.
Let's move on to the hammer.
Hammer
There is no de-cocker on the Kimber Micro 9, but I don't really have an issue with that.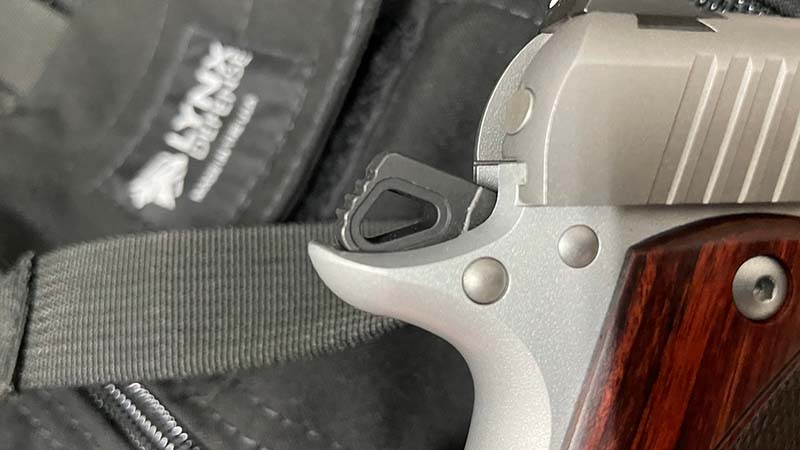 I don't see many people manually cocking this hammer, but there are 4 cuts in the hammer for grip texture.
It's got a hollow interior, assuming that's just for aesthetics. It does look good. It functions well and I've seen a lot of questions online about, "Can you dry fire the Micro 9?" Yes, you absolutely can dry fire the Micro 9.
There's nothing that you're going to hurt with the Micro 9 by dry firing it.
That's mostly 22 long rifle.
Magazine Release
All right, let's talk about the magazine release really quickly.
The magazine release is a small, circular dot where pretty much every magazine release is.
So there's no real shocker, there's no epiphany here for a mag release. It's what you'd expect on 1911, it has a very nice abrasive texture to it and is a metal mag release.
Once again, it ejects the magazine like a 1911. It doesn't shoot out unless you hold it all the way down. If you short stroke it and just press it real quick, your mags not going to slide all the way out.
But if you press and hold, your magazaine is coming out. So overall texture wise on the button works great, it doesn't shoot out quite as good as some of the polymer-based pistols.
But again, this is a Micro 1911, so take that at what you will.
Speaking of 1911s, let's talk about the trigger.
Trigger
The trigger on the Micro 9 is different.
I want to say it's like a 1911 pistol, but it's not on a slide. There's definitely a sliding attribute to it, it looks like a sliding 1911 pistol but it definitely functions more like a standard pivot trigger.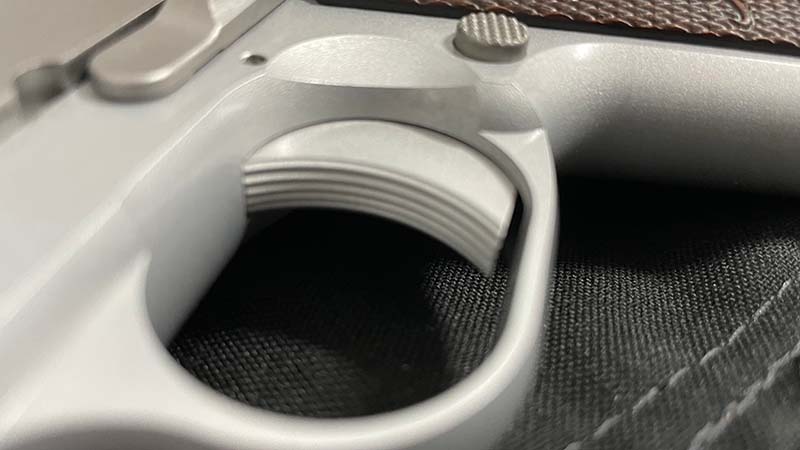 In fact, you can see the roll pin that holds this in on the side of the gun. Now, let's talk about the actual trigger function.
The trigger has very little take-up, very, very little take-up. Once you hit that wall, you're at it. You're just going to have to pull until it breaks. It's got a pretty solid trigger pull, it is not for the faint of heart.
The reset is all the way back out, and then you have your very little bit of take up, and then you have your pull. The nice thing I'll say about the break on this, it's very clean and crisp, but it's heavy.
So you're probably going to be more accurate with this if you're one of those people that like to push or jerk to compensate for recoil. You're not going to see this trigger break coming, this one's going to break before you know it. Which is good.
But it is a pretty heavy trigger pull, so keep that in mind.
Shooting the Kimber Micro 9
So shooting the gun I thought would be a lot of fun, and don't get me wrong, shooting any gun is better than going to work any day of the week.
So it was a lot of fun. However, I ran into some malfunctions with this gun like I did with the Browning 1911 Black Label.
It wasn't bad, but out of like six or 10 mags that I ran through it, I had a malfunction on three or four of the mags.
That may just be this gun, or that may be the ammo. I'm going to shoot more and kind of jostle that around, and figure out what exactly that might be.
I definitely wasn't limp wristing the gun, though. That was ruled out because multiple people shot this gun that day and we still had the same problems.
The brass was quite literally getting caught in the chamber on the ejection, so I'm not sure what that was about.
But as far as shooting the gun, it shoots great. It's a Micro 9 mm, so it's got a bit of bite. There's really nothing that's going to mitigate the recoil on this, but it still feels really good in the hand.
Is it a gun I'd want to shoot all day?
No, absolutely not.
Is this a good gun?
I think so, aside from the issues we have, and I would try some different ammo.
I still like this gun even with the few issues I had shooting.
Final Thoughts on the Kimber Micro 9
My final thoughts for the Kimber Micro 9 are this, this is a fantastic looking gun. I think most people will love this gun.
If you're a Kimber fan, you're going to love it.
If you're a 1911 fan, you're probably going to love it.
Personally, would I carry this gun? No, absolutely not.
The few issues I had, I had shot the same ammo out of other guns and haven't had that problem. So no, I would not carry this particular Kimber Micro 9.
Should you carry it? That's for you to decide. I don't tell people how to live their life. This is America.
But you should definitely shoot the Kimber Micro 9 before you carry it. I think that's very important. These are really nice guns, they're definitely a show piece. I like being like, "Hey, check out my Kimber Micro 9."
It's decent to go shoot, this isn't going to be the only pistol I take for my range day. Simply because it does have a good bit of bite and I just don't want to shoot it for three, four hours.
I do want to shoot 10, 12, 15 mags through it and really get my time on it.
Overall, I do recommend getting this gun. If you like 1911s and you like Kimber, it's going to be a good purchase.
If you're looking for a carry gun, like an everyday carry protection gun, I have a hard time recommending this. Many people may disagree with me, and that's perfectly okay.
Personally, I just wouldn't recommend it. Would I recommend not getting it? No. I think it's a great gun to shoot, it's a great gun to have but is it one of the best 1911s I've ever shot? Probably not.
I'm not going to get rid of it. I like shooting it, I like having it, I'm just not going to carry it every single day.