I should preface this Sig P938 review by saying I'm an unashamed Glock fanboy, specifically the Glock 19, but that's not the point of this review. I'm going to dive into the Sig Sauer P938 from a Glock fan's perspective but not in a sense you would normally think. If you want to see how the P938 stood up against a Glock 43 check out the P938 vs Glock 19 article.
I plan to give the gun a fair assessment, just like I did the Wilson Combat EDC X9 and the FN 509. Since I bought the gun with my hard-earned money, it only makes sense to give it a fair shake. So let's see what the Sig Sauer P938 pistol is all about.
History of Sig Sauer
Sig Sauer GmbH is a German-based firearms manufacturer that started in 1976, but before that, SIG was a Swiss company and in 1976 joined J.P. Sauer & Sohn to form what we know today to be Sig Sauer.
Originally Sig created SIGARMS in 1985 to import the P220 and the P230 model handguns into the US market. After a few changes and being sold, finally, in 2007, Sig Sauer created what you now know today as Sig's US branch of their company "Sig Sauer, Inc.," based in Exeter, New Hampshire.
Sig P938 Overview
First, let me explain why I have the Sig 938. I wanted to get a gun for my wife to start shooting before taking her concealed carry course to get a concealed handgun permit in North Carolina. As a Glock fan, I wanted to get her a Glock 43 or 48, but I couldn't find one in the middle of the Gun Apocalypse 2020.
However, I did come across a Sig P938 on consignment and, after handling it for a few minutes, figured, what the heck, it'll do for now.
So that's the story of how I became a Sig P938 owner. I'm gonna dive into the gun from my perspective, and while it's not a new gun on the market or even a trendy option anymore, I think it still has relevance.
Features
Sig pistols are feature-rich, maybe not for buttons and switches and fancy doodads, but high-capacity magazines in smaller and smaller frame designs.
The Sig P938 made its debut in January 2011 at Shot Show. Several versions of the P938 have since been released to include the Scorpion, Extreme, Equinox, Nightmare, AG (Aluminum Grip), SAS (SIG Anti-Snag), and Legion.
The model that I picked up with the P938 Scorpion, so we'll focus on the Scorpion's ins-and-outs. (Not to be confused with the CZ Scorpion)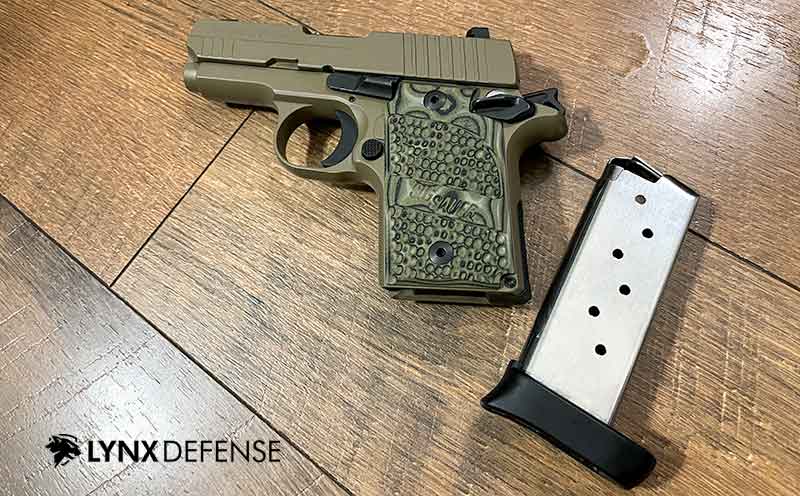 P938 Ammo Capacity
The P938 comes with two 7 round magazines in the box. One has an extension on it, and the other does not. Now, I need to rant for just a second.
Is there anyone on planet Earth that actually enjoys or carries the magazine without the extension for your pinky? I found those magazines to be a waste, and I hardly ever used them due to the compact guns they come on needing the extra length for your pinky.
This gun seems to fall short on ammo capacity given Sig pistols' current lineup and the high magazine capacity. But taking into account that this gun was introduced in 2011, the 7 round magazine seems sufficient.
Magazine Well
The magazine well is straight and to the point. Quite literally, the P938's magazine well is nothing but straight hard defined lines. There is not even the slightest bit of magazine flair on the P938.
It's still pretty easy to get the magazine into the magazine well, but if you miss the magazine well changing your mag, don't expect any help correcting your aim with the Sig Sauer P938.
Grip/Ergonomics
To me, the grip and ergonomics of a handgun are the most important features. If it doesn't feel good in your hand, you aren't going to like it. This is part of the reason I'm so partial to Glocks. They all feel similar, and I like how they fit in my hand.
I was extremely surprised by the Sig P938 from the moment I picked it up. It felt great, and by great, I mean solid built, and when I established my master grip, my trigger finger rested just at the end of the trigger well. Transitioning my finger to the trigger to fire was quick and fluid.
Now I'll be the first to admit I have smallish hands, so this gun fits great. If I had to compare, it fits about like a Glock 43 does, except this frame is cold and sturdy metal.
Sights
The sights almost fooled me… at first glance, I thought they were Trijicon sights, and I thought to myself, surely Sig didn't ship the P938 with Trijicon sights.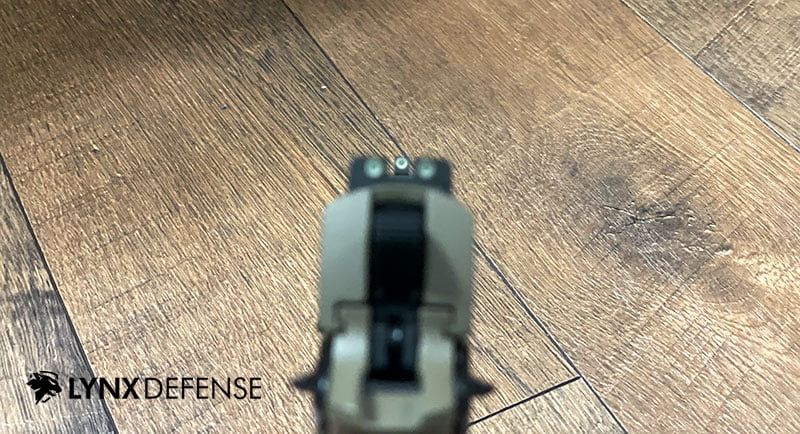 After just a hair of research, I discovered they are actually Meprolight night sights. The all-metal construction is nice in the event you have to rack your slide on something hard. The tritium looked good in total darkness, but I don't know much about Meprolight sights or their longevity.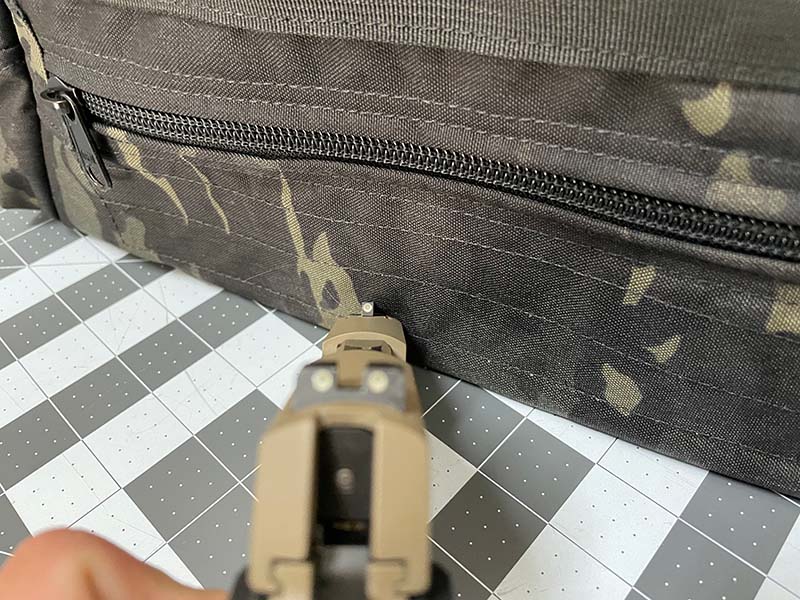 I'll update this post when I have more time behind the sights about any issues with them.
Irons/Dot
There really isn't the ability to add a red dot sight to the Sig Sauer P938. With a quick Google search, I saw Hi-Viz and Sig factory sights and an option to switch out the Mepro iron sights.
There were several options for iron sights, including fiber optic and other tritium-based night sights.
Sig Sauer P938 Controls
I always struggle with controls. Five or so years ago, I decided to do the unthinkable and simplify my pistol lineup. I went to all Glocks, and the reason behind that was I wanted to be 110% familiar with the platform that I carried 99.9% of the time.
The theory was I didn't want to question if my EDC had a safety, what the trigger was like, where's my slide stop, where's my magazine release. I needed all that to be like second nature. The reason I tell you all that is so the next three things I go over: Safety, Magazine Release, and Slide Stop, are all going to be from the perspective I've laid out above.
Like I said from the beginning, I think it's important to address and acknowledge the inherent firearms bias I have.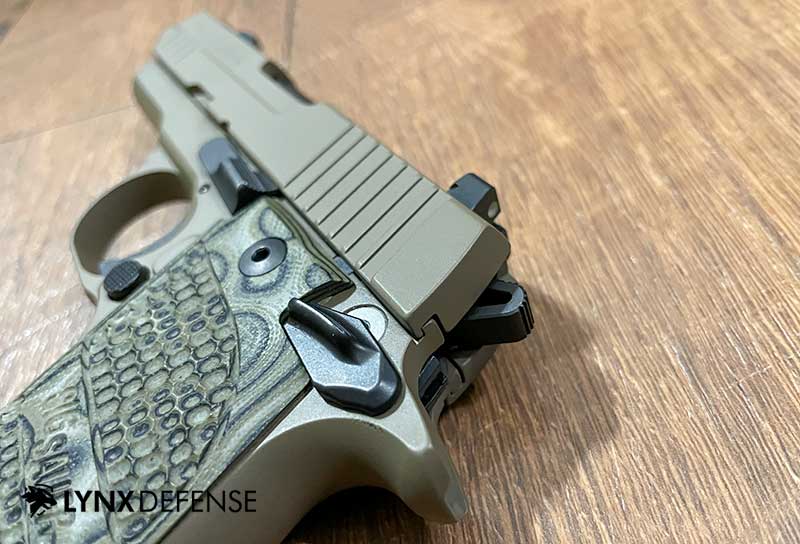 Safeties
I loath a pistol safety. Hate them. They are pointless, and they get in my way. Plus, you are taught never to trust the safety, it's mechanical, and they can fail.
But for this review, I decided to become familiar with the P938's safety. A few nights ago, I sat on my couch watching TV using the thumb safety on the P938 in every way I could imagine.
I don't have a holster for my Sig Sauer P938, so I couldn't practice drawing the gun from a holster and disengaging the safety.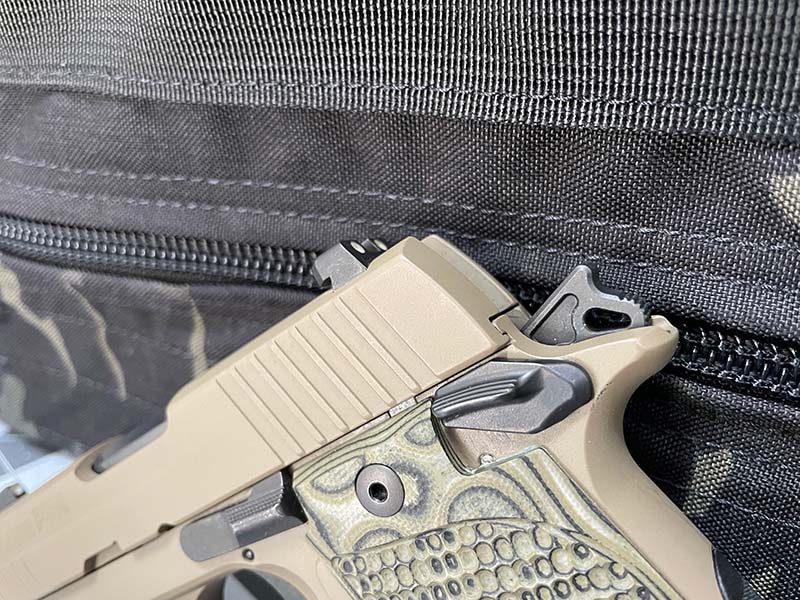 So I did the next best thing, I stood up and presented the pistol on target, which happened to be a movie I was watching; take that evil movie villain. I repeatedly disengaged the safety while bringing the gun to the target.
The safety is strong. It has a loud auditable click when it's engaged and disengaged. Using it with your thumb can become tiring, granted this was repeated a hundred or more times over the course of a few hours – definitely not a realistic scenario.
Still, I'm not too fond of pistol safeties, but this safety isn't awful, and if this was used in a life or death situation, I don't see the safety standing in your way of being able to fire as long as you train with it appropriately.
Magazine release
The magazine release button is located on the left side of the gun, clearly made for right-handed shooters, no issue for me since I'm not wrong-handed (sorry, lefties, be right or be wrong).
It's a circular metal button, but like many 1911 style guns, the magazine will catch if you don't depress all the way and hold the magazine release button down till the magazine falls out completely.
No issues with the magazine release but nothing to write home about either.
Slide Stop
One thing I think Glock dropped the ball on is the slide stop/catches. It's a minor issue, and there are aftermarket parts that fix my biggest complaint. I say that so you know I'm a stickler for slide stops.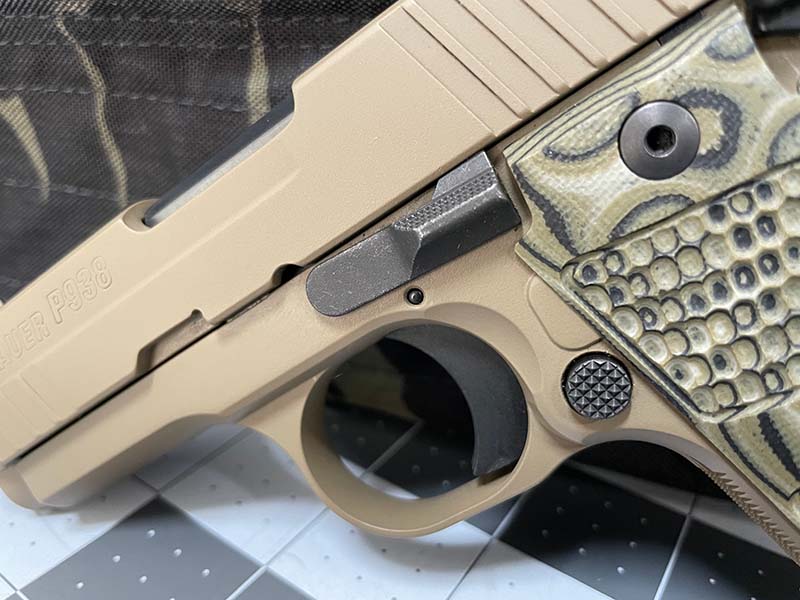 P938's slide stop is located directly in the middle of the gun and mimics what you would see on a 1911 style pistol.
It works well, and I can't complain a bit about how Sig designed their slide stop on the P938.
Sig P938 Overall Ergonomics
For such a small pistol the P938 feels great in the hand. That's one of the major reasons I was so drawn to the Sig P938. The overall ergonomics are solid and it feels great in the hand.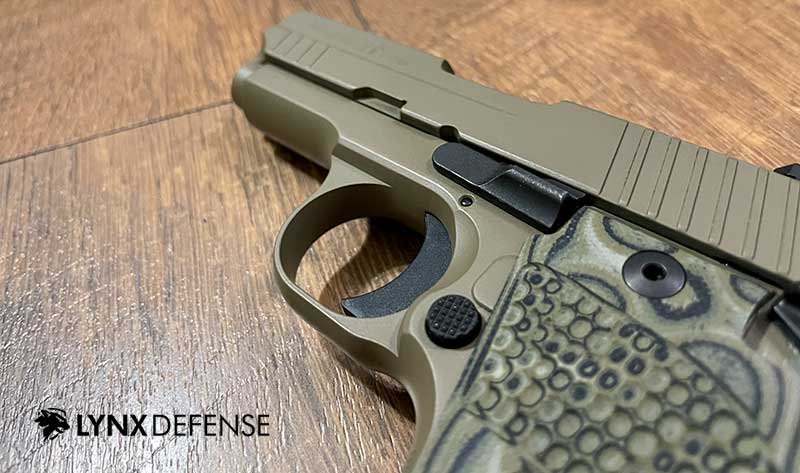 Trigger
The trigger pull is very similar to 1911 pistols. There is almost no take-up to the wall, and then the break is crisp and deliberate. The pull is also straight back.
For an extremely compact gun, the trigger is actually nice which I really wasn't expecting.
Sig did a really good job making this trigger fit the gun so the length of pull and nearly every aspect of the trigger feels great.
Rail
There's no rail on this gun, and quite honestly, it's too small to warrant a flashlight attachment.
There might be some grips with built-in lasers or other options you may want but overall this gun isn't lacking due to the absence of a rail.
If you are looking for a pistol with a rail you'll likely need to upsize into a larger gun.
Aftermarket
The aftermarket accessories for the P938 are ripe.
There are several companies offering Kydex holsters and soft holsters.
The only other aftermarket parts available are some replacement iron sights as well as grips. This gun is probably in its later life given that even Sig's own lineup really outpaces the P938 in round capacity as well as customizability.
Aesthetics
The scorpion I got is a shade of tan (I've been called color blind so take that for what you will). The guns milling on the slide is stylish but also functional. The gun has black accents that compliment it well.
The overall looks of the gun will appeal to most gun enthusiasts and while I like the color I might spring for the all-black P938 instead.
Shooting
I shot the Sig P238, which is the 380 version of the Sig P938, and it was one of the softest shooting guns I've ever shot, and I was hoping the Sig P938 would be similar.
Unfortunately, I was disappointed. It has slightly more recoil than a Glock 43, which is not a light recoiling gun.
As I stated before, I have smaller hands, and I shoot it and control the recoil quite well, but my friends with larger hands do not like the P938.
They say they have a hard time getting a good grip on the diminutive gun, and the recoil seems larger to them because the gun moves more in their hands.
I've talked to small-statured women who love this gun and shoot it extremely well while their larger husbands can't shoot it at all.
The metal frame doesn't do anything to help soak up recoil and send vibrations right through your hand.
If you're getting a lot of contact with the grip, it's not an issue, but if you have large hands that don't have a lot of surface contact, it really increases felt recoil.
Based on my experience, I think hand size will determine if this gun will work for you.
If you're a man or a woman with small hands and you're looking for a 1911 style micro 9mm, I think the P938 will serve you well when shooting.
Sig Sauer P938 Conclusion
Being the Glock fan I am, I was astounded at how much I actually like this gun. It's a very compact 1911-style gun, and given the size of my hand, it actually isn't a bad shooting gun, but if you have large hands, you may disagree. This is very similar to the experience I had with the Springfield Armory EMP4.
If you have large hands, you may want to look at the Sig 1911 Tacops or the Sig P320 X-Five Legion which are larger pistols. But this as well as the Kimber Micro 9 are great options for people with smaller hands.
But overall this is a great pistol from Sig Sauer and I wouldn't hesitate to recommend it to anyone as long as it fits their use case needs.
I would consider getting your hands on one before determining whether to buy the P938.
You can also read our best 1911 article or the review on the Sig P238 the P938's smaller 380 brother. If you like the overall size and style of the P938 take a look at S&W's newest gun the Smith & Wesson CSX.
Sig P938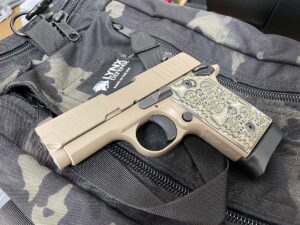 The Sig P938 is a mini 1911 style 9mm pistol from Sig Sauer. This popular Sig is loved by many because it's a modern small 1911 pistol.
Product SKU: 2324073
Product Brand: Sig Sauer
Product Currency: USD
Product Price: 649.99
Price Valid Until: 2025-03-21
Product In-Stock: InStock