Are you considering the Primary Arms SLx 1-10×28 for your rifle? I'll review the optic completely and try to help you make a decision on if it's the best choice for you!
Primary Arms makes a number of great scope options so how do you know which one is the right one for you? In this Primary Arms slx 1-10 review, I'll dive into this scope to help you determine if it's the right scope for your needs.
SLx 1-10×28
• Magnification: 1X – 10X
• Battery Type: CR2032 3V
• Tube Diameter: 34mm
• Weight: 19.1 oz.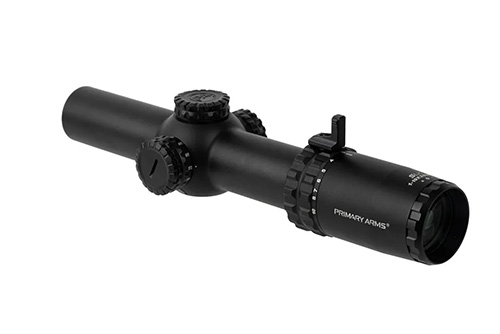 Primary Arms SLx 1-10×28 Scope
When considering what magnification you want for your LPVO you'll want to make sure you get enough to accomplish your end goal.
When you're looking for the perfect scope for your AR-10 or your bolt gun, you should want the highest level of magnification you can get with the least amount of target distortion, and I think this is where the Primary Arms SLX 1-10×28 shines.
Specs
The 1-10×28 specifications are actually pretty impressive considering the $449.99 price point. The magnification and clarity of the optic are extremely solid.
| | |
| --- | --- |
| Battery Type | CR2032 3V Lithium Coin |
| Brand | Primary Arms |
| Focal Plane | Second Focal Plane |
| Magnification | 1X – 10X |
| Night Vision Compatible | Yes |
| Objective Diameter | 28mm |
| Tube Diameter | 34mm |
| Weight | 19.1oz |
The full specification list can be seen on the Primary Arms product page.
First Impressions
When I first picked up the SLx 1-10x I was impressed by the weight and overall feel of quality.
I honestly felt like I was holding a $700+ LPVO just based on the overall feel. A quick glance through the unmounted glass the reticle was crisp and clear.
I was inside so I didn't get a good sight picture at the time but a good test wouldn't happen until it was weapon mounted anyway.
SLx 1-10×28
• Magnification: 1X – 10X
• Battery Type: CR2032 3V
• Tube Diameter: 34mm
• Weight: 19.1 oz.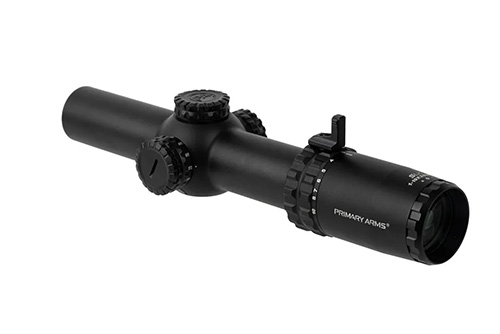 Materials
The exterior construction of this LPVO is all metal including the turret caps. The scope adjustment ring and the full body of the optic is metal. While Primary Arms doesn't tell you exactly what metal this is optic is made of it's safe to say its aluminum and 7075 or 6065.
Weight
Most reviewers don't harp on weight on LPVO reviews and I won't either. Typically guns that you want to throw an LPVO on isn't going to be built to be extremely lightweight.
However, if you are this optic clocks in at 19.1 oz without a mount. What mount you put on this scope will matter more than the optic itself.
Since it's only 19.1 ounces throwing this on top of any rifle won't be a big deal.
Reticle
The reticle choice is going to change a lot on this scope depending on what you want to do with it.
The reticle I have on my SLx 1-10 is the ACSS Griffin M10S Reticle. There is a lot going on with this reticle but it gives you plenty of flexibility for windage and elevation.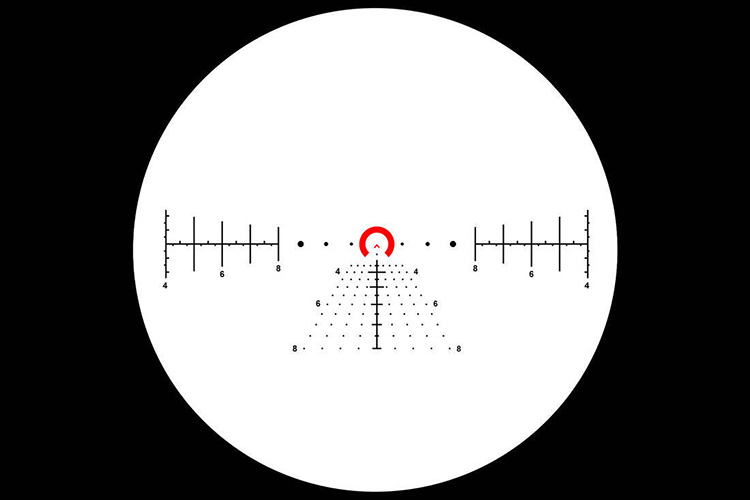 I'm a huge fan of the optics that use the chevron and while this one has the half-circle chevron and not just the plain chevron, I still like it a lot. It illuminates and helps me get on target easily and quickly.
The primary arms 1-10 ACSS reticle provides plenty of on the fly adjustment options.
Reticle Brightness
There are two parts of the reticle that illuminate and that are the half circle and the chevron, the two most important parts. That makes this a partial illumination reticle.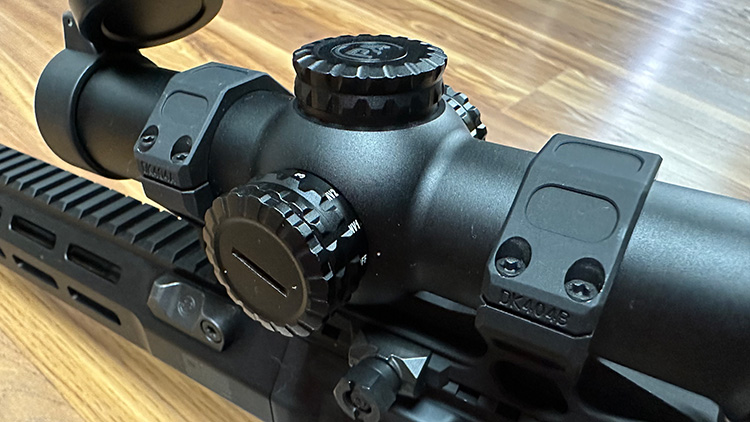 There are 7 regular brightness settings and two settings labeled with a "D" for daytime.
The Primary Arms slx 1-10×28 rifle scope also has 2 night vision settings and to be clear that does not give you night vision capabilities. This simply allows you to illuminate the reticle if you are wearing night vision.
LVPO Adjustment
Adjusting the Primary Arms SLx 1-10 is pretty typical of what you'd expect on an LPVO. The windage adjustment is on the right side of the scope and the elevation is on the top.
The adjustment caps are aluminum and come off easily. There is no quick adjustment on the caps so you must take them off to make adjustments.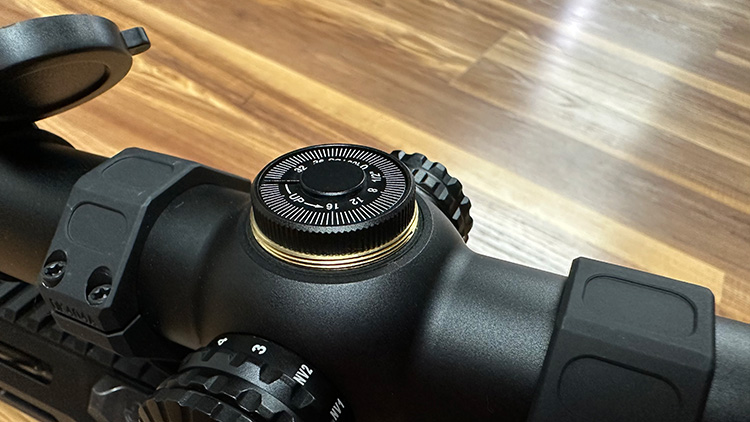 Adjustments with this reticle aren't all that necessary with the ACSS Griffin M10S Reticle providing more than enough markers for on the fly shot corrections.
The nice thing about the adjustments is you don't need any tools, coins, or spent casings to make your adjustments to get your scope zero'd.
You can just use your fingers to make adjustments once the caps are off and I can't stress enough how much I like that small but important feature.
Power source
The reticle is powered by a single CR2032 3V Lithium Coin battery and it is located under the cap of the brightness wheel.
I try to keep these on hand regularly and change them out once a year, typically at the first of the year or right before the new Year to make sure they are fresh and ready to go when I need the illuminated reticle.
Durability
This LPVO will hold up well and while I haven't put it to the test I'm confident given the fact it is metal where it needs to be metal and the overall glass is clear.
Short of purposely abusing this optic, it's going to hold up to even the most seasoned shooter.
SLx 1-10×28
• Magnification: 1X – 10X
• Battery Type: CR2032 3V
• Tube Diameter: 34mm
• Weight: 19.1 oz.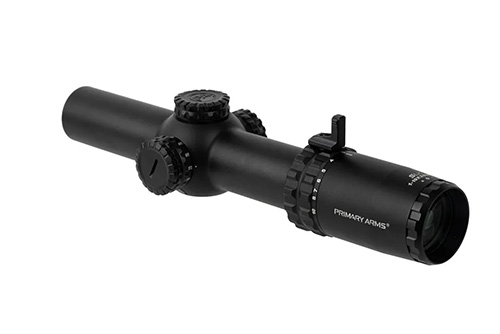 Final Thoughts
If you are looking for an affordable 1-10x LPVO then the Primary Arms SLx 1-10 might be one of the best LPVO options for you.
I really like the eye relief on this optic it doesn't blur or degrade the eye relief when you zoom in as some cheaper optics do.
I run this LPVO on my Sig Tread 716 and I can't say enough good things about using this optic.
I've been using it for about 4 months now on my Tread and it has really performed well after I sighted it and it worked perfectly.
The price point of $449 really is a bargain for an optic of this quality. I would not hesitate to recommend this scope to anyone in the market for a magnified scope.