If you've been following Lynx Defense or our reviews, you'll know that I love 22 long rifle anything, pistols, rifles, doesn't matter.
From the Ruger 10/22 to the Colt Huntsman to the Browning Buckmark to the Ruger Mark IV, doesn't matter to me. I love them all. So, when I stumbled across a gun after my own name, I had to try it out.
The Savage A22 is a synthetic stock offering from Savage Arms that packs a few extras and has a rotary box magazine, so that's the start. Let's go ahead and dive into the feature set and talk about my experience with it's with it.
Savage A22 Features
To name a couple of the features that would draw you to the Savage A22 over something like the Ruger 10/22 is one, the price point of the Savage is less than the Ruger 10/22 to get the equivalent feature set.
A big emphasis on threaded barrel and a picatinny optics mount. Those are the two big things on this rifle.
Also, you get the Savage AccuTrigger that you would get on some of the more expensive Savages.
It has a very similar box rotary style magazine that the Ruger 10/22 has. Let's dive into each of those a little bit.
First and foremost, I'm going to talk about the grip of this gun.
Grip
The grip on this gun is like any other rifle for the most part feel good and how they've cut this stock is very ergonomic.
I will try to explain it the best I can in writing. But when you grip the gun, they have cut into the top of where the butt stock meets the pistol grip, allowing your hand to sit comfortably in that little nook.
I think this is great and I, for whatever reason, don't want to wrap my thumb around this stock. I want to set it to the back of the receiver, which to me feels really good. But I think when I go to shoot it more and more, I'll continue to wrap it and hold it like a normal gun.
The grip overall has a little bit of texture on the pistol grip, which feels good. It's a 22 so it's not like you're going to need a lot of abrasion to allow you to grip the gun.
It does what it needs to do. Ergonomically, this thing is great. As I said, that little cutout does more than I ever thought it would, it allows you to slide your hand down in it and it just feels really good holding the gun.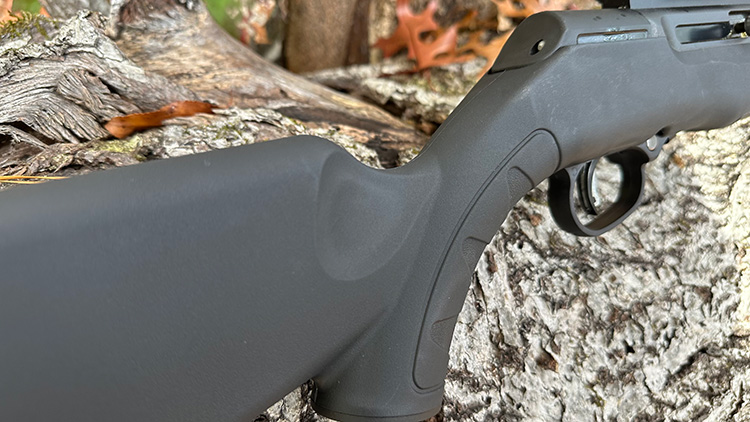 It allows where your thumb meets the palm of your hand to rest in there and it almost sinks in and just kind of accepts your hand better. I really like that about this gun.
Sights
Really, I just want to mention the lack thereof. This gun is set up for you to put on your own red dot or a scope of some kind.
It has a built-in picatinny mount rail, aka a 1913 rail on top. You can add whatever you want.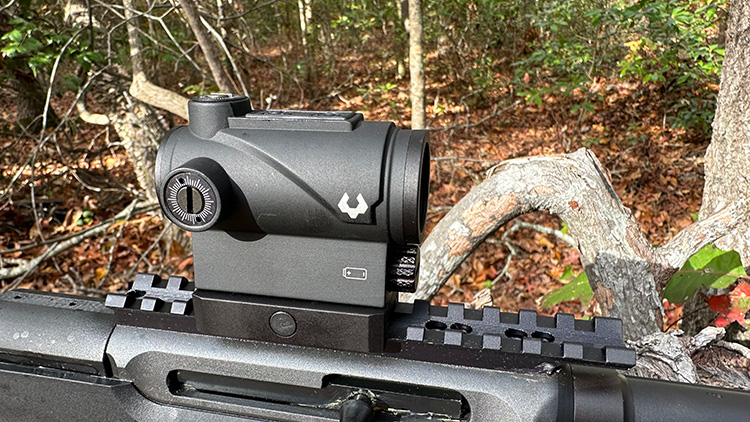 There's no front sight and there's no rear sight. You have to put whatever you want on this pic rail.
That being said, it's perfect for a cheap little 1-4x, 1-6x power scope, or even a red dot; if you want to carry it around and have some fun planking, that would be perfect for this.
Magazine
The magazine is different; as I mentioned, it's a rotary-style 22 magazine.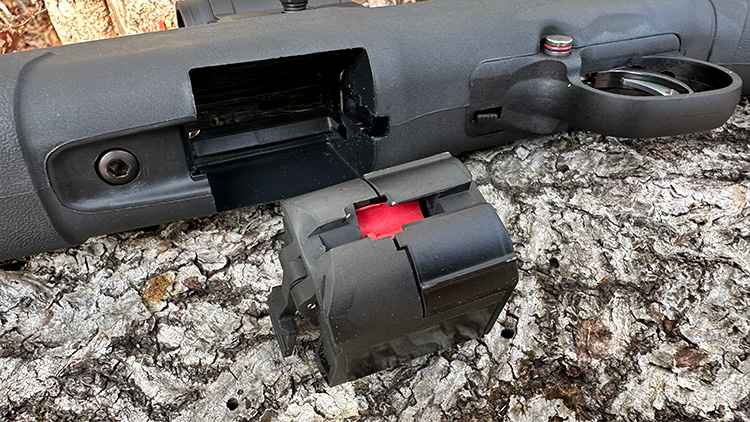 It holds ten rounds, and it took me a minute to figure out how to load it. The magazine is a mixture of polymer and metal.
The back of it is all metal. The front is a polymer encapsulation. It does slide into the rifle relatively easily.
If you're used to the Ruger 10/22 magazines, this takes a second to figure out how this thing works.
Basically, on the rotary dial, there is a slot for each individual round, and you have to kind of figure that out. When you slide them in, it goes in and rotates.
But once you get the hang of it, it's not bad. At first, I thought that was going to be a real big gripe, but once I started really shooting it and got a couple hundred rounds in, I'm like, ah, the magazine's not too bad.
But if you're coming from the Ruger 10/22 line, it's going to be a little awkward at first, but once you get used to it's like I said, not a bad magazine design. I'm not going to say it's great, but I'm not going to ding it for that. It's not a con.
Controls
Let's talk about the controls of the gun a little bit. Nothing revolutionary about the guns main controls.
Magazine Release
The Savage A22 magazine comes out by simply grabbing a lever on the magazine itself and pulling it out.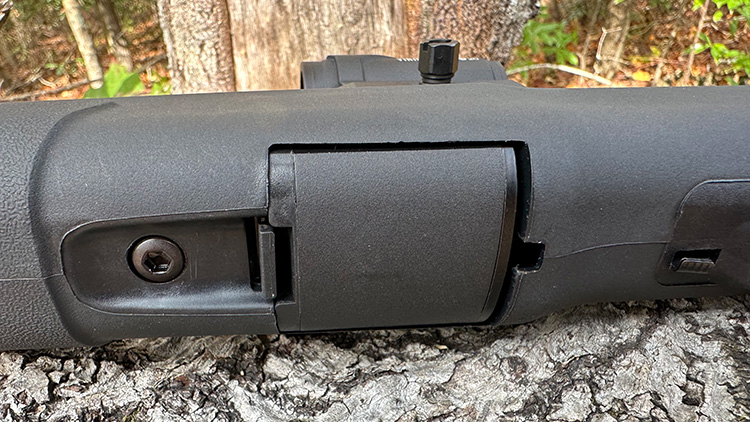 The magazine release works pretty well and is very easy to use.
Charging Handle
The charging handle on the side does stick out far enough. I do like the design of the charging handle.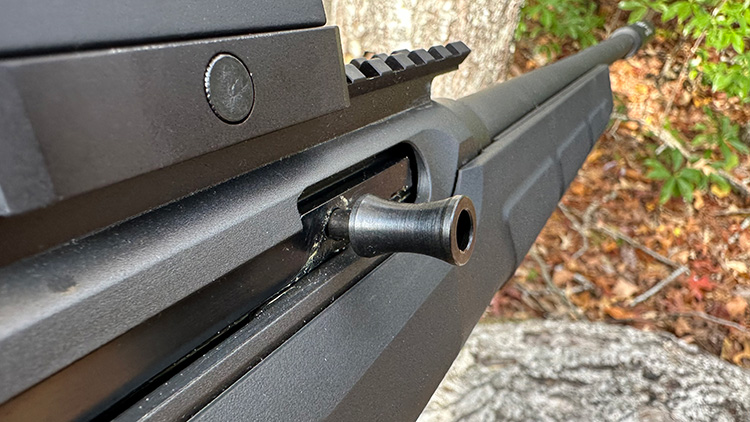 It's rolled out in the middle so you can just kind of grab it with your pinky or your index finger and rack it back.
Bolt Hold Open
On the bottom of the gun just in front of the trigger well, you have your bolt hold open.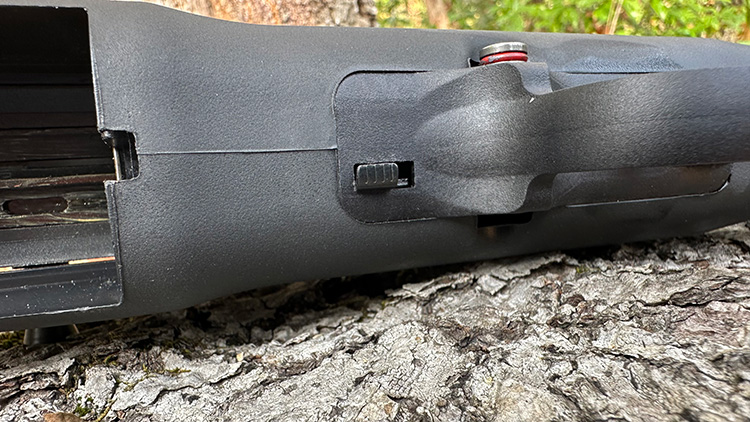 It's not a release because only thing you can do is press it up into the gun and it'll lock your bolt to the rear.
Another thing to mention about this gun is the fact that it doesn't have a last round bolt hold open.
The Savage A22 price point I feel like justifies a last round bolt hold open, but it's okay. It happens and it is what it is.
Trigger
The trigger is an AccuTrigger. Although it doesn't seem precise and tuned as the AccuTriggers I'm used to.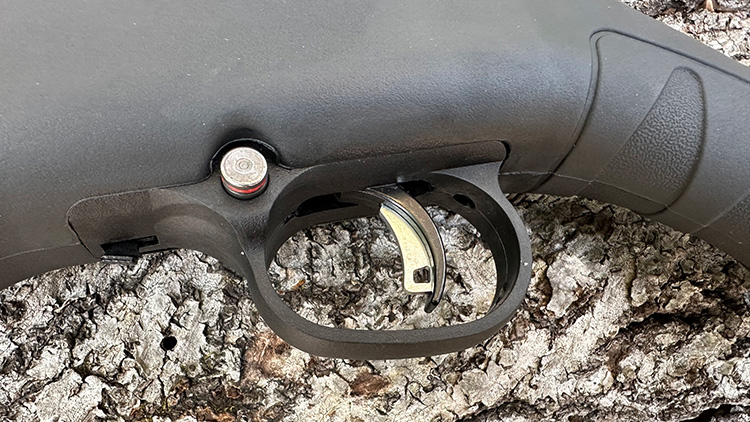 There is no take-up of the trigger itself, really the only thing you have taking up is the AcuTtrigger-style bar and then, you're at the wall.
The reset's not great, simply because the only thing that is moving is the Acu-Tec bar.
Overall, it's not terrible. It's a 22, so I don't get too caught up on the trigger unless they're specifically advertising or claiming that their trigger is the best or something special.
Aesthetics
I'm going to talk about the look and the overall design of this real quick.
Overall, it's a very simple design that is bloth sleek and elegant, but the material that they use for the stock tends to show a lot of oil, nicks, and scuffs on the stock, so this rifle going to be your show pony.
You're not going to break this out and show all your friends and it's probably not going to be the coolest gun in your collection.
However, it is definitely a gun I would throw on my four-wheeler, my side-by-side, and go out and ride to have a plinker.
I think anybody who says they hate this gun might be a little crazy because I don't have any huge problems with the overall look and design. I think the ergonomics are good.
The one thing I have to gig Savage on the A22 is the QC was just atrocious. I had to tighten down the stock screw to the receiver because there was actual wiggle in the receiver and the stock.
I know this is a free-float barrel, but the receiver should not move in the stock. That's a no-go. I just felt like they could have done a little better on the QC for the price point. Could have been a Monday gun, I don't know.
Another thing I noticed is that Savage Arms uses a similar gold style lubrication that the Glocks use inside of their slide rails, and that was really caked up on the bolt and it looked really bad.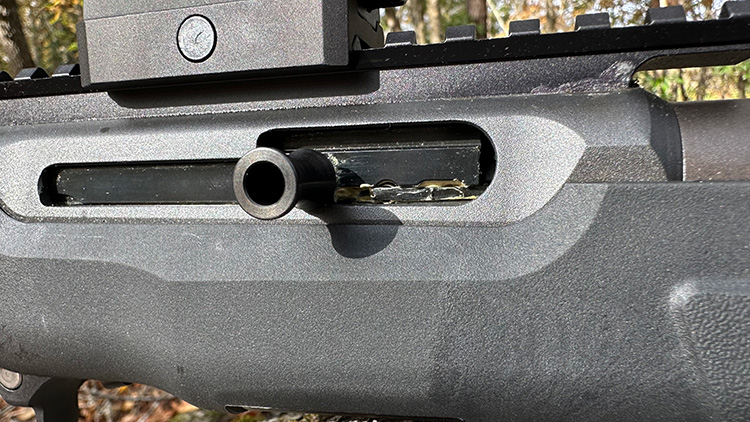 If you're really picky, you might have been very unhappy with this because it's just a bunch of lube and it sticks out because it's a gold color.
But it doesn't hurt anything. Of course, it helps because it's lubrication. This was just one of those things that I just felt Savage could have done a little better and helped their image a little bit by either using less or using a dark color factory lubricant.
Then we have the picatinny rail which had some kind of gunk on it that I had to scrap up. It almost looked like glue but I don't think that Savage would put glue under the picitanny rail.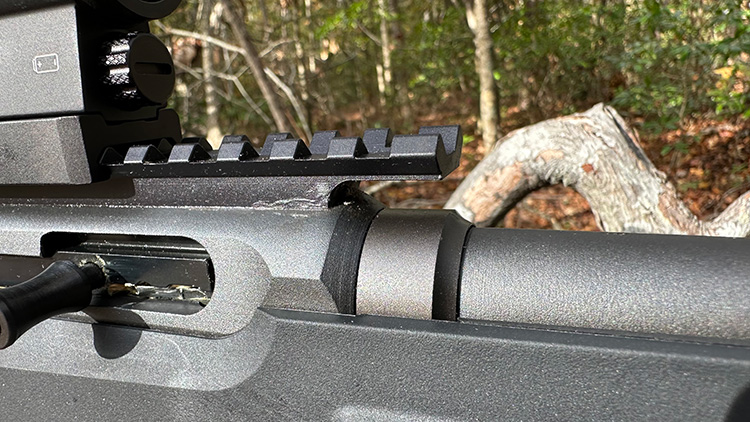 It seems like the QC department dropped the ball on this particular gun. I hope that they're not all like this, but just aesthetically, they dropped the ball.
As a quick note, I buy these through distributors just like any gun store would to try to get the best possible idea of what the average person would get. So This gun was special, discounted, or a blem.
Savage A22 Ammo
I shot mostly Remington White Box 550 rounds through the Savage A22 and it functioned fine I also shot some subsonic rounds through it and they functioned fine.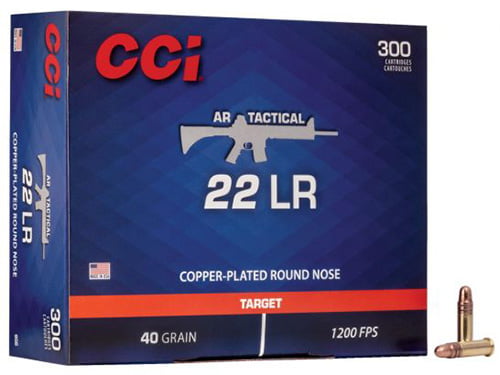 Final Thoughts
I'm going to wrap this up because it is a relatively simple 22LR rifle. Personally, it's hard for me to gig a gun by my own last name, but Savage A22 did disappoint me in some areas.
Now, once I've tuned it up a little bit, tightened my stock, wiped it down, threw an optic on, suppressor, and went and shot. It was a lot of fun.
It was on target every time at 50 to 75 yards. It's a plinking gun, so I don't hold it to the standard I would hold like the Ruger American or my more precision rifles.
I enjoyed this gun. But for the price point, I think there are better options that are very close to this price point. If you find this at a good price, I will pick it up. I don't see anything wrong with it. I do like the features that it comes with for the price point.
The threaded barrel and the picatinny optic mount from the get-go is nice to have. You might be hard-pressed finding some more higher capacity magazines, something a bit more than 10 rounds would be great, especially shooting 22 because it seems like I burn through those a little faster than I will a 5.56 or other caliber.
But overall, if you find a good deal on one, I wouldn't hesitate to pick it up. I don't question the reliability. I was a little disappointed in the QC, but I have to be honest about that and if somebody wants to rip me in the comments, that's fine.
But that's my experience, and if yours is different, by all means, please let people know in the comments. I don't disapprove comments because they disagree with my take; it's fine.
We're all individuals and this is just my opinion on it. Overall, as I said, if you get a good price, pick one up. Otherwise, there are some other good options in this price range.
FAQ
If you have questions about the Savage A22 please feel free to ask them in the comments below. We do our best to answer your questions and be helpful.
Can the Savage A22 use Ruger 10/22 mags?
No, the Savage A22 uses it's own proprietary magazines and does not use the Ruger 10/22.
Will Savage A22 cycle subsonic bullets?
Yes, while I have not tried every brand and subsonic bullet configuration, the Savage A22 fires subsonic rounds just fine. Both with and without a suppressor cycles the gun.