Sturm, Ruger & Co., Inc., better known as just Ruger, is well known for its assortment of rimfire firearms. The Ruger Mark IV 22/45 Lite that I'm reviewing today began its life as the Ruger Standard and later became the Ruger MK or mark series. I even consider the Mark IV as one of the best 22LR pistols.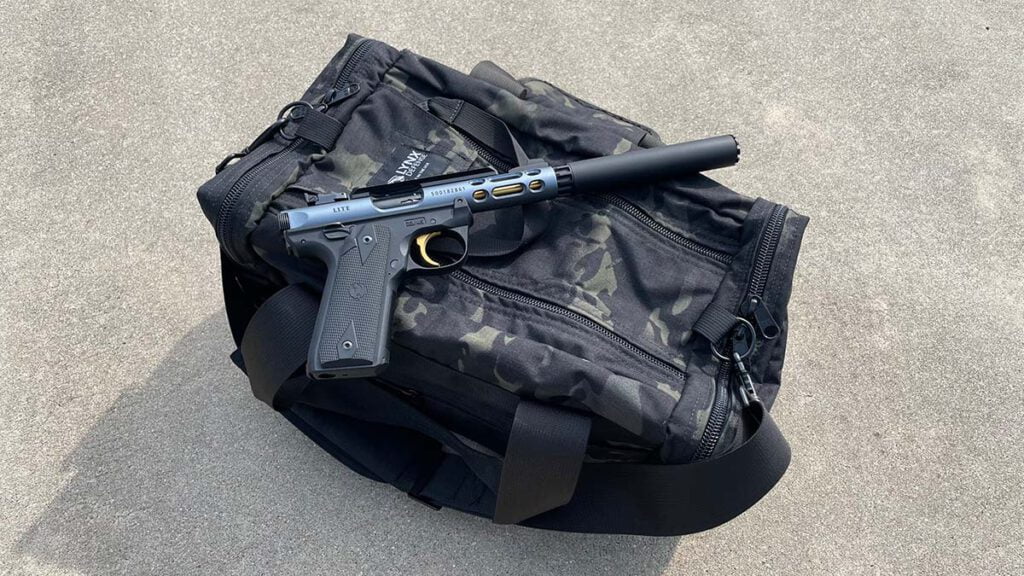 History of the Ruger Mark IV
The Ruger Mark IV started out as the Ruger Standard and was first produced in 1949. The Standard is still considered in production to this day but is now the Ruger MK Series, also known as the Ruger Mark Series.
Over the years there have been several versions that are denoted using roman numerals. Ruger Mark I Target, Mark II, Mark III, Mark IV.
There are over 22 different Mark IV configurations and different models within the Mark IV series.
The most popular currently are the Standard Mark IV, Mark IV 22/45 Tactical, and the 22/45 Lite.
Ruger Mark IV Lite Features
The features of the Ruger Mark IV include an aluminum receiver with a polymer grip frame.
The finish is a diamond gray anodized finish. The rear sights are adjustable.
The lite and tactical model features a threaded barrel with a 1/2-28 thread pitch.
It has a simple one-button take-down that allows for extremely easy field-stripping and cleaning.
The takedown also allows for the proper chamber to muzzle cleaning, which means you clean it from the chamber to the muzzle instead of shoving a rod down the muzzle end.
It is designed on a pivot system. So when you pop the back open, the whole gun pivots up and you're able to take it apart, field trip it and clean it.
The Mark IV 22/45 Lite Has a really nice ergonomic bolt stop so you can pull the bolt from the rear, and lock it in place.
The safety is ambidextrous and quite nice. It has a standard magazine drop and aesthetically, it's a really fantastic-looking gun.
Interestingly enough, it has a cold hammer-forged barrel. You don't see that a whole lot in .22 LR pistols. So that's a nice little feature.
It does come with two, 10-round magazines. So this is a 10 + 1 capacity gun.
So let's dive in.
Grip/Ergonomics
The grip on the Ruger Mark IV 22/45 Lite is quite nice in terms of the degree of angle of the grip.
It's really nice in the hand, it's almost reminiscent of a 1911-style frame.
It's a good, 45-degree frame. It's really not chunky, and it feels good in my hand.
Again, if you've read any of my other reviews, I have re relatively smaller hands. So anything that's really big and chunky doesn't fit great in my hand.
But for this gun, it's quite nice, gripping the gun is second nature.
I'm sure there's a holster out there for the Ruger Mark IV, but I really don't need one because this is going to be a range pistol for me. It's going to go in a range bag and I'm going to carry it to and from the range in the pistol range bag. I'll take it back out of the bag whenever it's time to shoot it.
Overall, the grip ergonomics are really nice. One thing we'll cover a little more of later on is the fact that these grips are removable, so you can actually customize the Mark IV to look how you want it to look.
That's really nice for a gun in this category. You don't see that a whole lot for a gun at this price point.
Texturing
I want to take a quick minute to just talk about the texturing on this grip.
It's a checkerboard-style pattern. It's not extremely abrasive.
It's definitely not the stippling of what you can find on a lot of aftermarket Glocks and things of that nature.
On the back backstrap of the grip frame it has a slightly more abrasive texture, still, that checkerboard style, finish.
Since there is zero recoil on a Ruger Mark IV it is absolutely pointless to spend a lot of time and effort making a very abrasive grip surface.
As long as it's comfortable, I don't see what the problem would be for anybody, but I personally think it feels great.
The grip panels that come on the Ruger Mark IV 22/45 Lite are more than enough for this gun. Both on the grips panels and on the polymer frame itself.
Replacement Grips
As I stated a little earlier, the grips are changeable.
I'm probably going to dive a little bit more into some of the options that are on the market for grips in the accessories section, but I will just go ahead and tell you, that they're changeable.
It's as simple as using an Allen Key to remove the grip panel. It's possible to remove them on both sides.
You can find replacement grips at Tandemkross.
Sights
The sights on the Ruger Mark IV 22/45 Lite are adequate.
The front and rear sights are removable.
However, I won't harp on the iron sights much because the Lite series and the tactical series, all come with the top 1913 Picatinny rail that's ripe for a red dot pistol sight.
The reason that I'm not going to harp on those sights is that the Tactical and Lite models are really built for a pistol red dot optic.
I'm going to talk more about the optics later in the accessories section.
For now, I'm going to focus on the factory iron sights now. The stock factory rear sight is adjustable.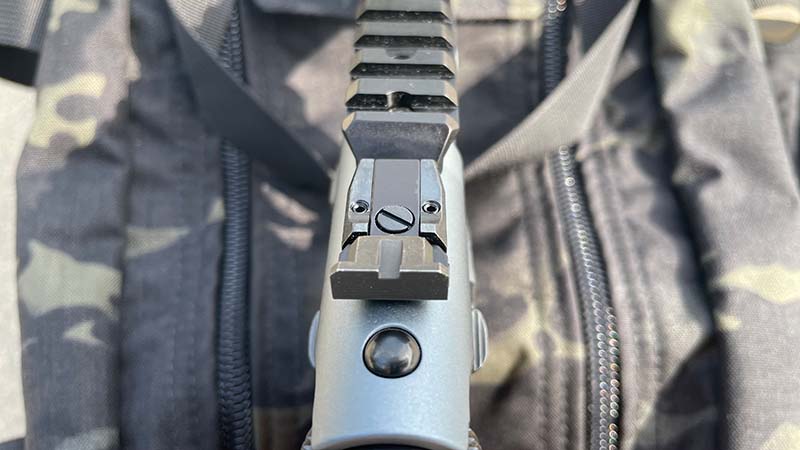 The top of the rear sight has a screw on the top that will allow you to adjust for elevation.
As for left and right adjustment, there's a screw on the right-hand side that you can adjust horizontally.
The front sight is obviously fixed.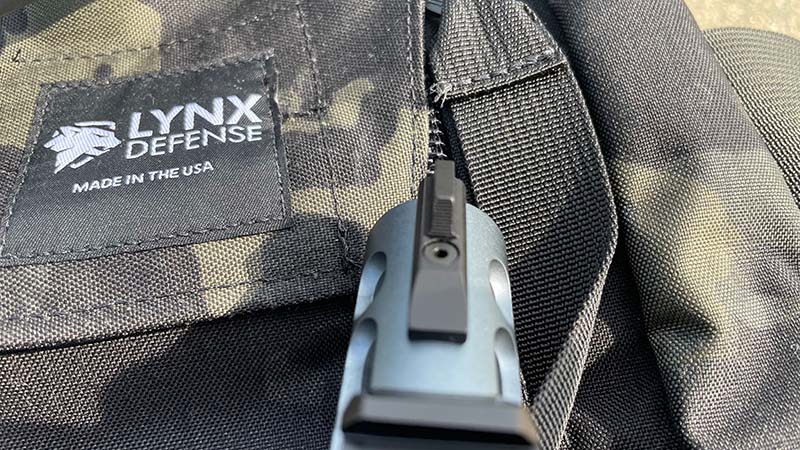 What is noticeable about these sights is, there is no tritium, there are no markings, there's no white dot, there's no green dot.
They are just straight black. So you just have to line up your front post with your rear horseshoe sight notch and go to town.
I've been semi-accurate with these sights, but I'm not going to say I've been great.
I'm really looking forward to the red dot that I'm going to put on this, which I will include in this review as well.
Currently, I'm planning on getting a Bushnell Advance micro-reflex sight. It's got a 5 MOA dot, but I'll talk more about it later, but it's definitely a nice budget optic for a target pistol like this Ruger Mark IV Lite.
Controls
Controls on the Ruger Mark IV 22/45 Lite are what some would just call standard.
You have your slide stop, safety, trigger, magazine release, and action.
You don't pull and rack the Mark IV slide like you would on most pistols, but you do pull back on what I would call, the charging handle, but it is a pistol.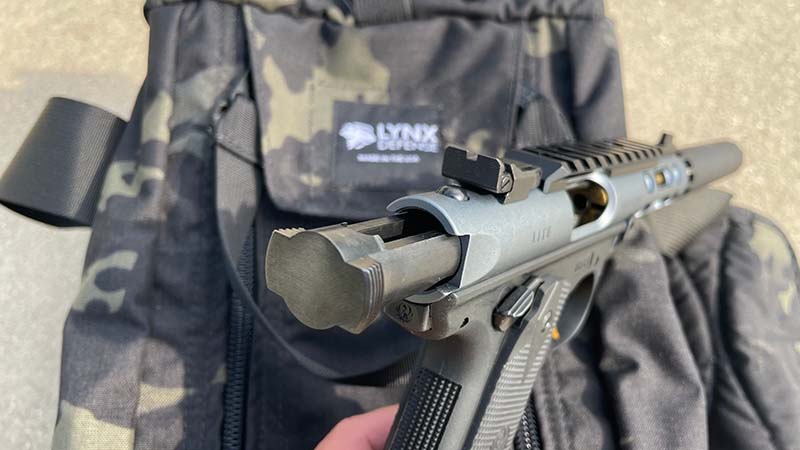 So that might be a little odd, but we'll call it that until someone corrects me in the comment section.
So let's dive into each control individually and we'll start with the safety.
Safety
The safety of this gun is ambidextrous.
It sits at the rear of the grip frame, just about in the middle of my thumb.
Now, this might be more towards the back of someone else's thumb, if you have a larger hand, but overall, I really like the safety.
It sticks out from the frame a quarter of an inch or so and is easy to grab and pull down to get to the fire position.
Then you just articulate it up to put it on safe.
On the left side of the gun, you have a clear indicator of safe and fire.
For safe, you see a white colorization inside the pocket of the frame, and when it's down, it's ready to fire and you see red colorization inside the pocket, on the frame.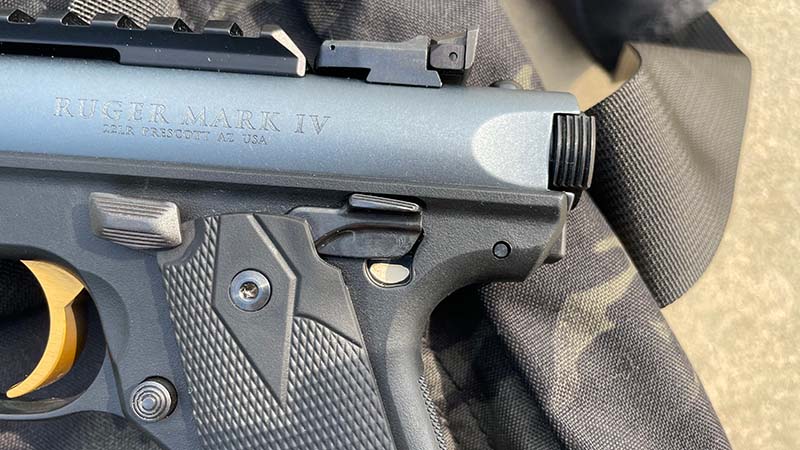 That is a nice feature because you can easily tell when it's on safe or when it's on fire.
It's a very smooth safety.
Keep in mind I'm not a left-handed shooter, but I'll put it in my left hand just to see how the safety does.
Yeah, it pretty much functions the exact same on the left-hand side.
The only thing I'll say that might be a negative for lefties is, that there's no safe or fire-colored indicator on the left side of the gun. Not a big deal.
Functionally, still works great, and they are the exact same thing, just mirrored. So, good news for lefties.
Now let's move down the gun into the middle of the grip frame.
Magazine Release
The magazine release is pretty standard. It's just a circular button, that sits at the bottom near where the trigger guard meets the frame.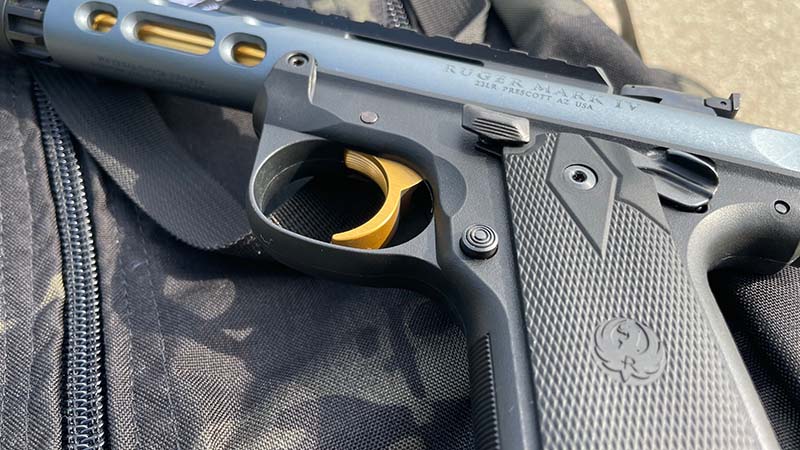 This is pretty standard for 99% of pistols, we'll maybe 90% of pistols that have the magazine release in this placement.
It functions really well. Interestingly enough, it's almost like it's spring-loaded, the magazine just pops right out as soon as you hit it and flies down the magazine well.
No issues. It's not ambidextrous, sorry, lefties, but it does function pretty well.
I guess if you're a leftie, you're used to non-ambidextrous pistols. So putting it in my left hand, you can still articulate it pretty easily, and I am not good with my left hand by any stretch of the imagination.
Now we'll move up to the middle of the receiver and you find the slide stop.
Slide Stop
So the slide stop once again, is not ambidextrous, sorry, lefties.
It's only on the left-hand side of the gun and it's meant to be used with your right thumb.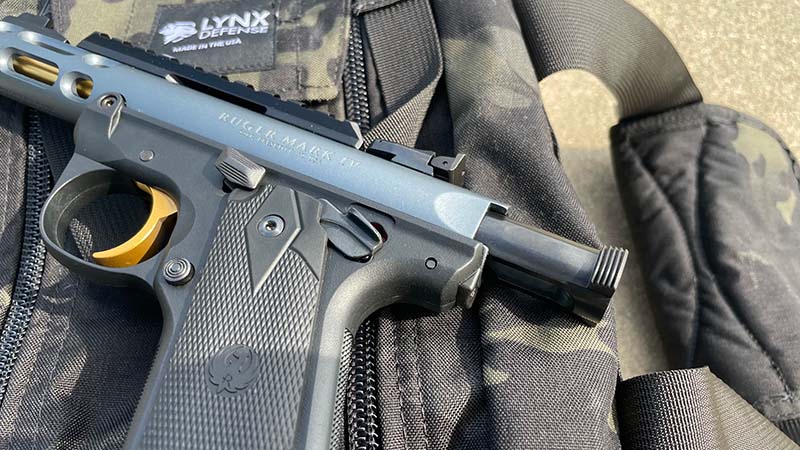 The slide stop works well. If you pull back on what I'm going to call the charging handle or bolt of the gun and push up, you will lock it into place and then you can leave the chamber open.
Pulling down on it sends the bolt forward.
However, pulling down on the bolt hold open was quite tough to do.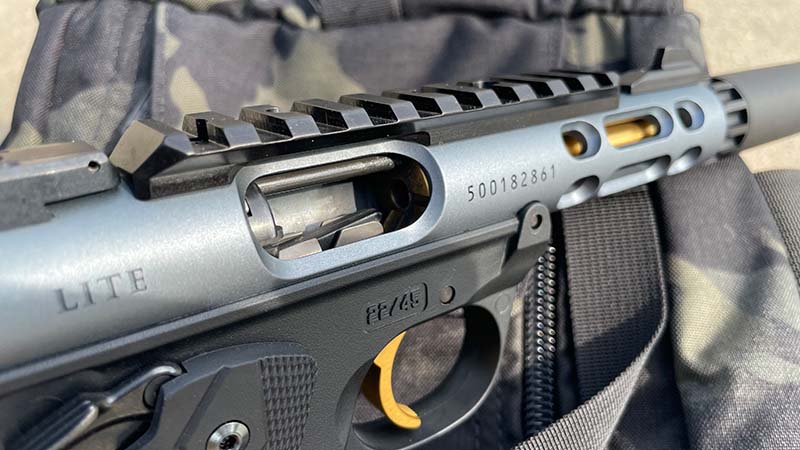 I had to really put some pressure on it. You could always just pull back on the slide and it's going to send it forward, and I don't have a magazine in it, so, that's how that particular functionality would work.
The slide stop works quite well. I'm not going to say it's oversized, but it sticks a good quarter inch off of the gun and is easy to hit and use, no issues with it at all.
In fact, it's one of the nice features of the gun. It's located in a very commonplace on the gun, so when you pick up the Ruger Mark IV Lite it feels familiar.
If you're used to most polymer frame guns on the market, you know where your slide release and the slide stop are.
Trigger
The trigger on the Ruger Mark IV Lite is a nice gold color, and has a nice swoop shape for your finger.
As far as trigger feeling goes, it feels solid.
The pull when on safe is a little squishy, keep in mind the gun can't fire without a magazine in it.
When you actually put the trigger to the test you start your squeeze and the take is smooth. The break is clean but it's not well defined.
The release is smooth and the reset is audible and the reset is just out to the wall not completely back out.
The trigger is nice and smooth but it does lack something. I can't put my finger on it but it's missing something.
The stock Ruger Mark IV 22/45 Lite is definitely not going to be a competition-level trigger.
Ruger Mark IV 22/45 Range Bag
It would not be a Lynx Defense article without a quick plug for our pistol range bag and the Concord.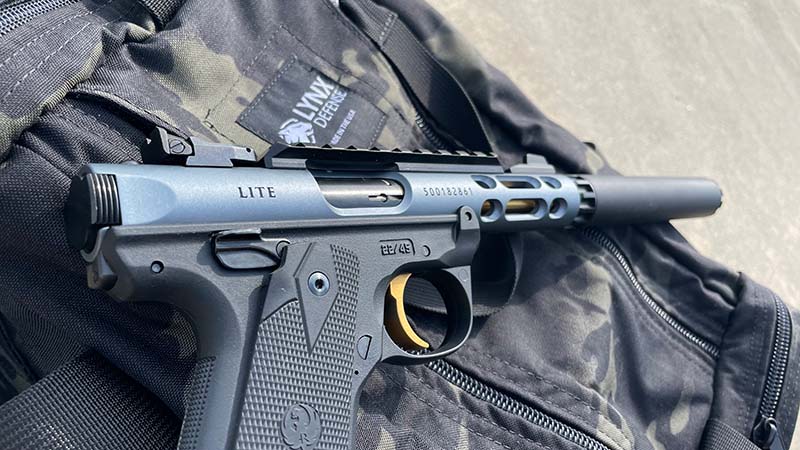 Obviously, the Ruger Mark IV finds a great home in our pistol insert sleeve, and it makes it very, very easy to carry this to and from the range. Since this is a range pistol, obviously a range bag is a must-have.
So be sure to grab one of your favorite style, color combination Lynx Defense bags, or even build your own with our custom pistol bag builder.
Accessories
The Ruger Mark IV has a ton of awesome features but one of my favorite features is the customizability and the number of companies making aftermarket parts for it.
My favorite parts company for the Mark IV is Volquartsen and one of the best places to buy accessories for the Ruger Mark series of pistols is Tandemkross.
Optics and Optics Mounting
The nice thing about the Ruger Mark IV Lite and Tactical is the 1913 picatinny rail that sits on top of the gun.
This not only opens up your optic choices to almost anything you want but it makes mounting them a breeze.
I recently picked up the Bushnell Advanced Micro Reflex Sight.
Bushnell Advance Micro Reflex Sight
The Bushnell Advance Micro Reflex Sight seemed like the perfect fit for my Ruger Mark IV 22/45 Lite.
Coming in under $150 this just seemed like a no-brainer to add to the Mark IV Lite.
I will update this post as soon as it arrives and I have time to test this
Upgrade Ruger Mark IV Iron Sights
If iron sights are more your speed there is good news! There are a number of very nice iron sight upgrades for the Ruger Mark IV.
For example, the HiViz Front and rear fiber optic iron sights look like an extremely nice set of sights for this gun.
Grips/Magazine releases
By the looks of it, there are quite a few companies making aftermarket grips for them.
The one that comes to the top of my head is Hogue, and also a company called Altamont Company.
Altamont makes some pretty wild grips for the Ruger Mark IV, the Mark 3, the Mark 2, pretty much the whole Mark series, and quite a few revolvers.
So if you're looking for a classic panel or something even kind of crazy, they even make finger groove panels.
Trigger
Surprisingly the trigger wasn't the first upgrade on my list since this trigger isn't anything special, but I also don't hate it either.
One of the most well-known trigger improvement kits for the Ruger Mark IV 22/45 series is the Volquartsen Accurizing Kit which is can pick up at Primary Arms (fast shipping) or Brownells.
The highlights of the Volquarsten Mark IV trigger upgrade kit are that it's a complete drop-in style kit and it provides a crisp 2.25lb trigger pull.
Another nice bonus is that it eliminates the magazine disconnect.
Here are all the parts the kit includes:
Disconnector
Target Sear
Target Hammer
Target Trigger with plunger and spring
Hammer Bushing
The Accurizing Kit for the Ruger MK IV 22/45 Lite will provide a crisp, clean 2.25lb trigger pull. This kit will eliminate the magazine disconnect and comes with pretravel and post-travel adjustments.
The kit also has trigger color options including a gold replacement for the Ruger Mark IV 22/45 Lite, it's like they made it just to sucker me into buying it!
Last but not least the accurizing kit is Made in the USA!
Tandemkross also makes triggers for the Ruger Mark series of pistols.
Apex Competition Trigger Kit
Another popular trigger upgrade kit for the Mark IV is the Apex Competition trigger kit.
This kit is a complete kit and allows attachment of travel and changes the shape and feel of the trigger overall.
Magazines/Bases
If you are in the market for magazines you can buy the standard Ruger factory magazines or Volquarsten makes some aftermarket magazines.
Keep in mind, the Mark IV 22/45 magazines are one of the major differences between the Mark IV 22/45 and the standard Mark IV.
So make sure you buy the right magazines for your gun.
Aesthetics
The aesthetics of the Ruger Mark IV 22/45 Lite are phenomenal.
The gray, anodized finish of the upper part of the gun is fantastic.
I really like the gray. It really pops out at you.
The Ruger Mark IV tactical comes in all black or a tan, those look really good too.
Now the biggest difference between the tactical and the Lite is the fact that it comes with barrel cutouts.
They look really nice and they are what your eyes are really drawn to.
The barrel on the Lite matches the trigger with its gold-ish color and you can clearly see it through the cutouts.
This color combination, gold, black, and gray really catches your eye.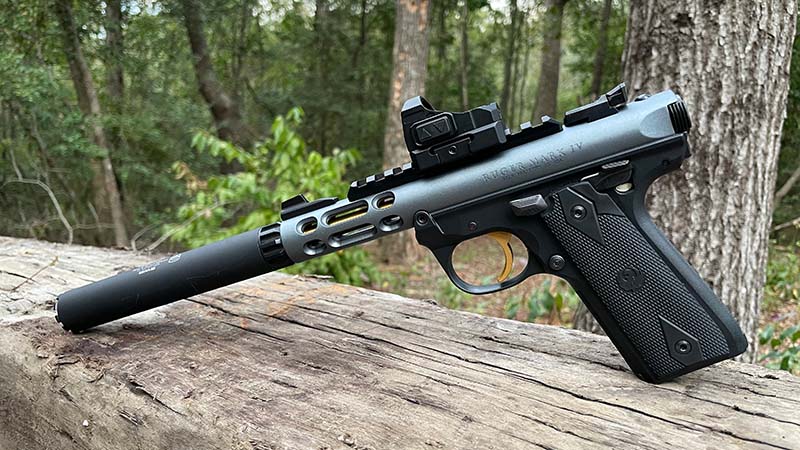 I haven't modified the grips on this gun because I think it looks so good, stock.
The pistol comes with a front cap and it looks good too. It's just a black cap to cover the threads.
I'll be honest, I'm not even sure where my cap is anymore because I leave a suppressor on it all the time, this gun is phenomenal, suppressed.
I don't why anybody wouldn't want to suppress the Ruger Mark IV series. That's probably half the reason to buy the gun because it has built-in threads and comes with that functionality, you just pick a suppressor and screw it on.
Overall, you really can't beat the look of the Ruger Mark V Lite.
The tactical line looks good as well. There is a 1913 rail attached to the top. The colors are all very balanced between black, gray, and gold, it's all very tastefully done.
You're not going to beat this gun in the looks department.
Shooting
Shooting the Ruger Mark IV 22/45 Lite is about as fun as it gets. From the first trigger pull to the last, it leaves you wanting more.
I've put 30+ magazines through the gun and I never want to stop shooting. It's absolutely one of the top 10 guns I like to shoot.
You can even shoot the Mark IV and not feel guilty about home much you're shooting.
Even in today's ammo market .22LR isn't ridiculously overpriced it just may be somewhat hard to come by.
Ammo
Ruger doesn't specify a certain ammo grain or requirement for the Mark IV and anything I've fed it, it eats. So it would appear anything is far game. I've also shot subsonic .22LR rounds through it and they worked perfectly and cycled the gun.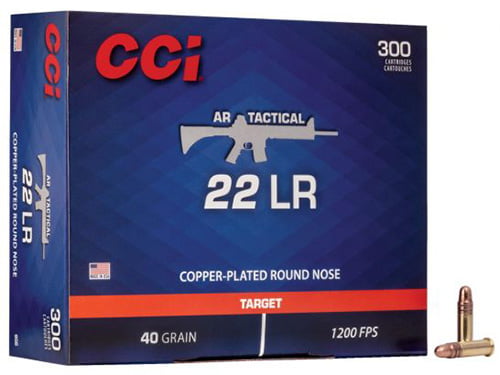 Final Thoughts
My final thoughts on the Ruger Mark IV really start off like this.
This gun at its price point is probably the best bang for your buck in the rimfire pistol market.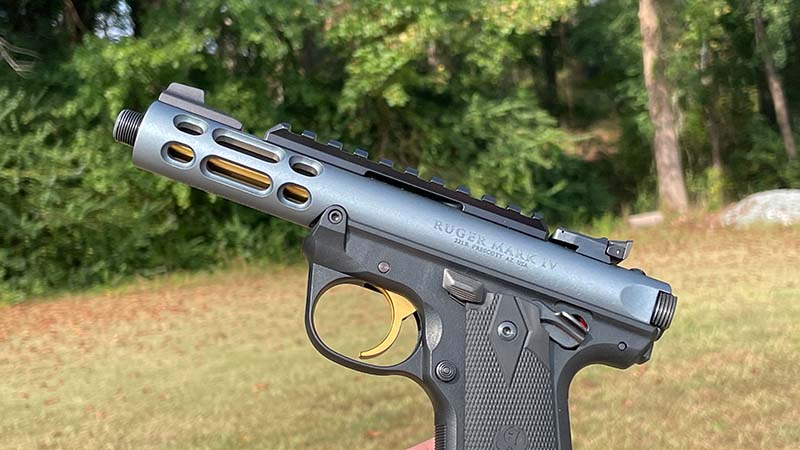 If you want something that looks great, is fun to shoot, and is great for kids of all ages, all the way up until you're a hundred years old this is the gun.
So this gun is one of my top gun purchases. I cannot stress enough how much I like the Ruger Mark IV Lite. The nice part about this gun is, that it's extremely light.
It's very friendly and forgiving in the recoil department.
You can suppress it, so it's even better for your hearing. Of course always wear your hearing protection, even if you're suppressed.
It shoots .22LR, so it's not incredibly expensive to shoot.
It is by far going to get the biggest buy recommendation from me of any gun that I've reviewed.
This pistol can get you started, if you're brand new to firearms, this gun is great. If you have 30 firearms, it does not matter. This gun is one that I will likely hold and pass on to my kids.
If Ruger comes out with a Ruger Mark V, then I'll probably get that one too, because this is a fantastic series and Ruger keeps making it better and better, every single time they release a new one.
Have a look at the Ruger SP101 if revolvers tickle your fancy or if you want to stay in the 10/22 world grab Ruger's flagship 22LR the Ruger 10/22.
FAQs
How to Clean Ruger Mark IV 22/45 Lite?
The Ruger Mark IV 22/45 Lite is easily cleanable by simply checking to see if the gun is clear and then using the quick takedown button to open the gun and clean it.
What does 22/45 mean in the Ruger Mark IV Lite?
The 22 in 22/45 is an acknowledgment of the caliber .22LR. The 45 is a nod at the 1911 style grip, typically a 45-degree grip angle.
Do They Make Hi-Cap Mags for Ruger Mark IV 22/45 Lite?
Short answer, no. The reason is because of the way the rimfire ammunition is made the rim of the ammo would cause the ammo to nose dive and reliability comes an issue in hi-cap .22LR magazines.
Ruger Mark IV 22/45 Lite | Ruger's Best Tactical Rimfire Pistol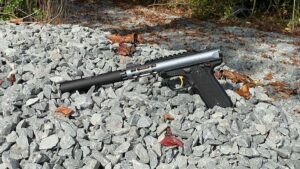 The Ruger Mark IV 22/45 lite is one of Ruger's the best rimfirle pistols in their lineup. We will take a look at the Mark IV 22/45 Tactical in this review.
Product SKU: 43934
Product Brand: Ruger
Product Currency: USD
Product Price: 679
Product In-Stock: InStock