The Wilson Combat EDC X9 is Wilson Combat's 9mm 1911 style compact carry pistol. We took one for a spin and want to share our review of this premium EDC pistol.
We also recently took a look at the Sig P938 and the Springfield Armory EMP4, which isn't exactly in the same class as the EDC X9, other than it being a compact 1911 style pistol. The Micro, or smaller, 1911 style pistols seem to be becoming more popular.
The EDC X9 configuration we use for this review has a stainless steel slide and an all-black metal frame.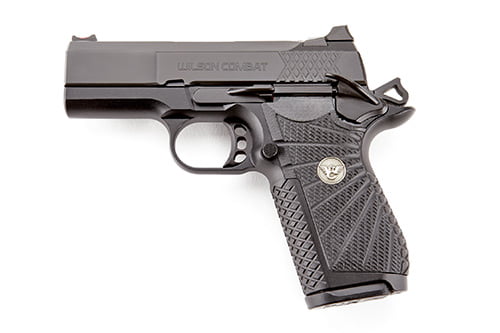 Wilson Combat History
Wilson Combat is owned by Bill Wilson, who started as a watchmaker and later started a firearms store called Sportsman's Headquarters in Arkansas.
Bill founded Wilson Combat in 1974 and made extremely high-end custom 1911 style handguns.
Wilson Combat's products are well known for their reliability and craftsmanship.
About the Wilson Combat EDC X9
The Wilson Combat EDC X9 was released in 2017. Wilson Combat introduced the EDC X9, a modern take on a classic 1911.
The double-stack EDC X9 was much different and more proprietary than the 2011 and double stack 1911 offering that most 1911 manufacturers were churning out.
Wilson Combat EDC X9 Features
We will break down the EDCX9's features to see how they match up in today's gun world. The X9 is a beautiful gun, but it has to be more than pretty to have a place in the market in today's gun world.
The EDC X9 features the X-Frame, which Wilson Combat specifically designed to hold 15 rounds of double-stacked 9mm ammo.
Grip
The Grip on the Wilson Combat EDC X9 is really what first catches your eye but holding it sells a gun like the X9.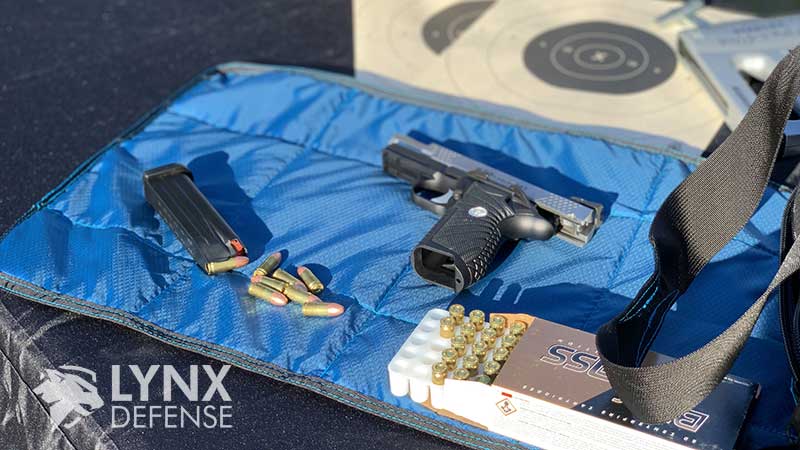 The EDC X9 comes with either a small or large backstrap, which gives you some customization depending on your hand size.
Featuring VZ grip panels that were made exclusively for Wilson Combat and is proprietary to the EDC X9. The grips come in multiple colors but only one size.
Texturing
The texturing on the EDCX9 is Wilson's own X-TAC texturing and is used on both the front and back strap.
The texturing is extremely deep, but the peak of the cuts are rounded, so the grip feels aggressive but not so much, so it's overbearing.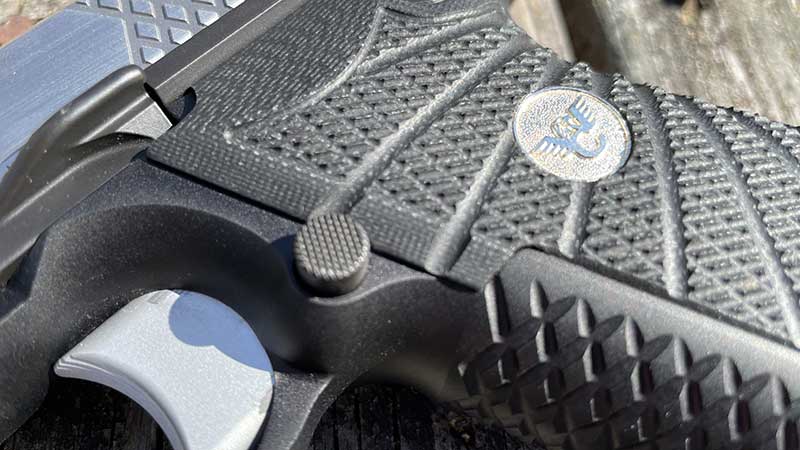 This texture is great if your hands get slick due to moisture or you are wearing gloves because it won't slip but also won't rip your hands or gloves to shreds.
The proprietary VZ Grip panels have a starburst texturing pattern. The starburst provides a very grippy surface that will wear down with time but won't move during the gun's recoil.
Since this is a double stack 1911, the grip is thick but not oversized like you might be used to with a double stack .45 caliber 1911.
The grip length falls somewhere between a Glock 19, short, but your pinky isn't falling off the end of the grip frame.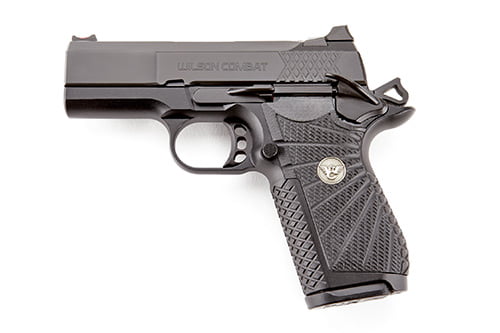 Sights
The Wilson Combat X9 has a custom front sight cut, so the only sight options you will have will be Wilson Combat. It would have been nice if they had a standard Novak 1911 cut or even a Glock sight cut to use a large number of aftermarket sights available.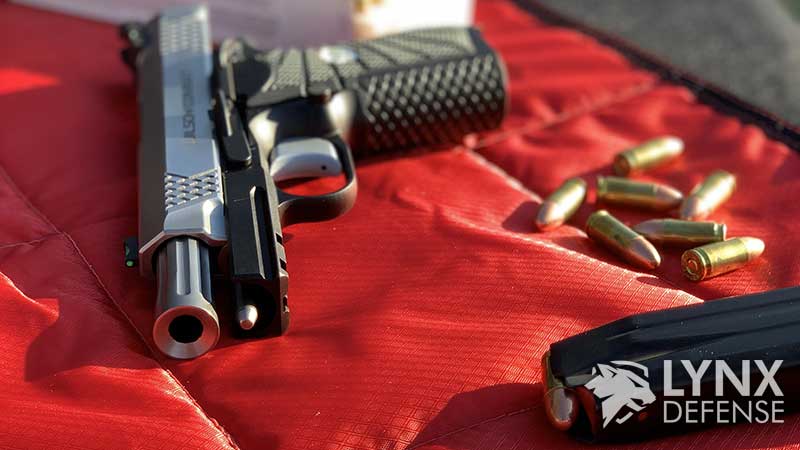 It is worth noting that Wilson Combat does have several sight options available direct from them for the EDC X9. I don't think I've seen another company offer the number of options Wilson Combat does from Factory.
Wilson offers both the plan tritium front sight and the Ameriglo tritium front sight that features an orange ring about the tritium. They also offer both red and green fiber optic front sights and the gold bead front sight for the EDC X9.
The rear sight of the EDC X9 has an elevation adjustable rear sight. The rear sight has an all-metal construction and reminds me of an EDC sight rather than a target sight.
A screw adjusts the elevation in the middle of the rear sight notch. The sight is held in place by two set screws. This sight is extremely durable and feels like you could use it to rack the slide, much like you would on a Glock or other EDC weapon.
I probably should have mentioned the design of the rear sight sooner, but here we are! The rear sight has a "U" style notch to align the front sight post in. You cannot get the rear sight in a normal square notch.
While sights are largely one's opinion and personal preference, it has to be noted that Wilson Combat has put a lot of time and effort into developing great sights for the EDC X9.
EDC X9 Controls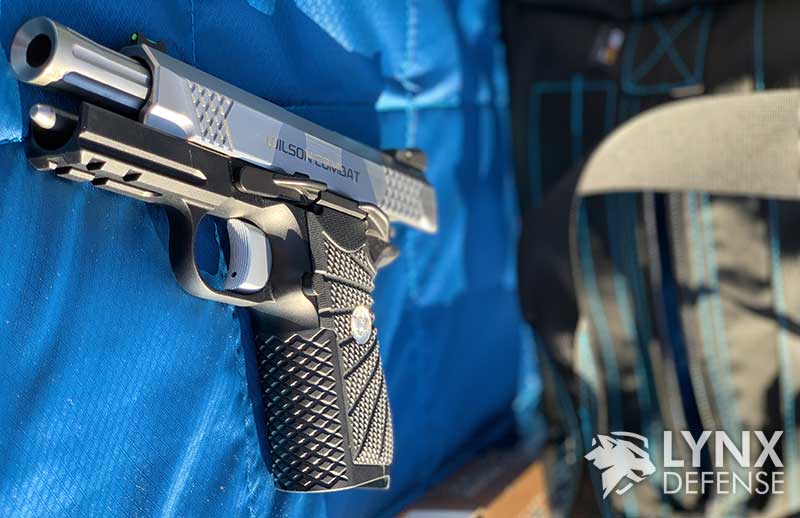 Hammer
Being a 1911 style pistol, the hammer has to be addressed. The hammer design is clean and functional, and of course, this is a single-action pistol. The milling is clean and features horizontal lines across the back of the hammer.
Cocking the hammer is extremely smooth and has a very tactile click when it's put into condition one, cocked and ready to shoot!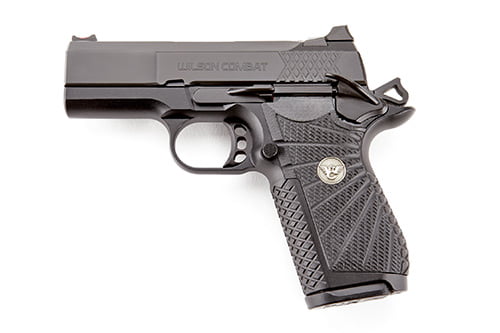 Safety
The safety on the EDC X9 is available with a left side or ambidextrous safety. I have only had experience with the ambidextrous safety model.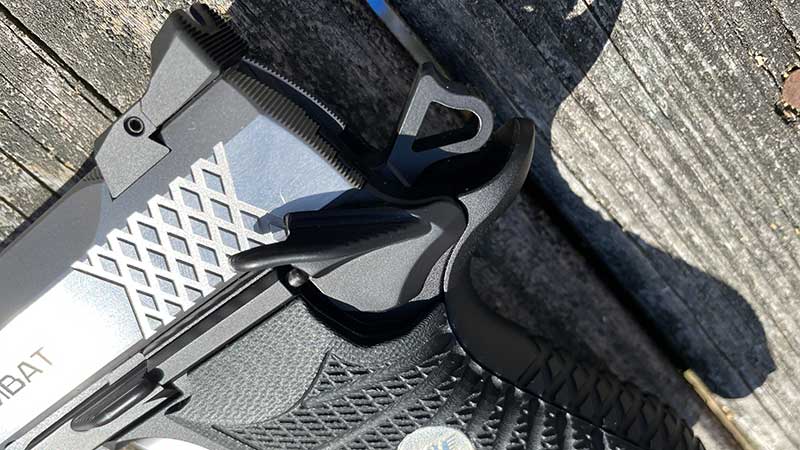 The safety is extremely ergonomic and doesn't get in the way of my primary grip hand's thumb while holding and shooting the X9.
There are no extremely sharp or rough edges like you would normally find on a 1911. The safety has a definite click when changing from safe to fire and vice-versa.
Slide Stop
The slide stop on the X9 is a wide rounded shelf style release that you can easily use with your left thumb. So if you are left-handed, the magazine release may be a dream come true for you.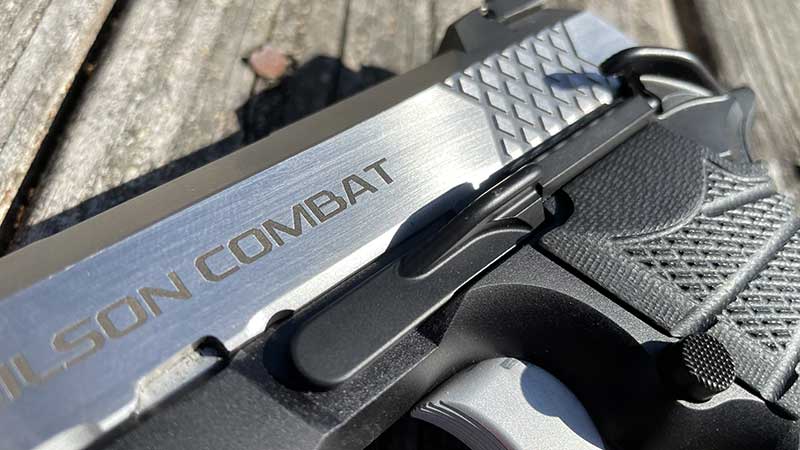 The EDC X9 slide stop functions as the takedown lever for the gun, just like a regular 1911. Since the EDC X9 is a smaller gun than a standard 1911, Wilson Combat had to move the slide stop a bit further to the rear.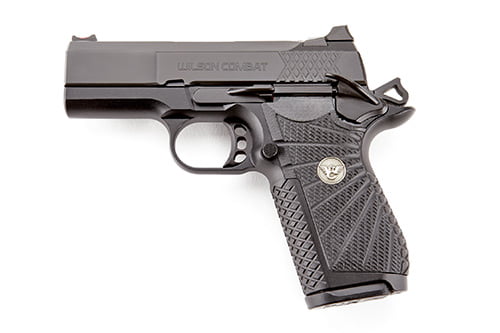 Magazine Release
A small circle just behind the trigger, but before the grip frame, you won't accidentally active this magazine release and drop your magazine.
It functions as expected, and there's not much to say about it other than the texture is well done, and the push is strong but not excessive.
Trigger
The Wilson Combat trigger is a solid metal trigger, much like any 1911. However, the EDCX9 does not have a grip safety. I'm not a big fan of grip safeties, so you won't see this as a complaint from me.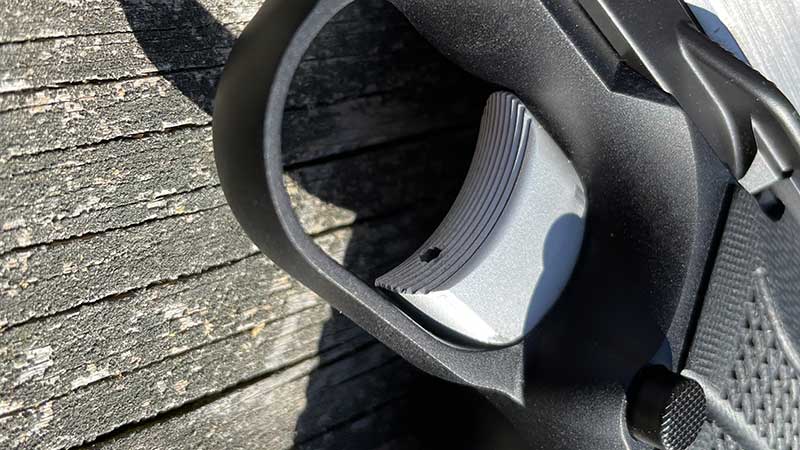 Wilson Combat allows you to order your EDC X9 with three different reach options with a short, medium, or long trigger. If you aren't sure what trigger is best for you, get in touch with Wilson Combat and get their expert advice since there are six different combinations of triggers and backstraps.
The trigger pull on the Wilson Combat EDC X9 isn't something I would write home about, given the gun's price point. But I also wouldn't say anything negative. The trigger has a very light takeup, and then you hit a hard wall. Once the trigger breaks, it's an extremely crisp and clean break and has only a small amount of overtravel.
While the reset is nice and short, it doesn't have a lot of spring action, much like many 1911 triggers on the market. The trigger weight is pretty heavy, no surprise, as Wilson Combat claims a 3-4.5 lbs trigger pull weight.
If you compare this trigger to its price point, it comes in somewhere in the mediocre range. For the price, you'd think the trigger would be a bit more refined for the price point of the EDC X9.
EDC X9 Ergonomics
Since Wilson Combat allows you to custom build your EDC X9, the ergonomics should fit you to a T. Depending on your hand size. It might feel a little thick or just about perfect. It really all depends.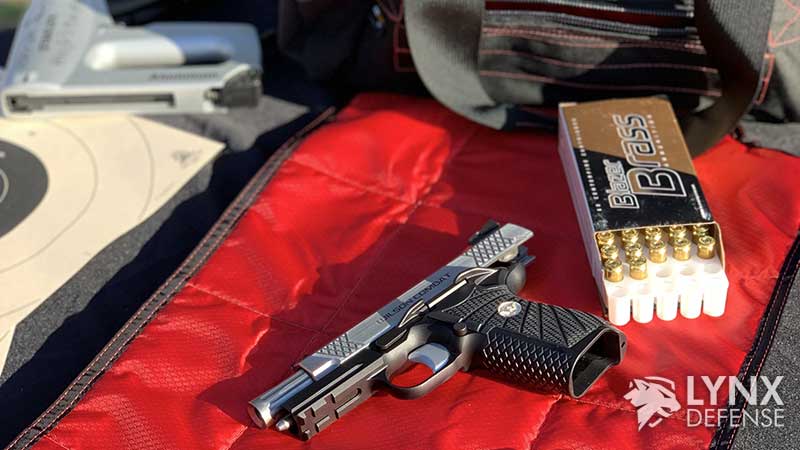 As for functional and control ergonomics, this will be a hard gun to beat for most people. Texturing does wonders for the ergonomics when shooting this pistol and doesn't leave your hands bleeding or chapped.
When gripping the EDC X9, if you ordered the right backstraps, it will contact all parts of your hand when gripping the gun correctly. It all depends on your hand size small hands this might start to feel like a large frame pistol.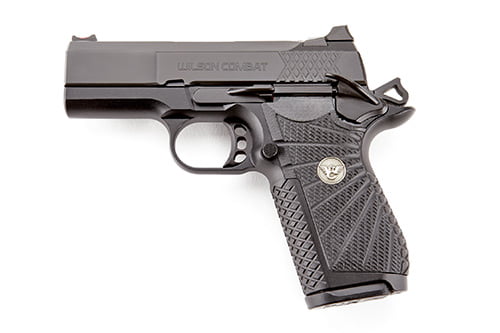 Shooting the EDC X9
Loading & Chambering
Loading the magazine into the EDC X9 is smooth, and you hear a nice audible click when the magazine locks into place. Once your magazine is seated, gripping the slide and racking it is a breeze due to the slide's texturing.
The slide is smooth, but at the end of the day, it's still a 1911 slide, so with that in mind, control your expectations of a buttery-smooth slide.
Shooting
Shooting the EDC X9 is like a cool evening breeze blowing through your thick blonde hair… *screeching brake noises* – only kidding, just wanted to make sure you were still with me this article is getting long.
The X9 is a very forgiving gun when it comes to recoil. It's a 9mm 1911 that doesn't have nearly the bite that a full-size .45 1911 would have. Even with its small frame, it shoots well and leaves you with no negative feelings or pain in your wrist after shooting.
I'm sure one of the number one questions for a $3k gun is, "Does it shoot better than my *insert gun here*?"
That's hard to say because shooting guns is so subjective. You might love this gun even if it was only $500 or hate it at $3,000. It really all boils down to personal preference. I'm just here to give you mine.
I think this is a great gun, but I think it appeals to a very specific demographic.
That demographic is probably one that doesn't have other hobbies outside of firearms.
For example, I know I wouldn't flinch at spending thousands on a single firearm because I have no other hobbies or interests outside of guns.
Overall
So here's where I start to wrap up this review of the Wilson Combat EDC X9.
Let me be clear the EDC X9 is an amazing-looking firearm. Its craftsmanship is clearly noticed in nearly every aspect of this pistol.
It not only looks great, but it feels great in your hand. It's one of those guns that you know you're holding something different when you pick it up.
It's also a work of art that you can tailor to your tastes and wants, and I think that's a large part of the appeal of the EDC X9.
Should you buy the Wilson Combat EDC X9?
Should you spend nearly $3,000 on an EDC X9? Sure, you might be able to find it cheaper, but directly from Wilson Combat, it approaches $3,000.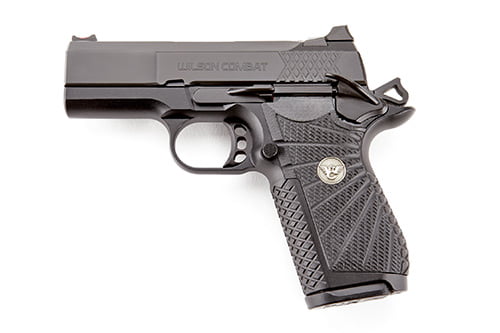 But to get down to it, that's really up to you. Letting someone you don't know on the internet decide if you'll spend $3,000 on a gun is tricky. You don't know me, and I probably don't know you, but I did try to do my best to give you a first-hand look at the EDC X9.
I think the Wilson lives in a minimal category of firearms. This is an extremely high-end pistol with a high-end price tag. If you are in this market, I would highly recommend putting your hands on it before purchasing.
If you are unsure about ordering a custom one, be sure to reach out to the experts at Wilson Combat to get the word from the horse's mouth.
So to answer the question, should you buy the Wilson Combat EDC X9? If it's in your price range and it checks all your boxes, I'd say it's a good option for you!
If the EDC X9 is out of your budget range it's not the only micro 1911 style pistol. The Kimber Micro 9 and the Sig P938 also fall into the compact 1911 9mm group.
Wilson Combat EDC X9 | The 9MM EDC 1911 by Wilson Combat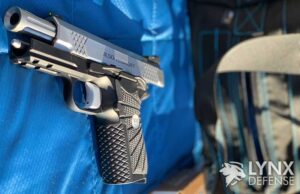 The Wilson Combat EDC X9 is a premium 9mm 1911 crafted by Wilson Combat. We take it for a spin and review this double-stack 9mm 1911.
Product Brand: Wilson Combat
Product Currency: USD
Product Price: 2995
Product In-Stock: InStock