Looking for the best 300 blackout guns? Look no further. In this blog post, we will dive into the top picks for 300 blackout firearms that will impress any shooting enthusiast.
Whether you're a seasoned gun owner or new to the world of firearms, this comprehensive guide will provide you with all the information you need to make an informed decision.
So, let's get started and explore the finest 300 blackout guns available on the market today.
What is 300 Blackout?
The .300 AAC Blackout, commonly referred to as 300 Blackout or 300 BLK, is a rifle cartridge designed for use in the AR-15 platform. Typically, 300 Blackout is compared with 5.56 NATO.
It was developed by Advanced Armament Corporation (AAC) to offer enhanced performance over the standard 5.56x45mm NATO cartridge in certain situations.
The .300 AAC Blackout was developed to provide shooters with a versatile cartridge that offers both supersonic and subsonic performance, making it suitable for various applications and firearm platforms, especially those based on the AR-15.
Its adaptability and versatility have contributed to its popularity in the firearms community.
Best 300 Blackout Guns
Daniel Defense DDM4 V7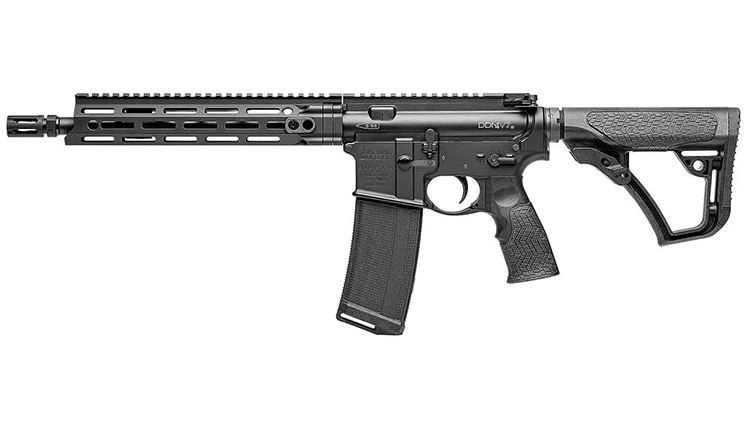 The Daniel Defense DDM4 V7 300 Blackout is one of the top 300 Blackout guns.
Its compact size makes it a prime choice for easy transportation and storage, such as in a truck or backpack.
Daniel Defense, the manufacturer of the V7, is known for its industry-leading firearms.
With its headquarters in Black Creek, Georgia, it has gained a reputation for crafting superior weapons.
Even in terms of handling, the DDM4 doesn't disappoint. Weighing 5.44 pounds and measuring 28.5 inches, it's light and movable without the sharp projections of some AR models. Its user-friendly grip, hand guards, and enlarged trigger guard enhance its handling experience.
IWI X95 Tavor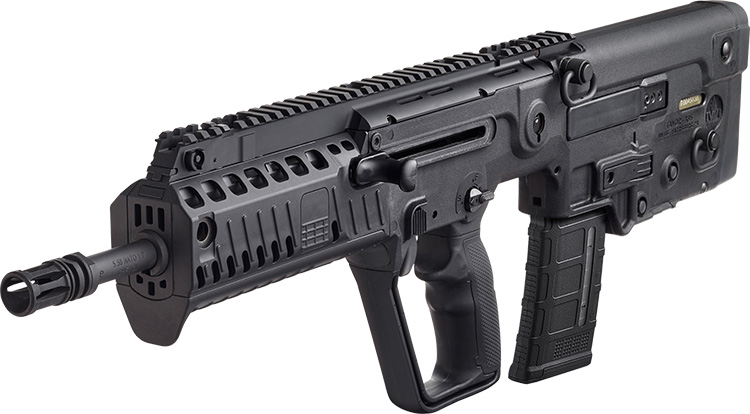 I can't lie; I've recently taken a deep dive into bullpup rifles, so I have a soft spot for the IWI X95 Tavor.
This Israeli beast has unmistakably distinguished itself for its compact and effective design in the firearms industry.
One of the key attributes that make the Tavor X95 truly exceptional is its bullpup design.
This helps maintain the key benefits of a full-size rifle, packaged into a body half a foot shorter than a regular AR-15 with a 16″ barrel.
The compact design is ideal for suppressor use and enhances maneuverability in close quarters.
Despite being nearly 8 lbs, the balance from the bullpup design makes the rifle feel lighter than it is.
The Tavor's piston-driven gas system is worth mentioning here. This feature ensures the rifle stays clean and reliable, even while shooting suppressed.
If you like bullpup rifles then the X95 Tavor is a no-brainer.
Ruger American Ranch

This gun is affordable, simple to use, and precise, making it extremely attractive to a range of users.
The Ruger American Ranch is perfect for those who prefer suppressor usage, which is easy thanks to the threaded barrel.
Speaking from experience, a bolt-action gun like this one reduces the typical clack-clack noise typically associated with standard AR-type semi-automatic rifles.
Eliminating a reciprocating bolt and gas system makes the weapon more efficient and quieter when used with a suppressor.
Another feature that impresses me is the Marksman trigger. This helps with accuracy, something marksmen, hunters, and casual shooters can appreciate.
The fact that the rifle is tailored to accept standard AR-15 magazines simplifies finding spares and varying capacities.
Lightweight and easy to maneuver, this model is particularly suited for hunters. The threaded barrel makes it a great option for those who want to use a suppressor.
The Ruger American Ranch .300 Blackout stands out in the popular American Rifle series from Ruger due to its smooth action and excellent performance at range.
Sig MCX Rattler SBR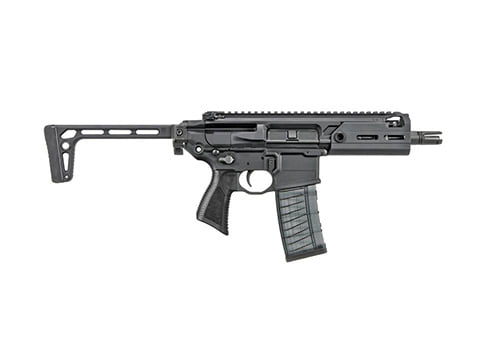 The Sig MCX Rattler SBR is an unrivaled choice as one of the best 300 Blackout Guns for 2022.
It stands out due to its unique blend of AR-15 ergonomics and the short-stroke piston rifle performance.
A highlight is its short barrel and handling as it employs a short-stroke gas piston system.
Sig's accomplishment in giving us the Rattler aims to provide the shortest MCX platform.
This gun screams for a suppressor due to its short 5.5-inch barrel, keeping the weapon ultra-small and lightweight.
The Rattler platform's adaptation by SOCOM as their PDW of choice testifies to its powerful performance despite its compactness.
For instance, its chambering in .300 Blackout renders these guns the size of SMGs, even when suppressed, they still deliver the power of a carbine.
This compact .300 BLK gun has a collapsing stock, a short M-LOK handguard, a reduced-sized grip, and ambidextrous AR-15 controls for enhanced handling.
It's ideal for adventurers as it's easy to transport and even conceal, say, in a backpack, hence the best option for dense brush hunting or close-range backcountry hunting.
The dependable gas-piston system ensures the gun stays clean from fouling typical in short-barreled configurations.
Unlike most guns in the market, Sig adopts faster-than-usual twist rates for 300 Blackout of 1:5, efficiently stabilizing subsonic ammo.
One downside is its Sig Enhanced trigger, which feels heavy and less responsive but is conveniently remedied with the company's Match Duo with a 5.5 break.
In conclusion, the Sig MCX Rattler SBR is a premium choice not only for rifle enthusiasts but also for self-defense and range use, assuring excellent maneuverability even in confined spaces.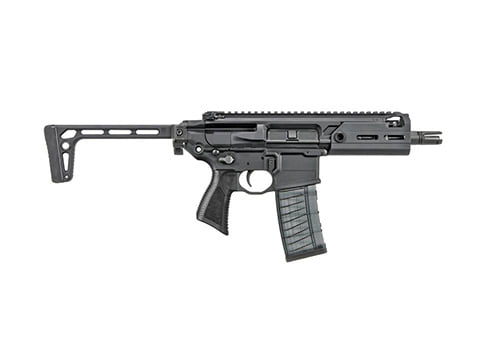 Caliber: 300 Blackout or 5.56 NATO
Capacity: 30 Rounds
Length: 5.5″
Weight: 6 lbs
LWRC IC-DI Rifle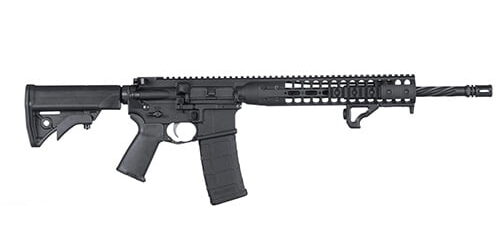 I'm inclined to argue that the LWRC Rifle is one of the most notable 300 Blackout guns.
One cannot overlook the attention to detail and craftsmanship inherent in this model. Pricey yet justifiable in its cost, the LWRC IC-DI reflects superior quality and remarkable design.
Every facet of this rifle screams quality and robustness.
The IC-DI stands apart in aesthetics alone. The handguard mates seamlessly with the receiver, preserving zero on accessories.
Furthermore, its shortened handguard aids in maintaining a balanced feel—an essential feature for any marksman valuing precise control.
Further enhancing its already-impressive form, the IC-DI's receiver set is crafted from 7075-T6 aluminum, infamous for its high-strength properties while maintaining a low weight profile.
Despite its proprietary parts posing a potential drawback for some, these custom elements have been carefully engineered to extend the life of the rifle while minimizing potential points of failure.
Therefore, while replacement parts may be somewhat challenging, there's solace in knowing they seldom require substitution.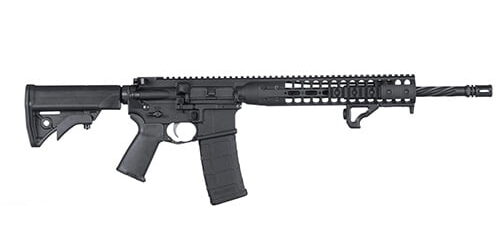 • Caliber: .223 Wylde
• Weight: 6.6lbs
• Barrel Length: 16.1″
• Overall Length: 23-35.25″
Stag Arms Stag-15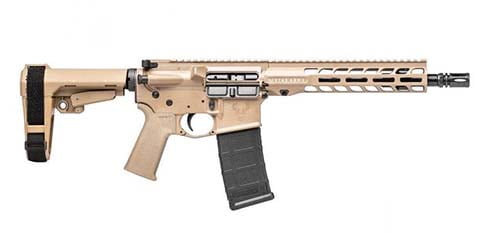 This rifle impresses on many fronts. Key among its features are the 4150 CrMoV steel barrel, 9310 steel bolt, and a 7075-T6 aluminum receiver set.
The use of these high-grade materials ensures durability and extended service life.
Though it is significantly lightweight, don't misconceive its performance.
This rifle comes shipped with Magpul MOE furniture, known for its exceptional quality.
Its handguard is affixed using a dependable ratchet-lock system, providing a robust design that could be termed 'bombproof'.
I previously reviewed the Stag-15 chambered in 5.56, which is the same as this model except the .300 Blackout chambering.
Honey Badger

The Honey Badger, explicitly designed for .300 Blackout, is one of the best guns for this round.
Its premier position among .300 Blackout guns has been established through a unique cache of features.
For instance, the Honey Badger is essentially a modified AR platform, shrunk to almost submachine-gun (SMG) size. With a barrel length of only 7 inches, it maintains a compact profile even with a suppressor, making it even lighter and shorter than most carbine-sized rifles.
In terms of practical use, the Honey Badger serves as a personal defense weapon (PDW) thanks to the ultra-small platform provided by its PDW-sized brace.
Both the stock and brace contribute to keeping the total length of the gun to 25 inches when fully extended. Even at its shortest length, the gun measures only 20 inches and weighs an incredible 4.5 pounds.
The Honey Badger is an elite-tier AR rifle that offers excellent build quality, superior parts quality, and many features, making it highly desirable to shooting enthusiasts.
Moreover, the .300 Blackout round, invented by AAC – the previous workplace of the creators of Q Honey Badger, enhances the performance when paired with the Honey Badger.
A premier PDW-sized gun specifically designed for .300 Blackout, combining attributes of an AR platform and SMG size.

• Caliber: 300 Blackout
• Short Barrel Rifle
• Barrel Length: 7.9
• Clear Coat Anodized
PSA Jakl 300 Blackout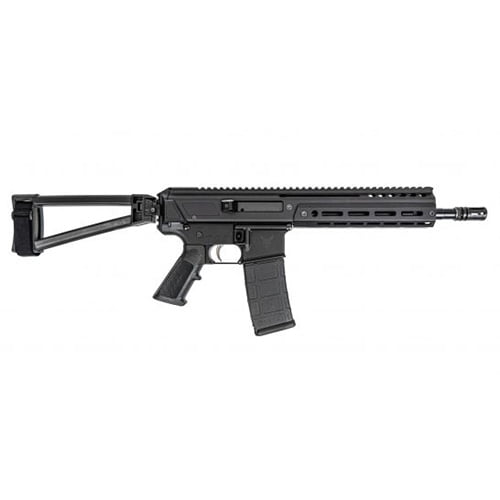 The PSA Jakl quickly became one of my favorite guns on the market today for all the right reasons.
The affordableness of this gun and the side-charging AR-15 design are two of the top reasons you should consider this gun.
A significant feature of the PSA Jakl is its versatility. It's available in both rifle and braced pistol configurations, making it adaptable to different shooting preferences or scenarios.
Offering free-floated M-LOK rails, shooters can easily and securely attach a wide variety of accessories.
Value for money has always been a cornerstone for Palmetto State Armory, and the Jakl 300 Blackout doesn't stray from that commitment.
For a gun so well-equipped, it's incredibly competitively priced, leaving many of its competitors behind.
Arguably, the Jakl is an ideal firearm for those who have just ventured into the world of tactical rifles or those looking for a well-rounded, practical rifle for home defense.
Its blend of ambidexterity, solid build, and loaded feature set represent excellent value, especially combined with the precision and reliability that PSA is known for.
Why Choose a 300 Blackout Gun
You might be wondering why I want a more expensive round for my AR-style rifle. While the cost is a negative, there are many reasons why you'd want to consider a gun chambered in 300 Blackout.
Accuracy and Recoil
The 300 Blackout round is undoubtedly a desirable weapon for seasoned gun-owners and relative beginners alike, thanks to its stellar blend of accuracy and recoil.
Its precision is impressive. With rigorous testing, 110- and 125-grain ammunition displayed remarkable accuracy.
The recoil quotient is worth noting. Despite the 300 Blackout producing more recoil than the .556, the recoil felt is more but doesn't hamper shooting performance.
This mitigated recoil makes it well-suited for individuals unaccustomed to heavy recoil, thus easing the overall shooting experience.
In conclusion, the 300 Blackout combines accuracy and minimal recoil, rendering it a versatile addition to any firearm collection.
Its consistency and accessible recoil make it a top choice.
Range and Penetration
The .300 Blackout round stands out regarding penetration due to its use of bulkier projectiles.
This firearm can deliver a potent hit at a close range, making it ideal for scenarios requiring that kind of impact.
To shooters who require a more powerful firearm for close-range engagements or need a reliable weapon for mid-range shooting, the .300 Blackout can be a compelling choice.
While it may not be the cheapest option on the market, its power, range, and penetration make it a caliber worth considering.
Barrels and Twist Rate
The barrel and twist rate of a 300 Blackout gun are crucial considerations when selecting the ideal firearm.
An optimal barrel length for AR pistol models is between 6 and 10.5 inches, suiting the .300 AAC Blackout's tailored design for short-barrel configurations.
For instance, the 5.5-inch barrel of the MCX Rattler enhances easy transportation without significant compromise on ballistic performance.
Equally critical is the twist rate. Heavy subsonic loads (225 grains and above) favor a 1:8 twist, which optimizes bullet stability, while lighter supersonic projectiles (85-125 grains) perform better with a 1:7 rate.
Materials utilized in barrel construction influence durability and longevity.
High-quality .300 Blackout barrels originate from cold-hammer-forged stainless steel or heat-treated chromium-molybdenum alloys.
Providers like Proof Research and Carbon Six excel in precision, crafting carbon fiber-wrapped barrels that withstand intense heat.
Muzzle Device and Suppressors
Muzzle devices and suppressors are crucial components in 300 Blackout Guns.
They enhance performance, making these firearms suitable for various applications.
This results in superior shooting control and more precise follow-up shots.
Suppressors, such as those developed by Advanced Armament Company, have proven instrumental in transforming the firearm industry with innovations, making suppressed ammo more efficient.
Ideal for professionals requiring stealth and accuracy, these components have demonstrated their significant value.
300 Blackout Gun Buying Guide
Different Types of 300 Blackout Guns
Its variety and versatility is integral for diverse applications, spanning from target shooting to home defense.
Perhaps, you're on a budget when picking your .300 Blackout pistol. The PSA 8.5″ Pistol-length 300 AAC Blackout should suffice.
Despite its competitive pricing, key features like KAK Industries shockwave pistol buffer tube and an 8.5′ chrome moly vanadium steel barrel remain a standard.
While these products offer various options, their selection should primarily be decided by your shooting needs and financial budget.
Things to Consider When Buying a 300 Blackout
Choosing the right 300 Blackout gun entails more than just selecting the first model you find or going for the cheapest option.
With a variety of models, designs, and features available in the market, it's essential to consider a few critical factors that could determine the kind of 300 Blackout gun you end up buying.
The purpose of the gun is the first crucial factor you need to keep in mind.
Are you buying the gun for home defense or competitive shooting sports?
The intended application of the gun profoundly determines the features you should be looking for.
For instance, a weapon for home defense might require a higher maneuverability degree, while one for competitive shooting sports might need increased precision.
Moving to another considerable factor – the overall length and weight.
Your preferred gun type and its application weigh heavily on this factor.
A handy carbine or pistol, light in weight, might be apt for easy transport and increased maneuverability.
Conversely, you might consider a weapon with a longer barrel for increased precision if you're into competitive shooting sports.
Knowing your budget is equally important. Every buyer, especially those on a tight budget, should be keen on the price tag attached to their desired 300 Blackout gun.
However, don't sacrifice quality and safety for a few dollars. Look for a balance between affordability and functionality, as compromising one for the other could result in unpleasant experiences.
Reliability is the next aspect you can't afford to ignore. Knowing that you are purchasing a weapon that should perform at its best when needed, seek a functionally reliable firearm.
Before making your final decision, I suggest checking online reviews and learning from other people's experiences with the model you are considering.
Choosing a .300 Blackout pistol is about aligning your needs, preferences, and budget with the pistol's features and quality.
There is no doubt that navigating through a bursting marketplace can be confusing, but with these guidelines, you should be well-equipped to make a well-informed decision.
300 Blackout vs. 5.56 NATO
You can read the full difference between the two rounds in our 300 Blackout vs 5.56 NATO article, but here is the cliff notes version.
The .300 Blackout is an impressive cartridge catering to a wide range of projectile choices, making it ideal for hunting. It is packed with 110 to 220-grain bullets, delivering a significantly heavier punch than its 5.56mm counterpart.
Conversely, the 5.56mm NATO is lightweight and is favored for greater range. It typically accommodates 40 to 77-grain bullets, making it about 40% lighter than the .300 Blackout, but offering substantial precision at medium range.