Are you in the market for an AK-74 that doesn't break the bank and leaves room to buy some wildly expensive 5.45x39mm ammo? Look no further than this PSA AK-74!
Ever since I first got my hands on the PSA AK's I have liked them. The PSA AK-74 is very similar to the AK-105 and the PSA AK-47 GF3 that I previously reviewed.
Made in the USA
One of the aspects that particularly appeals to me about the PSA AK-74 is its American origin. As a fervent enthusiast of American-made products and brands, it's always a significant advantage for me to acquire a product proudly bearing the "Made in the USA" label.
Recently, the AK-74s emerging from the United States have consistently exhibited high quality.
Despite some initial challenges faced by various American AK manufacturers, it's evident that they have now firmly established themselves on a path toward crafting top-notch AK rifles.
Notably, the PSA AK series has even earned the honor of being featured not once but twice in our selection of the best AK-47 rifles, further underscoring their commendable quality and performance.
Features
The PSA (Palmetto State Armory) AK-74 is a variant of the iconic Kalashnikov AK-74 rifle chambered in 5.45x39mm.
It offers many features you'd expect from an AK-74, and PSA has gained a reputation for producing affordable and reliable firearms. Here's a review of some of the key features of the PSA AK-74.
Muzzle Device
Many AK-74 variants have a muzzle brake designed to mitigate recoil and control muzzle rise.
The AK-74's distinctive muzzle brake is designed to reduce felt recoil, making rapid follow-up shots more manageable.
The muzzle device on the PSA AK-74 is a generic muzzle break that throws the blast left, right, and up.
While it isn't earth-shattering in design and innovation, it does function and the recoil and muzzle rise are so minor it doesn't make sense to change the muzzle device.
The only reason to change the muzzle device is to get the aesthetic you want or to suppress the AK-74.
FSB/Gas Block
The front sight block on the PSA AK-74 is completely separate from the gas block.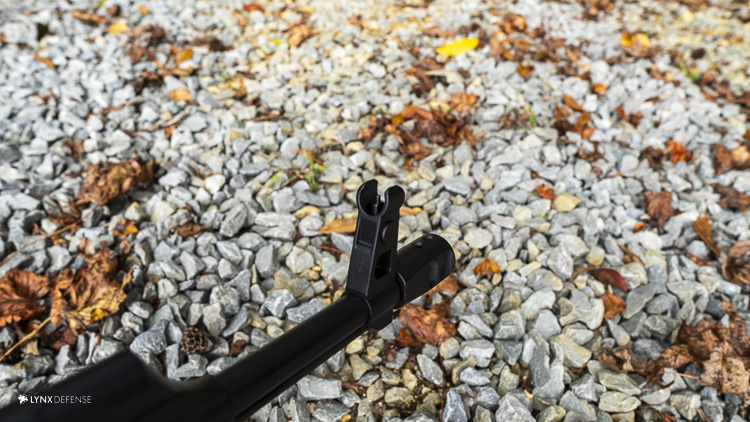 The Front Sight Block (FSB) is positioned near the barrel's end, close to the muzzle, while the gas block is situated a few inches behind the FSB.
The front sight on the AK-74 has been reliable. These are iron sights, so expectations align with traditional iron sights performance.
The FSB appears identical to the GF3 and other PSA AK models.
Front Trunnion
If you're new to the world of AK-47 rifles and aren't yet familiar with the intricacies of assembling them, terms like "front trunnion" might not be immediately clear. I've been there too, not too long ago.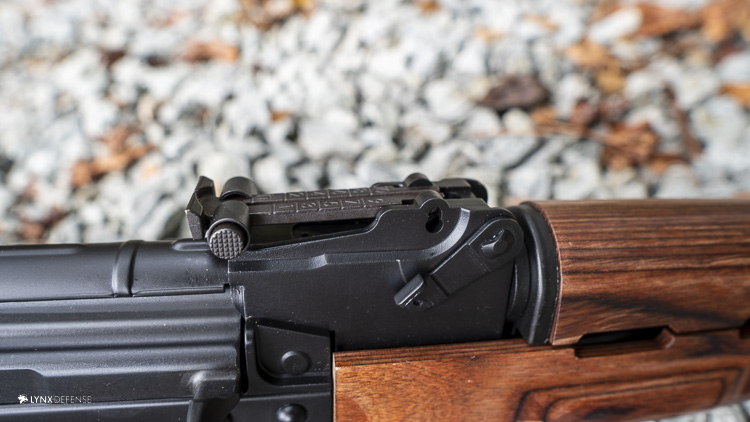 In the realm of AK firearms, trunnions are essentially immovable metal components to which other parts of the rifle attach, lock into, or rest against.
Specifically in the AK platform, the front trunnion is a metal block securely riveted into the receiver, serving as the foundation into which the barrel is pressed.
What's noteworthy about the front trunnion on the PSA AK is that it's hammer-forged and has proven to be exceptionally reliable in the performance of this rifle.
Chances are, you won't have to tinker with the front trunnion, but I wanted to highlight its importance because the hammer-forged trunnion is impressively durable, ensuring the long-term durability of this firearm.
Receiver
The receiver of the PSA AK-74 is a vital component of this rifle. It houses the hammer-forged front trunnion, which serves as a foundation for the barrel and ensures the rifle's long-term durability.
This is a stamped metal receiver sticking true to the AK's original design. It feels extremely solid and is on par with the other PSA AK's I've shot over the years.
Barrel
The barrel is made of 4150 Steel and appears to be the same quaility barrel that are on the GF3 series, which is great because I've had nothing but a positive experience with that gun.
As long as I can find the ammo, I expect this firearm to undergo extensive shooting over the months ahead.
The selection of a steel barrel serves as a prudent decision, offering not only cost-effective advantages but also exceptional durability and a long lifespan.
Safety
AK safety selectors are at least 25% of the fun in shooting AK's. I like how PSA has embraced the kerbs style safety design and made it easy to use your index finger or thumb.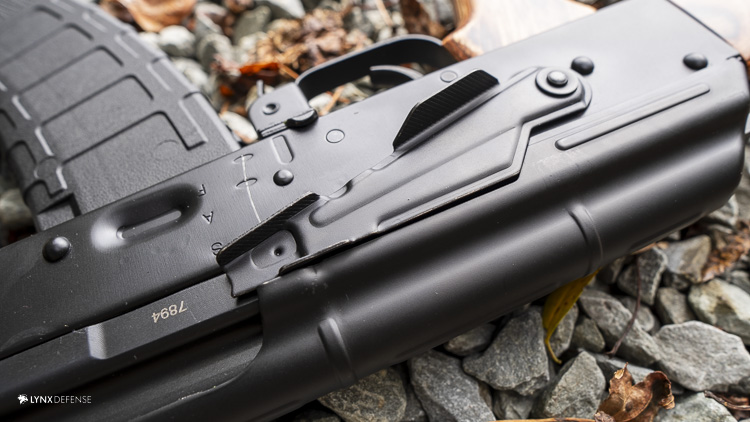 Use it is fluid and extremely easy to put the gun on and off safe. Every PSA AK I've gotten in recent years has this style of safety, so no matter what model you go with it should still have these safety selectors.
Trigger
The AK 74 rocks the stock PSA trigger and while it's nothing to write home to mom about it feels good and does the job.
Pistol Grip
If you are an AK purist you won't like the furniture on this gun but then again if you are a true purist, you probably won't like this gun at all.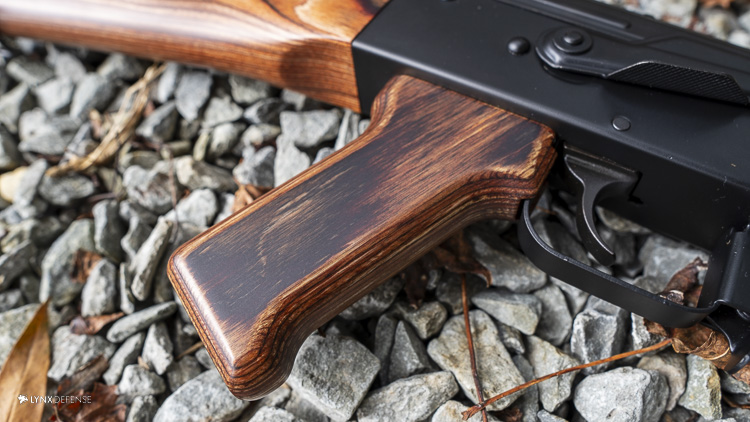 The pistol grip does its job but it isn't winning any awards. But the good thing is you could always swap it out if you found it below your standards.
But for the price point, the pistol grip and furniture do their job.
Magazine Release
The magazine release is conveniently positioned just in front of the trigger frame, allowing for easy operation to release and replace the magazine.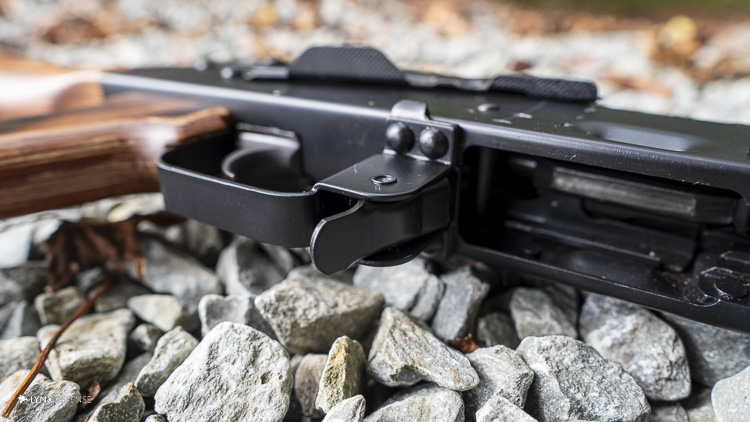 In terms of its size, the magazine release is designed just right, neither too large nor too small, in my opinion. It fits well in its stock configuration.
It's worth noting that the size of the magazine release largely depends on personal preference, and if desired, it can be replaced with an alternative size.
In terms of functionality, the magazine release operates smoothly and efficiently, fulfilling its intended purpose without any hitches or problems.
Magazine
Regrettably, only one magazine is included with the gun, but fortunately, AK magazines can be easily found online.
The PSA AK-74 is equipped with a 30 round Magpul AK magazine by default.
Although this magazine appears sturdy, I intend to purchase several more AK magazines to expand my collection.
For a comprehensive review of the top AK-47 magazines, please refer to our complete write-up.
Bolt/Charging Handle
I haven't found a wide selection of charging handles in PSA's AK lineup but that doesn't bother me because I don't want the classic AK charging handle to change.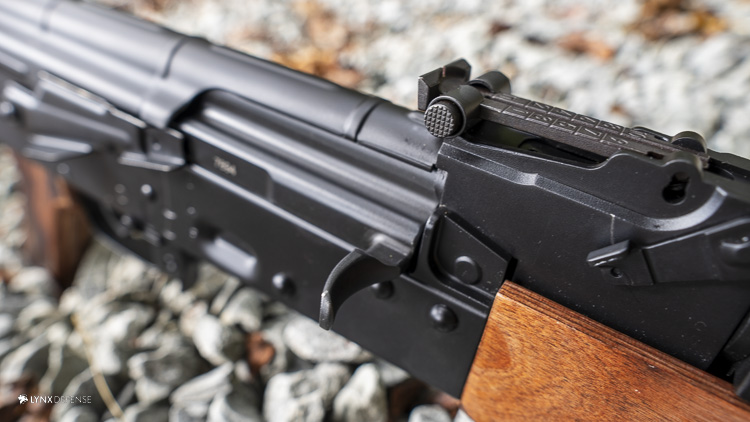 Overall, it functions and works great and feels high quality no pot-metal here.
Stock
The stock on this model is "Nutmeg" but if it's true wood it's heavily coated and I don't believe it's true wood.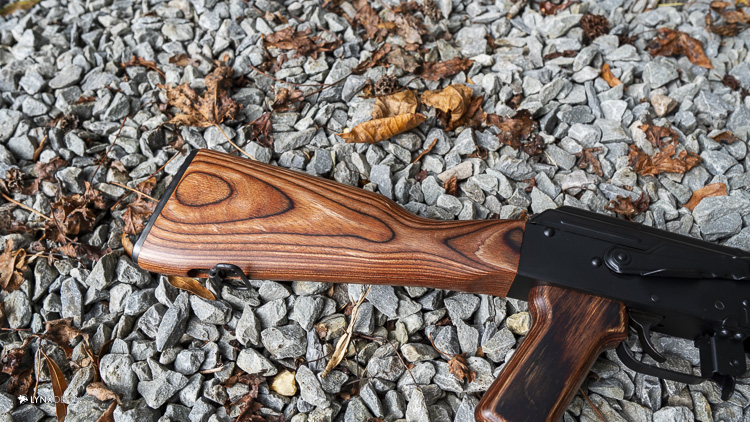 So like "fakelite" is the word for fake bakelite we need the word for fake wood furniture.
While it may be fake wood it still feels good and there are zero rough spots anywhere on the gun.
I personally like it but if it's not your thing furniture is meant to be changed.
Handguard
Classic handguard that feels good in the hand it's the exact same as the GF3 and other classic AK models from PSA.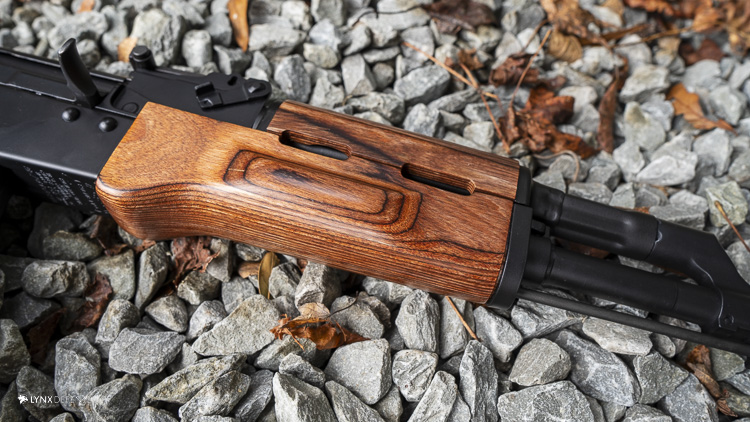 They all feel really good in the hand and allow you to have good control while shooting
Optics for the PSA AK-74
Nearly anything can be put on the PSA AK-74 if you buy a side mount or a new dust cover. We compiled a list of optics for the AK-47 and that list can be used interchangeably here.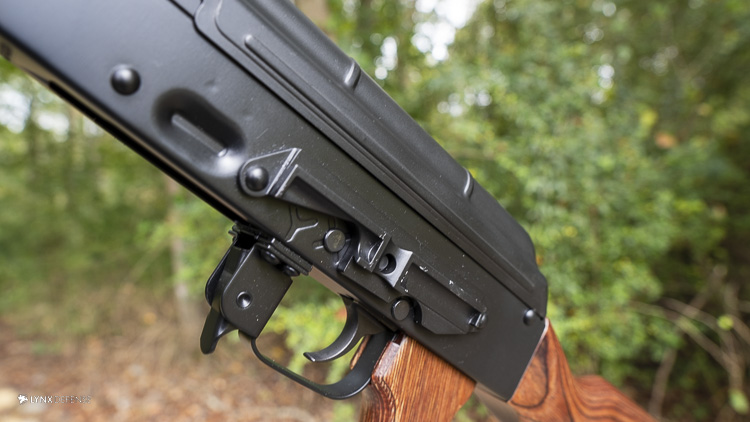 I plan to run just the iron sights on the PSA AK-74 but will probably put an optic on the AK-105 I have up for review next.
Shooting the AK-74
Shooting this gun is a great experience but what I noticed was it wasn't much different than the 7.62 AK's.
I still need to get my hands on a 5.56 AK but I can imagine that these two guns are very similar in terms of recoil impulse and muzzle rise.
The muzzle rise is almost nonexistent which makes the shooting experience so good.
The only downside is with the turmoil in Europe most of the 5.45×39 ammo has dried up and it's very hard to find, just look at how out of stock Palmetto State Armory's selection is for 5.45. Hopefully, availability will free up some soon and the prices will come down.
Uses for the PSA AK-74
What practical uses can the Palmetto State Armory AK-743 fulfill?
It's undoubtedly a dependable firearm with versatile applications, and we'll discuss its two most prevalent roles.
Range Gun
Is this suitable for recreational shooting at the range? Certainly, and prior to the recent European conflict, you could easily acquire 5.45×39 ammunition without breaking the bank for an enjoyable day of long-range shooting.
Nonetheless, this firearm is unquestionably one I'd include in my range outings almost every time. It offers enjoyment, is relatively lightweight, durable, and rarely stays behind.
Thanks to its minimal upkeep requirements, it's undeniably a sensible choice for a reliable range firearm.
Tactical
Is this the ideal choice for tactical scenarios, home defense, or perhaps even a vehicle gun?
It's a possibility. I see no problems with using an AK as the primary firearm for home defense, tactical situations, or as a vehicle gun.
Nonetheless, would I prefer the particular configuration I have for any of these purposes? Likely not. I would opt for the AKP or a shorter barrel model for enhanced mobility and maneuverability.
So, yes to the AK in a pistol or SBR (short-barreled rifle) configuration, but no to a full-length AK-74 for tactical applications.
PSA AK-74 Price & Conclusion
The price on most of the AK-74 models is extremely reasonble you can get models that are over the $1,000 mark but they come with more features and accessories.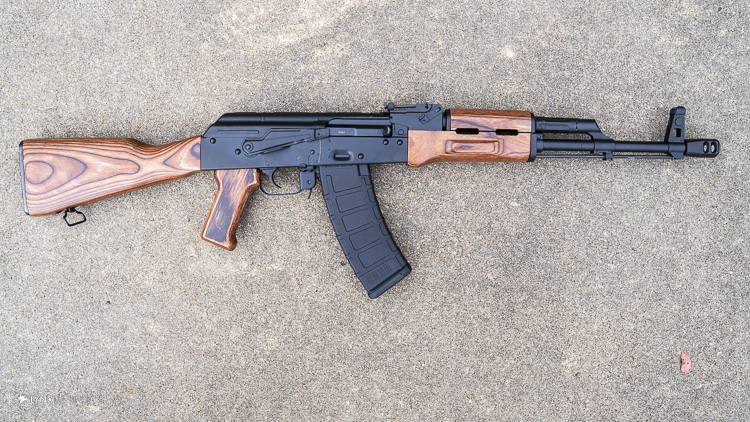 The model in this review is between $700-$800 depending on what sales and promotions are running at the time.
I think that's an extremely reasonable price fro this AK and would reccomend picking it up if you meets your featureset needs and falls in your budget range.
AK-74 vs AK-47
The AK-74 and AK-47 are both iconic assault rifles designed by Mikhail Kalashnikov, and they share several similarities in terms of design and operation.
However, the two firearms have some key differences, including caliber, performance, and design elements. Here are the primary differences:
Caliber
AK-47: The AK-47 typically fires the 7.62x39mm cartridge. This round is larger and heavier than that of the AK-74, making it more powerful and having greater stopping power at short to medium ranges.
AK-74: The AK 74, on the other hand, is chambered for the 5.45x39mm cartridge. This round is smaller and lighter, which results in reduced recoil and better controllability, but it sacrifices some of the stopping power of the 7.62x39mm round.
AK-74 FAQ
Is AK-74 better than AK-47?
Whether the AK-74 is "better" than the AK-47 is a matter of perspective and depends on the intended use and specific preferences of the user.
Both the AK-74 and AK-47 are iconic firearms, but they have distinct characteristics that may make one more suitable for certain situations than the other.
How much is the AK-74?
They vary from $600-$1,500 depending on the make and model of the AK-74.
Can you buy AK-74 in America?
Yes, you can buy AK-74 rifles in the United States. These rifles are available to civilian consumers, subject to federal, state, and local firearm laws and regulations.
Can you buy a AK-74?
Yes, there are many companies including PSA that sell AK-74 variants.