Complete Aero Precision Guide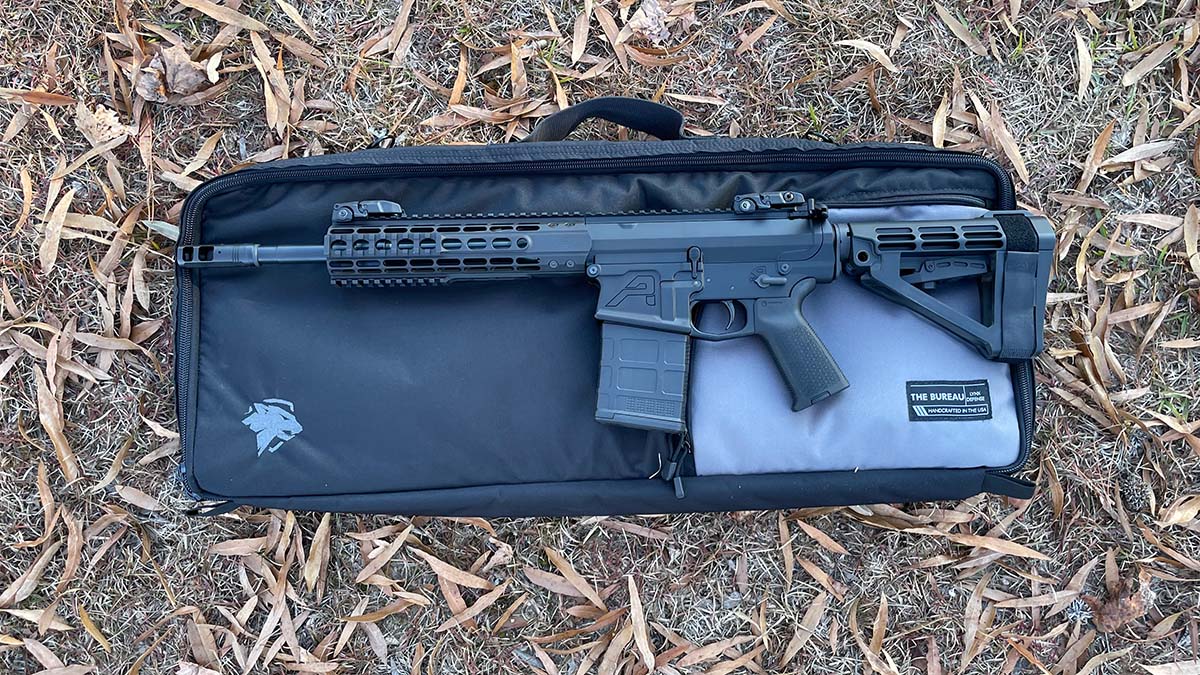 Aero Precision is one of the most well-known AR-15 part manufacturers in the market today. They get their history from the Aerospace industry but broke through in the mid-2010s and have been growing leaps and bounds since.
If you're in the market for some Aero Precision parts to complete a build of your own here's the skinny on nearly everything they offer and where to buy it.
Aero Precision Lower
Aero Precision makes two major models of lowers for the AR-15 and AR-10 platforms.
The first we will talk about is their latest model and most popular design. The M4E1 lower receiver.
M4E1 Lower Receiver
The M4E1 lower receiver is Aero Precisions' most popular lower and is a billet style lower.
The M4E1 lower is machined from 7075-T6 forged aluminum and comes in anodized black or cerakote FDE. The M4E1 lower works with standard AR-15 components and magazines so you can use whatever lower parts kit you favor.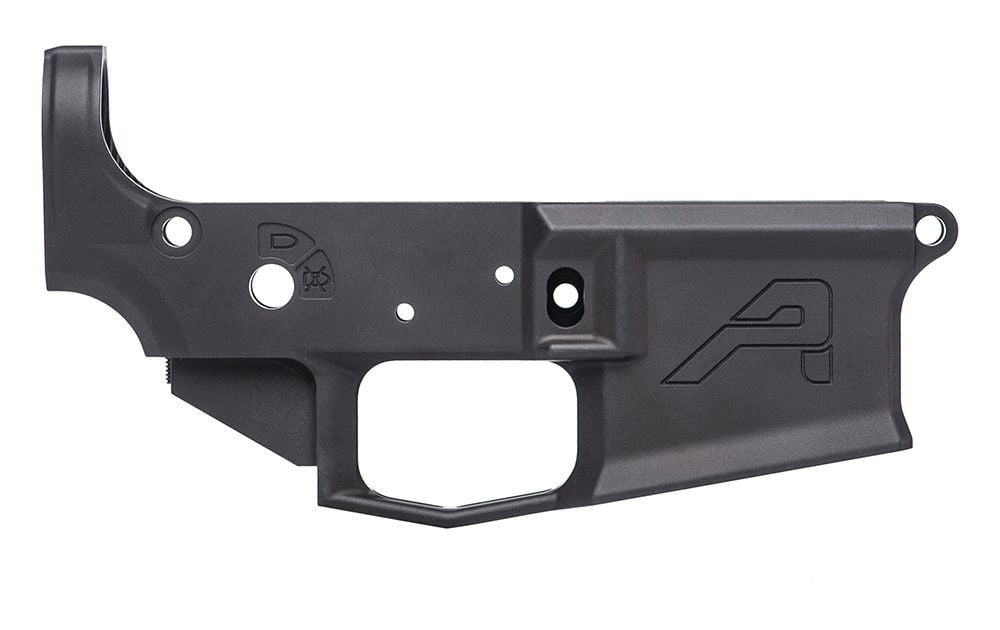 But the good news is this lower features a rear takedown pin detent hole that is threaded and includes a set screw. The bolt catch roll pin is also threaded and included.
This makes installing the bolt catch a breeze and saves your lowers finish!
Now let us talk about the original lower.
AR15 Lower Receiver, Gen 2
The Gen 2 Aero Precision AR-15 lowers are also machined from 7075-T6 forged aluminum and come in black or cerakoted FDE.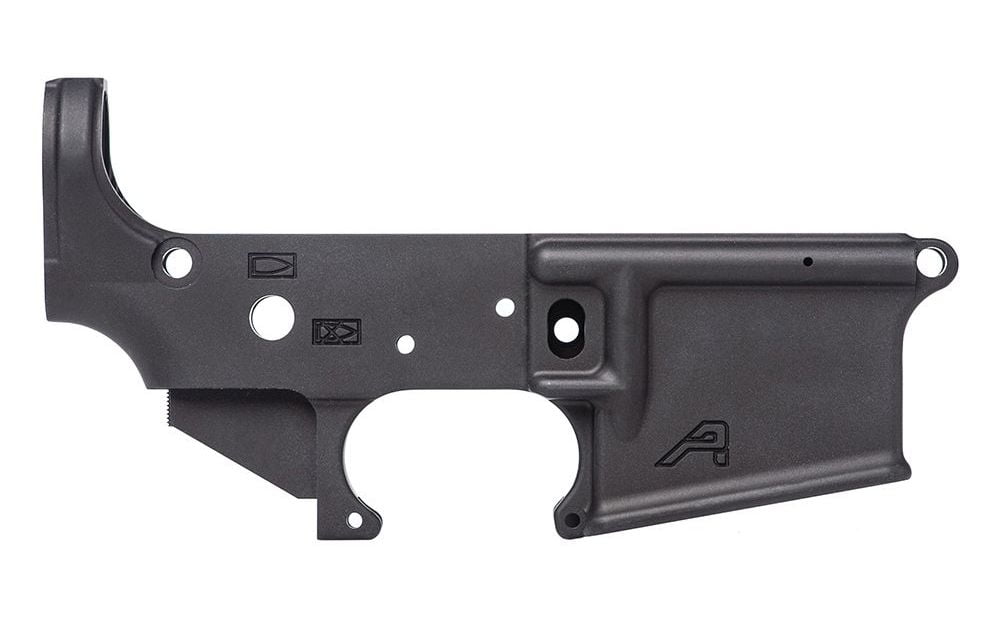 If you want the classic no-nonsense AR-15 lower this doesn't get any more mil-spec.
This is still a really quality lower with a great fit and finish. The one major difference between these lowers and other brands' mil-spec lowers is the upper tension screw.
What's the upper tension screw, you ask? It allows you to get the perfect fit between the upper and lower receiver. The nylon tipped screw is a tensioning set screen that's in the grip. It gives this lower a tight fit to any upper with just a few turns of a screw.
Aero Precision Stripped Lower
Aero Precision offers two types of lowers: stripped and complete. But what's the difference?
Stripped lowers give you a blank slate. The lower is the only part of the gun that has to go through an FFL and is the only part that is considered a firearm.
The Aero Precision stripped lower is almost like the base layer of your lego project.
You get a blank slate to make the gun your own. Pick your own parts to build and complete your build.
If you wanna see the available stripped lowers check our Aero Precisions website. They even offer some unique special edition stripped lowers.
Aero Precision Complete Lower
A complete lower is the exact opposite of a stripped lower. They come in an even wider variety than the stripped lowers.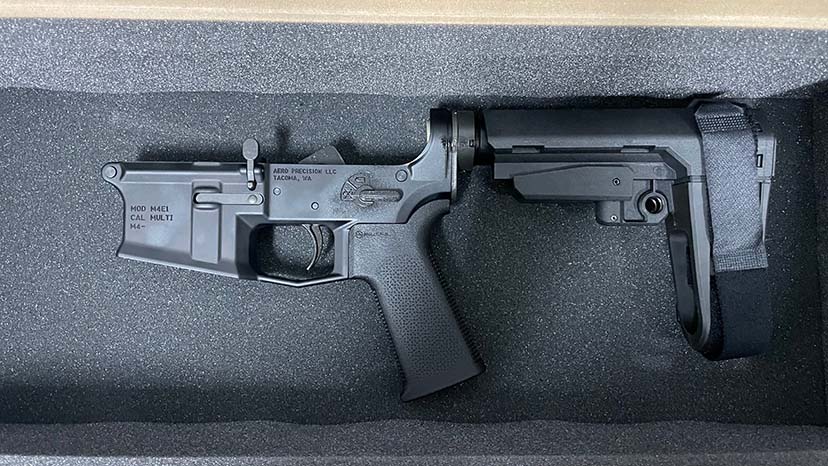 There are literally millions of possibilities when it comes to putting a lower together from scratch.
But Aero Precision has taken some of the most popular parts and configured them ready to purchase straight from their site.
One option is the most basic option there is which is the Aero Precision Gen 2 lower with basic AR-15 A2 grip and stock.
Another complete lower option comes with the SB Tactical SB3 pistol brace and the gen 2 lower which is a great base for your AR Pistol build.
Aero Precision Lower Parts Kit
So you found the perfect stripped lower for you? (If you found the perfect complete lower you can move on to the upper section below)
Well, now it's time to find the perfect lower parts kit for your Aero Precision-stripped lower receiver. Building a lower receiver from a parts kit is not difficult and Aero Precision even has videos on how to do it.
Aero Precision has a massive offering of lower parts kits that offer different grips, stocks, and configurations.
Aero Precision Upper
Uppers are usually sold in four different configurations:
Stripped Uppers
Assembled Uppers
Complete Uppers
Actually Complete
Stripped Upper
Stripped uppers are typically just the forged upper receiver and look like this.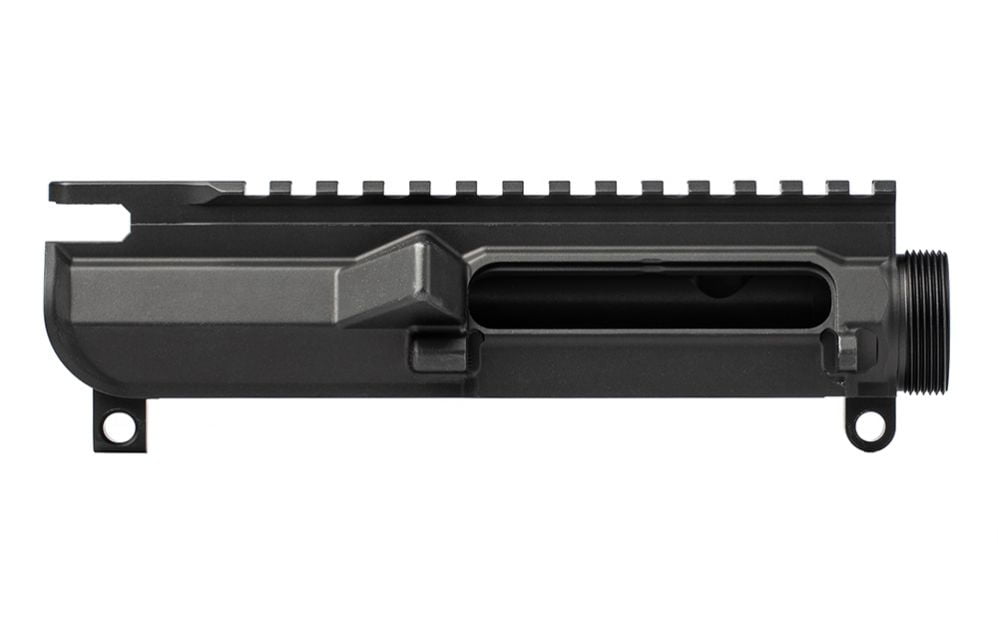 These uppers are ready for you to add your barrel, handguard, ejection port cover, charging handle, and bolt carrier group of choice.
The upper is really the only part of an AR-15 that will require special tools to complete. Since this is where most of the "bang" happens I highly recommend building the upper according to specification with the right tools.
If you want to look at what tools you need to build an AR-15, read our AR-15 tools article.
Assembled Uppers
Assembled uppers are what most people prefer when it comes to a "stripped upper". It takes the hassle of dealing with an ejection port cover install and a forward assist install.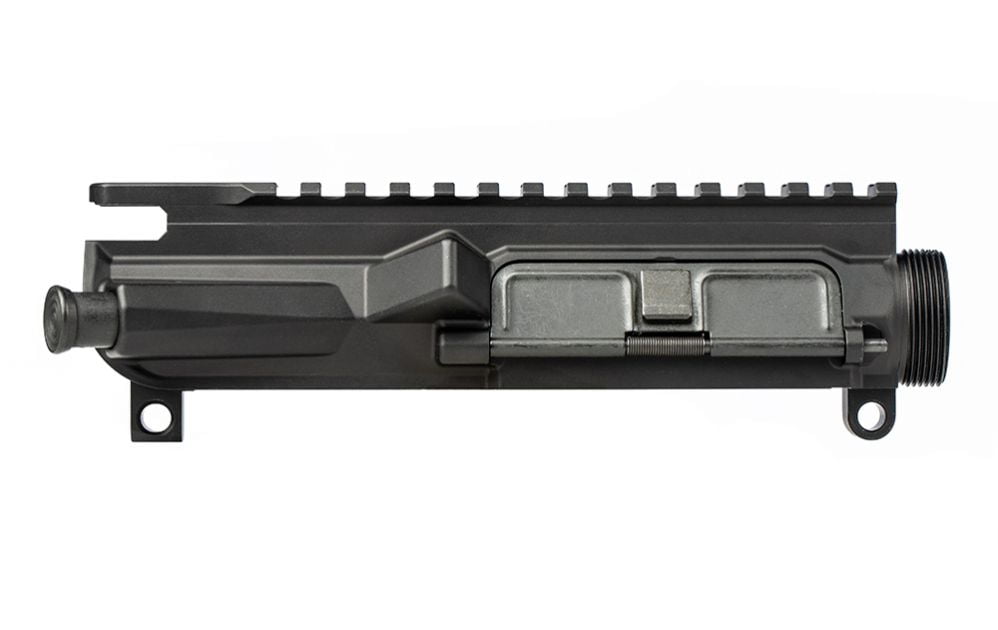 Both of these items can be extremely finicky to install. Assembled uppers allow you to add your own barrel and handguard to your upper but with less stress.
Aero Precision Complete Upper
Complete uppers are extremely misleading most of the time. When manufacturers refer to a "complete upper" they likely mean upper, handguard, barrel, forward assist, and muzzle device.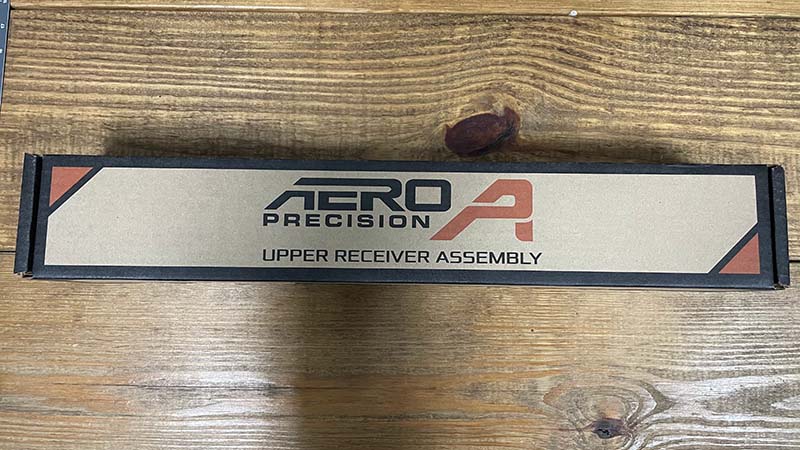 Typically this upper configuration makes you bring your own charging handle and bolt carrier group to the party.
When building an AR-15, the complete upper is probably the way to go if you're looking for a stress-free build.
Many people believe they can build their AR-15 cheaper if they assemble every aspect of the gun and most of the time that isn't the case.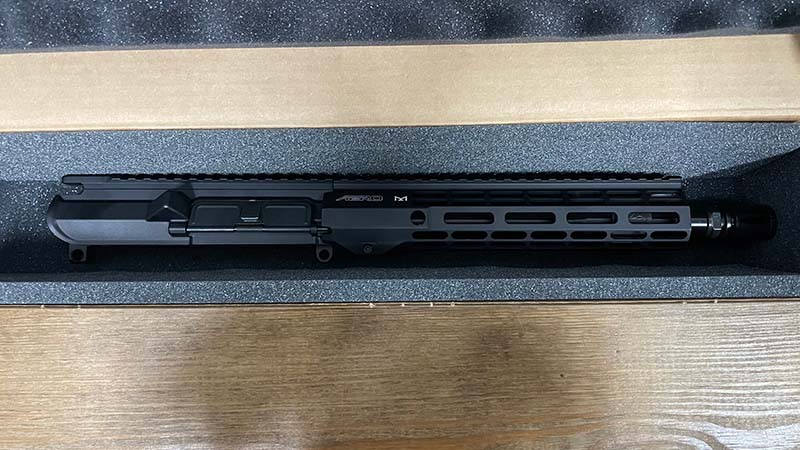 Aero Precision makes it very cost-effective to build out your lower how you want and to purchase a complete upper that meets your needs.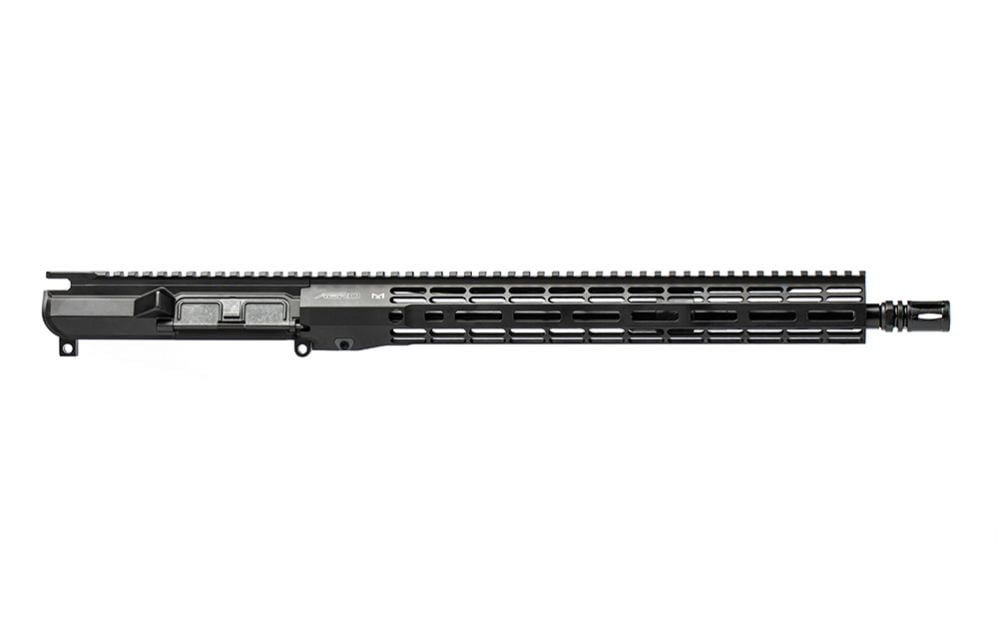 Aero Precision Handguard
AR-15 handguards are a true work of art! To me, they are the best part of the AR-15 and also the most frustrating. Why? I'm glad you asked.
The handguard is one of the most important parts of the gun because it's what your support hand grips.
It's what keeps your hands off of a hot barrel and most of the time it's what you're mounting important accessories to.
If it's all that and a bag of party size Doritos Cooler ranch, why do you think it's frustrating.
Two reasons: options & mounting
There are a massive amount of handguard options there are different attachment systems such as MLok, Picatinny, keymod, and more!
Just so you know MLok is the current "winner" in the market since the military choose that attachment system over Keymod.
Some of the most popular handguards other than Aero's Atlas line are BCM, Geissele, and Daniel Defense, including the new Daniel Defense RIII.
My recommendation is that if you want to use Aero Precision's handguard system, then buy a complete upper.
It saves you time and buying them separately, unless you just want the experience, doesn't save you money.
Aero Precision BCG
The bolt carrier group (BCG) offered by Aero is a really decent BCG. Their standard BCG is an M16 cut carrier that is machined from 8620 tool steel and the bolt itself is 9310 steel.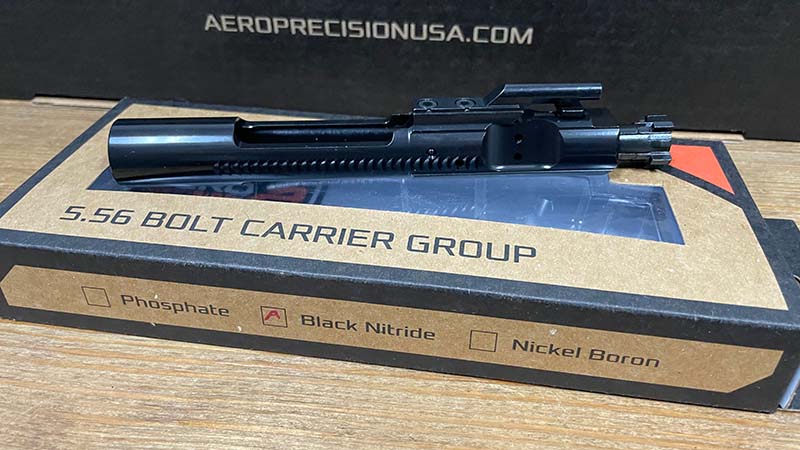 It does have forward assist serrations if you want to run an upper with a forward assist. Topped off with black nitride and the iconic "A" logo on the front of the BCG.
It has a staked gas key and is shot peened and HPT tested.
You really can't go wrong with the Aero Precision BCG, the only tough thing might be to find this BCG in stock.
Nickel Boron BCG
One of my favorite bolt carrier groups that Aero Precision makes is their nickel boron BCG. Not only does the nickel boron BCG look great it makes cleaning easier and the bolt slides like butter.

If you can swing a few extra bucks on your build upgrade your bolt carrier group!
Aero Precision M5 vs Aero Precision M4
If you've seen the naming conventions of the Aero Precision models you're probably wondering what is all this M5 and M4 non-sense?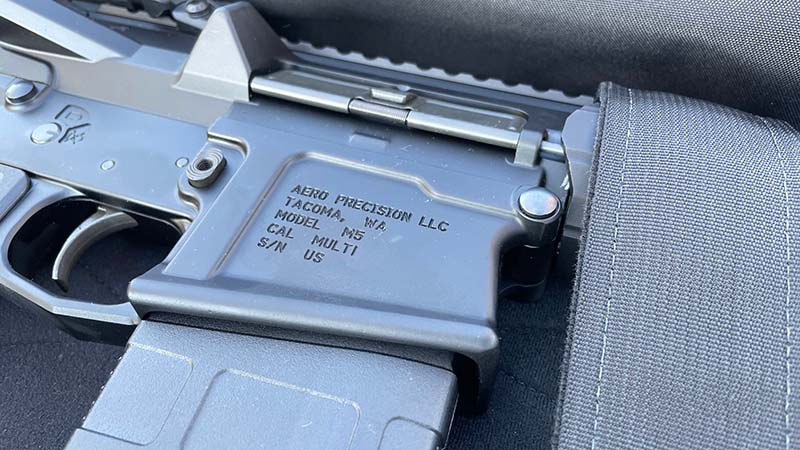 Well, the M4 is pretty common and means probably what you think. The Aero Precision M4 series is their 5.56/.223 line of products.
The Aero Precision M5 moniker is reserved for their AR-10 products.
That includes the .308, 6.5 Creedmoor, and 6.5 Grendel chambered barrels and parts.
Aero Precision EPC
One of the latest creations from Aero Precision is the Enhanced Pistol Caliber Carbine, better known as the EPC.
This gun is available in 9mm and .40 caliber. This is a great platform and you can read our entire EPC9 review.
Be sure to accessorize your new Aero Precision AR-15 with the best weapon-mounted flashlight, backup iron sights, and a red dot sight!