If you have been around for more than a minute you know I love a pistol caliber carbine (PCC)! So this Aero Precision EPC review should come as no surprise!
Let's take a look at the ins and outs of the Aero Precision EPC and how it stacks up against the other PCC's.
EPC, you say?
So what does EPC even stand for? I actually really like the name Aero Precision gave their 9mm Carbine: Enhanced Pistol Caliber.
EPC just has a nice ring to it and you can easily just throw the caliber number behind it EPC 9 or EPC 40.
PCC's & Why
I always find it interesting how opinions about certain calibers, gun styles, and companies float around the gun industry.
Many people think pistol-caliber carbines are pointless. Some will say, "Tell that to the MP5" and I personally think they are just fun range toys.
To me arguing about a 9mm rifle or carbine is absolutely silly. Most of us will likely only use a pistol in a defensive situation.
That means 80-90% of our firearm collections are guns we just enjoy shooting and having.
The reason why I really like PCC's is that they cost much less to shoot than other short barrel rifles and are slightly more realistic than .22 caliber pistols and rifles.
History of Aero Precision
Aero Precision didn't originally start out as a gun company. In fact, they are an offshoot of an aerospace company based in Tacoma, WA.
Clearly, Washington state isn't a bastion of gun-friendly policies but that's where they remain to this day.
EPC Parts List
We wanted to throw a parts list together for anyone who wants to start building their EPC.
Upper Parts
Lower Parts
EPC Assembly
The Aero Precision EPC is assembled much like any AR-15 would be. This lower is nearly an exact copy and ever requires some of the same parts.
The upper has the same 5 major parts. The barrel, upper, bolt, and charging handle.
You could learn how to assemble your EPC by following nearly any AR-15 build video.
Ergonomics & Firearm Overview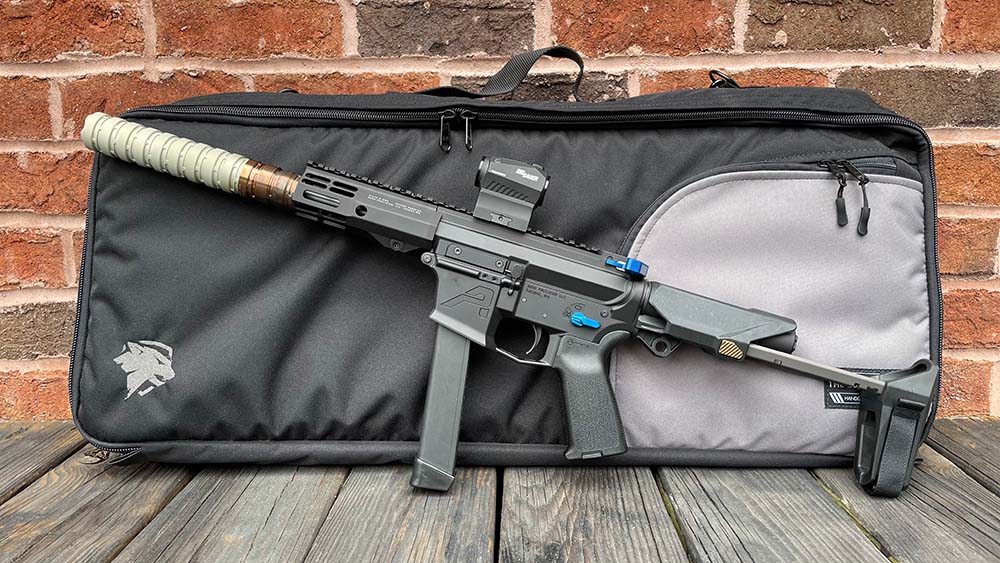 The EPC-9 is your standard, run-of-the-mill AR9.
But it's made by Aero Precision, so obviously it has the finesse, look, and feel of their AR series.
The overall completed look of the EPC-9 is on par with many AR pistol platforms, like the CMMG Banshee.
There are some differences between an AR9 platform and the AR-15, and we'll get into those in a little bit.
But overall, your handguard, upper, and lower receiver are all the same. That's going to give your AR9 the standard AR look, but we'll dive more into that here shortly.
Safety
So let's talk about the safety of the gun.
The safety on the EPC-9 is nice because it can be whatever you want it to be. The EPC allows you to change to any standard MIL-SPEC safety throw.
For me, I have the Radian Talon. I have the limited edition July 4th version of it, but you can run any color or configuration.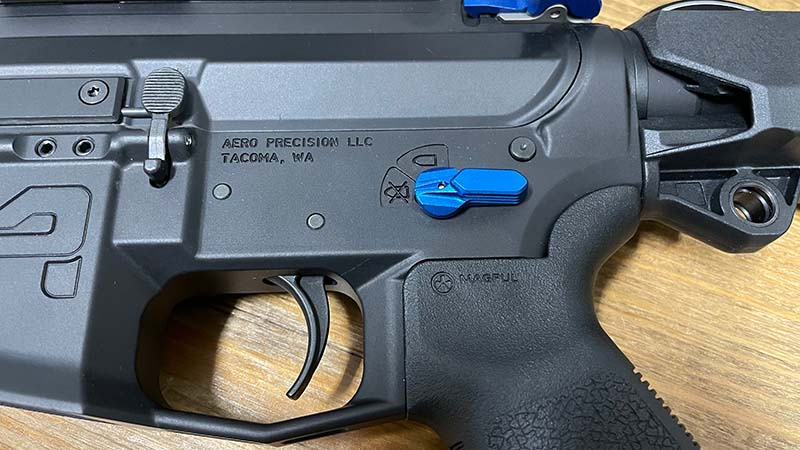 The safety is very much customizable so you can make it what you want it to be.
You can run the standard MIL-SPEC, but I prefer the ambidextrous Talon.
You can grab those at a number of different places, but if you have a favorite AR safety selector, then it'll definitely work on this gun.
Pistol Grip
The pistol grip on the AR-9 is literally any MIL-SPEC AR-15 grip.
I prefer to use Magpuls grips. I usually have a couple just laying around so I can just grab them and throw them on the gun.
So naturally, that's what I threw on this gun, but any of your favorite grips will work on this gun.
That means there is a massive selection of grips since it will work with any AR pistol grip.
Magazine Release
So the magazine release is actually somewhat different from the EPC series.
I actually really liked the magazine release. You typically find it on the right side of the receiver and that's where this one is. Typically it's just a small single push button.
Since the EPC takes Glock mags, they had to make the magazine release a little different.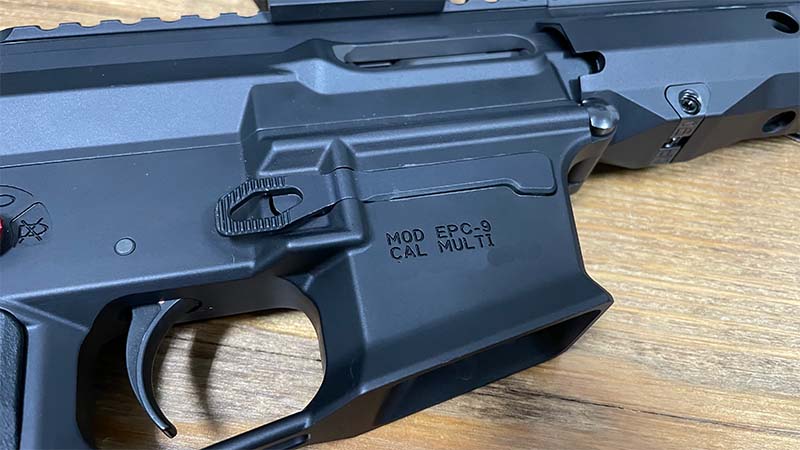 So since they were going to have to change it anyway, they might as well do a little bit more elaborate of a design and they did.
The EPC does have a really nice large paddle for a magazine release. It's on a swivel or pivot so it releases from the front of the notch on the Glock mag.
When you press the magazine release it pivots and drops the magazine.
Now with my experience, it drops clean and free really easily. It pivots nicely. There's really no hangup. The really nice part of it is that it comes pre-installed on the Aero Precision EPC.
So you don't have to hunt for them or buy them separately. It's proprietary, but it comes with it. So I really don't mind the magazine release at all.
Magazine well
The EPC magazine well is actually very nice as well. It's got a good flare that accepts Glock 19, Glock 17, and any 9 mm Glock pattern magazines.
Factory Magazines or Magpul magazines, you name it, this gun takes it.
Personally, I have a factory Glock 33-round magazine and I really like using it.
I'd highly recommend picking up a couple of those unless you just want to run it clean and sleek.
You can run the Glock 17 magazine or the 19 mags.
The magazine well itself has a really nice channel for your mag to slide into the battery.
I haven't seen anything in the AR-9 realm this nice because you just have to get it close and it basically funnels in.
Now, the only thing is the magazine well it's a tight fit, so you have to get it in, but once it's in, it's tight, there's no wobbling.
There's no play in your magazine, which is nice, but it does make it hard to, sometimes get the magazine in. But thank goodness because of the magazine well flare, it's very easy to get the magazine in and send it home.
Bolt Release/Hold open
The bolt release/hold open on the EPC is actually another one of those standard features of the AR-9 on the EPC.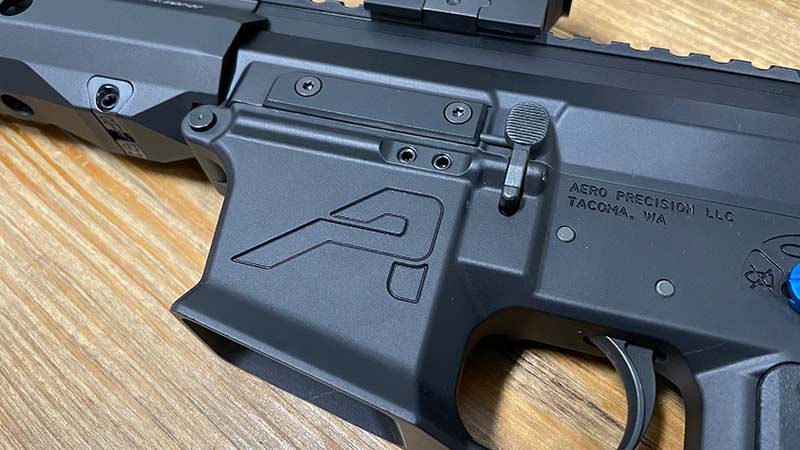 This runs just any run-of-the-mill bolt release. The one nice thing I will say is that this has the screw for the bolt release so you're trying to drive a pin through it. You can just use an Allen wrench or hex key and screw it in. So that makes it very simple.
If you prefer the bad lever or something with a large battle, that should work on this gun. Whatever bolt hold-open release you prefer, you can use that on this gun.
It is pretty much a MIL-SPEC pattern bolt hold-open release.
Charging Handle Configuration
The charging handle can be as nice or as simple as you want because again, it is a standard pattern AR so you can pick any charging handle that you want.
In my case, I have the Radian Raptor. I also liked the Geissele charging handles as well.
Any AR-15 charging handle can be used in the EPC.
EPC Bolt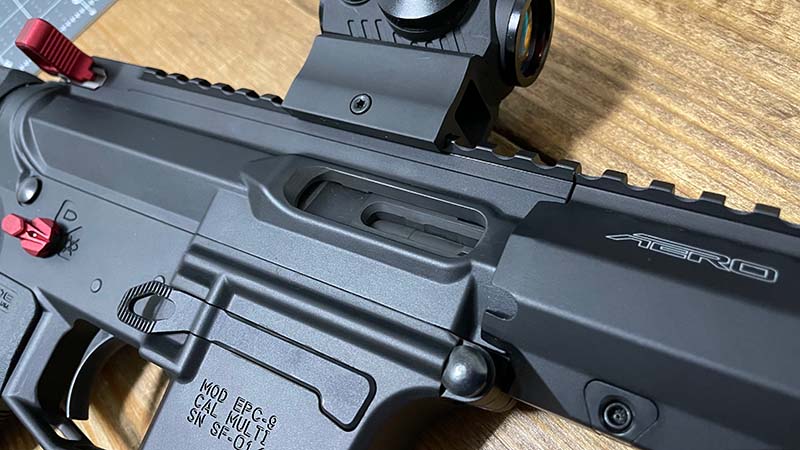 The one thing I will say that's a little different is this as an AR-9 bolt Aero Precision.
At the time I built this gun Aero Precision did not have any bolts in stock. So this gun is currently running a Faxon bolt.
The Faxon bolt has run great so far in this gun and I really like it as well.
I bought the RCA bolt, because I really like their black nitride plus coated bolts.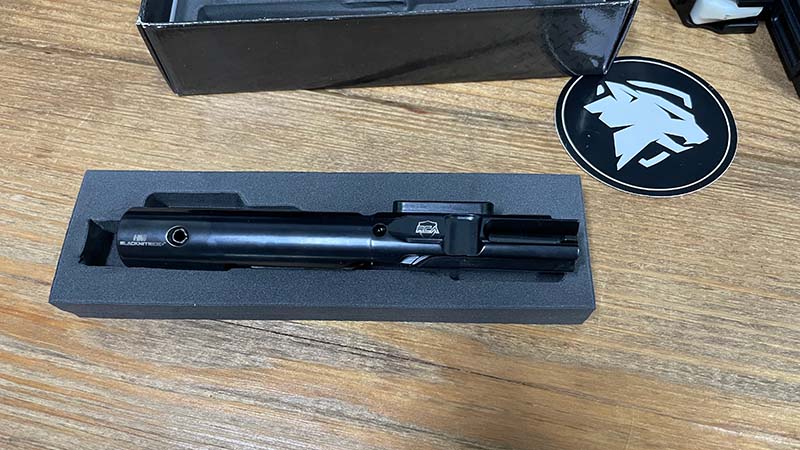 So I picked up one because my Faxon bolt got lost by FedEx. But the Faxon showed up sooner, so I run it exclusively now.
I know RCA does some of Noveskes bolt carrier groups which is one reason I wanted to run it in this AR-9.
Stock and brace option
EPC-9 stock and brace options are endless.
You can build this into a pistol, which is what I've done, or you can build it into an SBR or even make it a full-size 16″ barreled 9mm or a 40 caliber carbine.
I run the SB Tactical HBPDW brace. This is the brace that SB Tactical and Q came together to make.
It very much is almost the exact copy of the Honey Badger brace, except it'll fit on any AR receiver.
I've to say, I love this thing. I did a whole write-up on it, so I won't go too much into it, but it looks really good on the EPC-9, as you can see in all the photos throughout this article, it really completes this gun.
Not only that, it's a very comfortable brace as well. Overall, you can't beat this brace. It's a little expensive, but you know what they say, you really get what you pay for.
Shooting the EPC
Shooting the EPC-9 is a lot of fun. The configuration that I build is a 5.5″ barrel.
I knew I was going to suppress it and I knew I was going to run subs, so I really wanted to have a nice, little compact gun.
I didn't know at the time that SB Tactical was going to release the Honey Badger brace, so that was really a big bonus for me.
I was just going to run some other SB Tactical brace, like the SPA3, or something of that nature.
They're inexpensive to shoot at the range during normal ammo times, so I really wanted to pick this up and build it to save some money while plinking and wanted an AR-style gun.
Now I run the Q Erector 9. Little hard to find right now, but I was lucky enough to find one and I really like it on this gun.
It's very, very, very light. You can run any kind of muzzle device you'd like, but keep in mind with a 5.5: barrel, it's going to be loud.
You're going to be close to it. You want to make sure that whatever you're shooting is comfortable for you.
Shooting the EPC Suppressed
Shooting suppressed will blow a lot of gas back. It does give you an extremely dirty gun in the whole interior and your mags.
If you shoot suppressed, you already know this, but this is a very fun gun. Just shoot. It's not jumpy. You can stay on target. I'm running a Sig Sauer Romeo5 on here: probably one of the best-valued optics you can buy in the Red Dot series.
But overall, great gun. If you're on the fence about it, don't be.
As of the writing of this article, you cannot buy this gun complete. You're will have to buy the parts separately and piece them together.
Once you get all the parts, you can build them. You can buy a complete upper.
One of my only real gripes with Aero Precision is they sell a complete upper that's not truly complete. You can't buy it with the bolt most of the time, and the charging handle, but you can buy it complete as in "handguard, barrel upper, but no muzzle device."
So just keep it in mind. It's not perfect, but you can definitely work with it.
Issues with Barrel Feed Ramp
Aero Precision has offered a fix for the barrel feed ramp issue. You can contact them directly to ship back your barrel or upper and they will fix this issue for you. I have personally had this fixed for my EPC9 and it works great after their fix.
While shooting suppressed the other day I wanted to try some Sellier & Bellot 9mm subsonic with a flat nose.
The issue I found was that the flat-nose round will not feed into this gun.
I was able to chamber one round but the round does not cycle into the chamber when shooting.
I have tried this using the Faxon bolt but I have a feeling the bolt won't matter since there's no feed ramp and the round is just hitting the face and not chambering.
In conclusion
In conclusion, it's just a really good platform. If you're looking for a fun range gun, again, like I said, in the beginning, a lot of people argue about the usability or the practicality of an AR-9.
It may not be the gun you want in a life and death situation, but it is definitely something that you can substitute your 5.56 ammo for 9mm and save a ton of money at the range and still get a lot of shooting in.
You're going to get similar handling as a 5.56 AR and you're going to get the same functions and controls, and it's going to feel very similar.
So if you're looking for a good range gun to practice with, this would definitely be a recommended go-to from me.
What bolts work with the EPC?
So far I've found that any 9mm PCC bolt will work. I've personally used the Faxon bolt carrier group and the Rubber City Armory BCG.
Does Aero Precision sell complete EPC's?
As of this writing Aero Precision only sells the parts for the EPC and you will have to assume the firearm yourself.
Wanna check out some more AR-9's be sure to take a peek at our latest review of the PSA PA9.