What should you pack in your range bag?
If you've ever gotten to the range only to realize you left your ear protection at home, you know how having the right gear on you can make or break a day at the range. But what classifies as must-have range gear? I have sat down and thought, what do I need in my range bag?
We've got you covered.
Determine what to pack for your range bag
Essential is a buzzword these days, but it's much more than that. Identifying the difference between what's a must-have item and what's a nice-to-have item can really help you keep your range bag well-stocked and organized.
Let's put this theory into practice: Picture a perfect day on the range. What items are around you? What items are you required to have on you to be on the range? Do you have anything in your bag that you haven't pulled out two or three trips to the range? Would any of those items be crucial to have in case of an emergency?
As you go through our list of range bag recommendations below, keep asking yourself "Is this must-have range gear or would it just be nice to have?"
But first, a word about medical kits.
Prioritizing Medical Kits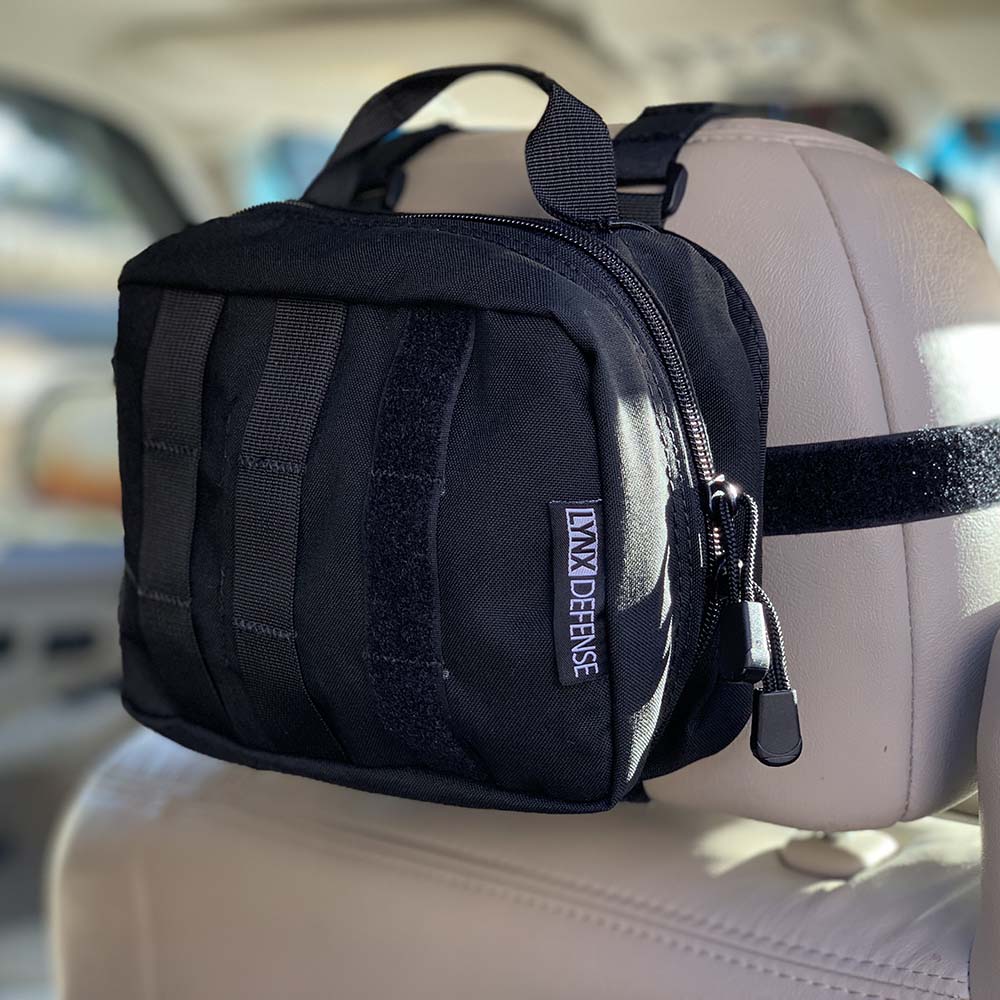 At Lynx Defense, we believe medical kits are a must-have item no matter where you are. It's why we designed an ankle medical kit and one that straps to your vehicle's headrest. That's how strongly we feel about preserving human life in the event of an accident or crisis.
If you're building your own kit, we recommend including a tourniquet and gauze (to stop any bleeding) along with alcohol wipes, bandages in various sizes, medical tape, and a safety blade or shears. Keep in mind that your local fire and rescue departments are great resources for recommendations when building first aid and medical kits.
Shooting Gear You Need
So what should you pack in your range bag? Here are 12 essential items to pack in your range bag whenever you head out.
Hearing Protection
Auditory damage can happen whether you're shooting indoors or out, so proper hearing protection is a range bag must-have in our opinion. There are many options available – from muffs to earplugs to electronic sound suppression – on the market today to suit your preferences and needs.
Hearing protection, even if shooting suppressed, is the most important thing on the range. Even if you aren't shooting, you should be protecting your ears from permanent damage. Please keep safety in mind and always break enough hearing protection.
Eye Protection
Keep stray casings from ruining more than your range day by packing eye protection. Ideally, you want ballistic-rated goggles or glasses, but safety glasses will work in a pinch.
If you wear glasses, they will do, but keep in mind they aren't ideal. People often wonder why eye protection is so stressed. It's not because "you'll shoot your eye out" rather because spawling and other debris could strike your eye, causing serious damage that can be easily avoided.
Medical Kit
We never want to be caught without a medical kit on the range. We keep ours fully stocked so we can help in any situation until the professionals arrive.
While you might be the safest person in the world, like driving, you can't control others. So you may not need to save your own life with your medical kit but you could save someone else around you in the event of an accident.
Spare Magazines
Having spare magazines on hand helps you focus on shooting instead of reloading, which is the whole point of your range day. Plus, you never know when a mag will break on you.
Ammo
This is a no-brainer, but it can happen to the best of us. Make sure you have an adequate amount of ammo packed in your range bag, so you won't be stuck paying a premium just to finish out your shooting time.
Not to mention, make sure you bring all of the right calibers you plan to shoot that day. Nothing like taking your dusty ole' 1911 and forgetting your .45 ammo at home.
Staple Gun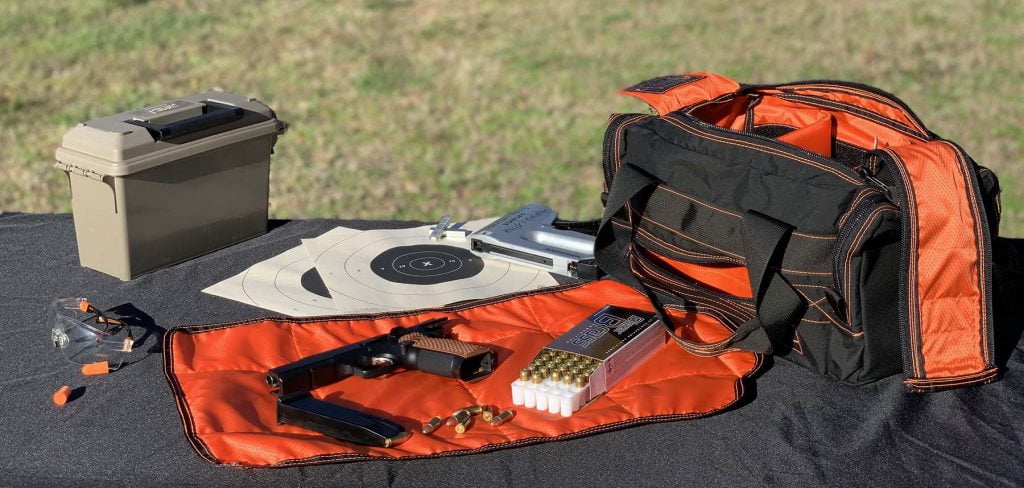 A staple gun makes quick work of mounting paper targets. I've forgotten my staple gun at home so many times I finally just made it's home the end pocket of my pistol range bag.
That way I can staple my paper or cardboard targets up to hone in my shot groups. No sense in wasting valuable ammo or time on the range.
Sharpie/Marker
Permanent Markers are a cheap way to visually mark progress and consistency when running drills. It seems like such a simple item but it's one that's often overlooked and forgotten. A marker can make a world of difference on cutting down your paper target usage.
Paper/Steel Targets
Most ranges provide targets for you to use, but in the off chance they don't (or they're fresh out), it's nice to have your own backup targets.
I have several large custom Harry's Holster's paper targets that I use for drills. But I only use them on our home shooting range.
Flashlight
If you've ever tried to clean your gun or track down something you dropped in a dimly lit shooting stall, you know why we believe a flashlight is a must-have item in your range bag.
Having a non-weapon mounted light is always a good idea. Even if you aren't shooting inside you never know which way the shade may fall on the range or if the cover you shoot under makes it extremely dark.
Even if your lighting is perfect a handheld flashlight just makes it easy to see in chambers and magazine wells if necessary.
Hex/Allen Wrench Set
Nothing rains on range day like a loose optic or holster. Having a versatile wrench set on hand helps you make minor gear adjustments on the fly without having to leave the range.
My favorite hex set tool for the range are the Fix It Sticks it's a compact little kit that has a size that fits all.
Your Normal Carry Accessories
If you carry, we recommend practicing what you carry and knowing the ins and outs of any accessory, mount, or holster you may use. The range is a great place to build confidence in how you carry so you're prepared for whatever situation you find yourself in.
The range can be a fun time but ensuring your are proficient with the firearm you carry is the most important thing about going to the range.
Everyday Provisions
Only you know how your body reacts to hunger, sun, thirst, and stress. Keep this in mind as you pack your bag and include snacks, water, lip balm, and sunscreen how you see fit.
The most important provision is making sure you have plenty of water. You don't want to get dehydrated while enjoying the range.
Your Range Bag
With all these suggestions keep in mind that your range bag should be tailored to you. You should take the time to think about what you need first and then build your setup around your needs.
Everyone is different and has different tastes, needs, and gun setups. It's important that what you take to the range reflects those things.
Comments, questions, and set up feedback are gladly accepted in the comment section below!