My goal is to review every pistol caliber carbine on the market so naturally, I had to get ahold of the Palmetto State Armory AR-9, also known as the PA9.
The model I'm reviewing is going to be the Glock pattern magazine version. They also make this same gun with AKV pattern magazine, AKA, the CZ Scorpion magazine.
Previously I purchased and reviewed the PSA AKV, which is a 9MM AK that Palmetto has put out that has been very popular. The PSA AR-9 is very similar to the PSA ARV.
The AKV is a gun that I like an exceptional amount. I also recently took a look at another AR9, which would be the EPC9 from Aero Precision. Now I'll dive into the PSA AR9 review!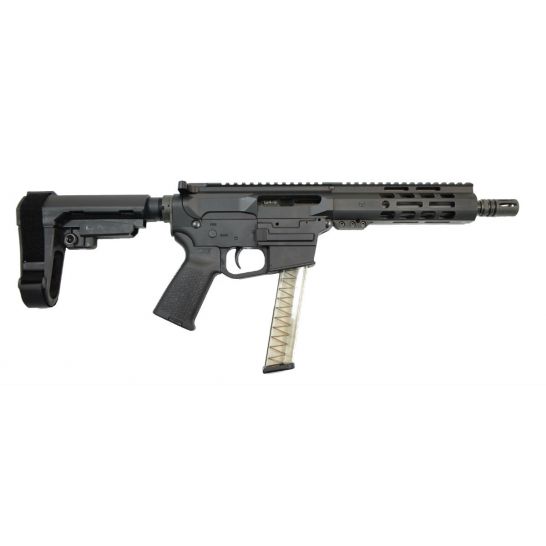 About Palmetto State Armory
Palmetto State Armory is mostly known for value-built firearms. They aren't known for high end high quality, but they are known to make a good bang for your buck.
The value is definitely there in pretty much every one of their guns that I have purchased or owned and their lowers for their AR-15s seem to work just as well as any other forged lower on the market.
So today we're taking a good hard look at another pistol caliber carbine, AKA, a PCC from Palmetto State Armory.
Overview of the PSA AR9
When you first grab this gun, it's definitely interesting in that it's beefy for a pistol-caliber carbine. It has a flat side, whereas an AR typically has a rounded upper and the block type build of this gun definitely gives it a very unique look.
The upper meets the hand guard in a way that isn't totally flush but still transitions relatively easily.
The lower is solid and has thick walls on the magwell. This model comes with an SB tactical brace.
The break is a standard A2 break. The charging handle is your average run-of-the-mill AR-15 charging handle.
Overall, when you grab this gun, it feels solid. There's a decent amount of weight to it, and it feels well built straight out of the box.
Ergonomics
The ergonomics of any gun are the base of where it starts. It depends on how well the guns feel in your hand and how well the controls work if it will feel right while shooting it.
So, we will start with the controls beginning with the safety.
Safety
The safety on the PSA AR9 is your standard mil-spec AR-style safety lever.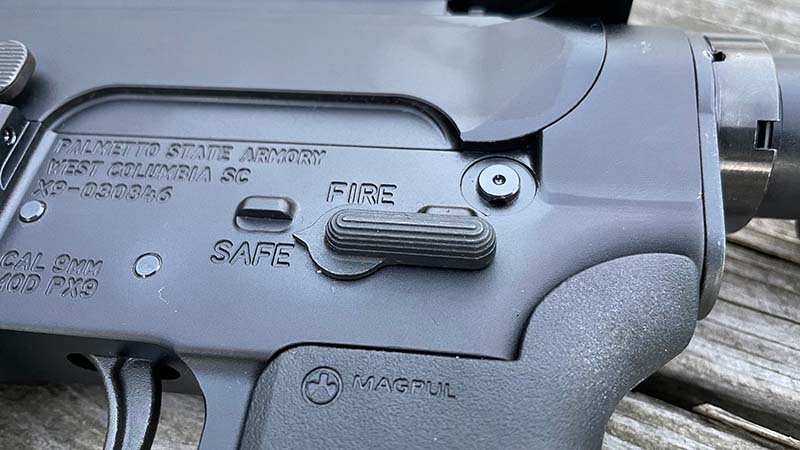 It is only on the left side of the gun geared towards right-handed shooters.
It is slick on the right side of the gun but is still marketing with fire and safe on the lower.
The safety can very easily be swapped for any standard AR-15 selector switch.
That is a really good sign and I like that already because there are a million and a half selector switches.
So right off the bat, the PSA PA9 allows you to really pick whatever your favorite selector is for AR on the market today.
Pistol grip
This particular AR9 comes with a Magpul style, pistol grip.
Like most budget AR's it comes with the Magpul MOE. This grip is Magpul's standard offering and not the plus model that is more rubberized.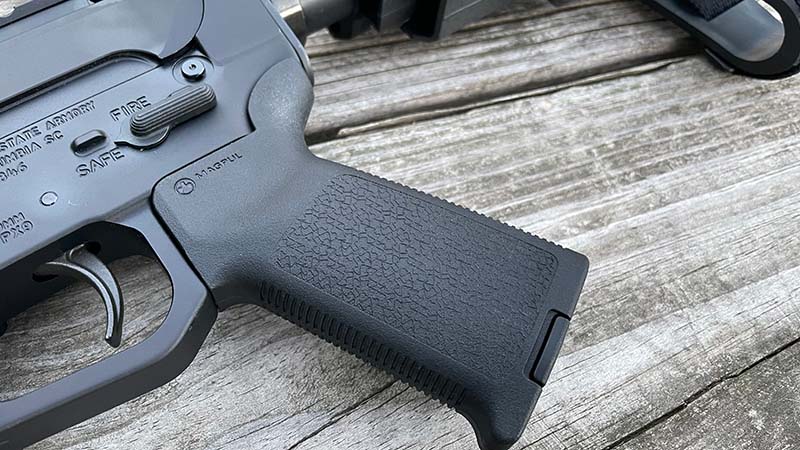 I prefer the Magpul grips to nearly any grip on the market. So to me, this is great.
This feels great. This feels like my standard AR-15 that I would pull out of my safe, which makes it nice and familiar.
Let's move around to the mag release.
Magazine Release
The mag release on PCCs tend to be a little different because of the way that the magazines have to sit in the magazine well and be retained, whether that be a Glock mag or an AKV mag, they have to release differently than a standard AR mag because they don't have the same in-gun magazine retention methods.
So you'll see on this gun, as well as, the EPC-9, there is a lever style magazine release.
That is so it can release the Glock mags like a Glock mag was intended to release.
Now the PSA AR-9 has a really nice, large paddle design, and the whole lever itself operates on an almost seesaw-like motion.
So when you press it, you can see it lift, and then the magazine shoots out. The mag release functions extremely well,a nd the oversized button is nice from the factory.
If you wanted to replace this with an aftermarket one, you may be hard-pressed. I don't know. I haven't looked at them much, but overall, not a bad design.
I personally wouldn't change the magazine release lever. I have no issues with it as it is and it's made from aluminum, so it should last.
The overall feel of it is great and I have relatively smaller hands and, I can reach up with my index finger and release the magazine about as easy on this gun as I can any gun I own.
So while we're talking about magazines, let's talk about the magazine well.
Magazine Well
The magazine well on pistol caliber carbines can really be hit or miss. The EPC-9 did okay.
This one, once again, is just okay. It has a decent flare to the mag well.
The magazine well itself has very thick walls, and when you shove a magazine in the gun, it does funnel up and into the gun, but because these are Glock magazines and these weren't necessarily created for this and to go this far into a metal magazine well, it does have some drag.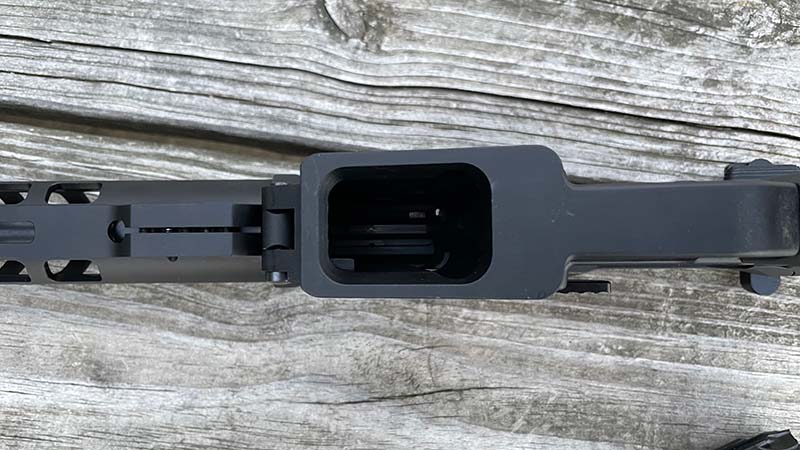 I would note that magazines do release relatively easily so magazine release seems to work pretty good.
Haven't done a lot of quick-firing drills to where I change mags quickly with the PCC, but overall, the flare seems to be enough, but it's not something on the level of a Noveske N4's flare or any other high end lower that has a lot of magazine flare.
Let's talk about the bolt hold open and bolt release.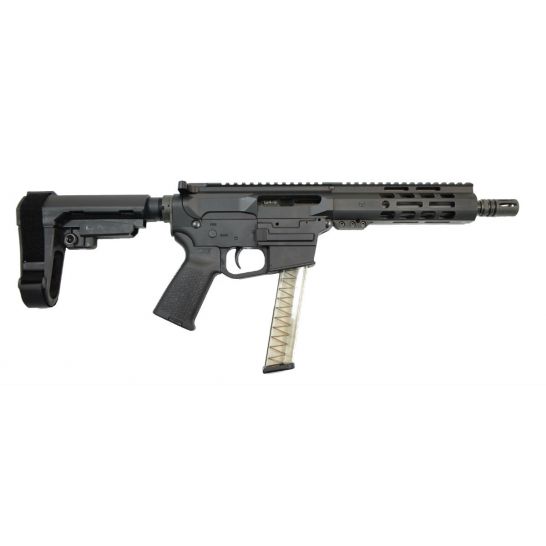 Bolt Hold Open and Bolt Release
This is very much your standard, AR-15 bolt release or bolt hold open. It performs the same function.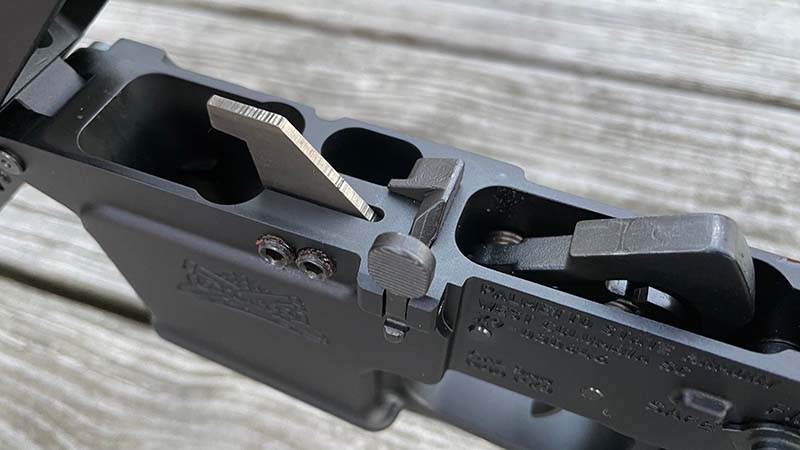 It's definitely pinned. It's not a screw-like you would hope in some models.
So if you were going to change this, it may be a little difficult to get the pin out.
Once again, this also looks to be another standard, AR-15 style part.
There's nothing extremely special about it. If you were pop open the upper, you can look at it and it's very much the exact same bolt release as an AR.
Charging Handle
The charging handle on the AR-9 is your standard AR-15 charging handle, which means you can use any charging handle you wish.
This comes with what would appear to be a standard mil-spec charge handle. I'm a big fan of the Radians Raptor charging handles and of the Geisseles.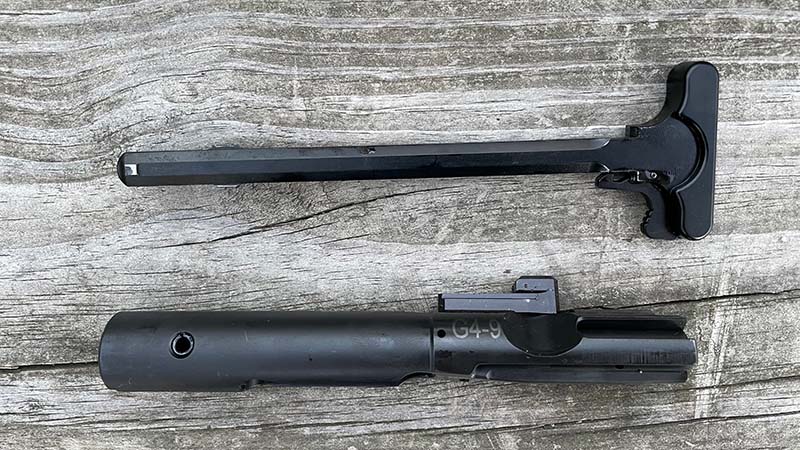 So those could easily be interchanged and put on this PSA AR-9 and could very, very easily be swapped out.
So having your favorite charging handle is definitely possible on the PSA PA9. Otherwise, your standard charging handle works like you would expect it to be very smooth, with no problems. Throw a little oil on it and it slides like glass.
Let's talk about brace and stock options.
Brace and Stock Options
The model PSA AR9 is a pistol configuration, it comes with an SB Tactical, SBA4.
If you wanted to add a stock you could easily Form 1 this gun and convert it to an SBR and put a stock on it.
Otherwise, these braces are fantastic. You can easily put on any AR-style brace.
I don't know if this tube is mil-spec or commercial, but I'd be willing to bet money that it is mil-spec.
So you can use any mil-spec stock as long as you Form 1 it.
You can buy an AR9 with a 16 inch barrel. So if you wanted to, you could change out uppers, throw a stock on it, have a 16 inch gun, and you're good to go.
Iron Sights
This gun comes as a flat top gun. If you want to run irons on it, the world is your oyster so to speak.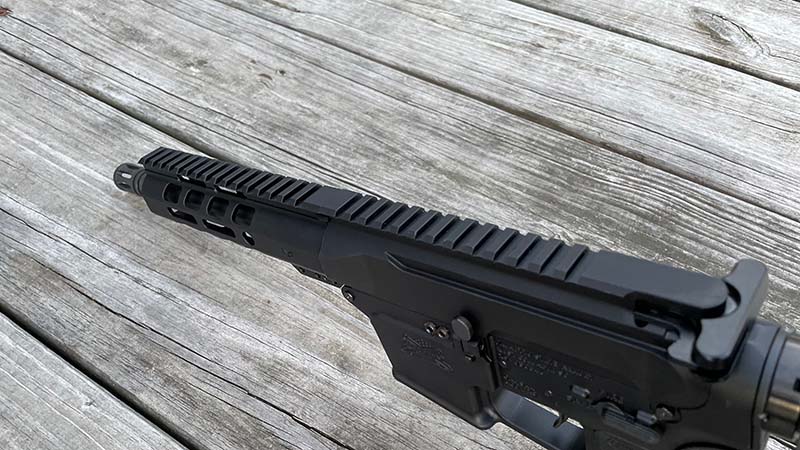 You could put MBUS Pros, regular MBUS's, or any iron sights you wish.
Personally, with a PCC, I'm just going to run a red dot sight, whether that's on a mount or just run it flush. I'm going to run a red dot.
I'm not going to run irons and that's just my personal preference. I don't see a point in running irons on a PCC.
A PCC isn't something that I likely would grab first if things were to get to the point where I needed a rifle platform.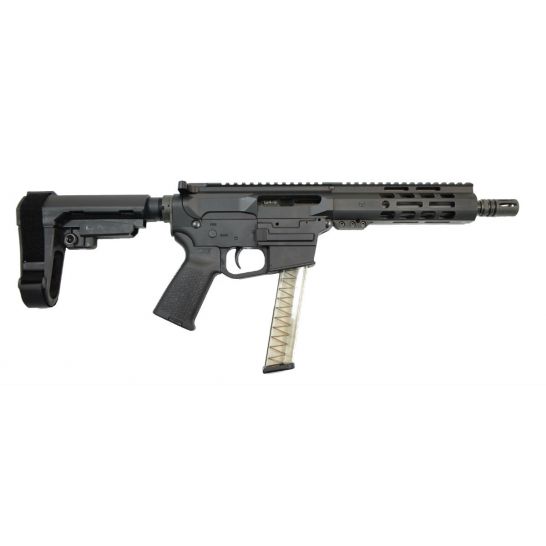 Trigger
The pull and break of the stock trigger worked great. Crisp, clean takeup with little issue in the way of firing.
I did not bother to change out the trigger as this was a T&E gun provided by PSA.
My buddy purchased one of PSA's Blem AR-9's and he had zero issues with his trigger reset. So this is likely a one-off issue.
Optics Mounting
Optic mounting is very easy on this gun. It is your standard 1913 Picatinny rail.
Right now, I have AT3 Tactical RD-50 red dot sight on top of it.
It ran really well, really liked it, easy to acquire my targets, but literally, any optic you would want would run great on this gun.
Accessories Mounting
If you want to run a flashlight or any other accessory, this gun is an M-LOK railed gun.
You could also run anything on the 1913 rail, whether that be a tape switch holder, like the Cloud Defensive LCS, or if you want to run something that locks into M-LOK, this gun will hold it.
There are two side-by-side M-LOK slots at the 3 o'clock, 6 o'clock, and 9 o'clock positions. When it comes to M-LOK slots you really have your choice there.
There are also two QD mounting holes at the rear of the handguard for a QD sling attachment.
Shooting
When I shot the PSA AR-9, this is the eight-inch barrel model, this thing was an absolute dream to shoot.
It was flat shooting as it gets.
I shot it suppressed.
I shot it unsuppressed.
Both were perfectly fine. The one thing I will say that really impressed me is how nice little recoil this gun had and overall how fun this gun was to shoot.
The trigger issue aside, this was absolutely a phenomenally shooting gun.
It was accurate, on target, and Transitions were easy and smooth.
There was very little muzzle rise, even with the basic A2 muzzle device, and shooting it suppressed was even less.
Shot the Microtech R2K9 suppressor on it. Worked phenomenally in both configurations. Was very quiet.
Had no problems with ejections. No problems cycling.
Overall, just a really solid gun. The bolt functions exceptionally well, a really solid bolt configuration for the AR9.
Had to obviously break it apart to mount the suppressor and take off the A2 break.
All the internals were very good, very clean, and what you would expect in your PCC.
Overall shooting this gun was absolutely phenomenal. The handguard is pretty nice and slim.
You can C clamp grip very easily on this rail because it's so slim. But the nice thing is it's off the barrel enough to where you likely won't have heat issues burning your hand while shooting in rapid succession.
Overall, if you wanted to mount a flashlight or tape switches the rail, it might get a little crowded since this is probably a six and a half or seven-inch rail.
But when it comes to shooting and gripping the gun with your support hand, it is absolutely a phenomenal gun to shoot.
And let's talk about aesthetics.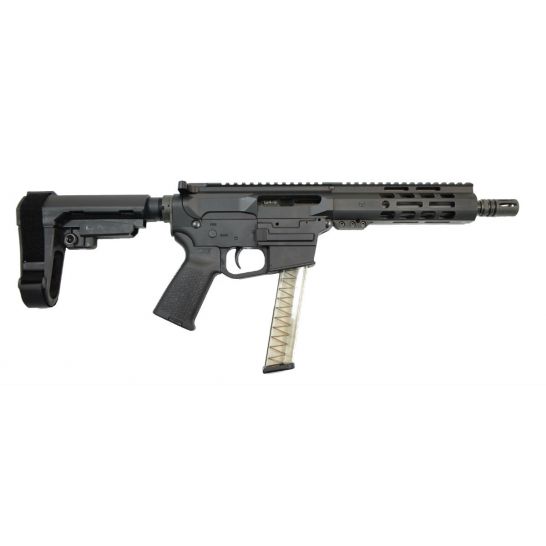 Aesthetics
Looking at the PSA AR-9, right out of the box, the upper has a near flat side.
It's very interesting, you don't see this design much. It almost reminds me of an FAL, very unique milling, but I think they do that on purpose.
I think PSA wanted to set itself apart from the competition, and that makes sense because there's a ton of AR-9s out there, including Aero Precision EPC-9, which we will compare this gun to later.
I do have a couple of critiques, where the handguard meets the upper, it's not flush.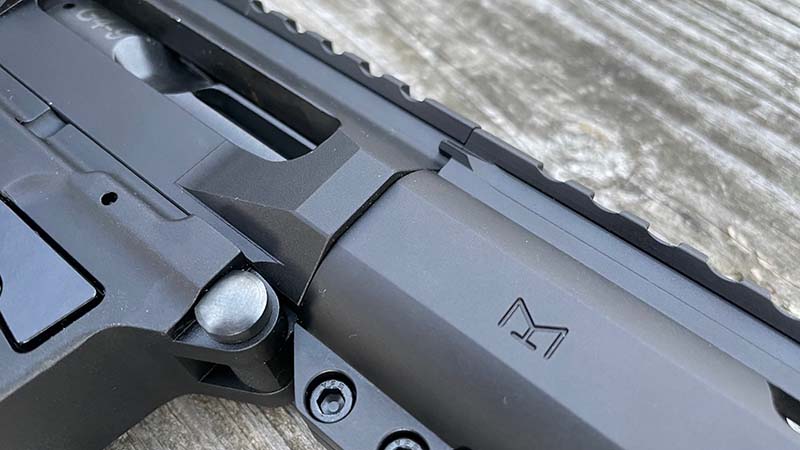 There's a slight ledge and I think with just a little bit more machining you could have a far better fit and finish.
The only exception I would make is if that upper thickness was required for durability and structural integrity, I just feel like they could have slimmed that down to match the handguard and it would have transitioned really, really well.
At first, I didn't think I would like the flat-sided upper design that they have, but as soon as I pulled it out and I held it, and actually had it in my hand, I really started to like the aesthetic of the flat side.
It definitely has a shelf type of lower, like their AR-10 model lower, but there are just a couple of things about this that I would change aesthetically.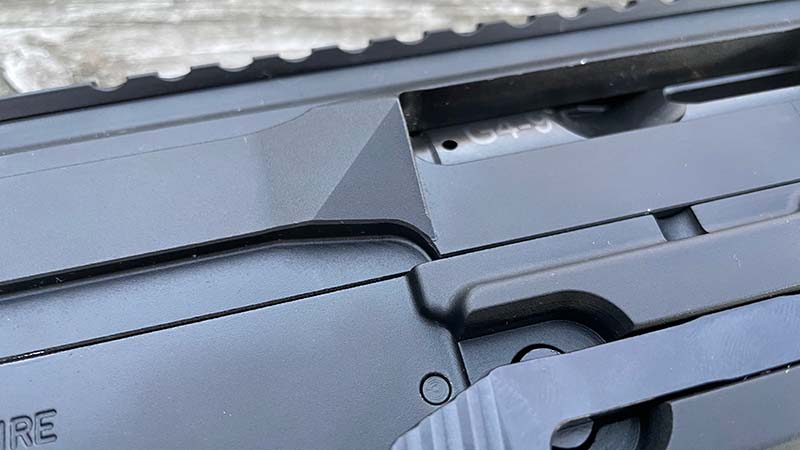 I would just want the "lines" to match up a little better.
Granted for the price point, it's really hard to complain about any of this, but to be completely fair and to give it, a full, complete review, I felt like that needed to be mentioned.
Obviously, you can see in the photos that it would just be nice if these lines came together just a little bit better, but overall functionality-wise, the aesthetics have no impact on function, and it still looks like a hell of a gun.
It's it still looks great. Plus I still really enjoy the gun overall.
Overall, few critiques but no outright complaints on aesthetics.
Final thoughts
My final thought on the PSA AR9 is that you really can't complain about this AR-9.
The one thing I really like about it is you can buy it complete, ready to go out of the box, comes with a magazine, and an SB Tactical Brace.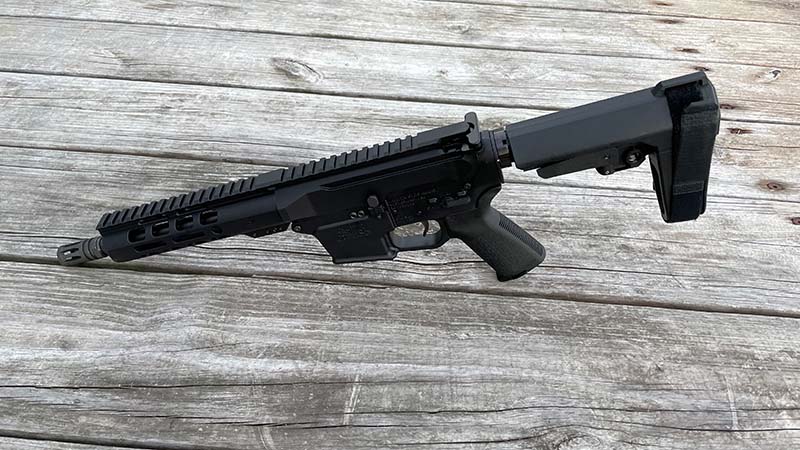 The only thing you have to do is throw on your optic, add your ammo, and head to the range.
There's something to be said about not having to build this thing yourself.
You know, PSA is known for value-built firearms. They might get dinged a little bit here and there on the QC, but overall you can't beat the dollar-for-dollar value that you're going to get out of this gun.
In fact, I've already recommended to a friend of mine to buy this gun and he's already bought it, loves it, and has already kitted out, and has taken to the range and had a blast.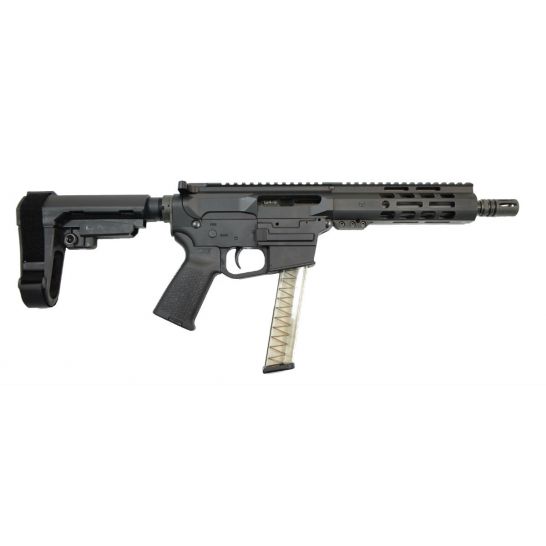 If you're looking for a PCC on a budget, PSA puts these guns on sale all the time.
They often have blems. They are an even better value.
This gun is perfect for our bureau bag, and it just screams fun on the range. It is so much fun.
So my conclusion is if you want a PCC and you're in the market, go to PSA at the link below and pick one of these up.
You won't regret it and you will end up with a phenomenal firearm.
If you are looking for a more traditional style of pistol take a look at another PSA offering the PSA Dagger.