The Keltec Sub 2000 is an extremely unique pistol caliber carbine that collapses on itself and allows you to fold it and store it conveniently. The Sub 2000 is an interesting gun in its own right and I'm gonna give it a full review below.
Specs
CALIBER
9x19mm or .40S&W
WEIGHT UNLOADED
4.25lbs / 1.9kg
MAGAZINE CAPACITY
Varies by magazine
OVERALL LENGTH
30.5" / 775mm
LENGTH COLLAPSED
29.25" / 742mm
LENGTH FOLDED
16.25" / 413mm
BARREL LENGTH
16.25" / 413mm
TWIST RATE
1:10" or 1:16"
1:254mm or 1:406mm
TRIGGER PULL
9.5lbs / 42.2N
About KelTec
At KelTec, they design firearms that are innovative in design and exciting to use. KelTec employs 300 American citizens – many military veterans – who come to work every day to craft unique firearms dreamed up by our team of talented engineers.
KelTec is celebrating its thirtieth year in the firearms industry. KelTec is most notably known for their very unique designs in pistols, rifles, and shotguns. The design team at KelTec without a doubt has a big collective imagination.
KelTec Sub 2000
Caliber: 9mm & .40 Caliber
Fold-able Design
Polymer Grip
Takes Glock Magazines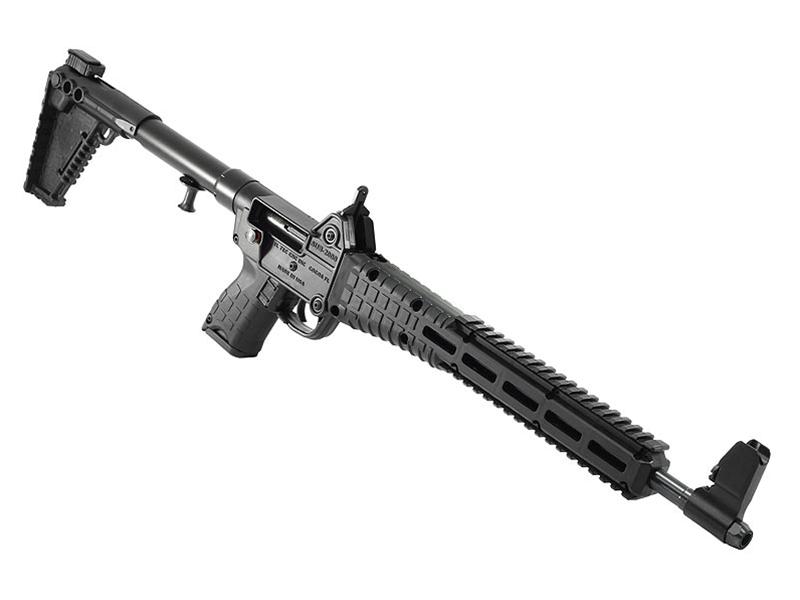 Check prices and in stock Sub 2000 availability at these retailers
Grab-A-Gun | Palmetto State Armory | Primary Arms
KelTec's Mission Statement
Our mission is to create innovative, quality firearms to help secure your world.We believe in respect, family, the right to bear arms, and a love for our great country.
The KelTec Sub 2000
As those that can recall, the year 1999 was filled with skepticism as Y2K on the horizon was a huge mystery and full of the unknown for most of the world. Once wall clocks, Blackberry's, and PCs everywhere rolled over from '99 to '00, the folks at KelTec were diligently working on the Gen I version of the kel tec Sub2000.
To be officially released the following year, the Sub 2000 would be given the "2000" moniker. It's a good fit as the Sub 2000 would break from traditional designs, and have lines and features not normally seen on guns from this time period and definitely not at this price point.
As the years passed things began to change. Trends in the firearm world turned more tactical, and the squared-off blocky forend of the KelTec Sub2000 had no way of attaching any of the gear or gadgets, so it needed a change, too.
The KelTec Sub2000 Gen II was released in 2015. The updated model brought to market some much-needed refreshment in both form and function.
KelTec Sub 2000
Caliber: 9mm & .40 Caliber
Fold-able Design
Polymer Grip
Takes Glock Magazines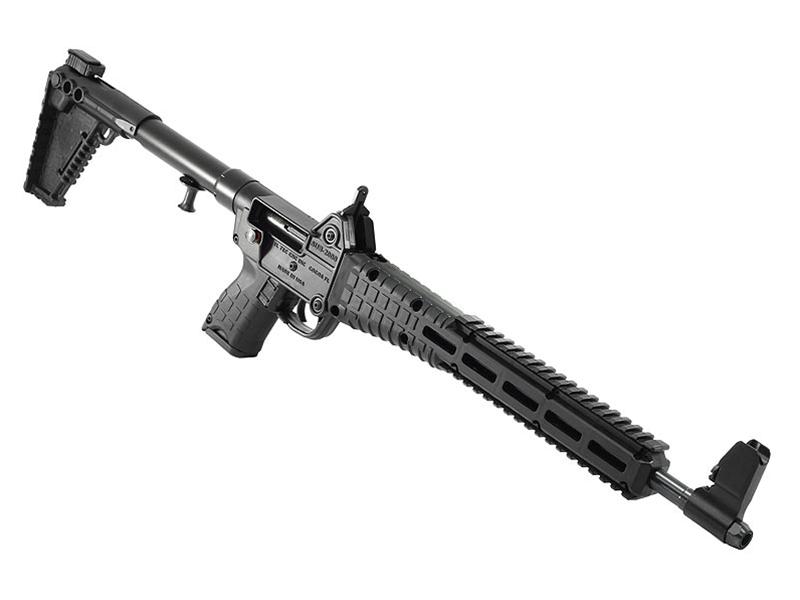 Check prices and in stock Sub 2000 availability at these retailers
Grab-A-Gun | Palmetto State Armory | Primary Arms
KelTec Sub 2000 Design
Pistol Caliber Carbine
Let's start off by defining a term that some people might not be familiar with. A Pistol Caliber Carbine, or PCC, by definition, is a shoulder-mounted long gun chambered in a pistol caliber cartridge. The KelTec Sub 2000 is a PCC. Its barrel is 16", it is chambered in pistol caliber cartridges, and it has a stock so it is shoulderable like a rifle.
Materials
The KelTec Sub2000 keeps with KelTec's theme of using glass filled polymer and steel components. The application of these materials on the KelTec Sub2000 help to keep the overall weight down and strength up in the necessary areas such as the folding mechanism and the breach of the gun. It just so happens that these two locations are in the same area.
Some would fault KelTec for use of their glass filled polymer and to be honest, it does have a less than quality feel when directly compared to other companies, but you have to keep in mind that KelTec does not aim to directly compete with these more mainstream manufacturers.
Once you understand that KelTec has carved out their own niche in the gun market over the years and that they pride themselves on designing and manufacturing unique firearms over all else, it makes sense.
Construction
KelTec also keeps with their trend of their chosen method of construction for the Sub2000. I will state that the overall feel of the Sub 2000 Gen II is a far cry better than that of the original Sub 2000. I also believe the construction feels more solid than that of the forearm section of the KelTec KSG that we reviewed earlier. This may be because there are no large sections of polymer that have to be moved to cycle the Sub 2000.
KelTec uses their two-half clamshell construction on the forearm of the Sub2000, on the covering of the chamber area, and the pistol grip. As mentioned before, the application of this design does not bother me as much as it does with KelTec's KSG. The forearm is very solid and does not flex when locked in the firing position.
The only place where this design can be seen as a weakness is in the magwell located in the pistol grip, and as when compared to any other mag well located in the same place, there is always a degree of flex when squeezed. With the magazine inserted, the flex goes away from this area altogether.
KelTec Sub 2000
Caliber: 9mm & .40 Caliber
Fold-able Design
Polymer Grip
Takes Glock Magazines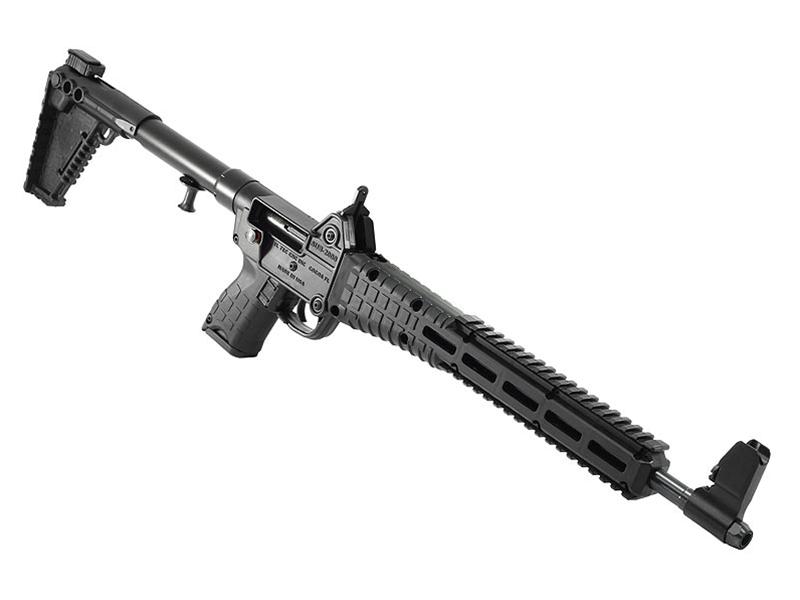 Check prices and in stock Sub 2000 availability at these retailers
Grab-A-Gun | Palmetto State Armory | Primary Arms
The cocking handle is located in a non-traditional area but this is what I've come to expect with KelTec. Located directly behind the pistol grip, and on the buffer tube, there is a cutout for the charging handle to ride back and forth as the Sub 2000 cycles. There is also a notch to place the charging handle in to manually lock the bolt to the rear.
The stock is triangular and also made from KelTec's glass-filled polymer. The surface area of the stock is satisfactory, and KelTec even includes a small section of pic rail to the bottom of the stock.
Located on the top of the stock is the latch for holding the Kel Tec Sub2000 in its folded position. Also located on the top of the stock are three holes and a pin that can be removed and then adjusted for the length of pull.
KelTec Sub 2000 Operation
Feeding the Sub 2000
The key to shooting any gun is feeding it. Without ammunition, all a gun is a fancy, expensive paperweight.
The KelTec Sub2000 I have is a Glock magazine, 40 cal model. Yes, that's right, it DOES take Glock mags.
This is where most variations of this sub gun come into play. There are models that take Glock 19 mags, Glock 17 mags, Glock 23 mags, and Glock 22 mags.
Then you have the models that take the not-so-popular or requested magazines. All in all, you should be able to find a KelTec Sub2000 to share magazines with your favorite pistol.
While it seems obvious that a gun that takes pistol mags should be loaded through the pistol grip, it isn't always safe to assume that is the case.
Guns like the Ruger PC Charger or the Marlin Camp Carbine locate the pistol magazines further up and in a more traditional place for a long gun.
The Kel-Tec Sub 2000 however located its magazine well in the grip of the gun.
This aids in faster reloads and makes training easier since you will be mimicking the same motions for loading your pistol. Muscle memory means faster and more efficient times.
Safety
The safety on the Kel Tec Sub 2000 is very simple to use. It is a classic cross-bolt style push-button safety. It is located above the web of the trigger hand and is actuated by pressing it across from right to left to turn it on and left to right to disengage.
The safety is round and has ridges on its face so that your finger does not slip while pushing it either way.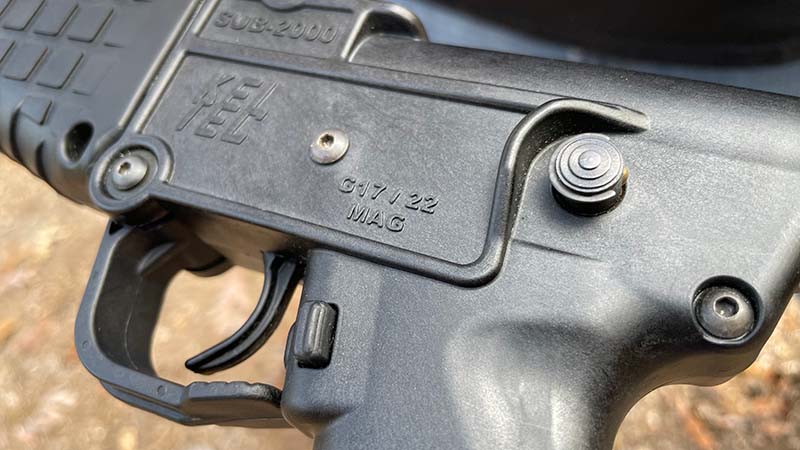 The safety has a visible red ring to show when it is on "fire". The safety also has a detent which makes the actuation very crisp.
Trigger
The trigger on the KelTec Sub2000 is one of the weak points in my opinion. It is made of their "glass-filled polymer" and feels like it flexes a little when pulled. It is serviceable, though.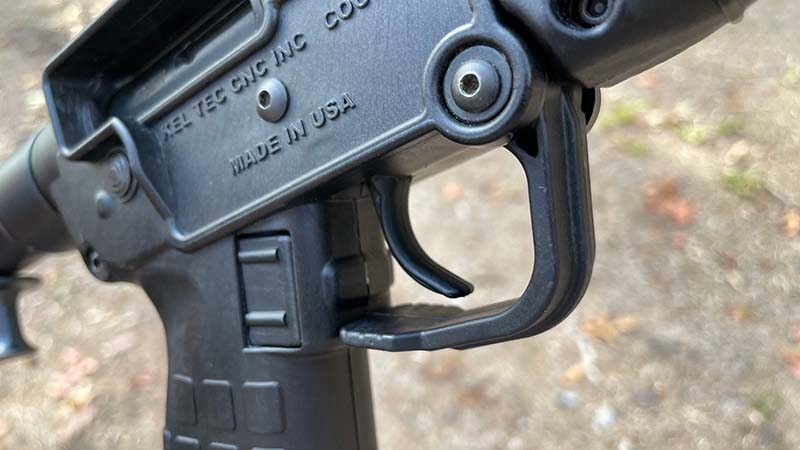 The Sub 2000 is not a high precision rifle or even a high-cost sub-gun. The trigger can be swapped out with parts from Mcarbo if you desire.
The trigger hits a false wall at about 3-4 mm of free travel then a second wall after another approximate 3 mm of travel.
The trigger then breaks after this second wall. It is very crisp when it does break. The reset travels about 4 mm and is audible and tactile.
Follow-up shots are quick and once you start shooting, you will not notice the travel of the trigger.
Take Down
This is where the Kel Tec Sub 2000 really shines. It can be folded in half for storage or transport.
This is something that other designs have approached, but few have achieved. Many other subguns such as the scorpion or Stribog have folding stocks but the Sub 2000 folds at the breach of the gun.
This is accomplished by pushing the trigger guard that also doubles as a lever, down and lifting the front of the barrel up and rotating it back 180 degrees to where the front of the barrel then meets the rear of the stock.
When this is done, both the chamber and bolt face will separate and you will be able to visibly inspect both at the same time one on top of the other.
When folded, the Sub 2000 will not fire for obvious reasons.
KelTec Sub 2000
Caliber: 9mm & .40 Caliber
Fold-able Design
Polymer Grip
Takes Glock Magazines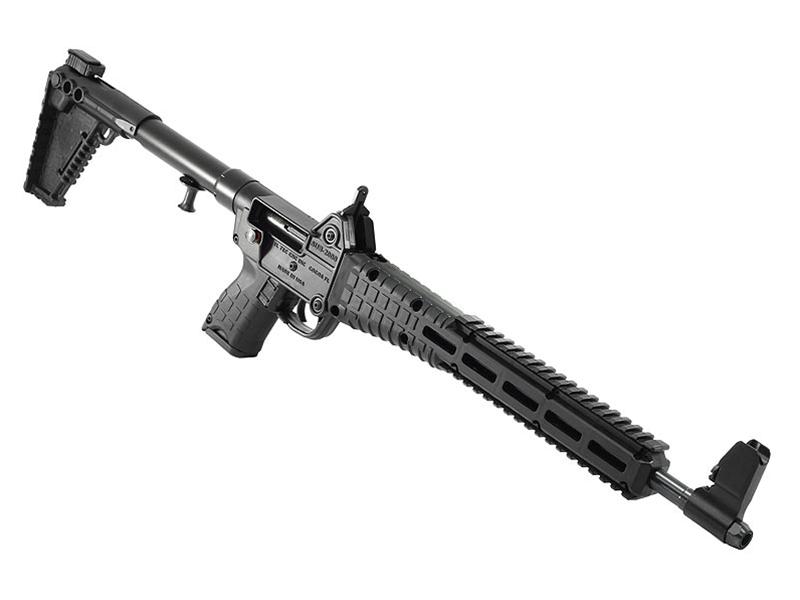 Check prices and in stock Sub 2000 availability at these retailers
Grab-A-Gun | Palmetto State Armory | Primary Arms
Folding in half makes the Sub 2000 extremely easy to stow in a backpack, such as the EDC Backpack or use your own backpack with The Policy.
While folded in half it also breaks up the outline of the gun which makes it harder to detect if printing occurs.
Being able to fold in half also means it will take up less space in your safe, and that means more space for other guns and ammo.
To re-deploy, you need to release the tab at the rear of the stock and swing the forearm back 180 degrees until it snaps back into place in line with the bolt.
After that, simple insertion of a loaded magazine and pull of the bolt and you are ready to send some lead downrange!
KelTec Sub 2000 Features
The one thing that makes the Sub 2000 different is the incredible number of features this small gun has.
Caliber
The Sub2000 comes in two different calibers, 9mm and .40 S&W. While the popularity of .40 S&W has waned slightly over the years, you can not argue that at the time of the introduction of the Sub 2000 it was a popular choice for self-defense.
The FBI had fielded it in their handguns and many police departments across the nation followed suit. The popularity of 9mm needs no explanation.
This particular Sub 2000 is chambered in .40 S&W and uses magazines from the Glock 22.
KelTec Sub 2000
Caliber: 9mm & .40 Caliber
Fold-able Design
Polymer Grip
Takes Glock Magazines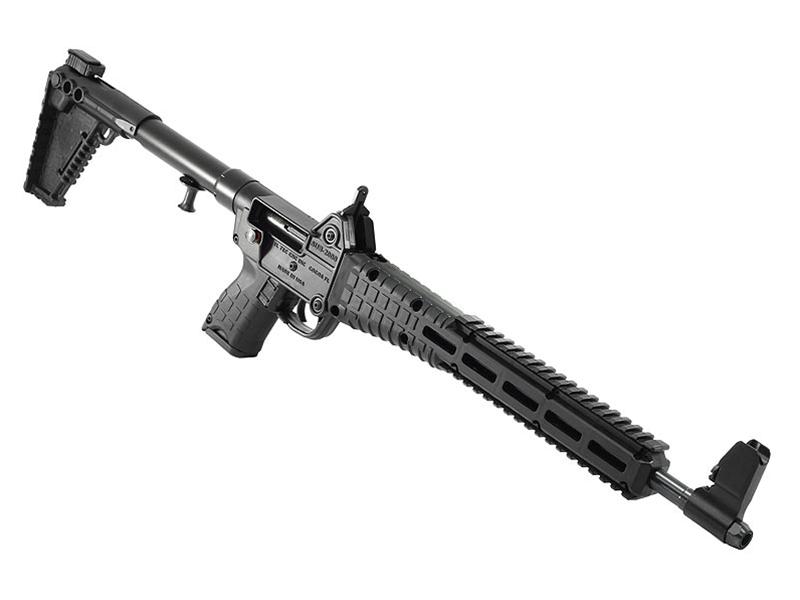 Check prices and in stock Sub 2000 availability at these retailers
Grab-A-Gun | Palmetto State Armory | Primary Arms
This was deliberately done as noted earlier to be able to pair magazines from pistol to Pistol Caliber Carbine. Simplifying logistics is always a good thing.
Barrel
The barrel on the Sub2000 is 16.25" thus making it a rifle in legal terms, even though it is chambered in a pistol caliber.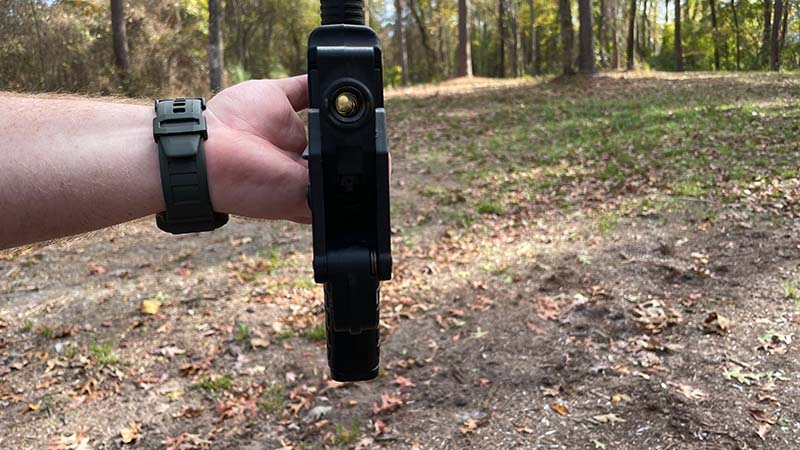 This means that the Sub 2000 can have a stock and you can place vertical grips on it if you wish and do not have to worry about the ATF and their arbitrary rules.
The twist rate for the barrel depends on the caliber. If you have a 9mm version, the twist rate will be 1:16".
This means that for every 16" the bullet will twist one full rotation. If you have the .40 S&W version, your twist rate will be 1:10".
Pistol Grip
The pistol grip of the KelTec Sub 2000 houses whichever model and caliber magazine will feed your PCC.
The pistol grip fills the hand, and has large blocks for texture. These blocks seem to be a trademark for all KelTec guns as they are used across several different platforms.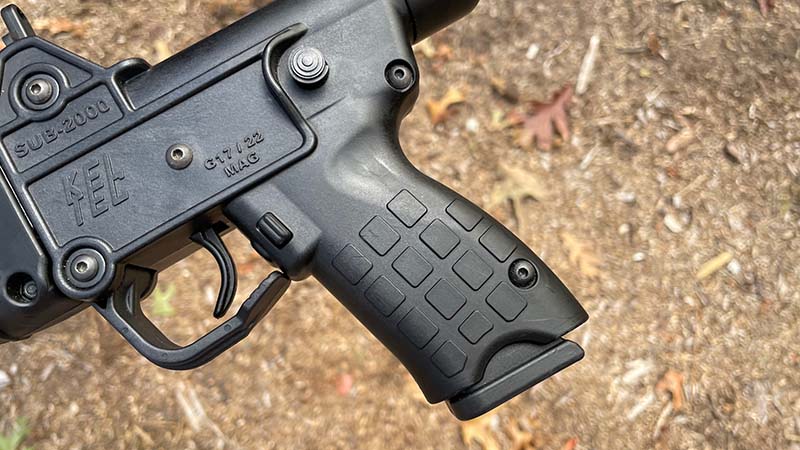 The glass-filled polymer is rather slick and the pistol grip could use some more aggressive texture or a Hogue grip sleeve to assist in this area.
Magazine Release
The mag release for the KelTec Sub 2000 is located where God and J.M. Browning intended for it to be.
It however is not reversible, so lefties will have to cope as they have become accustomed to.
The release does protrude far enough from the grip to make it easy to actuate. It also is made of KelTec's polymer.
When pressed, Glock mags will drop free from the magwell. I experienced slight resistance with Magpul brand Glock mags in the Sub 2000.
Stock
The stock on the Sub 2000 is minimalist in design. It fits over the buffer tube and offers two different points for sling attachment.
It also packs in a small portion of pic rail for whatever your heart may desire to attach at that point. I can not think of anything to attach here but options are rarely a bad thing.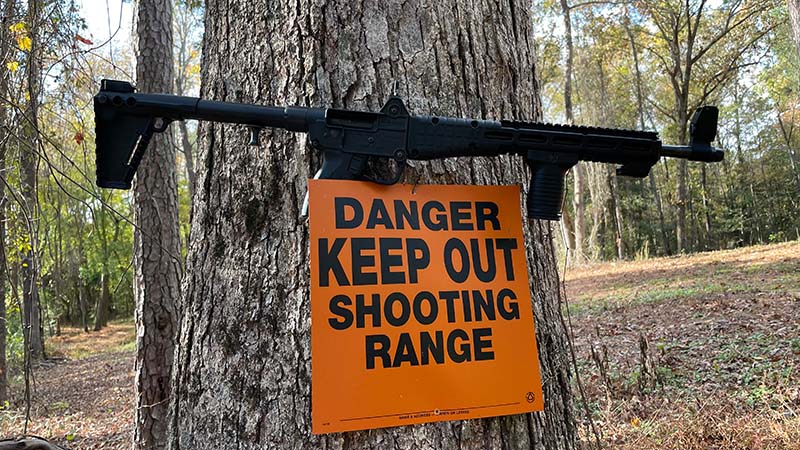 The stock is adjustable, but only slightly. There are two other positions to which you can move the stock, giving you three in total.
The same polymer used throughout the Sub 2000 is also to be found on the stock.
An easy improvement for Kel-Tec would be to place a rubber overmold on the stock to prevent it from slipping, like what is found on the KelTec KSG.
Magazines
There are several types of mags that can feed the Kel Tec Sub 2000. Discussed earlier are the Glock mags in 9mm and 40 S&W.
Each of these also has a full-size variant, 17/22, and the subcompact, 19/23.
If you have the subcompact variant you can use the full-size mags but not vice versa. Each type can use the larger stick mags that are available through Glock or third-party vendors.
Also available are drum magazines that are designed to hold much more ammo than that of a normal or stick mag.
Almost all of these mags add a lot of weight as well as bulk and their reliability is not great. I would stick with the OEM mags from Glock.
Other mag versions that are available are Beretta, CZ, Canik, Sig P320, Sig 226, and S&W M&P among others. This means that if you have a pistol, there is a good chance you can match a KelTec Sub 2000 to it.
KelTec Sub 2000
Caliber: 9mm & .40 Caliber
Fold-able Design
Polymer Grip
Takes Glock Magazines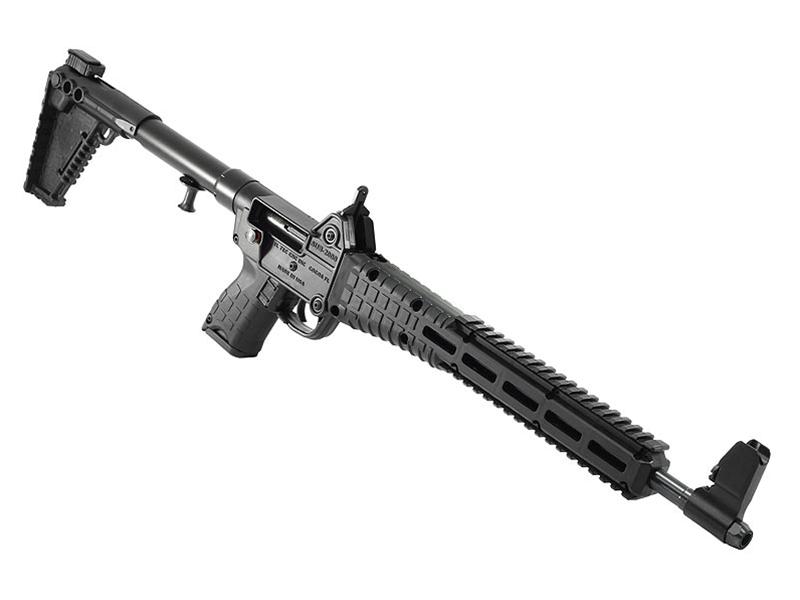 Check prices and in stock Sub 2000 availability at these retailers
Grab-A-Gun | Palmetto State Armory | Primary Arms
Rails
The Sub 2000 Gen II takes a vast step forward from its predecessor in this area.
The Gen I Sub2000 had no rail, anywhere. The forend was devoid of any attachment point.
Gen II introduced a full-length section of pic rail located at the 12 o'clock and 6 o'clock positions going down almost the entire length of the barrel. These rail sections can be used to attach whatever your heart may desire when it comes to accessories.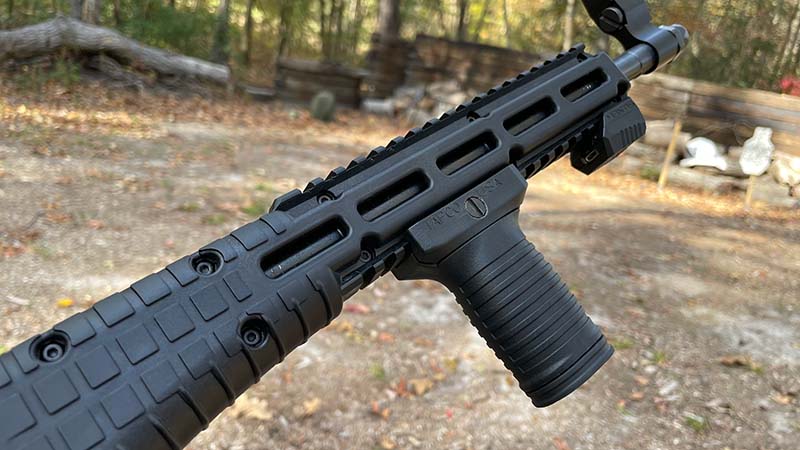 There is one glaring drawback to attaching anything to the top pic rail; when folded your Sub 2000 now will not fold over on itself fully. This is a drawback when it comes to mounting any type of red dot or holographic sight.
One remedy I found was a super low profile offset mount that did not add any bulk to the top rail section and allowed for a canted red dot to be placed off-center to the bore of the PCC.
This has its drawbacks but was one of the very few solutions to the problem.
The attachment points located at the 3 o'clock and 9 o'clock positions are Magpul Mlok slots.
This was just being introduced when the Gen II Sub 2000 was put to market. I fund to attach accessories to the Mlok sections you have to use shallow screws or modify longer ones if that is all you have available to you at the time.
There is a folding sight mount offered by MCarbo that attaches to the Mlok section and allows for full closure of the PCC when rotated out of the way.
I was satisfied with the low-profile offset mount that I had come up with and didn't see the need to spend the extra money on a proprietary part.
The option however is there if you so wish to purchase and use it.
Sights
The sights for the Gen II Sub2000 are a vast improvement over the previous Gen I. To note the front sight on the Gen I was extremely bulky and plastic. This obviously is not a good choice for a front sight material that is attached directly to the barrel of a firearm.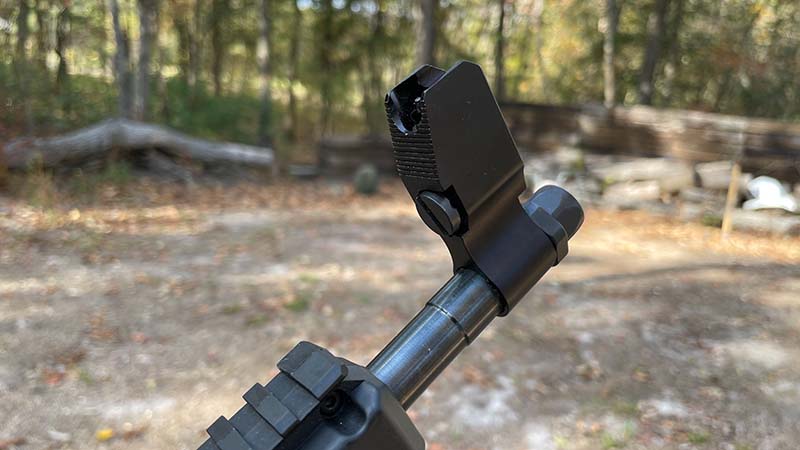 The front sight on the Gen II model is made of steel and is machined with quality. Its finish is smooth and it reminds me of an AK style sight, minus the gas tube.
The rear sight is more or less the same on both Gen I and II. It is a folding peep sight that folds when the PCC is folded in half. Its aperture is large enough to make quick snap shots but not overly large for further engagements.
Storage
Obviously, the easiest way to store the Sub 2000 is to fold it in half and it can tuck just about anywhere.
I found that it was just slightly bigger than the storage area underneath the front center seat on my Chevrolet Silverado. This would have been a really cool place to keep the KelTec Sub2000 as a truck gun.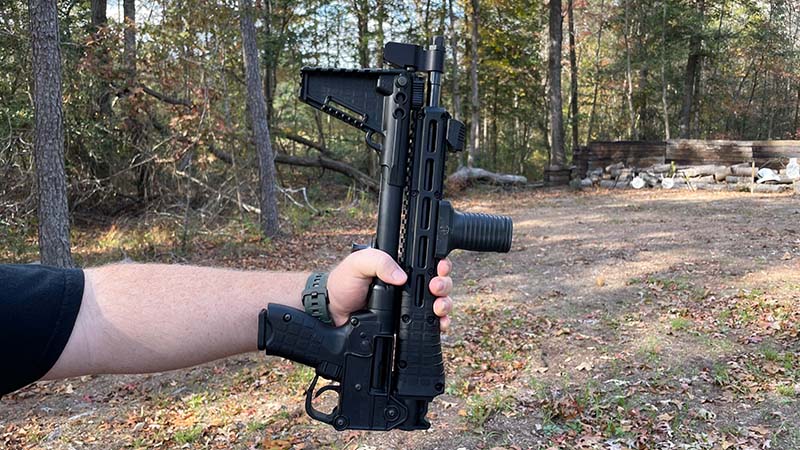 As it is once folded it will disappear into all but the smallest backpacks and easily fits into a computer bag or briefcase. This ability alone has sold many copies of this PCC.
KelTec Sub 2000
Caliber: 9mm & .40 Caliber
Fold-able Design
Polymer Grip
Takes Glock Magazines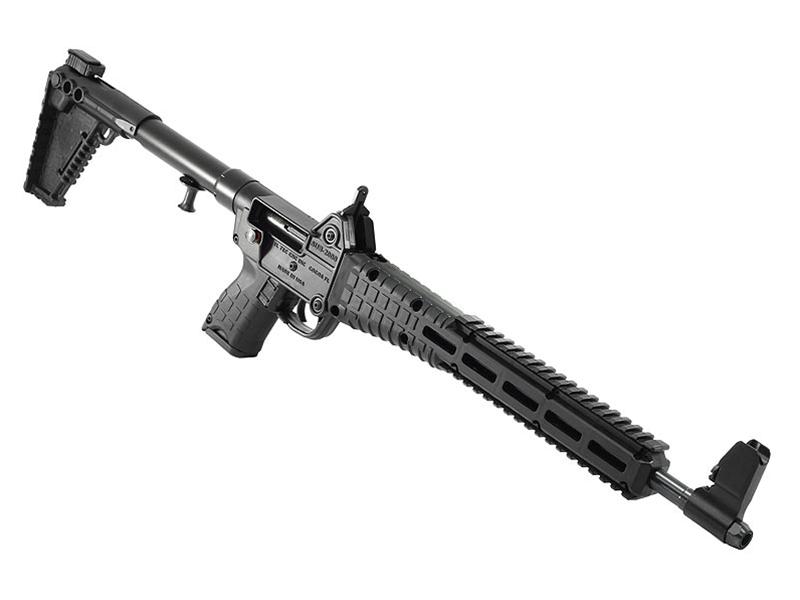 Check prices and in stock Sub 2000 availability at these retailers
Grab-A-Gun | Palmetto State Armory | Primary Arms
Shooting the KelTec Sub 2000
A vast majority of people do not realize how much a direct blowback PCC kicks. The perceived recoil on the KelTec Sub 2000 is more than that of a full-sized AR rifle. This is due to the mass of the bolt moving back and forth to safely operate the firearm.
This mass is the only thing delaying the bolt from moving prematurely and letting the combustion of the round out of the back of the chamber. This design is simpler and cheaper to produce and is a popular choice for PCC's overall.
With this in mind, shooting the Kel-Tec Sub 2000 is pleasant. The recoil is straight back into the shoulder and not hard to manage. Follow up shots are quick and easy to make.
Reloading the KelTec Sub 2000 is natural for anyone who has shot any modern pistols. The only difference is charging the weapon and that is accomplished by grabbing a handle that protrudes underneath the buffer tube and pulling it to the rear.
Every time I have taken the Sub 2000 out to shoot I have had a fun time. The ability to use the same magazines and ammo between comparable pistols just makes it even sweeter.
Ammo Selection
Finding ammo for the Sub2000 in 2021 is not fun for your wallet, no matter the caliber.
With the way things are, any ammo that you can obtain without taking out a second mortgage on your house or donating plasma or other body fluids is a plus.
Having a 16.25" barrel means that almost all the advertised velocities on pistol ammunition will be an understatement.
This means that because of the longer barrel, the rounds will have more time to speed up as more of the powder that would normally exit a short pistol barrel unburnt is burnt up while still in the barrel thus pushing the projectile faster.
Keep in mind that if you are suppressing the KelTec Sub 2000, those rounds that are advertised as subsonic may be super sonic coming out of the longer Sub2000 barrel.
As far as self defense is concerned, the longer the barrel the better for energy transfer into your target.
Price and Models
Pricing and availability are dependent on one another. In today's market, availability is sometimes hard to find.
This means prices are typically higher as the demand rises for products. That being said, the MSRP for a KelTec Sub 2000 Gen II is anywhere from $578.00 to $621.00 according to KelTec's website. The difference in MSRP would be dependent on the model selected.
There is a special KelTec Sub that has been released in the past year; the Sub CQB.
This model is the Sub 2000 but the forend has been replaced with an integrated suppressor that shrouds the length of the barrel. The MSRP for this model is $995.00.
You will also have to pay the ATF for a tax stamp and complete the appropriate paperwork to take possession of your CQB model.
Final Thoughts
Even though this KelTec Sub 2000 no longer sits in my gun safe, it has been kept in the family. If I had any real issues with this particular PCC, or the design in general, it would have been sold or traded into a gun store. My interests changed and there was a need that a relative had that this PCC has filled very well.
KelTec Sub 2000
Caliber: 9mm & .40 Caliber
Fold-able Design
Polymer Grip
Takes Glock Magazines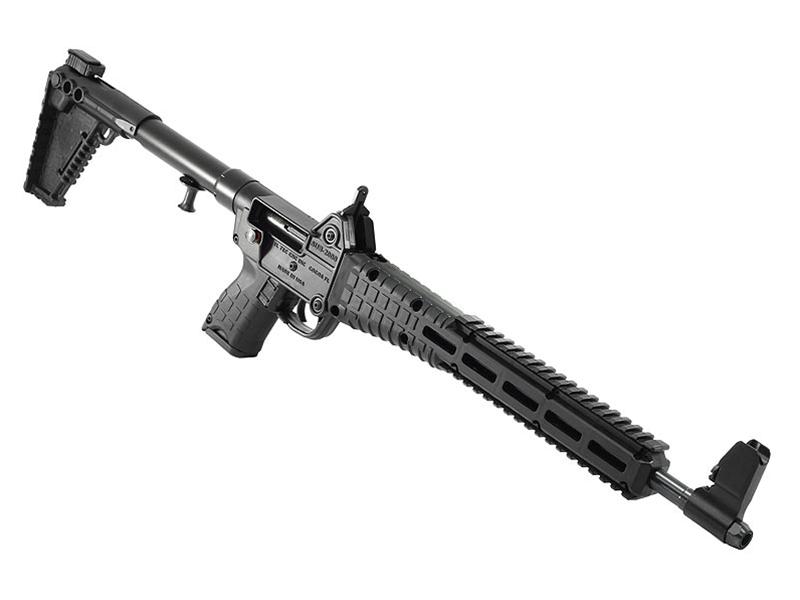 Check prices and in stock Sub 2000 availability at these retailers
Grab-A-Gun | Palmetto State Armory | Primary Arms
While there are some small areas that could be improved upon with the Sub2000, there are hardly any firearms that can say they are perfect. This PCC fills a gap between pistols and more expensive PCCs very well.
I feel that the Kel-Tec Sub 2000 is a smart buy for someone who wants to test the waters of the PCC market or people who want to keep things simple with logistics between their pistol and a long arm.
If you want to take a look at some other Kel Tec reviews we have done see the Kel Tec KSG review or the CP33 review.
FAQ's
Is the Kel-Tec Sub 2000 worth it?
Yes, the Sub 2000 is definitely a fun gun to shoot and is still relatively affordable. Determining worth does depend on what you want the gun to do for you and if it meets those needs.
How much does a Kel-Tec Sub 2000 cost?
The Kel-Tec Sub 2000 ranges from $500-$600 price point as of this writing.
Is the Kel-Tec Sub 2000 illegal?
No, the Kel-Tec Sub 2000 is not illegal in most states. Some states such as California and New Jersey may have banned them.
Is a Kel-Tec Sub 2000 considered a pistol or a rifle?
By legal definition the Kel-Tec Sub 2000 is a rifle. The gun is a pistol caliber carbine but is sold and transferred as a rifle under federal law.