The Ruger PC charger is an extension of the Ruger PC line. The Ruger PC line is a pistol-caliber carbine version of the Ruger 10/22. The operating system is slightly different, but the Ruger PC Charger is similar to Ruger's iconic 10/22 rifle but chambered in 9mm. 
The Ruger PC carbine took the market by storm. People were looking for a reliable non-AR-15 format pistol-caliber carbine.
Pistol-caliber carbines have become very popular in the last few years, PSA AK V, the Sig Sauer Copperhead, Stribog SP9A1, Aero Precision EPC, and the CZ Scorpion, to name a few.
So it comes as no surprise that Ruger wants to take advantage of the pistol-caliber carbine market.
Ruger had released a pistol-caliber carbine in years past but had since discontinued them.
Many indoor ranges do not allow patrons to use some centerfire rifle cartridges at their ranges.
But, they'll allow customers to shoot pistol-caliber carbines in the range as they do not cause damage to the backstops.
This fact and the relatively affordable price of 9mm ammo made the Ruger PC Carbine a no-brainer for Ruger's development team.
Many AR-style 9mm pistol-caliber carbines have issues of their own. The great thing about the AR platform is that it is very configurable and has many different options, but the downside of all those options is tolerance.
Tolerance can become an issue, and there were no real standards for the 9mm AR platform. This is why some of the AR-15 options chambered in 9mm can be finicky and unreliable.
Overview of the Ruger PC Charger
Ruger went with its own delayed blowback operating system much more reliable than the average off-the-shelf AR-15-style 9mm pistol-caliber carbine.
Ruger had introduced the 10/22 Charger well before pistol braces became a thing. The Ruger 10/22 Charger had mediocre success until the pistol braces were introduced.
Once the pistol braces were introduced, the Ruger 10/22 Charger became a trendy gun. Ruger decided to take their PC Carbine and put it in the same format as the Ruger 10/22 Charger.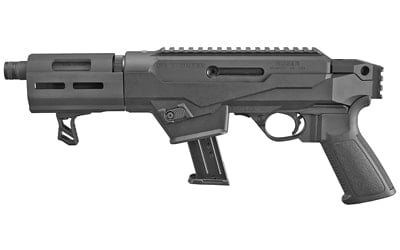 Ruger PC Charger Features
The Ruger PC Charger is a 9mm blowback weapon with a delayed blowback system in the gun's bolt. The gun itself is a takedown model so that the barrel can be separated from the receiver.
The Charger 9mm comes from the factory without a pistol brace, but it has a 1913 rail on the chassis' rear, allowing a brace to be attached quickly and easily.
The chassis itself is set up to accept AR-15-style pistol grips. It also has a removable mag well to use, either a Ruger SLR series magazine or a Glock series magazine.
This is probably the smartest part of the Ruger PC design because using Glock magazines means Ruger can take advantage of multiple aftermarket magazines out there.
The Ruger PC Charger will work with Glock drums, Glock 26 magazines, Glock 17 magazines, Glock 17 magazines, and all variations of extended magazines. Glock magazines are made in 33 round, 31 rounds, 22 round, 26 round, 27 round, all different capacities, which allows the shooter to get magazines from multiple sources and run whatever size configuration makes sense for them.
Let's take a look at the ergonomics of the pistol.
Ergonomics
We'll start with the safety of the PC Charger. The safety on the gun is the same style of safety that they have on the Ruger 10/22.
A simple push-button safety located on the right side of the gun is meant to be pressed with the trigger finger of a right-handed shooter.
It sits right in front of the trigger guard, and it's straightforward to activate. Any issues with the safety will come when you're trying to put the safety back on safe.
To do that, you'll either have to break your grip and wrap your trigger finger around the trigger guard, then pressing the safety towards the right-hand side, or you'll have to bring your support hand grip off the handguard and use your thumb to press the safety back in.
So, it's not as intuitive as an AR-15-style safety, but it's effortless to use, and I find most newer shooters find the safety more in line with guns they are familiar with.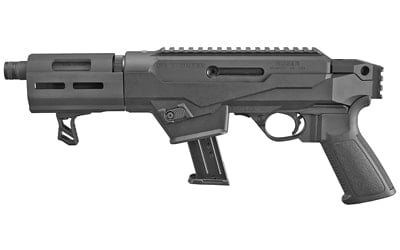 Pistol grip
The Ruger PC Charger's pistol grip is a standard AR-15-style pistol grip made for Ruger that looks like it is based on a Magpul design.
You can easily switch this out to whatever pistol grip is your preferred AR-15 pistol. This grip does have way more slant, similar to an A2-style AR grip.
It would have been nice to see Ruger offers something with a flatter grip profile that's more convenient and better ergonomics for CQB-style shooting.
There is no insert in the bottom of the supplied Ruger grip. However, you can easily switch it out to a Magpul, Umbrella Corp, or other companies' grip with inserts where you can hold spare batteries or tools.
Magazine release
The magazine release on the Ruger PC Charger is a bit different than most other PCs out there. The Ruger PC Charger mag well is located forward of the grip by quite a bit.
So, there's no way that you can use your trigger finger to reach the magazine release. The magazine release is actually located on the left-hand side of the gun.
So, a right-handed shooter can use their support hand thumb to press the mag release simultaneously, striping the magazine out with their support hand.
Needless to say, the Ruger PC Charger is not designed for speed reloads where you drop the magazine to the ground while you're using your support hand to get a magazine out of a mag pouch before inserting it into the gun.
But overall, it's a cool design that you're unlikely to release the magazine inadvertently. This is not a gun designed for speed, but it is simple so that most newer shooters will grasp it quite quickly.
Magwell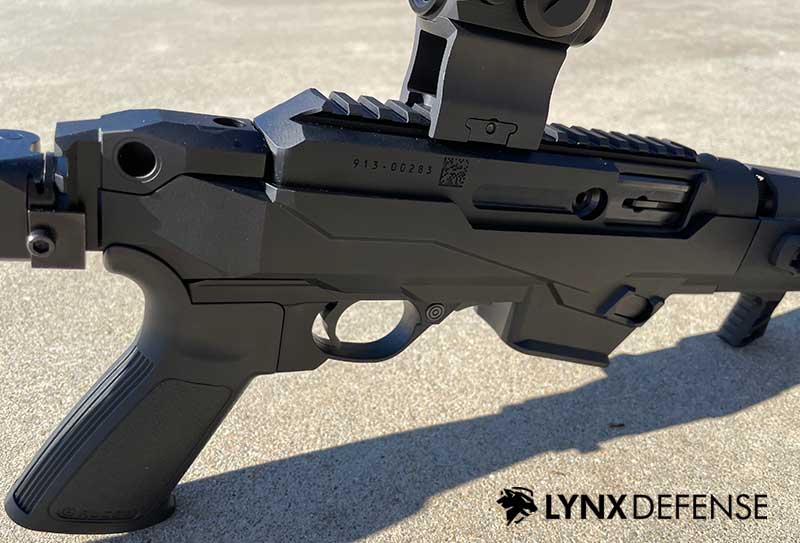 The mag well on the PC Charger actually has a decent little flair in the bottom. It's not as steep as it could be, but it still works well.
The mag well can be switched from Ruger SR-Series magazines to Glock magazines, which is a great advantage for people who already have Glock magazines.
The one unfortunate thing is that magazines don't necessarily drop free. So, you will have to strip them out. But I don't find that to be a huge issue with this style of gun.
Bolt Release/Bolt Hold Open
Even though Glock magazines and Ruger SR-Series mags have followers that allow the slides on pistols to be locked back on the Ruger PC Charger, there's no last shot bolt lock back on the Ruger PC Charger.
If you want to lock the bolt back, a piece of sheet metal located in front of the trigger guard can press up and lock the bolt to the rear once you pull the bolt back.
This is identical to the setup to what is on the Ruger 10/22 and is similar to the slide action manipulations you will find on a Mossberg or Remington series shotgun.
Once you get the hang of it, it's quick and easy to lock the bolt back. Once the bolt is locked back, you can easily take down the firearm by removing the barrel. You must lock the bolt back to remove the barrel from the firearm.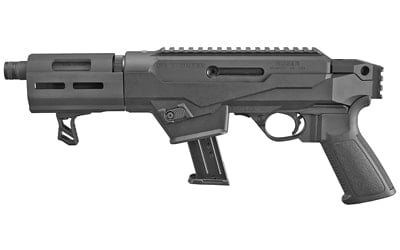 Charging handle
The charging handle on the Ruger PC Charger can be reversed from the right or left side.
It's a reciprocating charging handle that's located on the side of the bolt. I personally switched the bolt… the charging handle to the left-hand side of the gun. It comes shipped from the factory with an installed on the right-hand side.
I find the left-hand side more efficient as a right-hand shooter, as I can use my support hand to actuate the bolt, leaving my firing grip on the gun's grip itself. The charging handle itself is just a rounded piece of aluminum. There's nothing special about it. It works. It's soft.
But one thing I will warn you, if you're using optics like an EOTech that sit over the side of the rail, you can still use this charging handle, but you'll have to make sure you grip it low so you don't bust your knuckles on the optics mount itself.
PC Charger Takedown system
To take down the Ruger PC Charger, as we said before, you'll take the bolt, pull it back, and then lock it to the rear using the bolt lock button located in front of the trigger guard.
Once that bolt is locked to the rear, you'll flip the gun upside down, and you'll see a metal pin sticking out of the bottom back area of the handguard.
You'll push that forward towards the muzzle, and then you'll rotate, clockwise, the handguard itself and then pull it out of the gun.
There's also an attachment on the front of the handguard that allows you to tighten the barrel's fit so you can get more accuracy out of the gun.
Configuration
Ruger PC Charger Brace
On my Ruger PC Charger, Ruger included no brace. I'm not aware of any gun that ships from the factory with a brace option.
I added an SP tactical M1913 style brace. That brace is a folding brace that folds to the left side of the gun.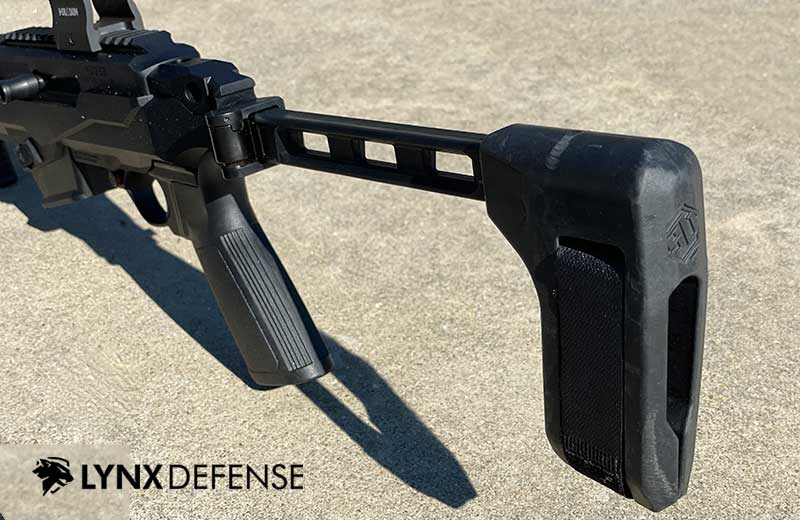 It fits just snug under the charging handle itself when locked back to the rear, and when you lock forward when you fold the sock to the front with the bolt in the forward position, you have to press the sock or the brace just slightly under the charging handle itself. There are various braces out there that accept 1913-style mounts, so you will have no shortage of braces that you can find for the gun.
Ruger PC Charger Optics
The gun does not come with iron sights, although I have seen that Dan Haga Designs is designing iron sights for this gun.
You can run flip-up sights in theory, but you would have a very short sight radius, probably somewhere around 8 inches. I would not suggest doing that and would say to run a red dot optic or take a look at the Dan Haga sights.
Mounting an optic to this gun is easy, but as I stated before, you're going to want to go with something narrower like an Aimpoint T-2 profile optic.
I personally have a Holosun HS403GL mounted to the gun. This is an Aimpoint micro-style optic that is very thin, and I don't have to worry about hitting the charging handle when I'm operating the firearm.
Accessory Mounting on the PC Charger
Mounting accessories besides an optic to the Ruger PC Charger is not the easiest thing in the world.
The handguard upfront is very short and has 2 M-LOK slots at the 9, 3, and 6 o'clock positions. There are no M-LOK slots on the top of the handguard.
It's worth mentioning that manufacturers make aftermarket handguards that might provide you with more rail space and mounting options.
The Ruger PC Charger comes with a UTG hand stop on the bottom of the handguard.
The hand stop is surprisingly nice to be UTG, and I find it really helpful to get a good grip on the firearm's front and keep your hand from sliding forward of the muzzle.
Light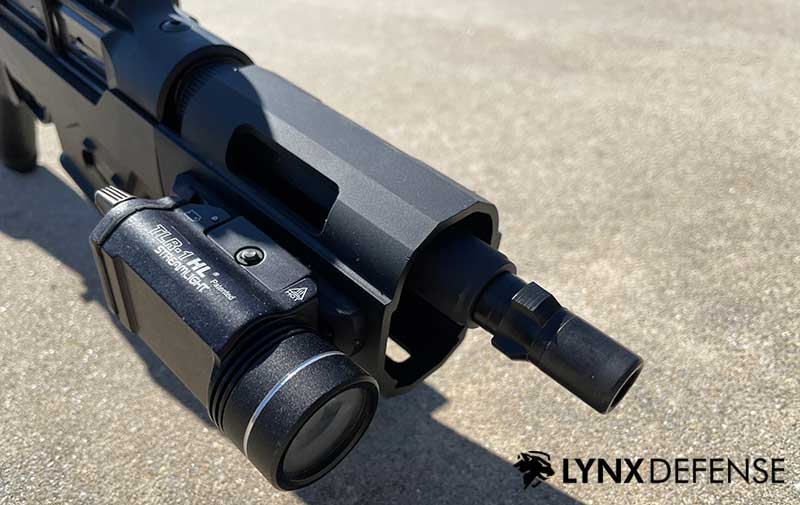 Mounting a light on this gun was not easy or as ideal as I hoped either.
I found the best solution for myself was to mount a 1913-style rail on the right side of the gun and then put a Streamlight TLR-1 HL on that 1913 rail. That way, I could use my middle finger to activate the switch on the light itself.
This is a pretty good setup and allows me to do momentarily on by pressing the lever out or constantly on by pulling the lever in.
It works, but it adds a lot of width to the gun. I do wish there was a setup that would allow me to get the light a little higher. I might check out an offset-style mount that mounts light at a 45° angle.
Although I haven't found anything good that holds tight to the rail with a Streamlight TLR-1.
If you were to use a 1-inch thick-bodied light, like a Surefire other Streamlight product, you're not going to have enough room to position the light in front of your thumb.
You might have enough room if you're running a suppressor and you use a mount, such as a cantilever mount.
So, I would suggest running a pistol-style light like the TLR-1 or an X-300 on this gun.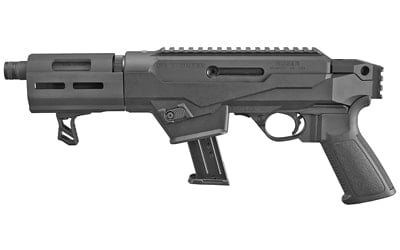 Sling
You can mount a sling to this gun via rear QD sockets that sit on each side of the chassis right above the brace mount at the rear.
Those are placed very well for a 1-point sling. But if you want to mount a 2-point sling on this gun, you're likely going to have issues. You could throw a QD mount on the front of the rail, but that might impede the grip of your gun.
I will set it how I naturally grip this grip; it leaves the forward 9 o'clock M-LOK slot open, which would be a good place for a QD comp.
But you're not going to be able to run the second point of a 2-point sling behind your hand.
Suppressor
Suppressing the Ruger PC 9 Charger. The Ruger PC 9 Charger has a standard 1 half by 28 threaded barrel, so suppressing the gun is not an issue.
That said, the gun does not suppress well. The action is very open, so the gun is quite loud, considering this is a 9mm.
One positive is that the gun doesn't have a lot of recoil due to this bolt mechanism, but the bolt also travels back fairly quickly, letting a lot of sound escape from the gun's chamber itself.
I found the Ruger PC Charger to be a louder suppressed gun versus my other pistol-caliber carbines like the Stribog and the SIG MPX.
Right now, I have a 3-lug mount mounted, so it's easy to switch my suppressor from gun to gun. I really think this gun shines, though, in its non-suppressed format where it stays quite short, and it's just fun to shoot at the range.
Ruger PC Charger Trigger pull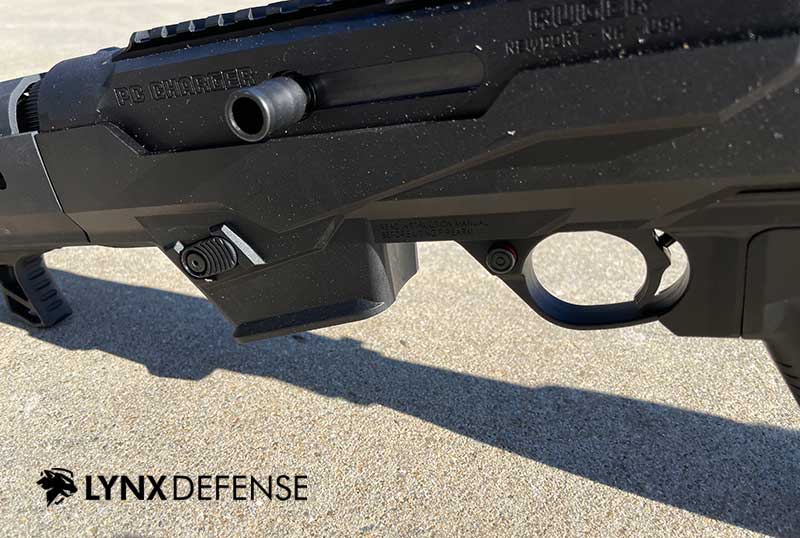 If you're familiar with a Ruger 10/22, you're going to feel familiar with the Ruger PC Carbine Charger Pistol. The Ruger PC Charger has a trigger pack that looks identical to a 22, just sized up slightly.
When you go to pull the Ruger PC Charger trigger, you're going to feel a little bit of take up, and then you're going to hit somewhat of a wall. From that wall, you're going to feel the break.
It's a short trigger, but it just doesn't feel that good. It's frankly a very plasticky trigger. Not to mention there really is no reset on this gun.
The trigger itself feels very mushy on the reset. You can hear an audible click when it resets, but it resets almost to the initial point where the trigger take-up starts.
Multiple companies have come out with trigger packs for the Ruger PC Charger. But it's definitely a serviceable trigger that you'll have fun at the range if you don't want to dump any more money into this gun.
Shooting the Ruger PC Charger
The ergonomics of the Ruger PC 9 Charger are actually good. This gun reminds me of an AK-47 and an AR-15 if they had a baby and were shooting 9mm.
The handguard is a little bit short in the position it is. It'd be nicer if it were a little longer, but that would make the gun longer, defeating the purpose of the Ruger PC Charger.
I will say I've never been one to grip the mag well on any gun, but the Ruger PC Charger makes you feel like you get a more solid grip by moving your hand back to the mag well. I would never say that on an AR-15. But on this gun, there's just something about how the hand works on the mag well.
For me, it's a little bit awkward to grip the handguard a little bit further out, and I seem to get a more stable grip by gripping closer in. I can't say I've ever had that happen on any other gun.
Shooting the Ruger PC Charger is an enjoyable experience. The gun is definitely fun to shoot. And even though it doesn't suppress well, the gun is more fun to shoot when you add a suppressor to the front of it.
It doesn't get much quieter, but it just makes it more fun to shoot for some reason.
Recoil
The recoil impulse on the Ruger PC Charger isn't bad at all. A lot of small 9mm pistol-caliber carbines have more recoil than 5.56 AR-15's.
This gun has a little more rise to it, but it doesn't necessarily have more recoil. Ruger's bolt system, their blowback system, does an outstanding job of taming the recoil. And you will find this to be a really great non-intimidating gun for newer shooters to shoot.
There isn't much muzzle blast on this gun since the barrel is fairly far in front of you as a shooter. I really enjoy shooting this gun at the range.
You're not going to get any major performance gains with it over, say something like a SIG MPX. It's definitely a little lower recoil than your typical blowback AR-15 style 9mm pistol-caliber carbine.
Still, it's not a solid performer and recoil mitigation like an H&K MP5, Century Arms AP5, or a SIG MPX. It's somewhere in between.
But also understand, that the Ruger PC Charger comes in at less than half the price of a SIG MPX and is much cheaper than in HK MP5.
The gun is easy to load, and the controls make sense for newer shooters right out of the box.
In my opinion, this is the pistol caliber equivalent of a modern AK, in that you can teach almost anybody to use it. The controls are really intuitive for people that don't know guns that well.
PC Charger Ammo
Looking for the perfect ammo for the PC Charger? I've had great luck with CCI Blazer ammo for the range but you may be looking for some personal protection ammo so have a peek at these options!
Final Thoughts on the Ruger PC Charger
If you're looking for a fun gun for the entire family to shoot, the Ruger PC Charger is going to be a great option.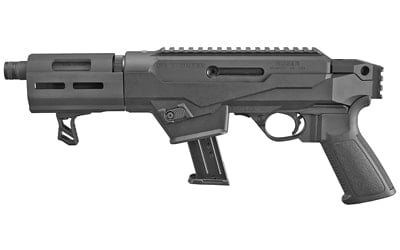 If you're looking for something to stow in a backpack, it can definitely be done, and the gun does break down into multiple parts.
Keep in mind that the Charger is a fairly wide gun, making me second think about using it in a concealed manner. The takedown is rapid, so the Ruger PC Charger could definitely be used like that, but I don't think it's ideal.
Again, the controls on this are straightforward to use and make it a great home-defense option if you have loved ones that aren't as familiar with firearms, and you think this is something that they can learn to run effectively.
Is this as smooth as guns that cost twice the price? No, but in its price range. It's honestly one of the lowest recoiling guns I've seen. It's definitely much milder recoil than a SIG Copperhead and rivals the Stribog in recoil control.
It doesn't have the Hollywood look like the Stribog or the CZ Scorpion, but it is definitely a new unique modern look that looks somewhat sci-fi-ish, and I really like that.
The Ruger PC Charger really fits into a category of its own, and it's created that category. It's different than everything else on the market in a great way.
If you're looking for a fun gun that's unique and not that expensive to get set up.
I think you're going to be hard-pressed to beat the Ruger PC Charger as an extremely fun range gun.
Much like with the Ruger 10/22, you'll have hours of fun without going bankrupt.
It's no shock that I'm a pretty big Ruger fan. I've reviewed the Ruger 5.7, Ruger Mark IV 22/45 Lite, Ruger SR22, Ruger SP101, Ruger Security 9, and the Ruger Mini 14. Man, that list is getting long! Be sure to read through our other Ruger firearms reviews.