The Sig M17 is the service pistol for the US Army and has been in service since 2017. The M17 is a customized version of the Sig P320 and has been adopted by the Navy, Marine Corps, Air Force, and Space Force.
This gun is readily availble on the citizen market and has a few useful features and anyone who likes to have the latest mil-spec tech you'll want to add this pistol to the line up.
What is the Sig M17?
When SIG Sauer took on the challenge of securing the prestigious U.S. Army contract to replace the aging M9 Beretta 92, they exceeded all expectations.
nter the remarkable MHS handgun, a powerful iteration of the iconic SIG SAUER P320 pistol.
It's armed to the teeth with features that'll leave you in awe: an external safety, a seamlessly integrated MIL-STD-1913 Picatinny rail for effortlessly attaching light and laser systems, self-illuminating night sights that ensure peak combat performance, and the ability to accommodate a sound suppressor.
The M17 emerged victorious, clinching the contract and embarking on its mission to replace the M9 across the military over the next 10 years.
Whether you're a devoted military weapons collector seeking the best or someone who craves a firearm recognized and praised by the U.S. Army for its unwavering durability and reliability as the official service sidearm, the SIG P320 M17 is your trusty ally, ready to take on any challenge and emerge victorious. Elevate your firepower with SIG Sauer today!
Features
Like any pistol that you're considering purchasing, you're going to want to know what features that it has and if they're the best features that meet your needs.
Which is really the key to any feature, if a feature doesn't meet your needs or is something that you're not going to use, it's not really that much of a feature.
It's just something that's there. So let's dive in on it.
Magazine Capacity
The M17 comes standard with three magazines.
It comes with one 17-round magazine that sits more flush and then it comes with two 21-round magazines.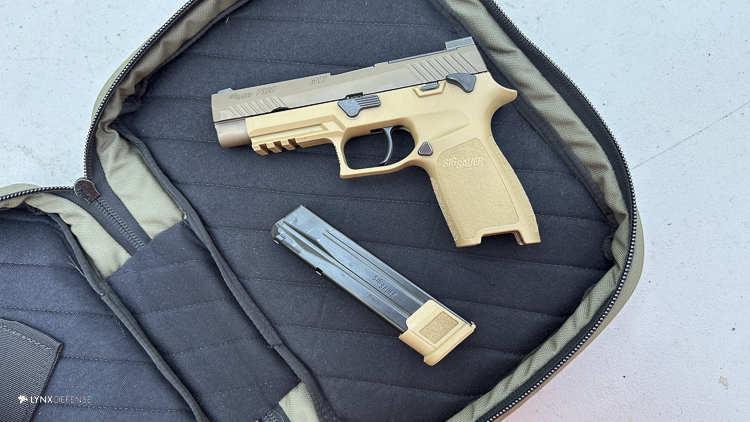 Now keep in mind we're not talking about the California or states with magazine restrictions that hopefully get overturned soon.
This is just the standard model you would get in any of the free states.
What I really like about the 21-round magazine, is the capacity becuase it's always good to have more rounds and you don't have to change your mag as often.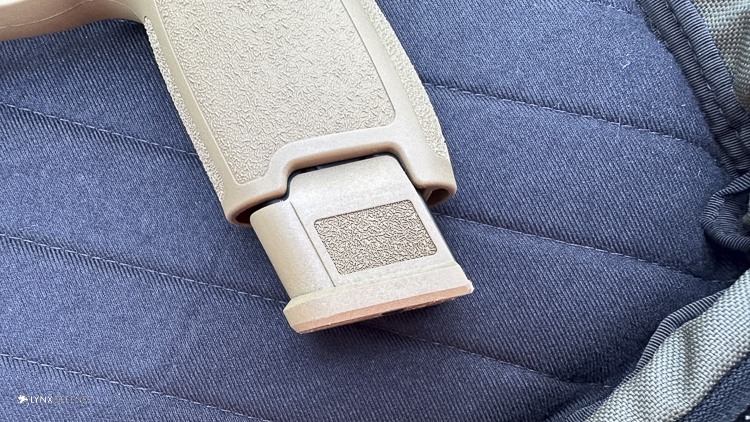 What really sets it apart is the magazine extension base fits into the frame of the gun.
The 21 round magazine also sticks out long enough that if you do have big hands or you're wearing gloves, it really adds to the overall grip, which leads us to our grip in ergonomics.
Grip and Ergonomics
The grip in ergonomics of this gun are really good.
While that statement kind of vague, let me try to explain it a little better.
This gun is somewhat top-heavy. The polymer in the grip doesn't really add any weight.
The magazine well, because 21-rounds is a lot of rounds, add a substantial amount of weight.
But with that, it's almost like SIG put more weight in the slide, by making the slide slightly longer than the frame on the end, so there's more weight.
Once you put a full mag in it, it balances really well.
Overall, it feels like a standard P320, full size, of course, P320, but nonetheless, it just feels very similar to that with the exception of the weight and then the weight balance.
Sights and Optics Mount
The M17 comes with a precut slide for optics. The sights themselves are the SIG H3, which are night sights.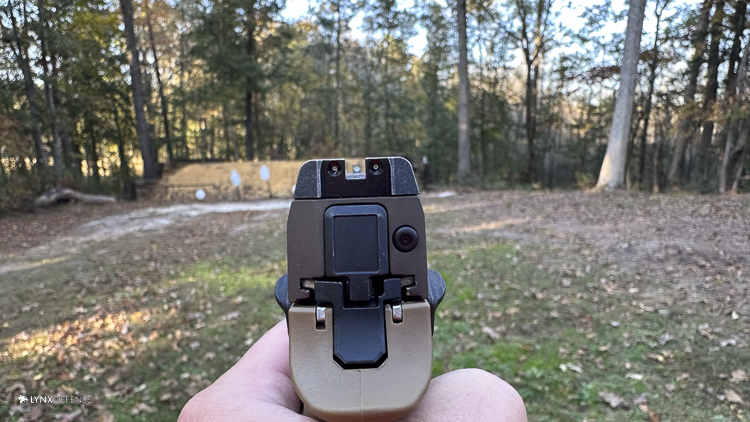 I do like the stock sights the back, are almost blacked out with a little white dot in it, for the tritium.
They do work well, but I think this was really created not to be used, because the rear sight's going to come off and there's going to be a DeltaPoint Pro footprint for you to mount a red dot sight.
So I personally, with this full size gun, you're already not going to conceal it. It doesn't matter how much weight you throw on it, it's already balanced very well.
I would get a pistol red dot sight for this, so I don't worry about sights too much when they're already cut for a dot because I'm going to put a red dot sight on it. That being said, these sights are pretty good.
They're kind of the standard SIG. There's just a larger version of what I've seen on the P365XL stock slide. So overall decent, but definitely put a red dot on this thing. It's begging for one.
Rail
Like most modern pistols this gun's going to have a rail, so you can also mount a pistol light to it.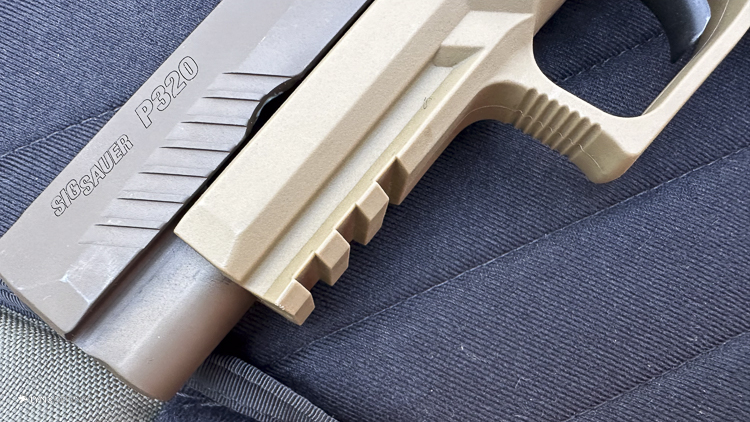 If you're running like the SureFire X300, it's probably going to be pretty good because the rail sits back further than the end of the slide.
So naturally that light tends to stick out further, which means this gun will hold it and probably balance it better because it's more in line with the end of the gun. Whereas on a Glock 19, it sticks out a good almost inch, inch and a half.
Controls
You're going to want to know how the controls work, and I think SIG did a very good job on the controls of this and putting them where even people with small hands on this full size gun are going to be able to get to and operate all of controls.
Like most pistols these days, this thing's ambidextrous with the exception of the take-down lever, that's just on the left side of the gun.
I'm right-handed, sorry about the wrong handed folks, but this gun probably will work well for you wrong handed folks.
Safety
Not a big thumb safety guy, especially on polymer pistols, but SIG did a pretty good job on this.
It's easy to push up, it's easy to pull down and to fire.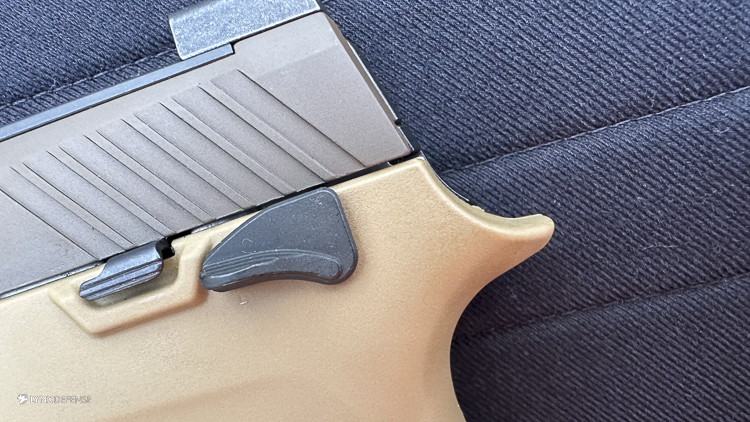 I like the actual selector itself. It got a natural curve, almost like the curve of your thumb as it goes up and when you pull down, it's got a good ledge.
I haven't shot this with gloves, so I could see this being kind of aggravating with gloves.
But I think either way, if you push up, push out and down, it's going to be fine even with gloves.
But overall, I think the safety, they did a good job. I like how it feels, even though I'm not a big fan of safeties, but I do understand why they want one for a service pistol.
Magazine Release
There's not much to say about it. It's the SIG magazine release.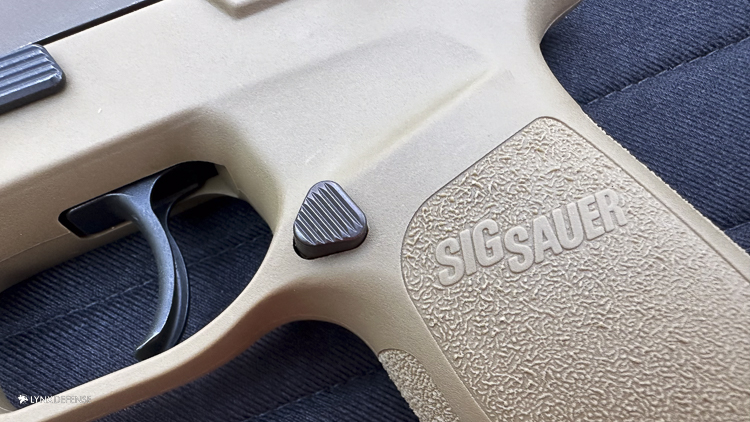 t's the triangle with the vertical serrations, of course, it can be switched if you're wrong handed, and it's about the same size as the P320 compact and pretty much any P320 period, it's located right where you'd expect it.
Right where the trigger guard meets the grip.
Slide Stop
The slide stop sits directly in front of the safety.
The nice thing about it's on both sides, and the reason I like ambidextrous slide stops and or slide releases, however you want to phrase it, is because you can pull down on both sides.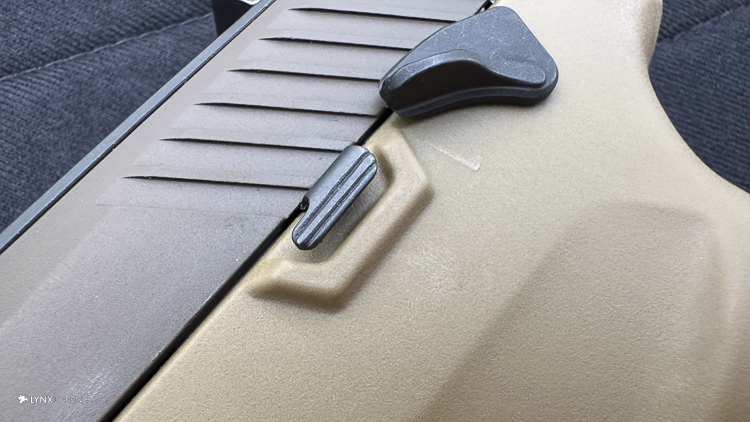 So if you're having a hard time getting to it with one finger, you always have that option to pull down on both sides.
It doesn't stick out very far, but without much effort, I can send it. I can send the slide stop up without even really trying to find it.
I just flicked my thumb up and it latches, and then of course, even on an empty mag, you can pull down just on one side and you're sending that sucker home.
So I really do like the controls overall, especially so far, the safety and the slide stop.
Trigger
The trigger almost has no take up, there might be a quarter inch of take up hits a hard wall.
It hits a hard wall and there's a little bit of travel after you hit the wall. That's kind of an interesting thing about these SIGs.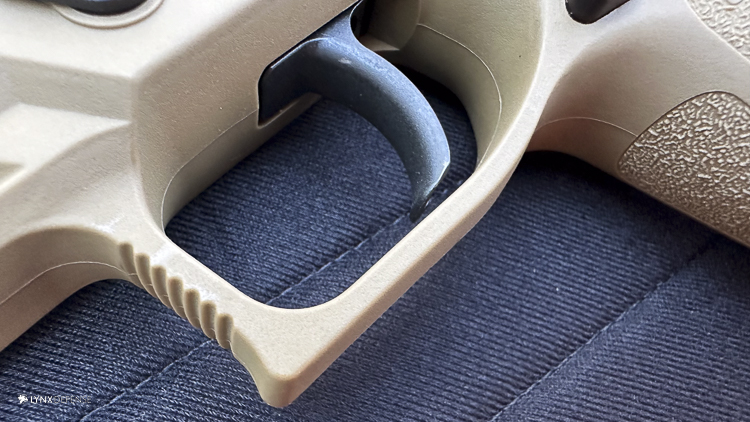 The actual break is very soft. There's no real loud click of the firing pin/hammer falling.
The resets actually louder than the hammer falling, which is interesting. But overall, the trigger's pretty good.
It's a P320 trigger, so if you like them you'll like this, I don't dislike it. Shooting this is actually pretty enjoyable.
I'm a big SIG XFIVE Legion and SIG's Spectre Comp fan, so this is flirting in that neighborhood.
It just doesn't have the tungsten frame or the ported comped barrel, but it's still really nice, especially if this was what you're issued in the army, because usually you get not nice stuff sometimes, they all get hand-me-downs.
Overall Ergonomics
The overall ergonomics of the gun are really good. Like I said, the balance is fantastic. I really like the fact that the gun feels really good in your hand, whether you have small hands or large hands. The controls are easy to use. They're very ergonomic, they're very fun.
Aesthetics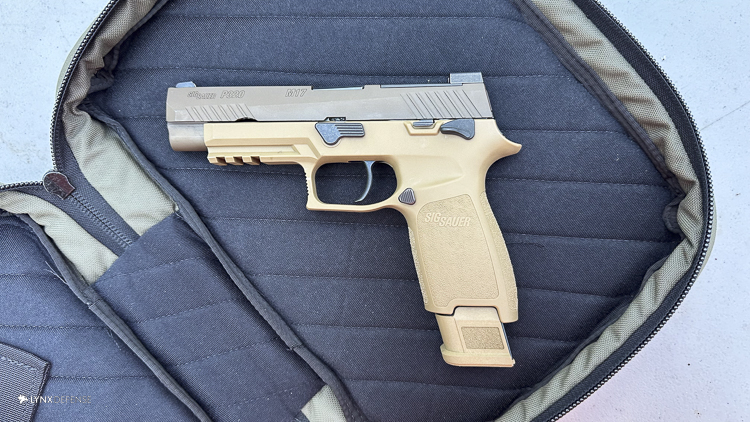 Aesthetically, this gun's fantastic.
A lot of people call this color scheme peanut butter. I understand why I just can't bring myself to do it.
It's a tan FDE-ish gun. It's two toned. You have a darker slide and then a lighter frame.
Surely they did this on purpose. They could have gotten this to match better, although in the Stock photos it does match better, but in person it's definitely darker.
But overall, aesthetically, as far as the controls, it is a P320. So if you like the look of the P320, but in tan with an extended mag and a little bit of the barrel sticking out, you're going to like this gun. I like this gun.
Sig M17 Ammo
Being a military grade firearm it has to be able to chew up and spit out nearly anything that gets thrown at it.
So what you have in the stock pile will work great but if you want to add some to the collection here are some great options.
Overall
This is agreat gun and if you are inbetween the M17 and the M18 or P320 it's best to get your hands on each to determine which meets all your needs.
Shooting the Sig M17
Shooting the M17 is a pretty enjoyable experience. It takes all of the positive things from the P320 series and expands on it.
This gun is a smooth shooter and gives you even more grip surface for your hand, enhancing its controllability.
Better control allows for more accurate rapid fire from this platform. I like the M17's recoil impulse and overall shootability.
FAQ
What is the sig M17 cut for?
The Sig M17 cut is designed to accommodate the Leupold DeltaPoint Pro and Trijicon RMR reflex sights on Sig Sauer P320/M17/M18 pistols.
How much does a military M17 cost?
The cost of a military M17 can vary depending on various factors such as the specific model, additional features, and any customization. However, as of my knowledge cutoff in 2021, the approximate cost for a standard military-issue M17 handgun is around $500-$600. Please note that prices may vary, and it is recommended to check with authorized dealers or manufacturers for the most accurate and up-to-date pricing information.
What is the Sig Sauer M17 equivalent to?
The Sig Sauer M17 is equivalent to the civilian model Sig Sauer P320.
Is the SIG M17 a good carry gun?
The SIG M17 is a popular choice for a carry gun due to its reliability, accuracy, and overall performance.