In the world of handguns, the Sig P320 Spectre Comp stands out as a true marvel in the firearms market.
Its exceptional performance, unmatched accuracy, and stunning aesthetics make it a force to be reckoned with in the realm of firearms.
In this comprehensive review, we'll dive deep into the features, capabilities, and real-world performance of the Sig P320 Spectre Comp, uncovering why it's becoming the go-to choice for both seasoned shooters and newcomers alike.
Join me as we explore what sets this masterpiece apart from the competition and how it's reshaping the landscape of modern handguns.
Sig P320 Spectre Comp Features
Like any handgun, the features are going to be what make or break the gun in its entirety.
The P320 has a plethora of features and probably is the most well-done handgun on the market right now.
Keep in mind though that it's not the best handgun for every application.
It is, to me, the best quality handgun in terms of grip, ergonomics, and shooting experience.
So I'll dive in more now and talk about the grip in ergonomics.
Grip and Ergonomics
The grip and ergonomics on this gun are very much like the SIG X-FIVE Legion.
It has a tungsten frame, so you get that really fantastic feel in the hand.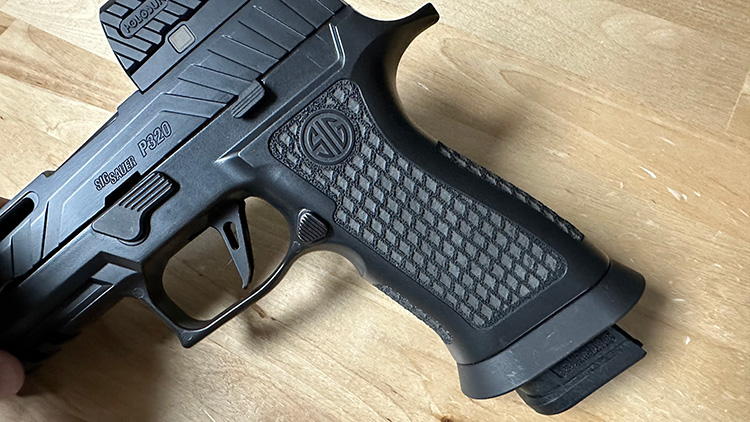 SIG custom works did a fantastic job on the grip texture. It's a different texture than what you're used to in the P365, the P320 series of pistols, and that's almost a checkerboard, but it is a patternboard-type design.
It's got the texturing 360 degrees around the grip, so you get a complete grip texture, and establishing your master grip is very easy and comfortable, very much like the X5 Legion.
One thing I think SIG did a great job on is the overall feel of this gun.
I'll get more into the controls here in a minute, but the controls have a huge impact on how this gun feels.
Now I'm going to talk about the sights.
Sights
The P320 Spectre Comp comes optics-ready.
I don't know if SIG sells these from factory with an optic, but I did get a HOLOSUN SCS for my Spectre Comp.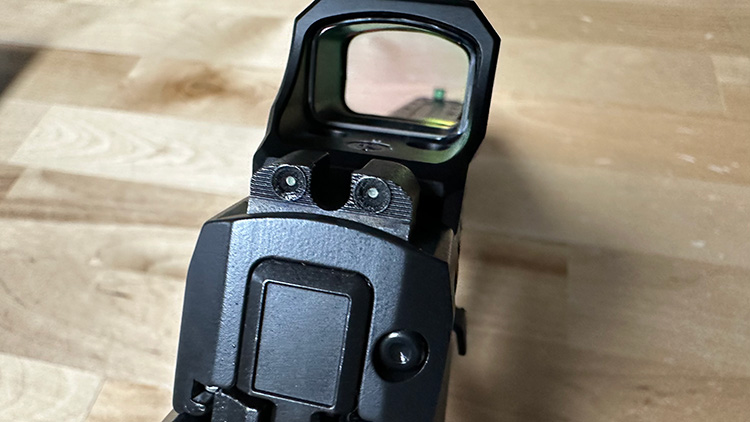 But SIG's H3/AW sights that come on this gun are fantastic out of the box. You won't need to replace them unless you just want to.
I like the subtle dots on the rear sight and the green front site with the white core center.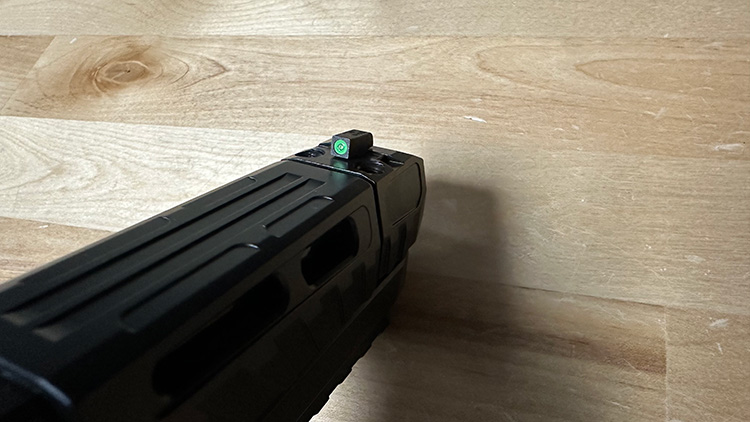 Overall, SIG did a fantastic job on the sights. The only thing I wish they would've done is do a little bit taller sights.
Once I mount my red dot on this, I'll really see if those sights just disappear.
That's the only reason I would change them if once you mount the red dot, you want taller, more like co-witnessed style sights, iron sights.
Magazine Well
One of the standout features of this gun is the extremely flared magazine well.
This thing is huge. You cannot miss this mag well. You just get it in the same ecosystem and this thing's going to funnel in.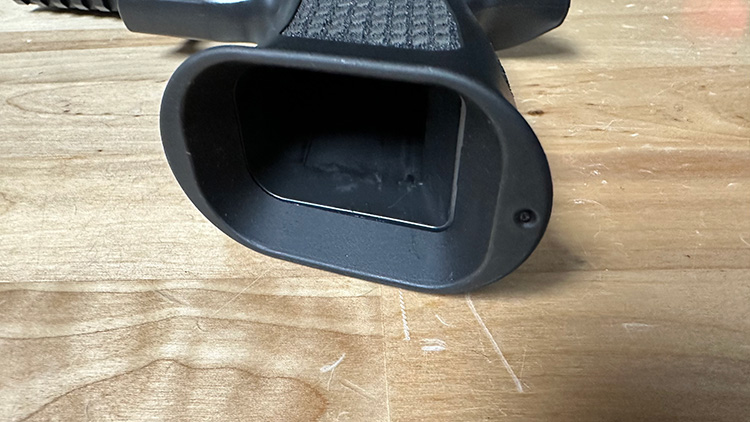 The nice thing is the grip's so long that you don't interact with the magazine well until you're inserting the magazine.
That's really nice. It almost doesn't even need to funnel because the magazine well on the gun itself is extremely flared and then they added the extra half-inch flared magazine well that you can take off, but I don't know why you would.
It's fantastic. I mean, it completes the gun's aesthetic and also it makes the magazine look like it doesn't stick out as far.
So overall, the magazine well is great.
One of the last features I'll talk about is basically what makes the Spectre Comp, the compensator.
Compensator
The compensator on this does an extremely good job of compensating.
I know that's kind of a duh statement, but it's worth mentioning because that's the reason I think you'd buy a Spectre Comp is for the compensator.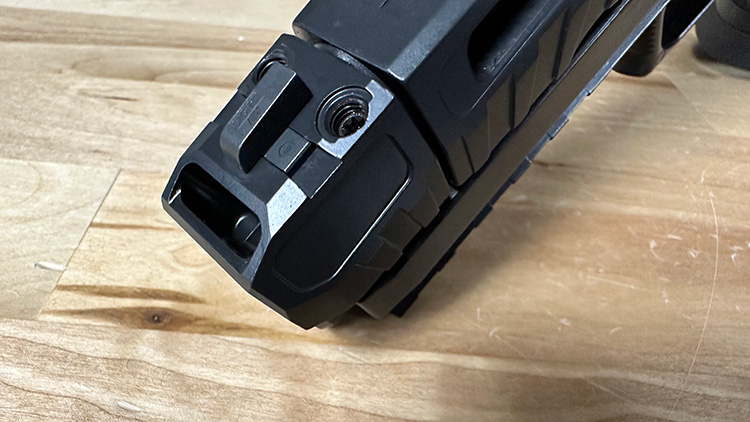 First time I shot a Spectre Comp was at the PSA Gathering about a year ago, maybe two years ago, and I was really impressed from the get-go.
I've shot Comp guns, but I've never shot the X5 Legion Comp and the X5 Legion has long been one of my favorite guns to shoot because it's so smooth and the weight of the gun really enhances the shooting experience overall.
So imagine that, but now it's comped. So now you not only have a smooth shooting experience, but now you're compensating it and pushing the recoil down even more, which was already minimal.
So this thing shoots like absolute butter and I can't stress enough how much and fun this gun is to shoot.
Controls
As I say, in almost every review. Controls make or break a gun, obviously running it, you got to be able to work the controls for it to be a pleasurable experience and one that's useful.
In this case, the P320 is not a carry gun. This is a fun range and or competition gun if you want it to be.
Magazine release
The mag release on this gun can be ambidextrous.
It lands about where you'd expect it to land right there, where the trigger guard meets the grip frame.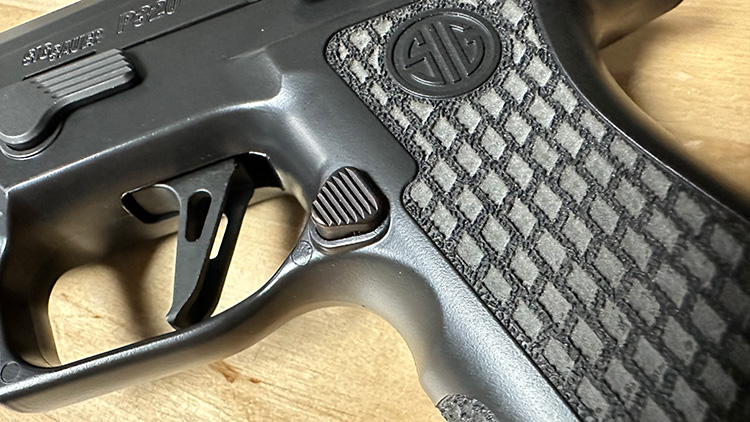 It's the classic SIG triangle. Sticks out pretty well, about a quarter of an inch. Very easy to press.
The magazine falls free and it's not in the way even slightly, and I have relatively small hands, especially for a gun of this size and it is very easy to reach.
I don't have to break my master grip to get to that, which is really important to me because if you're doing quick magazine changes, you want to be able to reach it.
So overall magazine release works really well. It's got a little slight texture to it, a couple of lines in it. All in all, a solid design.
Slide Stop
Now, the slide stop is the most impressive control of this gun.
There's a lot of real estate on this gun that SIG could have used to put the slide stop, but what they did was move it more to the rear of the slide so that people with smaller hands could still reach it and use it even without breaking their master grip.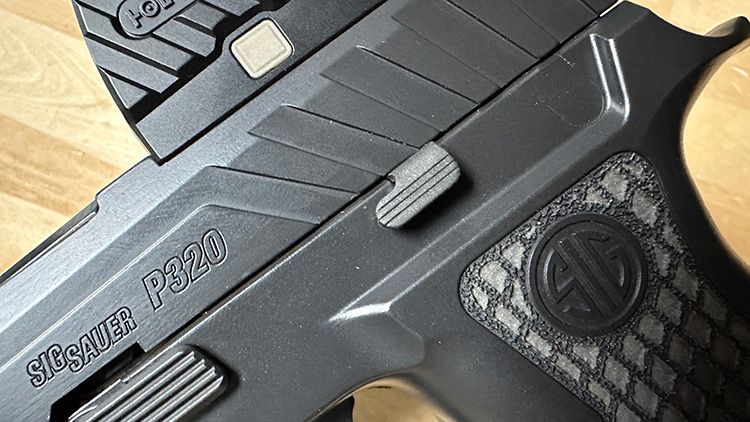 So you can reach up, and pull down on it without ever breaking the master grip.
The one thing I really like about the gun from Factory you can pull on the slide release and it sends it forward even with an empty magazine in.
There's not so much pressure on it that you can't get this bad boy to go to slide lock. It is ambidextrous.
So if you do like to pull down on both sides to get that slide to release, you can do that and it works flawlessly.
I think whoever at SIG designed this had the forethought for people with smaller hands, and not quite as long fingers to put this sucker more towards the rear versus more towards the front, deserves a pat on the back.
Trigger
The Trigger on this gun is just like the X5 lesions, it's the flat trigger. Love there.
I think it should be kind of the industry standard. If you love a curve trigger, I'm sorry, this is just my preference. No harm, no foul there.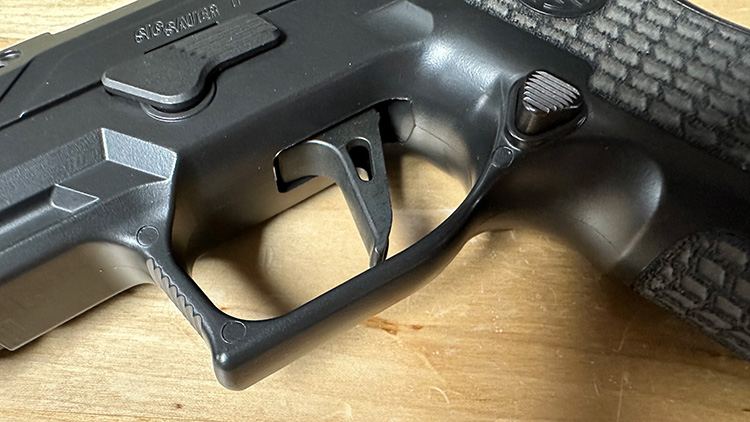 The flat trigger has very little takeup, so you got maybe a half inch of takeup till you hit the wall.
Wall's a little squishy on these triggers, but the break is clean, the resets clean, and then the break is clean again.
It's a very soft break. If you're used to a Glock and a hard break, these are much softer feeling than that, and it does add a nice smoothness to the shooting experience.
So keep that in mind.
Sig P320 Spectre Comp Range Bag
Of course, we have to throw in here that the Spectre Comp goes great in all of our range bags from the pistol range bag to the Concord to the Prime.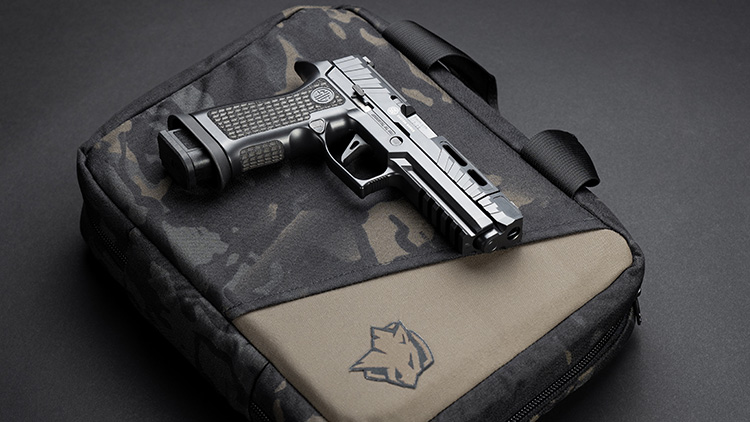 The prime is the perfect bag for this because you can customize the prime or get one that has your flare to it and it holds just this gun.
So all the focus is on this really high-end nice P320 Spectre Comp gun.
Aesthetics
Aesthetics are really where SIG knocks it out of the park, from the barrel to the compensator to the slide milling to the grip, this gun flows really, really well.
All of the etchings, the markings, everything is tastefully done. Somebody put a lot of time into designing this to make it look absolutely fantastic.
I actually like this slide more than the X5 Legion. This thing just has more character than the X5 Legion and the X5 Legion is a fantastic gun, but the Spectre Comp takes it and goes above.
The compensator looks good, it adds that little flare to the gun. But then the milling on the slide, the cut holes so you can see the barrel, all of this added together is fantastic.
There are two different versions of this gun. You have your blackout and then you just have your regular P320 Spectre Comp.
If you like the TIN look with the gold barrel and the works, then you're going to want to get just a Spectre Comp.
It has a grayish frame, it has a black slide and a gold tin barrel with a gold TIN trigger.
Both of these guns are virtually the same with the exception of the aesthetics.
The blackout is of course blacked out. I cannot find any difference in the spec sheets for these two guns.
I've shot and held the regular Spectre Comp with the gold tin and I own the blackout model.
So all in all, it's kind of a what do you want your gun to look like.
If you want to go for the tricolor, go for regular Spectre Comp. If you want the blackout, just go for obviously the blackout.
Shooting the Sig P320 Spectre Comp
Shooting the gun is obviously the essential part of why you're buying this gun.
So knowing how it shoots and what to expect is arguably one of the most important things of any review to cover.
Naturally, I'll cover how it shoots. I've already mentioned in a couple of sections that this gun shoots better than any handgun I own.
It's smoother and flatter than anything else that I've put my hands on to date. I know the Shadow 2 gives it a run, but I have to say the Spectre Comp wins out.
That's not a jab at SIG versus CZ. That's just me comparing these two, this is the flattest shooting gun on the market.
I don't love the Shadow 2's slide simply because it's so thin and hard to rack and grab, and I know you get used to it.
But nonetheless, the SIG P320 Spectre Comp shoots flat, and smooth. The trigger is fantastic.
You can put round on, round on, round consistently, probably faster with this gun than any other gun on the market.
Now keep in mind, this is not something you'll concealed carry on the daily. This is probably not something you even want to open carry, just simply because it's a heavier gun.
The weight does mitigate some of the recoil as well as the compensator, and so it does really well with recoil mitigation. It does a fantastic job of everything you want it to do on the range and in any practical application.
This would be a great home defense pistol. This would be one that you could easily grab. Have not shot it at night yet.
So I don't know if the compensator throws a fireball or not. So that might be a consideration for possibly not using it for home defense.
I will try to shoot it at night so I can kind of report back on that because now I'm interested and the results.
I can tell you that there is not one during the daytime that I've noticed, so I can only imagine that's probably the same at night.
Sig P320 Spectre Comp Ammo
Final Thoughts
Overall, if this gun falls in your budget, you cannot go wrong with a P320 Spectre Comp. It is by far the best shooting gun on the market
I'm not a SIG fanboy. If anything, I'm a Glock fanboy. So with that being said, my favorite gun of all time is a Glock 19.
This shoots probably five times better than a Glock 19. Anyone that I've ever picked up, shoots five times better than a Glock 19.
I simply enjoy shooting this gun any day of the week. If you were goingto the range just to have fun, you just want to plank, what are you taking?
Spectre Comp, hands down.
Yes, the gun is expensive, but I promise you, you get the value of every dollar you spend on an SIG P320, Spectre Comp.
If you're on the fence, go to a store, pick one up, hold it.
If it doesn't feel right, probably not the gun for you.
If it feels right immediately, you will not go wrong, and this thing shoots like absolute butter.
FAQ
How much does the P320 Spectre comp cost?
The P320 Spectre Comp cost $1,399.
What is the difference between P320 and P320 Spectre Comp?
The Spectre comp has a tungsten frame and has a compensated barrel. The aesthetics are largely different and the weight and size are noticeably different as well.
What is the P320 Spectre comp?
The P320 Spectre Comp is a compensated P320 that has a unique frame and slide milling.
Is P320 Spectre comp a full size?
Yes, the Spectre Comp is a full-size gun weighing 41.8 ounces and 8.5″ long.