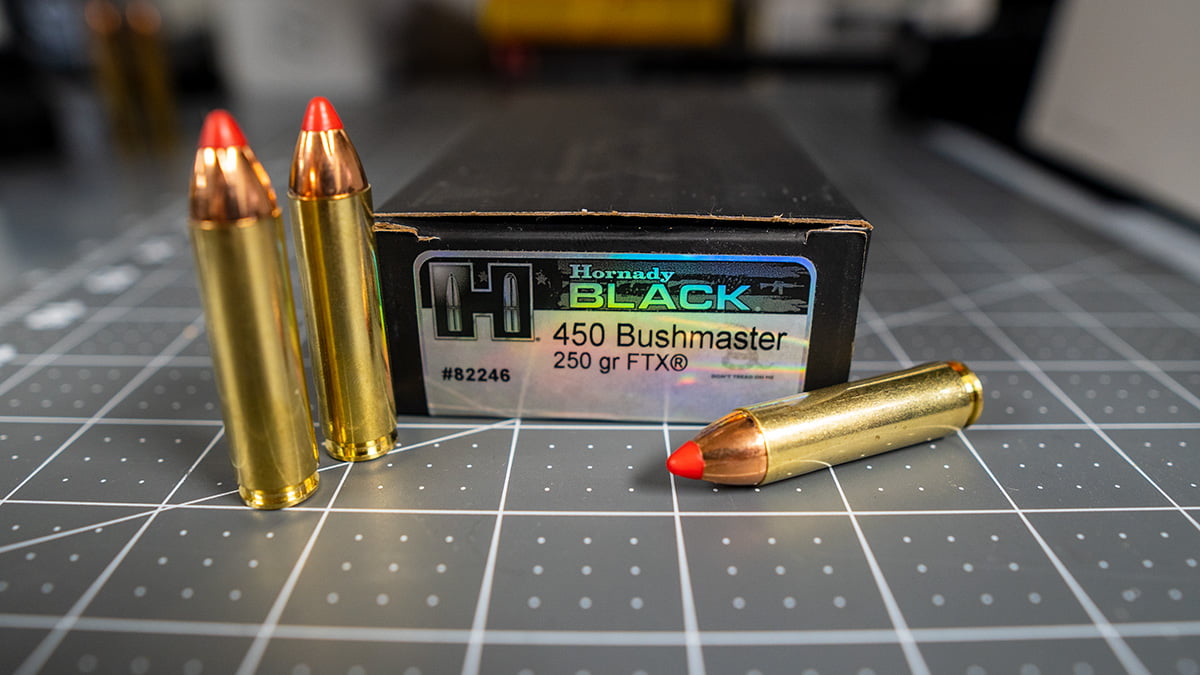 One of the wild calibers that are now chambered for the AR-15 platform is the 450 Bushmaster round.
This hoss of a round provides a real shock and awe factor when someone first sees this massive bullet.
History of the 450 Bushmaster
The 450 Bushmaster was first created in 2007 by Tim LeGendre of LeMag Firearms. He later licensed the round to Bushmaster Firearms, at which time they dubbed the round the 450 Bushmaster.
The 450 Bush was designed to work in the M4/AR-15 platform style of upper by simply changing the barrel and bolt.
The parent cartilage was the 45 Professional, and the only significant difference between the 45 Professional cartridges and the 450 Bushmaster cartridges is the overall length.
Bushmaster requested that the cartridge case be shortened to accommodate the 250-grain SST flex-tip bullet, and once LeGendre approved the change, the resulting round was the 450 Bushmaster.
Purpose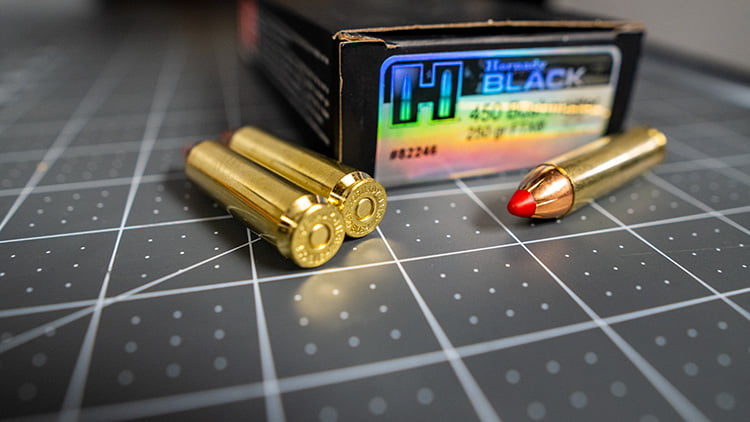 The original intent of the 450 Bushmaster was to get a .44 caliber or larger round into the AR-15 that the 5.56mm NATO round has always dominated.
The purpose was to create a round that would fire in a semi-automatic rifle and deliver single-shot kills on large animals at 250 yards or more.
Performance
The 450 Bushmaster round's true claim to fame is its energy on target. After all, the purpose of the round was to have more knock-down power than the 5.56mm NATO round/.223 Remington.
The 250 Grain SST round muzzle velocity comes in at 2,214 feet per second and has nearly 2,722-foot-pounds of energy on target at 100 yards.
450 Bushmaster Ballistics
Bullet Style
Muzzle
Velocity
Grain Weight
100 Yards
200 Yards
400 Yards
Barnes XPB
2125 ft/s
275 gr
1775 ft/lbs
1470 ft/lbs
1064 ft/lbs
Core-Lokt Ultra Bonded
2180
ft/s
260 gr
1665 ft/lbs
1263 ft/lbs
904 ft/lbs
FTX Hornady BLACK
2200 ft/s
250 gr
1868 ft/lbs
1274 ft/lbs
874 ft/lbs
Ballistics are based on a 20″ Barrel and are provided by Remington and Hornady
Compare these numbers to the 5.56 NATAO 55 GR, arguably the most common 5.56 round available, which comes in at 3,260 ft/s and 1,294 ft/lbs of force on target.
You can see the 450 Bushmaster is substantially slower than the 5.56 NATO it has much better energy on target to take down larger game at range.
The 450 Bushmaster range is clocked out to 250 yards in testing but will be effective slightly beyond that range.
Guns that Shoot 450 Bushmaster
The nice thing about 450 Bushmaster is it was built to go onto any mil-spec AR-15 lower and doesn't require an AR-10 configuration to build out a 450 Bush.
Several companies build complete guns, but the two things that must be changed on the 450 Bushmaster rifles are the barrel and bolt.
Radical Arms Upper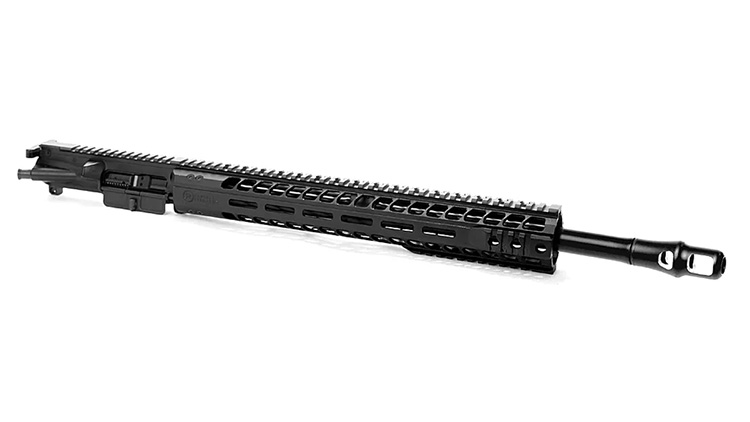 If you are just looking to swap out your upper when you want to run 450 Bushmaster, that is an option.
You can buy many uppers to do that, but Radical Arms is a time-tested brand that should perform to your needs.
Bear Creek Arsenal BC-15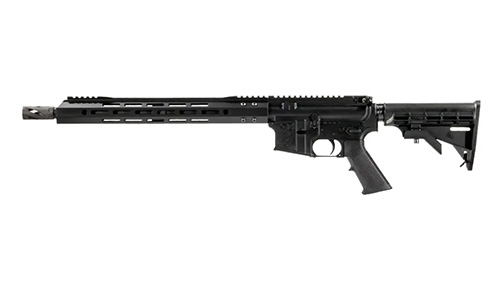 Bear Creek Arsenal offers AR-15 rifles chambered in .450 Bushmaster, a popular big-bore cartridge known for its stopping power and versatility.
These rifles typically feature a semi-automatic design, making them suitable for various applications, such as hunting and target shooting.
The .450 Bushmaster round is capable of delivering significant energy and excellent terminal ballistics, making it a popular choice for hunting medium to large game.
Bear Creek Arsenal's AR-15s in this chambering are known for their affordability, catering to those who require a powerful and affordable rifle for their shooting endeavors.
Windham Weaponry 450 Thumper

Windham Weaponry always comes through for the fans of the wildcat and new innovative cartridges.
It is no surprise that Windham has a rifle chamber in this cartridge. This right is set up great with an adjustable buttstock that allows for several different lengths of pull.
The AR-15 platform is so versatile, and Windham really nailed this rifle.
Ruger MPR

Ruger is not one to sit on the sidelines and add another caliber to their lineup of rifles.
This means you know this cartridge would be chambered in one or more of their rifles.
The MPR (Mission Purpose Rifle) is one of Ruger's guns to accept this round. The gun is relatively standard when it comes to an AR-15 platform rifle.
It has an 18″ barrel, weighs just 7.4 pounds, and has a suggested retail price of $1269.
Christensen Arms Ridgeline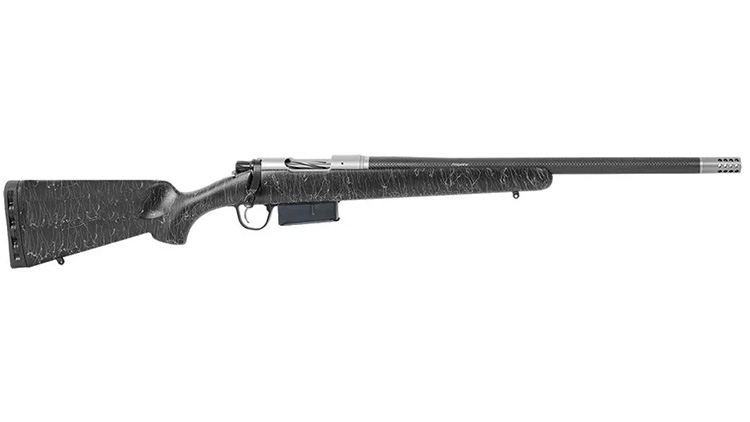 The AR-15 isn't the only action of gun with this caliber available. A handful of bolt action rifles are chambered in 450 BM.
These are attractive to hunters in states that require you to hunt with a straight-walled cartridge.
Christensen Arms Ridgeline is one of the higher-end bolt action rifles chambered in this caliber.
Ruger American Rifle Ranch
One of my favorite Ruger bolt action rifles is the Ruger American, I even recently reviewed the Ruger American Hunter.
The Ruger American rile comes in many different calibers and Ruger made the call with their American series to add this straight-walled cartridge to their caliber lineup.
One of the nice things about the Ruger American rifle is its affordability. The price point of this rifle makes it easy for anyone to get a 450 Bushmaster rifle.
450 Bushmaster Ammo
Finding 450 Bushmaster Ammo is not difficult; even though it's not a mainstream round, it can be found from some significant ammunition manufacturers, such as Hornady and Winchester.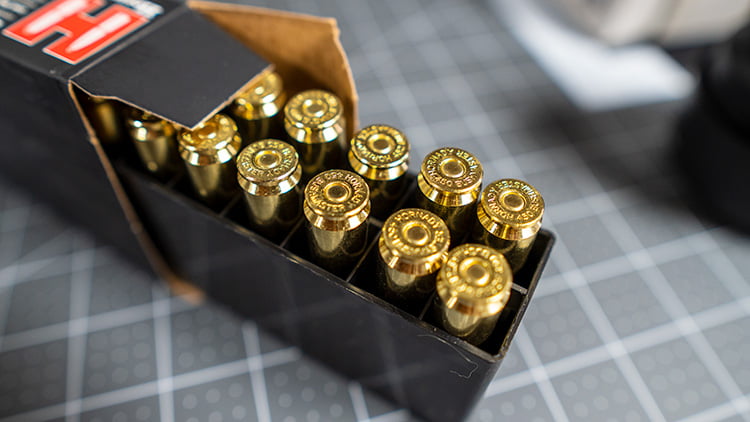 Optics Planet – Optics Planet is a go-to for less-than-common calibers. While they might not be the advertised cheapest per round they make it for it with their shipping policy, anything over $49 ships free! That includes your pallet of ammo.
Lucky Gunner – One of the top places to buy ammo online. Look at their selection, as it's one of the best I've seen for most hard-to-find calibers.
Brownells – Typically has a solid selection of 450 Bushmaster Ammo in stock.
Palmetto State Armory – One of my favorite places to buy ammo typically has a solid selection of hunting 450 Bushmaster ammo in stock.
You can get 450 Bushmaster ammo from our list of best places to buy ammo.
FAQ
Here are a number of the most frequently asked questions regarding this cartridge.
What is the .450 Bushmaster good for?
450 Bushmaster was created to be a hunting cartridge for deer, hog, elk, and other medium-sized game.
Another bonus for this cartridge is it is a straight wall cartridge so it can be used in states where hunting with necked cartridges is illegal.
What is a 450 Bushmaster equivalent to?
The parent cartridge of the 450 Bushmaster is the 45 Professional cartridge. But in terms of equivalency in ballistics, it would be 50 Beowulf and .458 SOCOM,
Which is stronger 308 or 450 Bushmaster?
.308 Winchester is a stronger and more powerful round than the 450 Bushmaster regarding both muzzle velocity and energy on target.
But the 450 Bushmaster was never meant to compete against the .308 Winchester but rather be a step up from 5.56/.223 Remington.
How far will a 450 Bushmaster shoot accurately?
This cartridge will easily shoot accurately to 250 yards depending on the firearms and conditions after 250 the round will drop dramatically.