The CMMG Banshee is a radial delayed blowback pistol caliber carbine (PCC) based on the AR-15 platform. The Banshee is an up-and-comer in the PCC world. The CMMG Banshee is quickly becoming one of the most popular pistol carbines on the market.
Recently we have dove into reviewing pistol caliber carbines because they pair nicely with our products. We have reviewed the Sig Sauer Copperhead, CZ Scorpion, Aero Precision EPC, and the PSA AKV.
I personally know a couple of people trying to get their hands on one of these coveted guns. However, with CMMG's current 20+ week lead time, I believe their wait will continue.
CMMG Banshee
· Caliber 9mm, 45ACP, 10MM
· Action Semi Auto
· Capacity 33+1 Rounds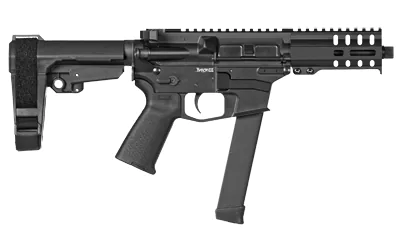 I was fortunate enough to get my hands on the CMMG Banshee 300 Mk10, the 10mm Banshee model patterned for Glock Magazines.
In addition to the Mk10, I was able to get my hands on the CMMG Banshee MkG cambered in 45 ACP; this model also takes Glock pattern magazines.
While I would love to have had the MkG cambered in 9MM I will gladly take a look at these two guns until the MkG 9MM fairy graces my presence.
CMMG Banshee Overview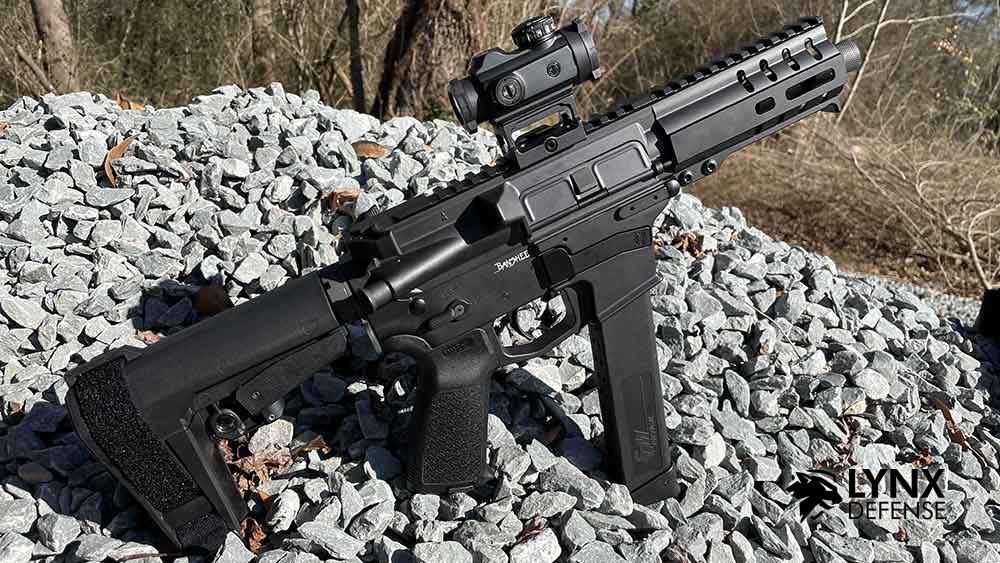 The CMMG Banshee was released in 2019 to the fanfare of the press. I already love the CMMG lower parts kits for my AR-15 builds, so the Banshee naturally caught my attention.
I knew that CMMG wouldn't bring a gun to market without being a truly different addition to the already crowded PCC market.
History
CMMG was started in 2002 by the Overstreet family with the mission of "creating a quality AR rifle that can be afforded by everyone."
I first learned of CMMG products using their lower parts kits while building several rifles back in 2016.
I became fond of their quality, attention to detail, and commitment to making parts in the United States.
CMMG Banshee Ergonomics
Safety
The CMMG Banshee safety is ambidextrous. That has a 90-degree throw and reminds me of the Daniel Defense DDM4 series of safeties.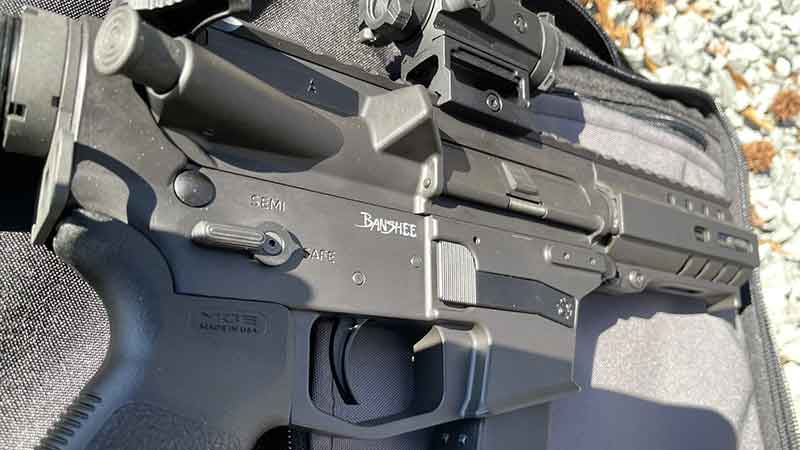 From what I can tell, the safety is pretty much a MIL-SPEC style safety with just the added ambidextrousness switch on the right side of the gun.
Pistol Grip
The CMMG Banshee comes with a Magpul MOE pistol grip and feels pretty much just like a standard AR-15 when in your hand.
Obviously, it's worth noting the weight is reduced somewhat due to no gas block and gas tube and a few other changes to the design.
Magazine Release
The CMMG Banshee magazine release is on the right side of the gun. It is not ambidextrous.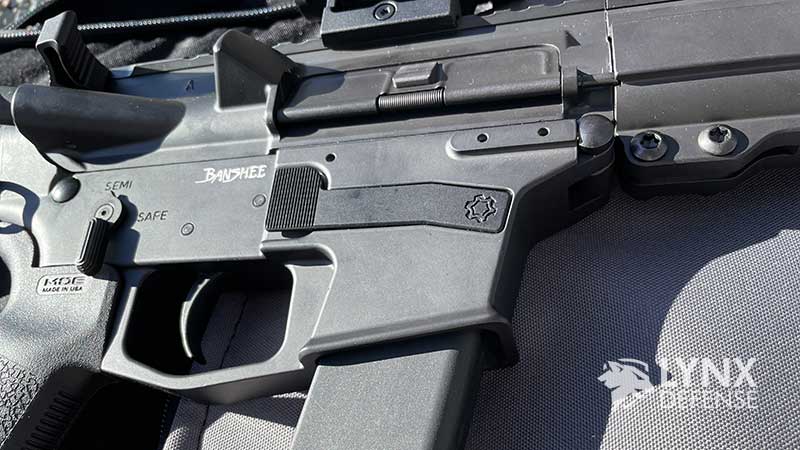 However, it is really nice. It has an oversized paddle for the magazine release. Your finger falls on it nicely from the standard grip position.
It has a large piece of metal that attaches to the panel, that runs across the magazine well, and is labeled with the CMMG logo on the end of it.
It's aesthetically very pleasing, and it seems to function quite well. It allows for a very seamless drop of the magazine. The release paddle is big enough to where you won't have any issues hitting it to do a magazine change.
Magazine Well
The CMMG Banshee takes Glock patterned magazines on the MkG and Mk10 models, as well as a few other models.
The magazine well is flared, as you would expect on any billet style 7075 aluminum receivers.
The magazine well itself has an upward angle on it, allowing you to seat the magazines easily. The chamfer of the magazine well is slight. It's not too aggressive. But it does funnel your magazine into the mag well quite nicely using the Glock magazines.
One thing to note about the factory magazine is that is a SGM tactical magazine.
The SGM tactical magazine has Wolf Springs, which are said to have tighter than the standard tolerances than factory Glock springs.
Which provides increased feeding reliability. The gun is also compatible with the KRISS Vector Mag-EX2s magazines.
Bolt release/Hold open
The bolt release/hold open is your standard AR-15 style bolt release hold open. It's on the left side of the gun, and it functions exactly like a MIL-SPEC style bolt release hold open. I don't see anything special to note about it.
The bolt however is worth mentioning. Since the gas key isn't needed you can see in the picture below it is milled out.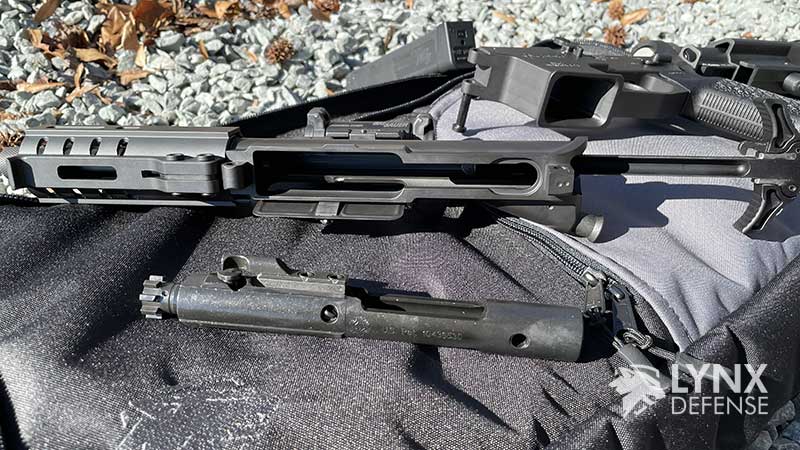 Charging Handle
The charging handle is a CMMG-branded charging handle. It has two large wings that stick out about an inch from each side.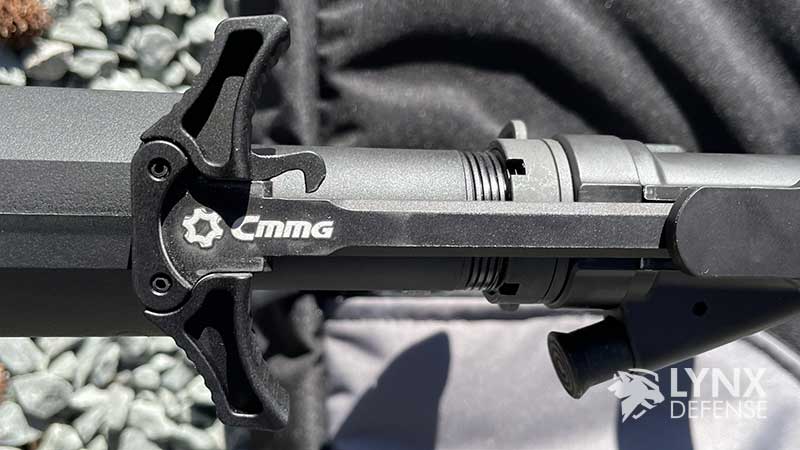 Grabbing the right side actuates the left side to release it from the upper. So whether you grabbed it from the left or the right, it functions the same.
It almost appears like a Radian Raptor design, but the Radian Raptor has some noticeable differences.
Function testing it, it's fairly easy to grab. I don't see any issues with it.
It is a nice addition to this gun, with it's large grab handles and wings for the charging handle.
CMMG Banshee Configuration
Brace and Stock Options
The CMMG Banshee has many options. If you head over to CMMG's website, you'll notice that they have a slew of colors, lengths, variances, calibers, etc.
There is an SBR version of the Banshee 300 and a lot of pistol brace and pistol tube options.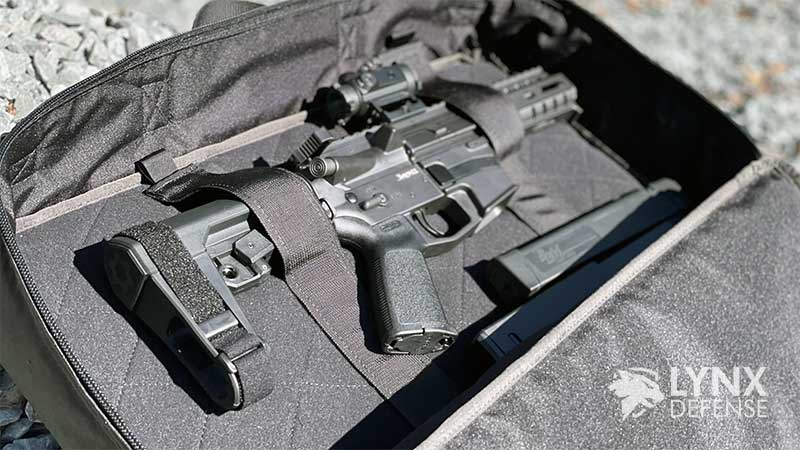 The pistol brace option comes with a CMMG-branded SB tactical SBA4 brace.
The Banshee comes with a fast-track pistol tube that allows you to grab the brace and rip the brace backward and pull it into a different position without actually pressing the button.
This is a really nice feature that I haven't seen on anything else. According to CMMG, they have a patent for this design given the fast-track tube patent number.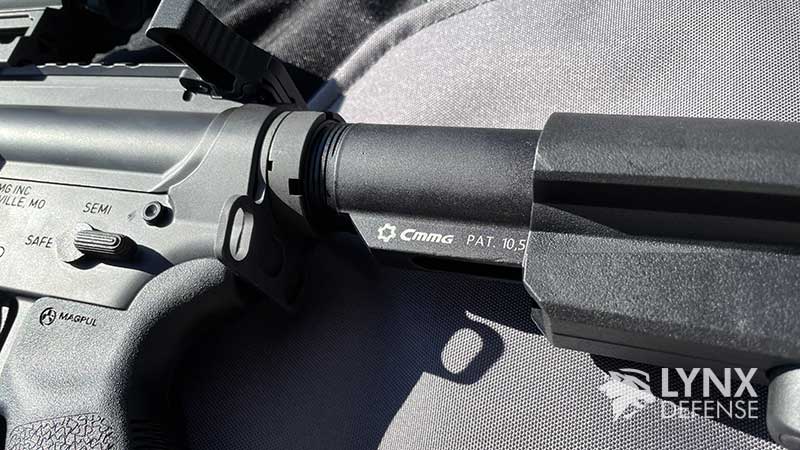 The last variant of the CMMG Banshee 300 that I'm aware of is the pistol tube configuration. Basically, it's just a slick buffer tube with no brace and nothing attached to it. It's just a tube that comes off the back of the weapon.
Iron Sights
Like many AR-15's these days, including top-tier ARs, like the Daniel Defense DDM4, the Banshee series does not come with any iron sights.
It is a flat-top 1913 Picatinny rail upper that does not have any attachments included.
It's set up great to just throw up a red dot sight on and run with it. But you can also add flip-up irons or standard irons.
But it does not come from a factory with any iron sights.
Optics Mounting
Optics mounting on this is a breeze, just like it would be with an AR-15.
The particular Banshee that I have has a SIG Sauer Romeo MSR, attached to the standard 1913 rail attachment.
I don't see any issue with the upper that would make it any different than any other AR-15 1913 rail.
CMMG Banshee Accessory Mounting
The Banshee handguard varies in length. The one that I have is about four inches long.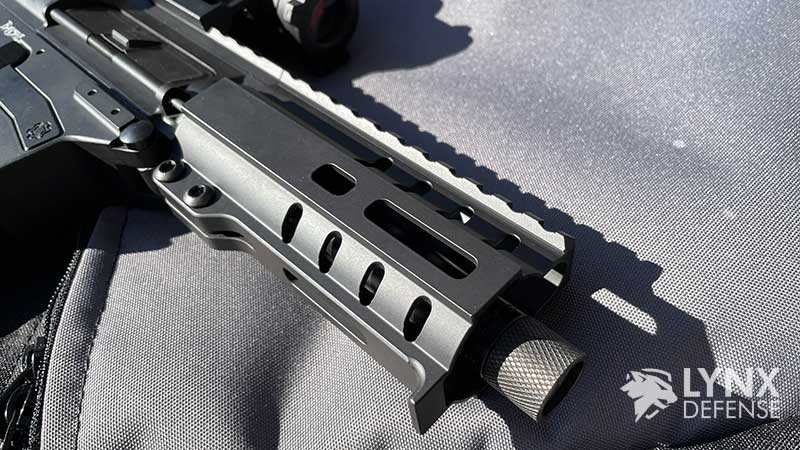 It has one true M-LOK attachment area. There is a very small one that I assume you can probably attach a QD mount or anything with a single M-LOK attachment.
The handguards will vary in length, depending on the barrel length of the banshee that you buy.
Some of them have three large M-LOK holes, with one small M-Lok hole. This particular model is only a four-inch, and it only has one large, one small.
There are M-LOK on three sides of the rail at the 3 o'clock, 6 o'clock, and 9 o'clock positions.
The bottom six o'clock position only has one M-LOK attachment, and it is a long M-LOK attachment.
Lights
The Banshee has minimal M-Lok slots to attach a weapon-mounted light via M-Lok. A 1913 mounted weapon light could be attached easily.
Sling
The stock has a built in QD mount that you could easily attach a sling to. The small M-Lok hole on the handguard would also act as a perfect QD sling mount.
There is no built in QD mount on the front of the gun, but that's a rare feature to be built in anyway.
Trigger pull
The trigger pull in the CMMG Banshee is crisp. It has no take-up, it is just a wall. And when you hit the wall and pull it, it's very strong poundage. I'm not sure what the poundage is, but the reset is not far. But once you reset, you are at the wall. So, there is no take-up on the CMMG Banshee trigger.
Shooting
While I wasn't able to shoot the Mk10 and the MkG side-by-side. The delayed roller back really controls the recoil while shooting.
We will work on getting an in-depth shooting video of both of these guns in the future.
Aftermarket
Since the Banshee 300 series is a proprietary design over something like the PSA AR-V, some aftermarket AR products might no work for it. But here are the categories I focused on and what I found.
Magazines
The best part about the Mk10 and the MkG is that they both run on Glock Pattern magazines. Picking up magazines for either model is as simple as driving to your local gun store.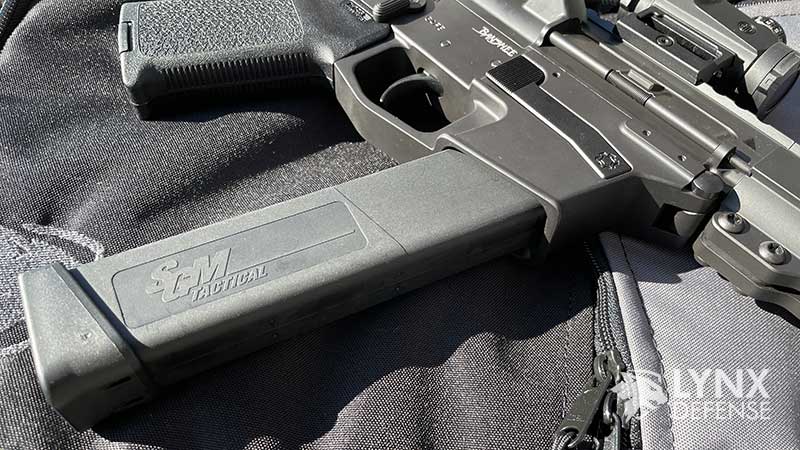 Not to mention sites like Gun Mag Warehouse will also have you covered.
While we have mostly talked about the Mk10 and MkG, I wanted to take a minute to point out the other models in the Banshee 300 lineup.
The Mk17 takes Sig Sauer M17/P320 Magazines and is chambered in 9mm.
Banshee 300 Mk4 .22LR models take the 9 AR Conversion magazines, which are proprietary to CMMG.
The MK57 shoots the 5.7 x 28mm round and uses Pro Mag Industries 5.7 x 28mm magazines.
Last but currently not least the Mk47 which shoots 7.62 x 39mm round uses the standard Magpul AK PMAG.
Parts Available
Pistol Grips
Most of the Banshee 300 series will accept any AR-15 style pistol grip. So you can use your favorite Magpul pistol grip with this gun. Keep in mind it does come with the Magpul MOE already installed.
Trigger
Much like the grip you can swap the trigger group for any AR-15 variant on the market you prefer.
I would keep in mind that this gun is not a rifle, so you may want to do some testing before thinking your favorite rifle trigger should be the go-to for this gun.
CMMG Banshee Final Thoughts
This is a well-thought-out firearm. There's no doubt about that fact. It feels great in your hand and is well balanced.
If you are looking for a PCC that falls right in line with the AR-15 platform, this is the obvious choice.
CMMG Banshee
· Caliber 9mm, 45ACP, 10MM
· Action Semi Auto
· Capacity 33+1 Rounds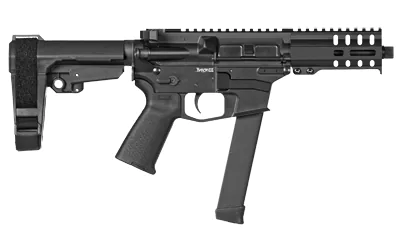 The Banshee's controls, ergonomics, and aftermarket accessories options make this an absolute no-brainer if that's what you are in the market for.