My love for .22LR pistols might be getting slightly out of hand. Today I'm excited to review a true classic, the Browning Buckmark. The Buckmark is a time honors .22 pistol that many have shot and is iconic in design and function.
About the Browning Buckmark
The Browning Buckmark is a semi-automatic pistol designed for recreational shooting and small-game hunting.
It is a popular firearm among target shooters and hunters due to its accuracy, reliability, and versatility.
The Buckmark features a single-action trigger, a bull barrel design for improved accuracy, and a textured grip for a comfortable and secure hold.
It is chambered in .22 LR, making it a low-recoil option for target shooting and small game hunting.
The Buckmark is manufactured by Browning Arms Company, a well-known firearms manufacturer with a reputation for producing high-quality firearms.
Features
The Browning Buckmark has many features and is a really solid pistol overall. The Buck Mark really competes in the 22 pistol space with the Ruger Mark IV.
The Buck Mark and the Mark IV share a very similar overall look. The two pistols have elongated barrels, and the grips are centered toward the back of the pistol.
There's not much going on the front of these guns other than the barrel and front sight.
The action, picatinny rail, and grips are all toward the rear of the gun.
So let's jump in and talk about the grips and the ergonomics of the grip.
Grip/Ergonomics Texturing
So the Buckmark is a pistol that feels fantastic in your hand. It's very, very similar to the Ruger Mark series of pistols.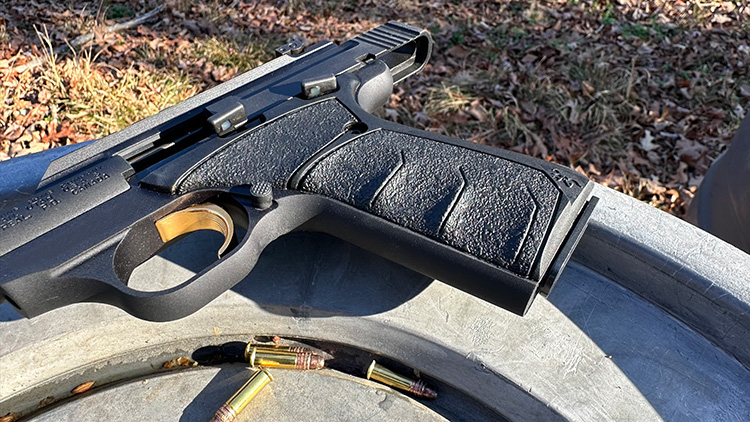 It's very well-balanced and the grip module that comes on this particular model is fantastic.
I like the rubber that they used on the grips of this gun. I also like the fact that Browning has included three indentions for your fingers on both sides of the grip.
The intentions make the pistol very comfortable and also make it very controllable when shooting.
Keep in mind there is not a lot of recoil with 22 long rifle round, but it is nice to have full control over your pistol no matter the caliber.
Overall, I think this gun is extremely ergonomic in its factory configuration.
Depending on if you add a suppressor, if you have the threaded barrel models, will depend on if it's really long and weighs more.
I've added several different 22 suppressor models to this gun and none of them add enough weight to change the guns handling.
Now, it does make the pistol longer. That's something to take into consideration, but it doesn't add enough weight to throw off the balance in the ergonomics overall of the gun.
The grip panels are changeable. I personally would not change these grips. I like these grips a lot because they match the gun perfectly in my mind.
That's all personal preference, but overall the grips are solid on this particular model of Buckmark.
Let's talk about the safety.
Safety
The safety on the Browning is not ambidextrous. That's the one downside about this gun.
There are not many ambidextrous controls if you're left-handed. I'm right-handed, so it doesn't affect me as much. But I do want to say that for our left-handed readers.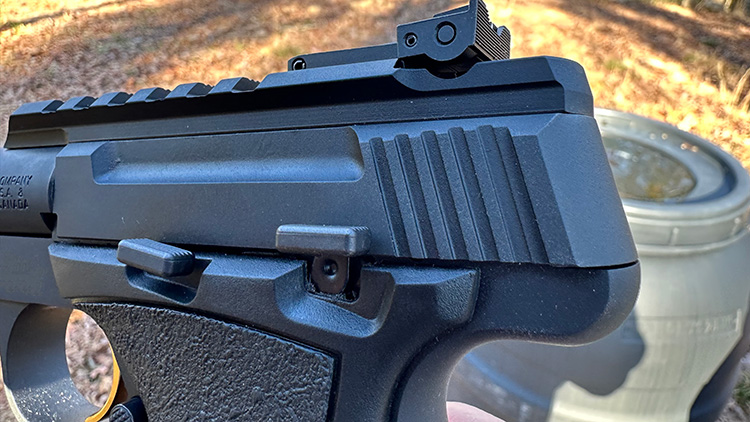 Now, overall, I really like the safety. It sticks out far enough to be able to use easily. It is somewhat stiff but this may break in over time.
This safety is more of a manual safety. It goes into the slide very much like the Colt Huntsman that I have.
It's definitely different, you don't see that design quite as much on modern pistols, but the Buck Mark is a rather old design, even though they do have newer-looking models.
But we'll talk about aesthetics later. The safety overall is fine. It works well, but it probably will need some breaking in.
You're not going to be quick-draw-McCalling this gun, so I wouldn't get too caught up on that.
Magazine Release
The magazine release is okay. It sits where most magazine releases sit, where the trigger guard meets the grip, directly behind the bow of the trigger.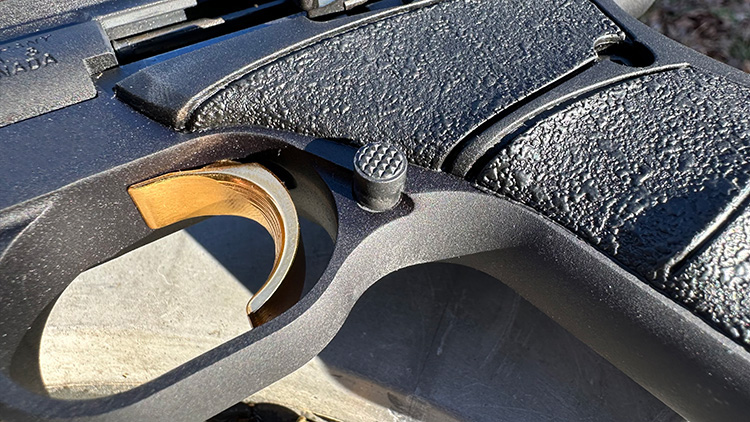 It's small, not ambidextrous, but it does shoot the magazine out with some force.
So you're never going to have to fight the magazine to come out. It's just going to slide right out. So it works.
I don't know anybody that needs to speed reload their Buckmark so the size isn't going to matter much.
If you like bigger magazine release buttons, this one will disappoint.
The texture on the button itself is good, and the button is all metal. So longevity on your magazine release is there.
Slide Stop
Slide stop works well. This pistol has last round bolt hold open.
Many 22 pistols do not have that, but this one does.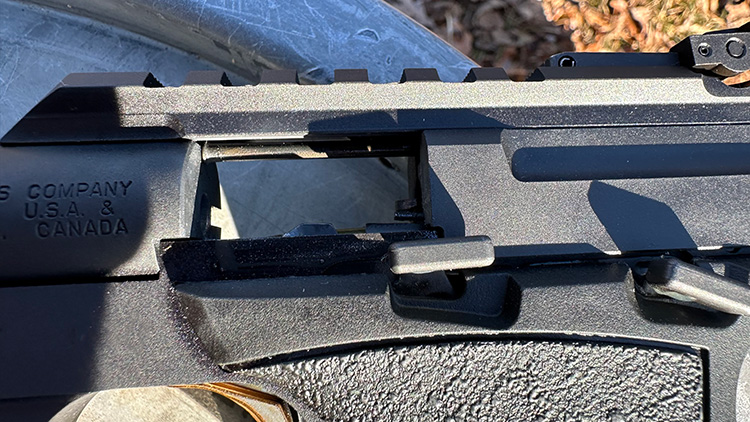 The slide stop works really well, whether you're trying to lock the slide to the rear or send it forward. You can do both of those with just the flick of your thumb.
It's positioned well. I have medium-sized hands, and I can reach it easily without stretching or adjusting my grip at all.
So it's very easy to lock the slide to the rear or send it forward if that's your preferred method of releasing the slide.
Trigger
The trigger on this model is all gold. I really actually like the look. It complements the barrel very well.
As far as the feel, it's a 10/22 trigger. It's not going to blow your mind. It does have a solid little break.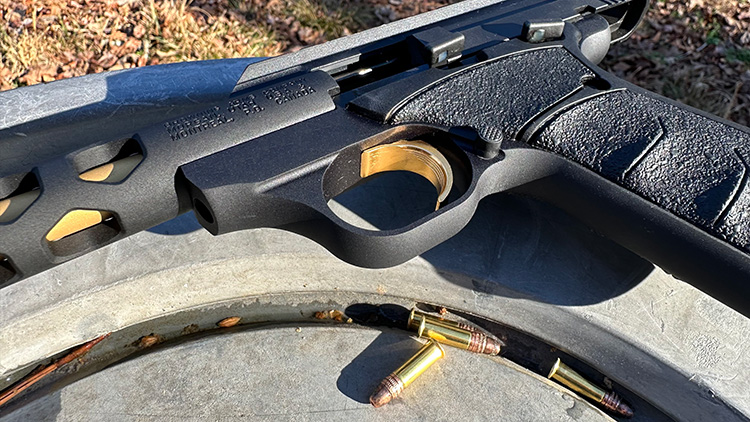 Now, I will say that the Buck Mark does have a safety feature with the trigger. If the magazine's not in it, it will not fire.
Safety or no safety, you have to gave the mag in the gun for the trigger to drop the hammer.
Not a big fan of that on most guns. It doesn't bother me very much on 22 pistols.
Overall, the trigger is decent. I know there are plenty of aftermarket parts for the Buckmark. So if the stock trigger doesn't tickle your fancy, you can almost guarantee you can swap your trigger out.
Sights
The sights on Plus model have a fiber optic front sight and adjustable rear sight.
There is a small white U in the rear sight and I don't I don't care for that. I don't like any coloration typically on my rear sights. But again, it's not bad and that is just my personal preference.
I really like the fiber optic front sight. It sticks out and it looks really good. I believe this is green.
My yellow/green is a little rough on the color blindness, so forgive me there if it's not. Of course the pictures here, so you'll be able to tell for yourself really what color that is.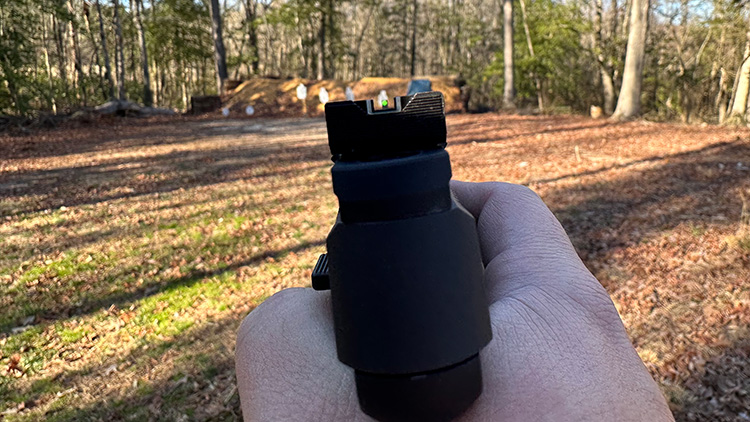 I like the adjustable rear sight, but it doesn't really matter to me because the Plus model I bought because of the threaded barrel and the top Picatinny rail, which is what we're going to talk about now.
Picatinny Rail
The Picatinny rail on this gun is removable and the actual rear sight is built into it.
There's six slots on the Picatinny rail to mount a red dot or anything you see fit.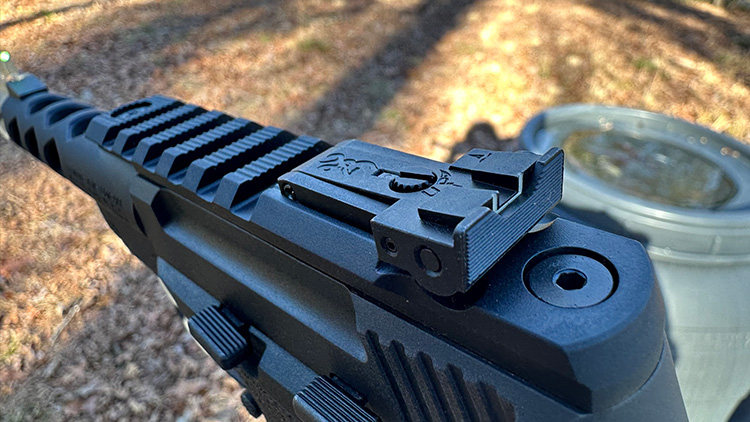 This honestly is the perfect host for something like the Primary Arms RS-10.
Small little red dot, fits on a pick rail would be perfect thing for this gun it will sit higher than the front sight and it'll be a plinking master.
The Picatinny rail really does add that extra oomph to this gun to really sets it apart from others. Much like the Ruger Mark IV that I have, the Picatinny rail makes all the difference in the world in shooting.
Size
The overall size on this gun is compact. These 22 pistols in this class typically have a longer barrel.
This allows you to get a little bit more accuracy out of them. A lot of people use the Buck Marks and the Ruger Mark series, for competition shooting. Which is understandable because the longer barrels give you that increased accuracy.
So whether you're competition shooting, plinking, target shooting, or even small game hunting, these guns are perfect for that, and adding a pistol red dot to it just makes them all the better.
While this gun isn't a compact gun by concealed carry definition, it still is lightweight, thin framed, and maneuverable.
Overall, the size is near perfect, especially for a 22 pistol in this design for what it's made for.
Range Bag
Naturally you're going to want a range bag. If you're carrying this to and from the range or even just throwing it in the back of your car, you don't just want to throw it around and leave it without a home.
So be sure to check out the Prime.
It's a perfect companion for a single Buckmark with mags and some 22 ammo. So check it out.
If the Prime doesn't hold enough, you're taking multiple pistols, check out the Pistol Range Bag or the Concord, which is the larger version of the Pistol Range Bag.
Magazine
It's metal, the springs are good, and it's very easy to load.
That is one thing that makes a huge difference to me. The factory magazines are 10 round capacity, and it comes with two.
They're little stick magazines. They funnel in the gun pretty well for being stick mags like this. The closest thing in the big boy version of this would be the 1911 single stack magazines.
All metal, great construction, going to hold up well. I like their mags. They do have the little pull down on the side, so it makes loading that much easier. You don't have to force down on the 22 rim fire rounds.
Aesthetics
The aesthetics will depend on the model that you buy. But this particular model that I have is the Buckmark Plus Vision
and I bought it mostly for the features. I wanted the threaded barrel and the Picatinny rail on top because I think these guns are so fun to shoot with red dots suppressed.
I just love it. I can't get enough of the quietness and the fact that you can just go to town plinking and I really need 30 magazines preloaded before I go shoot, and even then I'll be reloading.
But the aesthetics on this have the milled out front portion of the barrel. I almost want to call it a barrel shroud because what's underneath the gold portion of it is I believe the actual barrel itself. It's all obviously structural.
The black part of this gun houses the chamber, and then of course it might have just this little golden insert.
The milling helps with the weight which in turn really helps with the balance.
Aesthetically, this gun looks fantastic, has great rear serrations. The grip frame is done very well. The Picatinny rail and the rear sight even have the Browning logo etched in the top of it.
The attention to detail on the Buck Mark line is always first class. I have no complaints. I really like this gun. I really enjoy shooting this gun. And overall the looks are great.
Shooting
Shooting the Buckmark is kind of like butter. It's smooth, it's fluid, and it's just so enjoyable.
Just shooting irons, it's fun. You throw a red dot on it, it gets even better. Once you tack on a suppressor you have a whole new level of fun.
I mean, you get the GoldenEye feeling. I'm showing my age here. I'm sure some people have never even played 007 GoldenEye.
But you just get that true plinking feeling when you're not blowing your ears out. Because even 22 pistols, are relatively loud for what they are.
Those little rounds do make a pretty big bang in a pistol. But once you throw on a suppressor, they're so much fun.
I just love shooting this gun. I'd love to just keep it in the truck. Going out to a farm, a friend's place where you can shoot relatively long distances at squirrels and other small game.
Oh man, this gun's just great. Overall, I highly recommend the Buck Mark shooting. It just shoots so good and flat. It's just fun.
Final Thoughts
My final thoughts on the Buckmark are if you like 22 pistols, if you shoot a lot of 22 pistols and you don't already have one, it's insane not to add this to your collection.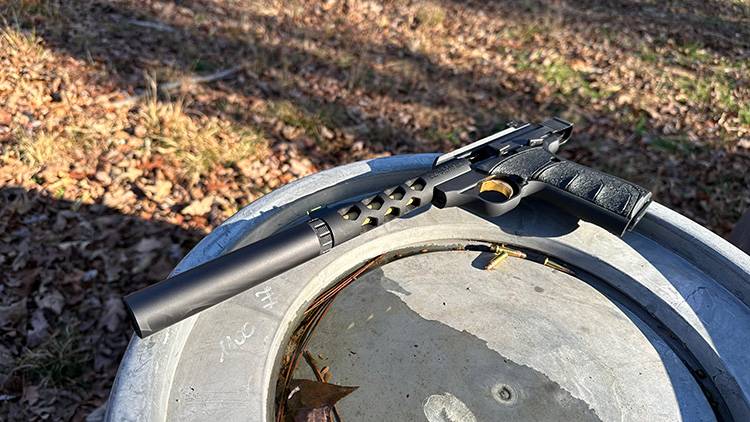 I have to admit .22LR pistols are my passion. I have plenty of other firearms, but 22 pistols are what I grew up on.
I guess as I get older, as I look at my kids, I want them to have the option to shoot, 22 is just a great way to introduce your kids, your family, non-shooters to the shooting sports.
I think that's more important than anything really, is to let this legacy of firearms live on.
The Buckmark is one of those guns that just, it's not intimidating, but it looks great. So whoever is shooting it can feel like they're getting the true firearms experience.
Then when there's no recoil and they're having a blast shooting it, they will quickly fall in love with shooting guns.
You also have the flip side and some people don't like guns. Shooting the Buckmark could change their whole perspective of firearms. I believe the Browning Buckmark is one of those guns that can do that.
It's just a true classic and if you don't have one, I can't speak highly enough about them. There's plenty of models to choose from. So you have whatever flavor you want, shoot, buy all the flavors. You can never have too many 22 pistols, in my opinion.
So overall, I can't rave about this enough. This is going to get a high rating. It's truly time-tested as well.
You don't have to listen to my opinion. There's plenty of other people spouting the same thing I am. So be sure to go check it out.
Grab one in the local store, order one online. You won't return it. It's one of the best 22 pistol purchases I've ever made.
FAQs
Before you buy your Buckmark here are a few of the most common Buckmark questions.
Is the Browning Buck Mark discontinued?
No, the Buckmark is still in production. Many of the models have been discontinued for newer more modern models but the gun is still in production.
How good is the Browning Buck Mark?
The Buck Mark is a top tier .22LR pistol. I've shot many and the Browning holds it's own. The design and accuracy of this gun are hard to beat.
Where are Browning Buck Mark pistols made?
The Buckmark is made in Salt Lake City, Utah.