Description
HAND STITCHED IN
Selma, North Carolina
We use high-quality American made 500D Cordura fabric in all of our custom range bags. Cordura is a durable proven fabric, perfect for the needs of shooting sports, military, and tactical applications. All custom Lynx Defense pistol range bags are proudly hand-sewn in North Carolina.
Not only does each Range bag come with two inserts, that feature a gun holder as well as magazine holders, but you get to pick the interior matching diamond plated ripstop. Each inserts core is made from sturdy corrugated plastic and wrapped with foam for maximum firearm protection.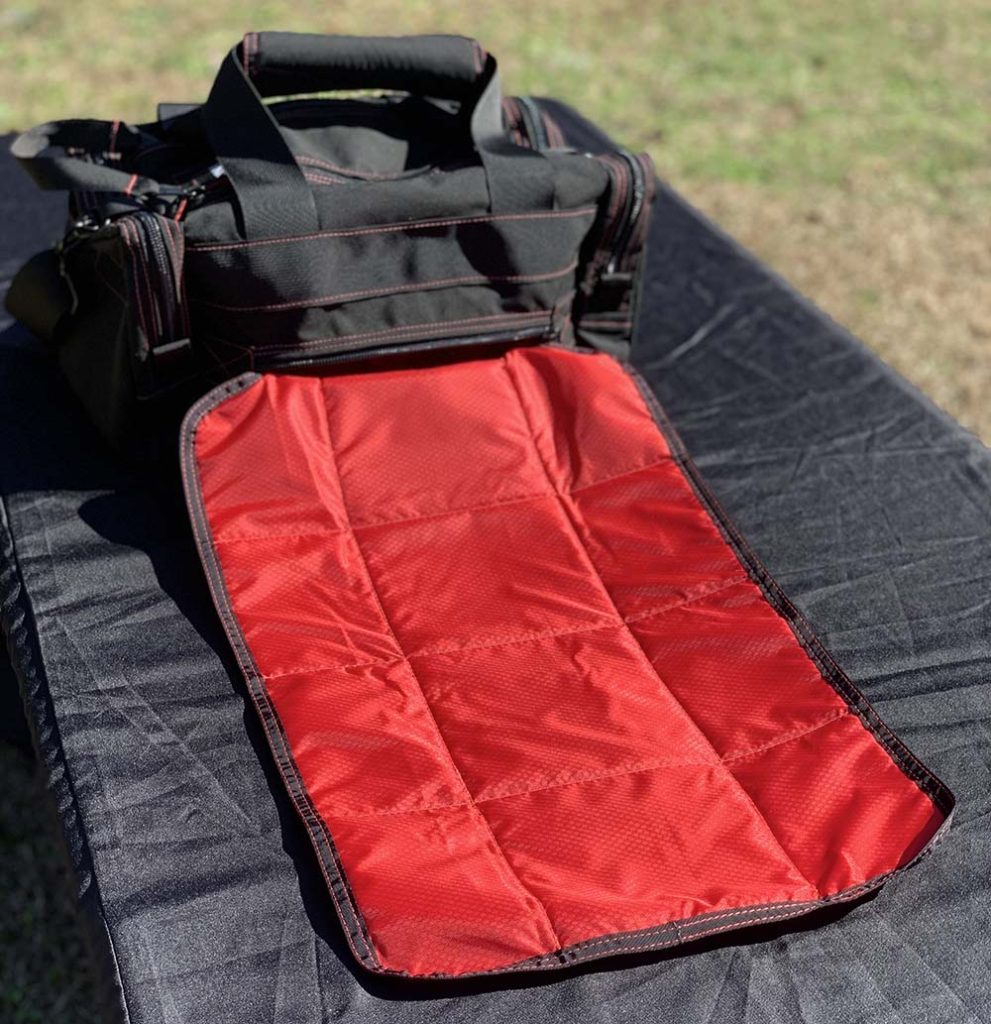 The Lynx Defense custom Range Bag features a matching built-in detachable range mat. The range mat is great for the safe placement of your firearms while at the range. The mat is also great for cleaning your firearms, with an easy to clean fabric it makes clean-up of your gun cleaning a breeze.
The pistol range bag is developed so that you can make it your own. The included corrugated plastic hard bottom protects your range gear when using your range bag. The hard bottom serves two very important purposes; one protection for your gear and two holding the bag in a sturdy upright position.
FEATURES
100% Hand Sewn in the United States
Dimensions: Length: 13in Width: 10in Height: 8in
American Made Metal IDEAL Zippers
Comes With Two Gun/Magazine Inserts
Built In Detachable Rollout Gun Mat
Durable 500D Cordura fabric
Sturdy hard bottom
PRODUCTION TIME
We have setup a specific time for custom bags to be made to best work them into our production line. You can see that schedule above. You will receive an email when your bag goes into production, however production times do vary depending on the number of customization's.
QUALITY MATERIALS
We only use high quality materials in all of our range bags. Our custom bag materials come from various locations and many of the raw materials used in our custom bags come from United States manufacturing facilities.
CONFIGURABLE
Each Range bag comes with two inserts that feature a gun holder as well as magazine holders. At the core of each insert is sturdy corrugated plastic that helps your bag feel more sturdy and protects your firearms during transport.
BUILT IN RANGE MAT
The built in range mat is great to use at the range or after you return home for cleaning. The range mat is made from sturdy 300 denier ripstop nylon and the custom bags feature a unique diamond print pattern for the shooters with style.
If you are looking for an all American made range bag from an all American company, look no further. If you have any questions please send us an email or even pick up the phone and give us a call (919) 701-9411.
Checkout what some of our customers have created...