Whether you've purchased your first or fifteenth Tactical Rifle or AR15, it's time you get the best case made for your rifle. If you already have a case, it may be time to upgrade to the best tactical rifle case.
Let us preface this and tell you upfront Lynx Defense makes the best tactical rifle cases on the market. They are 100% U.S. made and renowned for their build quality and design. But don't just take our word for it, take it from our customers.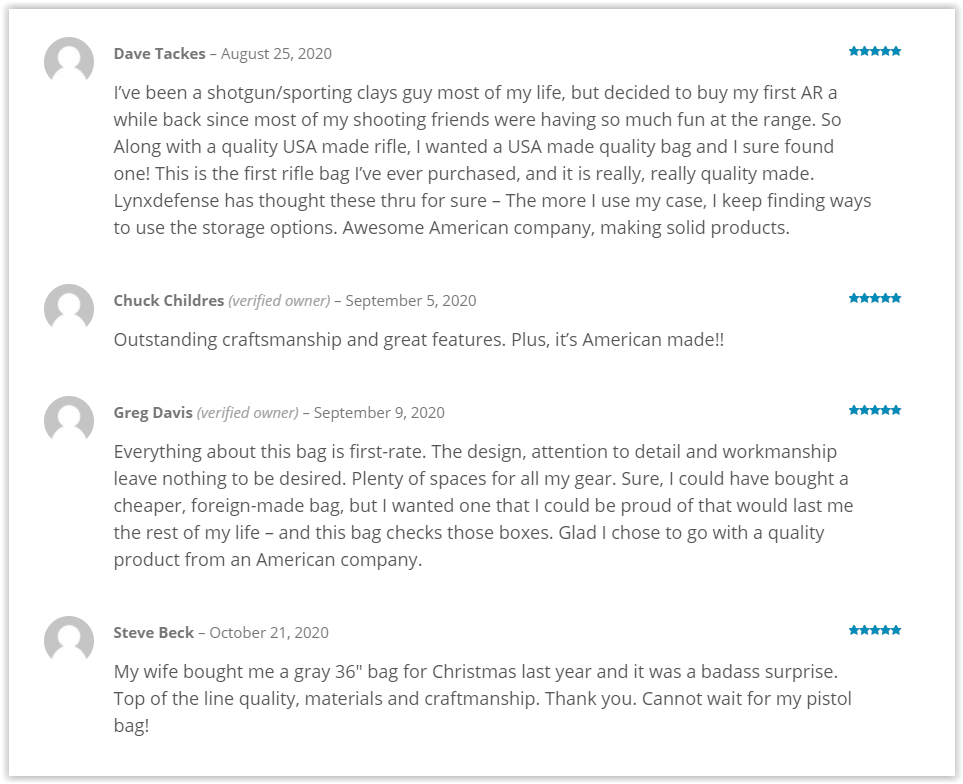 Rifle Case Overview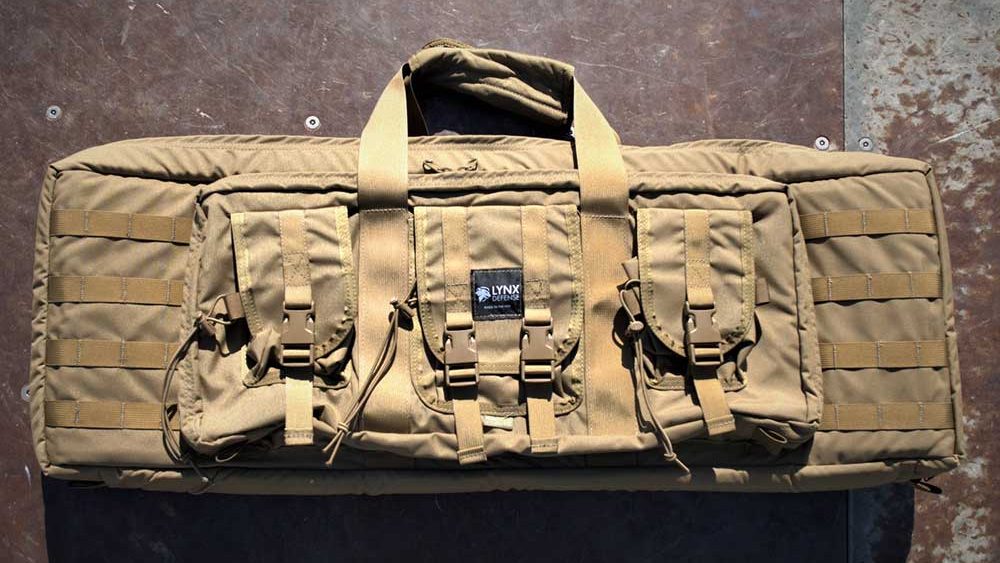 Your rifle case should have plenty of features, there's no question about that But don't buy a rifle case that has unnecessary features that you don't need. This adds weight and other failure points that could lead you to regret your purchase later down the line.
What Size Rifle Case?
We have written an in-depth article on choosing what size rifle case to get in a previous article, but we will sum it up again here.
For the bag length, make sure you measure the overall length, often referred to as OAL, of your rifle in the configuration you plan to carry it. Make sure your buttstock is in the position you intend to carry it in your tactical rifle case before taking your OAL measurement.
We offer both a 36″ Tactical Rifle Case and a 42″ Tactical Rifle Case. These two sizes cover most of the modern sporting rifle configurations, including 16″ barrels and 18″-20″ barreled rifles.
Must Have Rifle Case Features
Features can be a decision-maker or breaker when buying a rifle case. So focusing on the right features is key. We have broken down the most important features to consider when shopping for your case.
The Right Size
We discussed case length above, but the overall size (height x width x depth) is also an important factor to keep in mind while shopping.
For example, we would never push someone toward a 36″ Tactical Rifle Case if they were carrying an 18″ – 20″ rifle. It just wouldn't make sense, and at the end of the day, the customer wouldn't be happy.
Personally, I would consider the depth of the case an equally important consideration if you have lots of rail-mounted attachments. You won't want to have your expensive accessories poking through the side of the case.
So consider how tall and wide your gun is equipped with all its flashlights, optics, and accessories, and make sure you are buying the size rifle case you need.
Modular Lightweight Load-carrying Equipment (MOLLE)
To be tactical in 2020, you have to have MOLLE on your gear! You've seen it everywhere from plate carriers to rifle cases. You know the old adage, you can't leave home without it!
MOLLE allows you to easily and quickly customize your rifle case. On both ends of our tactical rifle cases, we feature MOLLE webbing that allows you to add medical kits or other "snatch n' go" style attachments.
You can add magazine carriers or virtually anything your heart desires. The possibilities for MOLLE attachments are endless.
That is why MOLLE is such an essential feature for a tactical rifle case.
Storage Pockets & Pouches
Having the necessary storage is vital to any bag purchase, not just your rifle case. But when it comes to buying a rifle case, the right kind of storage is what you should consider.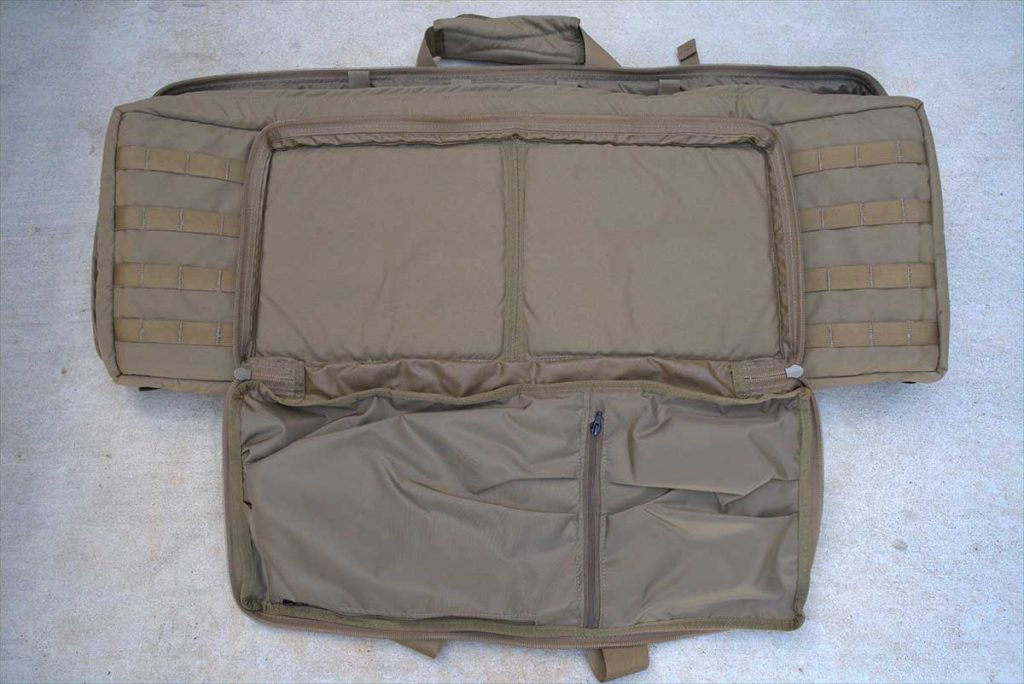 Pistol Pockets
Our rifle cases include four interior storage compartments; the two on the back have a velcro closure system and are the perfect spot to put pistols or other items that need extra padded storage.
For as long as I can remember, I have always pitched these lay-flat pockets as pistol pockets but they are for whatever your heart desires. The lay-flat pockets are padded on the front and back and provide the most padding/protection than any other pocket on the case, other than the main rifle compartment.
Magazine Holders
Carrying more than one or two magazines in your rifle case is a no-brainer. So why do I bother to bring it up?
Because that's exactly why the front pockets were developed. Adjustable to fit 20 and 30 round magazines, the front pockets are the perfect spot for your magazine storage.
All three front pockets include a bungee cord-lock closure system, which allows you to tighten down the pockets from the center of the pocket. The adjustable top flaps ensure you have a snug fit vertically.
The pocket lid and cord lock bungee system really let you lock down the hatches on your magazines, so they don't go anywhere!
Ammo Storage
Storing ammo isn't always easy when it comes to a tactical rifle case. But it's necessary for any range day that is going to last more than a few hours.
An ammo can may be your best option but the front pockets are a good alternative for small 20 round boxes of 5.56/.223 or even 300 blackout ammo.
Padded Divider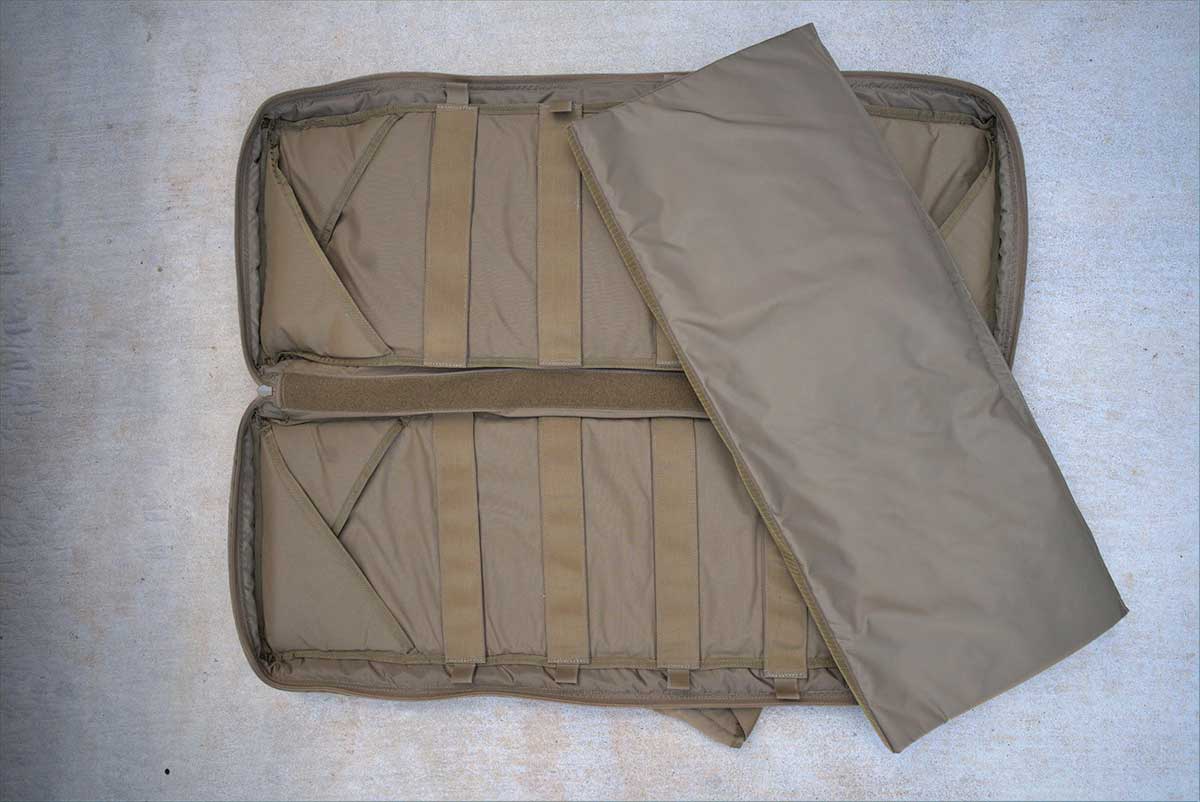 Both Tactical Rifle Case bags that we offer come with a divider transforming the bag into a two-gun bag. The padded divider sits between the two sides of the rifle case.
The divider is used to separate your rifles so that they don't bang into each other when you are going to and from the range.
One of the nice functions of our divider is that it is a removable range mat and can be taken out with just a quick tug. You can then use the mat to shoot prone or just use it to lay your guns on the outside of the range bag.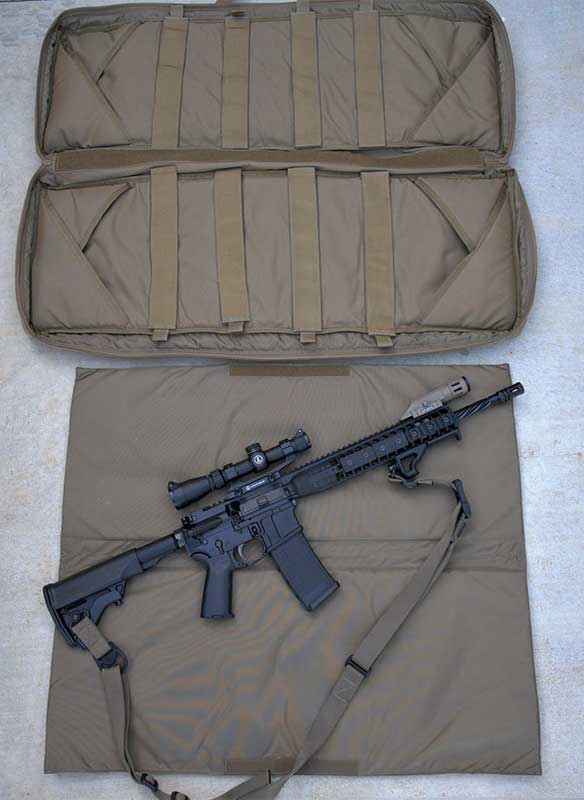 Not to mention, if you didn't want the insert for whatever reason you could remove it completely and leave it out of the bag.
Buttsock & Barrel Holders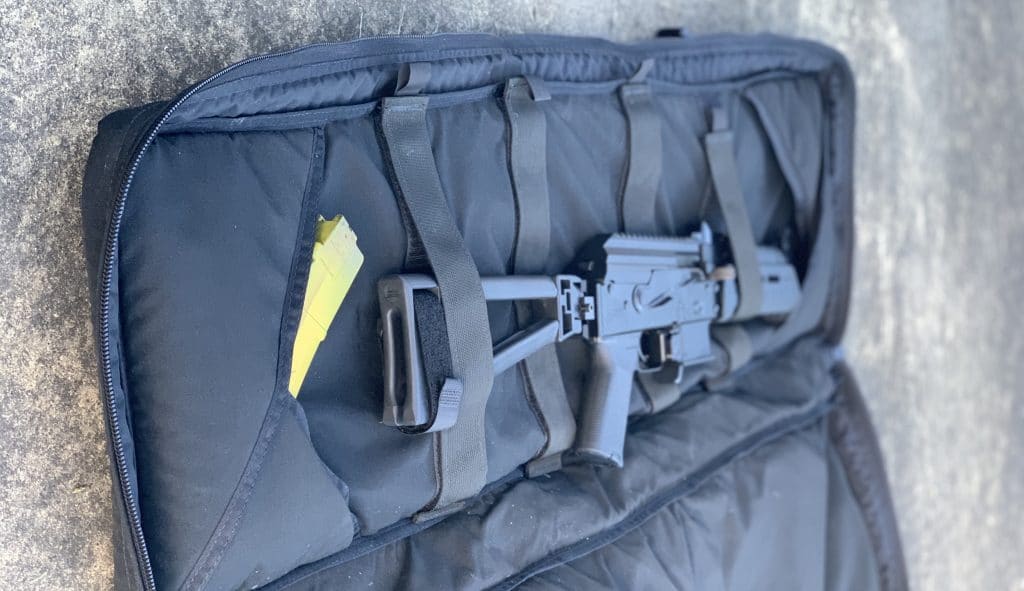 The buttstock and barrel retention in our tactical rifle cases is something almost no one else in the gun case industry does. Because we enjoy overbuilding our bags and make them high quality, you'll notice our crisscross design provides secure storage and transport of your rifle.
You'll never have to worry about your barrel wearing down the bag and poking through the bag even after years of use.
"One of my favorite things about my Lynx Defense Tactical Rifle case is the fact it securely holds my two rifles with plenty of extra storage space"

Big Johnson Guns and Gear, YouTube
If your firearm is long enough, the crisscross buttstock and muzzle catches provide enough support so you don't even have to use the retention straps, but the retention straps are still recommended for maximum security.
With that being said, let's talk retention straps.
Rifle Case Retention Straps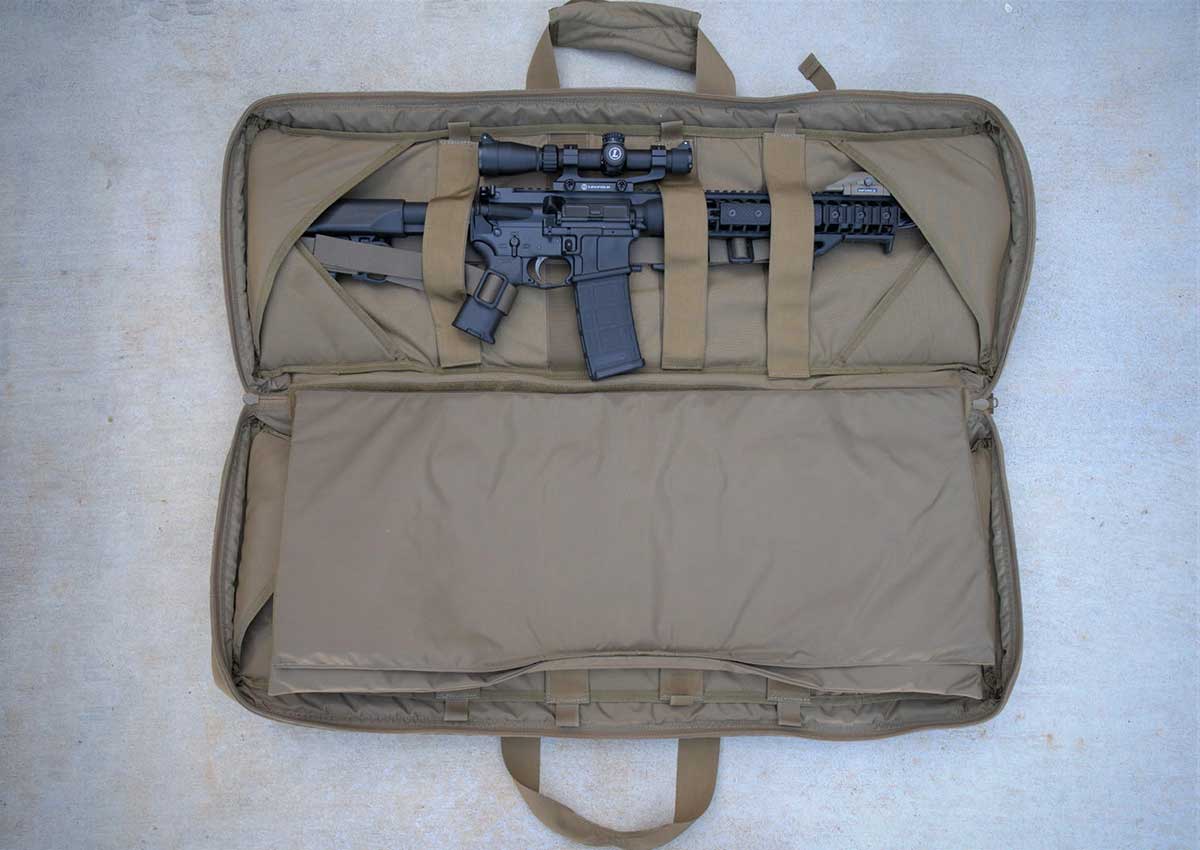 The Tactical Rifle Case retention straps were something I put a lot of time and thought into during the design process. When the tactical rifle case was first developed most cases featured just two straps and those two straps were sewn into the back of the bag making them fixed and not always in the right spot depending on your rifle setup.
So I set out to create a bag that gives the user the ability to choose which straps worked best for them. Keep in mind this was before we had the option to do full loop backing like we now do in The Bureau.
So we put four evenly spaced hook and loop straps that were totally removable. Most retention straps on the market at that time just allowed you to wrap the existing sewn-in strap around the gun arbitrability and not mold it to the gun, or even under the gun, to maximize the security of the gun in the bag.
It's safe to say we make the most secure soft rifle case on the market.
Backpack Straps and Carry Handles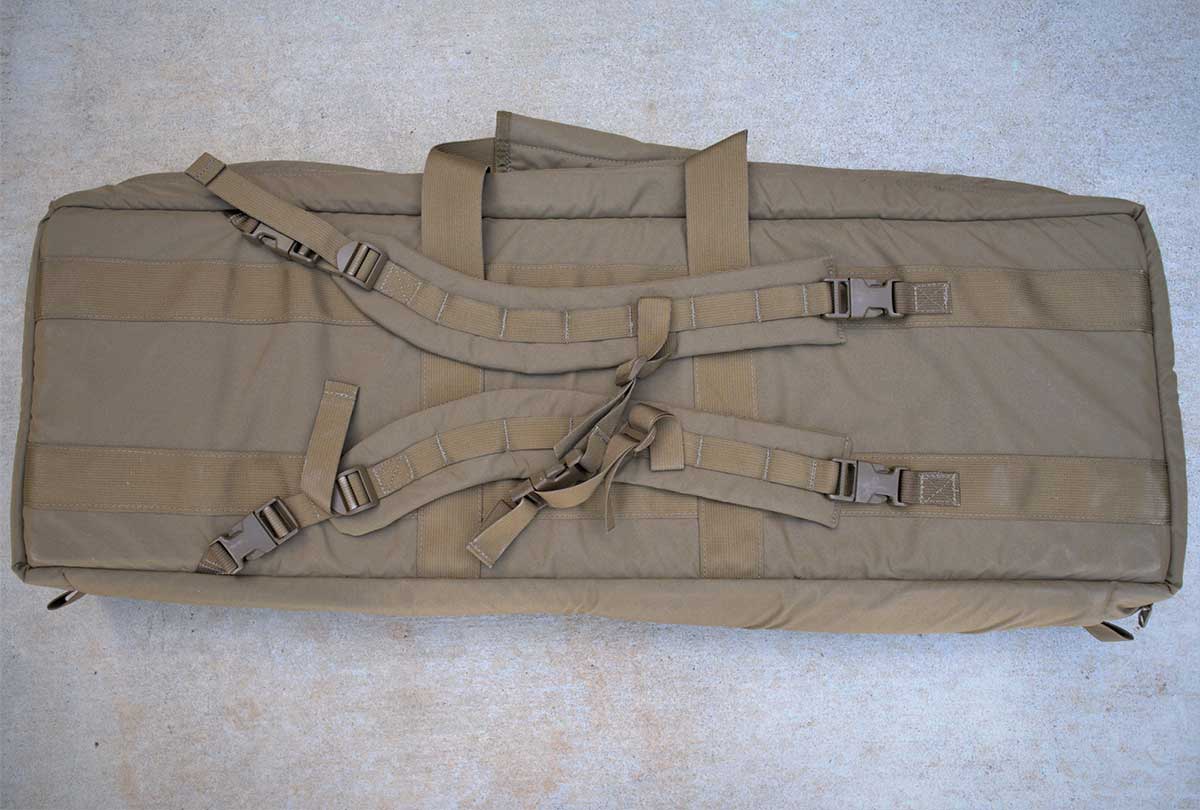 What is the point of having a tactical rifle case if you aren't going to carry it? We created the backpack strap system with you in mind.
The vision was that you already have enough to carry, so if you can sling your rifles on your shoulders and carry your ammo cans with your free hands, you can make fewer trips to and from the car!
The backpack straps do feature a sternum strap in case you plan to carry this rifle case long distances.
We also over-padded our carry handle, because if you're like me, you'll never backpack carry your rifles. Don't know why, I guess I'm just stubborn like that!
Color
Last but most certainly not least: Color.
Let's talk about rifle case color a little bit. We all have our favorites and you might already have your mind made up but hear me out.
What are your plans for your rifle case? Do you need it to blend in or do you just want it to be your favorite color? Tan has been a hot seller for the better part of the 2000s which could mostly be because of the Global War on Terror and the abundance of Tan and FDE used by the military.
Black is a timeless favorite because it's easy to keep clean and matches the color of carbon…. ahhh the smell of carbon on a crisp fall day just brightens my day!
With the ever-increasing urban sprawl, gray has become a fan favorite and not just any gray but wolf gray. Wolf Gray seems to be that happy medium gray that's not too dark and not too light.
ODG GANG where you at?! Olive Drab Green has made a huge comeback in recent years and has ushered in a new fan club, ODG Gang as they like to be called. We offer ranger green for all of our tactical rifle cases and it is the hottest selling color in Q4 2020. This is a favorite for people who live in rural areas worldwide.
So while you still may already have your mind made up, be sure to give it some thought. No matter what you decide, you'll get quality with a Lynx Defense Tactical Rifle Case.
In Conclusion
When you are analyzing the features of your next rifle case purchase you should consider all of the following:
Size
MOLLE Functionality
Storage Pockets
Rifle Retention
Carry straps and handles
Color
If you consider all these things, you'll definitely select the right tactical rifle case for you. So now go pick up your 36″Rifle Case or 42″ rifle case made in the land of the free by Lynx Defense!
Are 42-inch bags good for an AR-15?
Yes, 42 inch AR bags are perfect for AR-15's. They are long enough to accommodate almost all AR-15 rifles.
Do You Need A Case For Your AR-15?
It's not a requirement but it makes carrying your AR-15 a much easier and pleasurable experience. Some ranges require you to have it in a case so be sure to check all your local range rules.
Hard Gun Cases vs. Soft Gun Cases