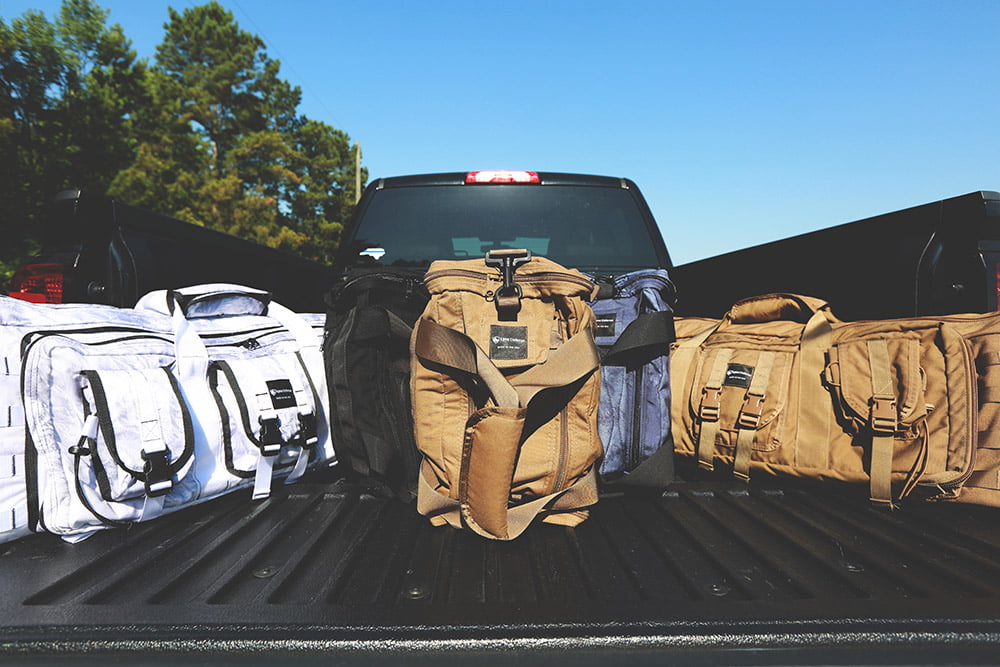 Since founding Lynx Defense in 2013 and being a gun range bag manufacturer, I've become somewhat of a gun bag aficionado. While I don't know everything there is to know about gun bags. I've done my fair share of research and development of gun bags in the last 8 years.
So I figured I'd put together an article that goes over what I've learned about gun bags and cases over the years.
Gun Range Bags
The entire premise of having a gun bag is typically to use it to transport your firearm to and from the range or possibly a competition or event.
The easiest way to store your gun and transport it to any range or competition is using a gun bag or case.
Most shooters want to be able to fit the most possible gear in the least number of bags possible. The reason for that is pretty obvious, fewer trips to and from the car, less money to spend on bags, and the list goes on.
It's important to start with the bag function and what you plan to use your bag for.
Traveling with Guns
Traveling with guns should be much simpler than it is. You would think something as common as firearms would be more accepted and less taboo but unfortunately, they are still treated like the red headed stepchild.
There are so many factors to consider when traveling with firearms we will only touch on a few since this article is about gun bags and to get them to the range you have to travel, even if it's just to your backyard.
Flying with Guns
Unfortunately, flying with guns is going to require a hard case. As we have talked about in the past, you can't fly with a soft gun bag. TSA would have a field day with you if you tried to check a gun bag.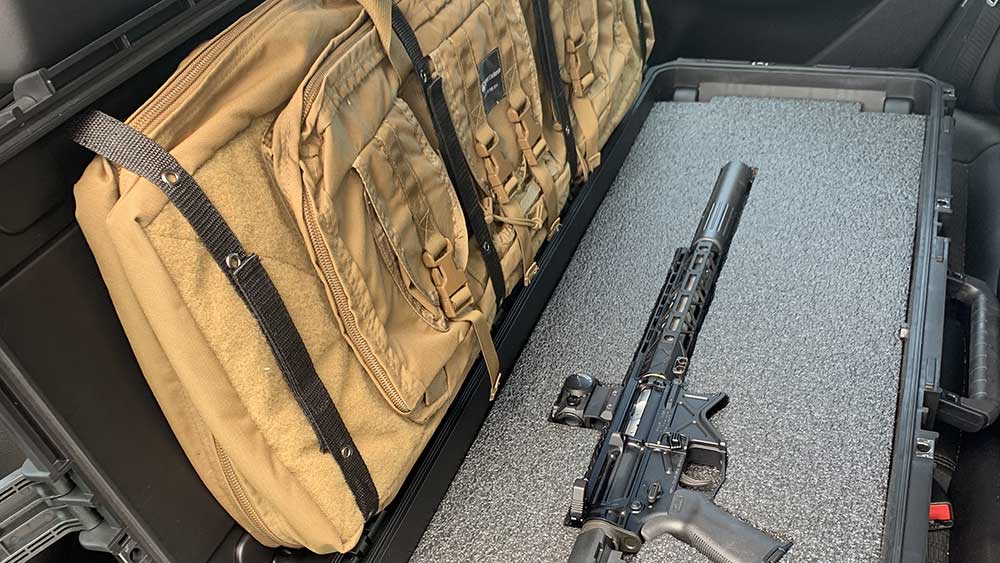 You will need something like an SKB, 5.11 Tactical, Pelican, or Patriot hard rifle case to fly on a plane.
Transporting Guns in your Vehicle
Keeping your gun in your vehicle should be as easy as loading it up and heading out. But you should be aware of your state and local laws.
For example, California requires you to have your guns in a case or bag that is locked and stored out of reach.
Interstate Travel with Guns
If you haven't been living under a rock you know that some states are far more friendly when it comes to your Second Amendment rights.
States in the northern part of the country are often far more restrive of your rights and require you to carry low-capacity magazines and have your firearms locked and stored out of reach.
Maryland is one state that has a low capacity round requirement that I'm familiar with because I often go there to visit family.
If you are traveling with NFA weapons be sure you contact the ATF for approval to travel with them prior to crossing the state line.
Styles of Gun Bags
Here at Lynx Defense, we make a number of different gun carry bags in different styles.
We have our tactical line of gun range bags as well as our discreet line. We aren't saying you have to buy our bags, but it's important to know the difference and your options when shopping for a range carry bag.
Tactical
Tactical bags typically have a number of tell-tell features. Most notably the Modular Lightweight Load-carrying Equipment system better known as Molle. Molle is actually a brand-specific version of the PALS system, which is a grid-based system for carrying equipment.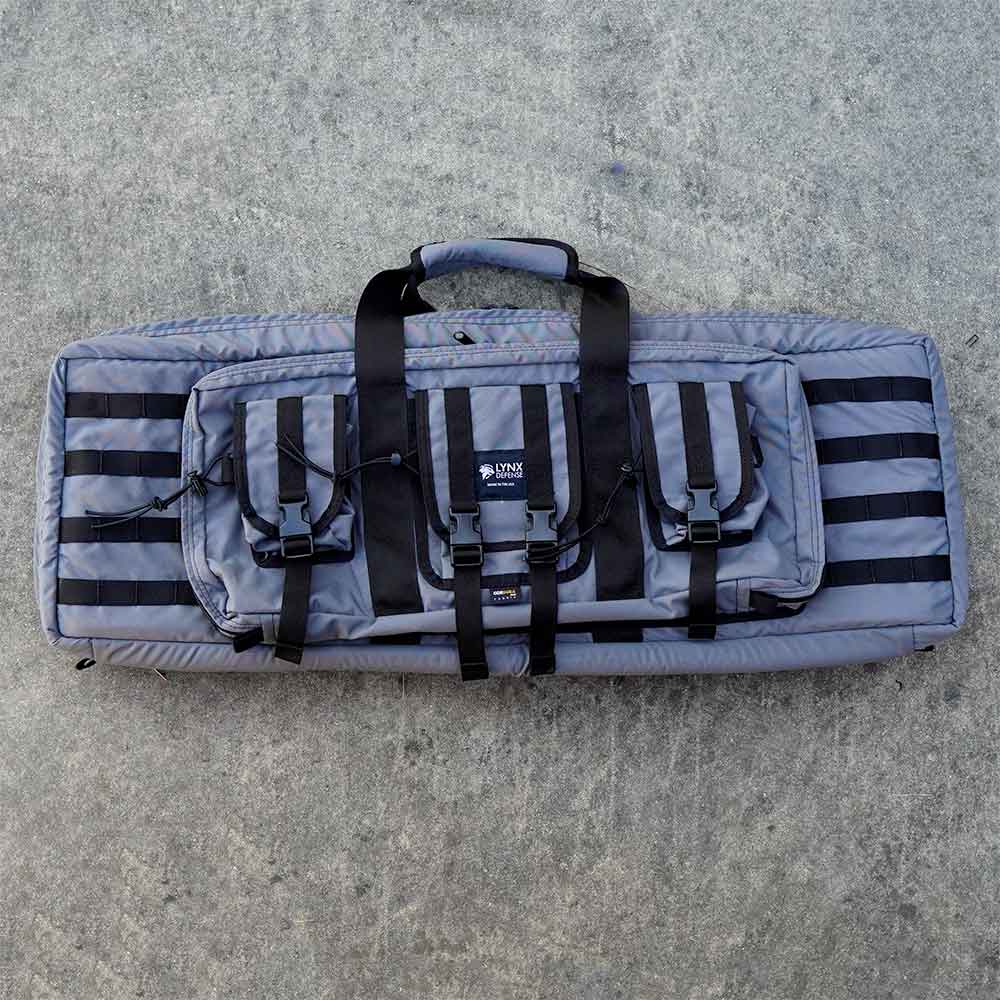 The term Molle and PALS are used interchangeably similar to how all extremely tough tape is called "Duck Tape", while duck tape is actually a brand of tape.
This system was developed in 1997 and became widely adopted during the global war on terror in the early 2000s.
Most rifle range bags will have some type of PALS system on them for you to attach IFAK's or other compatible attachments.
The other is outside facing pockets with 1″ plastic buckles. While buckles aren't by themselves tactical, you throw on a box-x stitch and some webbing you know that's not built for non-tactical applications.
Discreet
To be clear, we love discreet gun bags for range carry. It just makes the most sense in today's world.
People uneducated on firearms tend to overreact when they see a gun or know that you may be carrying a gun. In fact, we even wrote a complete guide on discreet carry bags.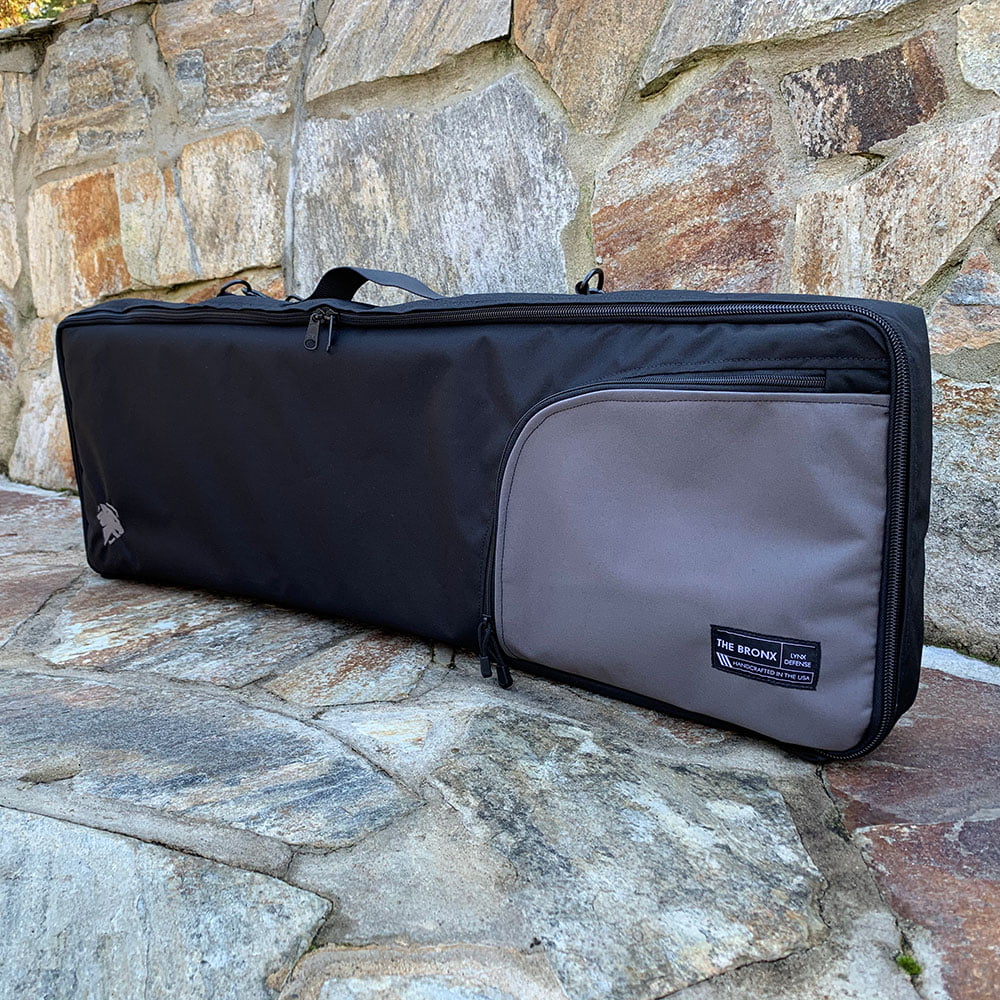 Discreet bags can come in many forms, shapes, and sizes. Many people use just regular bags, and if that works for them, that's awesome!
But purpose-built gun-carrying bags are always a good idea. They are better at retaining your firearm and other related firearm gear like hearing protection, eye protection, and ammunition.
Covert
Covert and discreet are often similar but the largest difference between covert and discreet bags is most covert bags aren't purpose-built.
A lot of times covert bags are your typical JanSport book bags. An old guitar case that you've replaced the foam in and not used to carry your rifles and pistols around.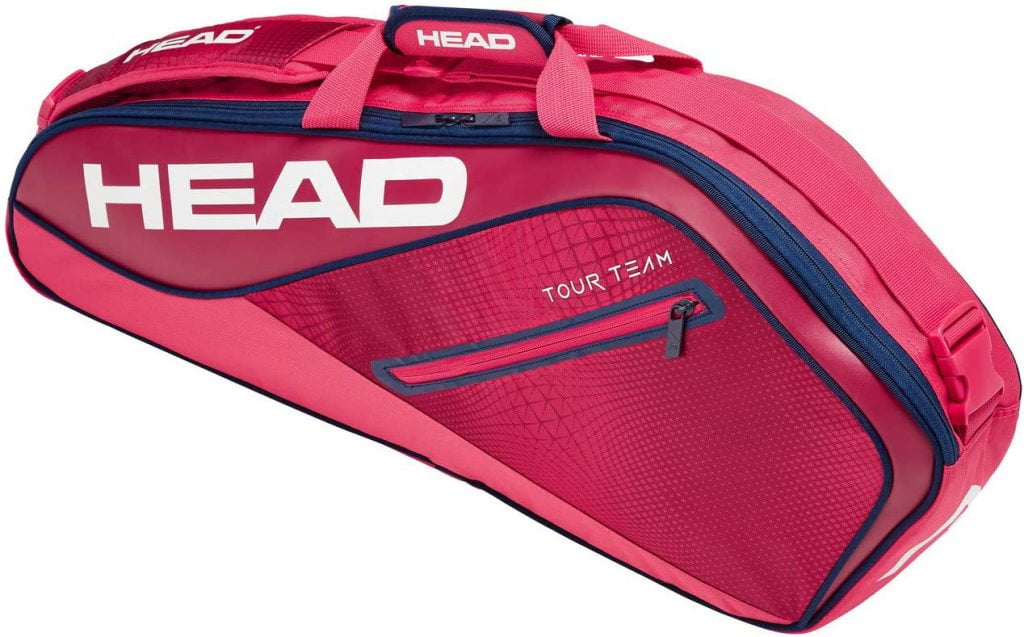 Possibly even a tennis racket case that you've repurposed.
However, these types of cases have their disadvantages. We covered those in-depth in our discreet carry case guide.
Pistol Gun Bag
One of the most popular types of firearms in modern history is the handgun. That makes it no surprise that there are a metric ton of pistol gun bag options.
Shooting enthusiasts are using anything from single gun bags to the box the gun came into our high-end pistol range bag to carry their gun to the range.
Multi-Gun Range Bag
Every range trip is different and everyone uses the range for different things.
Sometimes you just want to go relax and shoot as many different guns as you can. Where other times you want to go and train in life-saving tactics.
What experience you want will dictate how you pack your range bag and what bag you'll need.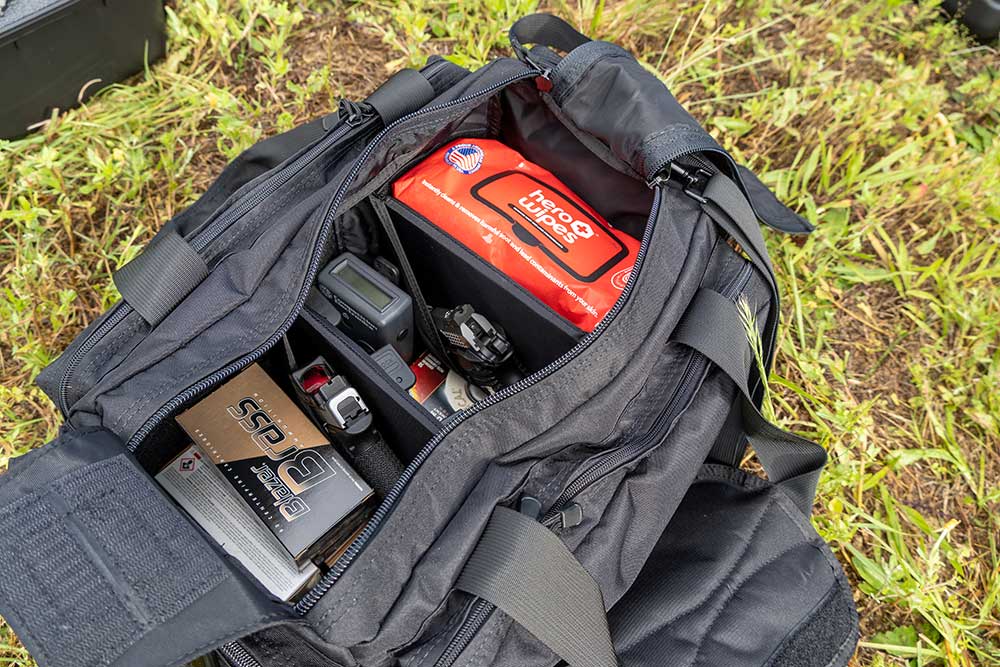 Taking multiple guns to the range may be something you always do no matter what. I know that if I'm traveling to a range, I'll take as many guns as I can just in case.
I would hate to get to the range and wish I had brought Sig P938 or the Wilson Combat EDC X9, neither gun I daily carry but still fun guns to shoot.
So be sure to consider how many pistols you take to the range at a time so you can buy a large enough handgun bag to take to the range with you.
Rifle Gun Bag
Now that we have covered pistols let's take a look at long guns aka rifles! The most popular rifle in America today is the AR-15.
That "EVIL," according to anti-gunners, the gun is the most popular for a reason. The modular and customizability of the platform have made it incredibly popular.
Shooting the AR-15 platform is an absolute blast, so no wonder so many people want their very own!
But to shoot it, you need to get it to the range, so you'll need a bag. Let's talk about your options.
AR-15 Rifle Bag
Buying your first AR-15 might be the best day of your life. I still remember when I purchased mine. It was the day after Obama was elected, and it was a Smith and Wesson M&P15T.
I loved that gun but have since picked up much nicer and guns that are much more suited for my needs, namely SBR's.
But once you have your rifle, you'll need a way to get it to-and-from the range. So naturally, you'll start eyeing a rifle bag.
The number of options you will find will amaze you. Every online store you can imagine will have options for you ranging from 3VGear to Blackhawk to Savior Equipment to Bulldog cases.
There are a lot of good options for rifle bags out there, and there's no one size fits all. Lynx Defense makes extremely high-end rifle bags, and we realize we aren't the best fit for everyone shopping for a bag.
But keep in mind you want to protect your AR-15 because it's a life-saving tool, and you want to make sure it doesn't get damaged during transport.
So take some time to read reviews, research the material, and make sure you buy something that will last a lifetime.
Buy once. Cry once.

-My Motto
Single Gun Rifle Bag
There are really two major configuration themes when it comes to rifle bags. You have a single gun, which we will talk about in this section, and a double gun.
Single gun bags typically tend to be your more versatile bags, such as covert and discreet.
There are plenty of tactical single-gun rifle bags, we even made one for a while, but since a single-gun bag can focus more on design and features, you end up with a unique bag.
Single rifle bags like The Bronx are purpose-built and usually work better for their intended purpose.
Double Gun Rifle Bag
Double rifle bags have to focus on housing more firearms and not letting them get damaged. Since carrying more rifles is the focus of the bag, more time and effort is spent on developing solid weapon retention and padding than additional features.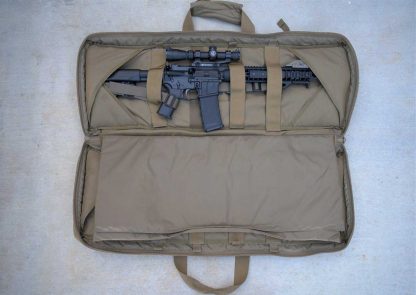 Typically on double gun bags, you'll have rifles on each "wall" and a middle divider that is padded. Our tactical rifle bags have a removable divider that doubles as a shooting or cleaning mat.
When shopping for your rifle bag, keep in mind that you may give up some features or aesthetics to house multiple rifles in a single bag.
Bolt Action Rifle Bag
Bolt action rifles, or rifles most commonly used for hunting or competition shooting, require a slightly different bag.
Due to their longer form, bolt action rifles require a bag typically greater than 48″.
Obviously, that largely depends on the individual gun and the overall length of the rifle.
Bolt action rifle bags also require different pouches and pockets to hold an entirely different gear setup.
Weapon retention in these bags is also a bit different. Often there are just two straps holding the rifle in and a muzzle catch but no buttstock retention.
Shotgun Bag
Shotgun bags are becoming more common because of tactical shotguns. There are several shotgun models now that are magazine feed, and while they are still a range gun for most, they can be a very reasonable home defense weapon.
Shotgun bags are often long like bolt gun bags for the very same reason. The barrel length is often much longer, and the gun's overall length is longer than AR-15 style guns.
Range Bag Materials
The materials your range bag uses are the most important part. The brand name, size, and features are great, but none of them matter if they are made with subpar materials because the bag will not last long. This will determine the quality of your gun bag.
Cordura
Let's talk about the shell of the most commonly used fabric is Cordura. This is a nylon-based fabric that has proven itself over time.
The most common is 500D and 1000D if you want to know the difference we covered in our 500D vs. 1000D Cordura article.
Thread
Thread is something that is not often talked about when it comes to bags. It's like tires on brand-new cars. You assume you got the best.
Most bag companies, including Lynx Defense, don't advertise what thread they use but be sure that it's a bonded nylon thread like Tex 70.
This ensures a strong secure bag as long as proper sewing techniques are used.
Zippers
Zippers are a big deal especially if it's the primary closure system of your chosen range bag.
YKK and Ideal brand zippers and zipper chain are the industry standard and if you don't have these on your bag you probably don't have a solid bag for your range gear.
If you are buying your gun bag in a brick and motor store pay special attention to the zippers and make sure they aren't cheap pot-metal.
Don't tug on them super hard or put unrealistic pressure on them but give them a solid tug
Choosing your Gun Bag
Deciding what option is best for you can be complicated but it's always good to have more information that you need when making a purchase. If you have any feedback for our guide please leave a comment so we can improve this guide!
Do you need a license to carry a gun in a bag?
Typically no. However, depending on your state, it could be considered concealed carry. I will refer to local law enforcement or district attorney to determine if your method of carrying a gun in a bag is within the letter of the law.
Why don't more people conceal carry in a gun bag?
Typically when you conceal carry, you want to be in control of the gun at all times. If you conceal carry in a gun bag, then it's not in your complete control. This is also known as off-body carry, and many people disagree with this method of carrying.
What is the best gun range bag?
That depends. Choosing the best gun range bag depends on your needs and what guns you plan to carry.
If you mostly carry handguns and not rifles then you can carry a much smaller – pistol-specific range bag.
If you carry rifles primarily you may want to buy a rifle case or bag.